Bratz dolls, Saint Laurent sunrises and Telfar's Xmas party: What's in fashion?
Your one-stop-shop for this week's fashion news to know.
|
03 December 2021, 4:46pm
Image courtesy of GCDS.
Advent is upon us, my dears! Yes, another whizz around the sun has gone by in a blink, and we're counting down the days to the holidays once again. Accordingly, this week's round-up is fittingly festive, brimming over with treats like a snowy Coach campaign, a link-up for the chicest Christmas party of the year, and even extra-glam Bratz dolls! This week, it's also all about knitting – though not the cosy winter basics you're thinking of. Whether it's sumptuous cashmeres from Pellat-Finet, sensuous, body-sculpted pieces by Krystal Paniagua, or demi-couture partywear from Emma Gudmundson, we're filling you in on all the new yarn wizards to know about… and much more, of course! Here's what's in fashion.
Saying goodbye to Virgil Abloh
This week, the world came to grips with the heartbreaking loss of Virgil Abloh. To say that the Chicago-based designer was one of the foremost visionaries of his generation would be an understatement — and tributes from icons and next-gen kids alike have made it clear just how beloved and game-changing he had been throughout his polymathic career. Before he died, Virgil had planned to stage a Louis Vuitton show in Miami. Described as a 'spin-off' show, it featured the designer's SS22 collection with a handful of additional looks created especially for the show. Initially intended as a client-facing event to coincide with Art Basel Miami, the news of Virgil's sudden passing shifted the intention of the event. Upon his wishes, the show went ahead, with his community of friends, collaborators and colleagues coming together in the Maritime Marina to pay tribute to the life and legacy of one of fashion's contemporary greats. Here's everything you need to know. OA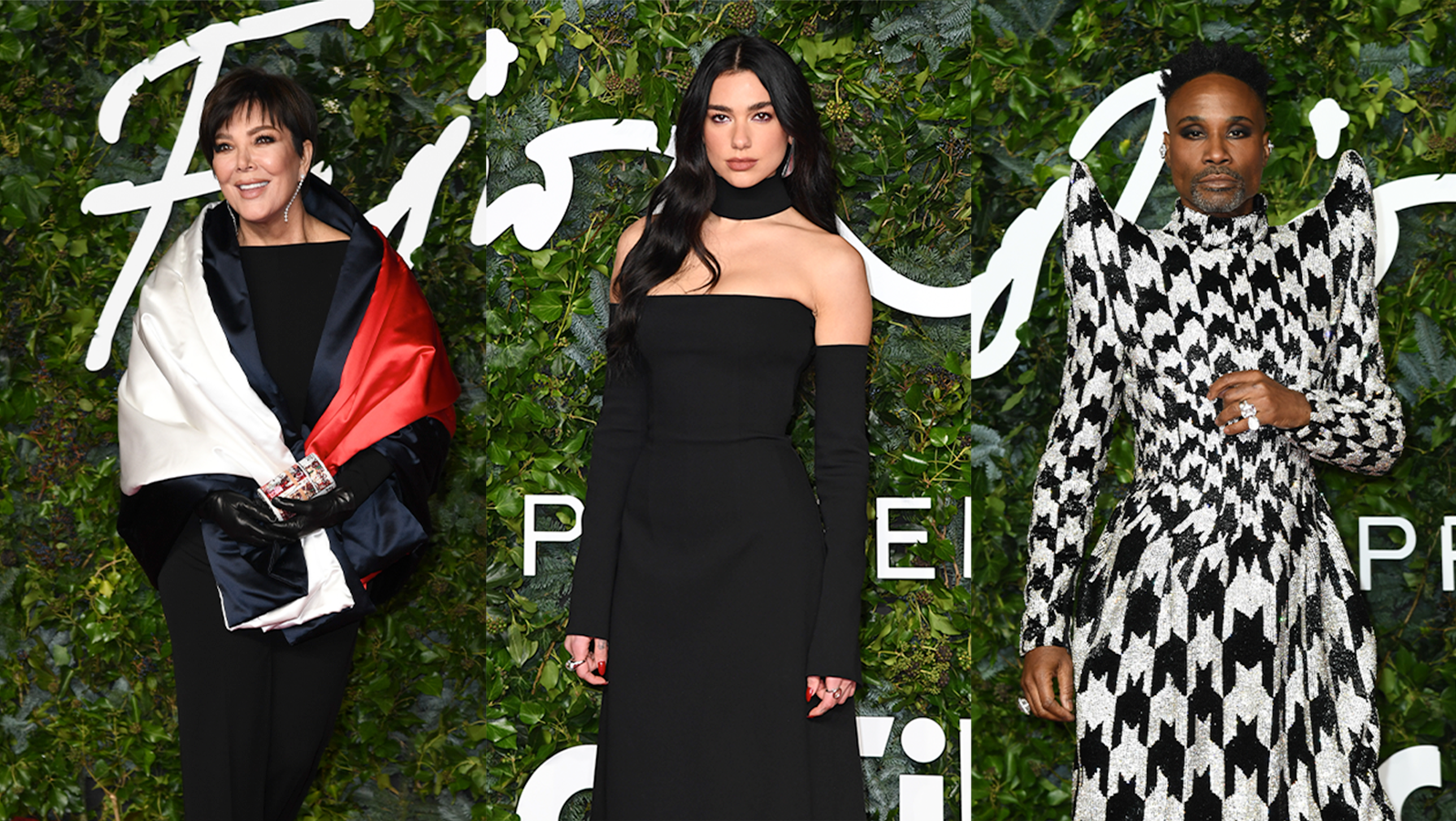 British Fashion's big night out came BACK with a bang
While we had to make do without them last year, Monday night saw The Fashion Awards come home to the Royal Albert Hall!! As London's ritziest winter soirée, it brought out the usual bevvy of A-listers – think Dua Lipa, Kylie Minogue and Kris Jenner – most of whom took to the red carpet decked out in the unofficial patron designer of the evening, Richard Quinn. As was only fitting, the main event was led by touching tributes to the life and legacy of Virgil Abloh from collaborators and close friends, including Idris Elba and Kim Jones. And the winners of the night, you ask? Well, that would be giving it all away! Ok, what we will say is that Alessandro Michele, Nensi Dojaka and Tommy Hilfiger were among those who left the night particular proud, but head here to read our full recap of British fashion's biggest night of the year… oh, and here to go backstage with everyone's favourite lockdown comedienne, Elsa Majimbo! MS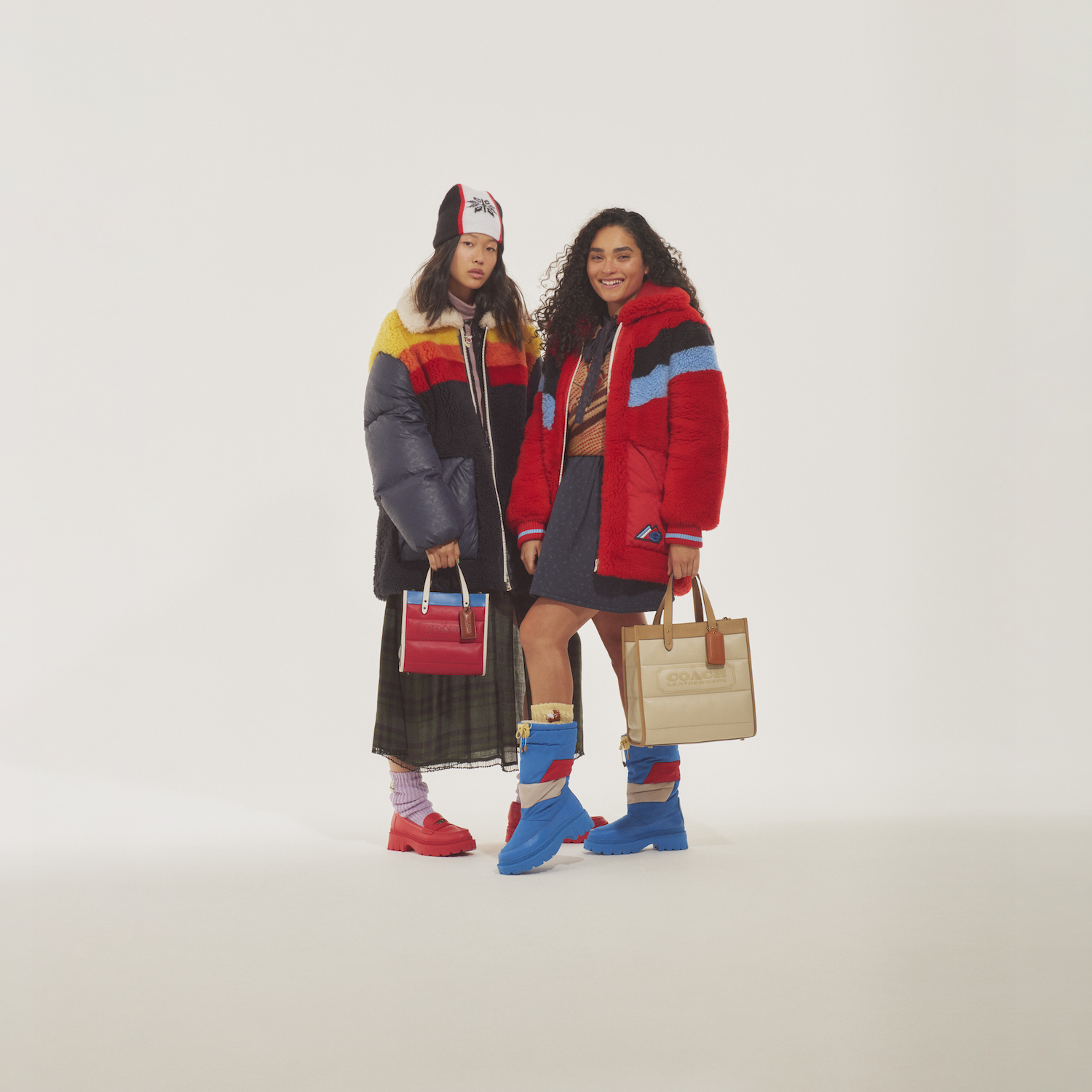 Coach Ski goes 80s for their new collection
Here to let you live out all your chalet girl dreams is Coach Ski, with their new winter sportswear collection, modelled by The White Lotus star Brittany O'Grady, TikToker Wisdom Kaye and models Tiffany Guo and Mia Regan. Dripping in nostalgia -- inspired by vintage finds sourced from Lake Placid and the Adirondacks -- but with a bubbly graphic language entirely of today, the collection reinterprets the Americana luxury house's codes. The bold 80s style apparel makes the collection pop, with most of the bright nylon outerwear also lined with shearling to keep you toasty. Then there's the signature Coach bags, each now adorned with patches of cute polar bears, dinosaurs and mid-western road signs, as though you've acquired them on roadtrips over the years. Adding to the festivities is a digital Coach Ski video game, Snow City, where you can play as an adorable Coach animal and race through the snow to collect love points that can be shared with friends. Metaverse, is that you? Check out the full collection online. TG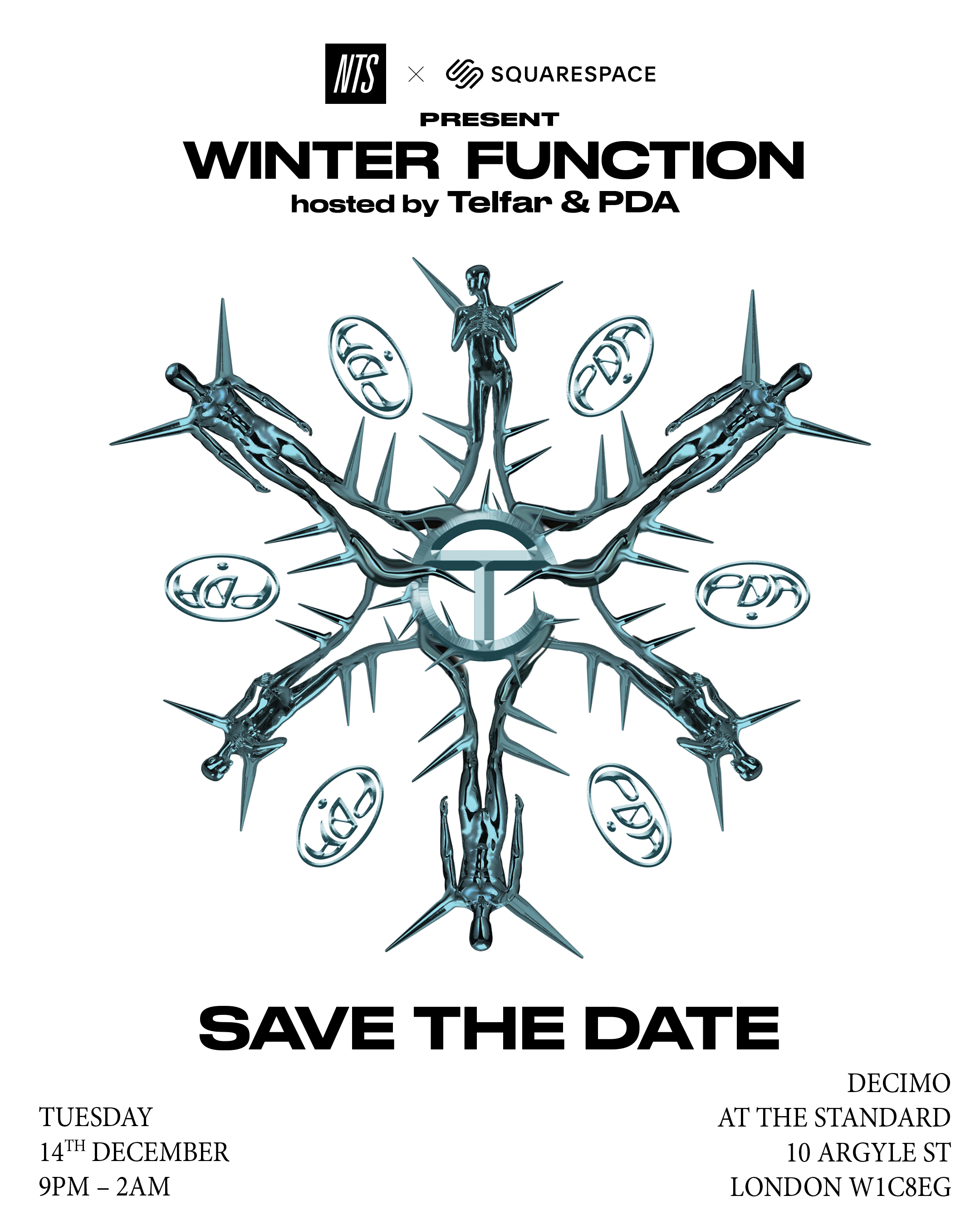 Telfar and PDA are hosting the only Crimbo party to be at
London girlies, party season has well and truly arrived – and boy do we have a corker of a party for you. Whatever plans you had pencilled in for December 14th, cancel them. Why? Because Telfar is coming to town! Joining forces with PDA, irrefutably London's most stylish party people, the pair will be hosting NTS and Squarespace's Christmas bash at The Standard – any true London fashion girl's late-night locale of choice right now. Flying over for the occasion will be Telfar crew members Ian Isiah and Gitoo, who'll be creating content for Telfar TV live at the event. As for the line-up, you ask? Well, you'll have to wait till December 9th for that – BUT that's also when you can pick up your FREE TICKETS to the function!! Fab, right? Register your interest here to get yourself to the front of the queue. MS
GCDS are going to make you buy Bratz dolls again
Y2k babies will know that the wing-liner wearing, plump lipped, clip-on-feet dolls of our childhood, Bratz, have been having something of a renaissance over the past few years. Now, the ever-stylish "girls with the passion for fashion" have released a stunning collab with Milan-based "culture-wear" brand GCDS, filled with all the 00s nostalgia we ever hoped for. There's Yasmin bejewelled chain belt and Sasha comes decked out in a crystal-embellished bodice with thigh-high boots (of course) and a GCDS logo-covered fluffy white coat.But don't worry — the collection also comes in human sizes, too, in a unisex offering spanning rhinestone velour hoodies and boxers to print mini dresses, pastel bra tops and socks and oversized tees stating the Bratz's iconic mantra (no, not 'real eyelashes'). "I want to create outfits for a new generation of empowered personalities," a Bratzified Giuliano Calzo, creative director of GCDS, said in a TikTok. Available online and in GCDS stores and select toy retailers, you could call it self-care to indulge your inner child. TG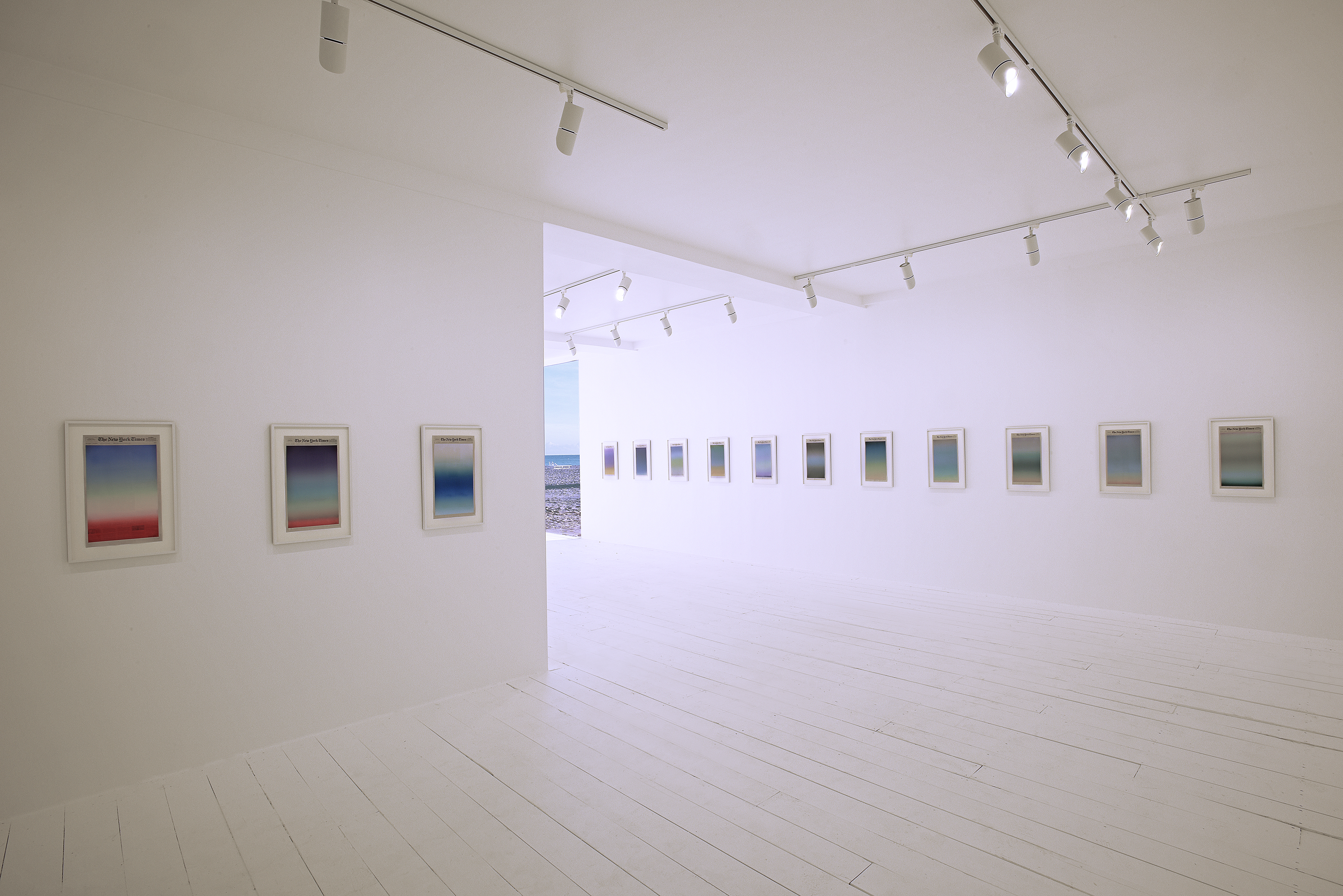 See the sun rise on the sea, courtesy of Saint Laurent
Cast your mind back to the depths of Lockdown 1.0 last year. The existential angst of perpetual bad news left many of us feeling creatively drained, especially with galleries and museums closed and artists isolated from their studios. The NYC-based Japanese artist Sho Shibuya, however, managed to turn the bad news into art. He used the front page of The New York Times, often with headlines of rising deaths and global crisis, as his canvas for richly gradated paintings of daily sunrises. He renders each one in a day, layering the colors on and on till he's satisfied that they reflect the beauty of the morning sky. The series, titled Sunrise from a Small Window, came with a message of hope and optimism at a time of darkness and uncertainty, serving as a reminder that tomorrow is another day.
This week, 53 of these paintings are being exhibited in an ephemeral gallery as part of the Saint Laurent Rive Droite project on Miami Beach, on the occasion of the city's art fair. A further two have been commissioned by the French house's creative director, Anthony Vaccarello, which see Sho draw from the classic magenta-red Rive Gauche logo designed by Yves Saint Laurent himself in 1966 (amid another great period of upheaval, it should be noted). "I thought, it's a brave idea, that you will be able to look back and experience the sunrises from the turmoil of 2020 and 2021," Sho told Vogue. "Then, after you are finished looking at the painted sunrises, you can see the real sunrise on the ocean outside. It's like a time capsule, or like a pathway from past to present, and perhaps a future, because I believe the sunrise carries with it some bit of hope or optimism for the future." The exhibition is on now, until December 5, and opening times are… sunrise to sunset. OA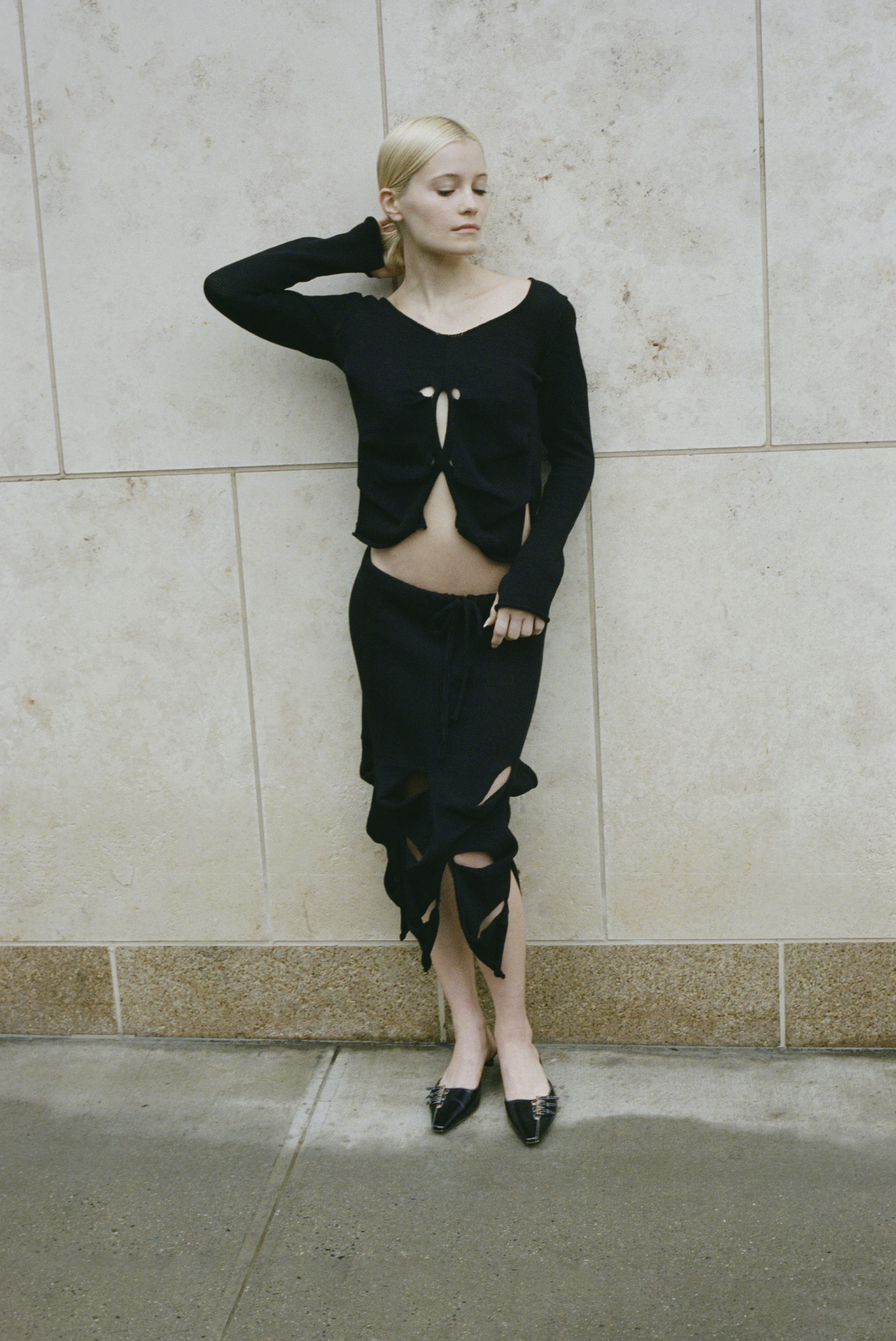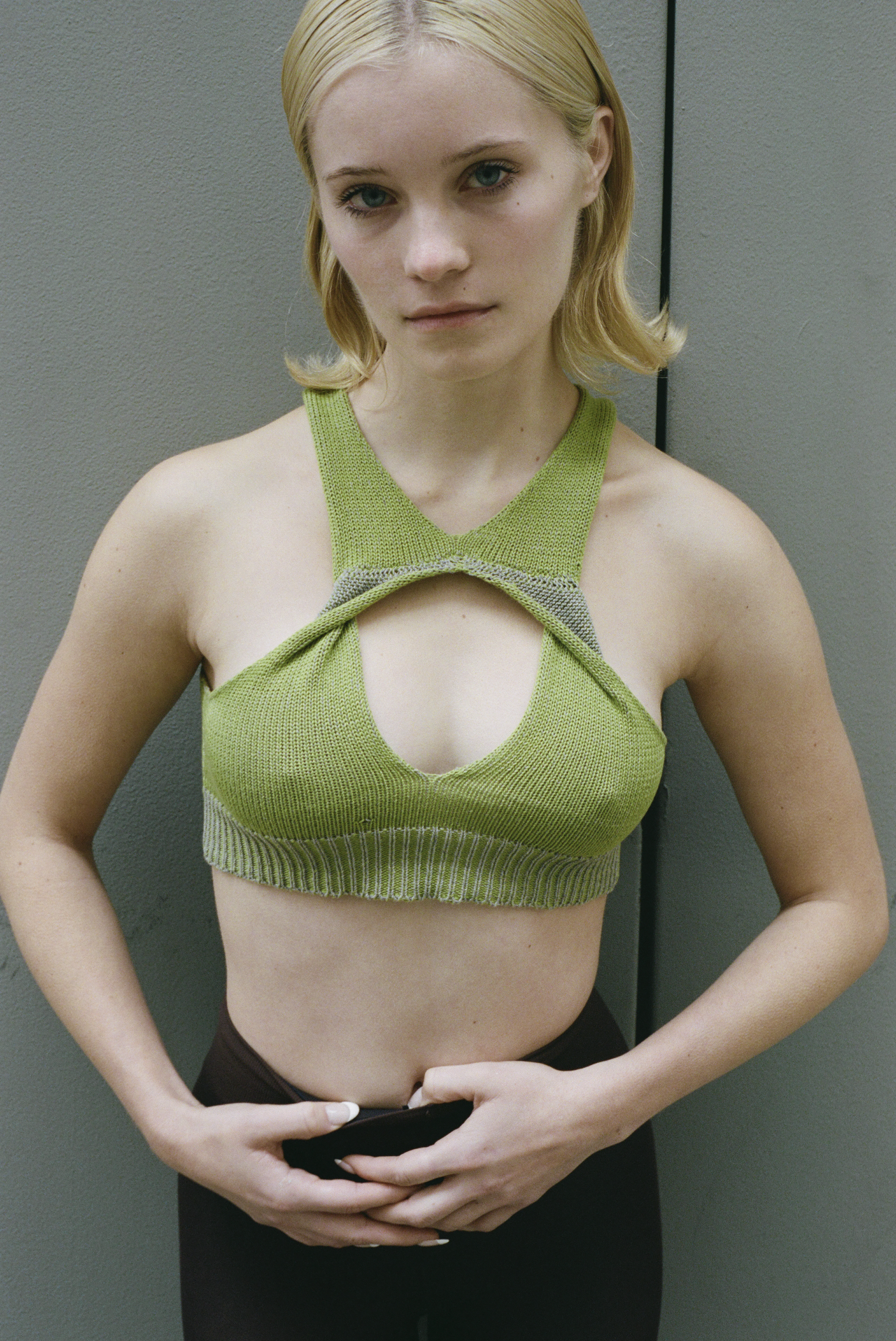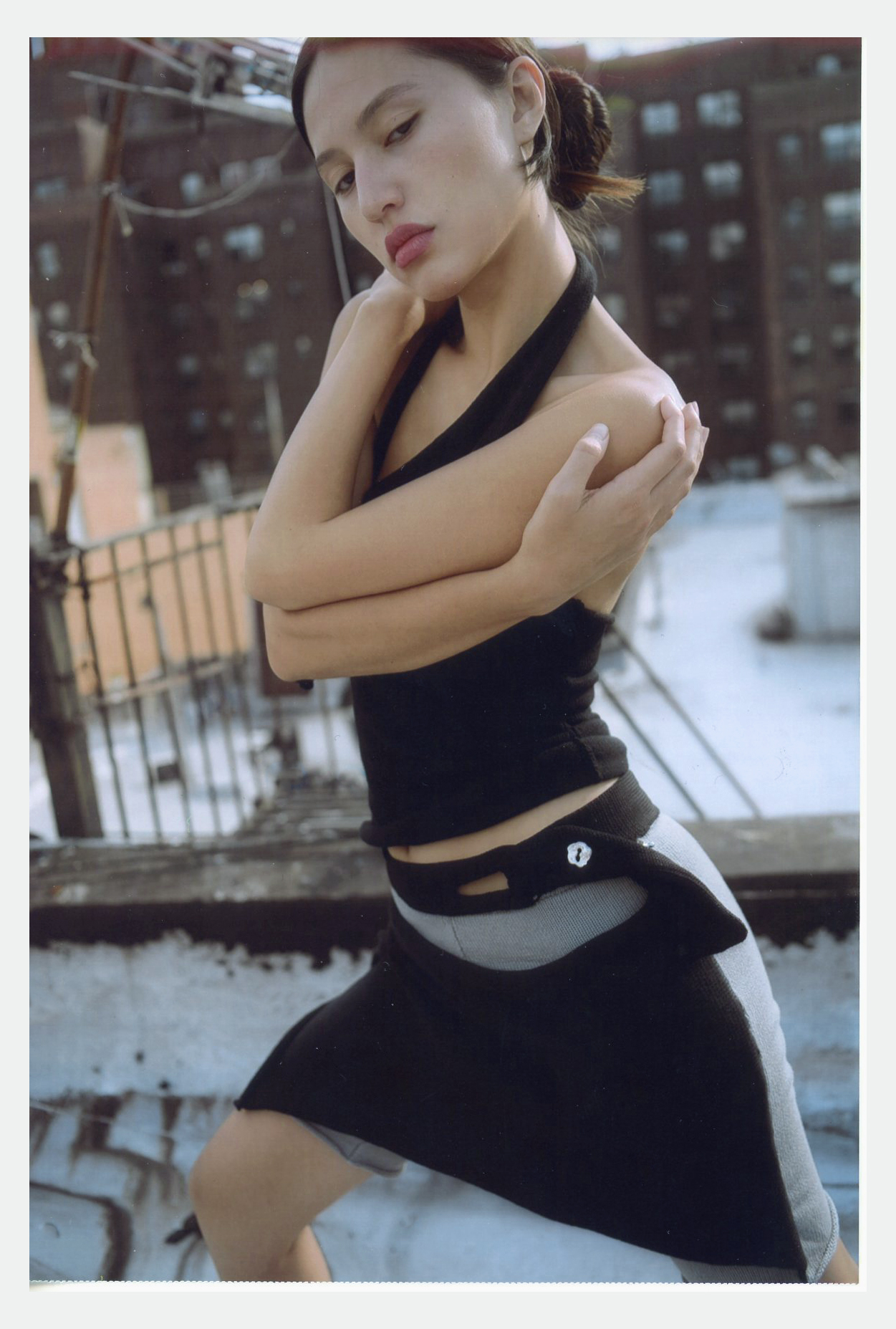 Krystal Paniagua offers quietly sensual knits for SS22
When Krystal Paniagua graduated from the Royal College of Art back in 2019, she dazzled us with her high-technicality knits that paid homage to the raw beauty of her home island of Puerto Rico. Highlights of her debut included beach-ready knit ensembles were printed with images of mossy concrete and flaking paint, punched through with frayed-edge cutouts. Just over two years on from then, she's releasing her SS22 collection, her second since leaving the prestigious London school. Presented in a lookbook shot against the backdrop of New York City by Hedi Stanton, it's comparatively discreet in its aesthetic texture, though no less telling of Krystal's honed making techniques. The collection's baseline is sensually sporty – a mood that translates most directly to ribbed halterneck tops with adjustable straps and Moebius-strip cutouts, as well as to body-con trousers and cycling shorts. They're counterposed by the more evening-appropriate feel of fitted vest dresses decorated with hanging drapes and oversized ruches, and seemingly shredded bands that run around the wearer's body. It all makes for a wardrobe that considers its wearer's everyday comfort as much as fashion's duty to elevate the everyday. MS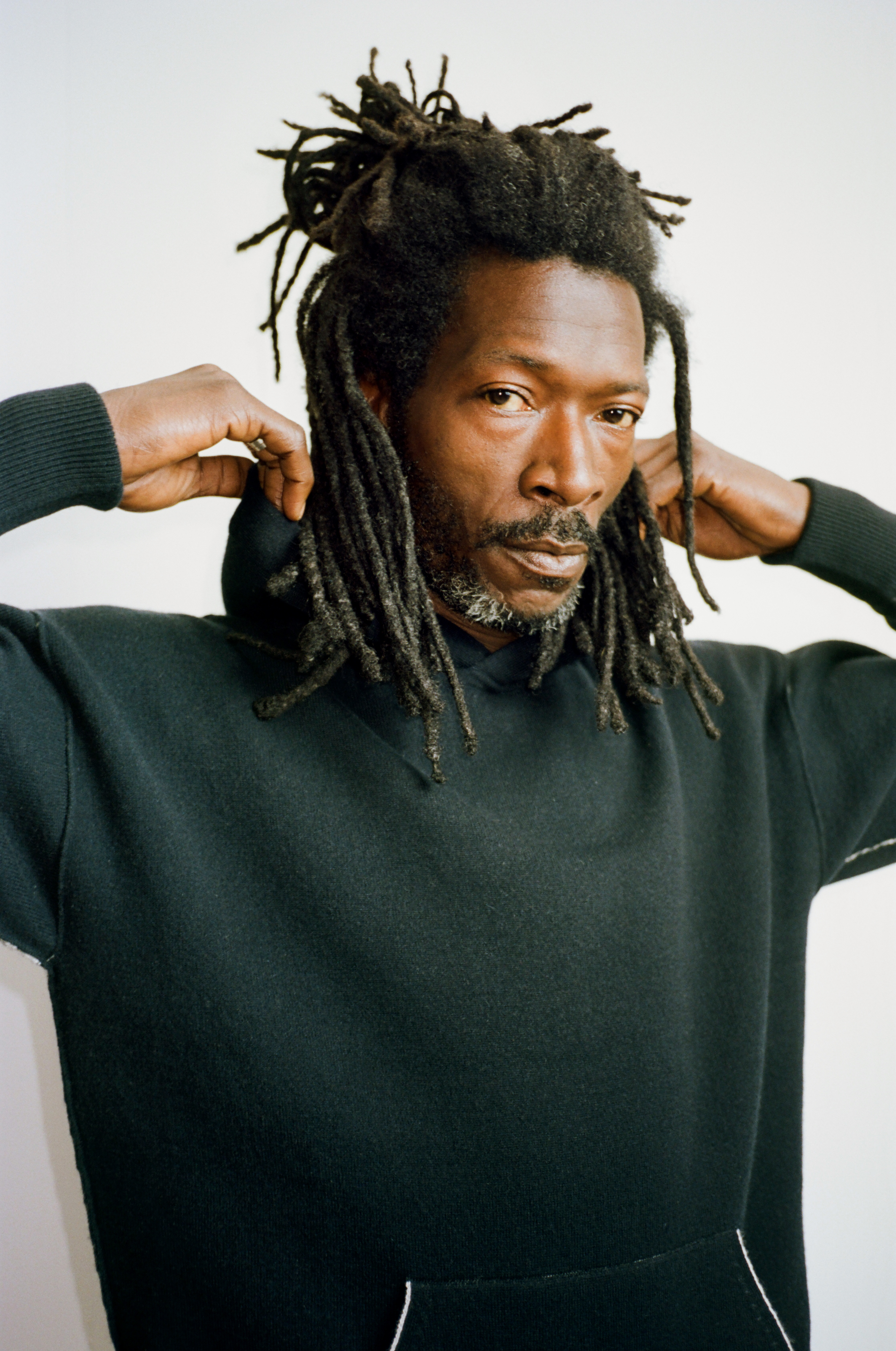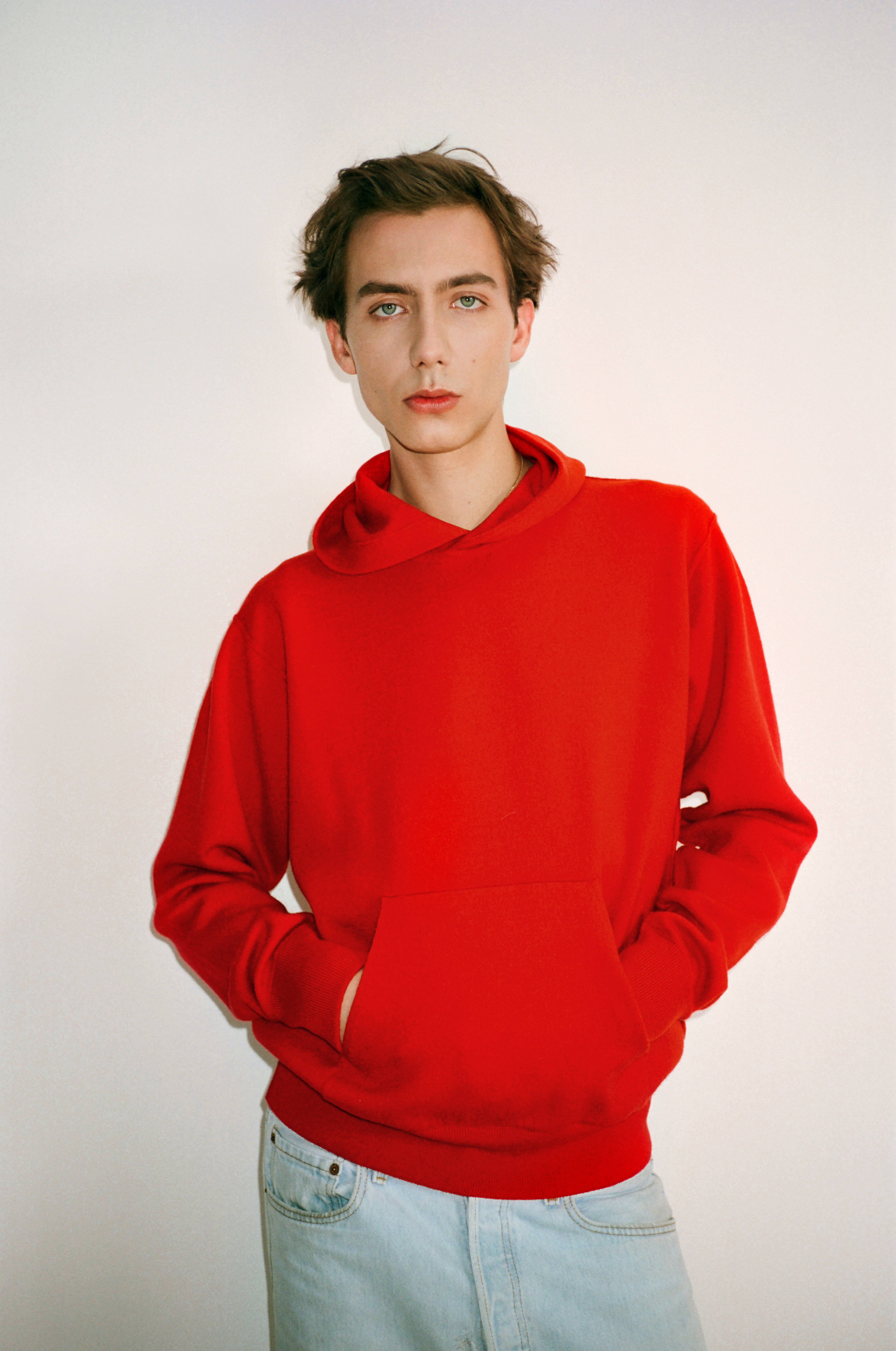 Pellat-Finet is back, baby!
Since the 90s, Pellat-Finet has revolutionised knitwear with an anti-fashion stance. Its boldly-hued designs – drawn up in Paris and brought to life by London tailors using Italian yarns – reject tags and brand labels. Instead, the brand's only calling card on the actual garments is their craftsmanship. Now, after being bought by Zadig and Voltaire founder Thierry Gillier in 2019, Pellat-Finet is back with a new collection of knitwear with the same level of immaculate supple, luxurious fibres (perfect for this time of year, we might add) though this time with eminently contemporary silhouettes, raw-edged hems, contrasting linings, hoodies with kangaroo pockets and giant skulls seamlessly threaded into the back. Pellat-Finet's comeback collection is now available to buy at pellatfinet.com. Staying warm never felt so good, literally. TG
Palace x Kappa bring fashion to football
Fashion and football are two words you don't often hear in the same sentence but a new collaboration from two of streetwear's most prolific names are gunning to change that. Kappa invited Palace into their archive based in Turin, Italy, which houses many a gem from football history. From home and away jerseys worn by iconic players, to sportswear brought to life by iconic British pop stars; Palace searched through the 30-year time capsule and created a collection that encompasses timeless Italian style with 90s British football culture. Though the collaboration began with everyone involved staying loyal to their football teams, the colourways evolved and blurred together into something more united. The result is a collection of crinkle effect nylon jackets with sporty stripes, raglan sleeved tees and a banda tracksuit, its polytricot reimagined to fit both Palace and Kappa's styles. The full collection is available from today to buy from Palace stores in London, LA, NYC and Tokyo, Dover Street Market London and LA and online at palaceskateboards.com. Catch us at a football match in head-to-toe Palace x Kappa, hotdog in hand, shouting "go sports!" TG Meet the designer making the Xmas party dresses of your dreams
If you thought that knitwear had already reached peak chic, then we're sorry, but you were WRONG! Introducing Emma Gudmundson, the Swedish designer alchemising humble yarn into some of the most intricate, down-right stunning going-out-out dresses you'll find. If you don't want to take our word for it, then heed the advice of someone who really knows her stuff – Ida Petersson, Buying Director at Browns. When she first laid eyes on Emma's work last October as a panellist for Designer's Nest – a talent support platform for young Nordic designers – it was love at first sight. "I freaked out, in a good way," she says. "At the time, everyone was doing black, safe and core styles, and Emma had this lineup of beautiful, colourful, dresses for going out that brightened up my day. Seeing the collection in person a few months later – having overcome Brexit import restrictions – I realised how intricate they were. Emma makes every garment by hand and the knitwear is incredibly detailed upfront. It's true craftsmanship." As a finalist in the initiative, Emma was then invited by Ida to produce an exclusive capsule collection for the London fashion stalwart – an edit of poppy, hand-crafted dresses fitted directly on the body, available to buy now – just in time for party season! Tempted? Well, here's Emma herself to win you over! MS Hi Emma! Tell us a bit about yourself. What drew you to fashion?
From when I was a child, I was always drawing or making something. I used to say that my dream job was to be an artist. When I got a little older my attention was drawn to sewing. It started with making clothes and accessories for my dolls and later developed into sewing my own clothing or altering stuff I already had in my wardrobe. I think this is when I first started contemplating the idea of going to fashion school, but it still took me until I was 25 years old until I finally dared to go for my dream and apply.
Fashion in general has always been an interest of mine, but my true passion was discovered when I was introduced to the knitting machines at The Swedish School of Textiles. I love the hands-on process where you can create the most amazing things with just a thread. It is a very satisfying feeling finishing a piece and knowing all the meticulous work that was put into it.
How would you introduce this capsule? What was its starting point?
With this capsule, I wanted to find the balance between the art and the clothing. My graduate collection was very sculptural and experimental, and I wanted to translate that into wearable pieces but still keep the visual effect that is my signature.
The attention to detail on show in your work is really impressive. On average, how long does a piece take to make?
Thank you! The time the pieces take to make varies a lot depending on how much detail work is put into it. A small top with beading can take up to 20 hours just to knit. But most of the pieces I make take roughly eight hours from start to finish. What would you say are your main aesthetic influences?
I have always been drawn to symmetry. To me, it equals perfection, which is something I always strive for in my work. In fashion, Iris Van Herpen is a huge inspiration. I'm always in awe of the spectacular pieces she creates. Colour is also a very important element. It can be used as a complement to enhance the structure in the fabric in many ways which I never get bored of experimenting with.
Who do you have in mind when you design?
I would say my designs are for people who want to feel feminine and sexy. Some pieces are more showpieces that would look great on stage, but I also have dresses for those who just want to look hot on a night out.