7 of Pete Davidson's most iconic outfits
No wait, hear us out.
|
17 December 2021, 8:00am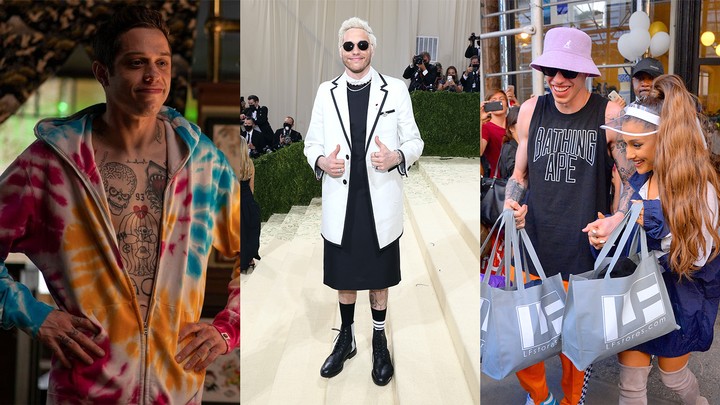 Centre photo by Taylor Hill/Wire Image, Right photo by Robert Kamau/GC Images
Generally speaking, in terms of fashion icons our first references might be to models, designers, pop stars and actors. Comedians, conversely, are likely to rank pretty far down the list. There are of course notable exceptions: Adam Sandler, for instance, in his Uncut Gems era or scumbro hypebeast king Jonah Hill. Then, most recently, there's SNL's Big Dick Energy king, and recent centre of a Miley Cyrus Kim Kardashian love triangle: the Right Honourable Pete Davidson, of Staten Island New York.
In his seven year tenure at Saturday Night Live, breakout roles in indie films (like the semi-autobiographical The King of Staten Island) and side hustle as celebrity boyfriend du jour, Pete has carved out a niche as an unlikely sartorial god. We flock to Pete, nowadays, not just for his jokes but for his style. Like the characters in his running SNL sketch "Chad" we are drawn to him and his outfits like moths to a flame, never quite understanding the attraction, but attracted nonetheless. Thus; here we peruse Pete's most iconic outfits.
Alexander Wang SS20 Show, 2019
Nothing says a crossover moment like freelancing for NYFW. In a decidedly glamorous side-hustle to his work on SNL, Pete Davidson nipped two minutes down the road from NBC studios to make his runway debut at Rockefeller Centre, walking for Alexander Wang's SS20 collection show. The look — a white tank top, backwards facing baseball cap and monochrome logo trousers — was a high-fashion take on the actor's usual attire, which perhaps partially explains why he seems relatively at ease for a brand new model. He also attended a boot camp ahead of the show, learning tips and tricks on nailing his walk and calming his nerves from other models. Tyra could never.
Calvin Klein takeover, 2021
Not content with just the Alexander Wang collab, Pete has really spread his fashion wings over the past couple of years. Just this month, he took over Calvin Klein's Instagram account with noted wingman and fellow manic pixie dream boyfriend, Machine Gun Kelly. In a predictably chaotic Instagram live the duo posed in head to toe Calvin Klein (MGK looked like a weird tall baby in white briefs and a white tank top; Pete wore a grey CK jumper with jeans pulled down to his knees), with Pete telling the audience "hope everyone's horny at home", before joking about his own BDE. A million thinkpieces ensued on BDE's origins and how it's related to vibes and confidence rather than clothes or appearance. Which makes sense here, because while the outfit itself is nothing more than 2021's hottest new trend (subversive basics, thanks TikTok), it's the confidence and chaos of Pete's social media modelling gig that makes it iconic, and chaotic.
On SNL's Weekend Update, 2018
Fashion has a reputation for taking itself far too seriously (can't think why!), so it's refreshing when people can take the piss out of the looks that in retrospect were not giving what they thought they were giving. Back in the pre-pandemic halcyon days of non-socially distanced live NBC shows, Pete Davidson did just that, using SNL's "Weekend Update" segment to drag his own fashion as part of a bit on Kanye West. Specifically, he took issue with this retroactively iconic pap shot with his ex Ariana Grande, where he wore a slinky BAPE slogan tank top and asked host Michael Che, "Can you imagine that T-shirt was the second stupidest thing I was wearing that day?" (The first being the pink bucket hat, which he says he wished someone had bullied him into not wearing). Personally, we enjoy both. An ensemble that looks camp right in the eye.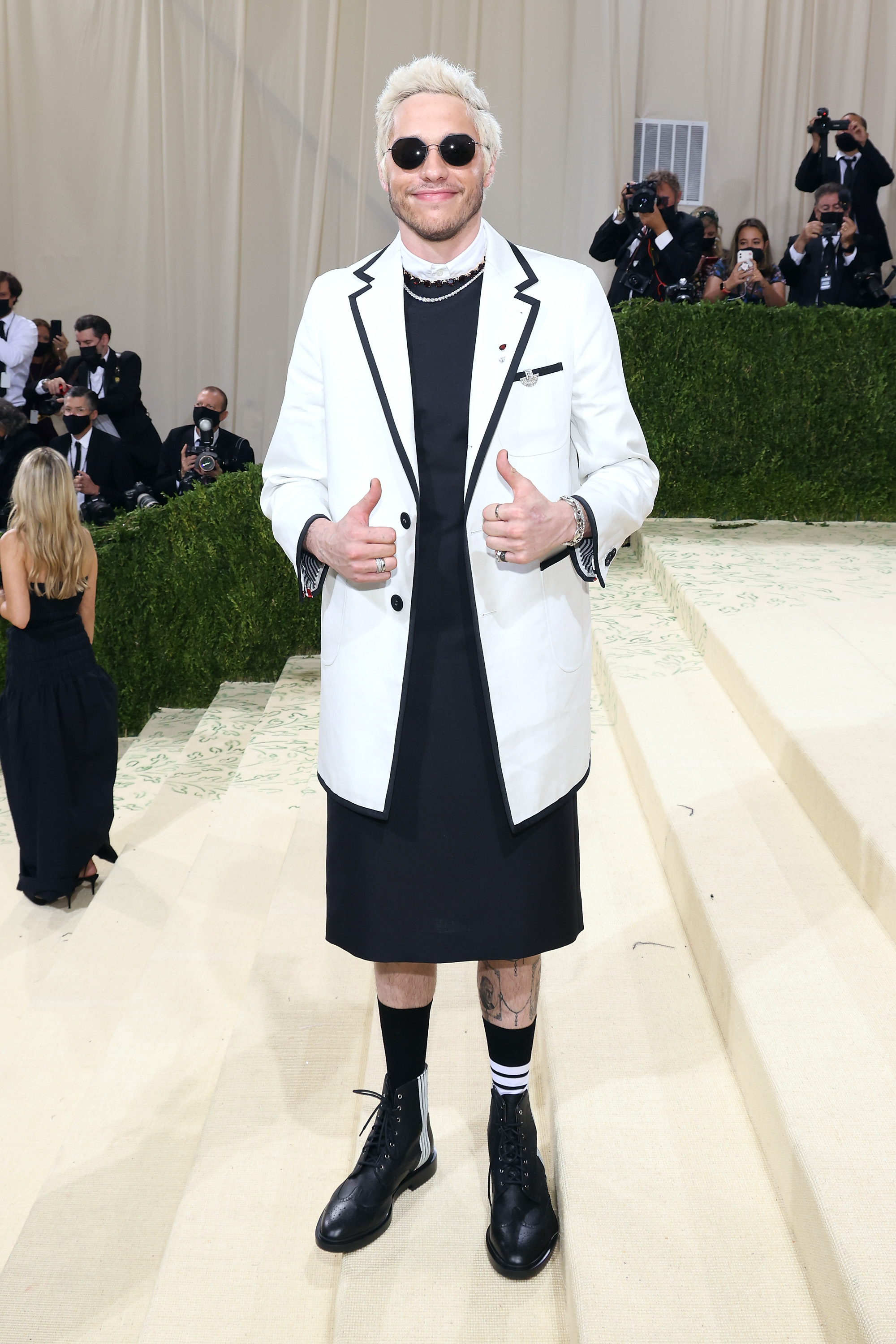 Met Gala, 2021
Nothing cements you as a veritable fashionista — yes, not even walking for Alexander Wang — until you've been invited to the Met's annual Ball. This year was Pete's debut on the iconic carpeted steps of the Met Gala, wearing a dress by American designer Thom Browne which earned him some unfortunate Three Blind Mice comparisons. The look — which was about as in keeping with this year's notoriously poorly interpreted theme, "In America: A Lexicon of Fashion", as it got — also came with a more personal homage to American heroism. To offset the look Pete wore garnets, his late father's birthstone, in the form of custom lapel pins and an antique necklace by Fred Leighton. "Pete's father passed away on 9/11, and given that the Met this year was unusually in September, we wanted to pay a tribute to his dad," the comedian's stylist, Britt Theodora, told Vogue. "What made the necklace stand out was that they [the garnets] looked like black diamonds but when the light hit the necklace you can see the hints of red, which also feels very patriotic."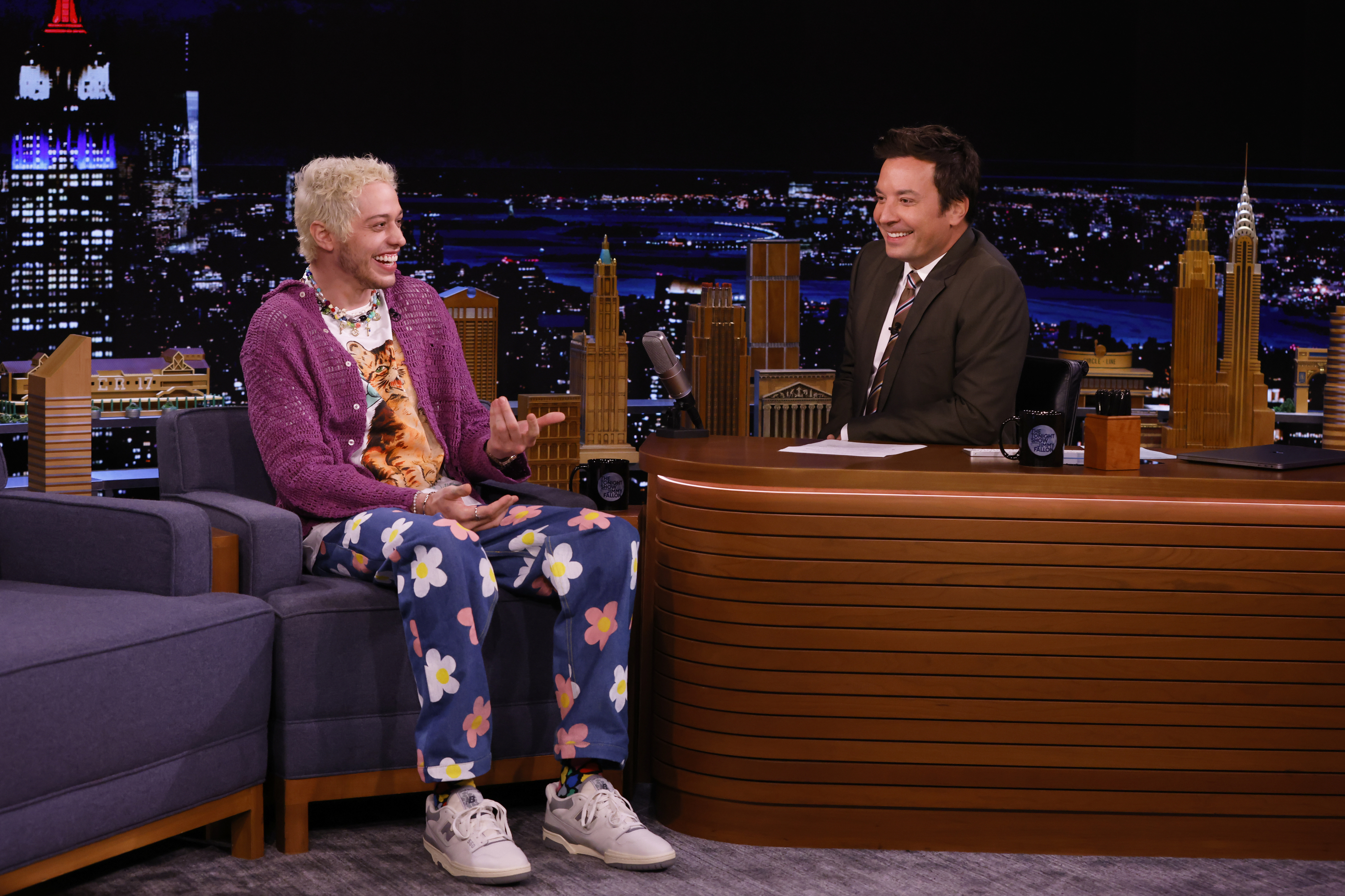 On Jimmy Fallon, 2021
It's that same stylist, Britt Theodora, that has masterminded many of Pete's most recent iconic looks, including this bimbo-inspired skate fit that the comedian wore on Jimmy Fallon in September this year. Fully in his bleach blonde hair era — who among us did not fall victim to the post-lockdown hair switch up this year? — Pete (via Britt) wore flower print jeans and New Balance trainers with a purple granny cardi and cat tee by The Vampire's Wife. Finishing off the look was a bunch of chunky beaded resin and shell necklaces layered over one another. It's a refreshing take on talk show fashion, which is usually in the realm of endless boring black suits and dresses that give off big wedding guest vibes. This is more, if an e-girl got famous for her uncanny valley TikTok impressions where she pretends to be on Fallon, and then actually gets on Fallon, you know? Anyway, we dig it.
Tartan PJs with the Kardashians, 2021
If a lot of these iconic outfit moments take place within the past 12 months, that's no accident. Despite his dalliances as a celebrity boyfriend in the past (who can forget the matching Hogwarts robes with Ariana Grande, that very narrowly missed being included on this very list?), it was in 2021 that Pete truly embraced his MPDB role, embarking on a totally real fling with Kim Kardashian that made Miley Cyrus serenade Pete over her totally real jealousy of the totally real fling on national television. In the process, Pete became an honorary Kardashian himself, elevated to the dizzying highs previously only enjoyed by a select few men (Kanye West, Scott Disick, Todd Kraines). Of course, as everyone knows, you're not someone's real boyfriend until you've been soft-launched online, or in Kim's case, pose your new beau in matching Christmas jammies with your mum and 90s rapper Flava Flav for Instagram. But wait! If you, like Miley, are just so jealous about this, then fear not. You can join in on the fun by buying Pete and Kim's outfits. They're made by Skims, naturally.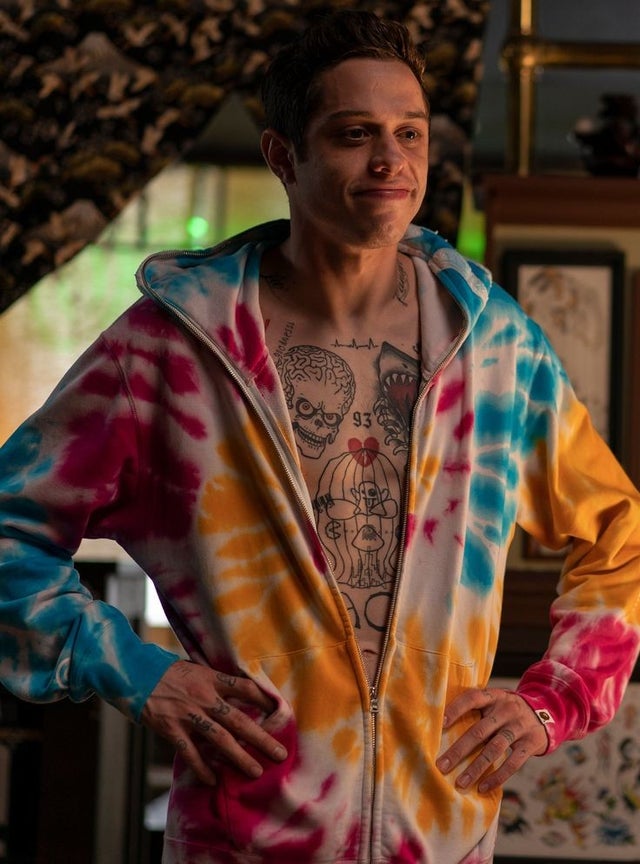 The King of Staten Island, 2020
Despite his ascendance to the world of high fashun Pete is perhaps best known and beloved for his pre-stylist, pre-celebrity boyfriend garms which were more scumbro than Skims. In his early days of SNL fame he was frequently spotted in lowkey hoodies and splashes of tie-dye, a look he resurrected for his debut starring film role in semi-autobiographical Judd Apatow movie The King of Staten Island. In the movie, Pete is frequently seen merging two of his trademarks (tie dye and hoodies), usually then bare-chested with his numerous tattoos just poking out underneath. It was iconic enough to lead many fans to begin scouring the internet for a dupe to cop, before presumably being deterred by price tag (it's another item from a Davidson favourite brand, BAPE).