Luca Guadagnino's Zendaya-starring next movie is definitely queer
Starring the 'Euphoria' actor opposite Josh O'Connor, here's everything we know about 'Challengers'.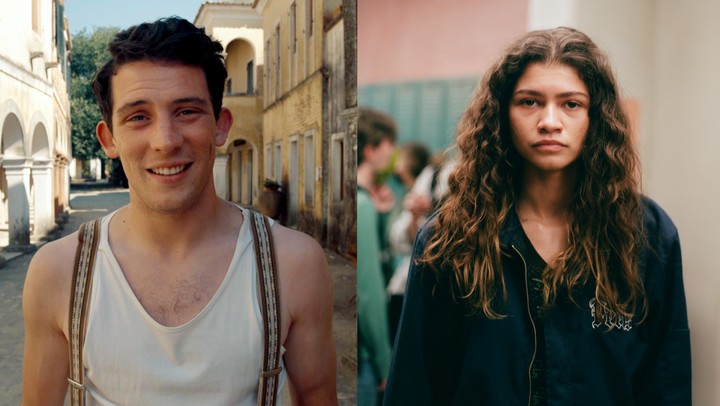 Left: PBS/Right: Eddy Chen/HBO
We really do love Luca Guadagnino, a) when he's on his gay shit, and b) when a project he announces actually gets to the shooting stage. Since Call Me by Your Name propelled him into the mainstream, there have been stops and starts on a number of movies his name has been attached to. The Scarface remake? His take on Brideshead Revisited? The now ill-fated Call Me by Your Name 2? Well, fret not — his next movie Challengers stars Zendaya, Josh O'Connor and Mike Faist (West Side Story) and will shortly wrap filming in Boston. What's more, the director himself has confirmed that the film is queer.
Speaking to audiences at Provincetown Film Festival, Luca waxed lyrical on everything from the state of moviemaking in the streaming age to new projects he loved (including David Cronenberg's Crimes of the Future). As the Q&A panel opened to audience members, one asked the director if Challengers, as was rumoured, could be considered a queer movie. Per IndieWire, he smiled and responded: "It's me, so."
Challengers will follow Bones & All next summer, Luca's horror-romance set in the American south that reunites him with Timothée Chalamet. That movie, set for release in 2022 and rumoured to premiere at Venice Film Festival, will be his first feature since 2018's Suspiria. It's safe to say, at this point in time, we are gagging for some Guad.
So what the hell is Challengers? Who's in the cast? And when can we expect to see it on our screens? Here's what we know so far.
What is the plot of Challengers?
Set in the cutthroat world of professional tennis, Challengers follows Tashi, a player-turned-coach who, until recently, had shaped her husband, Art, into a perfect player too. But when Art winds up on a losing streak, he's entered into a low-league challenger tournament to prove himself again. On the way, he is forced to play against Patrick, Tashi's old boyfriend and their teenage best friend, catalysing a complex love triangle. Expect slightly queer undertones!
What actors are in Challengers, and who do they play?
Zendaya, of course, plays the lead character Tashi. Joining her as her husband is Mike Faist, who's been a mainstay on Broadway for the past decade and earned new-found respect on screen playing Riff in Steven Spielberg's West Side Story, turning him into an internet boyfriend. Patrick will be played by Josh O'Connor, known best for God's Own Country and The Crown. Additional supporting cast members are yet to be announced.
Who's behind the camera?
Of course, we know Luca is directing the movie, and he's working with a script written by first-time screenwriter Justin Kuritzkes. Super-producer Amy Pascal is on board too, having worked on Little Women and The Post in the past, as well as the upcoming Madonna and Barbie movies.
But what's really caught our attention is the costume department. In a first for the designer, Jonathan Anderson has come on board to design the outfits for the movie. He made the announcement on his Instagram stories on 16 March. Of course, it's not the first time Luca has crossed over with a fashion brand, his short film The Staggering Girl doubled up as a fashion showcase for Valentino.
Where is Challengers shooting?
Shooting started in March in Boston, Massachusetts, where fans spotted Zendaya around town!
What is Challengers' release date?
Challengers is set for release in US theatres on 11 August 2023.