7 sexy horrors to watch after A24's X
From sadistic cam girls and thirsty gay vampires to car crash kinks, add these XXX-rated horror movies to your watchlist.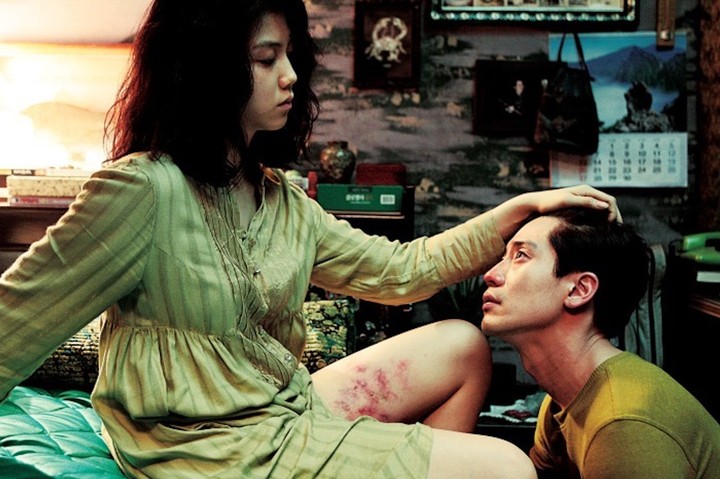 Still from Thirst.
Horror and porn have long been intertwined. Both stringently controlled through America's strict moral guidelines for movies, known as the Hays Code, until the 60s, the lingering taboo lasted long after it was replaced by the MPAA rating system, making sex and scares an exciting space for directors to play around and create something shocking and contentious. After all, both horror films and sex scenes aim to provoke a visceral response in us, albeit in different ways.
One such movie that is bound to get our blood pumping is X, the new chaotic porn horror from A24. Hitting cinemas today, scream queen Mia Goth stars as both Maxine and Pearl, who arrives at a secluded farmhouse to film an adult movie. But as night falls, the annoyed but seemingly-harmless elderly couple who own the barn start to get violent. Also starring Jenna Ortega (Scream), Brittany Snow (John Tucker Must Die) and Kid Cudi, you can read our full review of the slasher here. But if you're looking for some more spicy yet scary content, here are a bunch of horny horrors for you to check out.
CAM (2018)
Written by Isa Mazzei, who based it on her own experiences as an online sex worker, this trippy psychological horror follows Alice, a cam girl on a live porn website. Obsessed with becoming the most popular account on the site, she starts to take her content to more deranged and morbid heights in order to increase her ranking. However, just as she cracks the top 50, her account is hijacked by… herself? A person with her face and voice begins putting on live shows as her, leaving Alice to figure out what the hell is going on. Starring Madeline Brewer of Hustlers and Orange Is the New Black, CAM is the kind of messed up Hitchcockian thriller that will leave you reeling for days.
Titane (2021)
Arguably the most deranged movie of last year, Titane comes from Julia Ducournau, the acclaimed director behind Raw (2016). The film follows young Alexia, who is left with a titanium plate in her head after a car crash and develops a morbid fascination with the vehicle she almost died in. As she grows up, that fascination turns into a fetish and the adult Alexia (played by model Agathe Rousselle in her first full length movie) is now a car showroom model, surrounded by temptation. But as she explores her sexuality, it leads Alexia down a shocking and incredibly gory path. If you want to know more, read our review of the Palme D'Or winning film here.
Videodrome (1983)
Tbh we could probably fill this entire list with the movies of David Cronenberg – the father of gory body horrors. When television producer Max Renn (James Woods) is shown an eerie new snuff film channel, he begins to hallucinate that the flirtatious pornstars on its screen are beckoning him. But as he investigates the true twisted origins of Videodrome, the hallucinations get stronger and the torture kink begins to manifest IRL. Playing on the fears at the time that widespread access to TV and video porn were rotting our brains, the psychosexual horror has been lauded for being fascinatingly messed up and very much ahead of its time.
Interview With The Vampire (1994)
Based on the 1976 novel of the same name by Anne Rice, in this very homoerotic horror Brad Pitt plays Louis, a vampire telling his origin story to a journalist, played by Christian Slater. Two hundred years prior Louis had been minding his own business in his rather tragic life with his rather tragic ponytail when he was attacked by the vampire Lestat (Tom Cruise) who promised him an exciting new immortal life. Together they raise a cute little vampire child (played by an incredibly young Kirsten Dunst). But, as time goes on, the baby-faced bloodthirsty killer becomes more and more vindictive, hedonistic and manipulative. Fun fact: When Anne Rice wrote the script she considered making Louis a woman (thinking the film was more likely to be produced with a heterosexual relationship at the centre), and the role almost went to Cher.
Thirst (2009)
If you want some more thirsty vamps, South Korean horror Thirst is your next watch. Winning the Jury Prize at Cannes, the movie comes from Park Chan-Wook, lauded director of The Handmaiden (2016), based on an 1867 novel by French writer Émile Zola. Parasite's Song Kang-ho leads as Sang-hyun, a zealous Catholic priest who volunteers to be part of an experimental vaccine program that turns him into a blood sucker. With a growing desire to feast on humans, Sang-hyun must fight the urge to drain the body of his lover. Think: Twilight but with more foot fetish content.
Possession (1981)
When spy Mark (played by Sam Neil of Jurassic Park fame) returns home to West Berlin, he is welcomed by his wife asking for a divorce. Confused and hurt, he hires a PI to investigate whether she has a new lover, who discovers that she has! Walking in on her being dicked down by a slimy tentacled monster giving her out of this world orgasms. The epitome of the Kylie Minogue lyric "this is what'll happen if you ain't giving your girl what she needs", the cult body horror gets messy and twisted as Mark tries to get his wife back from the monstrous creature. The movie was originally banned by the UK, considered a video nasty and was heavily edited down in the US with over 40 minutes of X-rated scenes removed.
Crash (1996)
Probably the manifestation of a Charli XCX sex dream, David Cronenberg's Crash is about symphorophilia — the sexual arousal to staging and then watching tragedies like car crashes take place. Based on the J.G. Ballard novel, it follows James Ballard (James Spader) an unhappily married man who, after colliding vehicles with Dr. Helen Remington (Holly Hunter), finds himself heading further and further into the kinky car crash fetish community who recreate the famed vehicular manslaughters of major celebrities to then get off to. With its mixing of intense sexual discovery and extreme violence, the film and the book were incredibly taboo at the time, with a tabloid campaign to have the movie banned in the UK. Although it was awarded a special Jury Prize at Cannes Film Festival, many members abstained out of anger. Naturally, then, it has now become a cult classic.
Follow i-D on Instagram and TikTok for more on horror movies.