Images courtesy of Gucci and Balenciaga
Gucci goes Blondie and Balenciaga goes banker: What's in Fashion?
Your one-stop-show for this week's fashion news to know.
Images courtesy of Gucci and Balenciaga
Coucou mes anges de mode! Welcome back for another week's worth of scrumptious fashion news! This week, we're bringing you the lowdown on everything from Balenciaga's latest all-out spectacle at the New York Stock Exchange to the latest collection from Chloé Nardin, a London-based name to know. There are also brand new product launches from Gucci and Dior, and even an interview with Ibiza's de facto queen, Roisin Murphy. Gosh, we do spoil you! Here's what's in fashion.
Clarke & Reilly take over Sotheby's
Ok, so this may be a fashion round-up, but is there anything chicer than bending the rules? Well, actually, there is – art! And with Lizzie's Jubilee weekender just around the corner, the British capital's institutions are thrumming with activity, launching special programmes in honour of the 70th year of the reign of our stunning queen. Over at Sotheby's, the esteemed London auction house, collaborative duo Clarke & Reilly were invited to join the in-house curatorial team to bring its summer exhibition to life. Comprising Bridget Dwyer and David Grocott, Clarke & Reilly are best known for their curations and creation of "spaces and environments that lend themselves to provocative, in-person experiences," a release for the exhibition reads, something that makes itself strongly felt in the show at Sotheby's' galleries.
Notable features of the exhibition include a backdrop inspired by a portrait of HRH by Cecil Beaton, an artistic dialogue between artists David Samuel and Edward Kay, and works by the curatorial duo themselves, including an 18th-century chair that has been stripped back and rebuilt with layers of textiles. A particular highlight, though, is a video piece by New York-based filmmaker Zev Magasis, and scored by UNKLE, viewable here. An immersive montage of everyday London, the piece was shot on Zev's very first visit to the UK, resulting in a raw yet uplifting perspective on life in the big smoke. Sounds fab, right? Well, the show runs from tomorrow till June 15th at Sotheby's Bond Street galleries – perfect for a quick cultural pitstop between the shops!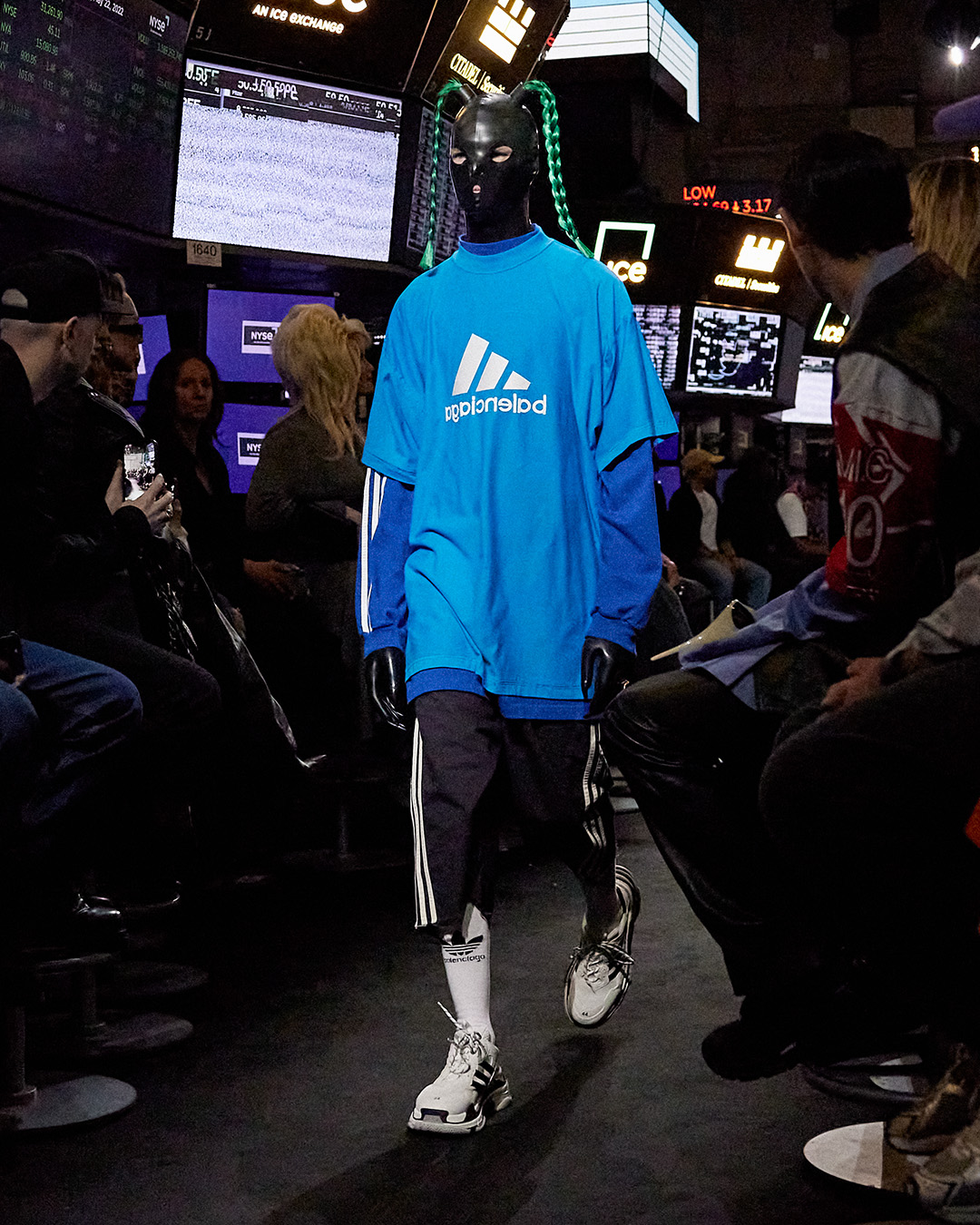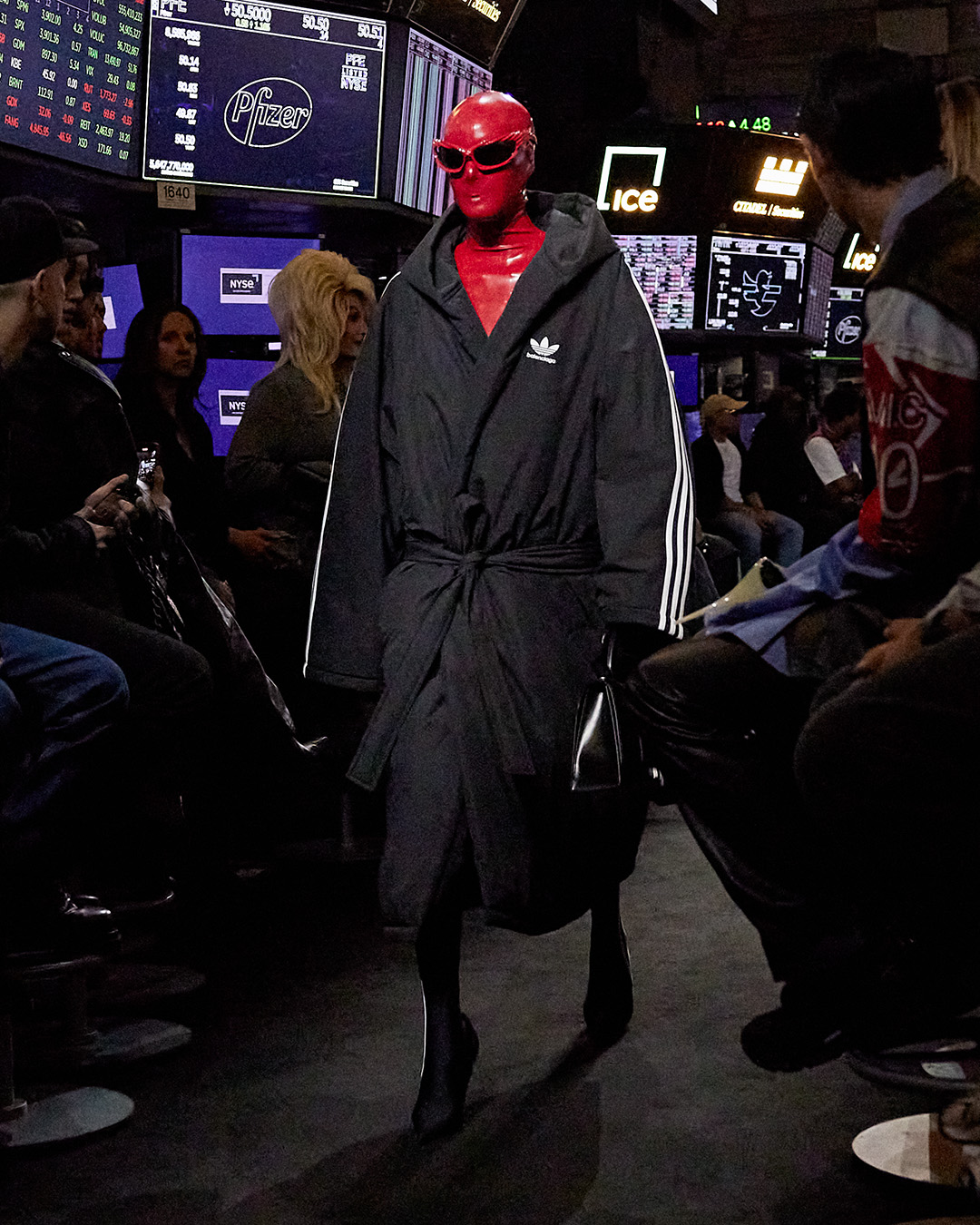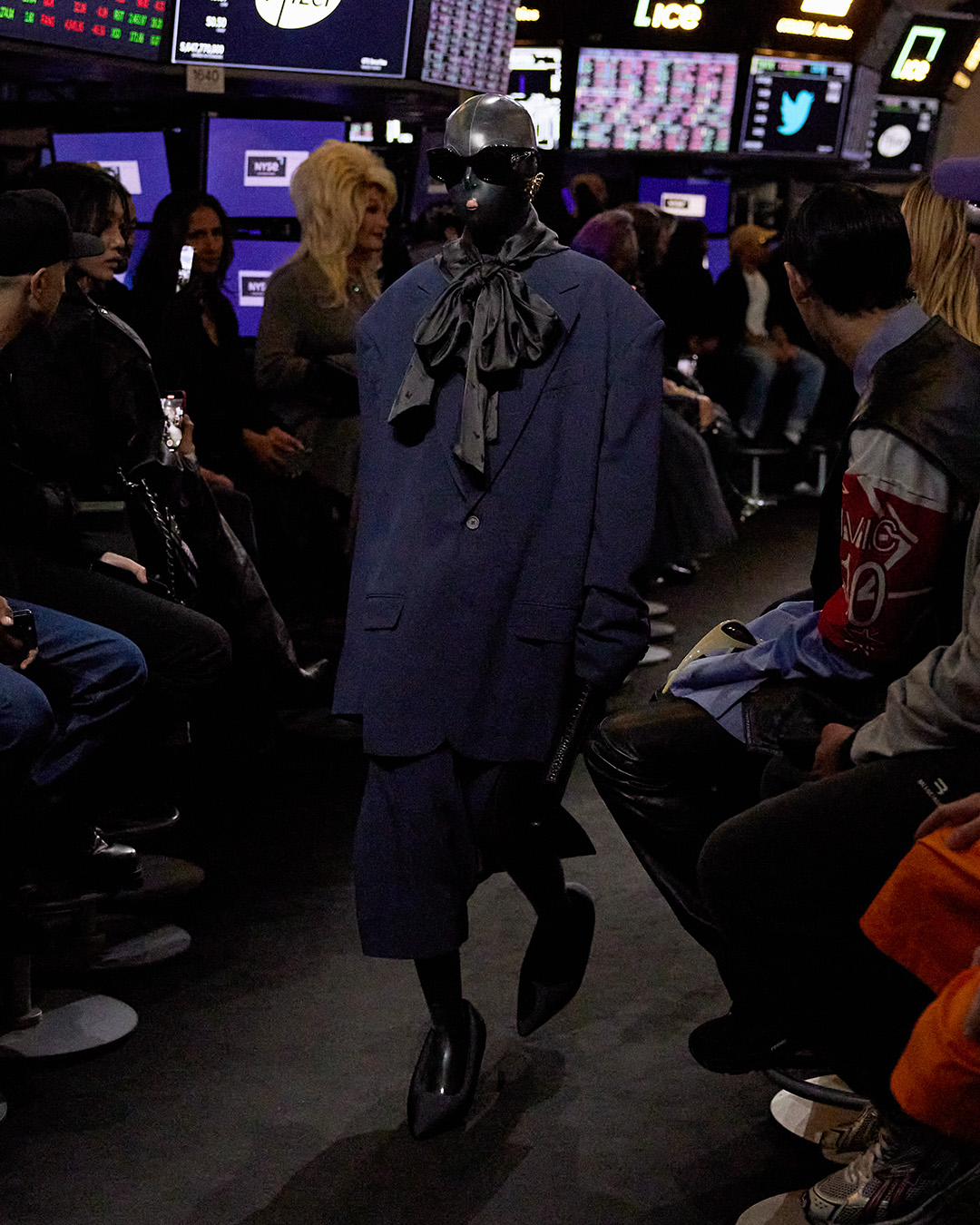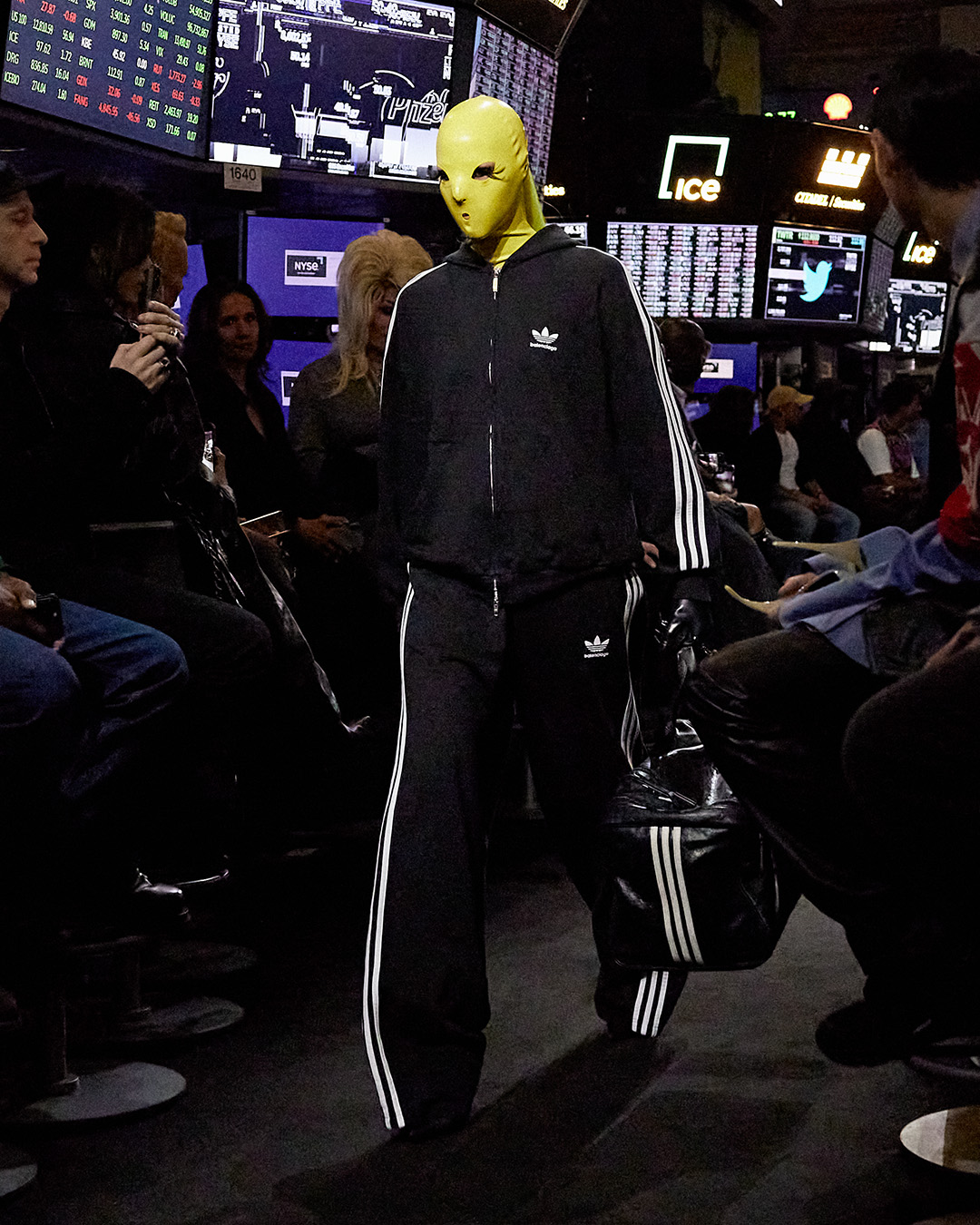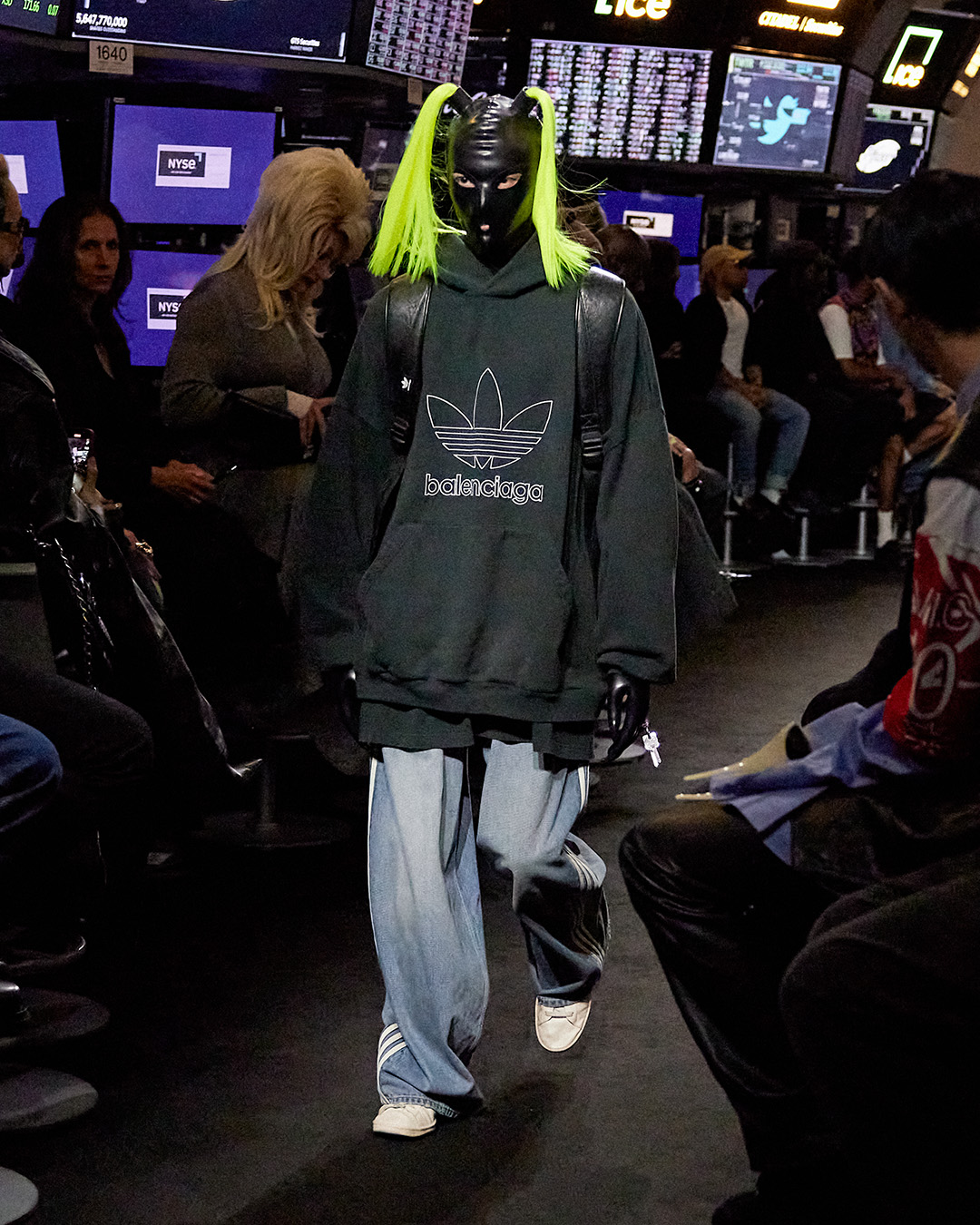 Balenciaga cashes in at the New York Stock Exchange
Fashion is a self-professedly capitalist affair — as integral as creativity is to it, the end goal for and functioning brand is to translate that into product that makes MONEY, honey. Still, that blunt, commercial reality isn't necessarily something most brands willingly flout. That said, you wouldn't really categorise Balenciaga under "most brands", would you. Last Sunday in Manhattan, Demna and the gang staged their latest show in what it wouldn't be unfair to dub the beating heart of global capitalism: the New York Stock Exchange. After flashing their invitations to the show — Balenciaga-branded wads of 'cash' — an expectedly starry roster of guests which included Marc Jacobs, Megan Thee Stallion, Chloe Sevigny, Pharrell, Ye, but not Kim — sat beneath the whirring neon lights of the trading screens as figures displaying the values of the world's most powerful companies ticks up and down.
The scene itself amounted to a hyperbolised mirror image of the cult of capitalism and fashion's essential role within it — this was, after all, this was a literal fashion show staged in its highest temple. Beyond that obvious observation, though, it also laid bare our relationships to the physical tokens that keep the system chugging along — cash, clothes, jewellery and the like – as inherently fetishistic. Money doesn't just the world go round — it turns us on. Where that was most evident was in the looks that moodily stormed the narrow runway, with each model garbed in gimp suits, most in high-shine black latex. Over them, they wore clothes that riffed on the broad sartorial lexicon that Demna has elaborated during his tenure at the house — oversized tailoring (very fitting for the context — after all, you never know what a banker could have on under that suit!), velvet hourglass jackets, airy plissé dresses, heavy-set leather coats.
The closing 20 or so looks brought with them a surprise many had been awaiting — the arrival of Balenciaga's long-since rumoured collaboration with Adidas. The looks themselves nodded to the German sports brand's most iconic looks and motifs: three-strip tracksuits, football shirts and logo tees, though made over in Balenciaga's signature proportions and knack for sartorial recontextualisation. Puffed up car-coats abounded, and sharp, boxy suits and denim jackets had Three Stripes running down the sleeve. At a time when co-branded capsules have become such an essential profit driver for luxury brands that they're essentially an industry-wide modus operandi, it's hard to think of a better way to debut a collaboration between two of the world's most powerful brands than on gimp suit-wearing models in a stock exchange. It was a literal orgy of commodity fetishism — and we would pay all the money in the world to take part. MS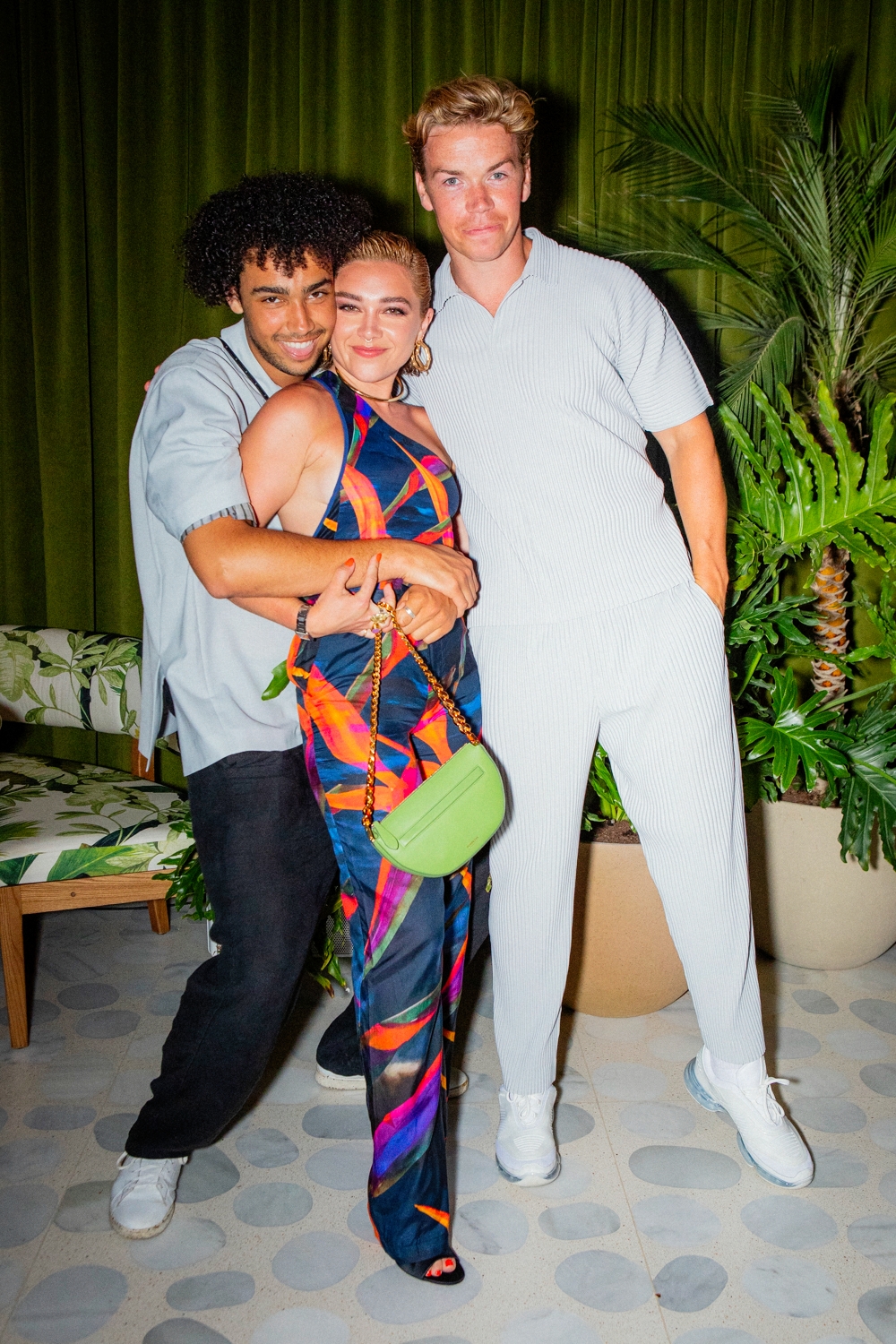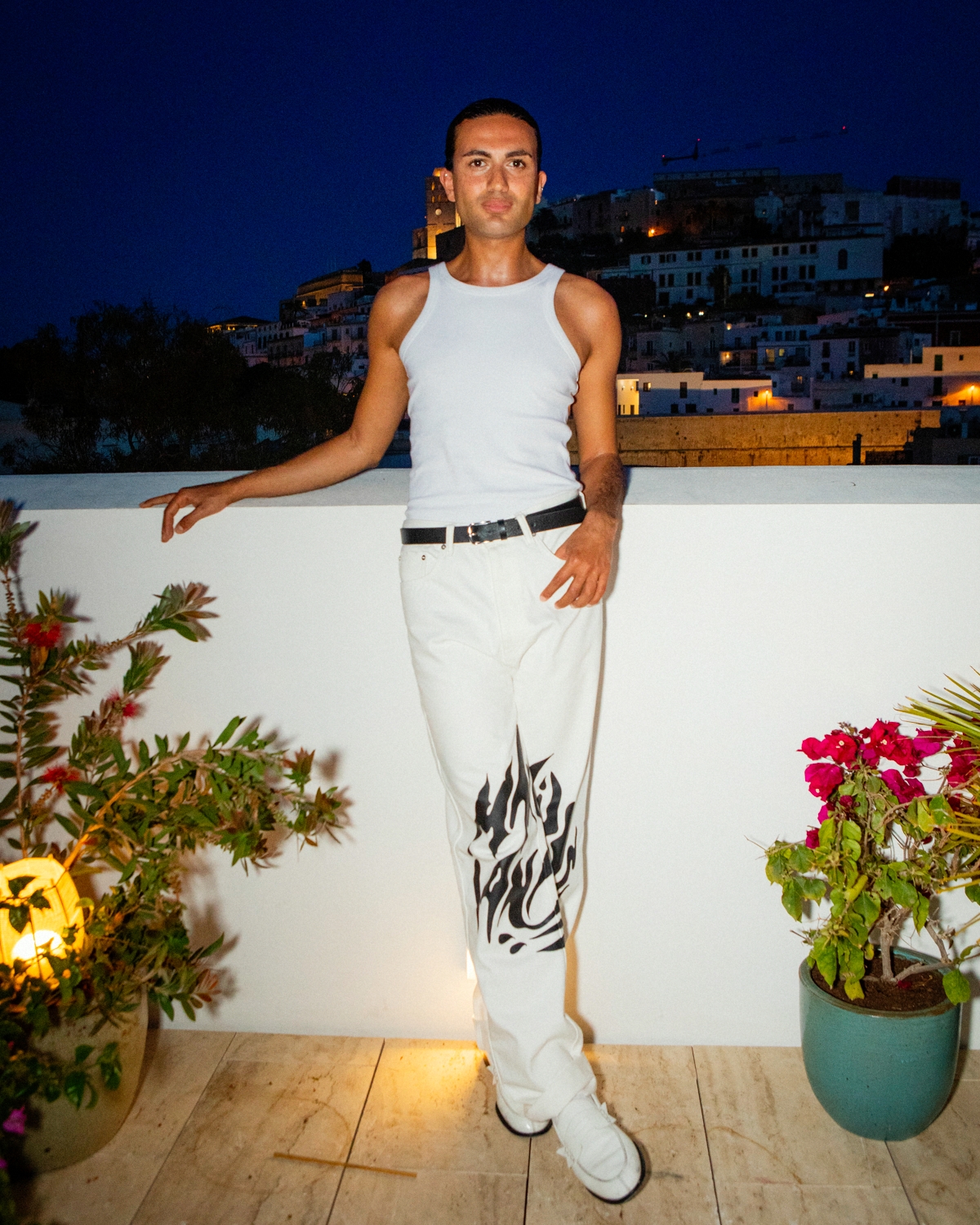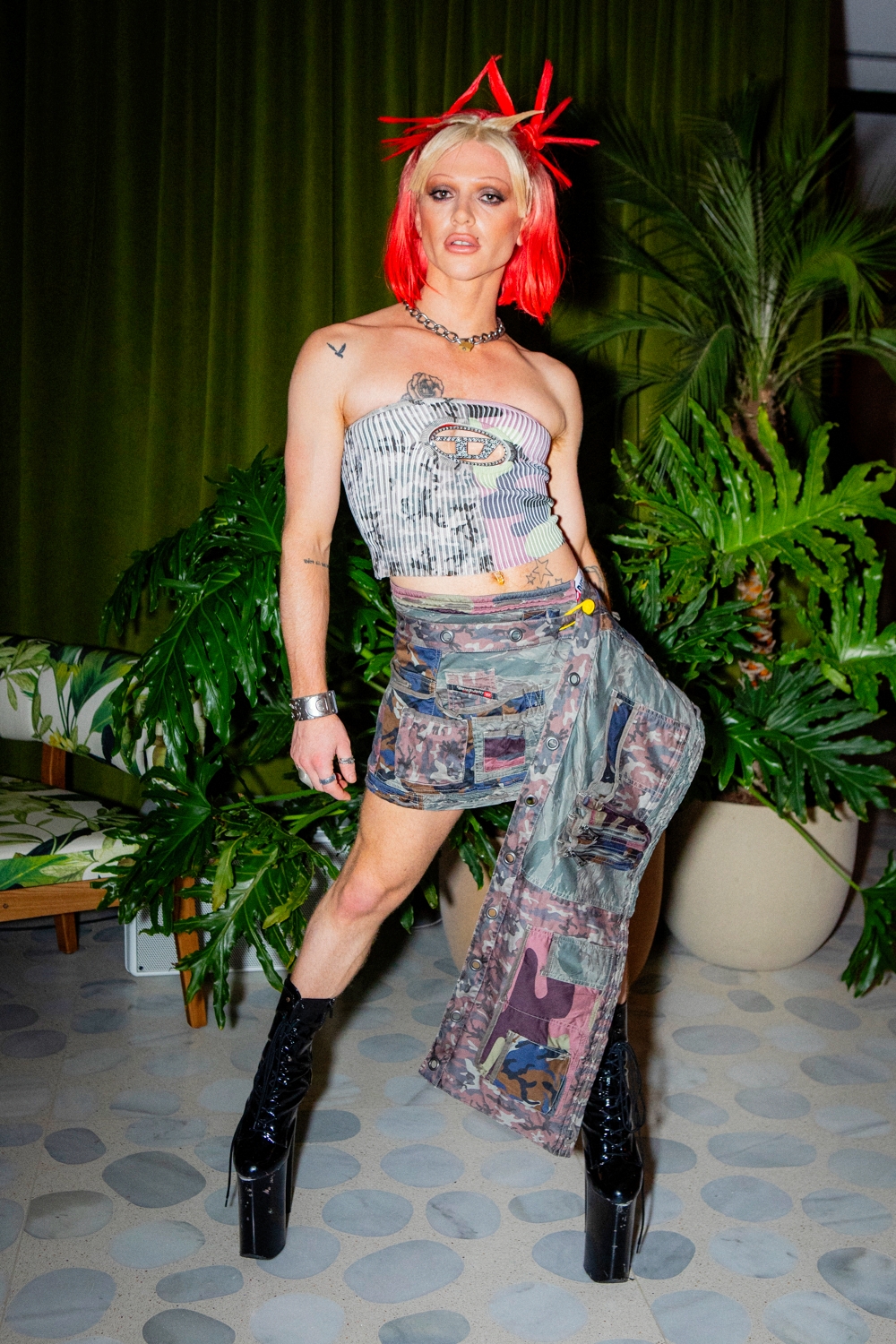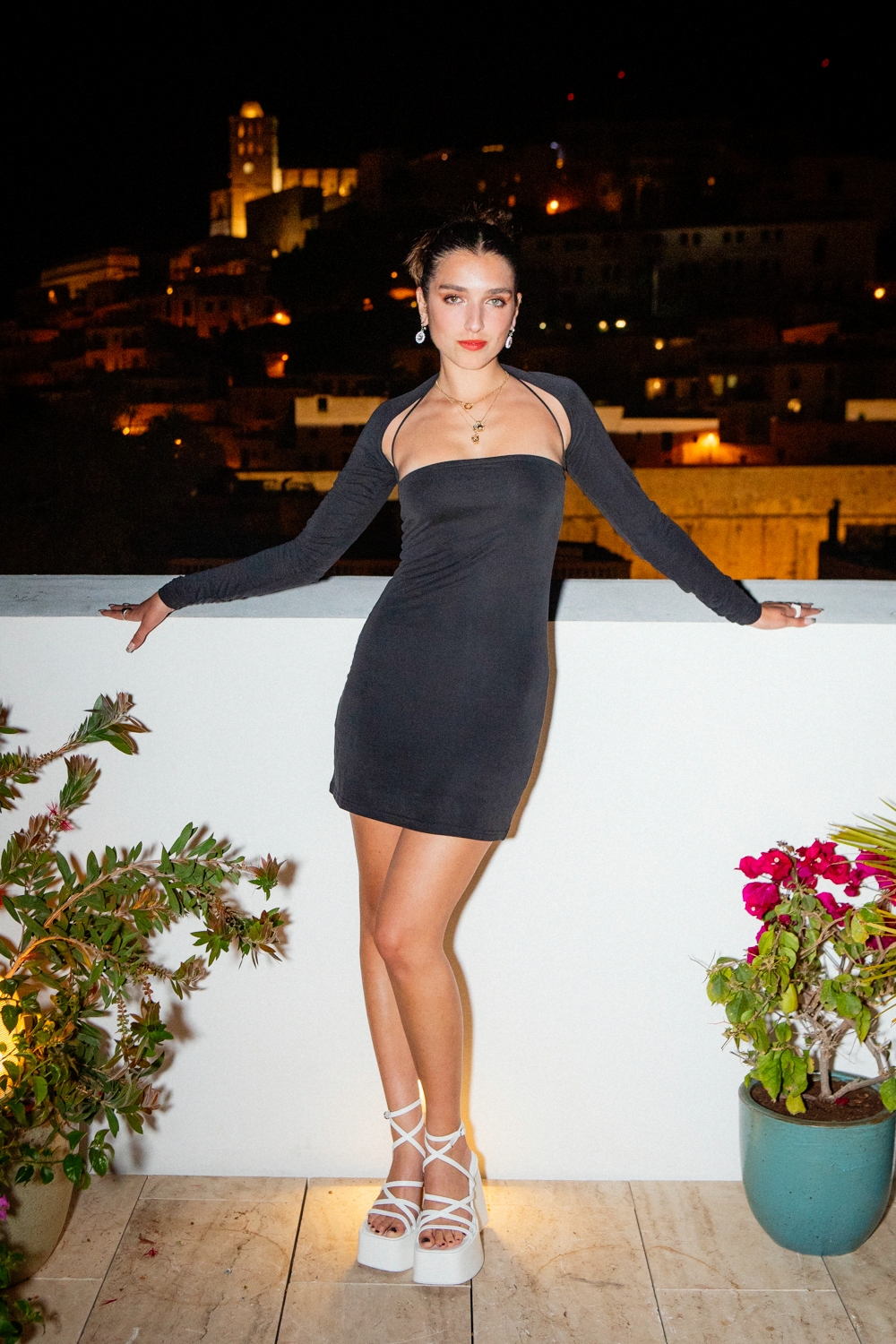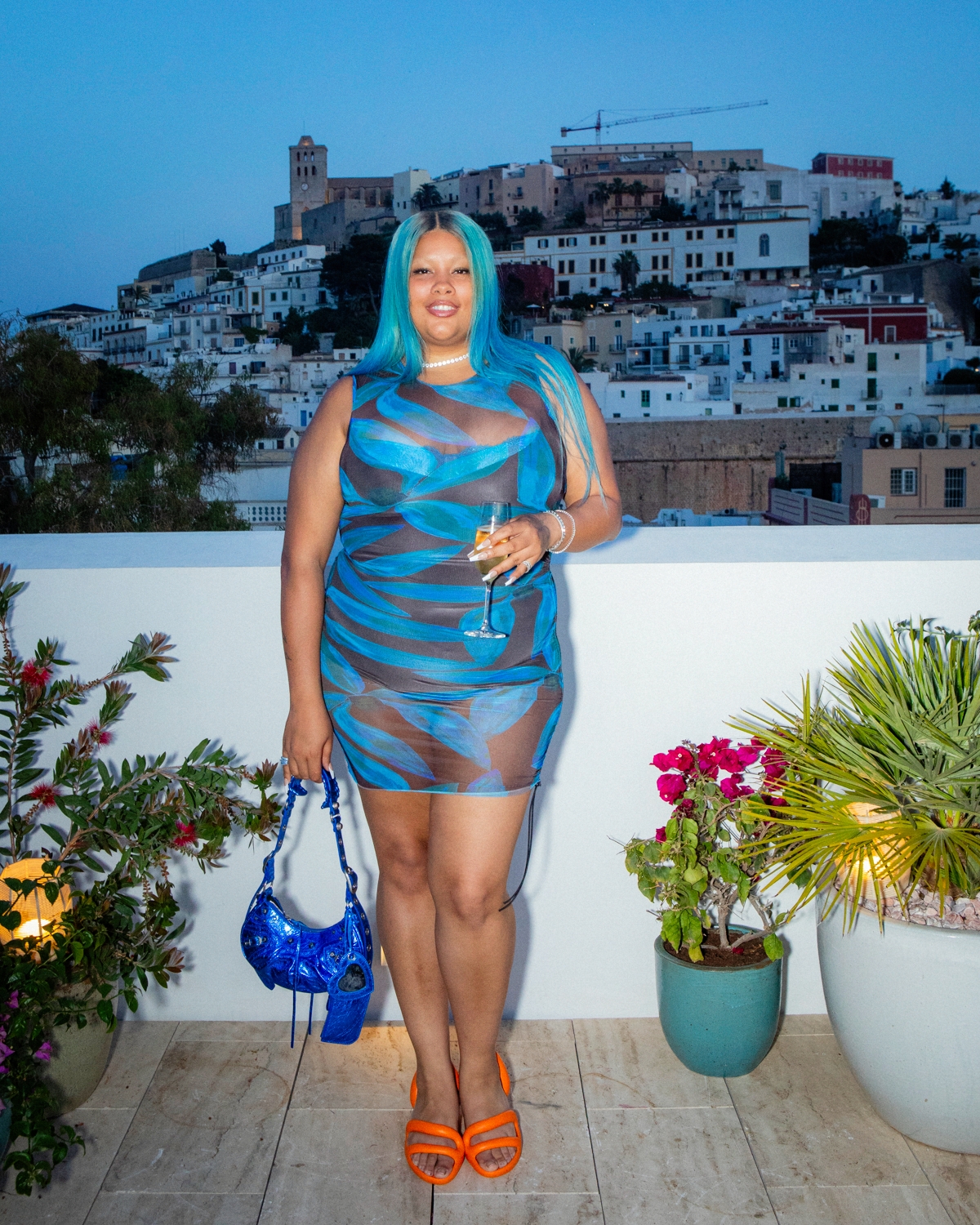 The Standard just got raised in Ibiza
Does fashion have a favourite hotel? If you're to believe old-guard designers and lofty editors, it would probably be some kind of white-tied institution with a ballroom and six-figure prices for cappuccinos. But the reality is that when it comes to nocturnal hours, there's really only one hotel that springs to mind as the go-to watering hole for fashion's thirsty disciples: The Standard. Whether it's the New York outpost known for its Met Gala afterparties or the London one where designers such as Chet Lo and Harris Reed have set up their studios — wherever you are in the world, you can bet that there's some kind of a fashion moment happening behind the doors of The Standard's perpetually buzzing hotels. The hotel group's newest iteration in Ibiza might just be its most hedonistic hotspot for style pundits yet. Located in the heart of Old Town, just steps from the waterfront along the pedestrian-only Vara de Rey, The Standard Ibiza opened its doors last week with a bevvy of fashion girlies in tow. There was a party, of course. Shygirl danced to Benji B's set alongside Maximilian Davis, Harris Reed fell in love with Florence Pugh by the rooftop pool and Bimini Bon Boulash displayed their version of a bikini: none other than the Miu Miu set (fashion's hardest-working sample deserves a holiday, too). But perhaps the most iconic guest of the night was Roisin Murphy, who took to the stage in a Christopher John Rogers ensemble to get the crowd moving to — what else? — her Ibiza-iconic track Sing it Back. We caught up with Roisin, who now lives in Ibiza full-time, to get some insider tips for your trip this summer. OA
Hi Roisin! You live here in Ibiza now. When did you first come here?
The first time was when Sing it Back was becoming a big club hit. We came over to do some promo and DJ sets. To be honest, I didn't get a very balanced view of the island, but over the years it's been less of a British experience and the island has revealed itself to me in different ways. I've felt at home here ever since.
What are your tips for people checking into The Standard on Friday night and checking out on Sunday morning?
I think it's about letting places show themselves to you. It's very easy to enjoy just walking around the town. The shopping is nice, and I love the way that the shops are open late, so you can be shopping at 10 o'clock at night. I don't want to tell you too much otherwise they'll become too popular — and that's a very Ibiza attitude! A nice restaurant in town is Manapany, which isn't too expensive and is one of the oldest restaurants and you just have to queue for a table. My mate Neil's tattoo parlour Inkadellic is a trip! Te Cuero is a beautiful handmade leather goods shop in Santa Gertrudis. And then Punta Galera is a massive bit of rock that sticks out into the sea, it's very evocative and mysterious, and only 20 mins walk out to the very end for psychedelic sunset. Oh, and go see the llamas — there's a llama farm and one of them is called Moloko!
How has moving to Ibiza changed your style? What should people pack in their suitcase?
There are all sorts of environments and cultures, but sometimes people take it too literally. I'll start sounding like Joan Collins if I start going into you know how you can take it too literally, but comfort is very important in a place like this and looking comfortable is important. Even when it's full-on couture, there has to be an ease to it. Just don't bring anything other than tiny little bits of material to wear because you won't even be able to look at anything else if you come here in the summer because it's so warm. Shoes are hard. I can't stand the sound of flip flops, so I found some moulded ones from Puglia! You need good sandals and swimwear.
You were wearing a good outfit the other night. Christopher John Rogers, was it?
Yeah, I do a lot of psychedelic florals out here. Colour, colour, colour! Especially in this light, hues with a background or washed-out neon work really well here.
Where do you like to go out to eat?
Well, we do a lot of cooking at home. In fact, I had a kitchen in my room at The Standard, so I would just cook there!
A lot of people come to Ibiza to party. What's your go-to hangover cure?
Well, a good swim. That's the thing to do. You could go for seafood at Sa Caleta, which is a bit expensive but worth it. Have a nice glass of wine and go for a swim in the sea and the hangover is forgotten. It'll take all the toxins out. And don't go straight from DC10 to your low-cost flight home! It's not a good idea, I've done it. I thought the whole world should open up and swallow me up. Have a nice moment before getting on that flight.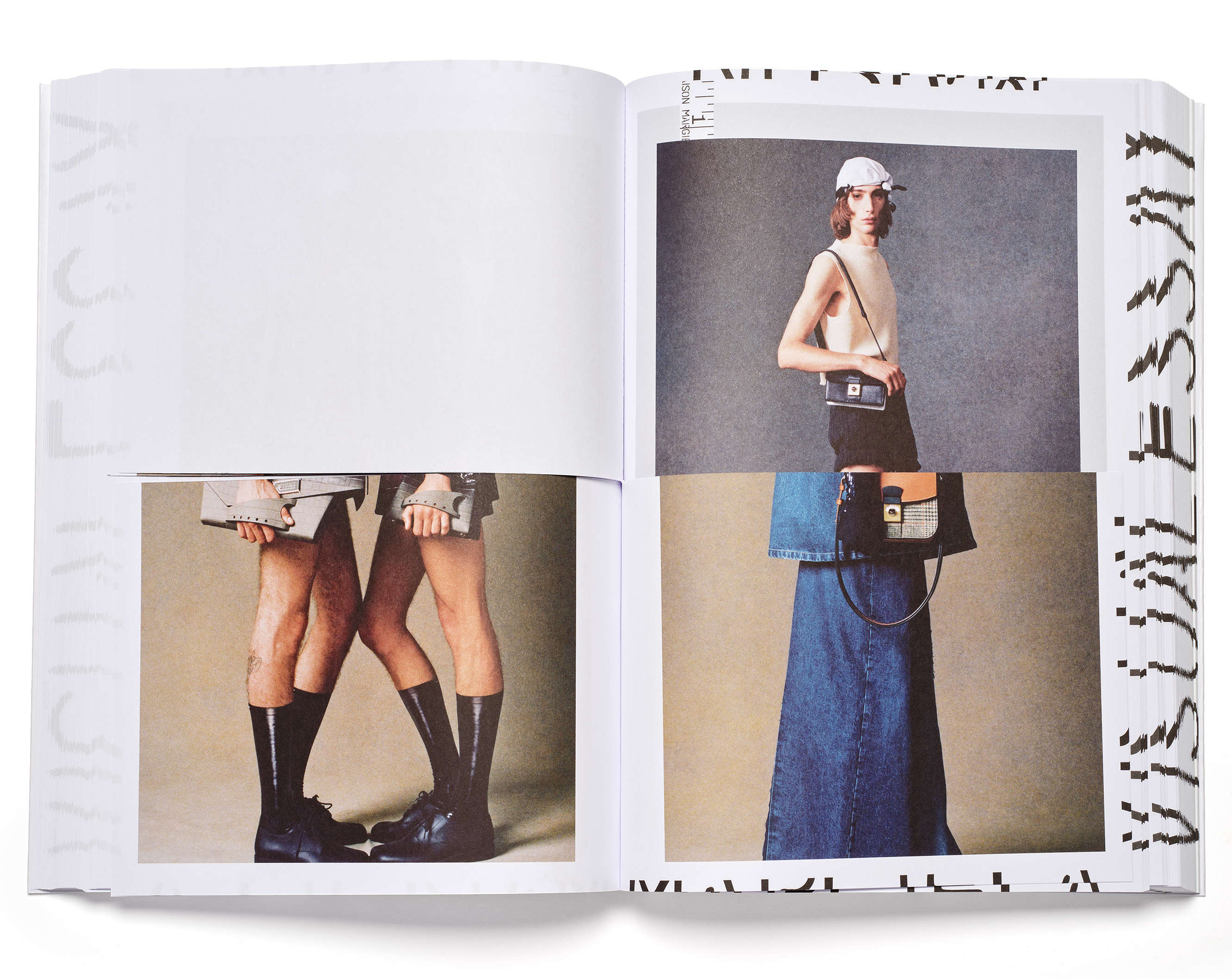 Maison Margiela have a new photobook to make your coffee table chic
If you're looking for a chic new print book to book-style your current aesthetic, Maison Margiela have released Visual Essay, a limited edition companion to their SS22 Avant-Premiére collection with all its droopy hats and sheer fashions. The photobook with art direction by Olu Odukoya, photography by Luis Alberto Rodriguez and styling by Tom Guinness, showcases the plurality and possibilities of the world of Maison Margiela that invite its readers to interact with the collection as the full looks that grace its pages are mixed and matched by panels and cutouts to create an entirely new unique vision. Live out your stylist dreams as you flick through its pages! TG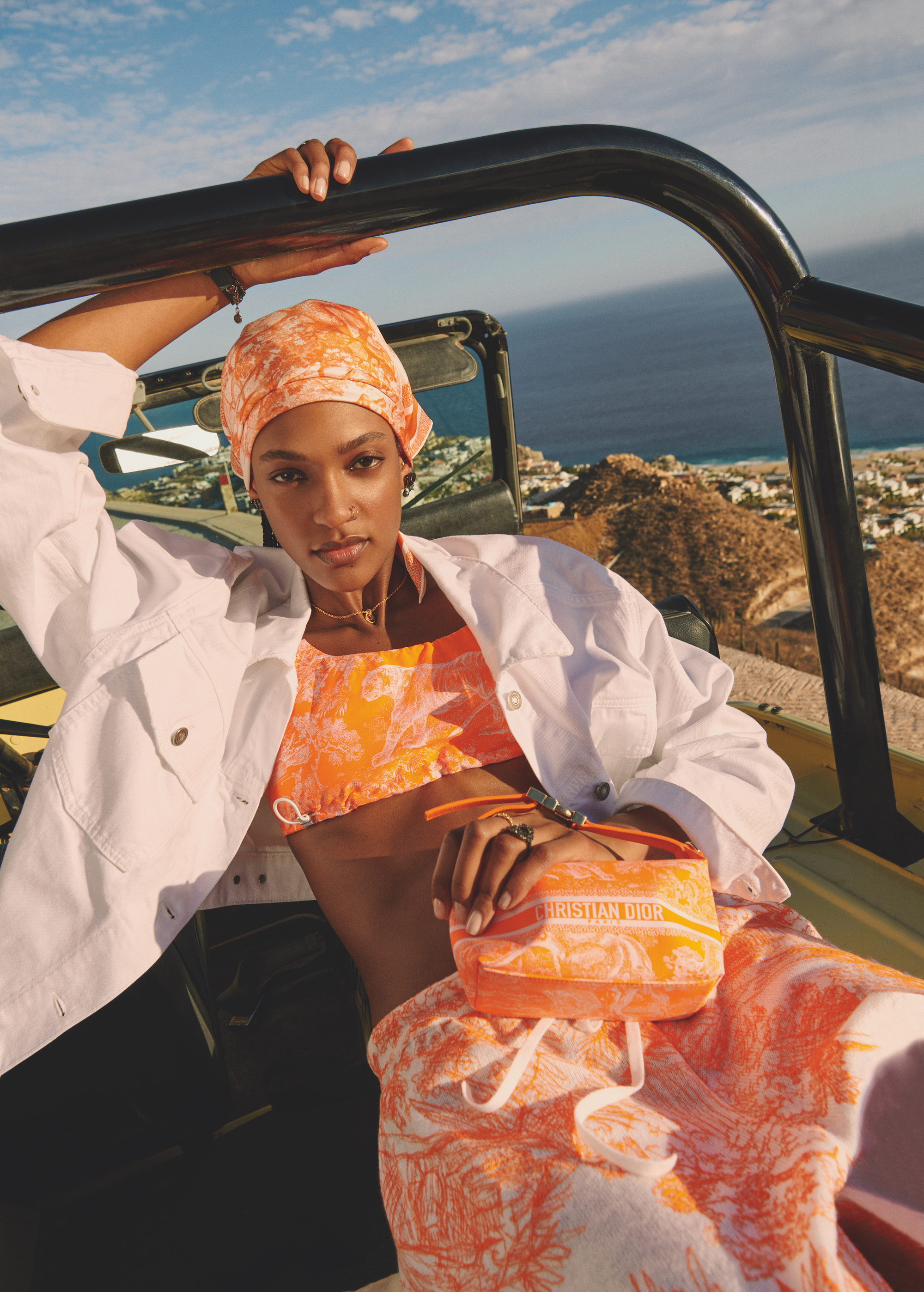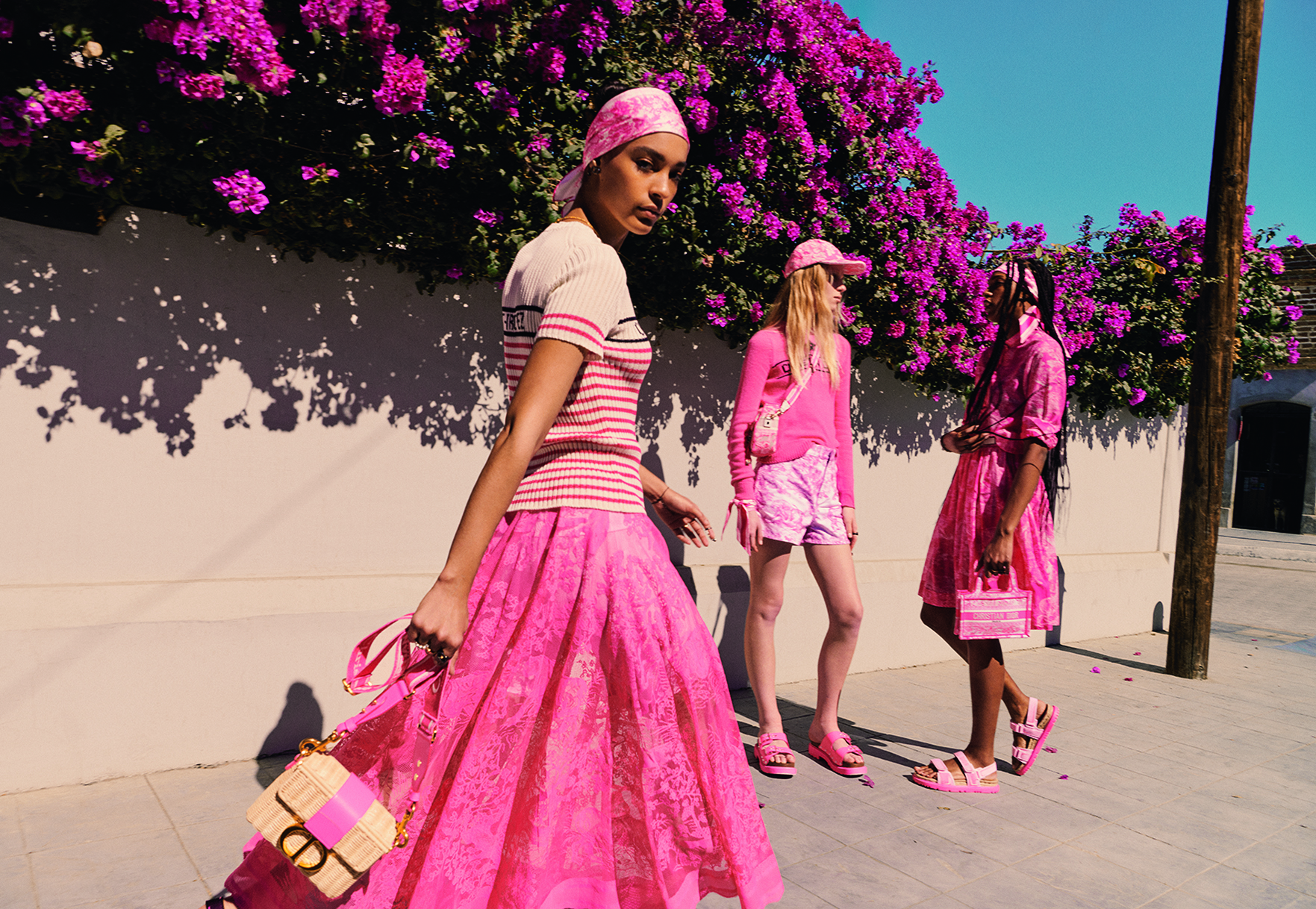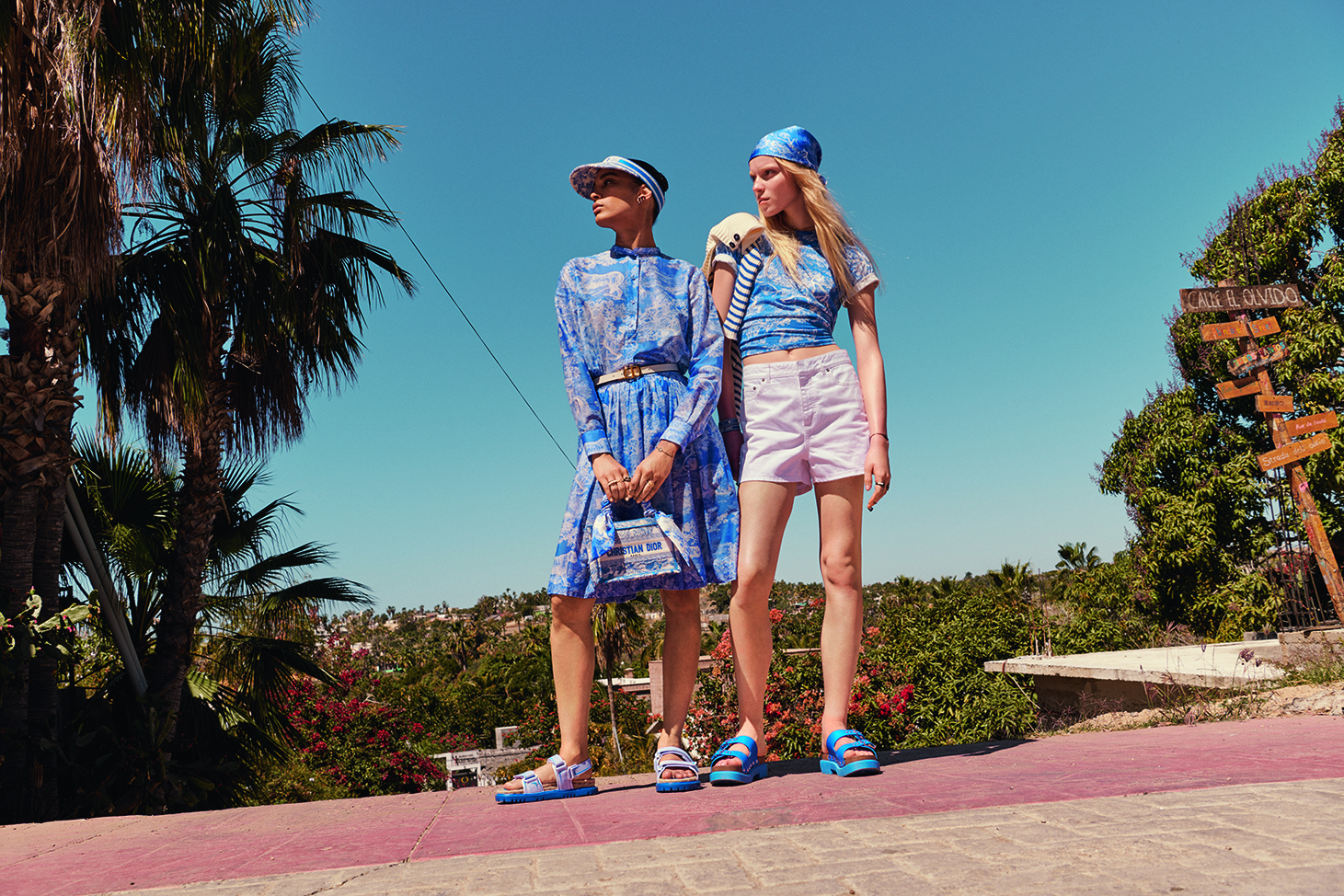 Dior has your new summer wardrobe
Cruise 2023 is fully in session and while Dior Men's have already graced us with their celebration of Cali cool with it-brand ERL, Maria Grazia Chiuri has also dropped a capsule of vacay-ready wear for this summer. Entitled Dioriviera, the collection is inspired by the high-tech fall 2022 runway seen earlier this year, but with skirts, shorts, flowy dresses, swimwear and accessories in summery hues of tropical orange, mediterranean sky blue and vivid pink. Many of the items from the headbands to the tote bags are printed with Dior's renowned and timeless toile de jouy, a stunningly intricate jungle botanical print. Throughout the summer these pieces are planned to make an appearance in dreamlike showcases around the world "from Mykonos to Bodrum, Capri to Ibiza, and Tokyo to Paraggi." Sounds mysteriously intriguing… keep your eyes peeled girlies! TG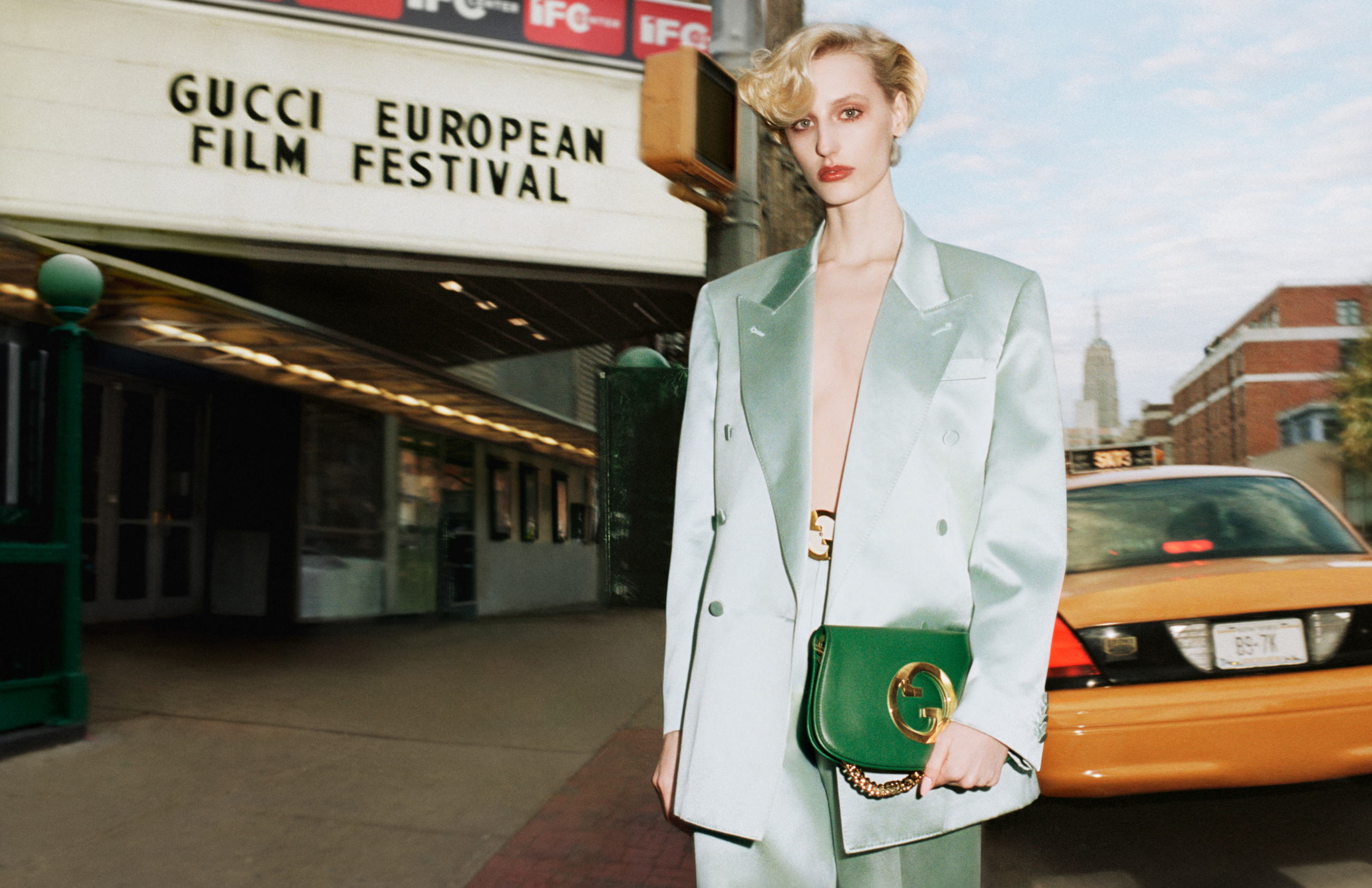 Gucci goes Blondie
It's true what they say… blondes do have more fun. From Marilyn Monroe to Paris Hilton to Elle Woods to Kim Kardashian (atm), it's always been the go-to colour of the stars du jour and that's because it's more than a hair tone. It's a vibe, a lifestyle, a way of being if you will. It embodies a free-spirited playfulness and fierce independence in all who wear it. That's the energy fittingly imbued into the updated version of Gucci's Blondie bag. You may recognise its distinctive curved body from the Italian house's Love Parade back in November last year, its larger iterations draped over the model's shoulders with leather and striped canvas straps, while smaller ones came with short chain handles that tuck away to turn the bag into a clutch. The circular interlocking G signature that brandishes the centre of each piece is inspired by patent documents from the Gucci archives from 1971. With it, Alessandro Michelle brings the fun and sexy energy of the 70s to this modern day evolution of the OG bag. Put down that bottle of Schwarzkopf dye, the Gucci Blondie is all you need to channel icons like Farah Fawcett and Twiggy. TG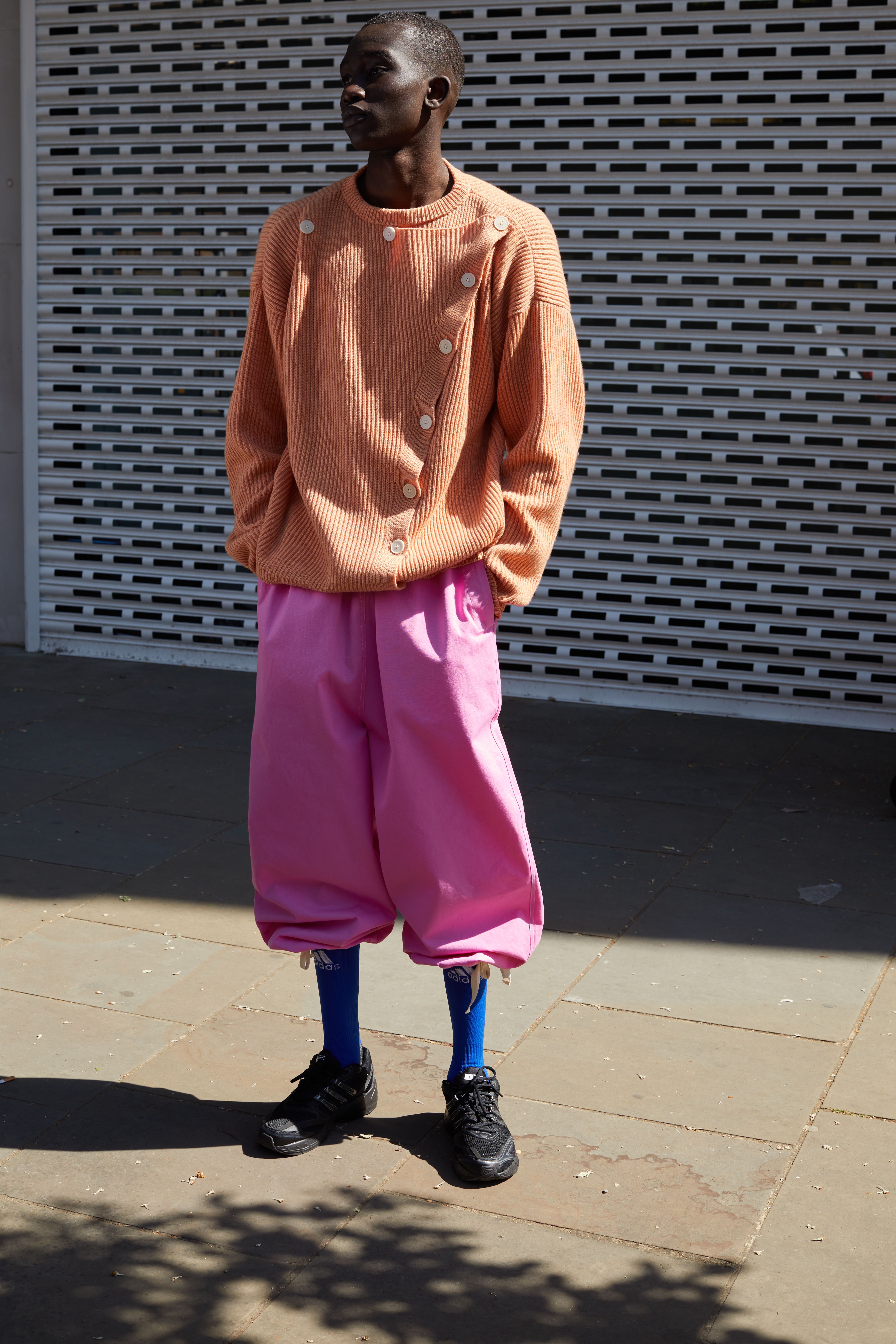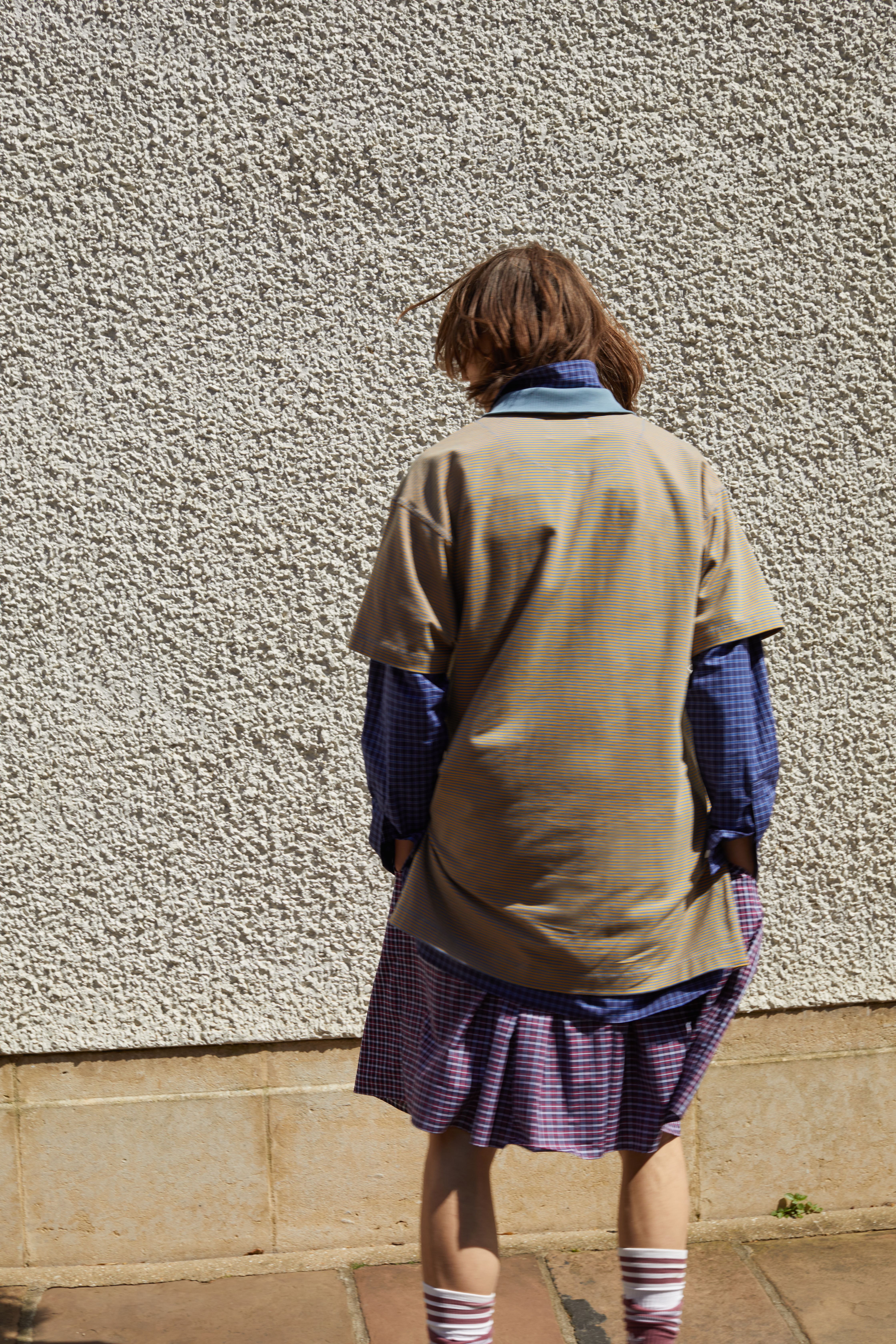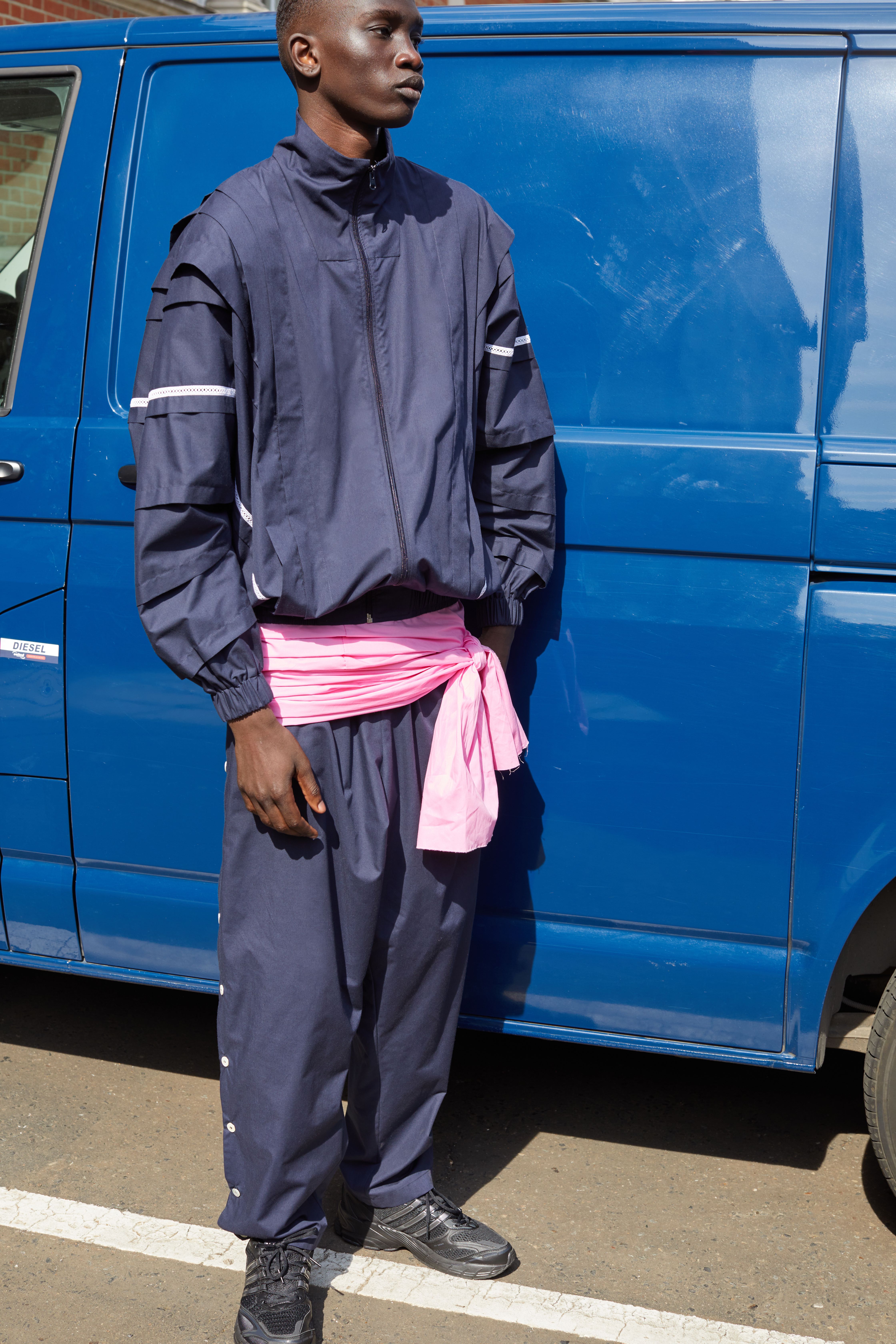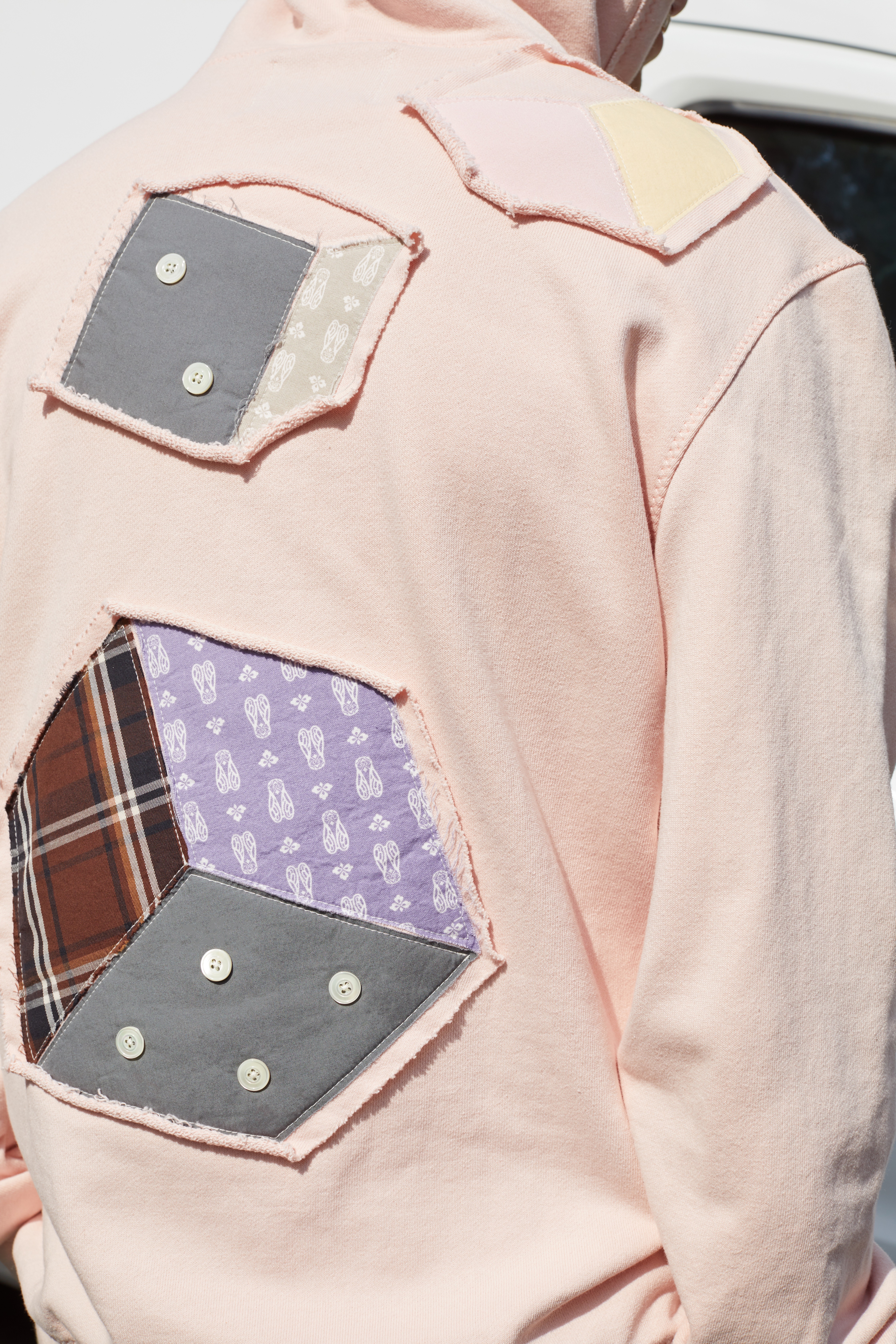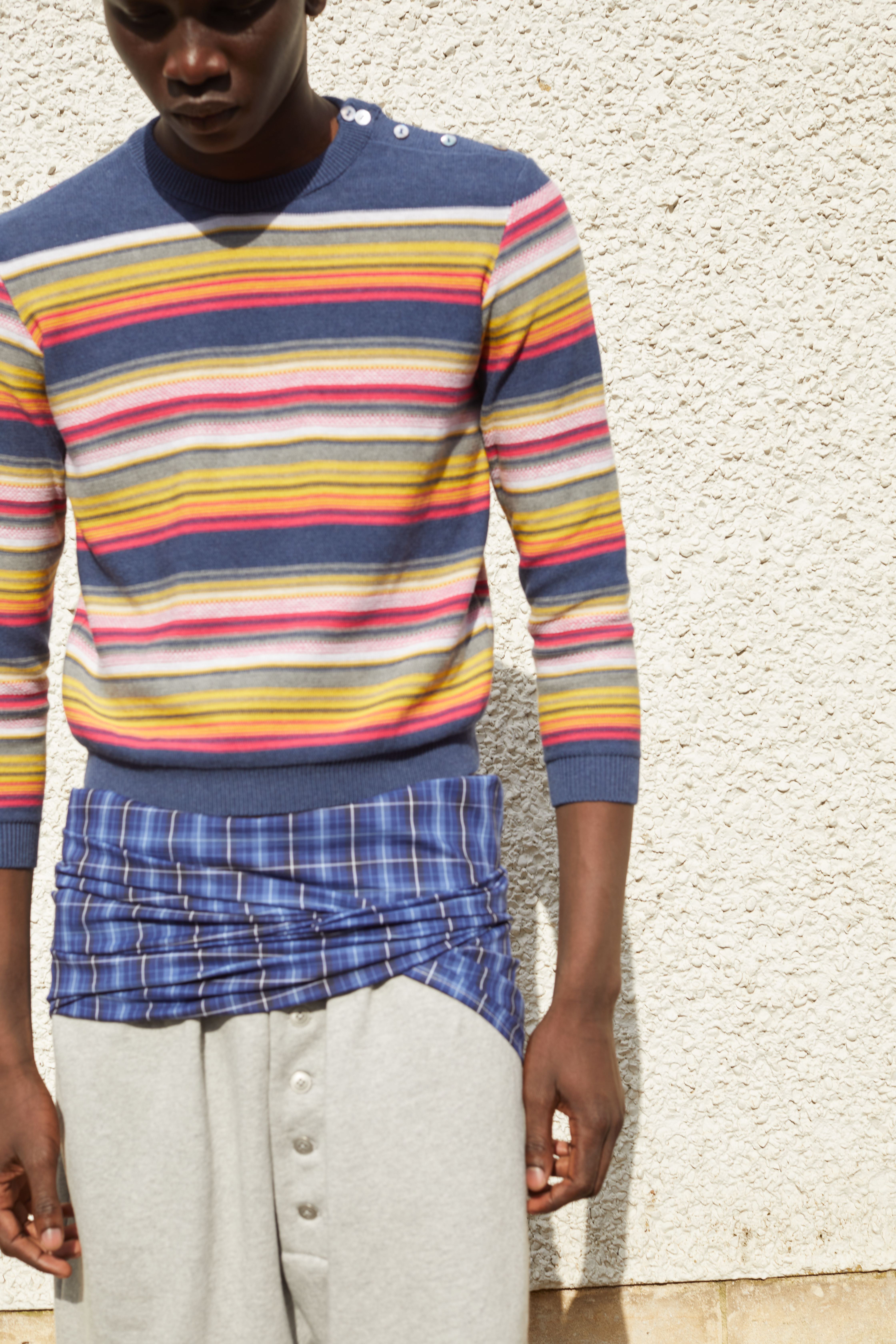 Chloé Nardin's latest collection brings cheekiness and elegance to menswear
Since graduating from Central Saint Martins' MA Fashion in 2021, Chloé Nardin has been steadily making a name for her exquisitely crafted, subtly decadent menswear. Fusing themes and motifs as diverse as sportswear, 16th-century French tapestries and Playboy, her work occupied an intriguing middle ground between a historically informed approach to fashion and bleeding-edge contemporaneity — a combo which has helped situate her among London's buzzy coterie of menswear names to know. This week, she released 'Aurore', her SS23 collection, which is described as "urban, elegant and dashed with a bit of cheekiness." Eager to learn more about it, we caught up with the designer to delve into the rich network.
Hi Chloé! How would you summarise the spirit of 'Aurore' for us in 3 words?
Playful, Nostalgic, Cosmopolitan.
What was the main jumping-off point for the collection?
This season. it was important for me to really set the identity of the brand – to make it refined and identifiable. That's what is so exciting about starting a label: you start from scratch, you can make it anything you want, but it has to be sharp, and cohesive. For this, I work with my friend Carl Gustaf von Platen, and we designed the brand's new bunny logo together. It's a take on Playboy™, and is drawn from a 16th century French tapestry. For us, it shows the brand's unique tone: urban, elegant and dashed with a bit of cheekiness.
Give us three things that were on your moodboard this season.
The collection's title 'Aurore' — twilight in French — refers to the early morning light before sunrise, which inspired the collection's colour palette. I have this very tumblr-esque image of a quiet street view with this hazy pink sky in the background. Image two would be this famous picture of Kurt Cobain in a dress: womenswear worn in a loose, grunge-y way. Finally, I have loads of nerdy research on 1700s French and Oriental fashion, which confers to the collection this fluid, drape-y elegance.
Is there a particular piece or look that you think of as the cornerstone of the collection?
I think the cotton tracksuit sets are our signature pieces. Next up would be this sweater with dice-shaped patchwork apliqués, which is another take on the Playboy legacy. Or maybe our 'Aurore' striped knitwear inspired by twilight-streaked skies.
What celebrity/style icon do you see wearing the collection? Where are they, and what are they wearing from it?
To me, I can't say I'd define the collection in terms of a single person or 'icon'. I am not so focused on celebrity image, I guess. What I am trying to create is more of a uniform for the everyday, inspired by today's youth and its playfulness and irreverence towards gender. This season I designed some super airy skirts, with a very easy, barely-there elastic waistband, so they can be layered on top of jeans or worn free on warm summer days. The collection is to be owned, lived in and played with!