Giorgio Armani at his fashion show in Dubai, surrounded by models wearing his SS22 collections
Armani's One Night in Dubai and Burberry's sky-high outerwear: What's in Fashion?
Your one-stop-shop for this week's fashion news to know.
Giorgio Armani at his fashion show in Dubai, surrounded by models wearing his SS22 collections
Calloo callay, it's Friday! Which, of course, means another round of the week's chicest news from your fab fashion aunties. This week, we've got a dispatch from the deserts of Dubai, where Armani staged their TKTK show earlier this week, as well as the lowdown on Burberry's new TikTok-trend-spawning campaign, everything you need to know about the colliding of fashion's two most powerful Kims, and a chinwag with Courrèges creative director Nicolas Di Felice, who's just released his first fragrance for the house. But wait! There's more! What exactly? Read on and find out! Here's what's in fashion!
Giorgio Armani brings his Italian glamour to Dubai
What does it mean to be a lifestyle brand? The term might be overused these days — applied to everything from skincare to CBD gummies — but style is a central tenet to the brands that truly encompass a way of living, not just be default but as a practise of gesamtkunstwerk, a total work of art with consideration to every detail. Perhaps there's no better example of that than Giorgio Armani. This week, the 87-year-old designer touched down in Dubai to show the world just how all-encompassing his brand is, which he still owns independently, by the way. He's in town to stage a fashion show, aptly titled 'One Night Only', which showcased the finest looks from his SS22 womenswear and menswear collections — as well as a sprinkling of his sparkling Armani Privé haute couture ( more on that later).
Luckily, i-D were given a front row glimpse into it all — and we're here to tell you that Armani may just be the most immersive lifestyle brand on the planet. Arriving at the Armani hotel in the 160-storey Burj Khalifa, the world's tallest building, it quickly becomes clear that there's more to the Armani brand than just softly-tailored clothes. The smell of the lobby is distinctly Armani (earthy, leathery with surprising notes of red berries), the look of the rooms is totally Armani with lots of greige Armani-designed furniture and warm wood panelling, bathrooms filled with Armani beauty products with pebble-shaped lids, even the food tastes like Armani: burrata with gold leaf, deliciously beige cacio e pepe, champagne, of course. In other words, it';s the perfect setting to actually wear Armani — here, you can live out your fantasy of living La Vita Armani, in your relaxed-yet-confident suiting and timelessly neutral palette.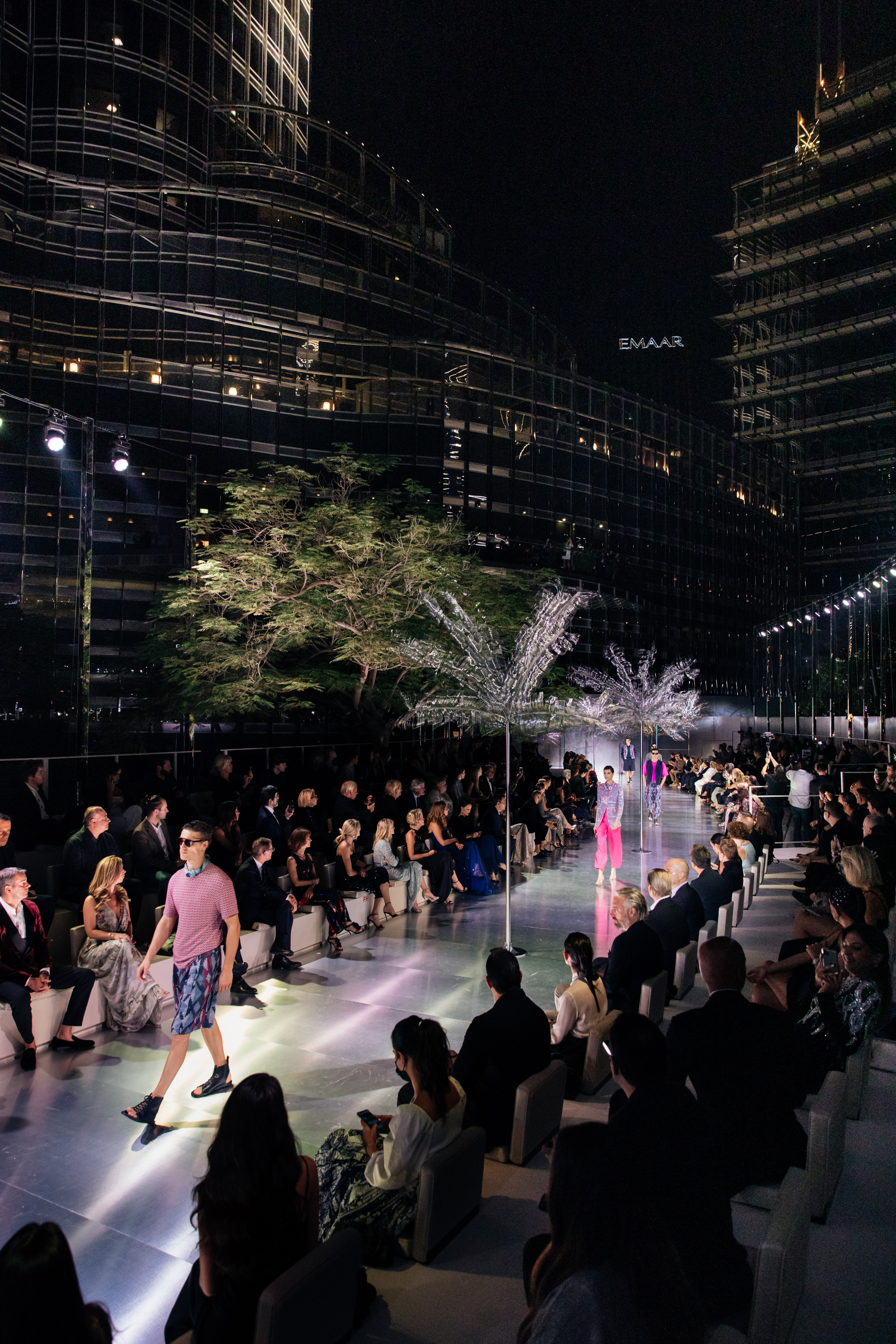 It made sense for Armani to stage a show here in Dubai, not just because it's been just over a decade since he opened the hotel, but because on the outskirts of the city visitors flocked to Expo 2020, a festival of global innovation spread over 1,000 acres with installations from countries from around the world. The Italian pavilion in it was apparently a meditation on ancient sculptures seen through a digital lens, which left visitors bemused. Perhaps they should have looked to Mr Armani, instead. In his show, staged over a mirrored catwalk in the shadow of his twinkling hotel with silver palm trees, here were looks that artfully captured the essence of Italian style. The menswear perfectly captured Italian sprezzatura, the art of sartorial effortlessness — think Riviera white linen trousers worn with zip-up silk shirts and breezy navy jackets, and slouchy darted trousers with satin belts and elegant silk blousons. The equally fluid womenswear, in pinks, purples and turquoises, felt more romantic and whimsical courtesy of smocked-tulle capelets and Arabian Nights harem pants, but not without its own yacht-appropriate white-and-navy tailoring.
To cap it all off, Mr Armani sent out a glittering sequence of couture looks, each one glittering under the lights, almost like the skyscraper they were in the shadow of. The audience — populated by formally-attired VIP clients and celebrities including Lily James, Taylor Hill and Chris Martin — let out an audible gasp. Here were dresses that will no doubt make appearances on red carpets and on the timelines of every guest in attendance, seen throughout the world as ciphers of Italian glamour. You couldn't help but smile, and cheer for the man who built it all. Sharon Stone, dressed in a chainmail T-shirt emblazoned with Andy Warhol's portrait of Mr Armani, was perhaps the most delighted. As far as lifestyle brands go, other brands may have logos, but how many could say that even just a face could conjure up a vision of an entire lifestyle? OA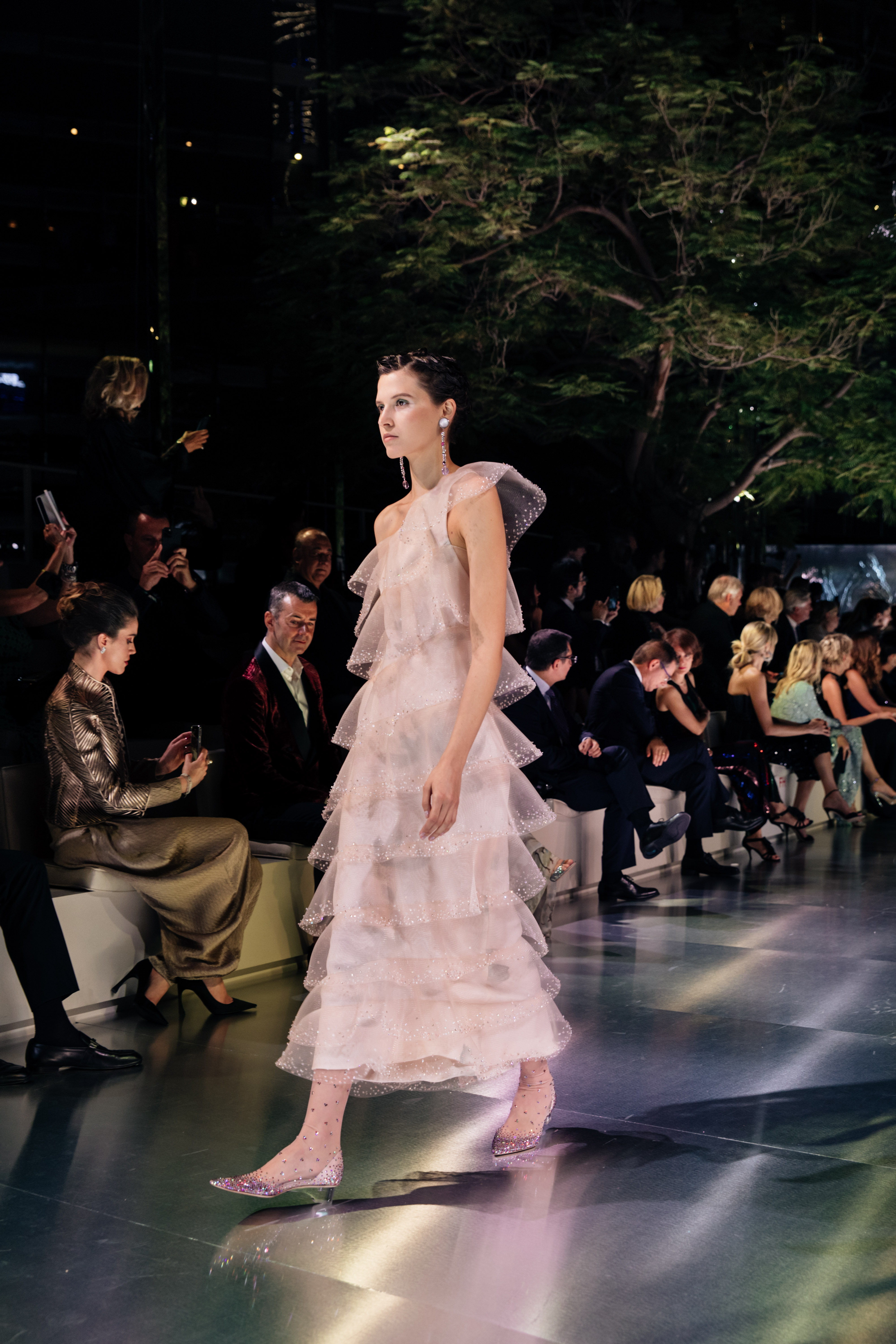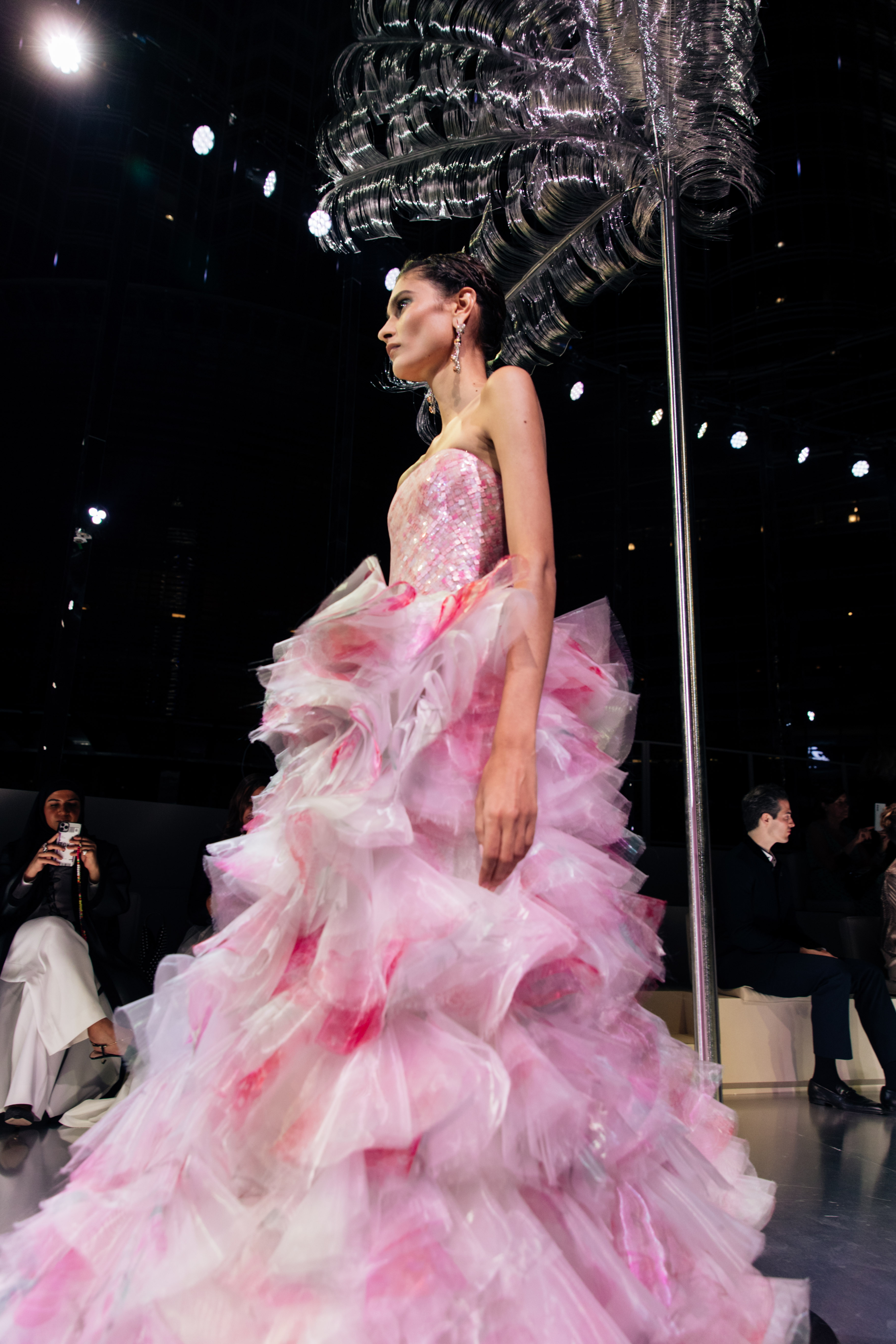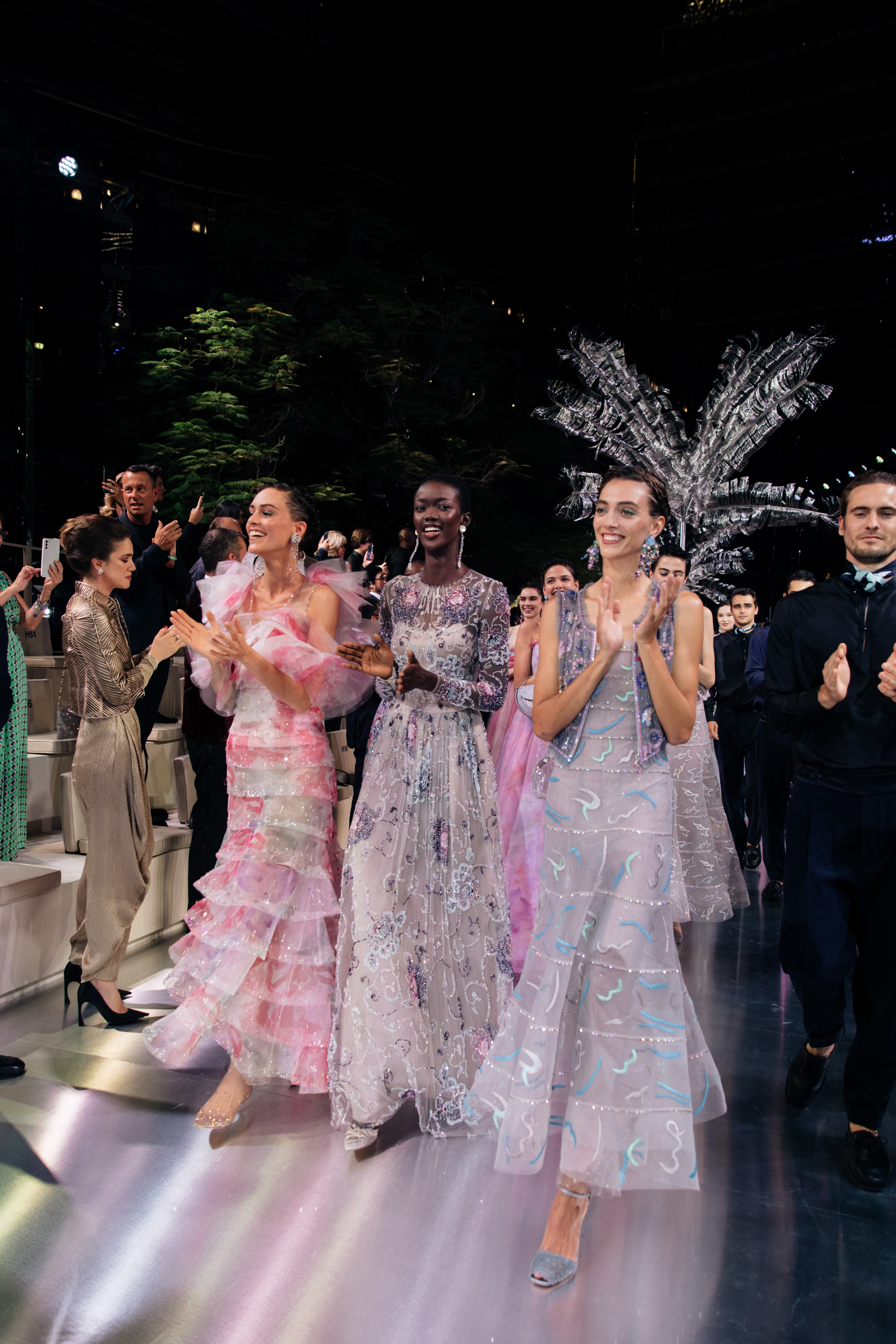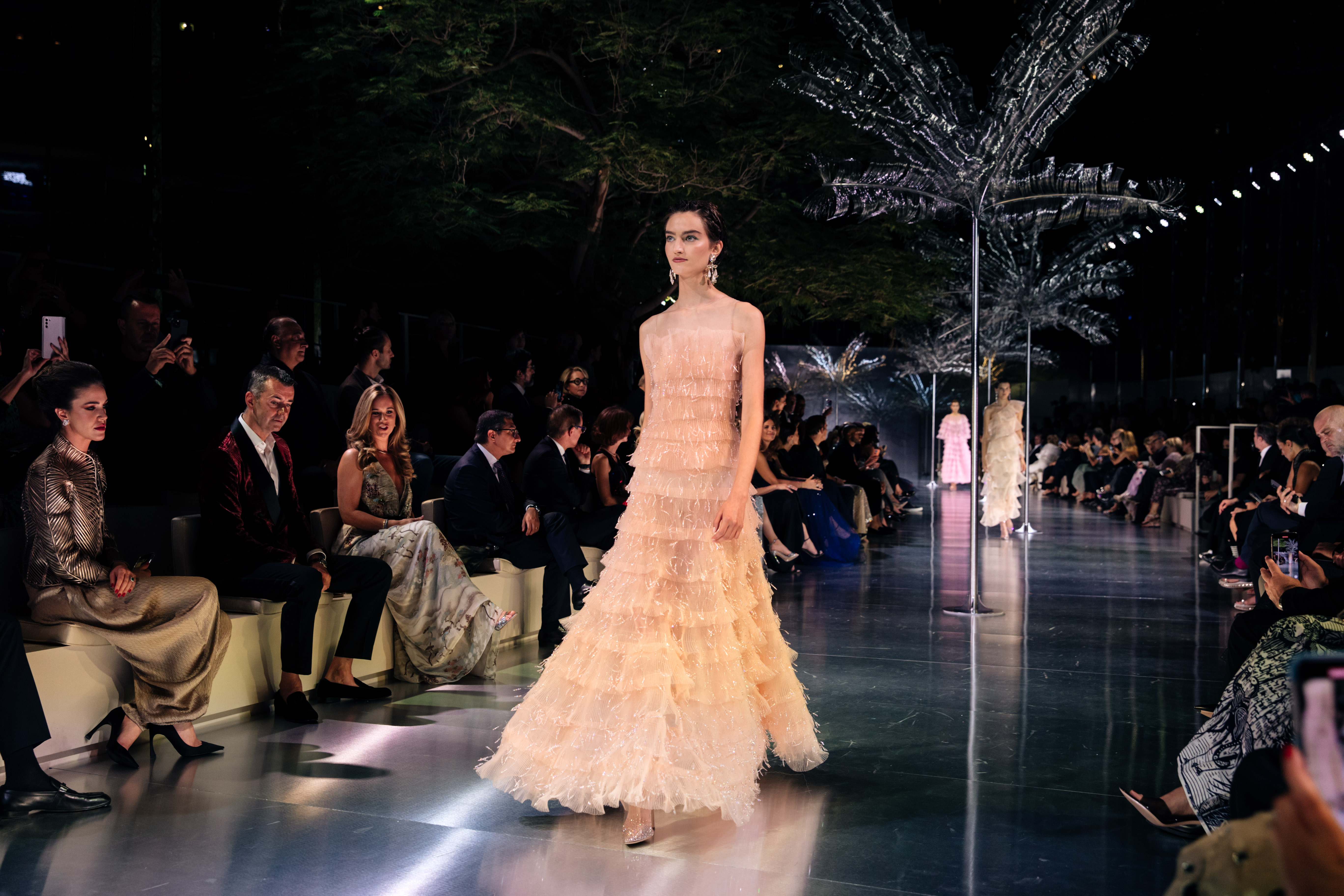 TKTK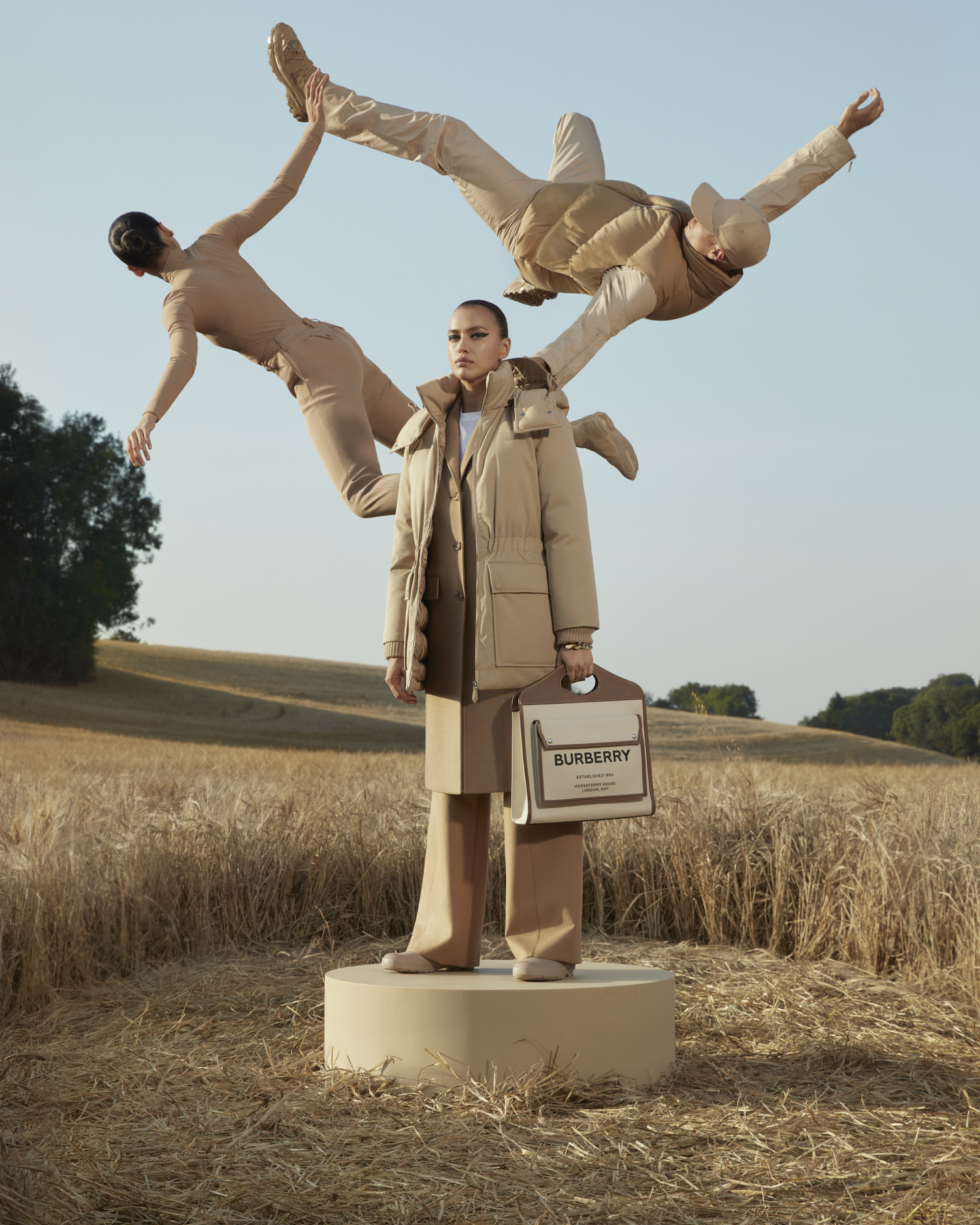 Burberry takes its outerwear to new heights
Have you seen the one where a flying model, soundtracked by Adele's Easy on Me, is overlaid with a witty caption? Yes, we're talking about that TikTok — but also Burberry's new outerwear campaign, which has already proven a big hit in the memeshepere. Collaborating on photography with Ewen Spencer, known for his snapshots of British nightlife and subcultures, and the creative and film direction with Megaforce, the campaign stars Irina Shayk surrounded by floating models in the British countryside. It's a "celebration of the outdoors" which makes sense considering that Thomas Burberry started his namesake brand in 1856 with the gabardine coats designed to withstand tempestuous British weather. 165 years later, Riccardo Tisci has updated the offering with check and wheatfield-hued puffer jackets, worn by floating models who traverse the English landscape and culminate in a configuration above a cliffside. Titled, 'Open Spaces', the campaign will be the centrepiece of several indoor activations across the world. 'Imagined Landscape' pop-ups — part outdoorsy coats and jackets, part VR tech — is set to launch in Burberry stores around the world with all kinds of immersive mirrors, and topographic imagery. The idea is to make you — yes, you — feel like you're floating across a forest, too. High fashion, indeed. OA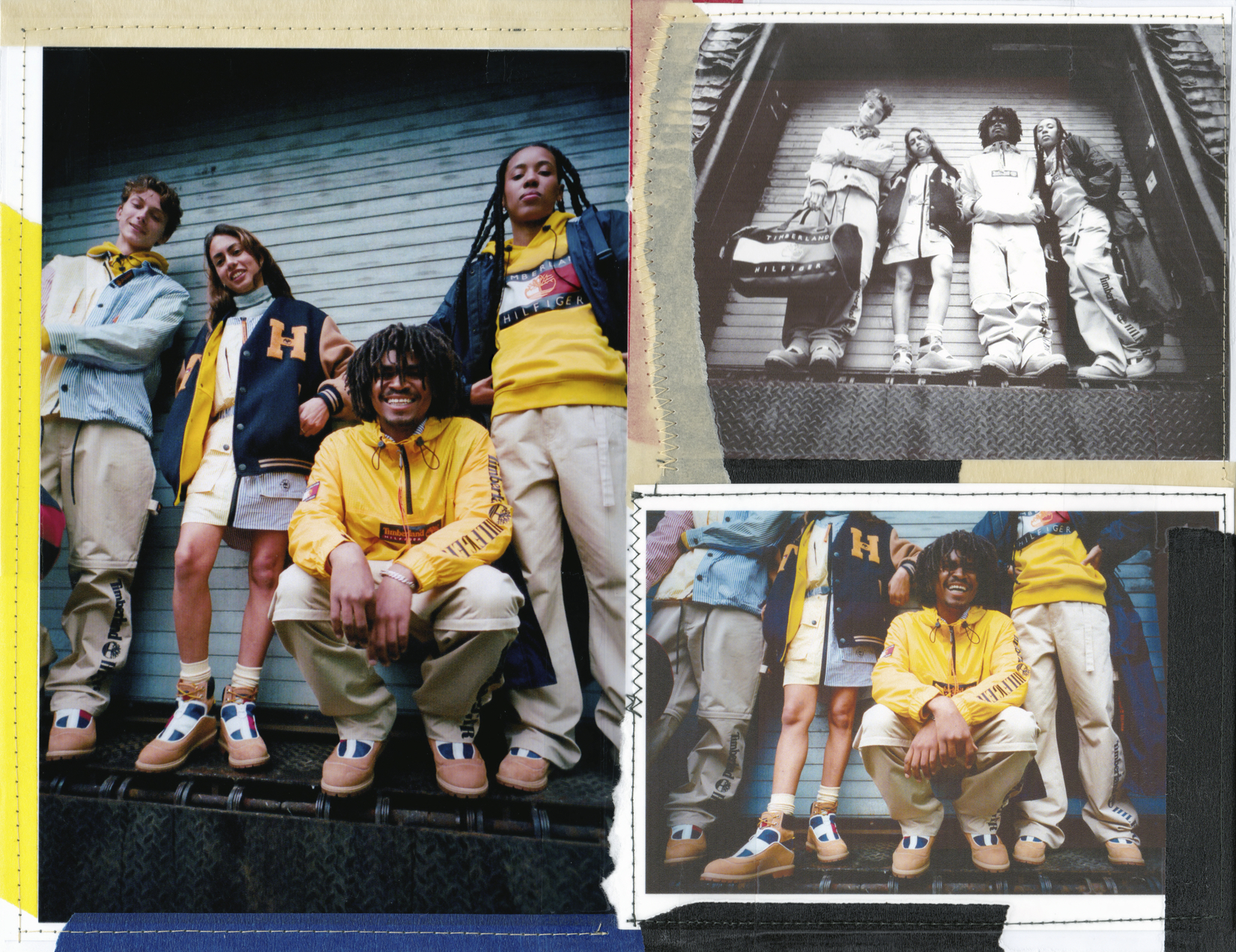 Tommy Hilfiger and Timberland take it back to the 90s
Can you think of a pairing that's more American-as-apple-pie than Tommy Hilfiger and Timberland? Well if you can, we don't want to hear about it! Anyway, this week, the two US-based fashion dropped a 17-piece collaborative capsule that pays homage to one of the brands' shared heydays – the 90s! From parkas to varsity jackets, bucket hats to – of course – workboots, iconic pieces have been resurfaced from both label's storied archives and subjected to co-branded remix treatment: think Timberland's classic six-inch boot with the Tommy Hilfiger flag, or pieces in Tommy's instantly recognisable tricolour accented by Timberland wheat and orange. Interest piqued? You're not the only one – join the line! MS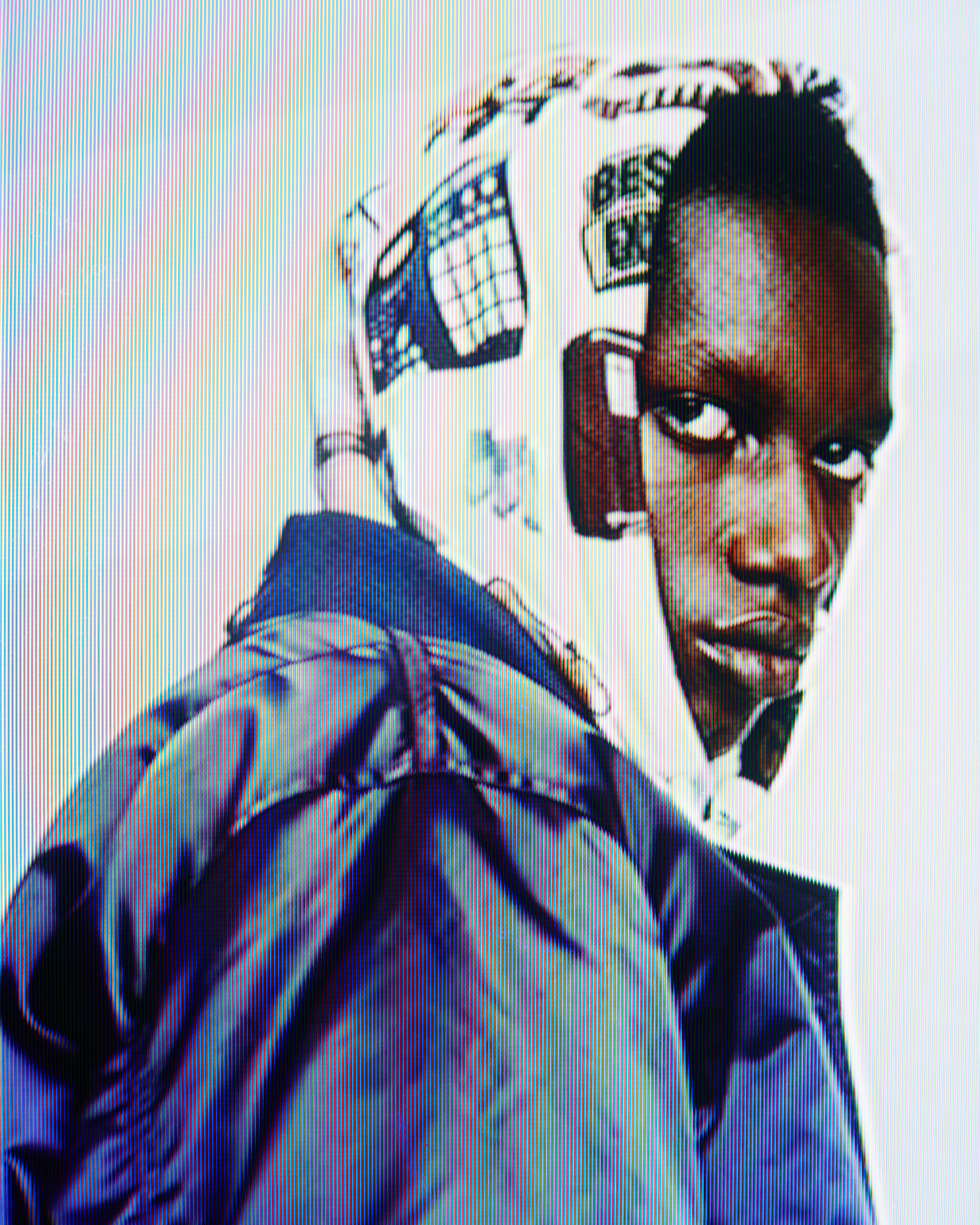 Études and Martine Syms' collaboration is one well worth studying
Collaborations between the worlds of art and fashion will always be en vogue, but if there's anyone out there who does them with integrity, it's Études. After pairing up with everyone from the estate of Keith Haring and figurative painter Chloe Wise to create frame-worthy ready-to-wear, for their latest project, they've joined forces with one of the most exciting multimedia artists working today, LA-based Martine Syms. Known for her often-purple-bathed works that bridge mediums of photography, video, performance and writing, she's perhaps one of the intriguing creative voices interrogating representations of Blackness and feminism in pop culture. For her collab with the Parisian label, she's created a capsule of caps, tees, sweatshirts and even bomber jackets printed with words from her poem "Lessons I–CLXXX" as well as from the monologue she showcased in the 2018 exhibition "Grande Calme, as well as silk shirts and trousers printed with an assortment of everyday objects. Hype-y garms and high culture all in one! MS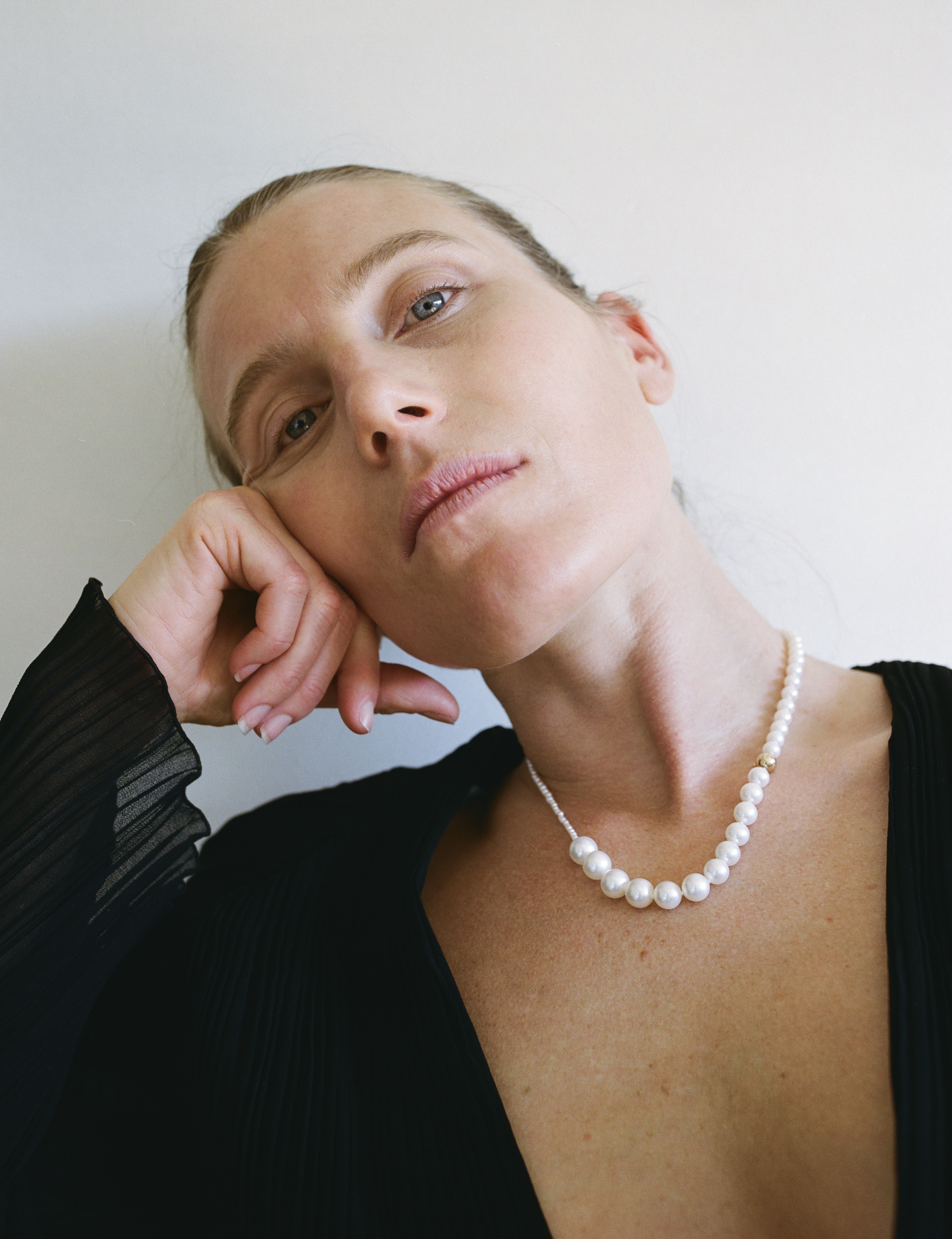 Sophie Bille Brahe's new zine celebrates Denmark and diamonds
Do you know why Denmark is consistently voted one of the world's 'happiest' countries to live in? Well, in our humble opinion, it might have something to do with the fact that it has Sophie Bille Brahe, Copenhagen's very own pearl queen. If you're not familiar with the jeweller, then know that long before pearls were on the necks of every TikTok influencer, they were previously fusty and very uncool. Then Sophie began turning them into fabulously decadent necklaces and rings — think bunches of pearl graphs, asymmetric necklaces, sculptural tennis bracelets — and now, in what seems like the blink of an eye, it's been an entire decade since she first set up shop. To celebrate her 10th anniversary, Sophie created her very own magazine, titled Perfect Day, and filled it with sun-drenched photography by the likes of Casper Sejersen, Max Farago and Victoria Hely-Hutchinson — as well as an appearances Dree Hemmingway, Sophie's babies and her dog, Snoopy (draped in diamonds, of course) and recipes from Frederik Bille Brahe, her equally chic chef brother who is behind Atelier September and Apollo in the Danish capital. After all, whose idea of a perfect day doesn't involve lashings of diamonds and pearls? As for where you can find this marvellous piece of printed matter, the magazine is not for sale, but will come with every order placed through Sophie's website — as if you needed any more reason to treat yourself this weekend. OA
Two Kims collide
We know that you already know about this, but we're repeating it here anyway. Fashion's two most powerful Kims have come together to give us all the gift we never knew we needed: Fendi x SKIMS. That's right, Kim Jones, the creative director of womenswear at the Roman house of Fendi, and Madame Kardashian West of SKIMS fame have joined forces on a collection that brings together the couture-informed refinement of the former and the latter's haute-shapewear savvy. Rumours around the collab had been swirling since Kim K posted an image on Instagram of herself alongside Kim J and Donatella Versace, just days before the reveal of the British and Italian designers' very own blockbuster collab: Fendace. They were at last confirmed in a joint release at the start of the week, which spoke of the two labels' mutual "desire to push boundaries, think differently and challenge convention." Testament to that can be found in the collection's svelte second-skin cocktail dresses, cosy loungewear and textured lingerie, which drops on November 9th. Granted, prices are a little closer to Fendi's than they are to Skims', but just think of it as an early Christmas for yours truly xo MS
Courrèges comes up with the perfect perfume slogan
Launching a perfume is a significant moment for any brand – fragrance is, after all, the first point of access to a house for many (if not most customers). Captivating the spirit of a house in a bottle is, however, no simple task. That hasn't at all deterred Nicolas Di Felice, Courrèges current creative director. Just over a year into his spell at the head of the iconic Parisian Maison, he's releasing Slogan, his very first scent. A spicy, sensual scent, it was created with the intention of "celebrating life", he says, an energy that informs its accompanying campaign and film. To toast its launch, Nicolas fills us in on the process behind its making, its inspirations, and how it relates to his vision for the house's ready-to-wear.
​​So how did the fragrance come about?
When I arrived at the house, we did a little tour of what was in our hands, and there was a perfume department with three people working there full time. Things were quite quiet for them, though. We knew that we had the abilities to do a fragrance, so we knew that we had to do it! I really love perfume, and I think that my sense of smell is one of the most developed senses that I have! I have a really specific relationship with smells -- they can even bring me back to my childhood or something like that. Anyway, within my first month at Courrèges, I was already doing my first perfume test. We went on like that for a few months, while also designing the bottle and the packaging -- it was really fun and light, and it allowed me to take little pauses in what I was doing, as well. At times, it was really playful, because there were so many things to smell and compare.

**What's the story behind the title, 'Slogan'?
**It's really the first name that came to mind. It was really natural. We did the 'Courage' things, which was a slogan in itself. And what is a slogan? It's a really powerful word or sentence that you, or a group of people, rally around to express themselves. I just really like this abstract way of just writing slogans and allowing people to find their own meaning within that. And then there's the amazing film with Serge Gainsbourg and Jane Birkin that has the same title, as well as the fact that it just sounds really good in both French and English!
**Were there any particular memories or sources of inspiration that you drew on?
**What I really love about it is that the top and base notes are quite different. The base is really sensuous -- there's a lot of musk and amber to it, and it's close to the smell of skin, actually. But the top note is really juniper-y, which is of course used to flavour gin --it was really about summoning the energy of a night out.
**How would you say Slogan relates to your vision for Courrèges ready to wear?
**I think it's a mix between a fresh spiciness and something that's softer and more sensual. It's a tension that I'm really drawn to.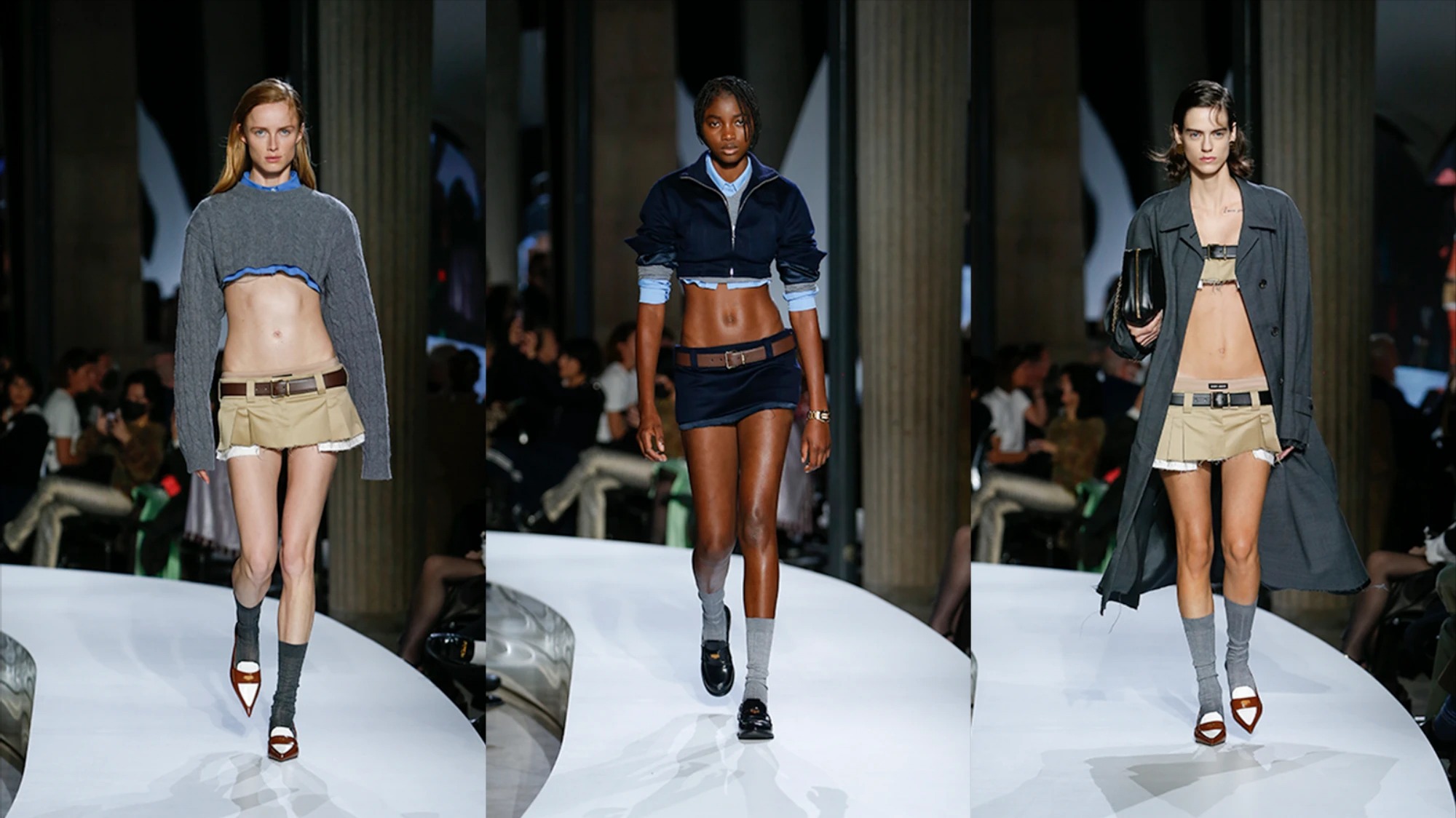 Mini lengths, maximum impact — all hail the return of the microskirt
Picture the scene: a group of fashion editors are sitting in a Dior dressing room ahead of the show discussing hemlines. What year is it? 2021, baby! Not since the olden days have hemlines been discussed in such great detail – in fact, hemlines are arguably the headliner of the SS22 shows. Prada, Versace, Blumarine, Miu Miu, Tom Ford, Missoni, Mugler, most London designers and a lot of New York ones too, and even ardent midi-lengthers like Dior's Maria Grazia Chiuri all showed brazenly bare legs for striding into the new season. Some of them were so short that, to quote Patsy Stone, the whole world will be your gynecologist. Why, you ask? The most obvious explanation is that after an eternity of tracksuits and domesticity, there's a joy to be found in being a bit … slutty! Another reason may be that there's something about having your face covered with a mask, but your legs entirely exposed — oh, the contrasts! And then there's the slightly more tenuous suggestion that, in the wake of fourth-wave feminist arguments about upskirting and sexual harassment, the miniskirt is ripe for reframing as a self-assured, in-control spin on sexuality.
"When I worked for Mr Valentino, he used to say that miniskirts were only for young women," Maria Grazia Chiuri said during a preview of her show. "But I don't agree with him – I would be wearing them, too, and they're easy to walk in. Anyone can wear them – as long as it's not cold," she added in a voice of a woman who has never been to Northern England in December. In the 60s, when the miniskirt first caused what Diana Vreeland called a 'youthquake', they were symbols of youth — and fashion certainly seems to be influenced by the youth culture and revivalism seen on TikTok. But the point is — regardless of size, gender, age or style — the miniskirt is being rebranded from a very narrow pool of Y2K thinspiration to a more inclusive symbol of post-pandemic fashion. Paloma Elsesser looks great in one, and so does Precious Lee. You no longer have to look like Twiggy to show a bit — or a lot — of leg.
Years ago, the 'Hemline Index' theory suggested that skirt lengths rise and fall with the stock market. Skirts were short in the prosperous 20s and 60s; in the impoverished 30s, hems fell, just as they did in the recessions of the 90s. What does it mean now? Perhaps it's less to do with economics and more to do with a sense of rebellion. Plus, they can be just as romantic as sweeping ballgowns. Case in point: Prada's zingy microskirts with trailing flutes of satin trains, origami-folded at the back. Worn with a grey sweater, it almost feels like a radical option for eveningwear. TikTokers have even offered useful hacks for how to keep warm in skirts this winter, which means there's no excuse for getting ahead of the trend.