This is officially the most stylish music video of 2021
Here's everything you missed from last night's UK MVAs in London.
|
05 November 2021, 2:42pm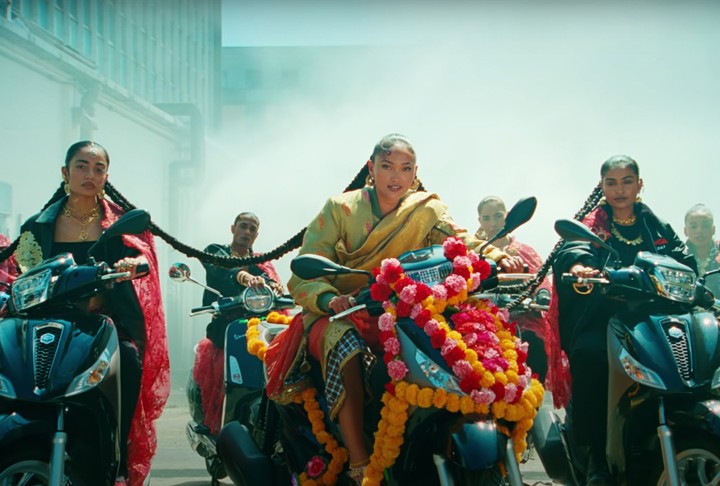 Joy Crookes, "Feet Don't Fail Me Now"
Last night, for the seventh year in a row, i-D sponsored the Best Wardrobe Styling category at the 2021 UK MVAs. A celebration of the creatives behind the scenes of your favourite music videos, the ceremony shines a light on the best visual directors, producers, stylists, performers and cinematographers the music industry has to offer.

Videos for artists like Beyoncé, Lil Nas X, Dua Lipa, Megan Thee Stallion and Pa Salieu were critiqued by a panel of experts across 38 categories. i-D's award category (and specialist subject), Best Wardrobe Styling, saw nominations go to the teams responsible for Beyoncé's "Brown Skin Girl"; Priya Ragu's "Chicken Lemon Rice"; Joy Crookes' "Feet Don't Fail Me Now"; Trouble Wanted's "Lonely Cowgirl"; Tommy Cash's "Racked" and Little Simz' "Woman".

All six nominated videos place styling as central components in the formation of their narratives, elevating them to a whole new realm. Priya's "Chicken Lemon Rice" saw Neesha Tulsi Champaneria and Jake Hunte bring together streetwear with more traditional elements; while for Little Simz' self-directed "Woman", Luci Ellis selected glam looks from right across the colour spectrum. Then of course there was Beyoncé's "Brown Skin Girl", directed by Jenn Nkiru, which saw opulent styling for a high profile cast including Naomi Campbell, Lupita Nyong'o and Adut Akech.
When it came to the videos by queer London band Trouble Wanted and boundary-pushing Estonian artist Tommy Cash, however, it was much was less about styling, more costuming. Jackie Pratt crafted camp, playful characters for the former's Western-inspired "Lonely Cowgirl" romance; while the latter's "Racked" -- all movie-grade suits of armour and medieval gowns -- came courtesy of Latvian designer duo Mareunrols.


The winner of Best Wardrobe Styling, however, went to Joy Crookes for "Feet Don't Fail Me Now" -- a visual celebration of her Bengali and Bangladeshi heritage. The video (directed by Taz Tron Delix) was styled by Matthew Josephs and Natalie Roar, who delivered a feast for the eyes packed full of symbolism: saris with bomber jackets and an impressive mounds of gold jewellery. Deservedly (just look at those braids!) the video also won the award for Best Hair & Makeup. See the full list of winners here.
Tagged: