Photography courtesy of Alice Mitchell
Meet the class of 2020 participating in the first ever online global design graduate show
ARTSTHREAD are giving students the opportunity to showcase their portfolios online this summer.
Photography courtesy of Alice Mitchell
i-D has teamed up with ARTSTHREAD to give students of the class of 2020, in any art or design undergraduate or postgrad program, a chance to showcase their work this summer, as part of the first ever online global graduate showcase. Now, we've got some of more entries to share with you, with students from all over the world, from South Africa to Estonia. The competition is open to all creative disciples from visual communication, art and fashion to product design, photography and film.
You can still enter, and ARTSTHREAD will be accepting portfolios until the 31st of July. For more information on the competition details and how to make the best creative process portfolio please go to the competition page here for GDGS 2020.
Here are some of our picks - talking from their temporary workspaces in their homes -- meet Ketki in Delhi, Adilson and Mzoxolo in Johannesburg, Alaitz in Glasgow, Karl-Christophe in Tallinn and Alice in San Francisco. They are the future, whether it be fashion, animation, or industrial design, on what seems like the cusp of a whole new era.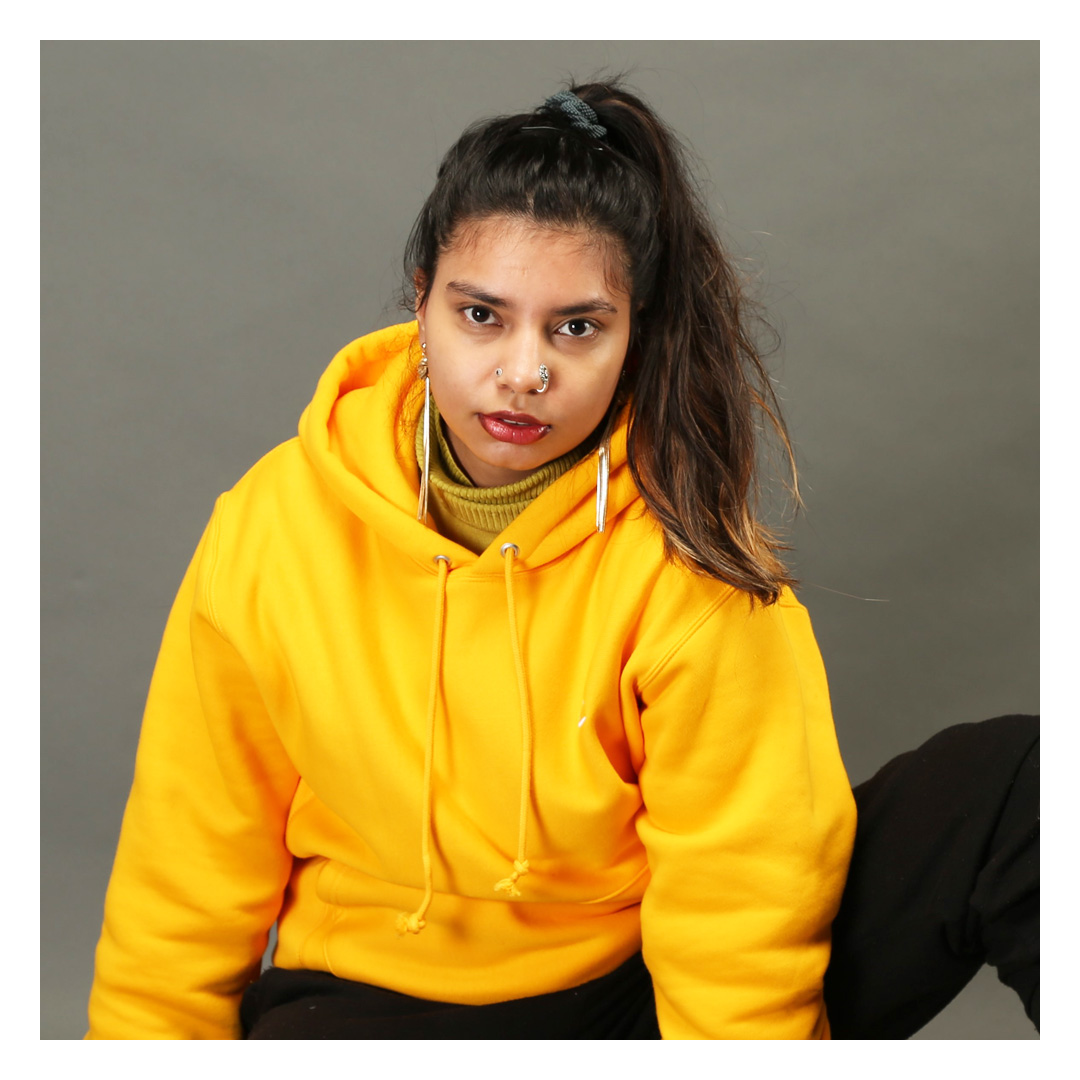 Ketki Bhatia , 22 BA in Fashion Design, Pearl Academy, Delhi
Where are you? Describe your work space.
I lived in an apartment in Delhi near to my college. My work space was mostly my living room area which had a huge space for me to work and chill and dance and relax. It usually looked a mess because when I start to work I need everything beside me like sheets, paints, colours, brushes and speakers. It was a calm space for me to work so I could make my own noise. After Covid started, I moved back to my family home and then the store room became my workspace for all the zoom classes and portfolio compilation.
What is the name, theme, concept and final outcome of your graduate project?
'I am who I am' is what I call my project. The project was about me and who I am as a person. I was inspired by Punjabi hip hop music and the philosophies of the artist Mark Rothko. Punjabi hip hop music is not just music to me, it is the feeling that makes me creative inside out as a person. The feeling that I get when I listen to these songs is very different and difficult to explain, so I painted my heart out on paper and then created a garment out of it.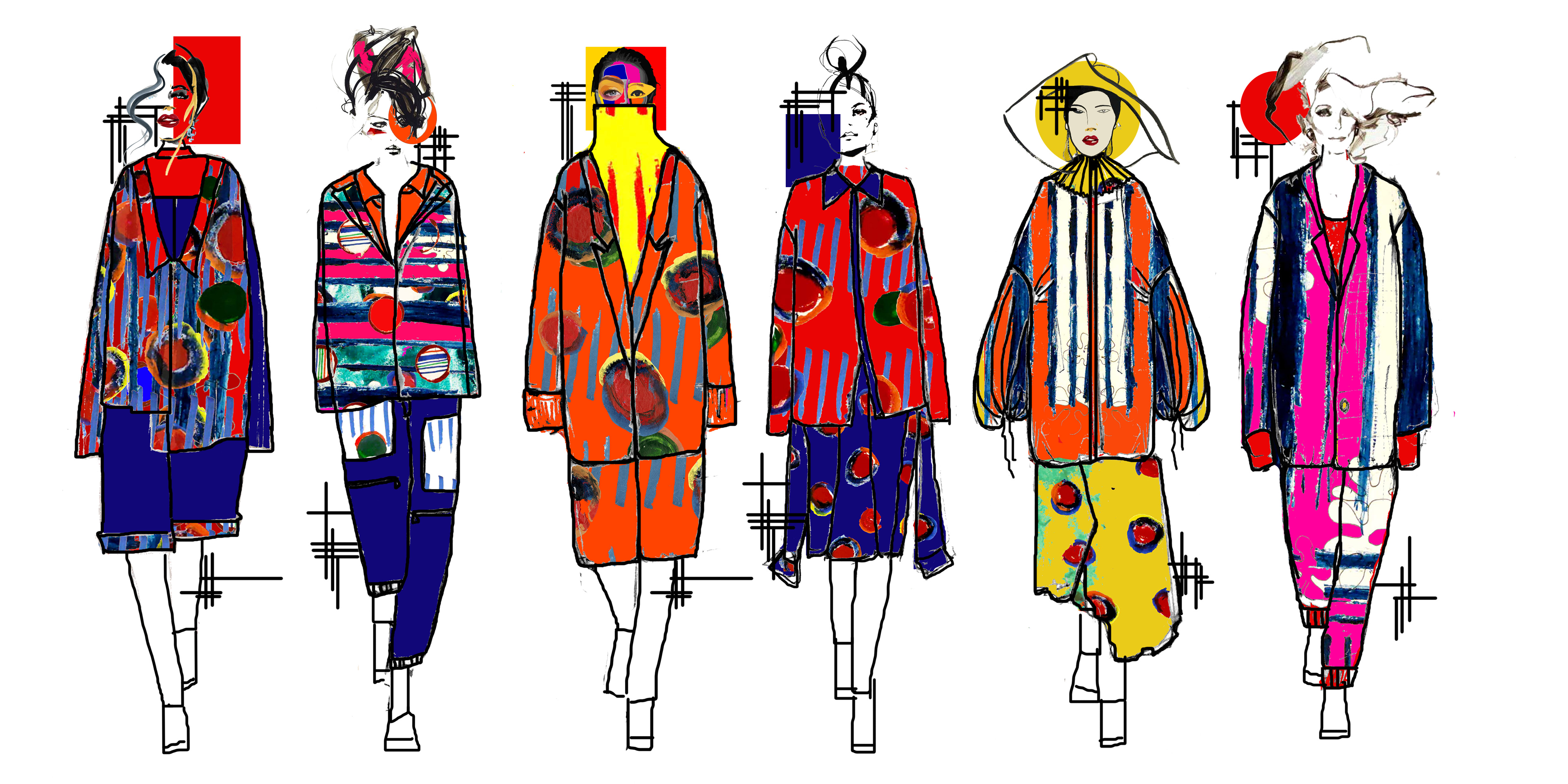 Has the pandemic changed your graduate project? If so, how?
This pandemic did change a lot of my graduation project. Having a lot of different plans at the start of the year and then having to change everything till the end of the graduation year. I never thought of ending the school year in such a hurry or on a zoom call, making one ensemble and not the entire range. It was going to be to be a proud moment when I could see my whole collection in front of my eyes and that feeling is a lot different to now. I needed those whole 3 months that I lost to this pandemic to work more, to enjoy my graduate project more, to interact more with my friends and faculties that got me where I am today.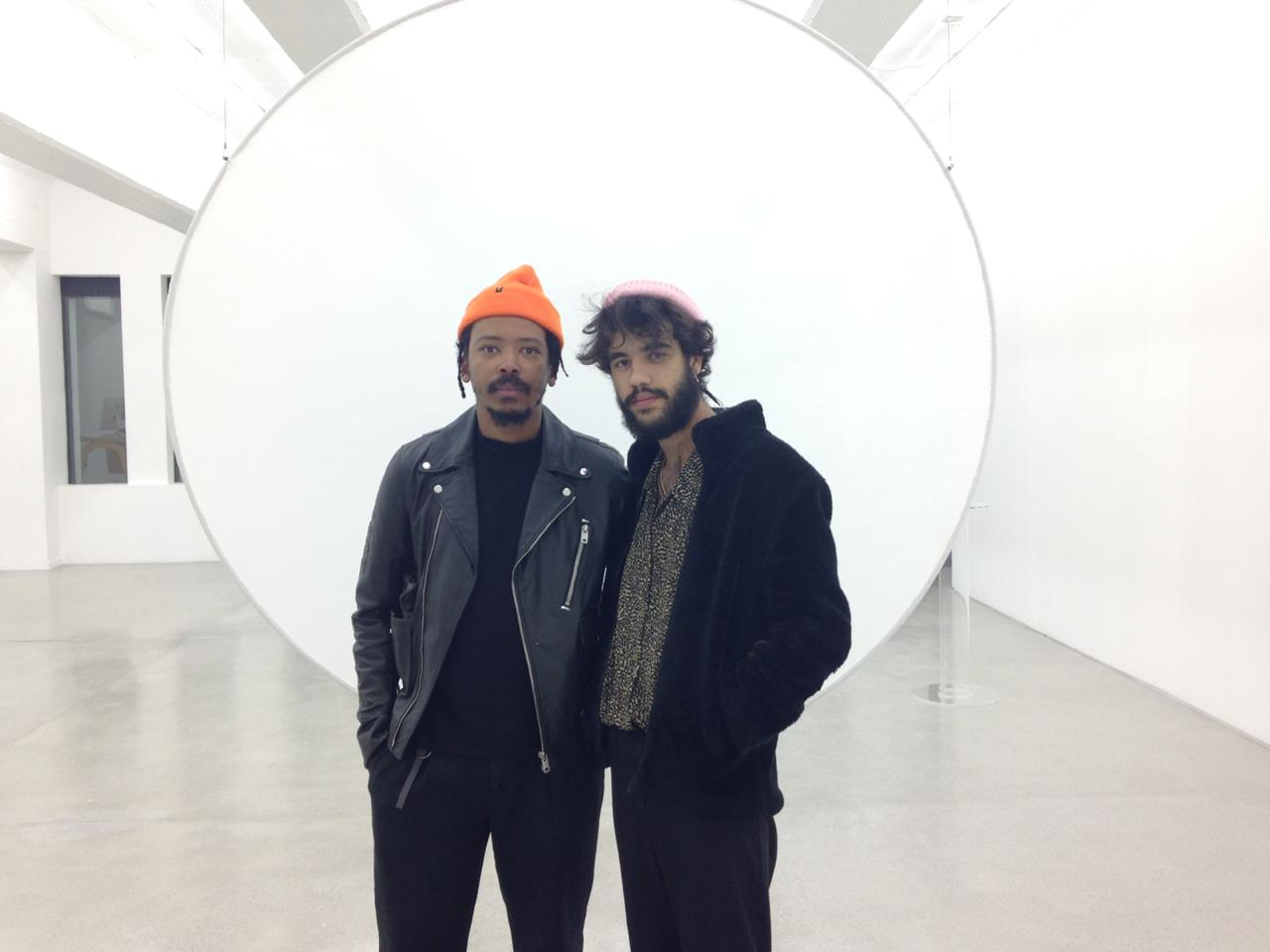 MAGOLIDE COLLECTIVE : Adilson De Oliveira, 22, and Mzoxolo 'X' Mayongo, 33, Bachelor of Fine Arts, University of the Witwatersrand, Johannesburg
What is the concept and final outcome of your graduate project?
We are currently both working on a project titled, 'The Counter-Space of Pop Culture in Zaire' and its extension: 'The Counter-Space of Pop Culture in the Global South'. The title of The 'Counter-space of Pop Culture in Zaire' records a multitude of several elements which speak to the notion of omitted African histories and narratives, and the act of re-writing and re-inserting said African histories and narratives into the forefront of the contemporary landscape of the future. Essentially, it's broken down into three components. Our definition of 'The Counter-space' signifies the intersection of the new space in which digital technologies and innovation hold as an artistic medium in encountering the old traditions and visual language of art.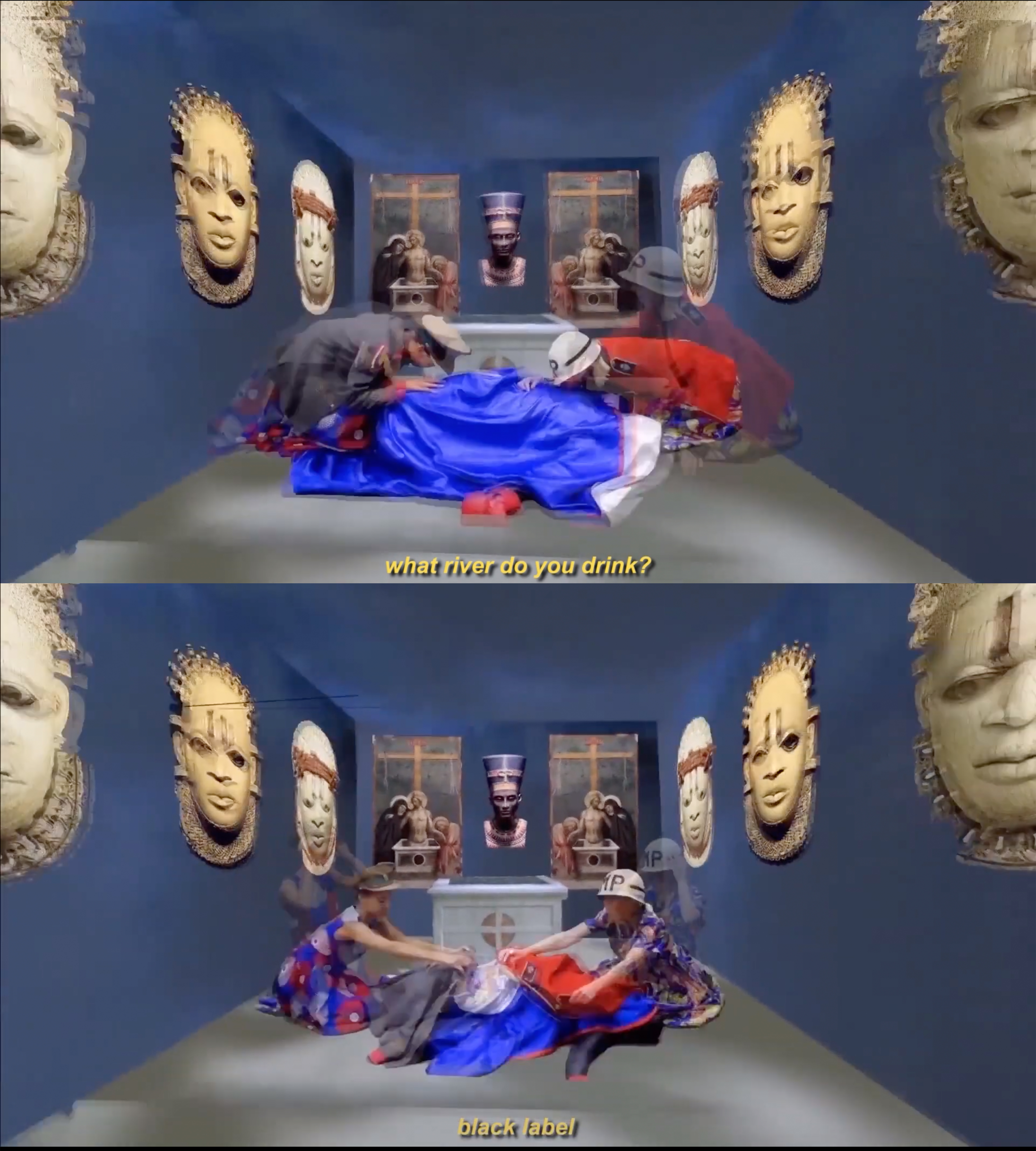 Has the pandemic changed your graduate project? If so, how?
The pandemic has not changed our graduate project in the sense that it can no longer go forward nor exist -- but rather it has changed the manner in which we think around performativity and its residue. In a time in which social distancing negates any form of live, face to face viewer engagement, this has been quite a challenge. We have spent the past six weeks in lockdown figuring out how we can still perform and produce work that exists on digital platforms in which an audience can still occupy a space in our work and feel as if the digital space was an intended goal rather than a side effect of a worldwide pandemic. We are a collective duo, so all the work we produce as MAGOLIDE is a fifty-fifty collaboration of ideas and technical ability. We sit and bounce ideas back and forth while we make work - and this is what results in a finished product. We have had to adapt to making work via zoom calls, texts, phone calls and emails -- constantly sending work back and forth to one another, until we both feel as if it is finished.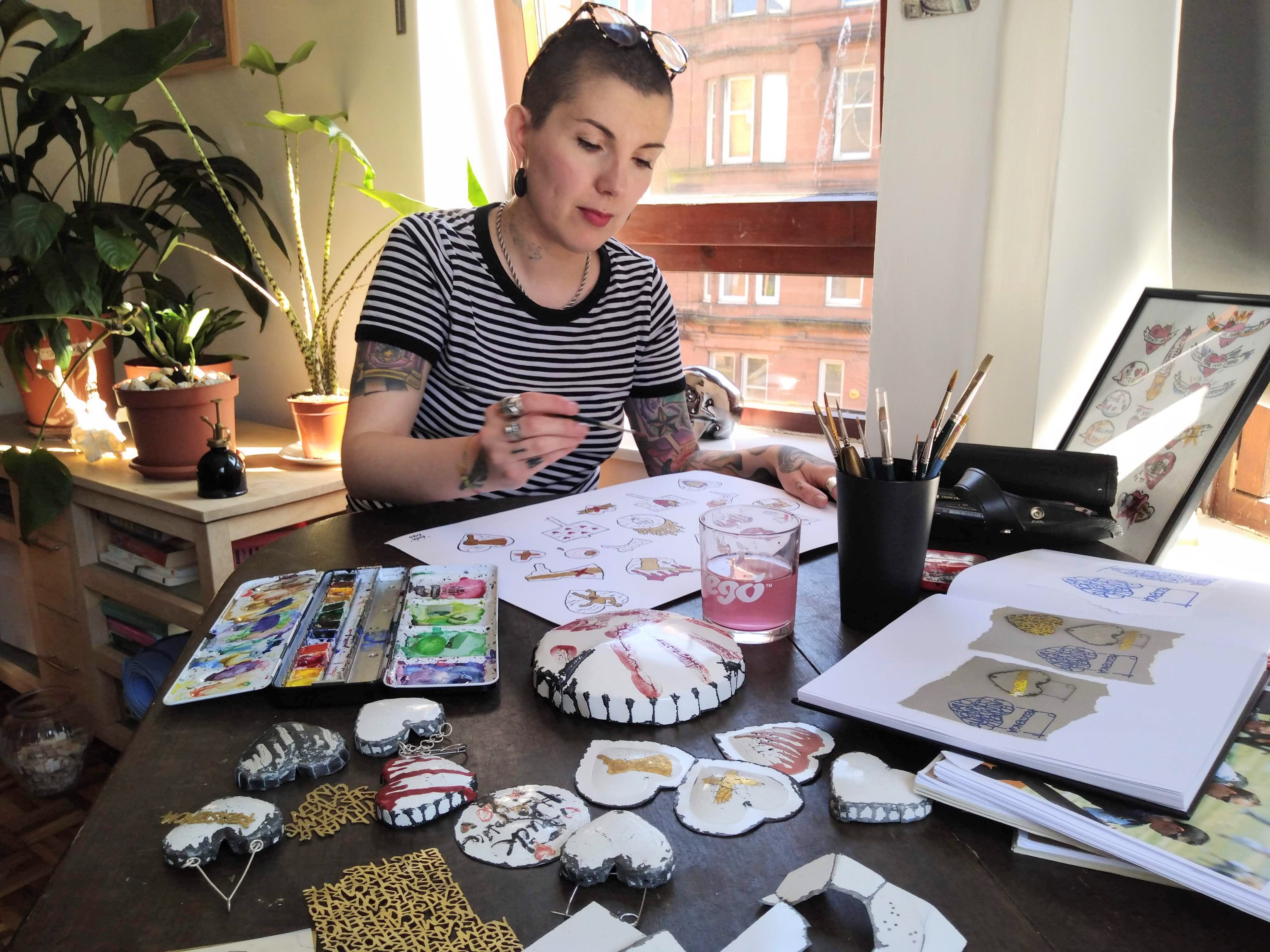 Alaitz MM. Gavilan , 35, Silversmithing and Jewellery Design BA Hons, Glasgow School of Art, Glasgow

What is the name, theme, concept and final outcome of your graduate project?
During my final year I focused on the themes of Protest and Resistance. Following some of the latest protest altercations around the world; Catalonia, Chile, Lebanon, Hong Kong and France, I recognised a pattern: there's a tendency to criminalise and repress peaceful protests by governments, including the so-called democratic ones, and it's enforced using police brutality. My work aims to be a reminder of the fundamental rights we enjoy today that were obtained because of the people who engaged in numerous acts of civil disobedience and who protested on the streets. It is a tribute to the huge number of activists abused or killed for simply defending social justice.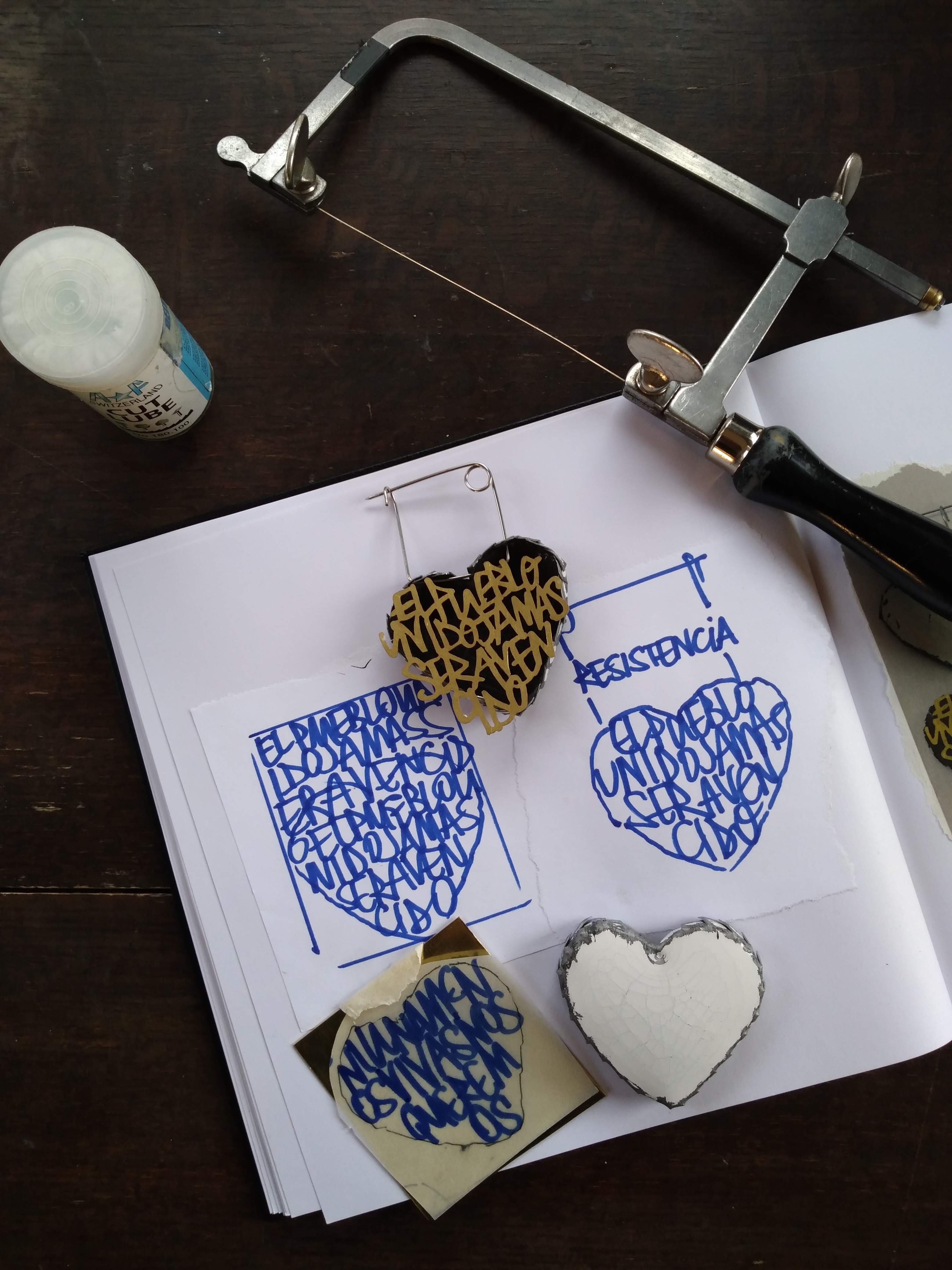 Has the pandemic changed your graduate project? If so, how?
I don't think my views on the subject have changed at all. It's been very interesting to see the Black Lives Matter movement and the existing police brutality that it was "invisible" for so long and for so many be put in the public eye, in between other important issues that we, as a society, urgently need to address. I think the topic I've chosen is so important that it's worth exploring further.
On the other hand my pieces remain unfinished, I still have few technicalities to solve and things to try with the materials, and exploring different shapes and colours. Obviously, this is a problem that a lot of art students had to face. Without access to studios and workshops it's almost been impossible to produce any new work or finish existing work. In addition to this, many of us had to focus on our economic survival and mental health, so productivity hasn't been my number one priority.
Without our completed projects and with the restrictions, it's currently impossible to exhibit our work and to get the exposure we thought we would. I was even planning to go home in October for a collective exhibition at Joya, the Contemporary Jewellery Week in Barcelona but I had to cancel.
Karl-Christoph Rebane , 22, Fashion Design BA, Estonian Academy of Arts, Tallinn
Where are you? Describe your work space.
I am home, at peace. I made most of my collection at my mom's house and in the countryside where I grew up. I made the attic into my own little atelier for me.
Has the pandemic changed your graduate project? If so, how?
Other than getting to know what having your heart broken feels like, having no access to teachers and none of the machines or facilities took a heavy toll on everything. At one point I felt hopeless, like there was no way I would graduate this year. But after a few weeks I thankfully got back on track. I had to change some of my designs and find new techniques. Since my collection is made with repurposed scraps and trash, I couldn't get the materials I needed with enough time to make the garments I'd planned. Using materials I wasn't able to sew on a home sewing machine meant I had to hand stitch most of my garments. One good thing was that before the pandemic started, I borrowed a knitting machine from school, so I replaced some of the things I couldn't sew with knit - which was hard, as I hadn't knitted anything before, let alone full outfits. But fashion designers can do anything!
What's one thing that has helped you get through the past few months?
Wine.
What are the most positive learning outcomes from this process?
It made me realize how much I loved going to school every day. It's especially bittersweet because now I'm graduating. I've also enjoyed having some quiet, being able to see my mom for more than a weekend. I'm not sure if I learned anything in terms of technical skills, but it has made me appreciate life a bit more.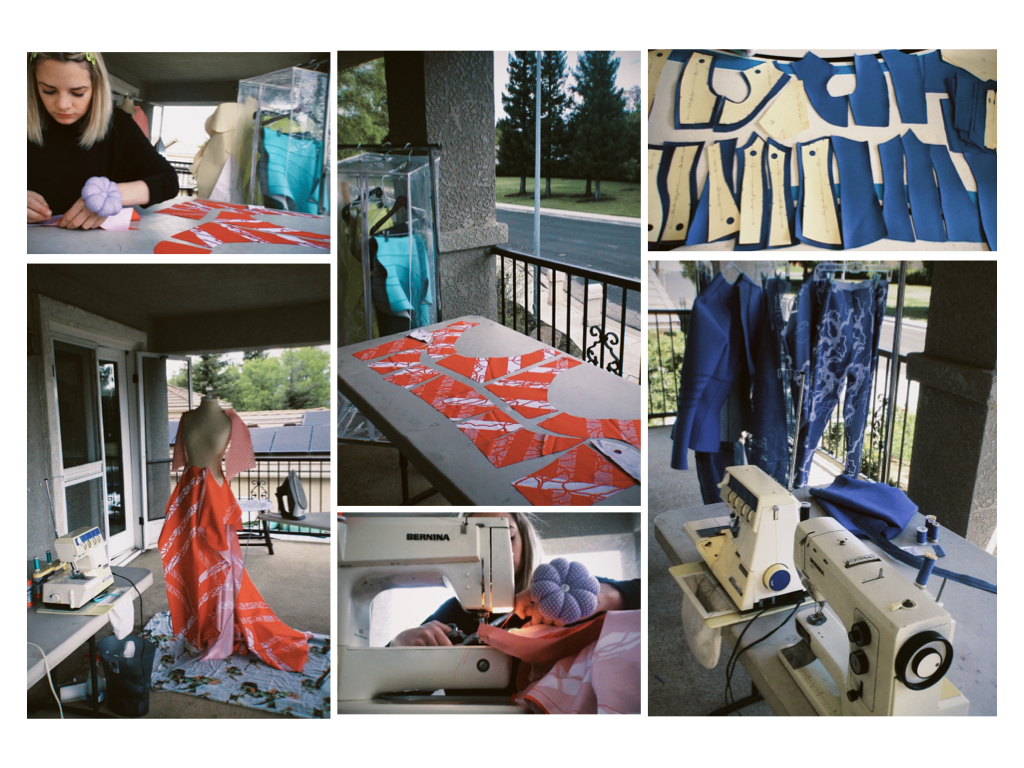 Alice Michell , 22, BFA Fashion Design, Academy of Art University, San Francisco
What is the name, theme, concept and final outcome of your graduate project?
I grew up playing soccer and it's been a part of me my whole life. The competition, desire for perfection and constant drive to push oneself to be better - all qualities that soccer demands - have shaped who I am today. Although my college soccer career is done, I still maintain the same sense of competition and drive. It's this mindset I applied to my senior thesis collection, to bring my two passions of soccer and fashion design to life. My inspiration is rooted from fashion history, looking into my European ancestry. I experimented with the stripes found from the flags with layering the abstract shapes found from the outlines of countries in different scales and colors. I also found myself mesmerized by traditional European gowns of the 15th and 16th centuries. As well as the corset, with its elements of protection and strength, particularly captivated me. I worked to modernize the exaggerated silhouettes and the corsets by making it less restrictive by using performance fabrics. I used pops of stitches, trims, and exaggerated silhouettes often found in sportswear. As a whole, my collection has a variety of monochromatic looks that conjure images of the European countries and their flags, with colors that range from neon green and red to deep navy and teal. The end result is a collection rooted in luxury sportswear with a unique twist.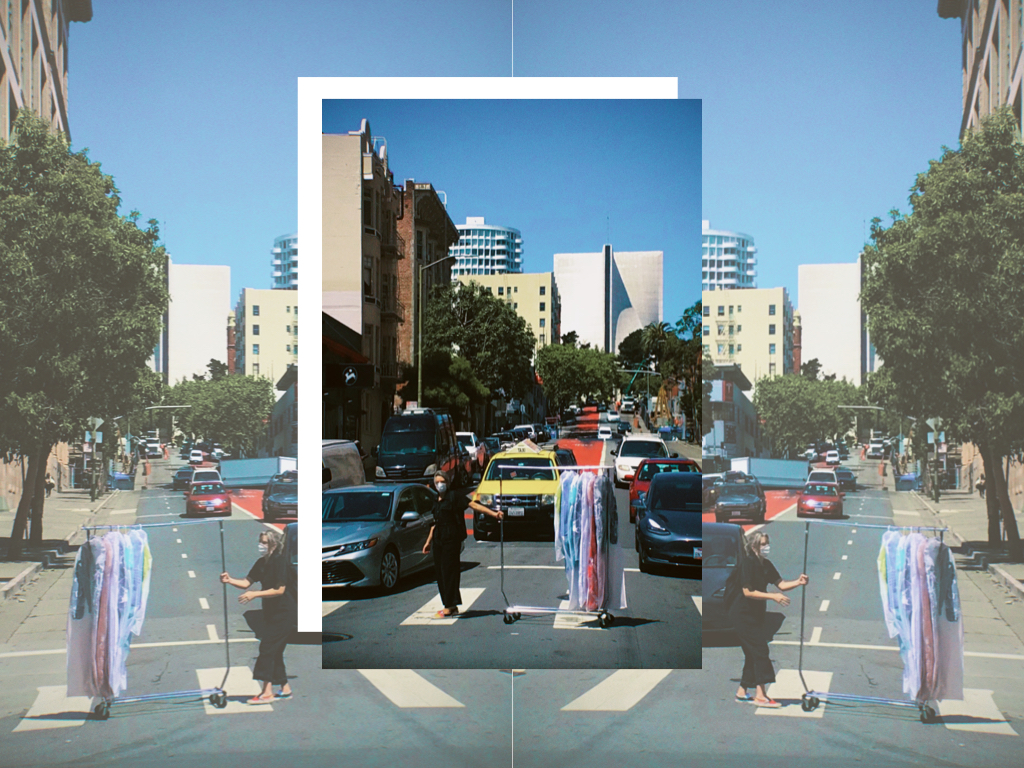 Has the pandemic changed your graduate project? If so, how?
My original plan was to finish sewing my graduate collection by the end of April at my university. I would watch my looks walk down the runway at the annual graduate runway show. And have a photographer and stylist shoot my collection on a planned set. But Covid-19 had other plans. And I am okay with that. I managed to completely finish sewing my graduate collection outside on a balcony in the suburbs. I created my own virtual fashion film and showed it to industry over Zoom. I photographed my entire collection on the roof of my San Francisco apartment with an iPhone and a polaroid camera. And I ran down the San Francisco hills during a pandemic with a clothing rack filled with my graduate collection. While it's not the outcome I anticipated, I feel empowered by how much I was able to accomplish in spite of Covid-19. It has been a unique experience that I will never forget.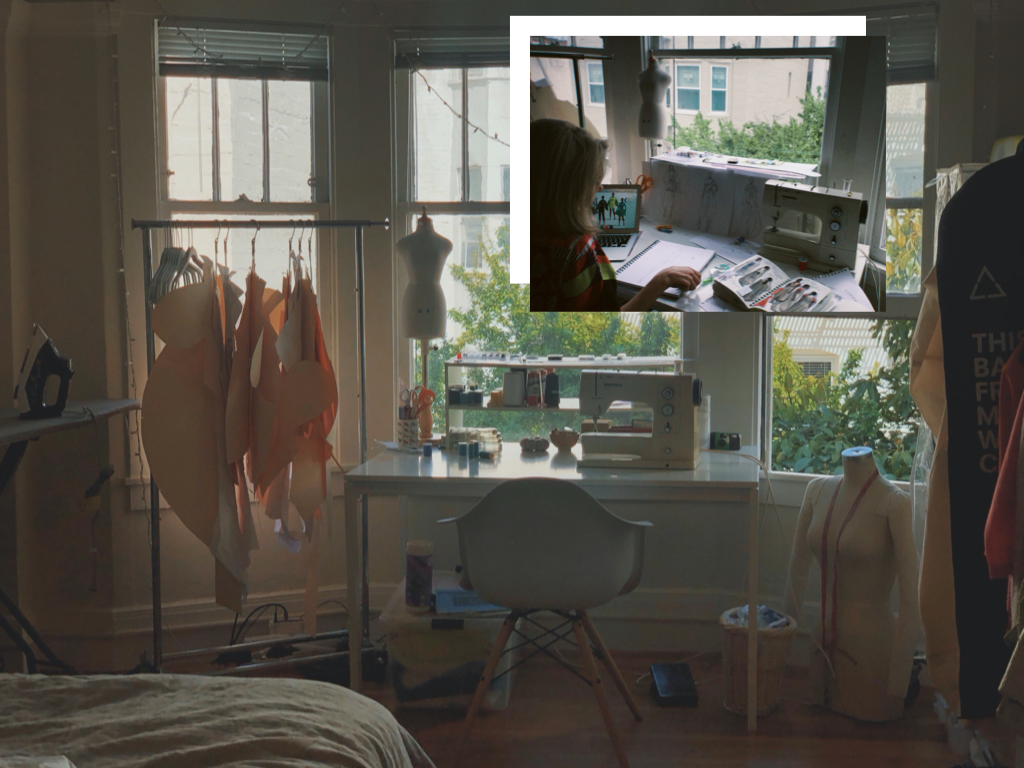 What are your hopes for the future?
I hope that the fashion industry takes this time to adapt into a more sustainable future. Brands and consumers adapting to a "Sustainability First" mentality will push our industry in the right direction. We are going through a massive digital transition as a result of the advent of social media. It has been pushed into overdrive due to the global pandemic. By utilizing programs like Clo3d, it is progressing the industry into a sustainable future. This could be applied to the fashion industry in production stages as well as creating virtual fitting rooms, fashion shows, etc. For example, consumers are no longer able to try on clothes at the store, Clo3d has the ability to create a virtual fitting room. By creating avatars that can be customized to individualized measurements, it allows the buyer to achieve their perfect fit in only one try. This is just one of the many attributes that this program can offer to minimize waste for the industry and the consumer. I hope to be a part of this digital, sustainable fashion revolution.