These nostalgic images capture the glamour and grit of American rodeo
Photographer Anna Ottum swapped New York's fashion scene for the cowboys of the Southwest.
Photography Anna Ottum
The stylised American cowboy, seen riding a horse and wearing fringe, a neckerchief bandana, heeled boots, vests and chaps, emerged in the 19th and early 20th century based on figures like horseman turned showman Buffalo Bill Cody. He inspired Hollywood stereotypes to come, immortalising cowboys as the epitome of masculine pride, freedom and endurance. Today, in over 700 professional rodeos across America, modern day cowboys and cowgirls showcase their toughness. Photographer Anna Ottum has documented these events and her nostalgic images are saturated with romanticism of the American West.
"I started photographing rodeo for very surface reasons: it was such a cool, interesting Western sport," Ottum says. But it was seeing the different aspects play out in rodeo with regards to gender, socio-economics and its cross-cultural history — a melting pot of traditions that draw on Mexican, mestizo and Native American culture — that kept the photographer going back for more. Rodeo is a fusion of blue-collar skills learnt and shared by Spanish conquistadors, Native American herdsmen and West African slaves, Ottum explains, "to create what we think of as such an American sport... What could be more American than that?"
For Ottum, who has spent ten years making a living in New York as a fashion photographer, it all began in 2016, when she attended a Professional Bull Riders rodeo at Madison Square Garden with her friends. It sparked in her this love for rodeos that she wanted to explore more. But it wasn't until two years later that she made it to the Pendleton Round-Up, which took place in her hometown in Oregon. After emailing to ask whether she could bring her camera, the director called her back saying, "Howdy, I saw your email and your work, and I've been looking for you. I've been looking for a photographer that does fashion photography because the fashion at the rodeos is so good."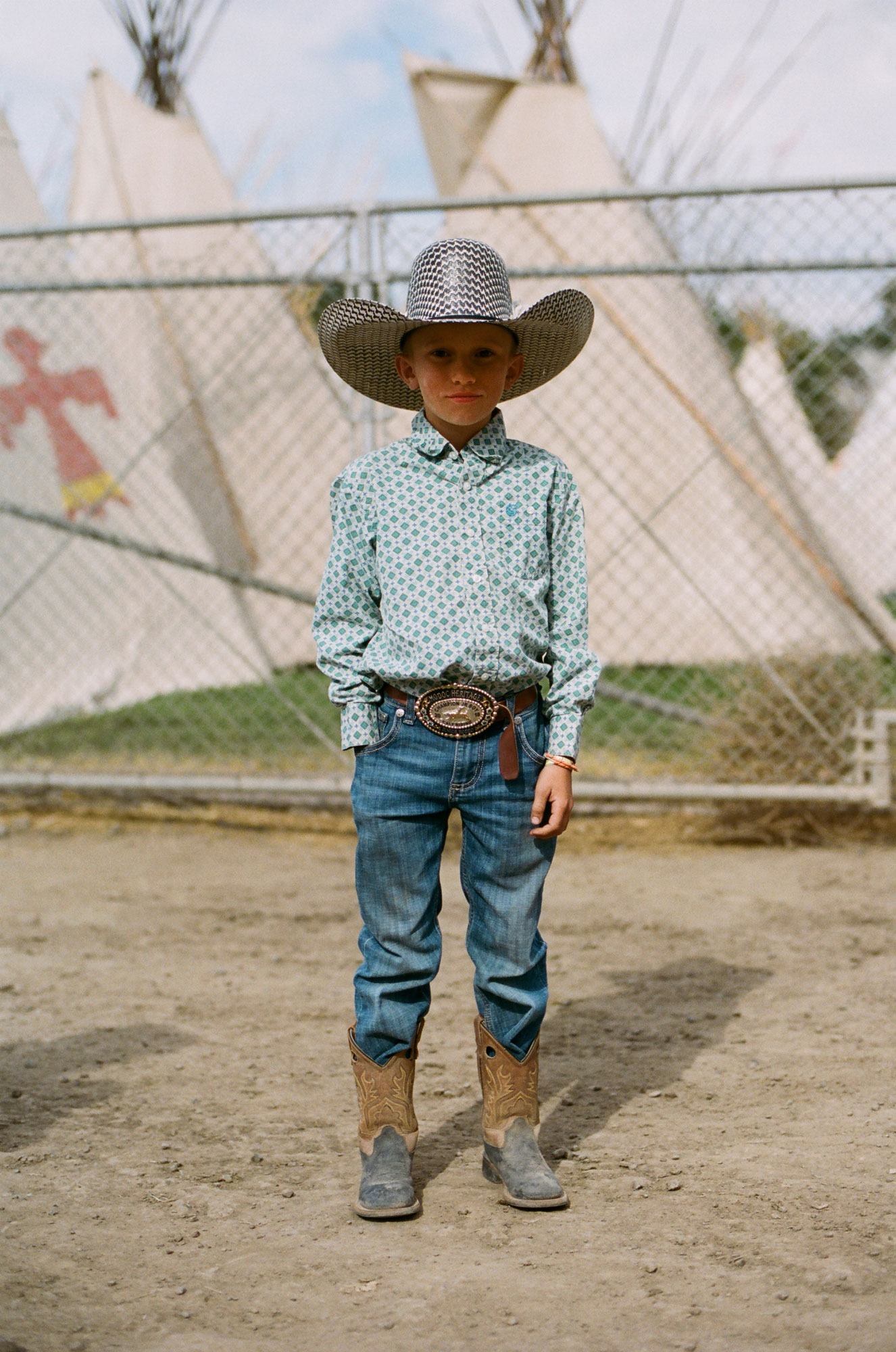 Ottum ended up staying for a week, and very quickly immersed herself in the scene. You have to have Western gear to attend the event, so she returned to her father's house to pick up some clothes in order to fit in. "You get tons of eye candy at the rodeos," Ottum says. "[But] I found myself trying to hone in on small moments, pull individuals aside and talk to them about why they liked rodeo and where they were from." Her intimate shots capture the subject in a way that feels personal to them. It's combined, she says, with the fact that she's very voyeuristic. "This is a culture that I didn't grow up in, so I'm noticing details around [each] person."
The photographer realised on her return that her draw to rodeos was very specific: "It was sort of this Old West Kodachrome colour influence," Ottum explains. It might be an incredibly dangerous, really masculine sport, but she chose to capture it in a softer, more cinematic and romantic way, using 35mm film. Consolidating the sense of duty that lies at the heart of rodeoing, whether it be maintaining tradition or supporting their families — most riders use the prize money to supplement their income ranching — her images also encapsulate the deep connection between rider and animal, the pull of addiction and adrenaline.
"I photograph in this way that is very dancerly, very choreographed. You have to feel what the animal is doing underneath you and you have to work with it." The competitors often train on big barrels, rocking back and forth to feel what a ride would be like. Depending on how the animal moves, they have to learn to move with it. "It's very vulnerable," she says.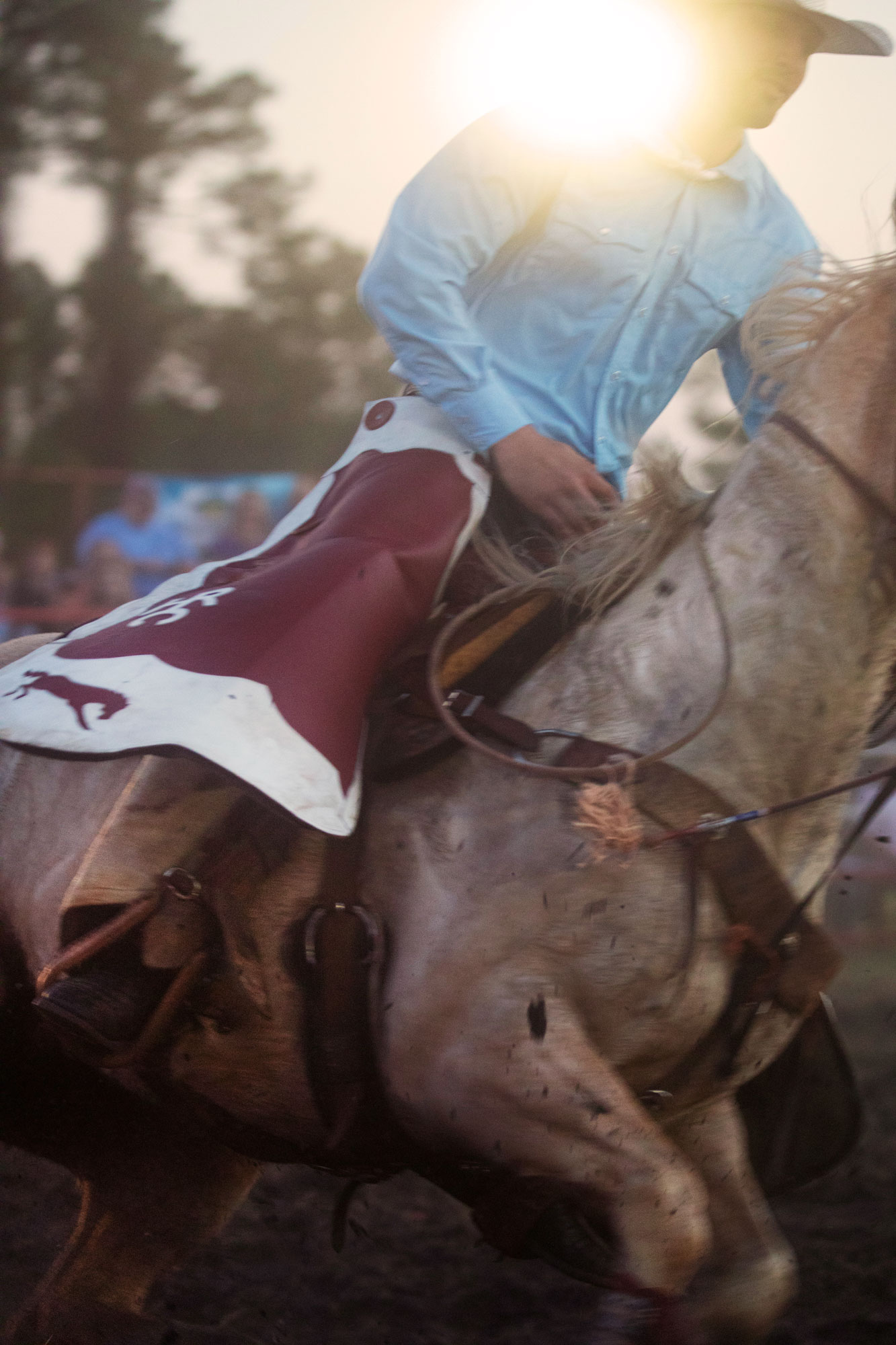 "I can tell you I'm never going to get on a bull, I'm never going to ride a bronc. I have no desire," Ottum adds. "But I do have a desire to understand what that would feel like." That's why she zooms in on her subjects: the leg of a rider, the spurs on a pair of boots or the dust being kicked up by the horse. "It's a study of what it must be like to be on top of that — wild, kicking, thrashing and the way they are able to stay on."
With her fashion background, Ottum was also drawn to the pageantry of the clothing — bright blue and metallic chaps, the elaborate fringe — but learnt that it not only served an aesthetic purpose but a functional one. The clothes emphasise the constant contrast in rodeo between the dangerousness of the sport and the magnificent, flamboyant spectacle of the event.
Ottum started working with the Professional Bull Riders Association to get an overview of the big boys, and after noticing an immense lack of representation, she decided to delve into the different subcultures of rodeo. She had plans to photograph at the International Gay Association rodeo this summer, where drag shows sit beside bull-riding, and the all-Black Bill Pickett Invitational Rodeo last weekend, but both were cancelled because of Covid-19. Ottum did make it to the finals of The Miss Rodeo America Pageant in Las Vegas, however, where she photographed female riders fighting to be Rodeo Queens.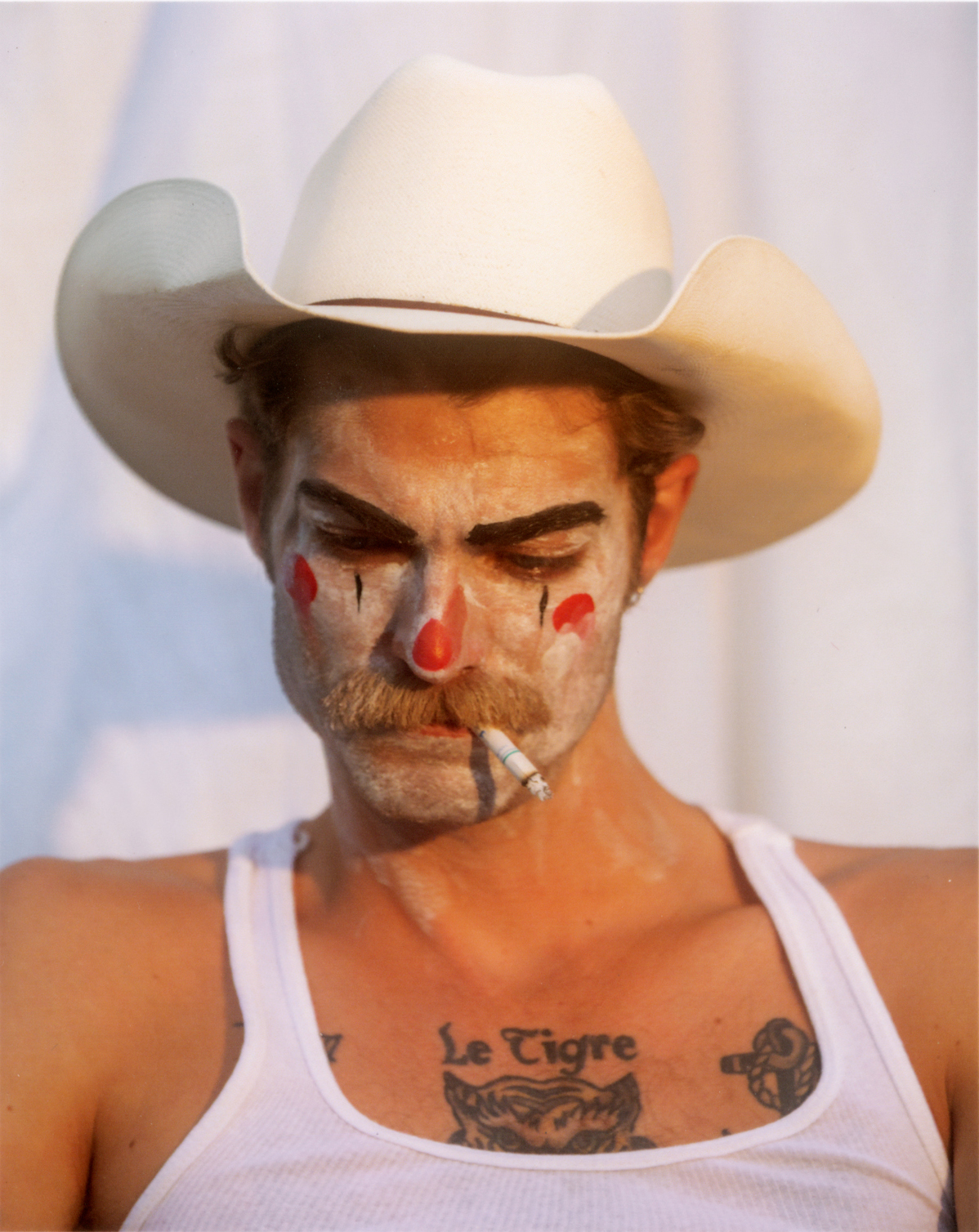 There was a strange juxtaposition at the event, explains Ottum, between the glitz and glamour of Vegas, and this very blue collar, very Western set of events that were going on. "I was talking to Rodeo Queens and the majority of them were self-proclaimed tomboys. They're like, 'Oh I didn't wear makeup until I was 17, I would never comb my hair,'" she says. They're all used to working on ranches and to be a Rodeo Queen you have to be a technically good rider — the girls whip around the stadium and are interviewed about horsemanship and rodeo knowledge.
In Vegas, Ottum met caricatures of her favourite rodeo attendees too: the 80s cowgirls dressed to the nines with big hair, lots of makeup, large earrings and tons of rhinestones. Referred to as 'buckle bunnies' these types of girls only date riders — they 'chase the buckle.' One woman that particularly stood out was Shondra, holding printed out faces of her daughter who was competing; very 'stage mum.' She stood in direct opposition to the more conservative women, with the long braid, cowboy hat, who owned their own ranches or have been working with horses their entire lives.
A lot of the competitors pray before they ride — they hail from the Bible Belt of America, after all — with one of Ottum's most iconic images featuring a Rodeo Queen in red, white and blue, on horseback with her head tilted in prayer. The background to the image looks like a staged backdrop, but it's a real sky ombre with the sunset. "There's a lot of romanticism when people talk about the American West," which Ottum likens to traditional landscape paintings of the region, like those by Georgia O'Keeffe, who captured the insane sunsets and big fluffy clouds perfectly.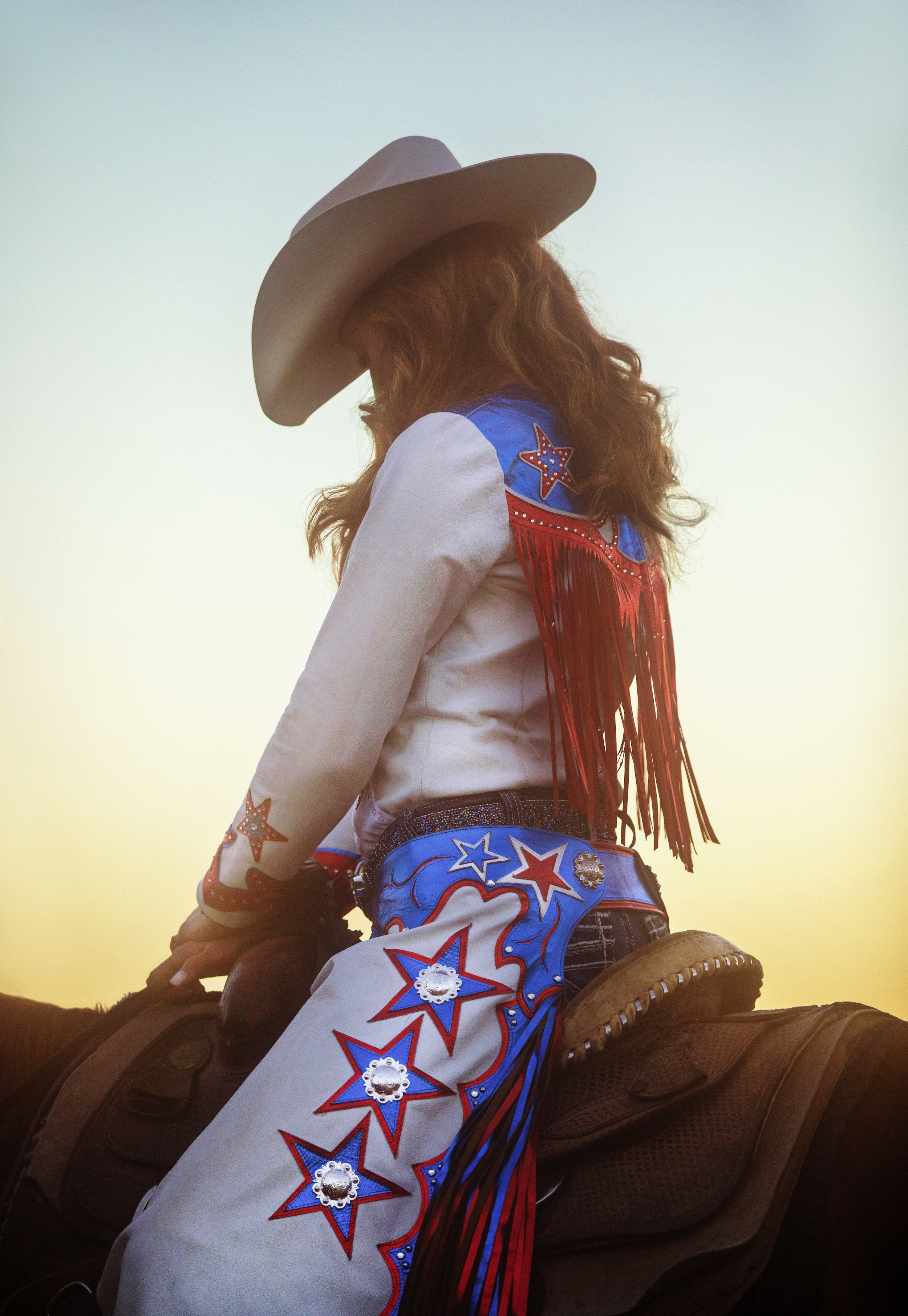 But there's a darker side to the rodeos too, with roughstock events like bareback riding, saddle bronc riding and bull riding that cause many injuries — broken ribs, broken backs and even deaths. A lot of times the riders will compete with these injuries, and Ottum has taken photos of riders literally wrapping themselves up in pink tape before events. There's a phrase, she explains, 'rub some dirt in it,' and 'just get back on the horse' that is such a universal concept, but completely embraced at the rodeos.
One of Ottum's favourite images is of a confident young bronc rider from South Carolina called Austin, nicknamed "Critters," who proudly shows off a scar in the shape of a bronc. It happened after his first ride, when he was bucked off, "I just saw it as a sign I had to keep riding for the rest of my life," he said. His friend Lukasey, who was less boisterous, hailed from a small town in Oklahoma, and his whole family had been riding for generations. He was introduced to the sport by his uncle, who was a close friend of Lane Frost, whose infamous death during a ride inspired the film 8 Seconds. Speaking to both the boys, "really showed what it means to seek [the rodeo] out versus being born into it, where you really don't feel like you have a choice."
There's this notion in rodeo and in the US, Ottum adds — that you've just got to get back up, pull yourselves up by the bootstraps, work hard and you get what you work for. "All of us understand that's not completely true… But I do think that's part of this romantic concept that lives on in rodeo." By exploring the Southern states and lives lived differently from her own, Ottum says that, even though the rodeo series is incomplete, it was a way for her to "piece together" how she felt about the country she lived in through making this work.