SEVALI is making upcycled couture out of mattresses and car seats
The French label's larger-than-life designs can be seen on Alexa Demie, BLACKPINK and Rosalía.
Photography Jacqueline de Gorter and Rémi Marin.
You may not know it yet, but if you're following some of pop music's hottest acts you've probably laid eyes on a piece of SEVALI's upcycled couture. A pair of the French label's shoulder-length leather gloves graced the arms of BLACKPINK's Lisa in the K-pop group's recently released "Ice Cream" music video. Performing smash single "Say So" from lockdown, Doja Cat sported the label's colourful logo set — a riff on Louis Vuitton's 00s zeitgeist-defining multicoloured monogram. No wonder the young label has already become a favourite of pop superstars: each of the label's one of a kind garments is a larger-than-life, veritable fantasy that pushes the boundaries of the everyday. In SEVALI's world, a leather car seat cover serves equally as a bodysuit, FedEx packaging is transmuted into a corset top, everyday objects break free of their quotidian contexts to become stunning feats of couture.
The mind behind the fantasy — and the label — is creative director Sebastian A. de Ruffray. Born in Santiago, Chile, Sebastian moved to Milan on student exchange at age 19. It was there, in the Italian fashion capital, that the nascent designer received his first proper introduction to the industry. "Little by little, I realised that fashion was something I could dedicate my life to," he says. "Because in Chile, it's not really an option to become a fashion designer." A year after returning home to Santiago, Sebastian moved to Europe, this time permanently. In London, he completed his BA at the city's Istituto Marangoni, interned at Alexander McQueen ("a big revelation, being exposed to that level of excellence") and pursued an MA at Central Saint Martins. Finally, the designer settled in Paris, where he freelanced for a number of brands, before stepping out on his own.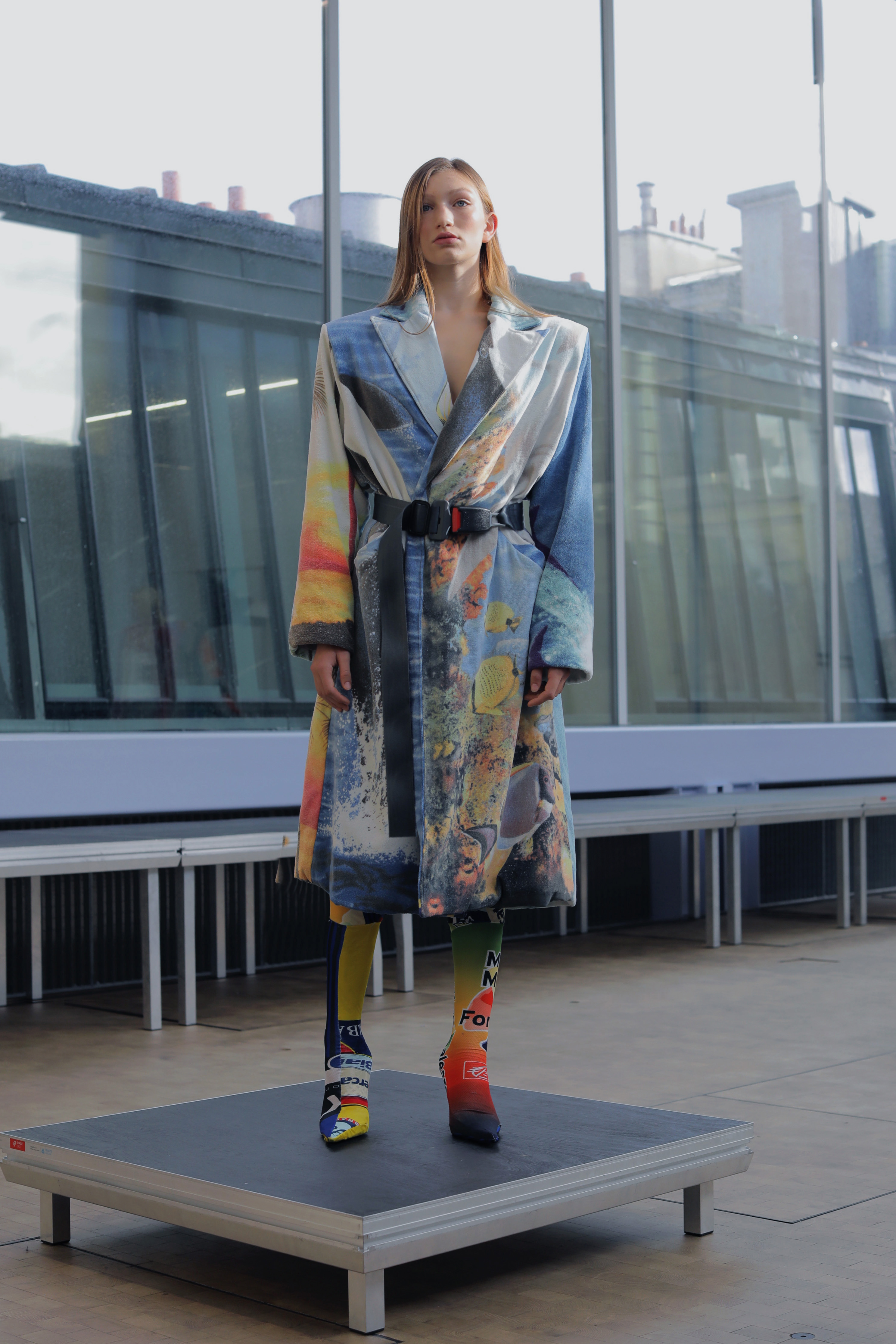 "With SEVALI, I want to push the boundaries of upcycling," Sebastian says. "We want to experiment with different media, different materials, to propose something new. It's a search for newness." By fashion industry standards, the practice of upcycling usually involves flipping pre-existing garment textiles — deadstock fabrics, vintage clothing — into new pieces. Some of SEVALI's garments abide by these industry conventions — say, a renewed antique wedding dress, a frock pieced together from silk scarves. SEVALI's most fantastical garments, however, are constructed from more commonplace materials. "For me, it's always interesting to find new ways of transforming objects. We work a lot with objects that we find in the street or at markets around the city. Found objects like car seats, metro tickets or mattresses — which we've used in the past — have more powerful energy than clothes because people relate more to these objects. I always try to keep the object's essence. Our designs are inspired by the mundane. They're about highlighting the richness of everyday life."
The label's second collection focused heavily on Paris' metro system, with intricate chain mail-esque dresses constructed from ticket stubs, others from the system's famous seat coverings; its third outing revolved around the world of automobilia, featuring leather from car seats and moto detailing. In terms of pursuing these quotidian themes, Sebastian doesn't actively seek them out, instead, the objects he works with seem to find him. "Objects speak on their own and some objects tell more of a story than others, especially here in Paris. There's a strong secondhand culture in France. People throw things to the streets, like antique chairs, and they're super nice. You always find beautiful things around, so it makes my work easier," he laughs.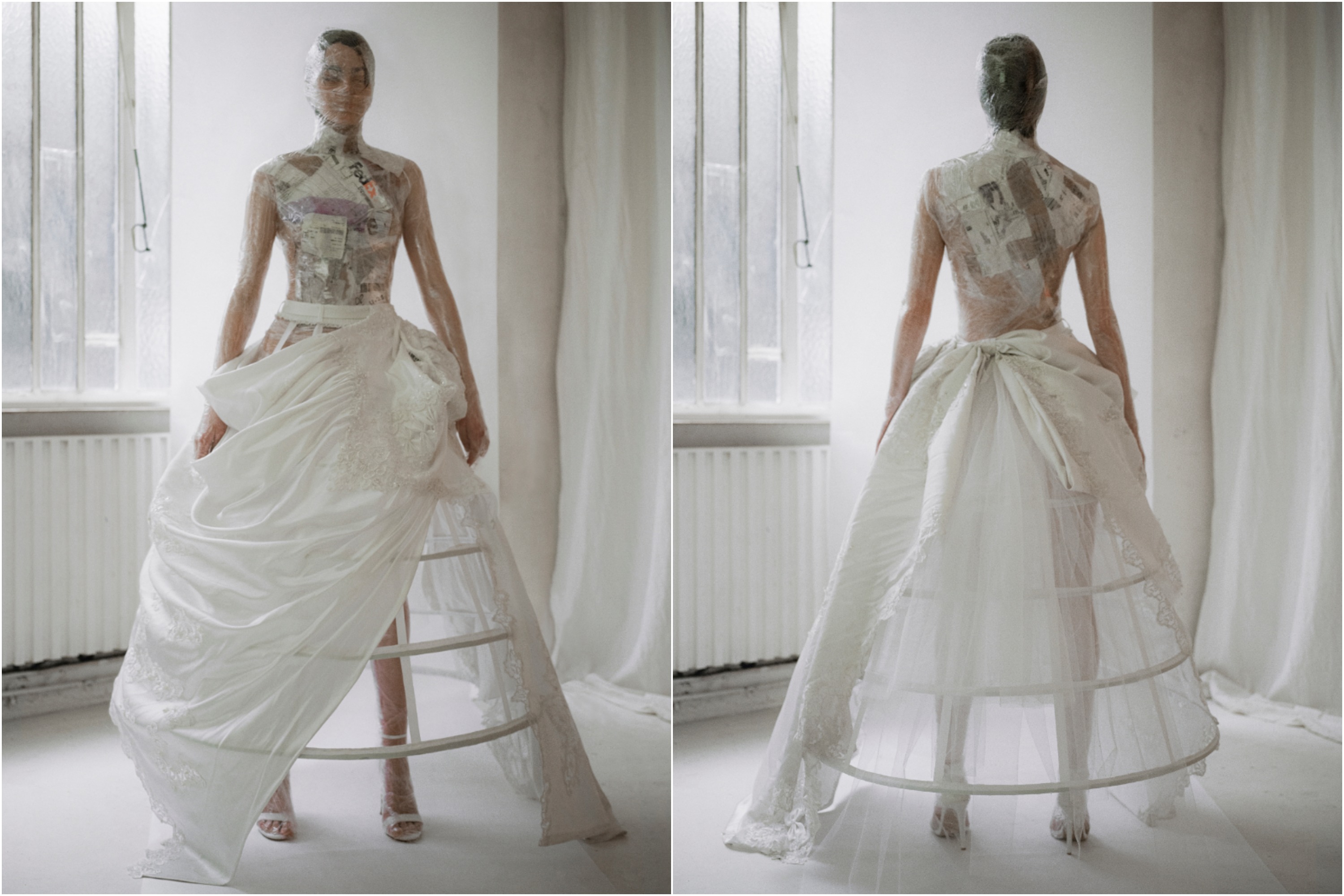 One such serendipitous item served as the centrepiece of SEVALI's very first collection: a jacket meticulously reconstructed from an antique mattress. "I actually found that mattress right outside my apartment," Sebastian says. "It was four o'clock in the morning and I was about to go to the airport. I saw the mattress and I made the taxi driver stop so I could take it into my house, then I came back and caught the flight. Sometimes it's like that… if you don't take it, it'll be gone."
The label's mattress jacket also exemplifies the craftsmanship and work that goes into SEVALI's one of a kind garments. "The mattress jacket, for me, is one of our most elaborate pieces. It was a really long process of unpicking by hand the whole mattress, cleaning it, then reproducing the quilted pattern. From the moment we found the mattress to the moment we finished the last stitching, I would say it took three weeks," he explains. "We use a lot of artisanal techniques in our pieces, a lot of hand-stitching, hand-dyeing, beading. They're complex and unique, all the couture pieces. They're the pieces, also, in which upcycling is taken to a higher level."
The label's latest collection, seasonless and simply titled 04, sees SEVALI take its sartorial craft even further. The collection's presentation, held in the gallery space of Lafayette Anticipations, will showcase the garments "from a more artistic point-of-view", explains Sebastian. Merging textile art with couture, the show's two final pieces begin stretched out across two metal frames, and, through the act of dress, will transform into the kind of wearable artwork SEVALI specialises in. "It's a conversation about transition: blurring the boundaries between fashion and art, the transition between two and three dimensions, and the transition of discarded garments into upcycled pieces."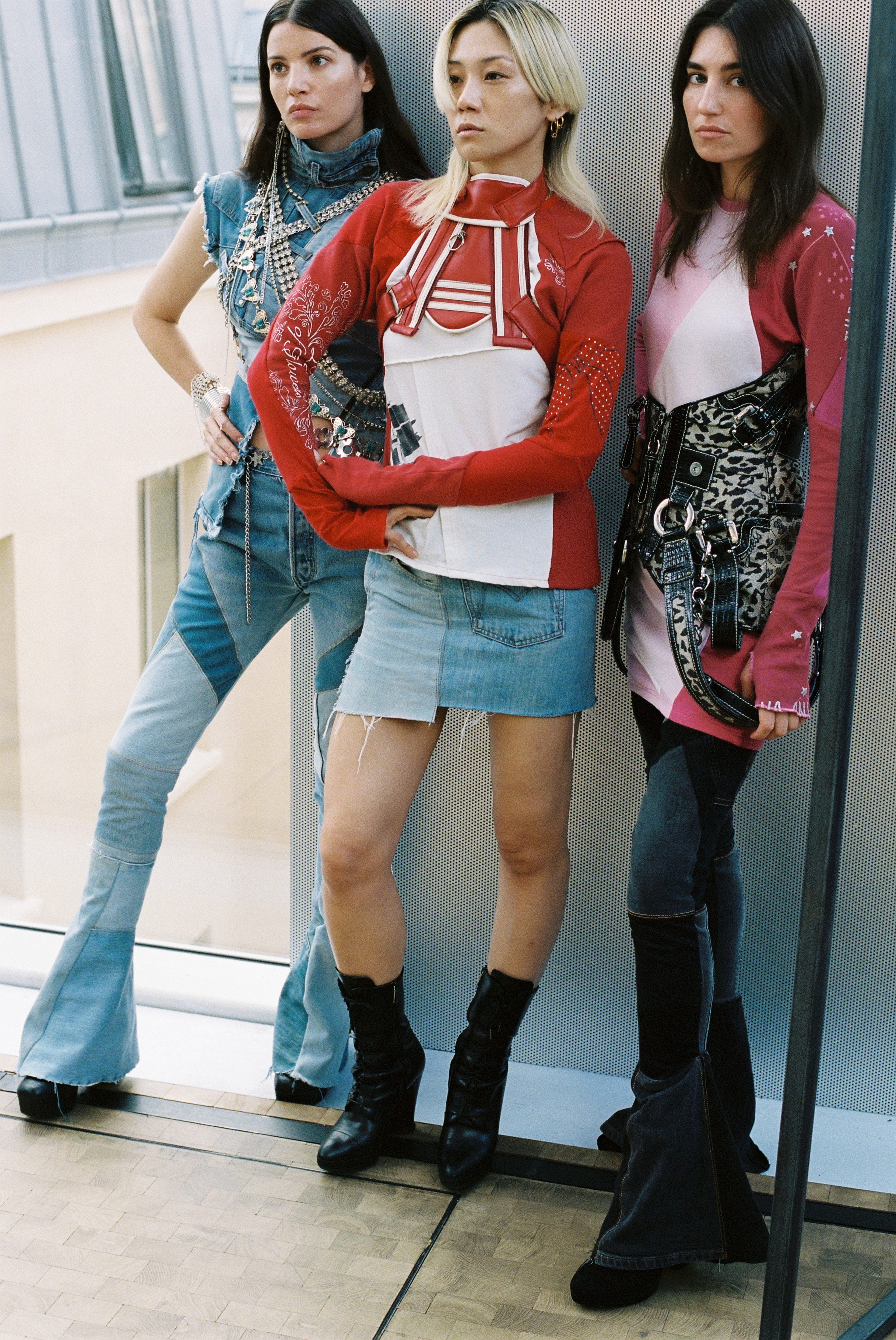 As for the collection's look, SEVALI's 04 moodboard is heavy on the early-aughts imagery — paparazzi shots of Paris Hilton and Britney Spears in pleated micro-minis, camo baseball caps and baby tees. "The 00s has been a constant inspiration since the beginning. It's a style I'm personally attracted to just for a matter of my age and the time I grew up," says Sebastian, before diving a bit deeper. "I started getting into fashion when I was 11 or 12, and my sister was 16. Her room was covered in magazines, imagery from Versus Versace, Dolce & Gabbana, Diesel, Guess. I think that's why it's cut in my brain." Apart from the luxe craftsmanship, it's this covetable, nostalgic aesthetic that has no doubt drawn acts like BLACKPINK, Rosalía, Doja Cat and even actress Alexa Demie — who rocked the label's leather chaps during lockdown — to SEVALI.
In terms of what lies on SEVALI's horizon, the options — whether found objects or more easily-produced pieces crafted from vintage textiles — are limitless. But Sebastian is excited about one thing in particular: "I discovered there's a car cemetery near our studio. When I found it, it was a total Pandora's box for me," he laughs. "I want to continue experimenting with car pieces, car seats, leather. Who knows!"