Fashion month is going ahead in September 2020
After all fashion weeks were cancelled last season due to the pandemic, Paris Fashion Week has announced it will be returning IRL for Autumn/Winter.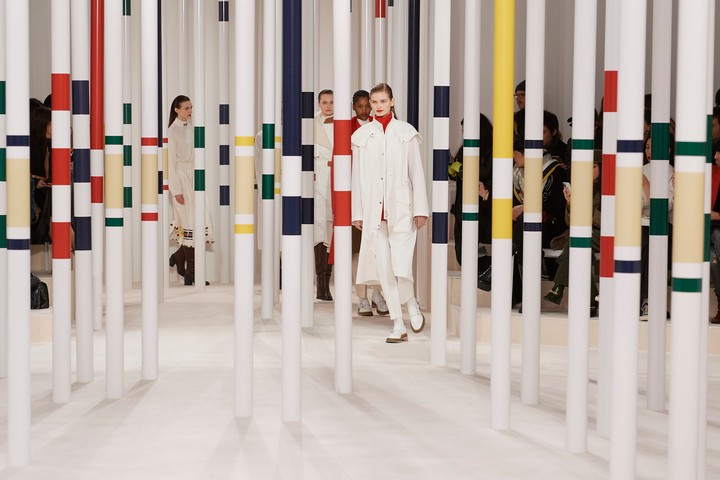 Hermès AW20 by Mitchell Sams
The echo of cancelled events has been the soundtrack to our year -- from Glastonbury to graduation shows, award shows to fashion weeks, 2020 has been a quiet one. For the fashion industry, the silver lining has been a time to reflect, with some designers finally voicing their frustrations with regards to the rigid, endless fashion week schedule and agreeing that the situation in fact presented an opportunity to make fundamental changes.
Gucci, for example, revealed that they would present two season-less collections a year post lockdown, while Saint Laurent announced in April that they would be foregoing their usual spot on the Paris Fashion Week calendar, instead presenting work at their own pace, at least until the end of the year. On Monday Burberry joined the chorus, announcing they would be livestreaming an immersive show experience from the British countryside to an entirely online audience.
It comes as somewhat of a surprise then, that Paris Fashion Week is still scheduled to take place this year. Confirmed today, it was revealed that the event will consist of physical shows, augmented by a digital platform, and will be held from 28 September to 6 October. "It will comply with its implementation to the recommendations of public authorities," the Fédération de la Haute Couture et de la Mode insisted in a statement.
Paris Fashion Week will be the first confirmed physical fashion week taking place this year, after both couture and men's weeks were cancelled this summer, and London Fashion Week recently presented in an entirely digital format. Fashion month is scheduled to begin with New York Fashion Week on September 11, but erring on the side of safety, it's still up in the air as to whether show invites will start rolling this August.