7 of River Phoenix's most iconic outfits
The late actor and activist's laid-back looks embodied the spirit of 90s youth and informed the era's grunge style.
Before Timothée Chalamet became the world's soft-sided, fashion friendly and waify heartthrob — a gorgeous antidote to the foreboding muscularity of Hollywood's leading man — we had River Phoenix. The stylish actor, known for his roles in Gus Van Sant's My Own Private Idaho and the coming-of-age classic Stand By Me, was the ultimate matinee idol in the 90s. Up until his death on Halloween 1993, aged just 23, he was a passionate animal rights activist, and a stickler for roles that would instigate real, worthy conversations about everything from sex work (My Own Private Idaho) to nuclear disarmament (Running On Empty). He also, famously, had a cool, lackadaisical style; the kind so deep-rooted that emulating it exactly is near impossible. River's energy changed the way clothes fit him entirely. They carried a subtext: a tuxedo at the Oscars somehow feeling far grungier than it would on another man. A simple T-shirt and blue jeans becomes a de-facto uniform for youth. Though the young actor would have turned 50 this year, his way of dressing is timeless. Here, we look back on River's career cut short through a selection of his most iconic outfits.
In Stand By Me, 1986
In Rob Reiner's 1986 classic, arguably the most influential coming-of-age movie ever made, River Phoenix found his breakout role. Playing Chris, a misunderstood 12-year-old with a penchant for foul language and smoking cigarettes, he slipped into the Hollywood sphere thanks to his wiser-than-his-years performance. Throughout the film's runtime, he wears the same outfit: a grubbied white T-shirt, high-waisted, rolled up blue jeans and dirty Chuck Taylors. Sometimes, Chris would slip a pack of cigarettes under his sleeve too. The look, although existing solely in River's fictional world, will forever be tied to his fashion legacy, partly because its stark simplicity and easily replicable nature made it a cool uniform for kids who wanted to carry the swagger and confident energy of Chris too.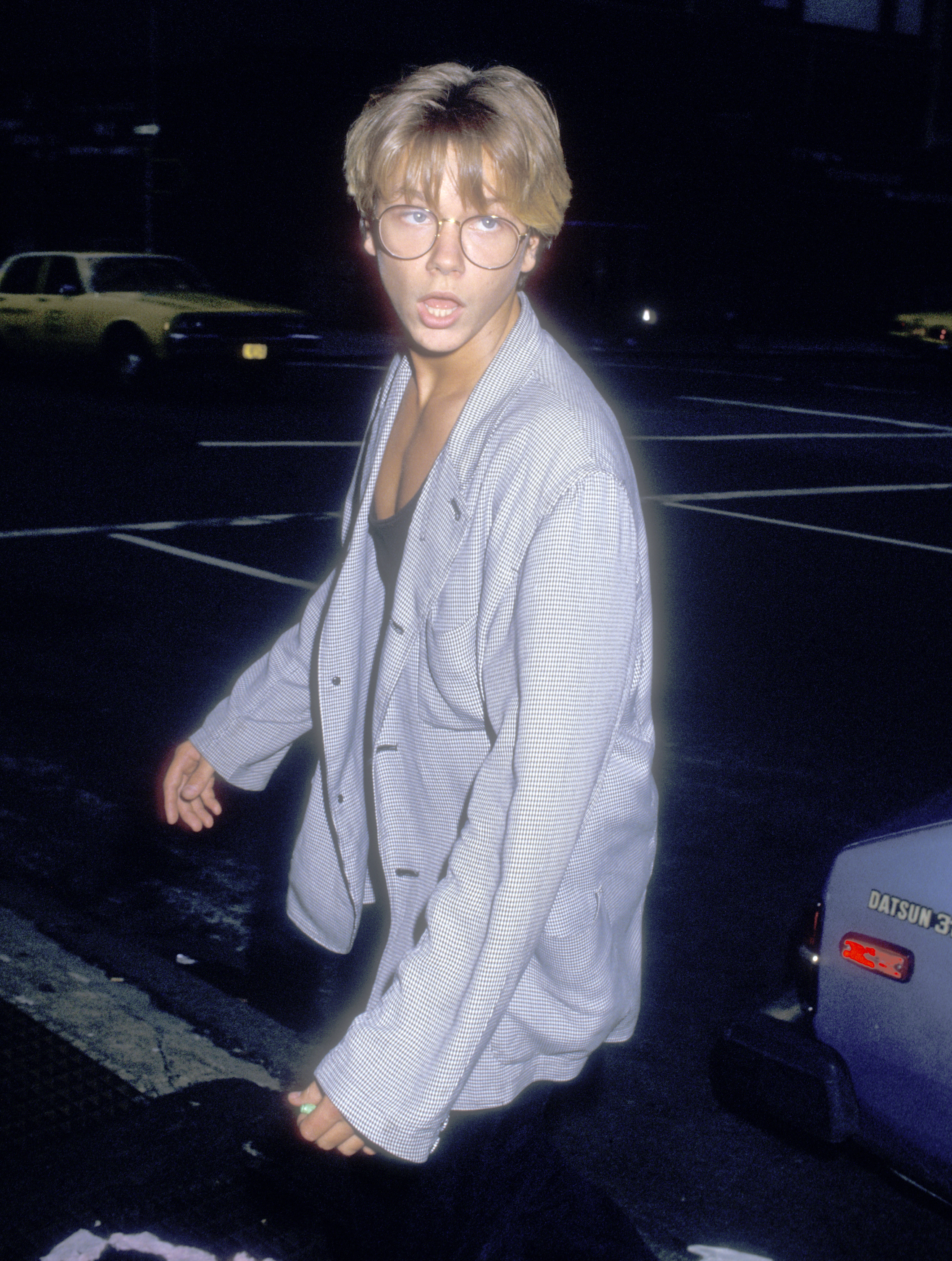 On the Running on Empty set, 1988
At age 17, shortly after Stand By Me_'s success, River's road to fame was already well-paved. He was on-set for a fugitive family film called _Running On Empty — one that would eventually earn him an Oscar nomination — when photos of this outfit were taken. Indicative of his fashion sense that favoured loose formality and thrifted pieces, he wore a deep-necked black T-shirt underneath a blue and white pinstriped suit jacket. This look also acts as one of the actor's greatest glasses moments too; these rounded frames soon became a staple of many River outfits that followed.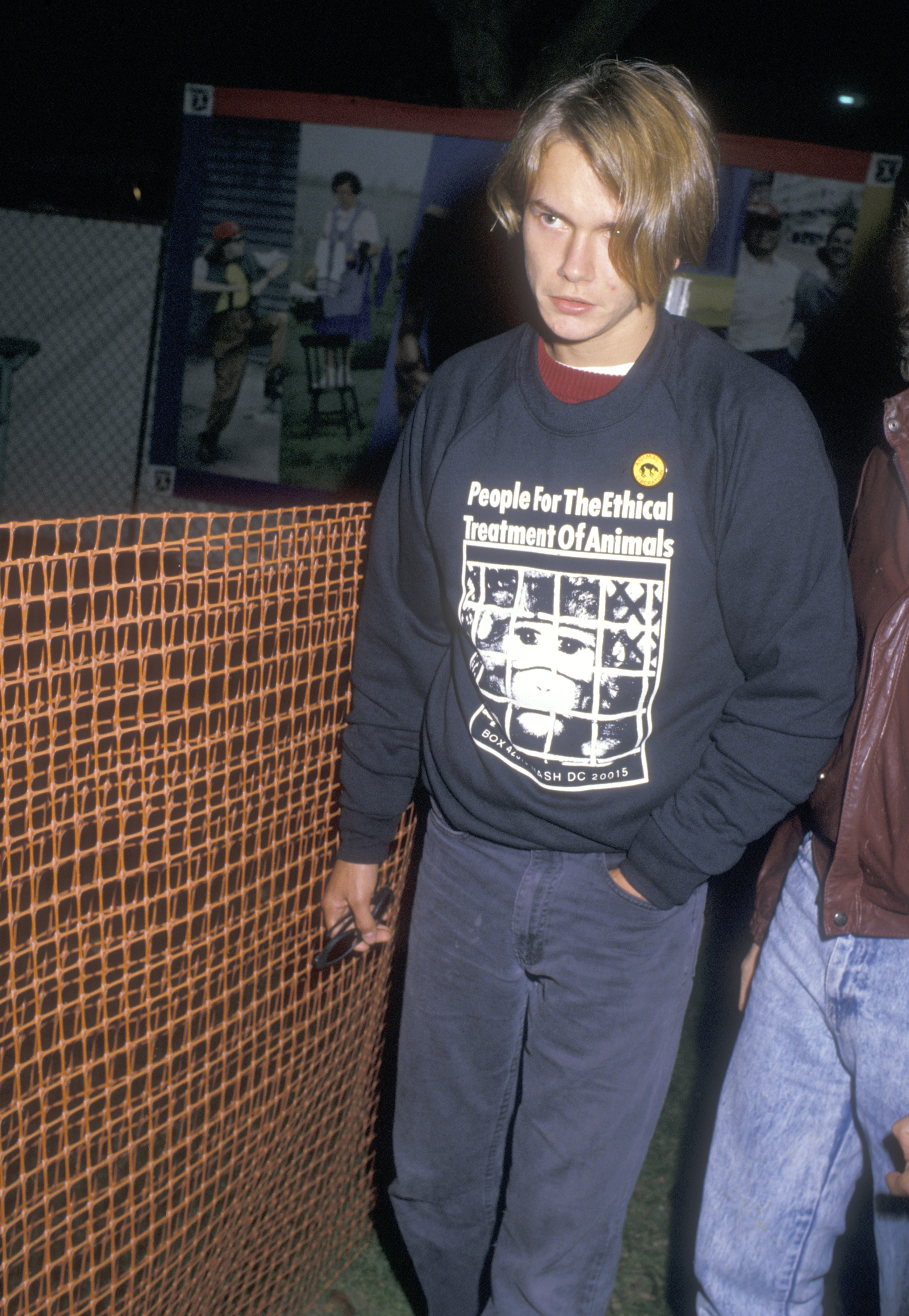 Repping PETA merch, 1988
Throughout his life, River was a keen vegan and animal rights activist. On the journey from Venezuela, where he and his brother, Joaquin, were raised as part of the Children of God religious group, back to the US, they saw the way fish caught for human consumption were killed, and the injustice within it. As a result, the family started following a vegan diet. This became a key part of River's personality, what he spoke about, and, as a consequence, what he wore. On his way to a 1988 Amnesty International concert in Los Angeles, River was papped wearing a navy PETA sweater, with a white printed motif that pictures a monkey inside a cage. "When I was old enough to realize all meat was killed, I saw it as an irrational way of using our power, to take a weaker thing and mutilate it,'' he told The New York Times in 1989. ''It was like the way bullies would take control of younger kids in the schoolyard."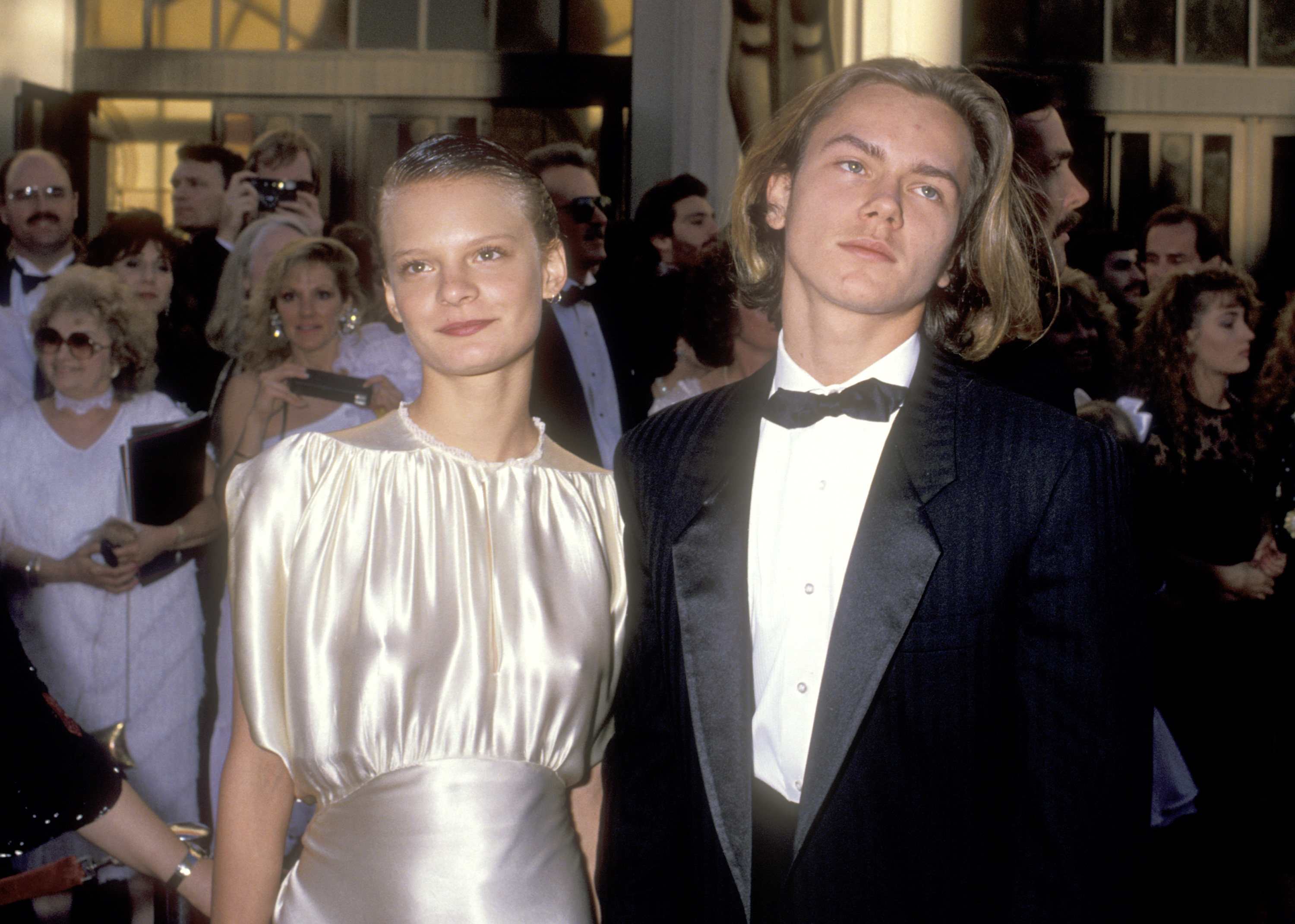 Grunge glamour at the Oscars, 1989
The Academy Awards are seldom a place for game-changing male fashion, but upon his arrival at the 1989 edition of the ceremony, arm in arm with then-girlfriend Martha Plimpton, River stood out thanks to the roguish feel of his outfit. At the time, grunge was on the cusp of becoming the cultural movement that would enrapture a generation. When River arrived (hair long, bowtie skewed, striped tux flailing and unbuttoned) with Martha (hair slicked back, a silver gown that could be Demna-era Balenciaga), they embodied it; cementing themselves as the cool coupling of that year's red carpet. He might not have won the prize he came for (Best Supporting Actor for Running On Empty), but that meant that later in the night, at the Governor's Ball afterparty, River could loosen his bowtie and relax a little more.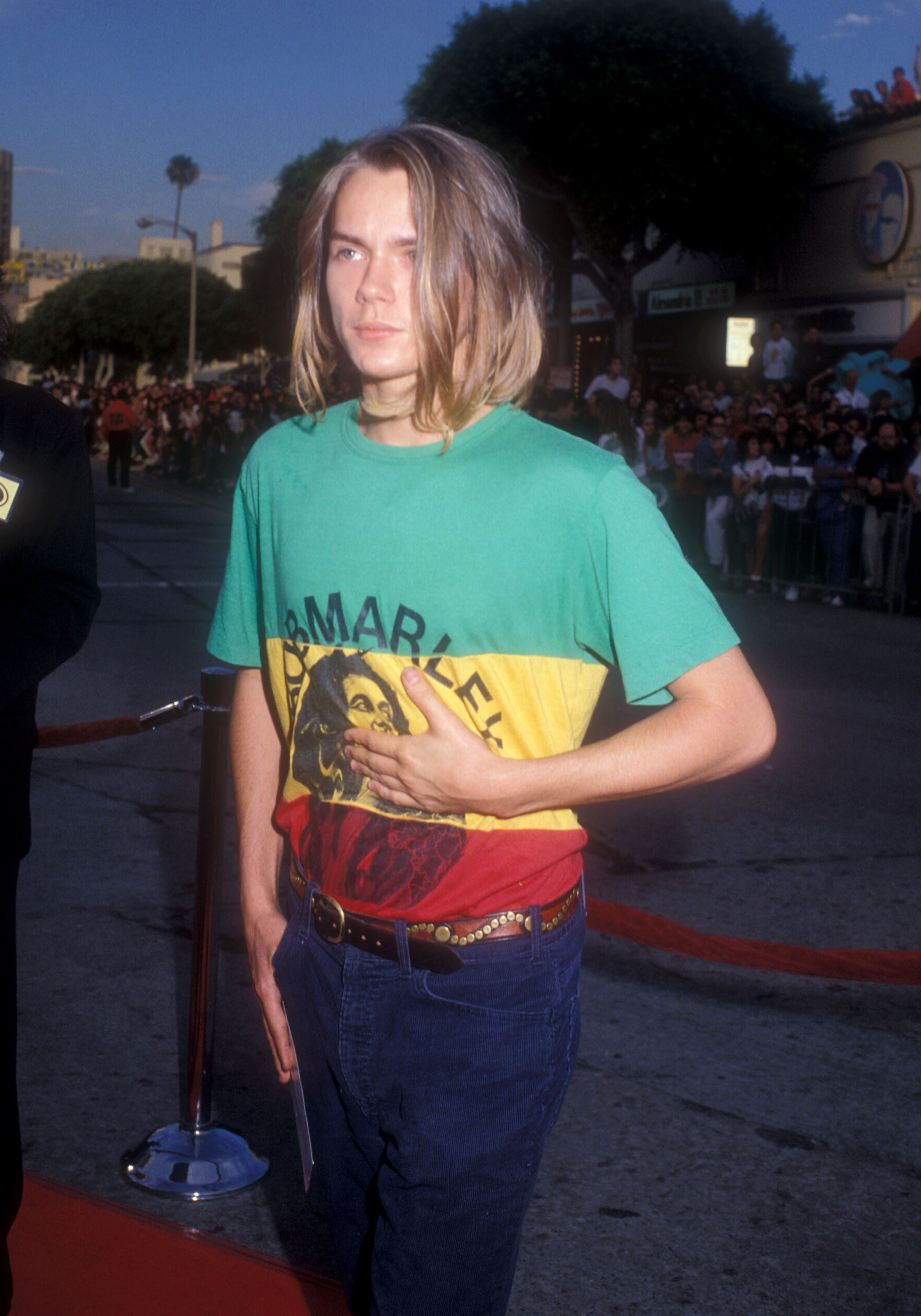 At the Batman premiere, 1989
In 1989, River attended the premiere of Tim Burton's Batman in Los Angeles, and absconded the dress code by rocking up in an iconic, laid-back get-up. His signature shoulder length hair framing his face, the actor wore a Bob Marley T-shirt; the Reggae legend's phase emblazoned onto the Jamaican flag. Not one to compromise his aesthetic for rigid rules, the whole look was pretty casual. On the bottom? Blue dyed denim held up with a Western style belt, and some slip on Vans to sign it all off.
In My Own Private Idaho, 1991
In Gus Van Sant's cult riff on a Shakespeare classic, My Own Private Idaho, River played Mikey Walters, a narcoleptic hustler riding the roads of America, desperately seeking affection. It was a pivotal role in River's career, winning him the Volpi Cup for Best Actor at Venice Film Festival in 1991, and made River — who identified as straight — an instant queer icon. On top of the moments in which he wears a Querelle-inspired Dutch sailor's outfit, a shearling-lined coach jacket and beanie, Mikey most famously dons a roughed-up burnt orange barn jacket, complete with tan lining and a patch bearing the number "4" on the upper left arm. It's the outfit that can be seen on posters and in movie trailers for the film, paired with those severely-framed aviator shades. The jacket worn by River in the film was recently sold to a famous collector for a little over $7000, so get looking for something that closely resembles the real thing instead.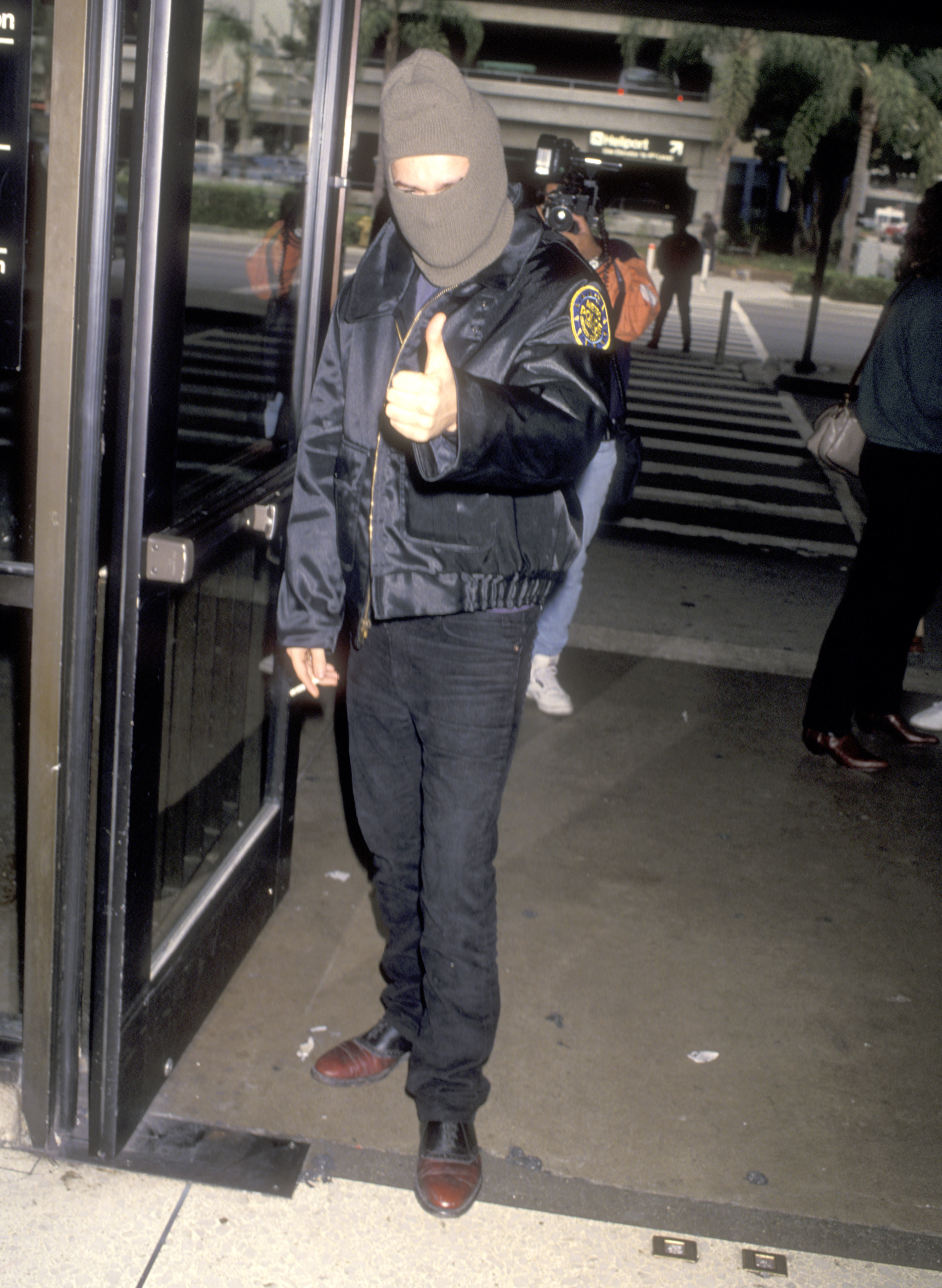 Arriving at LAX, 1992
By November 1992, barely a year before River's death, he had come to dislike the attention placed upon him by American tabloids. And so, to throw them off his scent — or at least to ridicule them — the actor wore a balaclava at the Los Angeles airport. The then-22-year-old wore an outfit that consisted of a silk-look police bomber, black faded jeans and brogues. Cradling a cigarette in his hand, he pulled the grey balaclava down over his face to mockingly pose for photographers. It was a fair representation of what River Phoenix was like as an actor and public figure: young, playful and somewhat shy in the spotlight. He was never willing to subscribe to any ideals. That makes the legacy he leaves behind — through movies, music, activism or fashion — all the more special.
Tagged: