Still from Flohio's "Unveiled" video
Flohio and Daniel Sannwald in conversation about their dark new music video
The London rapper and German director discuss shooting 'Unveiled' in darkness and Flohio's bold new direction.
|
16 September 2020, 12:16pm
Still from Flohio's "Unveiled" video
Do you hear that? It's the sound of Flohio levelling up with the release of the lead single from her massive forthcoming mixtape, due 27 November. The Take A Daytrip-produced "Unveiled" is an ambitious mission statement of a track with a sinister side that'll keep you gripped right through to its rage-filled end. "For the whole of 2019, I felt like my mind was just everywhere," the London rapper told i-D over Zoom last night. "My mind was always occupied because I was on tour, back and forth. So this whole thing is about having a clouded mind and thinking about what's on the other side of that for me… the tape is a whole journey and this track captured the moment where a lightbulb flickered in my head."
Meeting this energy is an anxiety-inducing music video directed by German filmmaker Daniel Sannwald, the creative mind behind work for artists including Travis Scott and Lady Gaga. Inspired by the idea of Pandora's box — a vessel holding multitudes of energy, both good and bad — the claustrophobic choreographed visual explores the dark and light in Flohio, with rapid shots alternating between warm orange glows and hectic night vision mosh pits. Unlike the ancient Greek myth, however, by opening the box and watching the video you're not unleashing evil on the world. Instead, you're freeing something special and launching an impressive new era of Flohio.
"This sets the mood," she says, grinning. "I mean, there's also gonna be some nice bright sides to the mixtape, but we'll start out like this."
We left the new collaborators in conversation, to discuss the story behind the music video, misunderstandings over backing dancers and shooting in complete darkness. Here's what happened...
Flohio: Oh my God, I can't wait for the world to see this! It's been a long time coming.
Daniel: It really has. I've been wanting to work with you for a long time, you don't even know.
That makes me so happy! I've been hearing your name around forever, and I was like, "If we can get Daniel Sannwald for a video then...." but you know, I felt like I was fishing in the ocean over here. When I got the go ahead, my managers went berserk.
Well, I already knew some of your music and the videos you've made, and I wanted to meet you. So we met for coffee and I felt so linked to you right away because you immediately started speaking about food, do you remember? Then you showed me some visuals that you felt inspired by for your upcoming music, including this picture of Pandora's box, which kind of became the inspiration for the video.
I thought it would be cool to create a space that was constantly evolving and changing around you, Flo. And I wanted to use something abstract to symbolise the energy inside the box, so I thought it would be amazing to work with Tom the choreographer (@blackhaine) and his crew — they're so rowdy and have such a great energy, so a perfect match to symbolise that trapped energy. They're moving around you and you're kind of unleashing it. And there's a funny side story! Flo, do you remember when, in the days before shooting, you heard that we had dancers? I think you had a little meltdown thinking that there'd be a kind of Britney Spears dance performance with dancers around you?
It's because you told me you were getting me backing dancers! I was like, Daniel… I'm a rapper, you know? Why are you talking about back up dancers? Anyway, we didn't even rehearse, me and the boys. I was meant to rehearse with them but I missed it because some shit happened, so when I got to the shoot we just had to roll, didn't we? Synergy! It worked.
It did. It was the first project I'd done with the choreographer and it was really nice. We had like three days prior to the shoot where we started rehearsing already, and it was a really nice process working with him. I showed him some references and gave him some feelings and he took it further. He worked one day alone just with the dancers and I gave him a lot of freedom in terms of how he would translate the energy into body movement.
Daniel, has anyone mentioned I Am Legend to you? People have told me that the way the guys move reminds them of the zombies in _I Am Legend_**. Have you seen that film?**
[Daniel laughs] That's so funny. I need to watch it again.
But it's true, you know! The way they move is the way the zombies are moving. It's mad. Anyway, how was the mood on set for you, Daniel?
I just remember the energy. We all had goosebumps. Flo, you and Tom and the rest of the dancers… just seeing you all together felt like the energy was really charged up. Obviously we had a loose storyboard of certain scenes we wanted to capture, but also everything was a bit of a freestyle. I was working with a young German cameraman called Maximilian Pittner, and sometimes the boards we were using happened to fall in an interesting way and we were like, sick! Let's go in this direction. Everything felt very organic and beautiful and powerful, and in the end, everyone was singing together, like screaming the lyrics and it was just so magical. Actually, the last part of the audio recording is of Tom and the dancers screaming the lyrics over the song. That wasn't the plan, was it? That was just in the moment… you were shouting too. It was beautiful.
Yeah, it was just a thing where you had to see it and grab it right there and then. Nothing rehearsed, everyone was just flowing. It didn't even feel like a set! It felt like you had come to watch a show, I'm not gonna lie to you. I kept being like, where's my phone? Where's my phone? I've gotta get this. And I had to remind myself that, no, it's your video… you're in it. That's how excited I was. I felt like I was experiencing something really special. I don't know what was in your head Daniel, but what came out is mad for me. I can't stop watching the video man, I'm obsessed.
I think what people might find interesting is that everything was shot on a special night vision camera that had to be flown in from America -- it was one that we could put different lenses on, so we could get the super wide lens to make everything look very warped. And because we finished the video in the first weeks of lockdown, we were sitting on this egg for so long. During that time I thought I'd work a little bit more on it, so some of the scenes were re-filmed through a glass -- we were projecting the footage and placing a glass between that and the camera, so some of the distortion is actually just happening because of the glass. That was part boredom in lockdown, part being like, let's just push it a little bit further, and I think that extra layer really added to it. I'm really happy with that.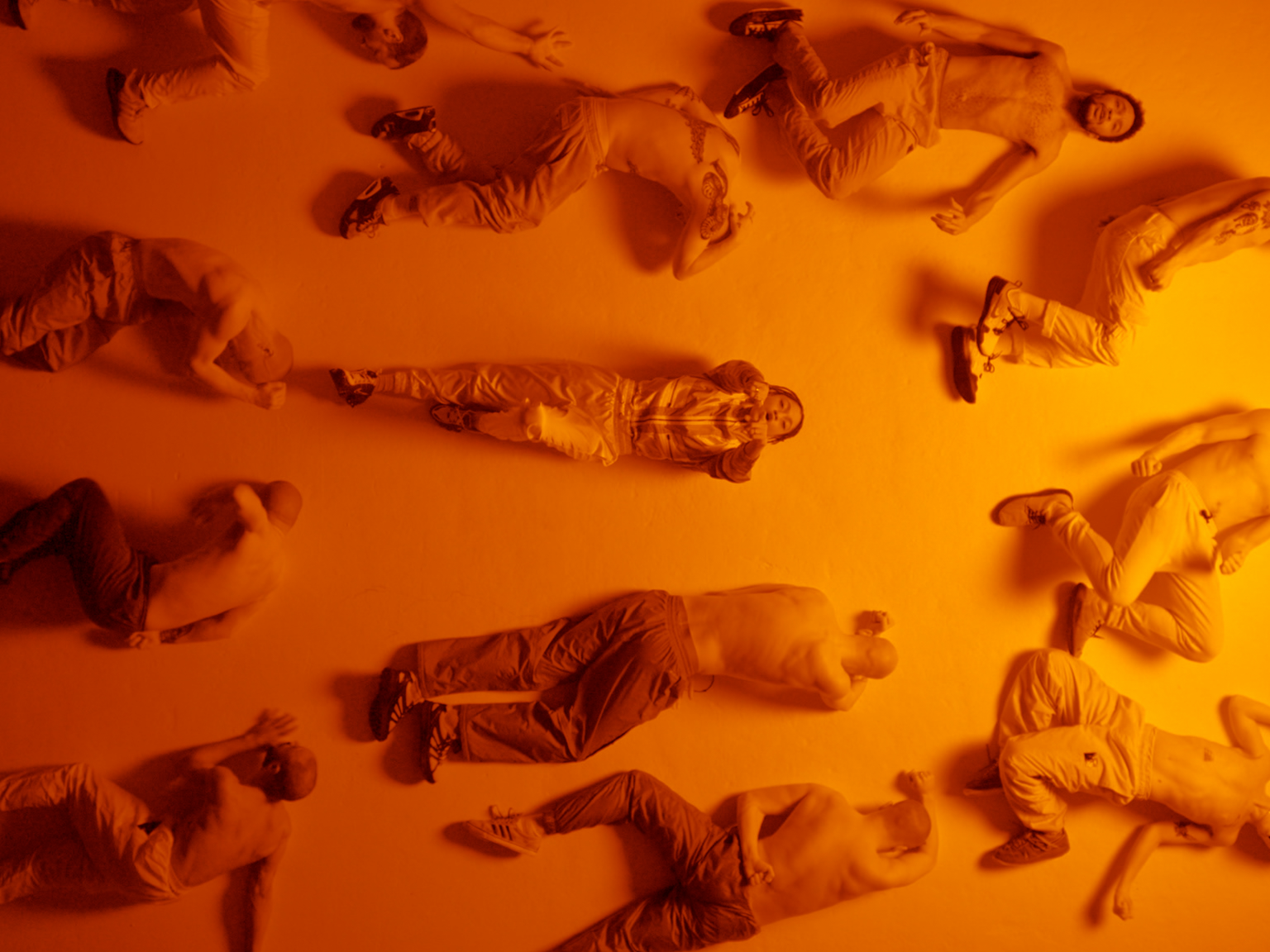 Yeah, I'm happy with it as well. That's mad — I didn't know you did that in lockdown. That's fuego, man.
Let's talk about how we played with the light energy and the dark energy of you, Flo. Not necessarily wanting to turn it into a horror, but those two energies were important to me in the video. And of course, everything was shot in darkness, so it was really exciting for me because a lot of the movement was happening in really low light, which added an interesting energy to the way that everyone was moving their bodies.
Yeah, it was literally just a little spotlight, so it felt like I was performing at a show, you know? The whole project is about the process of something being unveiled, whatever that might be. For me, it was just this whole new direction I'm going into. From my old phases and previous tapes I've dropped, just to my mindstate now: I feel like I'm growing, I've found my voice, I'm happy with the woman I'm becoming and the person I'm growing into. I'm embracing her more. And as for Pandora's Box, I just love Lara Croft. When she goes into the cave trying to get it, she's so badass and I feel like I am as well. Then the good and the bad you get from opening it… like you said Daniel, it's the good and evil. That's what this was for me, unveiling this magical mysterious thing. That's how I feel about my new music. I don't even recognise myself when I look at that video. This is the growth I'm talking about.
Tagged: