Still from 'Marée Noire', Marine Serre SS20 Film
Watch Marine Serre's surreal SS20 campaign film
Across primordial swamps and barren, fire-scorched mountains, see the Marine Serre woman warp the boundaries of space and time.
|
18 February 2020, 6:21pm
Still from 'Marée Noire', Marine Serre SS20 Film
In the opening chapter of 'Marée Noire', the four-part campaign film for Marine Serre's like-titled SS20 collection, flies buzz above an oily-green swamp, the pool of primordial ooze from which life first sprung, perhaps. Fruit-like orbs bearing the brand's crescent moon float up from the soup and into the sky, as a reptile-eyed figure strides from the waters onto the muddy shore. There lie girls in salamander-striped bodysuits that cling like a second skin.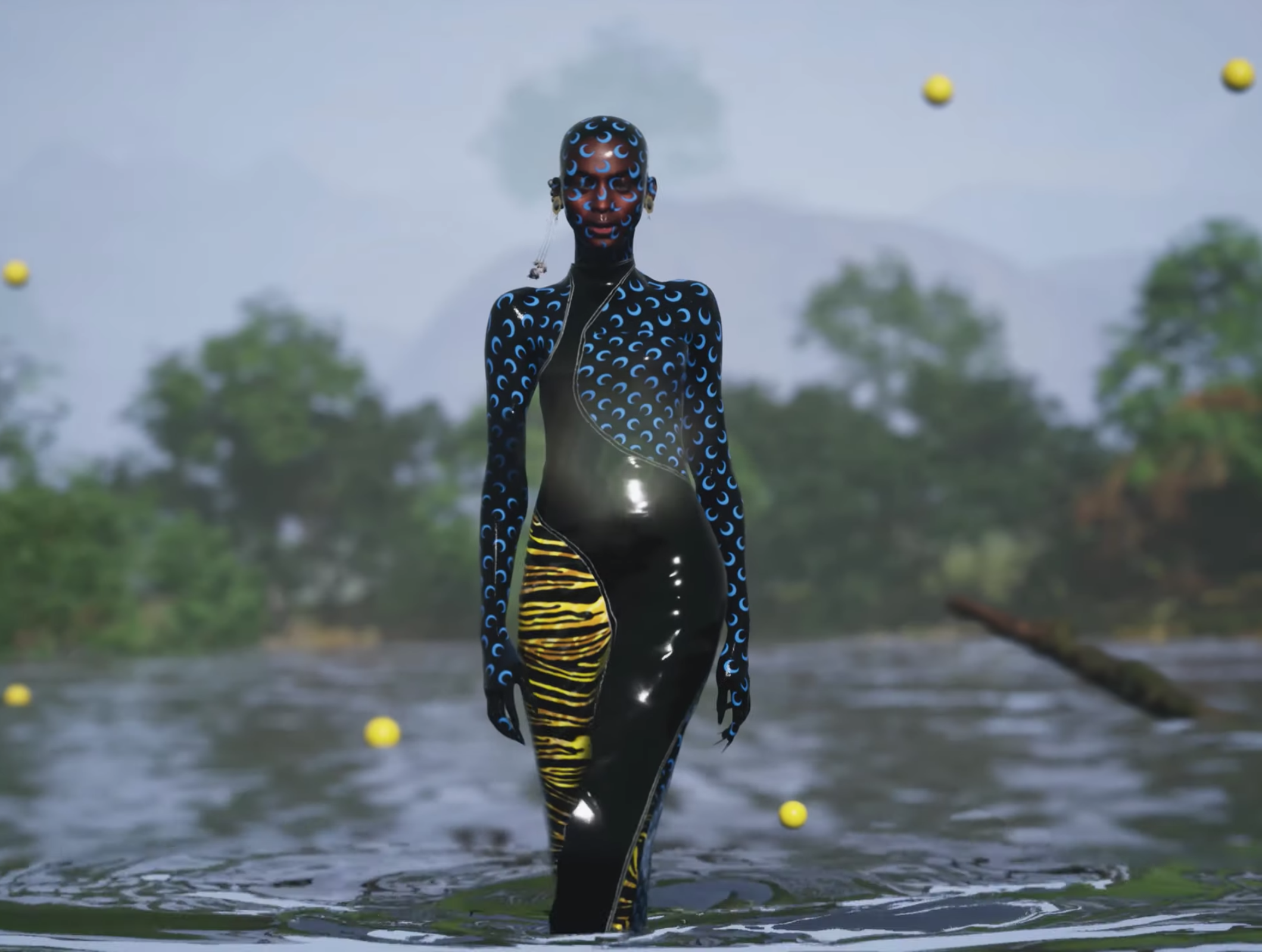 If this sounds more primordial than you'd typically expect from the designer hailed as fashion's patron saint of 'futurewear', the CGI rendering of the scene lends it the sci-fi edge that's earned Marine her loyal fanbase, whose rapid growth has shown no signs of slowing since taking home the LVMH Prize in 2017.
"I first started communicating my work through film for AW19 and really enjoyed the process, so wanted to continue doing so this season," Marine explains. "It allows for a much broader communication of what the brand is, and really allows you to go beyond the boundaries of what people think fashion is or should be."
For this film, Marine harnessed and developed on the post-apocalyptic energy of her runway presentation last Paris Fashion Week -- whose title translates as 'oil spill' or, more literally, 'black tide' -- tracing and mirroring environmental decline and how we interact with the planet. "The main message is definitely our relationship with the world as it is today," the designer explains, "trying to carefully reflect the situation we currently find ourselves in, as well as how quickly it's unfolding."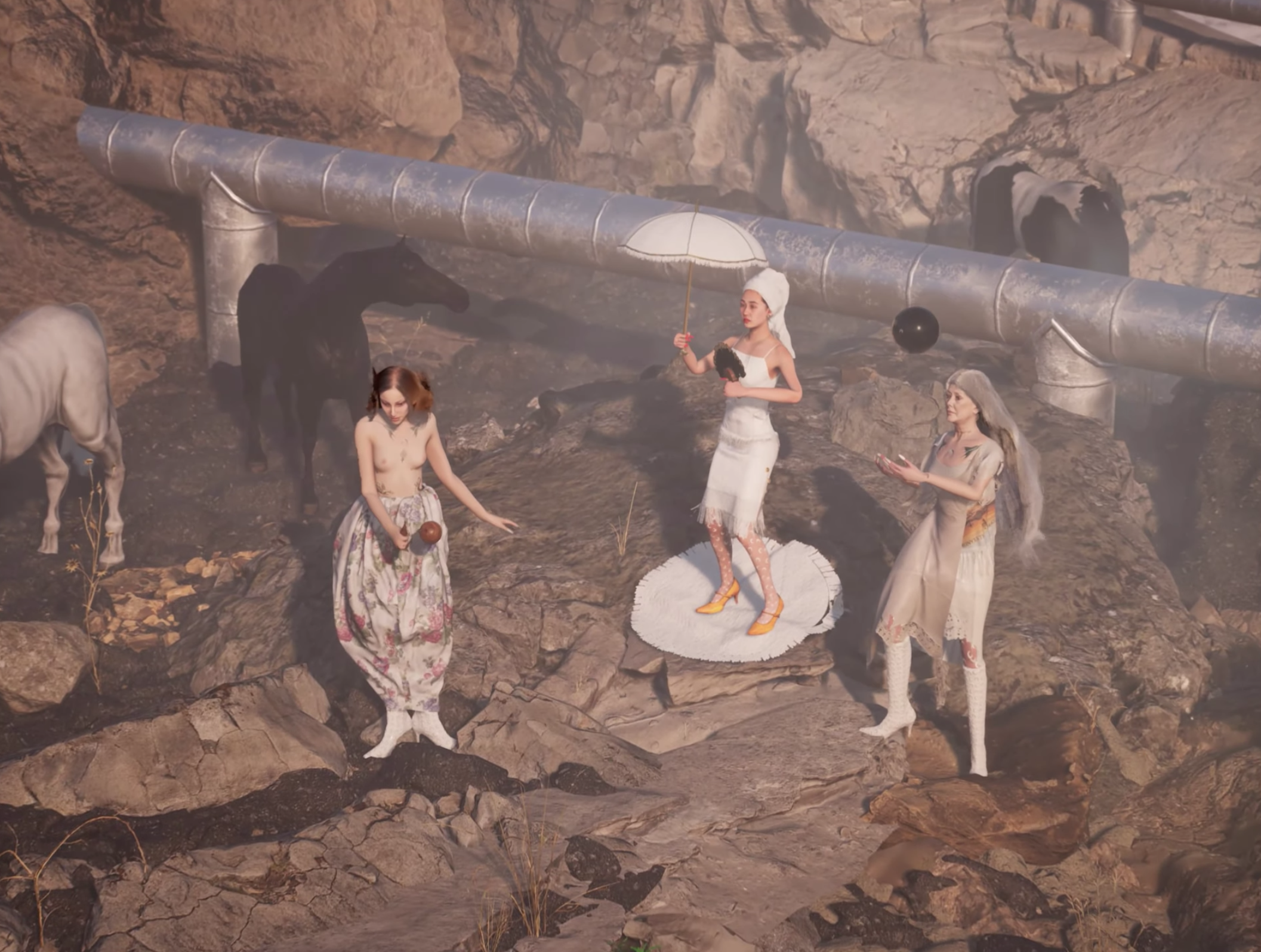 From the swampy setting of 'Eden', we move to the barren mountainscape of 'The Drought', where Sims-like renderings of women in hand-knitted shawls and pleated cocoon skirts hold parasols and play with Victorian-era toys. They're stood idly by a literal pipeline that runs through all four scenes. For Marine, it was a particularly relatable setting, one that speaks to experiences that anyone in Western Europe last summer will remember. "I felt that it was quite close to where we are now -- especially in light of the heatwave we had last year," she says. "It was really a matter of depicting what we could all become in this kind of dry landscape," a vision of horizons we may soon find ourselves inhabiting, should we fail to actively campaign for change.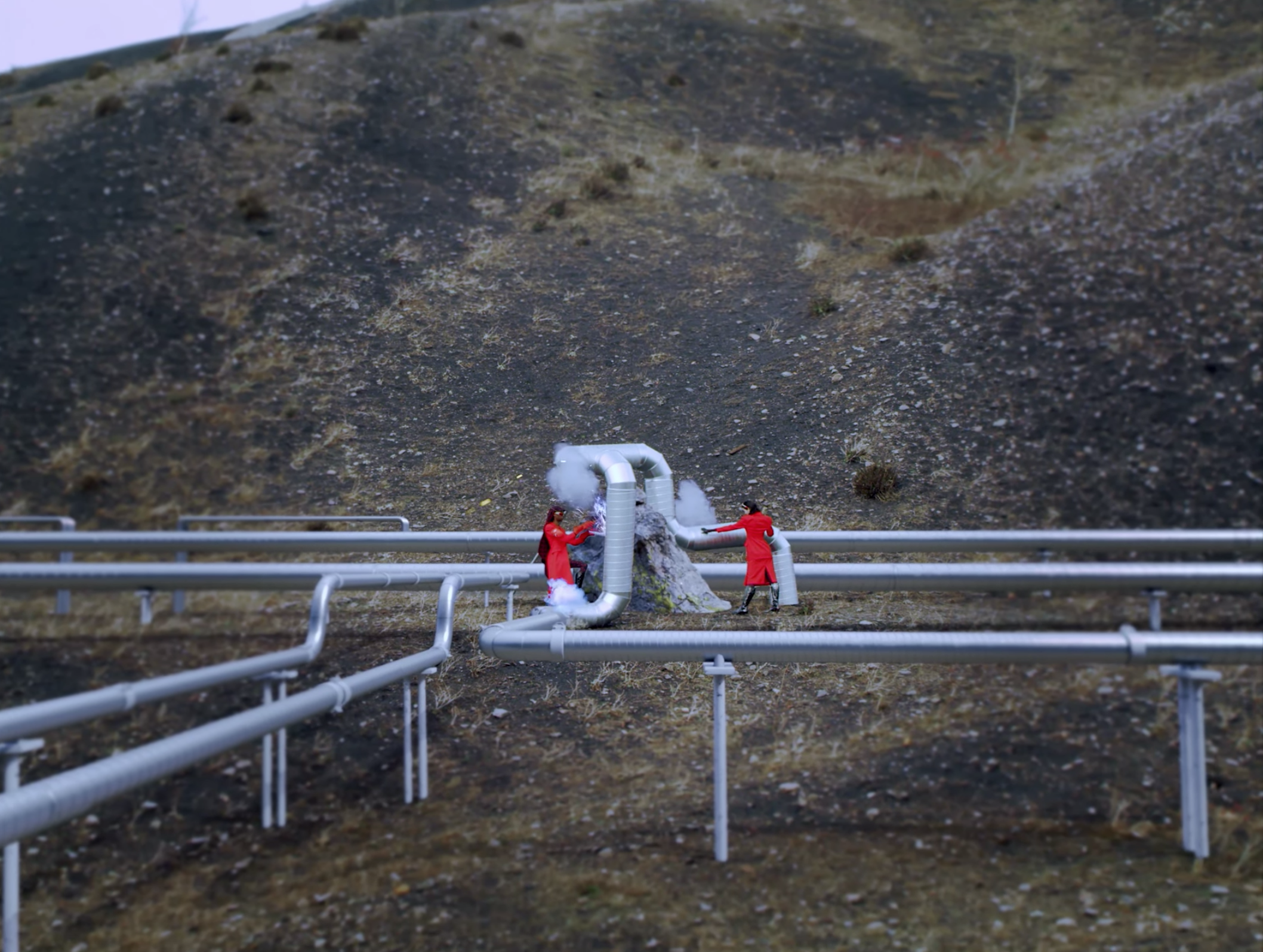 The two following scenes bring about such affirmative action, with 'Breach' depicting the rebellion of the landscape's inhabitants, now live actors, against the pipeline, causing the fire we see in 'The Pass' to spill out across the terrain.
Though the film may certainly speak to the crisis that we currently face, the blend of (pre-)historical references and digital futurism, live models and their CGI counterparts, creates a curious effect with equal footings in familiarity and placelessness. It's a feeling that Marine's keen to elicit through her clothes too. "I think that feeling's present throughout my work, even when I'm not making a conscious effort to create it," she explains. "In this collection, there's a real merging of historical references with futuristic elements to create something new. In the last look of the film, for example, you find yourself questioning whether what you're looking at is very futuristic or more 18th century."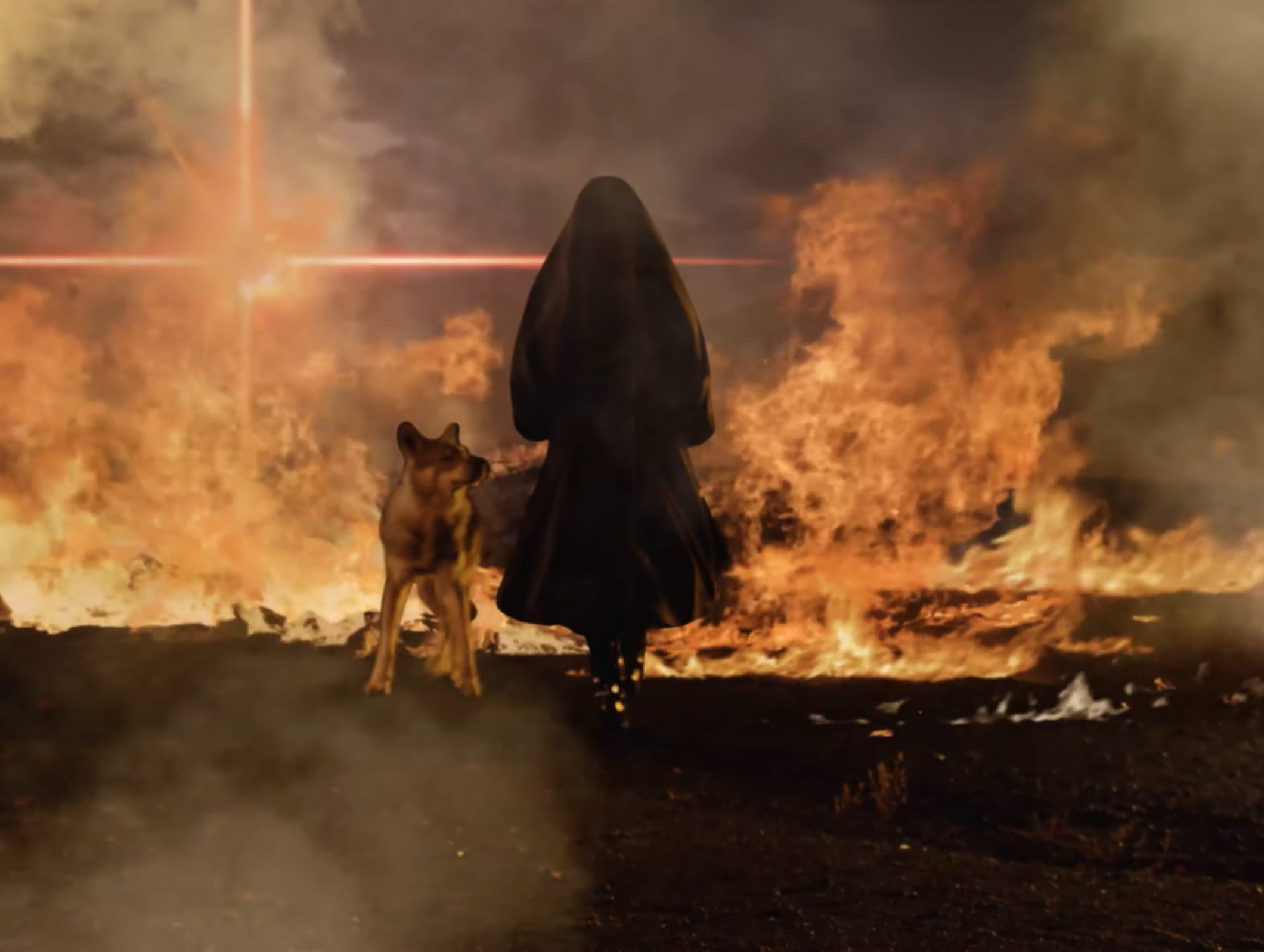 It's this ability to occupy the past, present and future all at once that allows the Marine Serre woman to endure and thrive in even the harshest of settings, as we see at the film's close. "It depicts a mixture of hope and action. The flames die down as she passes through them, as if she has magical powers," says Marine, "but she's also passing into another world -- it's my way of expressing her neverending story." To be continued in under a fortnight's time at the designer's AW20 show...
Credits

---
Artistic Direction by Marine Serre
Short film by 3D artist Rick Farin and Claire Cochran
Tagged: