Photo by Victor Malafronte/Hulton Archive/Getty Images, Richard Corkery/NY Daily News Archive via Getty Images, Mychal Watts/WireImage and MJ Kim/The Prince's Trust via Getty Images
7 of Mariah Carey's most iconic outfits
The Queen of Christmas is also one of the 90s foremost style icons.
|
10 December 2021, 4:45pm
Photo by Victor Malafronte/Hulton Archive/Getty Images, Richard Corkery/NY Daily News Archive via Getty Images, Mychal Watts/WireImage and MJ Kim/The Prince's Trust via Getty Images
"Fantasy"! "Dreamlover"! "Always Be My Baby"! Sure, these are all huge Mariah Carey hits, but when was the last time you went through the holidays without hearing "All I Want For Christmas Is You"? Well, the season is upon is now. And since the singer's release of this absolutely legendary 1994 song, it's safe to say that the holiday season has never been the same. While Mariah's dominated the music charts since her self-titled debut in 1990, her signature style has captured a few hearts too. To honor the Queen of Christmas, herself, we thought we'd take a look back at some of her most memorable fashion moments. These are Mariah's most iconic outfits from the 90s to today.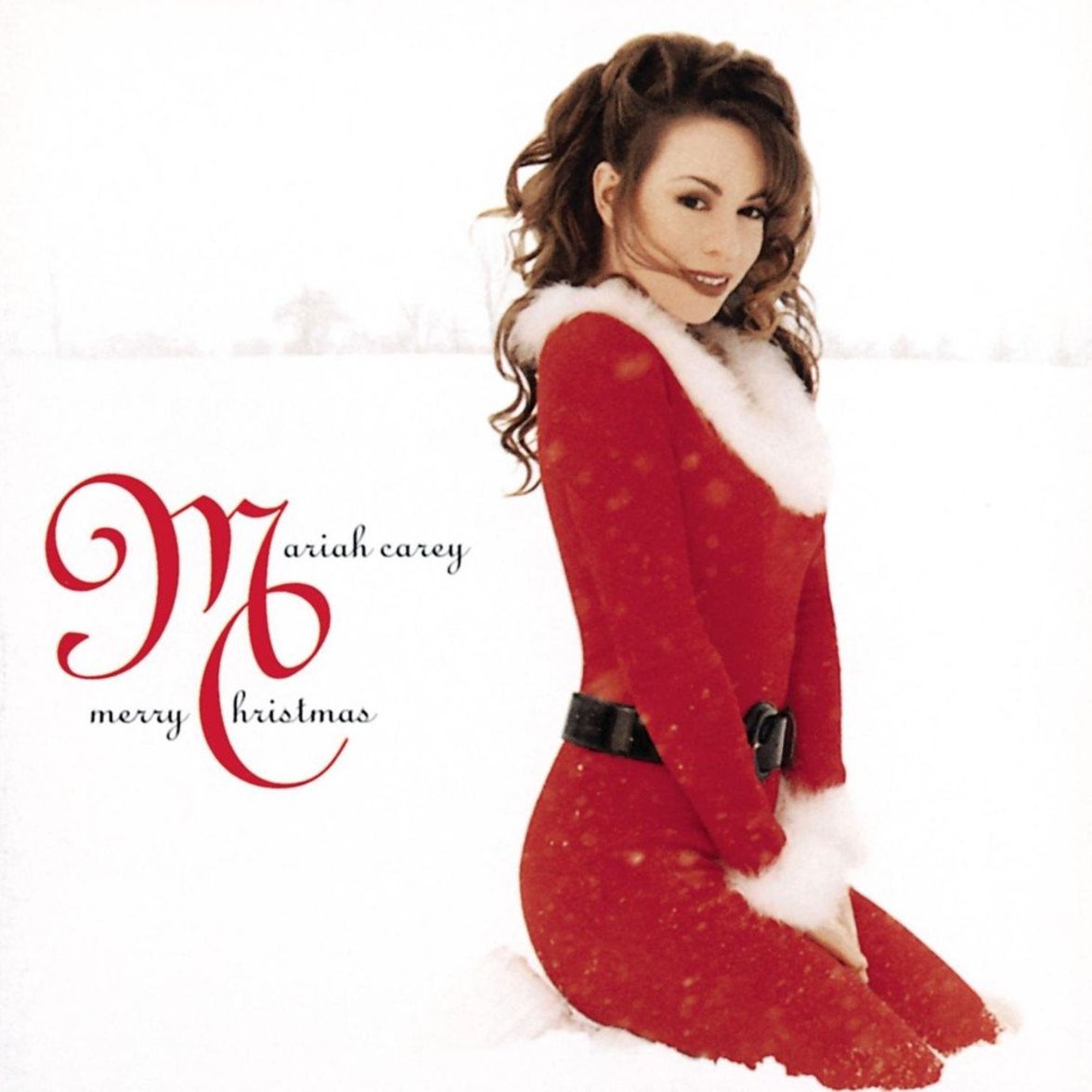 Merry Christmas album cover, 1994
What is just as unforgettable as "All I Want for Christmas Is You"? The cover of the album it is featured on — Merry Christmas by Mariah Carey. Dressed as what can only be described as a fabulous Mrs. Claus, Mariah is pictured wearing a white fur-trimmed suit with a black belt. This wasn't the only instance, however, where Mariah has dressed in the holiday spirit. In 2010, she recreated the iconic image for the cover of her second Christmas album, and over the years she has outfitted herself in countless North Pole-inspired ensembles earning her the title of "Queen of Christmas."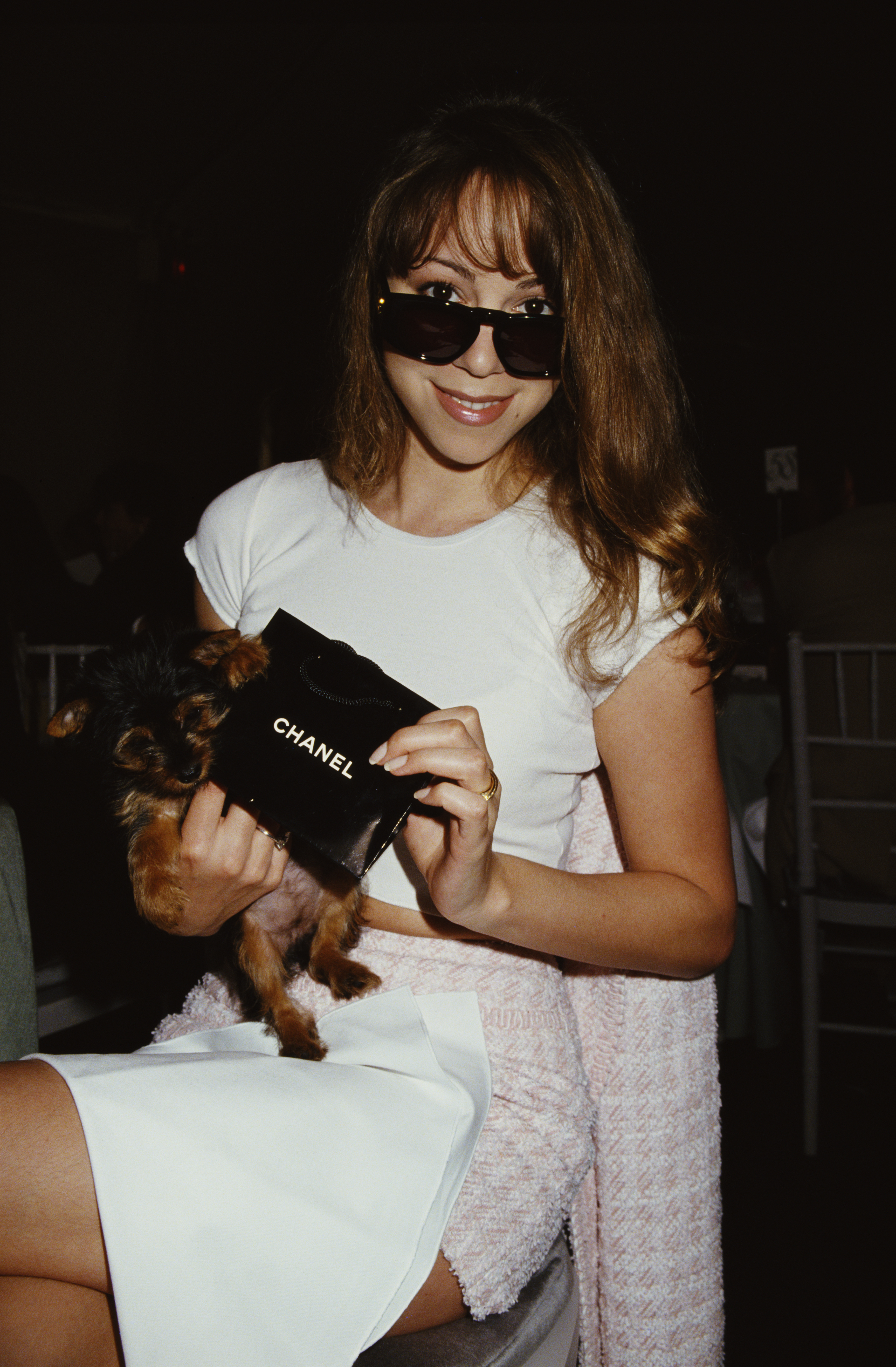 At a Chanel Show in New York, 1994
While attending a 1994 Chanel fashion show at Lincoln Center, put on to benefit New York Hospital, Mariah was photographed by well-known photographer Rose Hartman wearing a pink tweed jacket with matching miniskirt by the French design house. This, unsurprisingly, marked just the beginning of Mariah's continuous love for all things glamour, designer and… Chanel. The singer would go on to make headlines over two decades later wearing a $3,900 Chanel snowsuit (with matching Dior snow boots, of course) to go skiing in Aspen.
Performing at the Tokyo Dome, 1996
It's hard to imagine life before hearing Mariah's "All I Want For Christmas Is You" every time the holiday season rolls around. In March 1996 during her Daydream World Tour, Mariah performed the song that never dies at the Tokyo Dome as an encore for her Japanese fans. Dressed in a red minidress, white headband and go-go boots, the singer's outfit was an homage to the popular 60s New York City girl group, The Ronettes.
A the MTV VMA's, 1997
Mariah may have not won any awards at the 1997 MTV Video Music Awards, but she definitely stole the show in her very 90s black two-piece. When Mariah walked onto the stage to present LL Cool J with the Video Vanguard Award in this leg-baring number, we wonder if she already knew then that her simple, yet statement-making, outfit would act as major style inspiration for decades to come. Normani even channeled Mariah's unforgettable VMA's look while walking the red carpet during last year's BET Awards.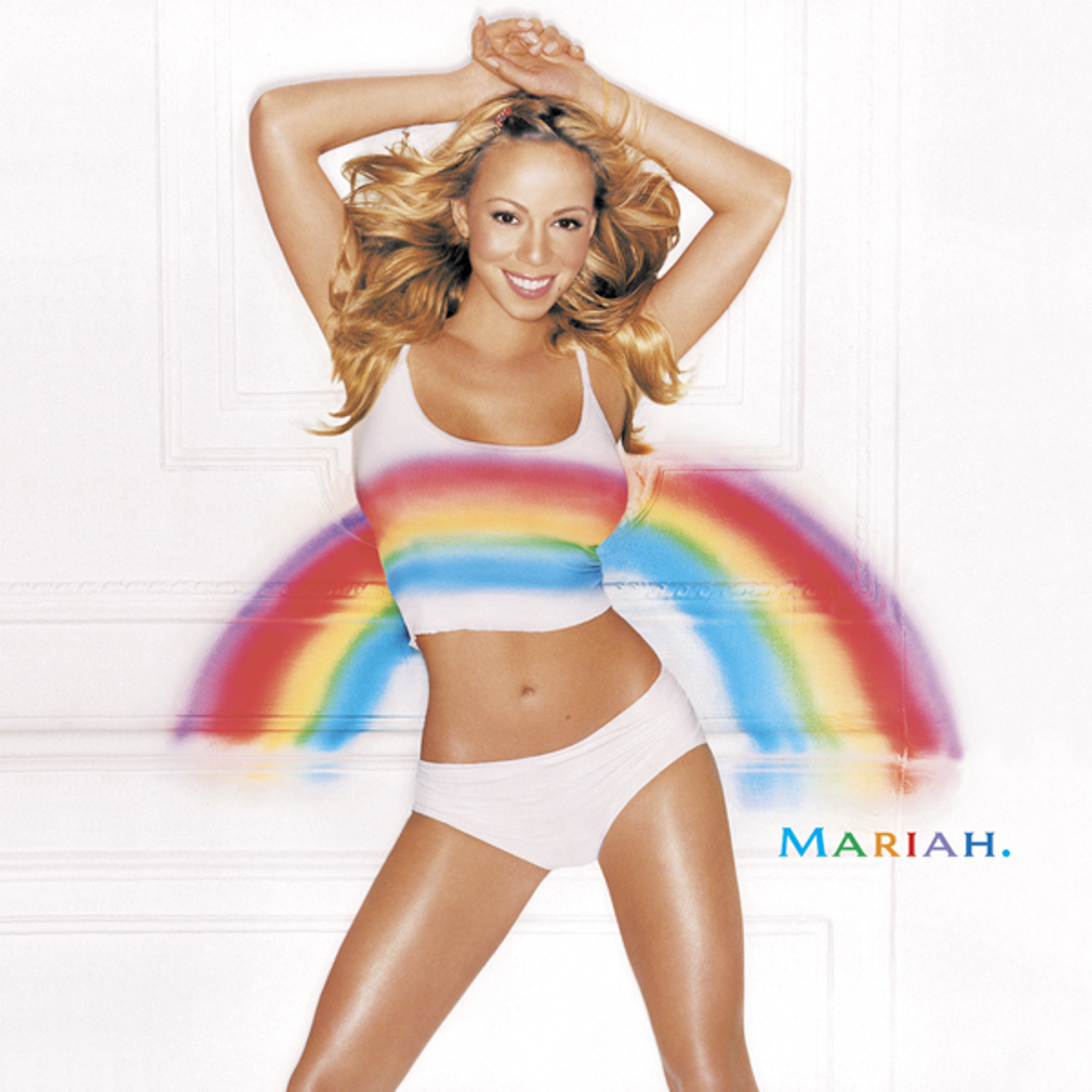 Rainbow album cover, 1999
Remember Mariah's late-90s rainbow tank top? Name a more iconic tank top, we'll wait. For her 1999 studio album, Rainbow, Mariah was photographed by the legendary David LaChapelle wearing an airbrushed rainbow top in front of a matching background. In 2017, the musician went on to release Rainbow-era merchandise, featuring items such as sweatpants, sweatshirts, tank tops (obviously) and more, with a portion of proceeds benefiting GLAAD.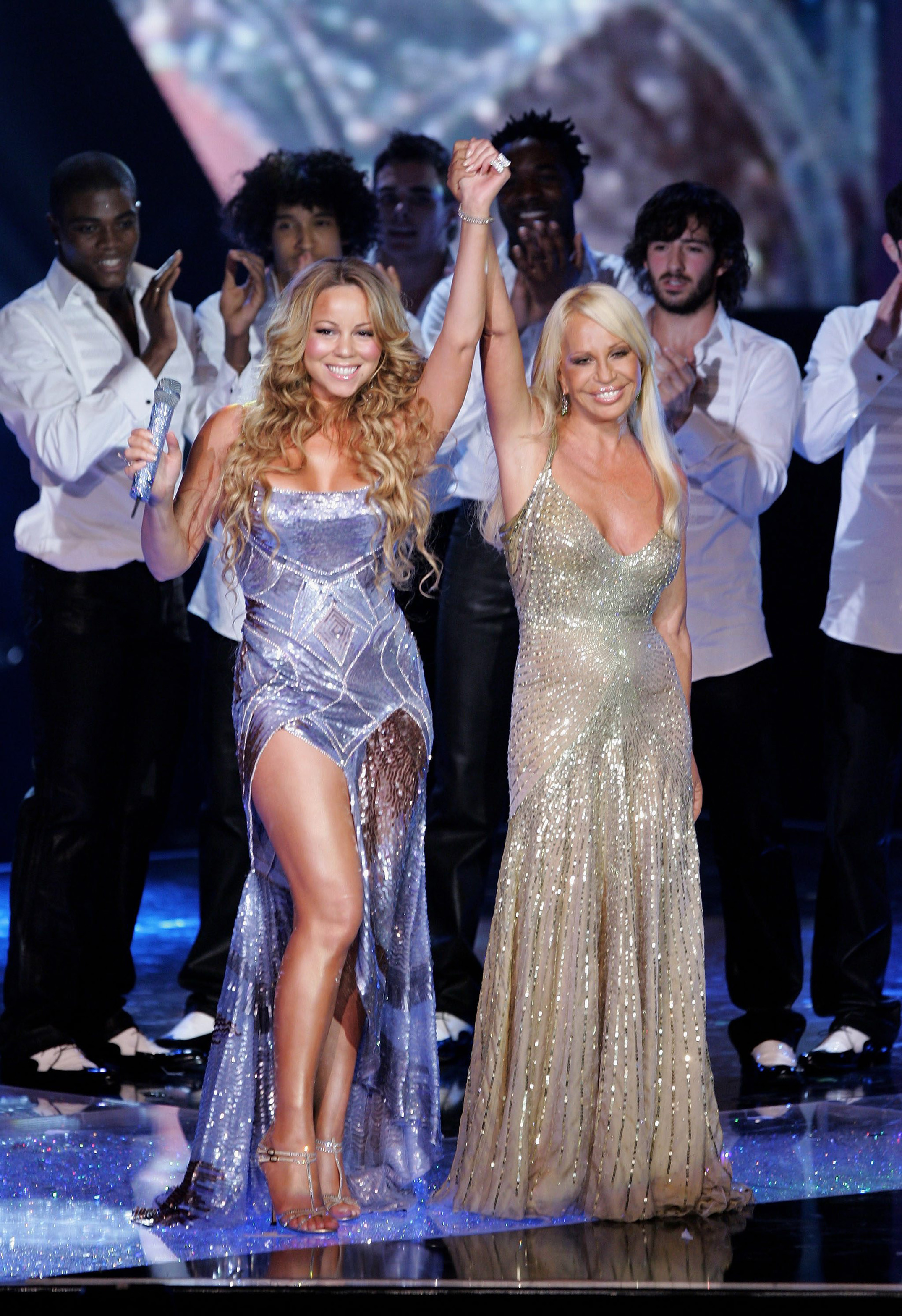 At Fashion Rocks in Monte Carlo, 2005
Throughout the years, Mariah and her unmatchable style have become synonymous with "glamour", so it makes total sense that she is best friends with the equally glamorous Donatella Versace. For Mariah's performance during the 2005 Fashion Rocks event in Monte Carlo, the duo wore floor-length gowns dripping in sequins and crystals designed by none other than Versace. However, what may just be even more fabulous is how the two's friendship began — after meeting at a fashion show, Donatella invited Mariah to one of her star-studded Palazzo Versace parties. In true Mariah fashion, the singer flew into Milan just for the event, leaving the same night by private plane so she could get back to her world tour.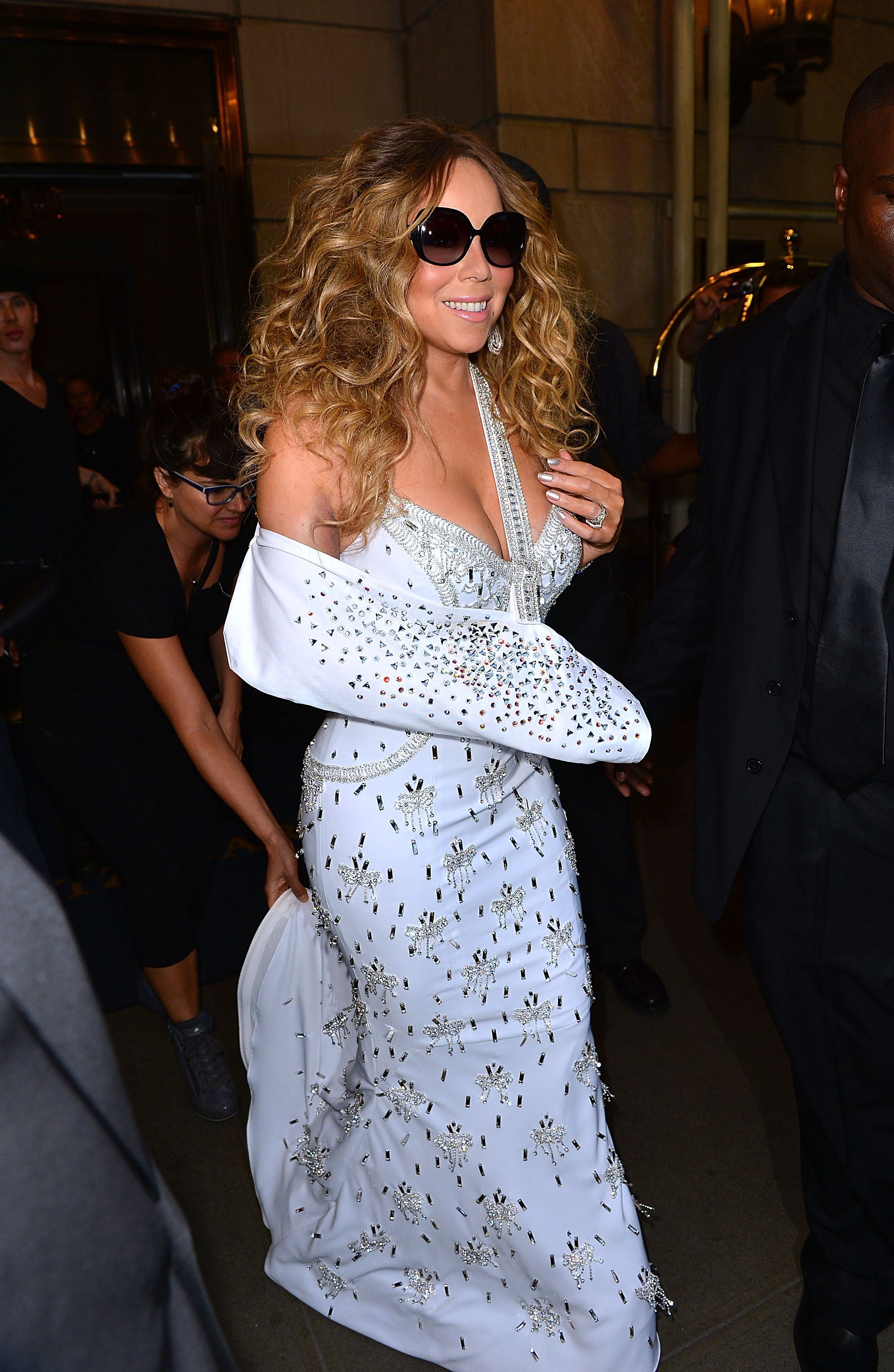 At a charity event in NYC, 2013
Mariah didn't let a dislocated shoulder get between her and her glam while photographed en route to the MLB All-Star Charity Concert in New York City in 2013. In a total diva move, the award-winning songstress bedazzled an ivory sling with sequins and jewels to match her floor-length gown. What may have made an even bigger statement, however, was that this glittered sling wasn't the only one she wore that night — Mariah brought along two more (equally impressive) slings to accompany each of her outfit changes.