Images courtesy of Maison Margiela and IMAXtree
In 2022, Haute Couture isn't just surviving — it's thriving
Long rumoured to be dwindling, the recent haute couture shows in Paris showed that the ancient craft of French dressmaking is currently booming.
Images courtesy of Maison Margiela and IMAXtree
There are always rumours about the precarious fate of haute couture. Its future has been debated and doubted time and time again ever since Cristóbal Balenciaga willfully shuttered his couture house in 1968 because he felt there was "no one left to dress". To be clear, I'm talking about the very specific term 'Haute Couture', which, though often tossed around in fashion parlance, is in fact strictly defined by law in France. Referring to the one-of-a-kind 'high dressmaking' (a direct translation) that only a handful of fashion houses are permitted to call 'haute couture', the sacrosanct rules, which the French are sticklers for, are what make haute couture so sky-high. The very serious Chambre Syndicale de la Haute Couture decrees that a garment must be made to order by hand — in Paris, of course — and it must be fitted on a client in person at least once, so that there will never be two couture clients who own the same style. Anything that falls short of such regimental rigour while using the hallowed term 'haute couture' is practically punishable by the guillotine.
Either way, it's the best of times and the worst of times for haute couture. Usually the preserve of the 0.001 per cent, the world's wealthiest High Net Worth Individuals (as well as celebrities who get to borrow gowns for red carpet appearances), there's something out-of-odds about clothes for the wealthiest cross-section of society at a time of war, environmental catastrophe and a widespread demand for more inclusivity in fashion. Houses such as Balenciaga and Chanel are even opening dedicated retail spaces for their top clients, away from the hoi polloi of regular stores. Vive la revolution!
Then again, haute couture is somewhat a solution to everything fashion is often pilloried for. It's entirely made by hand by well-paid, high skilled craftspeople, it operates at a slower pace and is only shown twice a year in Paris, and it's unbridled by commercial restraints on sartorial creativity, often providing designers with an opportunity to present blue-sky ideas and clothes with technical wizardry that won't necessarily make it to the shop floor, in theatrical presentations that go down in history as the shows that we remember. From an ecological point of view, these are clothes made entirely by hand and designed to last a lifetime. These are clothes that inspire true fashion fanatics, whether they're live-tweeting commentary, pinning images to Pinterest boards, or shopping for decadent weddings in faraway countries.
Haute couture is fashion's sacred zenith, sitting atop the golden pyramid. It's what John Galliano always described as the "parfum" of a fashion house, its purest form — rather than a diluted eau de toilette. Miranda Priestly put it best in her monologue about the significance of cerulean in The Devil Wears Prada: "That blue represents millions of dollars and countless jobs." Yes, the uber-wealthy may get the cream, but it's the dream of couture that ultimately sells Dior's scarlet lipsticks, or the bottle of Chanel No. 5 sold every 30 seconds around the world. The 99.9% may see a Balenciaga gown on Nicole Kidman or Dua Lipa walking the show — and it's enough to create such a mesmeric halo around the house that they may eventually buy a handbag or even just an eyeshadow. Basically, couture serves as a marketing mechanism for some of the world's biggest houses.
Those opulent plumes, colourful embellishments and slithers of models moving in equine rhythm surely recall some arcane, shamanic celebration stumbled upon by an intrepid explorer. Maybe even some kind of fertility ritual, as was the case with the expectant bumps at Jean Paul Gaultier, or an animalistic ceremony, judging by the plumes of feathers at Valentino. Yves Saint Laurent once said that haute couture consisted of 'secrets whispered from generation to generation'. That not only speaks to the sense of craft that is imbued in every regimentally hand-sewn garment – near-impossible to replicate on an industrial level – but also to an intrinsic, esoteric knowledge of what women really want. And what a handful of women absolutely need. Welcome to fashion's fantasy league. OA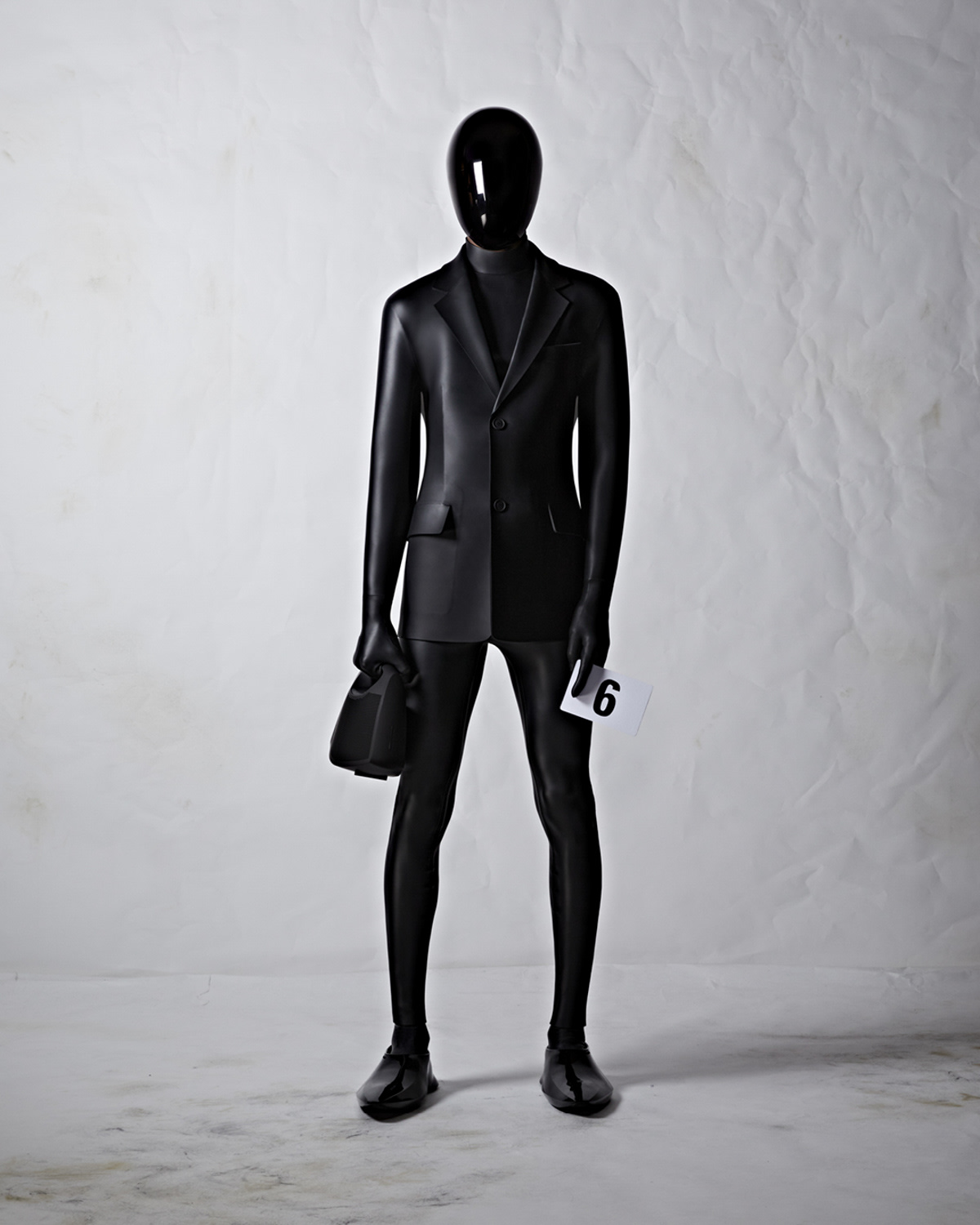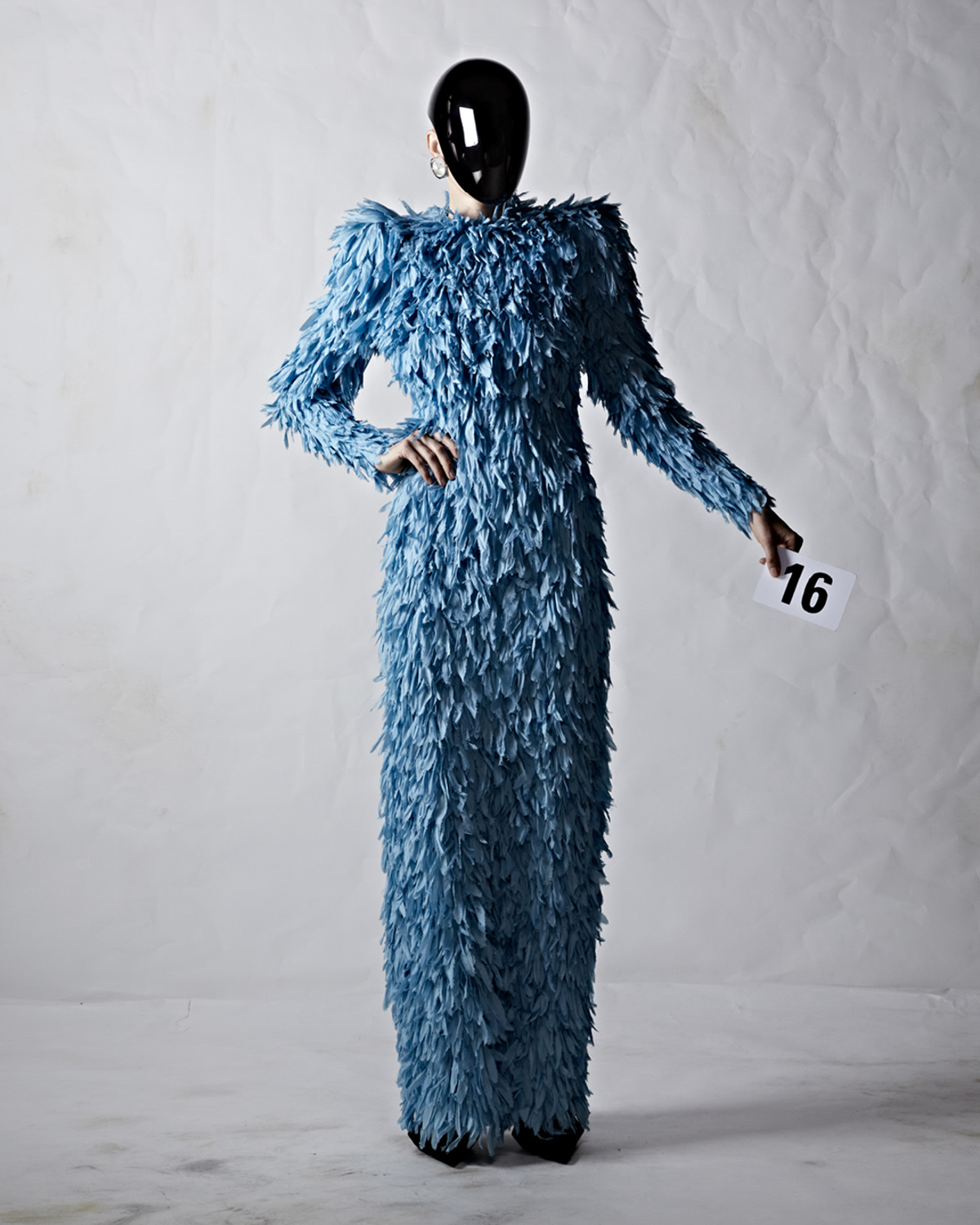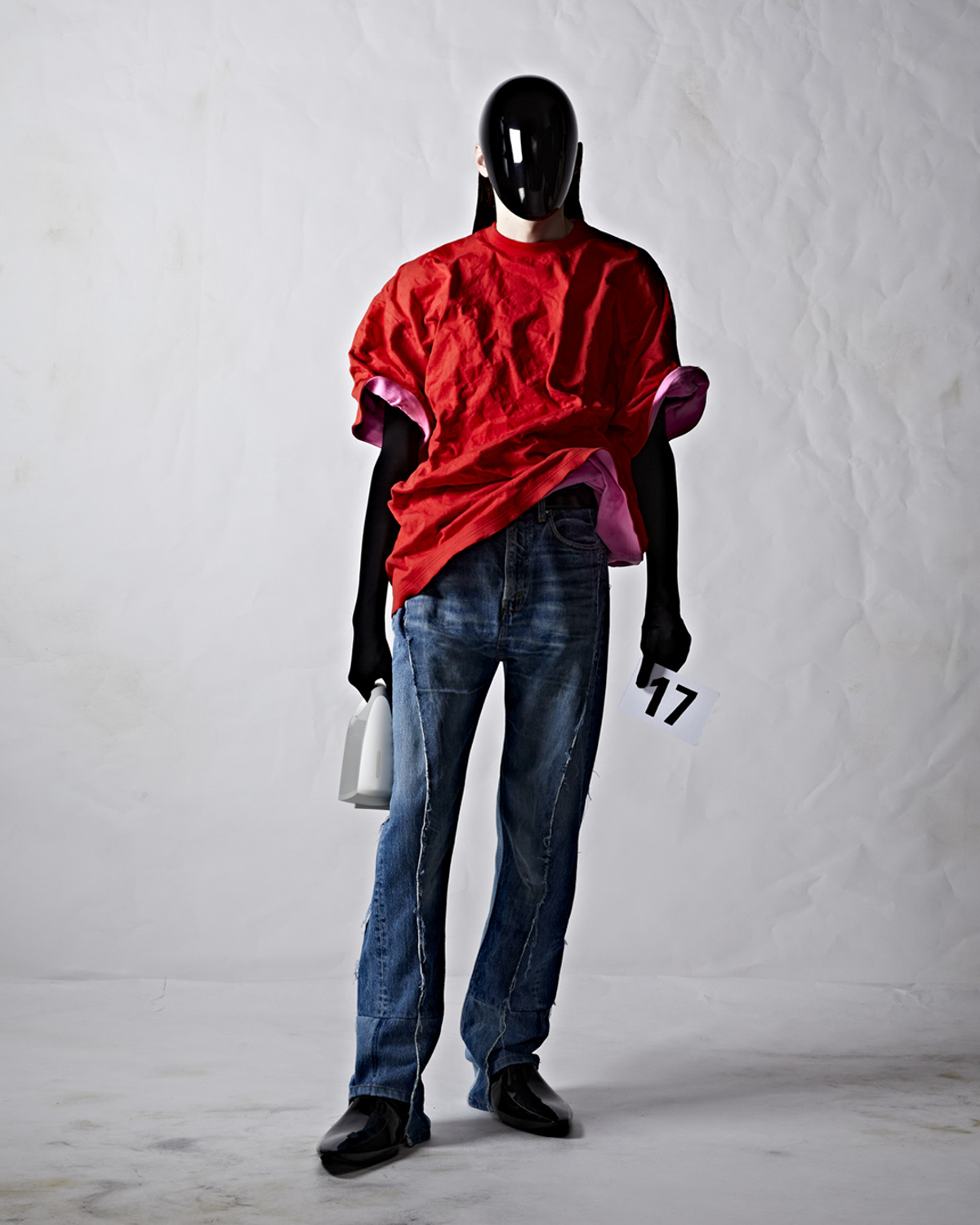 Balenciaga
Scored by a love poem algorithmically voiced by AI over an original orchestral symphony, the Balenciaga show was all about the now and then of haute couture. The show opened with a sequence of bug-like humanoids in skintight black neoprene, shiny couture versions of the black-out silhouettes that Balenciaga's Demna and Kim Kardashian wore to the Met Gala last year. This was the designer's sophomore couture collection, and whereas his debut was all about reintroducing the hallmarks of Cristóbal Balenciaga — whom Christian Dior once described as "the master of us all" — this collection was about Demna. "I needed to put a bit more of me in it," he said after the show. "I started with the future and then went to the heritage, and it's this whole gradation of how I see couture," he explained.
He chose neoprene, he explained, because he saw it as his version of gazar, one of Cristobal's signature materials, and it's notoriously difficult to tailor. So, he treated the Japanese-sourced neoprene with limestone, and set to task his petite mains to transform it into cartoonish garments that looked unreal. This being Balenciaga, there were the denim jackets, jeans, and hoodies, too all made with aluminium woven in for a kind of stylised scrunched-up look, like garments perfectly frozen in motion. That's what makes Balenciaga's approach to couture interesting: here, the ateliers are almost like laboratories for experimenting with high-fi fabrics and rarefied techniques to create truly unique pieces of clothing. There was upcycling, too, which Demna explained can only be done in couture because it requires more work and can't be produced on an industrial scale. Later, there were satin gowns with geometric silhouettes, in typically monstrous proportions, modelled by a pop-cultural mash-up of famous faces: Nicole Kidman, Selling Sunset's Christine Quinn, Dua Lipa, and Naomi Campbell, of course. It cemented what was already clear: this was a blockbuster show, and Balenciaga is now one of the biggest stars of haute couture. OA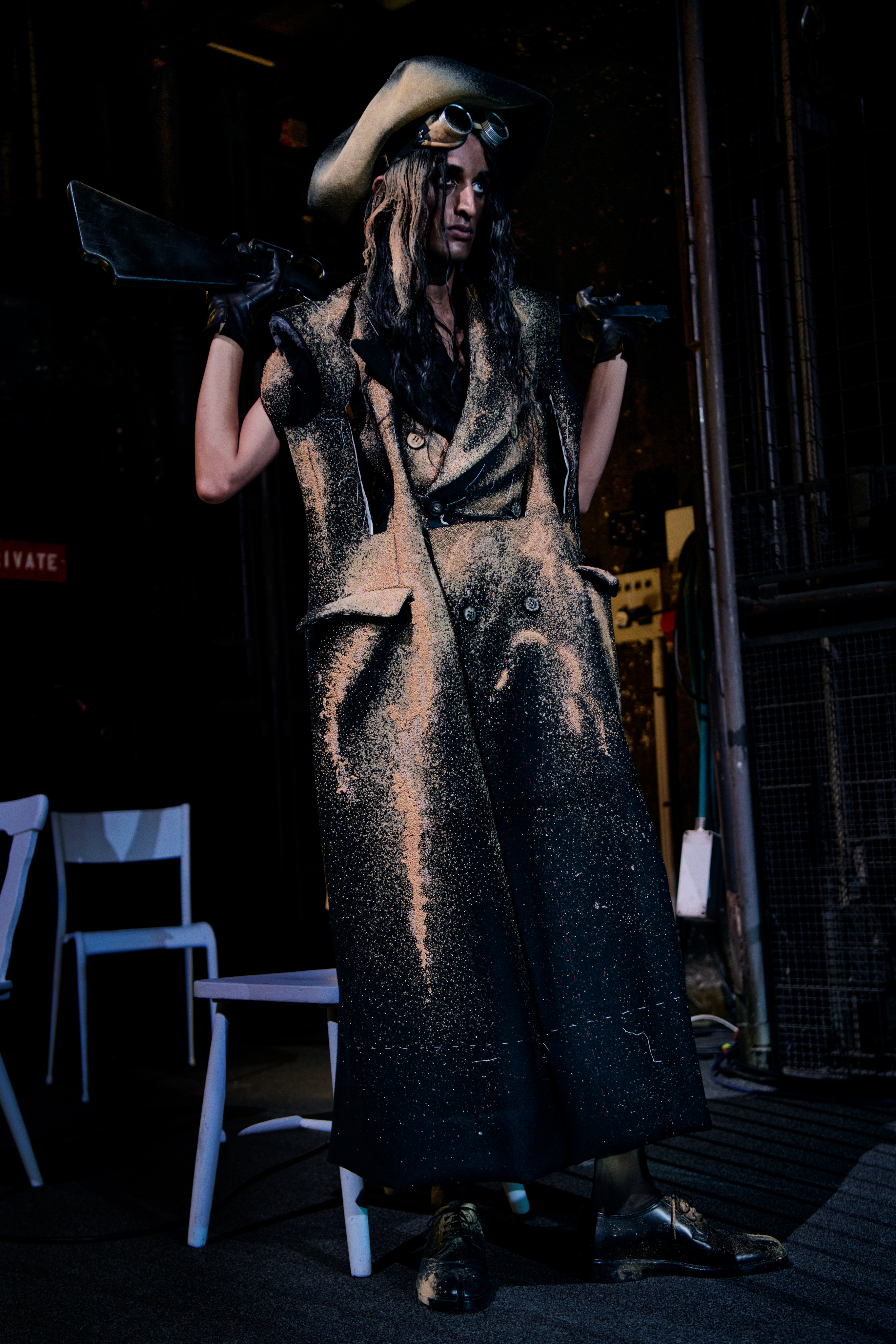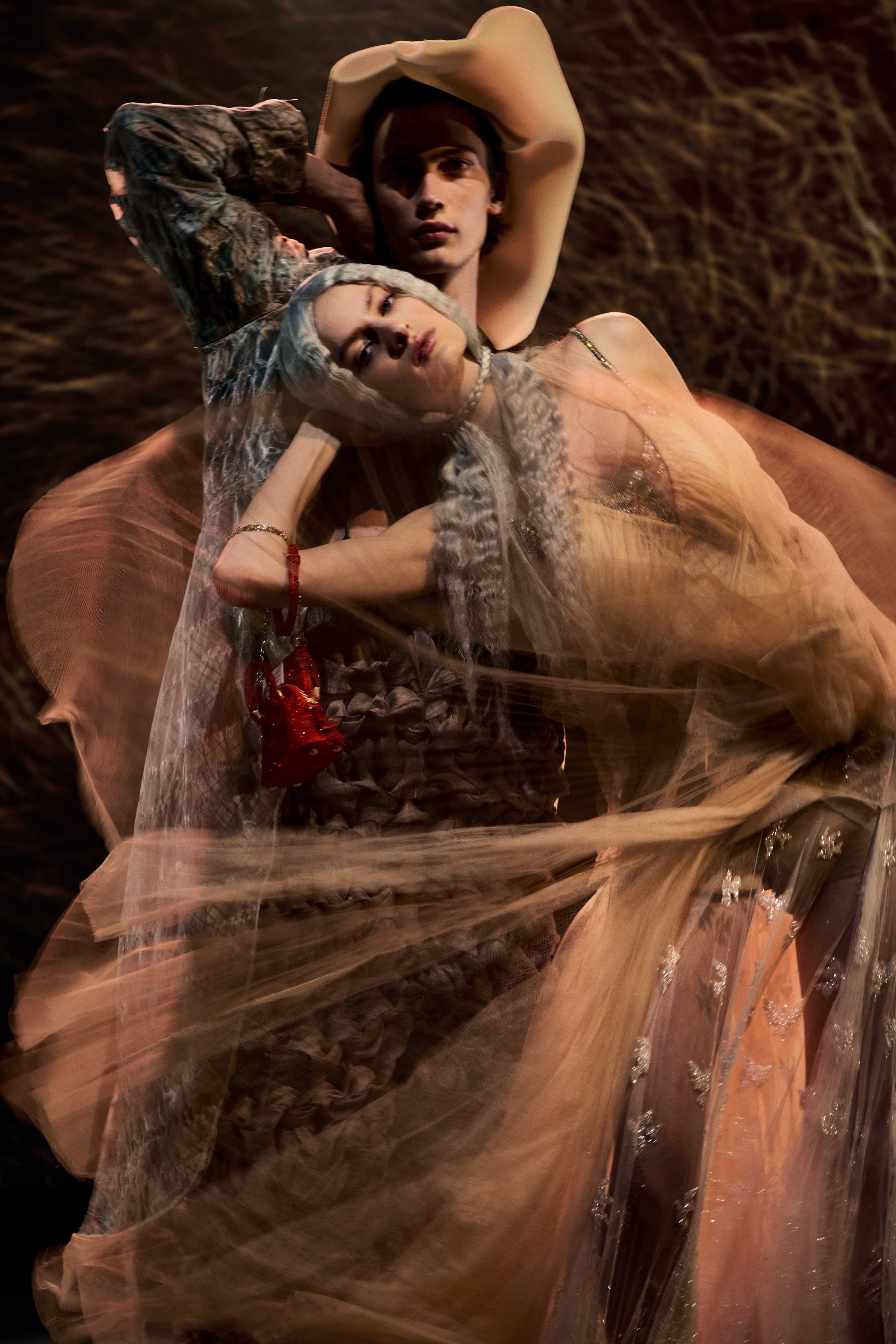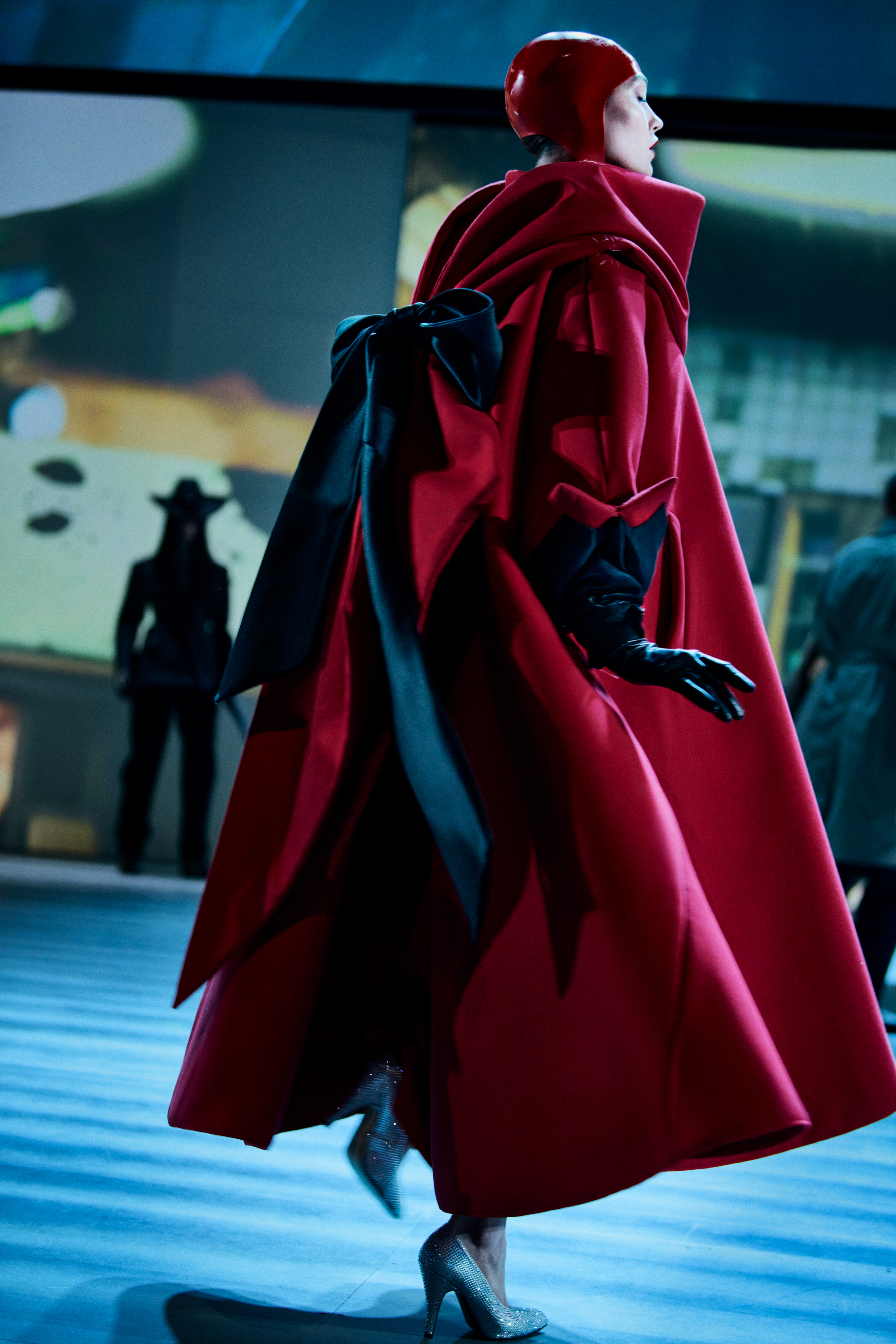 Maison Margiela
In terms of revolutionising the dusty salons of haute couture, perhaps the greatest reformer of the métier in history is John Galliano, the first Englishman to be given the keys to a French couture house when he was appointed at Givenchy, and subsequently Dior, in the 90s. Though that was a long time ago, the Internet has been re-popularising Galliano's work from that era, rushing to purchase novelty saddle bags and revelling in the High Drama of his spectacular fashion shows, which often featured ornate sets, exotic themes and painted faces. Since joining Maison Margiela over a decade ago, Galliano has shifted his focus to the art of dressmaking, often working with upcycled materials in honour of Martin Margiela's legacy of upcycling and deconstruction. At Margiela, Galliano transforms antique textiles and garments into one-of-a-kind pieces that extoll his unrivalled skills as a dreamer who can bring to life his wildest dreams in the seams of truly remarkable clothes. His once-beloved theatrics have taken a backseat to the innately theatrical garments.
Until now, that is. After a brief hiatus between lockdowns, Maison Margiela returned to the couture schedule with a bang: a live Dantean performance on the stage of the Théâtre National de Chaillot. It was old-school Galliano theatricality at its best, tempered to the labyrinthian technology of our times — a fully-scripted play, acted out by models in front of a live audience, while being captured by cameras that integrated film into the staging, and broadcast to the world. A collaboration with the British theatre company Imitating the Dog, who in the words of its director, "stitch together" videos of actors in real-time, it was perhaps one of the most innovative stagings of a fashion show. Ever.
Which is to say that you must watch the entire thing. The title 'Cinema Inferno' suggested it would be dark, and indeed it referenced a canon of great American classics: Paris, Texas; A Streetcar Named Desire, Natural Born Killers, Suddenly Last Summer. Without giving too much away, it is a Southern Gothic tale that follows the story of Count and Hen, star-crossed lovers (and step-siblings) who escape their evil (read: glamorous) parents, go on the run from brooding bandits, and take refuge in an old cinema that is not all that it seems. It's set in Arizona, the American state where Galliano underwent rehab in 2011, which only adds to the deeply personal undertones of trauma, violence, abuse and recovery — a tale of 1950s Parisian haute couture via prom-scene Americana. But those details aside, what made this one of the most memorable shows this writer has ever experienced, was the sheer beauty of the clothes. Every last detail, every angle of every silhouette, every flocked fabric or micro-needled jacquard told a story that resonated with the knotty plot twists of Cinema Inferno. Here, the dream of couture — as a laboratory for narrative-led ideas and a platform for fashion-as-escapism — was very much alive. OA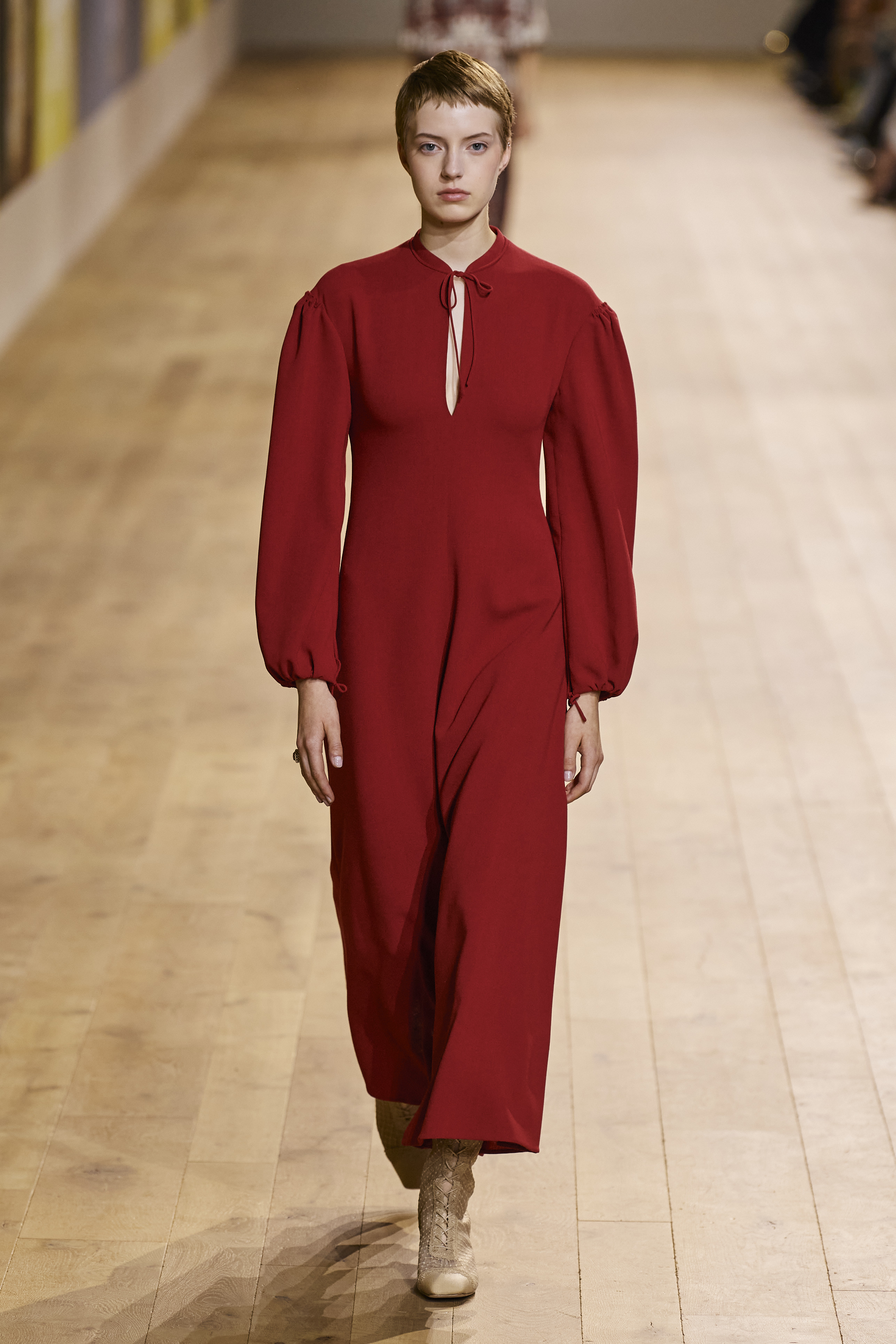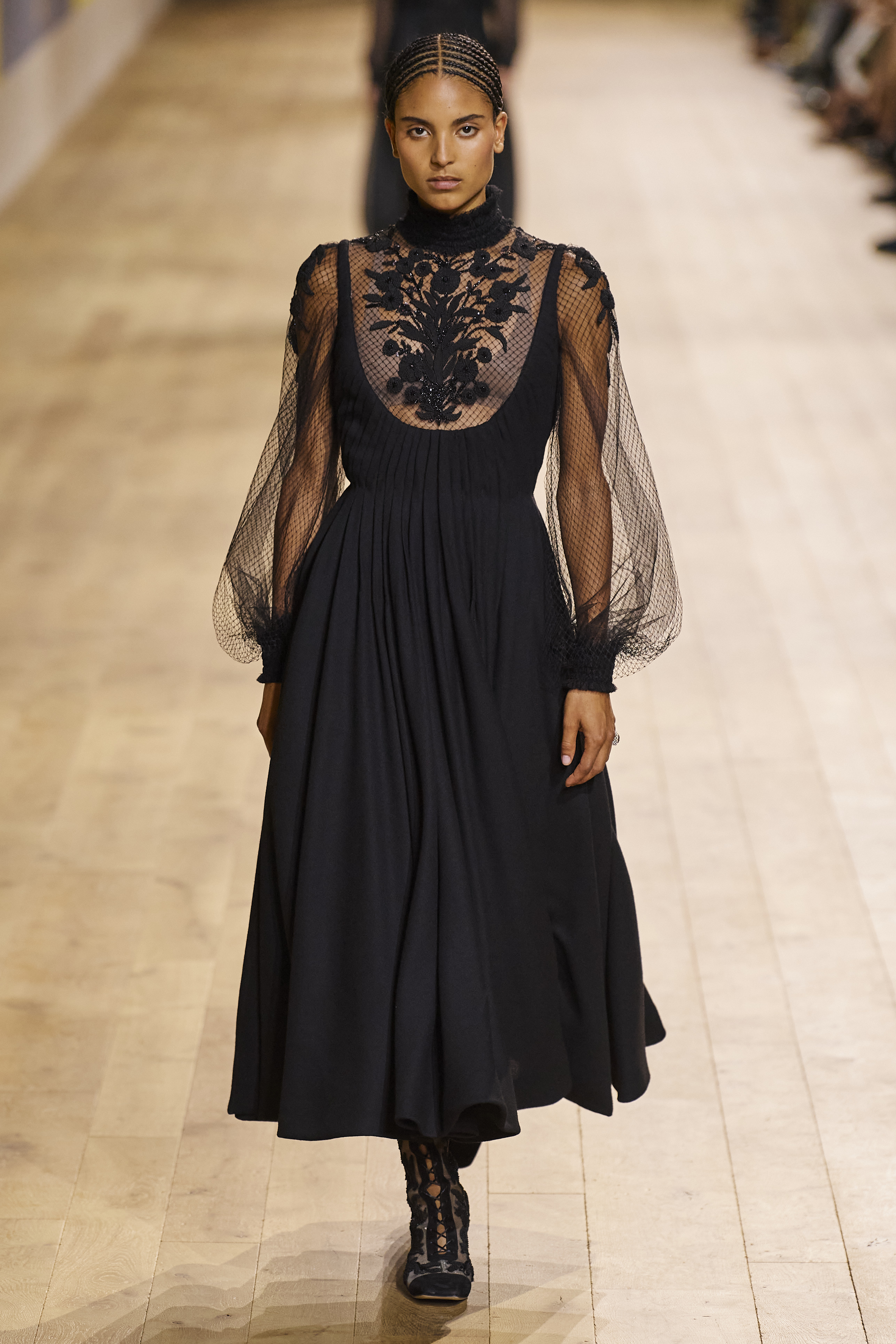 Dior
Chez Dior, creative director Maria Grazia Chiuri has made it her mission to spotlight female artists from around the world and to showcase the importance of global handcraft. Her latest couture show did both — and in fact, it even managed to convey a message of solidarity with Ukraine in its moment of crisis. You see, MGC came across the work of the Kyiv-based artist Olesia Trofymenko at an exhibition in Rome in the spring. It resonated with her, given that the artist's nature-inspired works represent "womankind, the continuation of life and a bright future" — but also it hit deep, given the outbreak of war just weeks earlier. And so, for this couture collection, the first since Ukraine has been invaded, Maria Grazia gave Trofymenko carte blanche, and the result – these large-scale wall pieces – formed the starting point for her show at the Musée Rodin in Paris.
The artist's embroidered visions of The Tree of Life are made using traditional folkloric techniques, which were also found in the collection on patchworks of guipure lace, delicately embroidered floral skirting, and double-faced cashmere panels that comprised jewel-toned patchwork coats. One got the sense that Maria Grazia was asking herself a question: in a time of war, impending recession, and regressions of human rights, what exactly is the purpose of haute couture? The answer, she felt, was "to reimagine a better tomorrow", to create a "bridge" between the savoir-faire of different cultures to find a common ground of meaning, beauty and inspiration across borders and cultures.
"I like the tree of life symbolism because it is present in all couture," she explained in a preview. "This idea of the circle of life is especially important in this moment, in the world, we all have to change the way we work, we have to think about how we can build knowledge in different ways, step by step." In fact, much of the embroidery wasn't actually done in Paris, but in India at the Chanakya School of Craft and Chanakya ateliers in Mumbai, which Maria Grazia has been working with at Dior for a while now. And as for the clothes they adorned, Maria Grazia knows that what her customer wants is classic, wearable clothes with an immense level of detail and handcraft. The silhouette was more fluid than typical couture, which is usually constructed with inbuilt corsetry and voluminous padding — which suggests that it's actually made to be worn for more than just a few hours. In fact, diaphanous column gowns, dirndl-like dresses and smocked high-necks echoed the hallmarks of folk dress, albeit with much more ornate embroidery and finer materials. Perhaps there's something there about the paradox of the princess dressing like a peasant, and the celebration of everyday women over the 0.001 per cent. Or, maybe, it's just that the muted palette, restrained silhouettes and visible handwork are what seems appropriate in such turbulent times. OA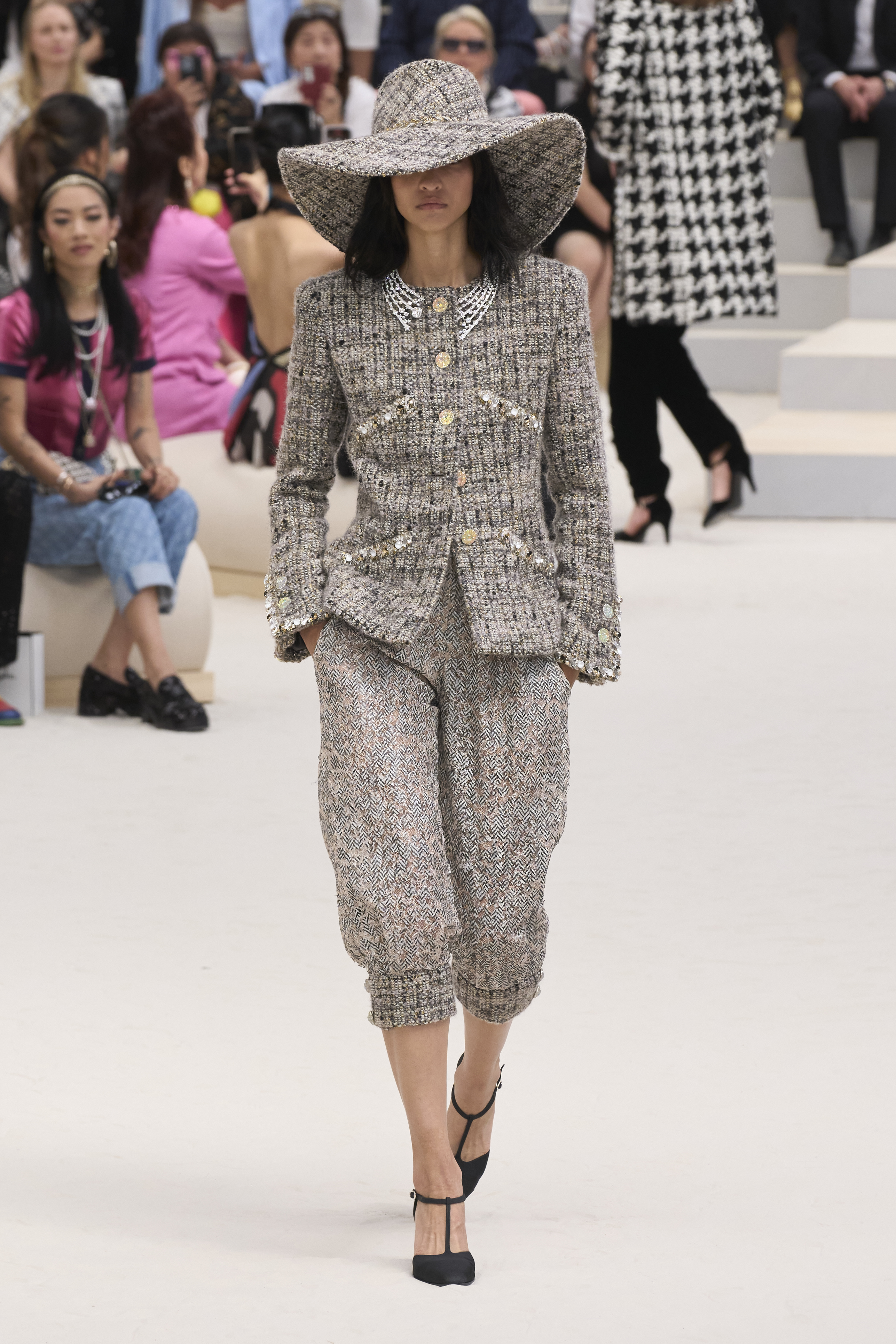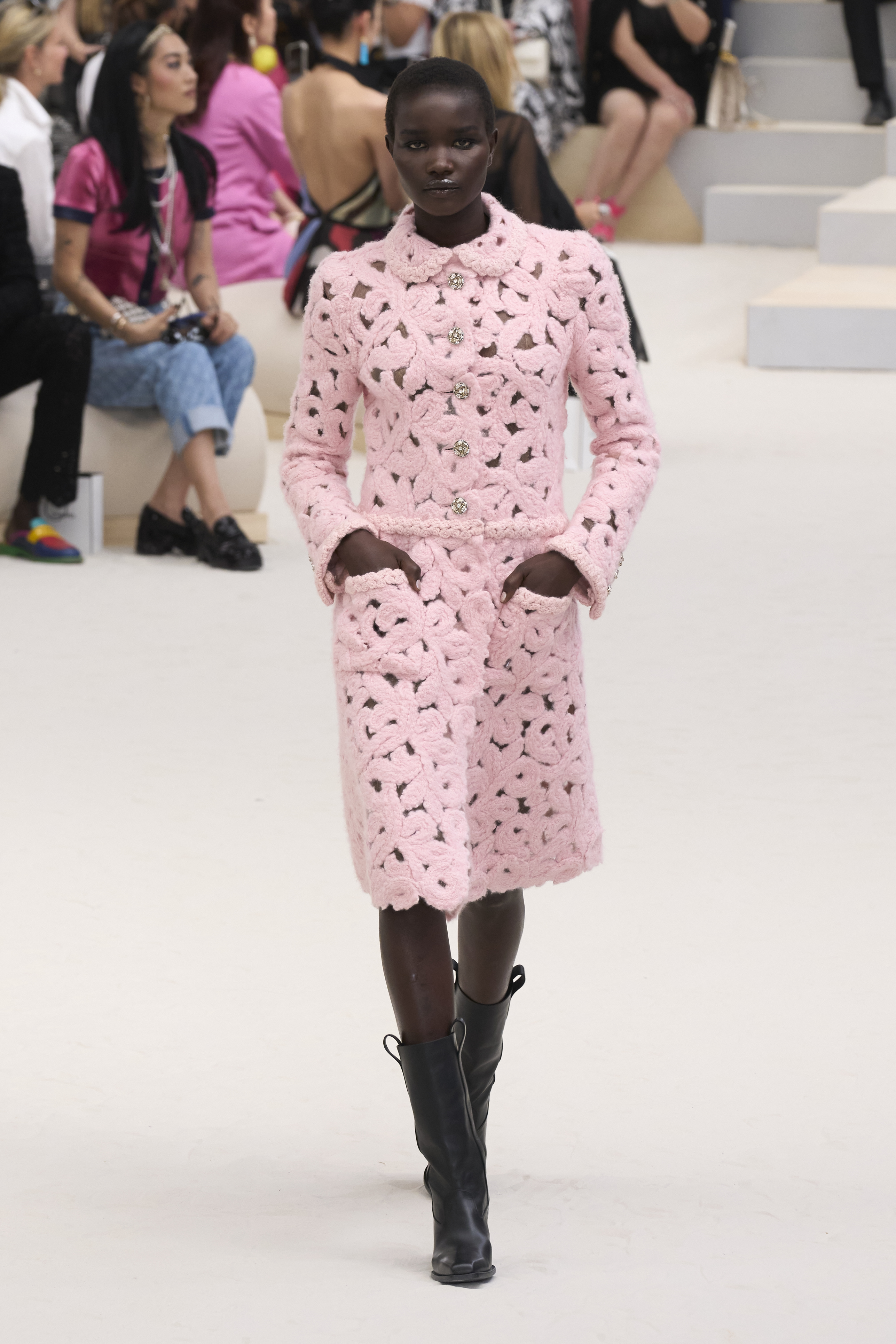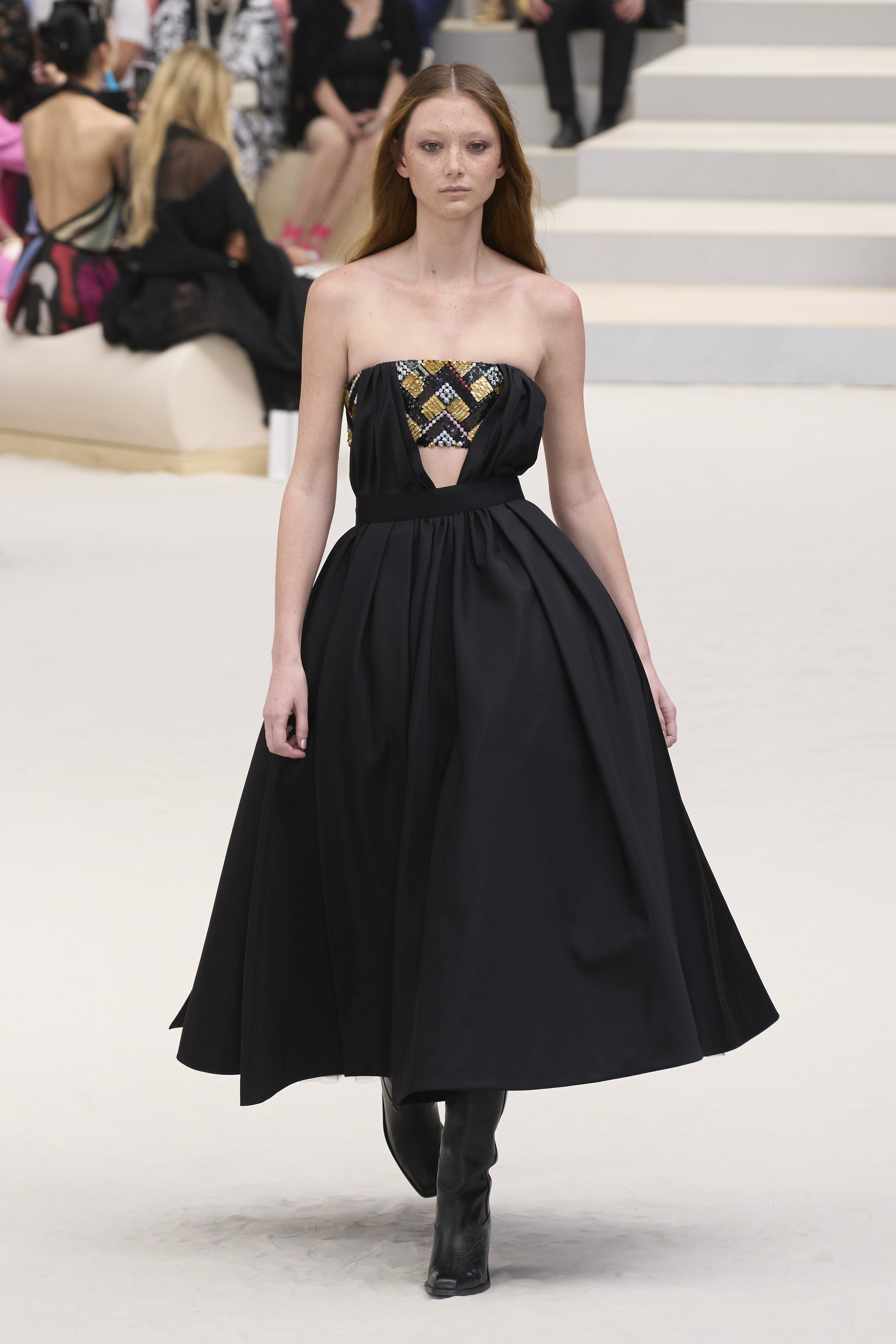 Chanel
Chanel's signature fabric, bouclé tweed, is not exactly lightweight, but in the hands of creative director Virginie Viard, the classic Coco suit looked resolutely cool on a day when temperatures rose to incendiary degrees in Paris. That is no easy task. Chanel is one of the grande dames of couture, a bastion of tradition and arguably the most couture-y of all couture houses, given that it's the last one immune to brand collaborations, e-commerce and faddish experimentation. Chanel is couture, and couture is Chanel. But with that heavy mantle of heritage, there can sometimes be a reluctance to move the needle forward. Here, strides of progress and evolution are made in millimetres of soft pleating, delicate featherwork and the ever-so-slightly adjustments to the silhouette of that world-famous tweed suit. Speaking of which, this season they were given a slouchier fit with rounder shoulders and square backs, and worn with generously longer mid-calf skirts. The result was something of a cooling down of the sometimes-uptight bouclé look, a bit more relaxed and — even when worn with millions of euros worth of diamonds to celebrate the 90th anniversary of Coco Chanel's first fine jewellery collection — a look that manages to make something as old as fashion itself seem like a desirable proposition for this autumn.
A continuation of her last couture show, in which Charlotte Casiraghi trotted in on a Spanish bay horse, Virginie took us to the sandy outdoor stadium of L'Étrier de Paris, an equestrian centre in the Bois de Boulogne, on the outskirts of Paris. Arriving at the show, guests arrived through an assault course of Constructivist soft play (spinning bullseye targets, bubblegum pink-coloured plastic pouffes, revolving mobiles, graphic cubes and prisms), which was designed by the artist Xavier Veilhan, a friend of Virginie's. It was slightly trippy, almost like real-life animations in a traditional, bourgeoise setting. The collection had echoes of that playfulness, too: floppy geometric bouclé Cowgirl hats, fronds of striped ostrich feathers forming a bolero, black leather riding boots paired with Edwardiana bell skirts and allover embellished Art Deco dresses. Apparently, Virginie was inspired by a palimpsest of references, from a shot of Fred Astaire in cinematic action, to a nineteenth-century shot of Annie Oakley, to archive Chanel references from 1920s slouching debs to the Hollywood-esque 1930s gowns to the Nouvelle Vague-era 1960s tailoring, to the late Karl Lagerfeld's colourful sketches from the 2000s. Not that you would be able to tell at first glance. Perhaps of all houses, Chanel does not require a narrative backstory or a novel theme. It remains a house that can let the clothes speak for themselves, even if they don't say an awful lot. For so many of the world's wealthiest women, it's the kind of Sphinx-like mystique that keeps them coming back for more and more and more. OA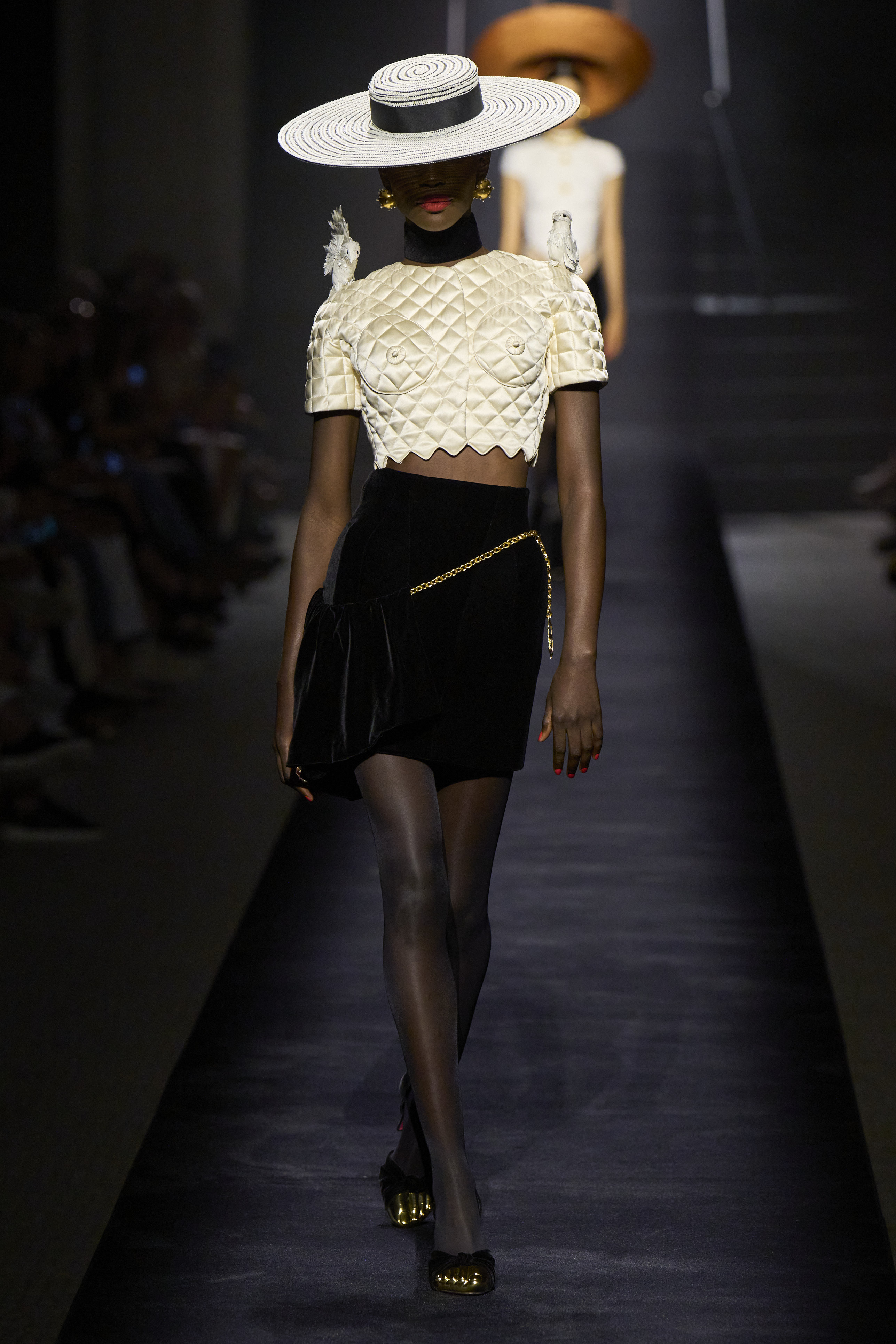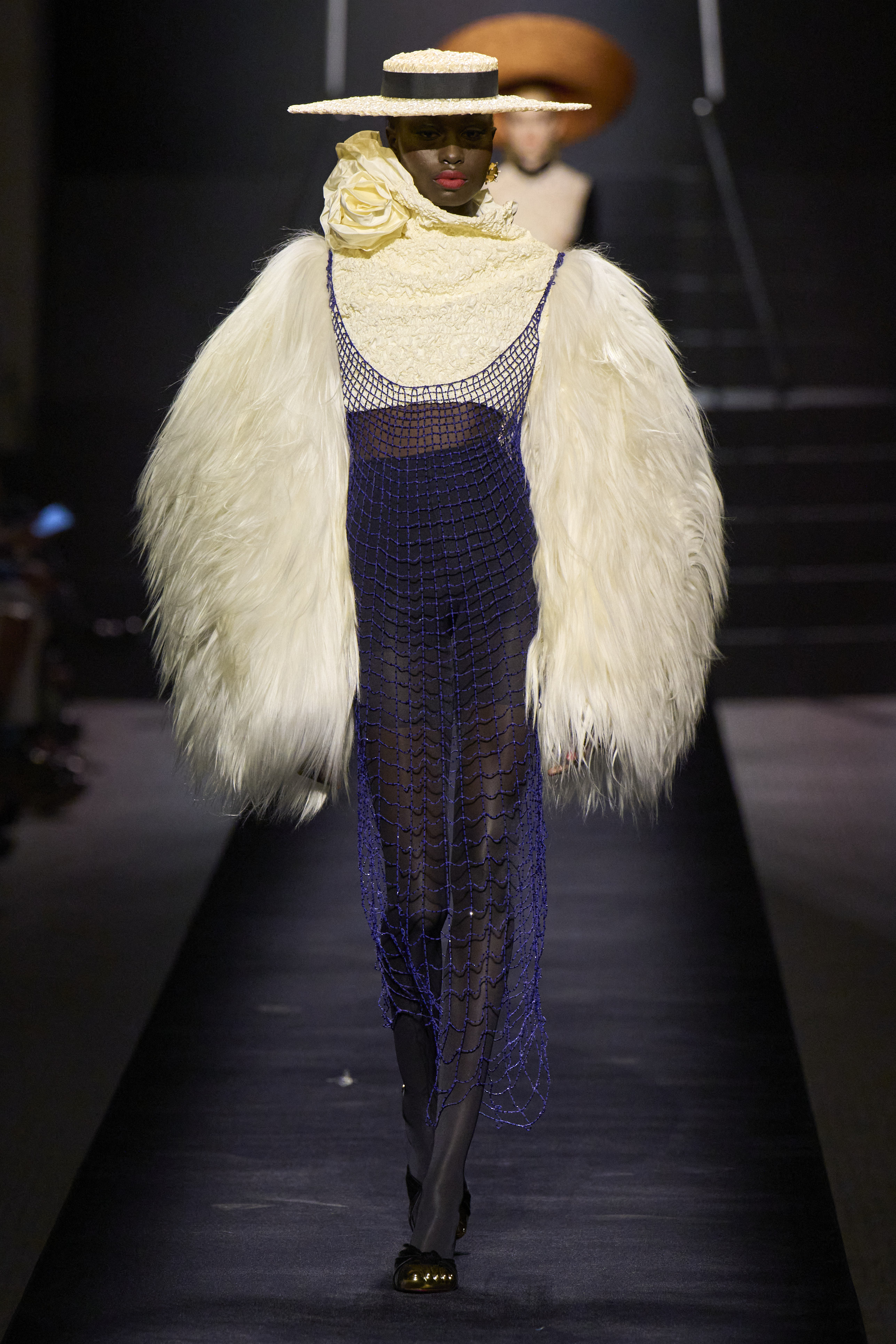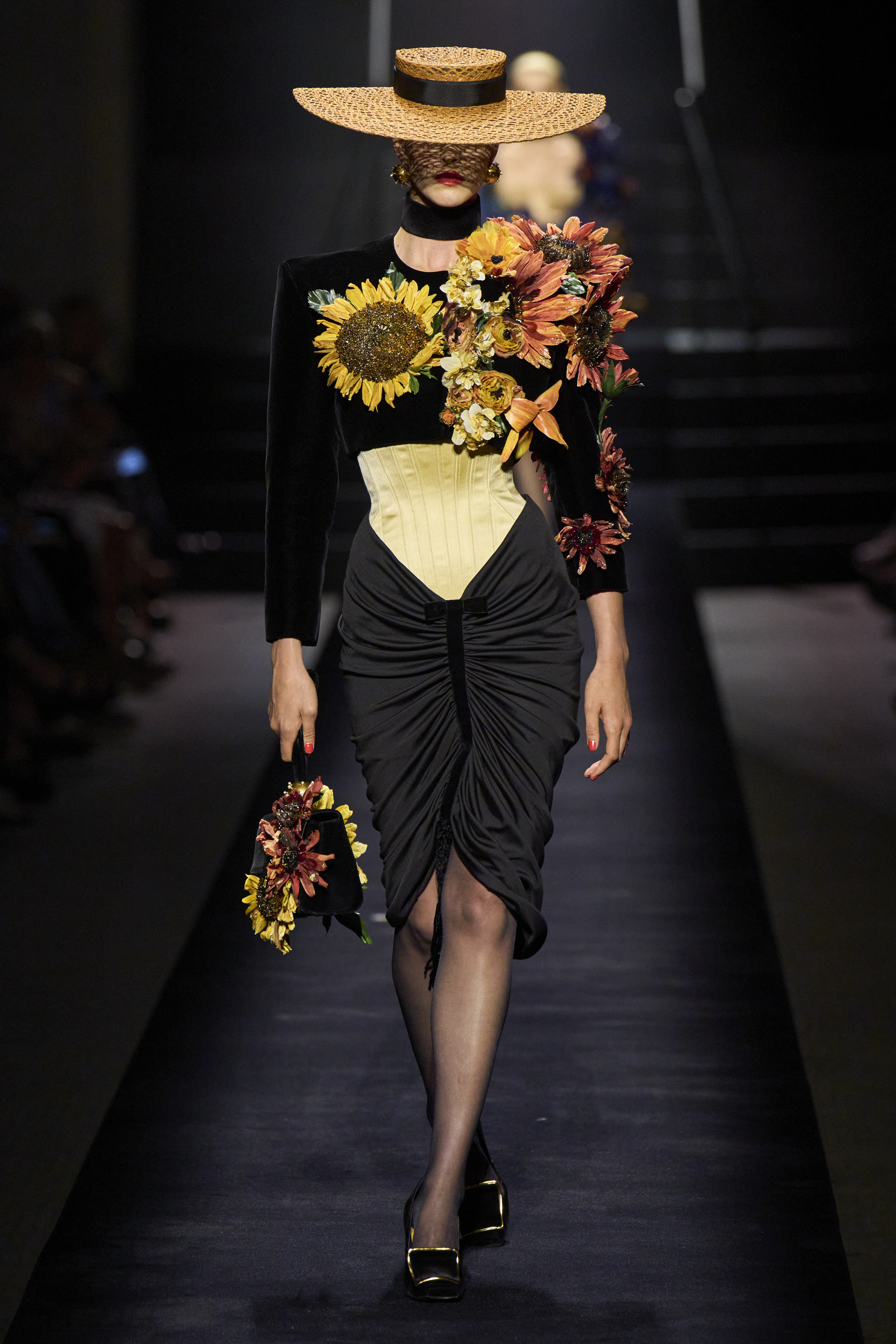 Schiaparelli
Emily isn't the only American in Paris. Daniel Roseberry, who grew up in Texas and lived in New York for years, has brought a distinctly stateside vision of French couture to the fashion house that is currently the subject of an exhibition at the Musée des Arts Decoratifs in Paris: Shocking! The Surreal World of Elsa Schiaparelli. And he's not afraid to admit it. Daniel loves Disney films, french fries and literal, worn-on-your-sleeve sartorial gestures. His is the kind of bombastic blockbuster fashion that celebrities wear to stand out on red carpets, and though not many can afford it, millions can appreciate from just a glance at the bright gilt details and cartoonish silhouettes; couture as a caricature. In fact, he chose to stage his latest show to the distinctive music from Jurassic Park and Star Wars, almost like a provocation of just how much haute couture has become a part of pop culture (Hunter Schafer, Rina Sawayama, Emma Watson, and K-pop star CL were all front row) — but also how literal his vision of couture is. It's big gowns. It's tonnes of sparkling embellishment. It's piles of gold-plated jewellery. It's hourglass silhouettes, camp accessories, and pre-war glamour; the time when couture was still the preserve of the few.
"You know, my mom always asked me: 'Don't you want to design clothes for Target or Walmart and make mass-produced garments that would reach a wider audience?'" Daniel Roseberry explained after the show, which featured blinged-out scenes of bucolic life, like a bouquet of flowers crafted from hand-painted and sequined silk forming the bustier of a black velvet dress. "I told her that my life wasn't changed by going to Target. It was changed by looking at fashion shows and seeing beauty and being given permission to dream those dreams for myself growing up in Texas. The democracy here is the democracy of beauty and giving beauty to the world."
What's interesting is that Daniel sees the purpose of couture as far more than just dressing the privileged few, but almost like a public service to all the little boys in Texas dreaming of Paris. As a result, he makes the kind of haute couture that a child might imagine if asked to sketch a fairytale dress. Swirling roses of ivory taffeta formed sweeping capes, wide straw hats were wreathed with sheaves of wheat (which were actually crafted from glycerinated ostrich feathers, courtesy of Stephen Jones), glitter-smattered breasts and hourglass velvet skirts so tight that you have to walk at a testudinal pace. Here and there were hints of some of couture's most ebullient legends, such as Thierry Mugler, Christian Lacroix, and Yves Saint Laurent — all of which are currently displayed in the Musee des Art et Deco exhibit as designers who were inspired by Elsa Schiaparelli. "Beauty for beauty's sake," Daniel put his raison d'etre after the show. One gets the sense that this is his very own "Happily Ever After…' OA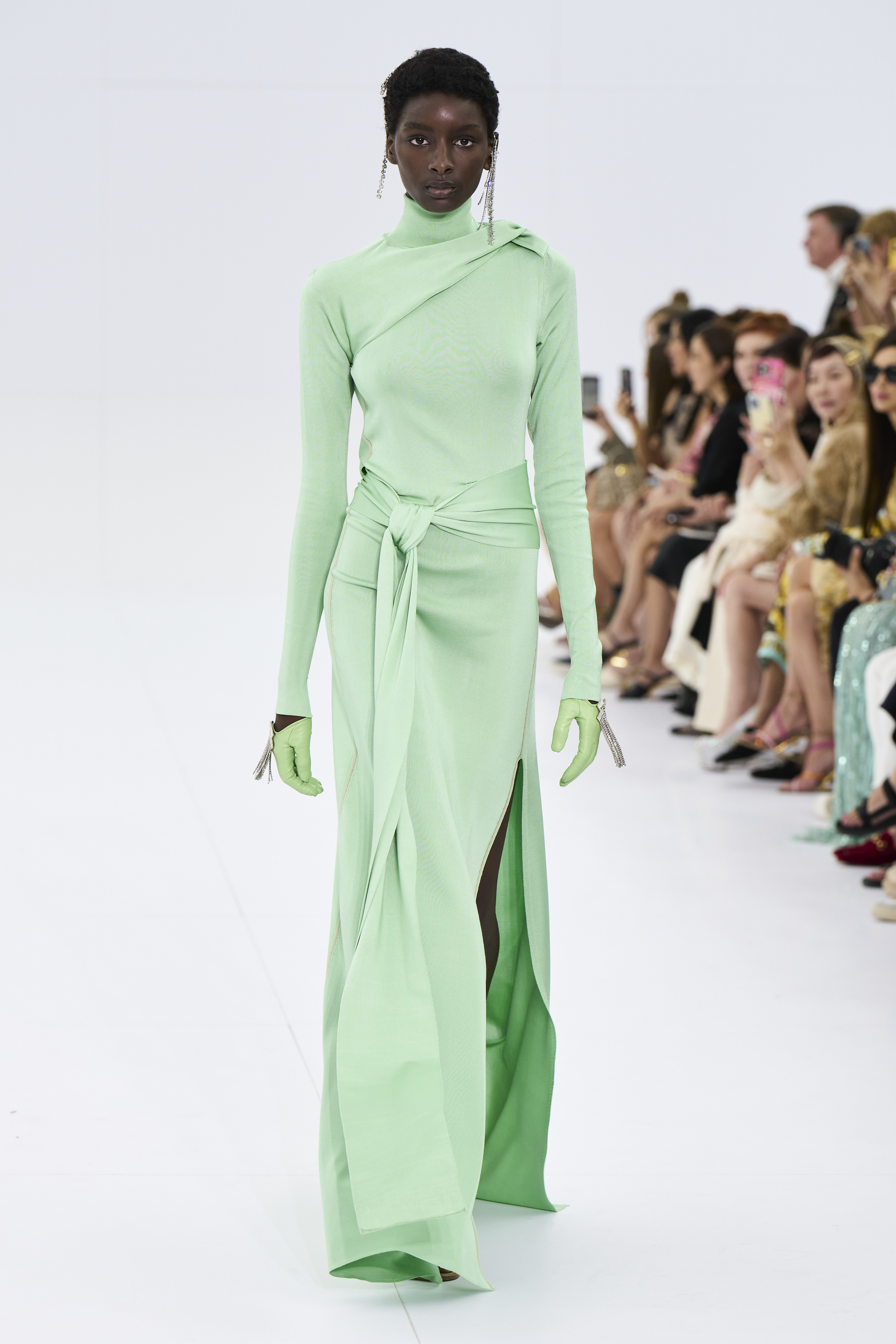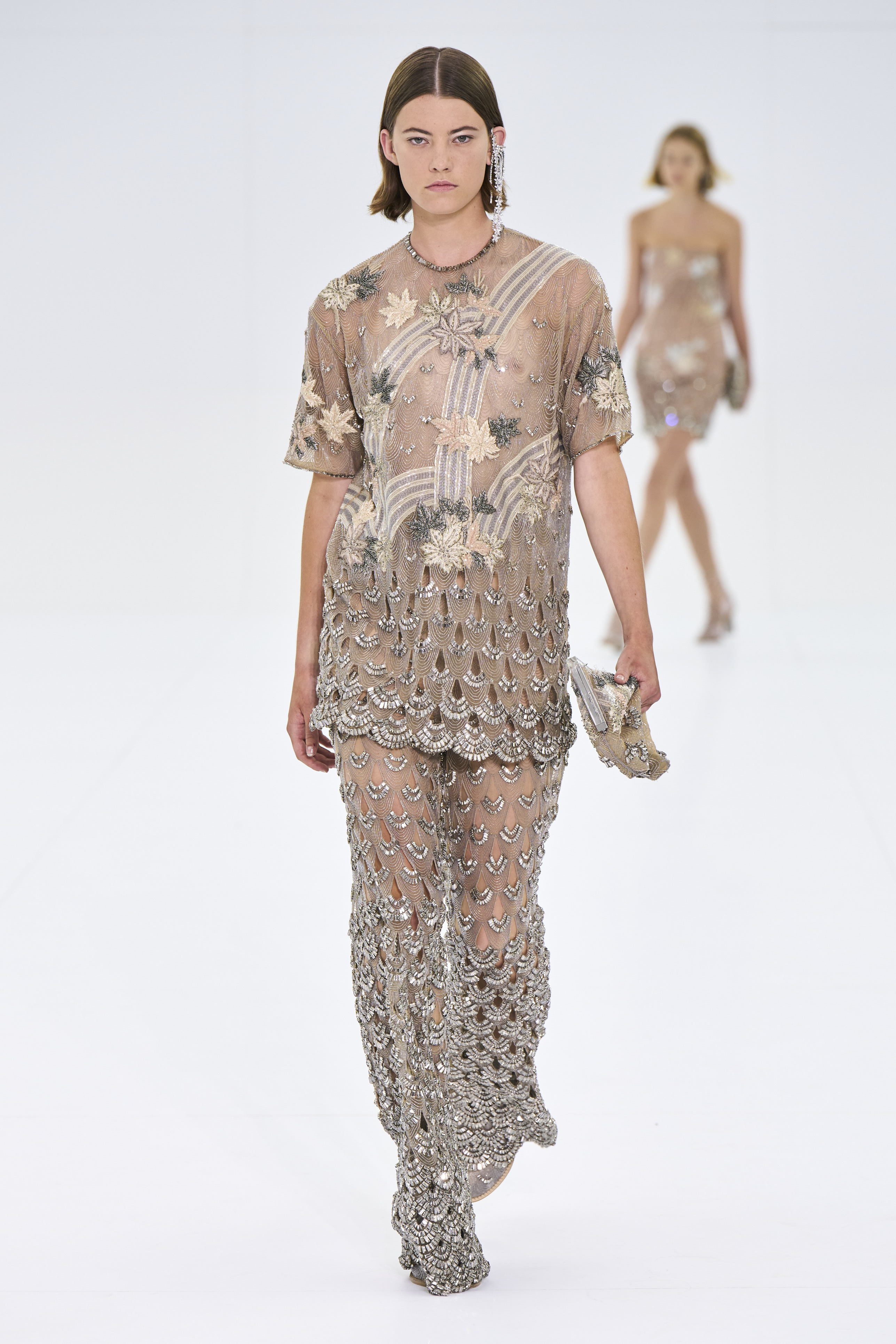 Fendi
Historically, couture has hardly been known as fashion's most casual niche. Increasingly, however, we're starting to see the designers of what has long been considered fashion's haughtiest genre – fashion-as-art – pitch proposals for more insouciant visions of couture. Following on from made-to-order gabardine trench coats and blue denim jeans at Balenciaga, Kim Jones was the latest to do so with his latest collection for Fendi.
Of course, casual couture should be natural territory for a designer who has built his reputation on effortlessly fusing clipped elegance with a street-y ease over the course of his tenure at Dior Men, often looking to the house founder's most emblematic couture silhouettes. What we saw here, though, embodied a casual flair in a rather different: discreet, yes, but still decadently luxurious. Opening with a deliciously cut double-breasted suit in camel vicuña (the most expensive, softest kind of cashmere in the world) with trousers that gently puddled at the ankle, the suite of looks progressed through a svelte, slashed cashmere dress, a columnal moulded leather bustier dress in the smoothest taupe leather and long-sleeved gowns seemingly collaged from swatches of intricately hand-painted kata yuzen kimono fabric, sourced from artisans in Kyoto. These slick silhouettes was complemented by a closing procession of gossamer gowns, delicately bejewelled 'naked' slip dresses and cascading negligées featuring autumnal embroideries that almost read like extremely luxe nightgowns. And why not? What, after all, could be more insouciantly chic than bedding down in couture PJs? MS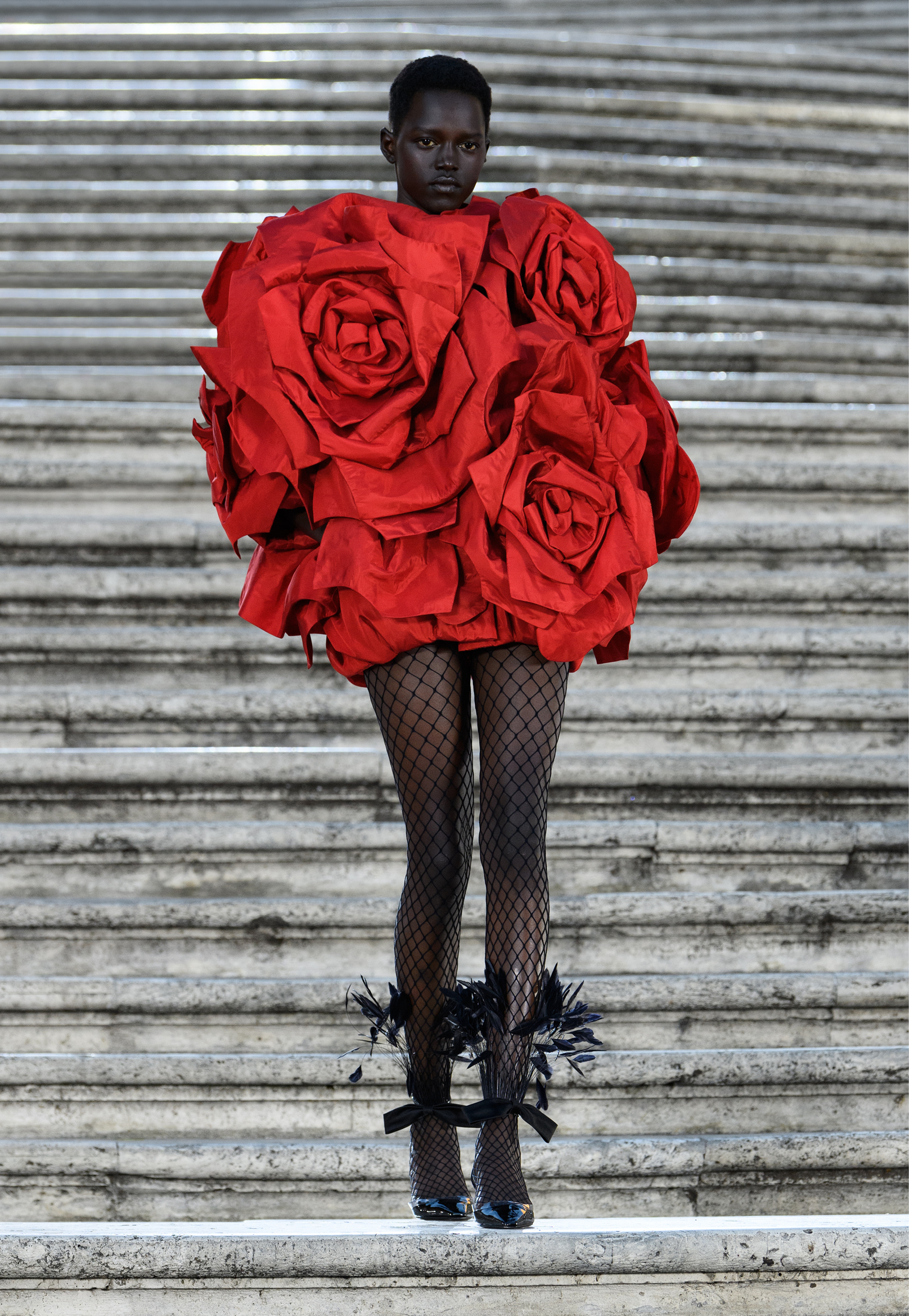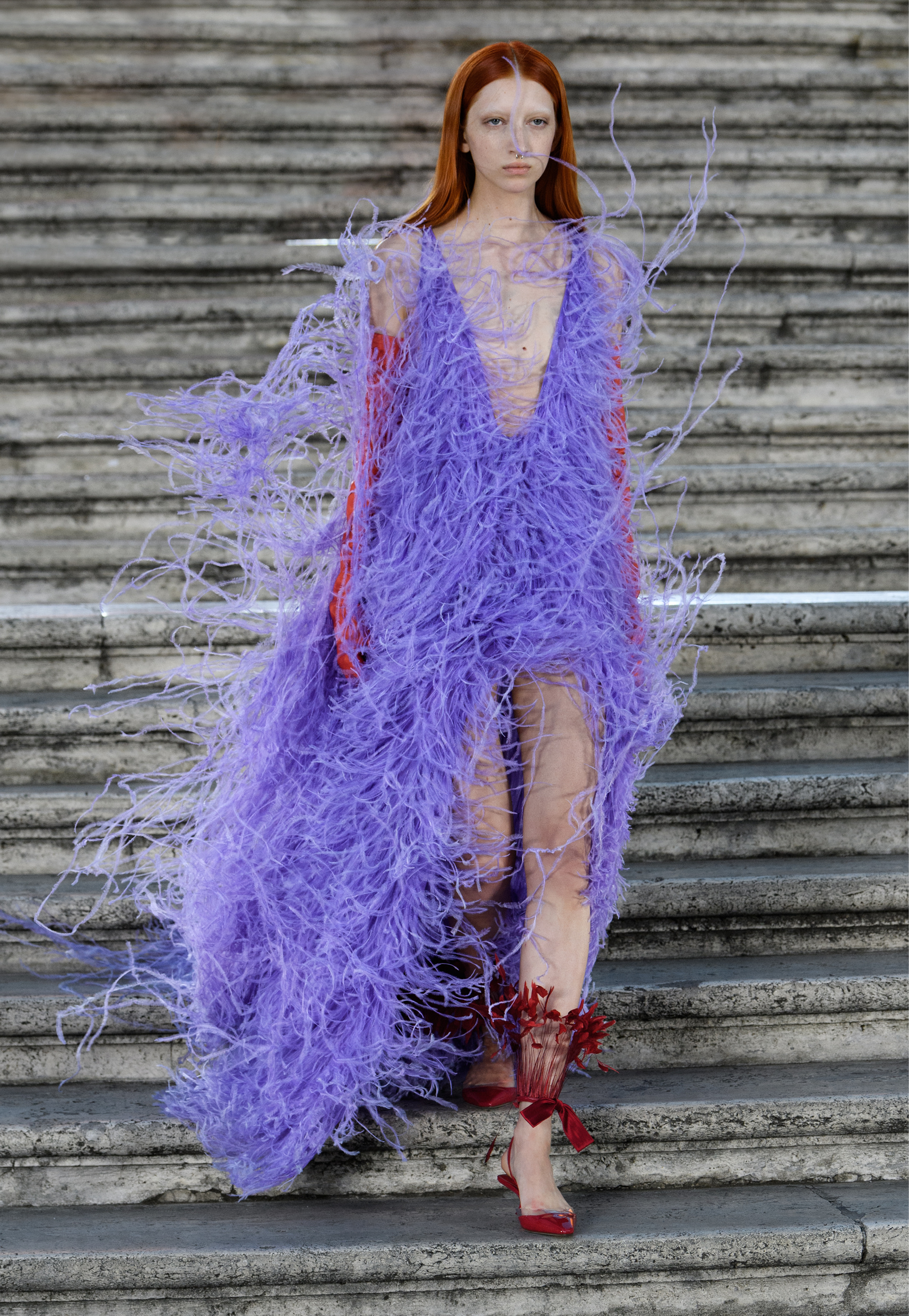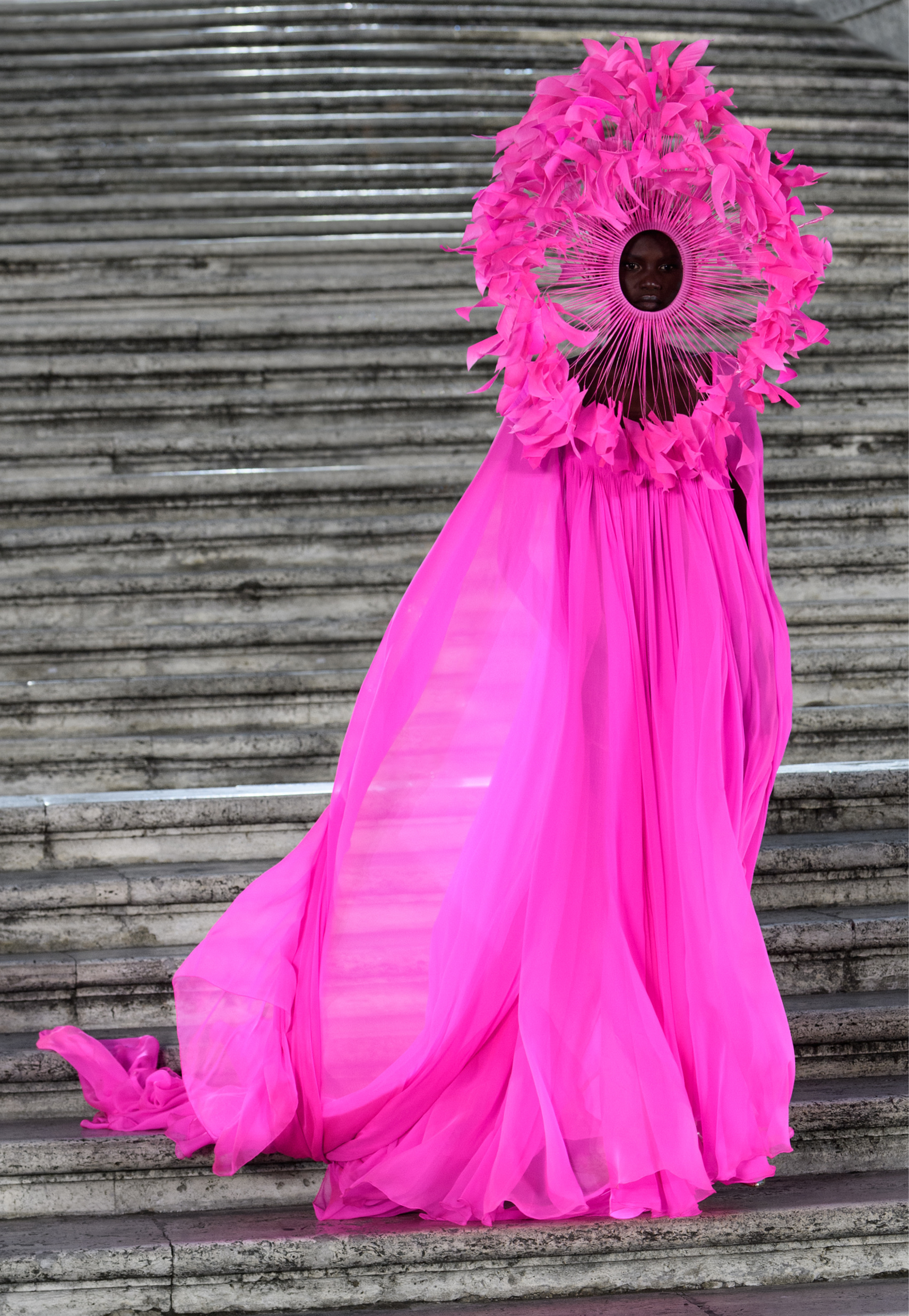 Valentino
While couture shows are typically held in Paris, as the saying spoken when the two cities became exclusive twins in 1956 goes, "Only Paris is worthy of Rome; only Rome is worthy of Paris", making the Italian capital a pretty decent second option. This season, that's just where Valentino headed to present the latest fruits from its ateliers, which are in fact located in the city – more precisely, right by the Spanish Steps, down which the models that made up the celestial procession of looks descended. A clue to Pierpaolo Piccioli's decision to show in the city was to be found in the title of the collection – The Beginning – an allusion to the fact that it was here that Valentino first founded his eponymous house in 1959. In this light, the collection read like an exploration of the rudiments of Valentino – of the house at large, yes, but also of Pierpaolo's much-lauded 14-year tenure at the head of the house. Fronds of dainty mauve ostrich feathers puff behind a plunging gown like jellyfish tentacles, their quiver counterposed by the structural integrity of dandelion headpieces in jewel-toned coque plumes. Lashings of glitz came by way of a decadently stoned column dress, a royal blue paillette-strewn shirt, and a stiff, undulating skirt lined with sequins, while a more noble, Roman sense of glamour come through in an a-line dress in inky taffeta and crisp, clean tailoring in teal and blue wools. Of course, it wouldn't be a Valentino show without a heady flourish of florals, with giant roses in scarlet, fuchsia and candy pink clumped on skirt hems, bustiers, and cocoon jackets. They were fitting ciphers for a collection that reflected on the Maison's life cycle to date, celebrating what Pierpaolo's Valentino looks like in full bloom. MS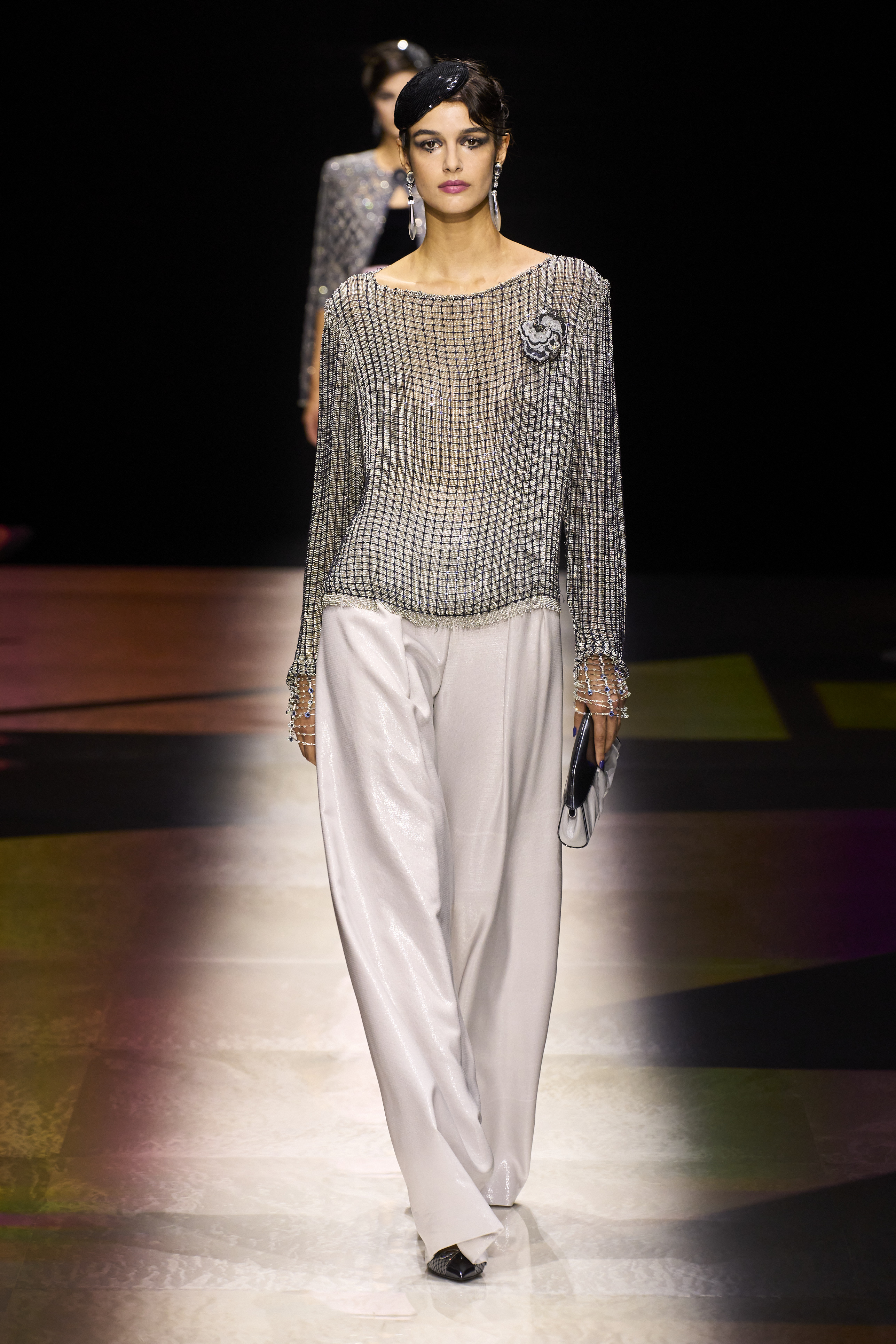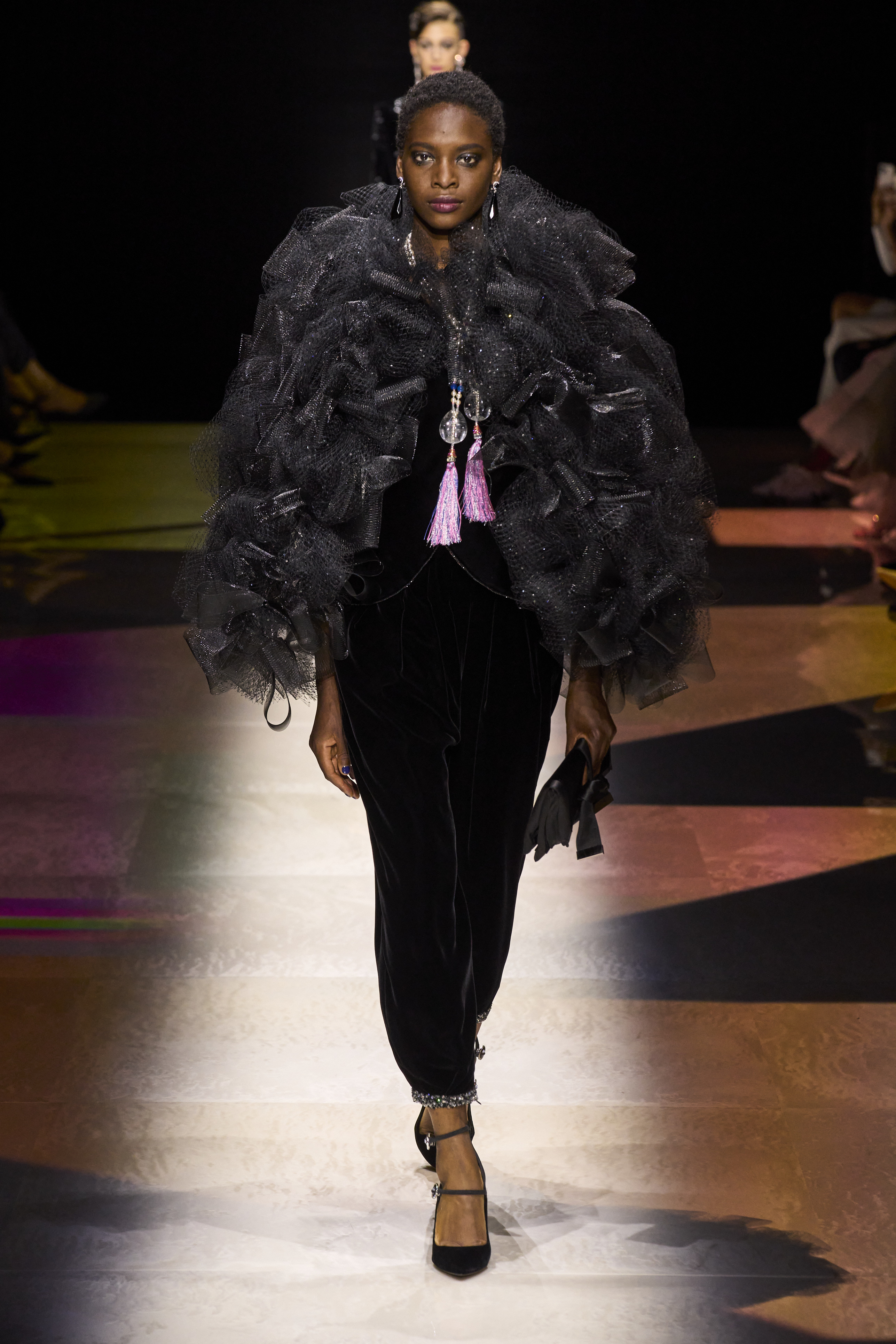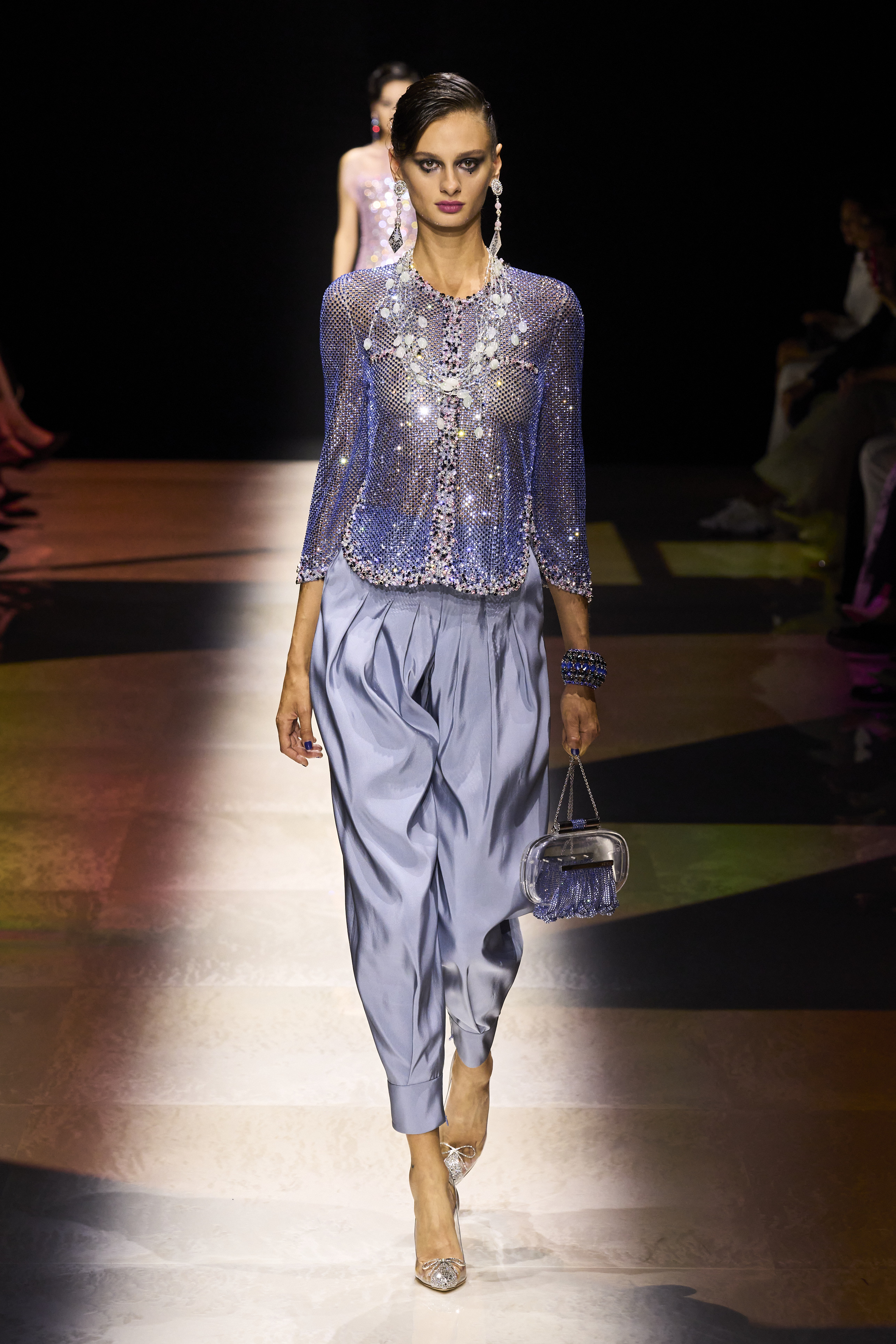 Armani Privé
In an age of multinational supply chains and supersonic mass production and next-day delivery, haute couture remains the ultimate in "slow fashion". It doesn't get slower than at Armani Privé, where the models take their time to saunter down the catwalk at testudinal speed, and ideas are developed over a period of years — not in a matter of seasons. All the better for Mr Armani's devoted coterie of clients and A-list actresses to get a good look at the classic trouser suits and column gowns that form the vertebrae of their red-carpet wardrobes. Why? Cast your mind back to the French comedy-drama Call My Agent, where Juliette Binoche even plays herself in despair over the ridiculous outfit her stylist had put her in for the Cannes Film Festival. What does she change into as a failsafe option? Armani, of course.
Always one for a theme (remember when most designers went for one?), this season Mr Armani dived deep into the world of sparkle. "Pétillant" (translation: sparkling) was the name he chose for his latest Privé collection, which was conceived "from a need to give new space to sparkle and frivolity, offering an escape into dreams and creativity," according to the show notes. Inspired by Polish painter Tamara de Lempicka, there was an overarching Art Deco mood to the 20s-style dresses with gossamer layers of frizzante fabrications. There were elongated, curvilinear trousers, worn with sparkling blouses and Armani's signature beaded jackets, and plenty of weightless 30s-style diaphanous dresses in myriad shades of blue and pink, sparkling in every way imaginable (lamé, chainmail, sequins, iridescent jacquards, floral paillettes, light-catching bugle beads). It was the kind of clothes that a woman might need for a formal after-dark affair, the kind of dresses that would look dazzling paired with mouth-wateringly large sapphires and rubies.
As fashion's most decorated eminence, Mr Armani knows what he is doing and, more importantly, who he is speaking to. He is one of the few designers mentioned here who is actually a part of the world for which he designs for, a billionaire in a tailor's smock. His own yacht, the 65-metre black Codecasa superyacht Maìn can often be spotted docked on the shores of Pantelleria, where he has a sprawling estate, and then there are the multiple beige-suited Armani hotels, the jet, the other homes in Saint Tropez, Antigua, New York, Milan and St Moritz, to name a mere few. So he needn't aimlessly wonder what the jet-set wants because he already knows. His couture serves a need of the world's elite shoppers. But really, just like Juliette Binoche made clear, it's ultimately because a woman always looks good in Armani. Whether collecting an Oscar or boarding a yacht, it's near impossible not to sparkle, as his collection suggests. OA