anthony vaccarello anoints la the new marrakesh
Saint Laurent's spring/summer 2020 menswear show drew on Mick Jagger's gender-fluid 70s style.
Courtesy Saint Laurent
"LA is the new Marrakesh," proclaimed Anthony Vaccarello after his spring/summer 2020 menswear show for Saint Laurent, which took place on an ebonized boardwalk that lined the sandy beach of Paradise Cove in Malibu. You don't have to be a fashion geek to know that the Moroccan capital was dear to the house's founder, Yves Saint Laurent, so much so that they named a street after him and opened a museum dedicated to him last year. So it's a pretty big statement from Vaccarello to relocate it almost 10,000km across the world. Malibu, on the other hand, has more traditionally been the world of Joan Didion, Barbie, Barbra and Big Little Lies (Laura Dern was at the show, and her son Ellery walked in it). It may not be a fashion capital – but it certainly has a unique way of life and breathtaking landscape.
The epic show last night — a follow-up to Saint Laurent's dazzling catwalks set against the Eiffel Tower in Paris — began to take shape when Anthony met Mick Jagger last year (he has designed the costumes for the Rolling Stone's upcoming US tour) and delved into his wardrobe and boxes of photographs of Mick, Yves, Talitha et al lounging about in Moroccan riads in the 70s. But Anthony felt that the city has lost its bohemian spirit since those days of louche hedonism. "I think Marrakech has become overused and too touristy, in a way," he griped. "I always saw Los Angeles as a new Marrakech: it's far, you have the sun, you have a quality of life you don't have anywhere else. So, I tried to connect Mick in the 70s with LA, which I think is the new Marrakesh."
Though that didn't prevent him from riffing on plenty of the Moroccanisms that were beloved by Yves and Mick and popularised by their swinging circle of jet-setters. Gold-piped djellabas, souk-sourced jewellery, languid silk shirts tied at the waist, tasseled hoods and fringed suede belts and wide harem-palazzo trousers (an exotic antidote to Vaccarello's beloved cigarette-thin suiting and spray-on jeans) nodded to the world of haute hippies looking eastward for 19th century adventure and a laid-back lifestyle as an alternative to Cold War tension and rigid societal restrictions in the west. Interestingly, they've come back full circle at a time of resistance to gender-fluidity and political chaos. "It's a bit Arabic in a way and that's why I didn't want to show it in Marrakesh," Anthony explained of the finale of boys in a spectrum of swishing trousers, adding that his work is never political. "I think it was nice to show an Arabic way dressing in another country."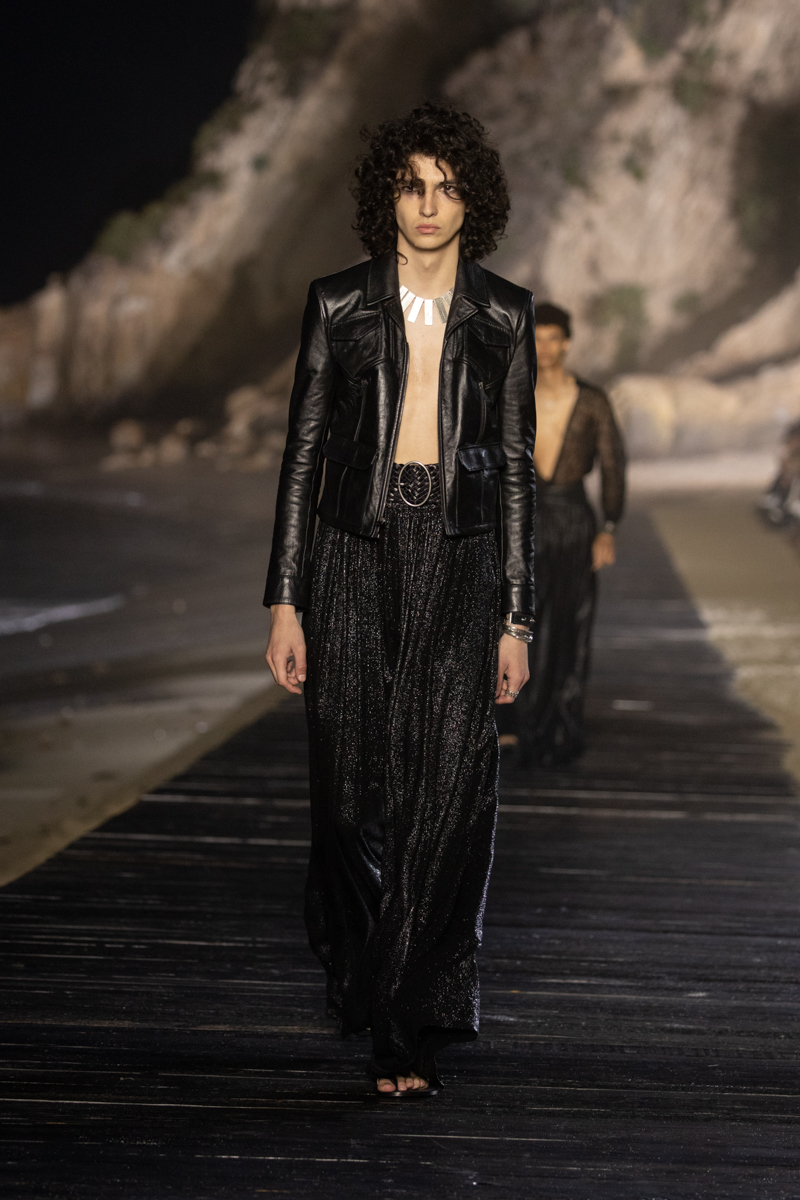 Yet there was also plenty of Californian tropes too: beach cowboy hats, glitteringly embellished bomber jackets (half the audience was wearing them), denim cut-offs and abbreviate suede jackets curtained with long hair and hands firmly in pockets. Vaccarello's band of Saint Laurent babes — Adut, Binx, Lexi, Mica, Kiki, Anok, Fran — also made appearances in androgynous looks that made the audience do a double take. Anthony said that he wanted to emphasise the self-assured gender-fluidity that Jagger perfectly conveyed. "You don't think he's feminine or dressing like a girl because he's so sure of himself and confident," he said. "When I'm doing a women's collection, I always think about the men's and when I'm doing men's, I always think of something more sensitive in a woman's wardrobe." In other words, it's the kind of gender-fluidity — which YSL pioneered with his iconic Le Smoking — that is second nature to the brand these days. Everything is for everyone.
At the after-party on the beach, Keanu Reeves, Miley Cyrus and Amber Valletta looked on as French music duo The Blaze played a set to guests standing atop Moroccan carpets, sipping cocktails out of coconuts. If there was ever a truer confirmation that LA really is the new Marrakesh, the smell of hashish lingered in the air. Le Smoking doesn't get more modern that.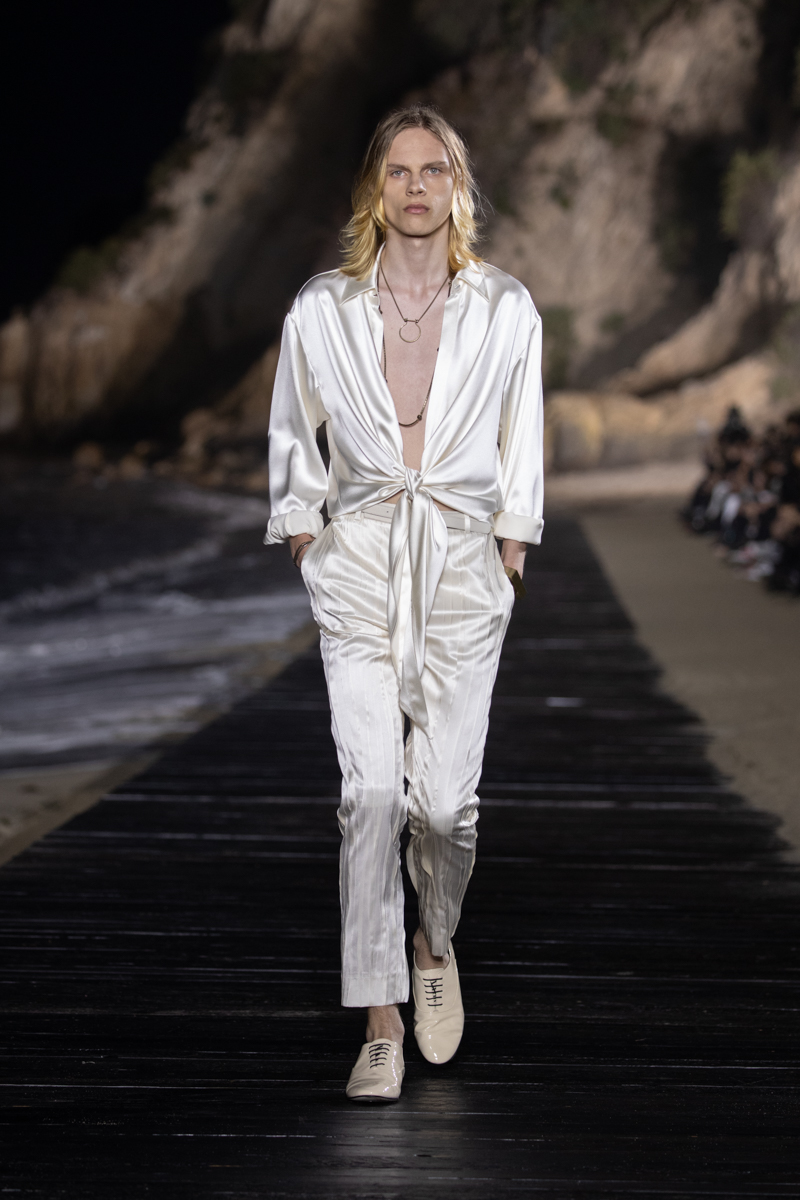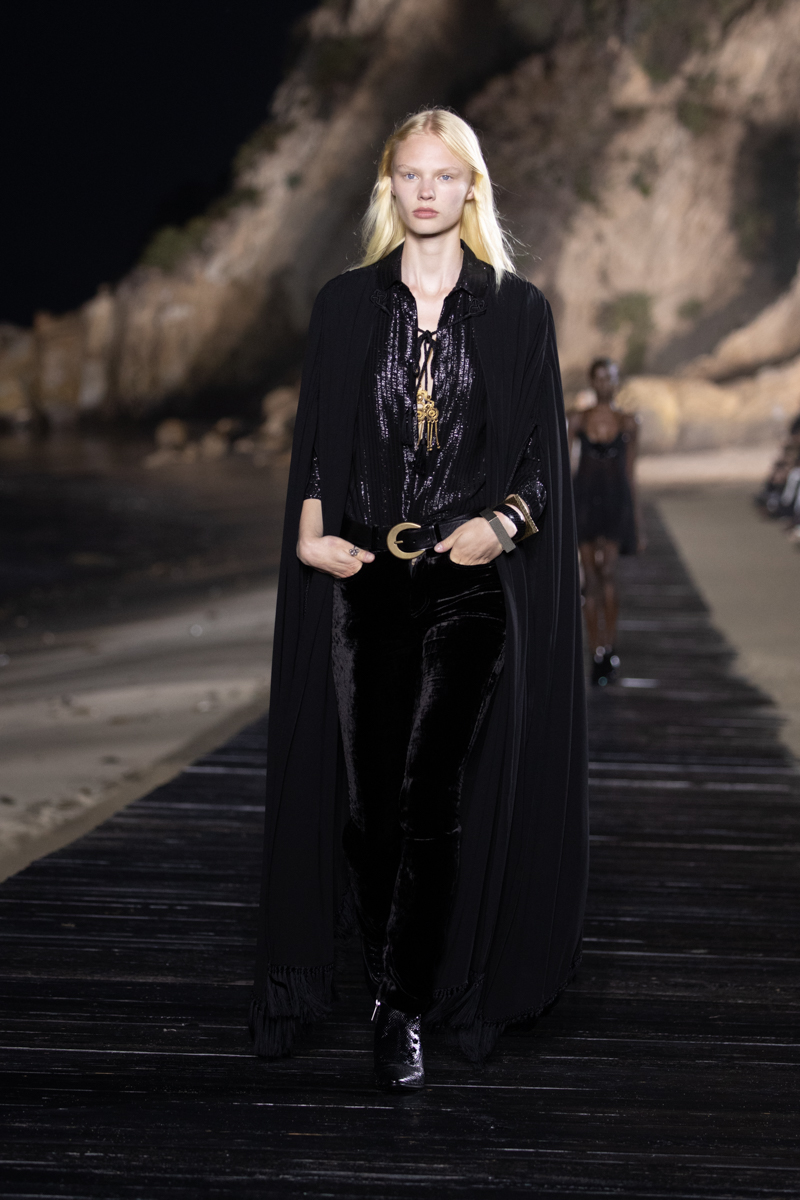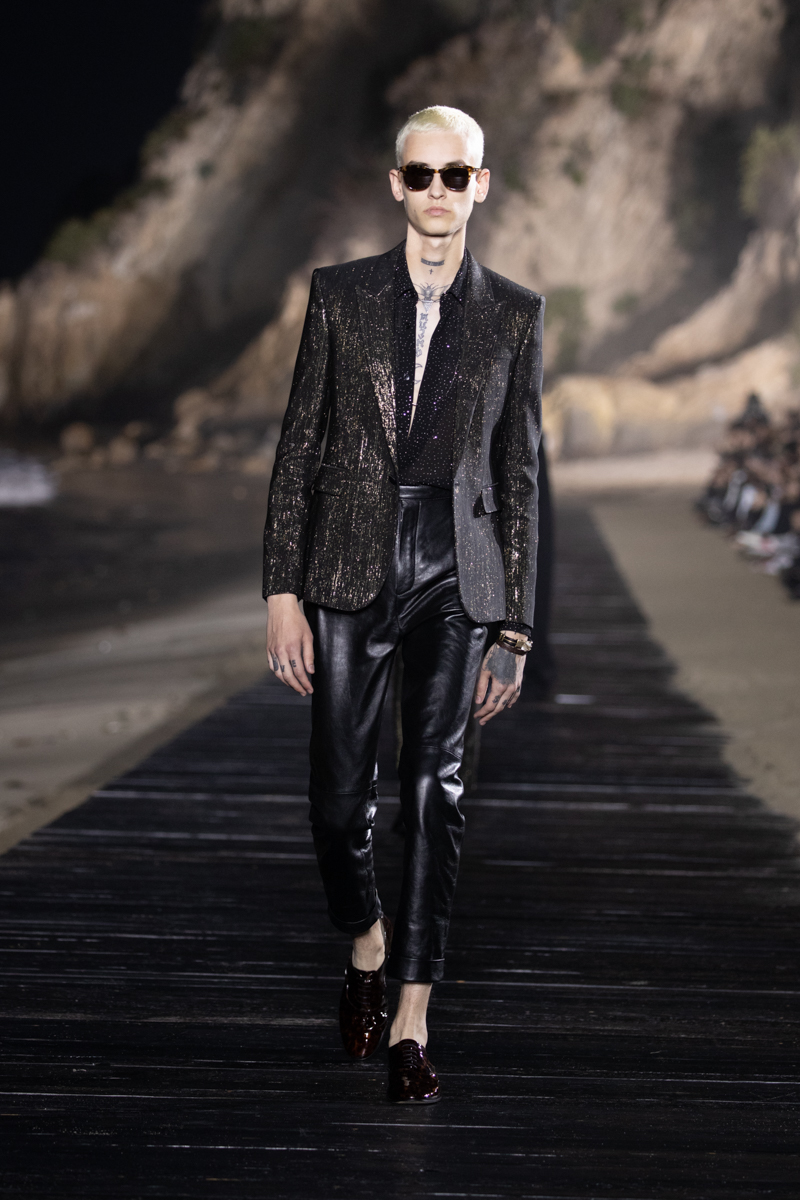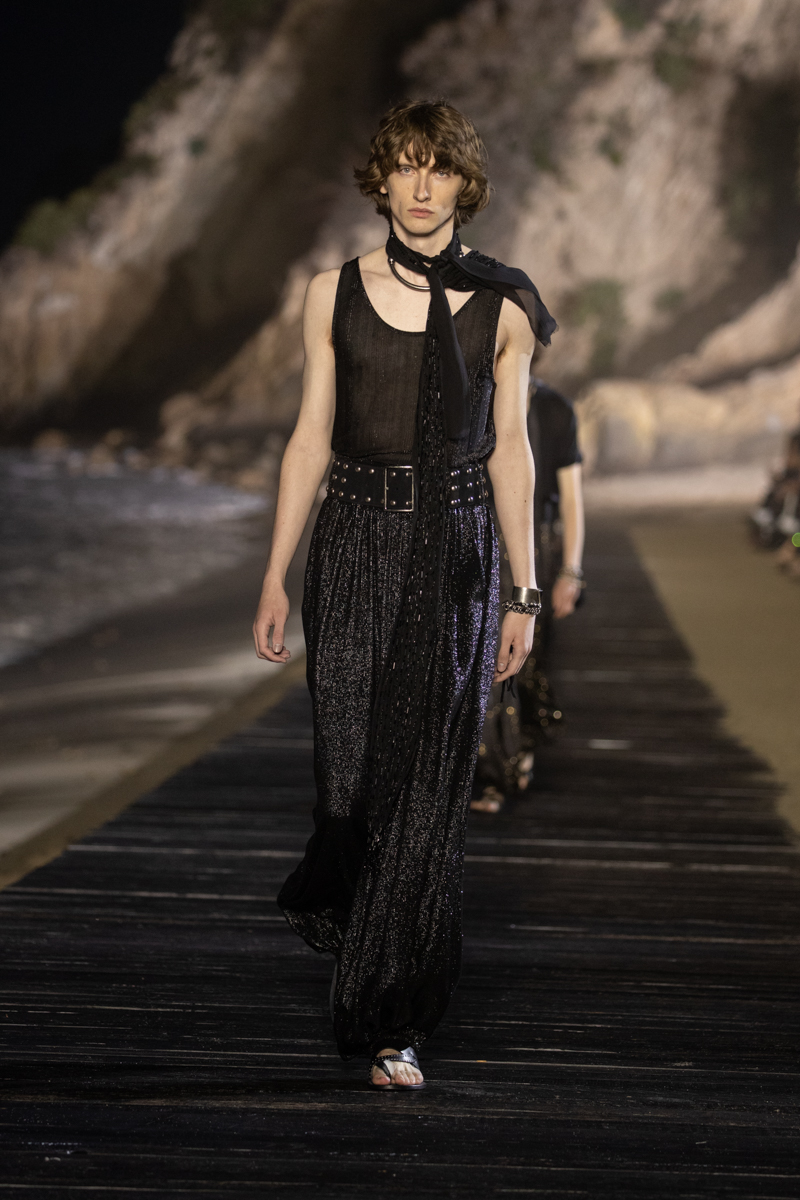 This article originally appeared on i-D UK.