Photo by John Shearer/Getty Images for THR
a guide to zendaya's style evolution
The 'Euphoria' star went from Disney tween to IRL Met Gala princess.
Photo by John Shearer/Getty Images for THR
At just 22 years old, Zendaya has already had an impressive sartorial history that could rival those of celebs twice her age. She first caught our eye as a Disney tween star nearly a decade ago, and has since never shied away from taking risks on the red carpet. Her fearless fashion has not only given us endless inspiration, but has also helped push the boundaries of the fashion industry's outdated beauty standards for women of color.
Now, with leading roles in the edgy HBO series, Euphoria, and Spiderman: Far From Home, we have new opportunities to witness this style chameleon do her thing. From tween Queen to our very own Met Gala Cinderella, here are some of Zendaya's most memorable fashion moments.
2010: Tween Queen
Zendaya was 13 years old and starring in Shake it Up! when she attended Variety's Power of Youth event in 2010. As evidenced by the funky neon animal print paired with the all-black ensemble, she was already confident showing her style on the red carpet. Even as a young teen, Zendaya already knew how much power a pop of color can have.
2013: An Homage to Aaliyah
In 2013, Zendaya channeled the one and only Baby Girl with an Aaliyah-inspired costume at Keep A Child Alive's 20th Annual Dream Halloween. She had been in talks to portray the legendary R&B singer for a Lifetime biopic, but ended up dropping out, and actress Alexandra Shipp took the role. Still, Zendaya proves she can nail Aaliyah's signature style, with her Tommy Hilfiger crop top, light-washed baggy jeans, and men's boxer briefs peeking through. We wouldn't be surprised if this look led to her Tommy Hilfiger collaboration.
2015: Oscar's Red Carpet
Zendaya experienced unnecessary controversy when she was criticized for wearing locs on the red carpet Fashion Police host Giuliana Rancic made offensive comments, saying that Zendaya's hair smelled "like patchouli or weed." Zendaya defended her look with a beautiful, well-written response to Rancic's ignorance. "There is a fine line between what is funny and disrespectful," Zendaya said at the time, pointing out that there is "already harsh criticism of African American hair in society without the help of ignorant people." She described locs as being a "symbol of strength and beauty, almost like a lion's mane."

2016: Pink Power
One of the most admirable things about Zendaya's style expertise is her ability to pull off a bold, powerful look with the same panache as a pair of sweatpants and a hoodie. Case in point: the bright fuschia Christian Siriano suit that she wore to a Humane Society Gala a few years ago. Zendaya seems to have a penchant for all-pink suits and she pulls off this ultra-feminine hue like no other.


2016: David Bowie Vibes
Zendaya paid homage to another musical legend at the 2016 Grammy Awards. This time, her inspiration was David Bowie, albeit more subtle — there wasn't a glittery, Ziggy Stardust-esque platform boot in sight. Instead, Zendaya opted for a double-breasted Dsquared2 suit and a mullet, which had her facing criticism, but she took the negative comments in stride. "I think we can't allow ourselves to get caught up in other people's opinions of ourselves because then we're never going to progress, we're never going to go forward. So we've got to be real. We've got to do what we want to do even if people don't like it," she told Elle at the time.
2016: Bowl Cut, But Make It Fashion
Proving more and more that she can work any hairstyle, no matter how contentious, Zendaya debuted a look that made us consider bowl cuts for the first time in, well, ever. The mod-inspired look paired perfectly with her golden Michael Kors gown for the Met Gala. Somehow she managed to look retro and from the future all at the same time. Which isn't surprising, considering how Zendaya is always down for a throwback look. "I think I'm always just very inspired by the fashion of the decades," she told PeopleStyle in 2017.
2017: Met Gala Goddess
On her third year of attendance, Zendaya officially cemented herself as a darling of the Met Gala with an extravagant Dolce & Gabbana Alta Moda ball gown that perfectly matched her 70s-esque Afro. The mustard-hued dress was decorated with images of flowers and red parrots, causing the one and only Rihanna to give her props and post a photo of Zendaya in the look while calling her a "brown goddess." Riri approval? Goals, indeed.
2017: The Most Beautiful Butterfly
We'd be hard-pressed to believe Zendaya ever had an awkward phase, but nevertheless, the star managed to transform into a butterfly in this gorgeous, ethereal gown by Moschino. Walking the red carpet at the Australian premiere for The Greatest Showman, Zendaya paired the look with retro-style fingerwaves and complementing yellow eyeshadow. In the words of Mariah Carey, "spread your wings and fly, butterfly."
2018: Red Carpet Heroine
Short, blunt bangs can be tricky for anyone to master, but Zendaya is a knockout in the wavy, fringed bob she wore to the 2018 Met Gala. It was the perfect accompaniment for her Joan of Arc tribute, her interpretation for that year's Catholic-inspired "Heavenly Bodies" theme. Her metallic, armor-esque gown was custom Versace, and came to her stylist Law Roach in a dream after contemplating strong women who had a connection to religion. "I dreamt of Joan of Arc one night and called Versace and was like, 'What if we did something to reference Joan of Arc?' They came back with really, really great sketches," he told the L.A. Times.


2018: Big and Boxy
Zendaya truly knows how to have fun with fashion. An extremely boxy zoot suit might make other celebs run the other way, but Zendaya worked this cartoonish, 80s-inspired style like a boss. At the Vanity Fair and Lancome Paris Toast Women in Hollywood party in March 2018, she wore this oversized colorblock Marc Jacobs suit featuring shoulder pads you could probably see from space. We forever stan.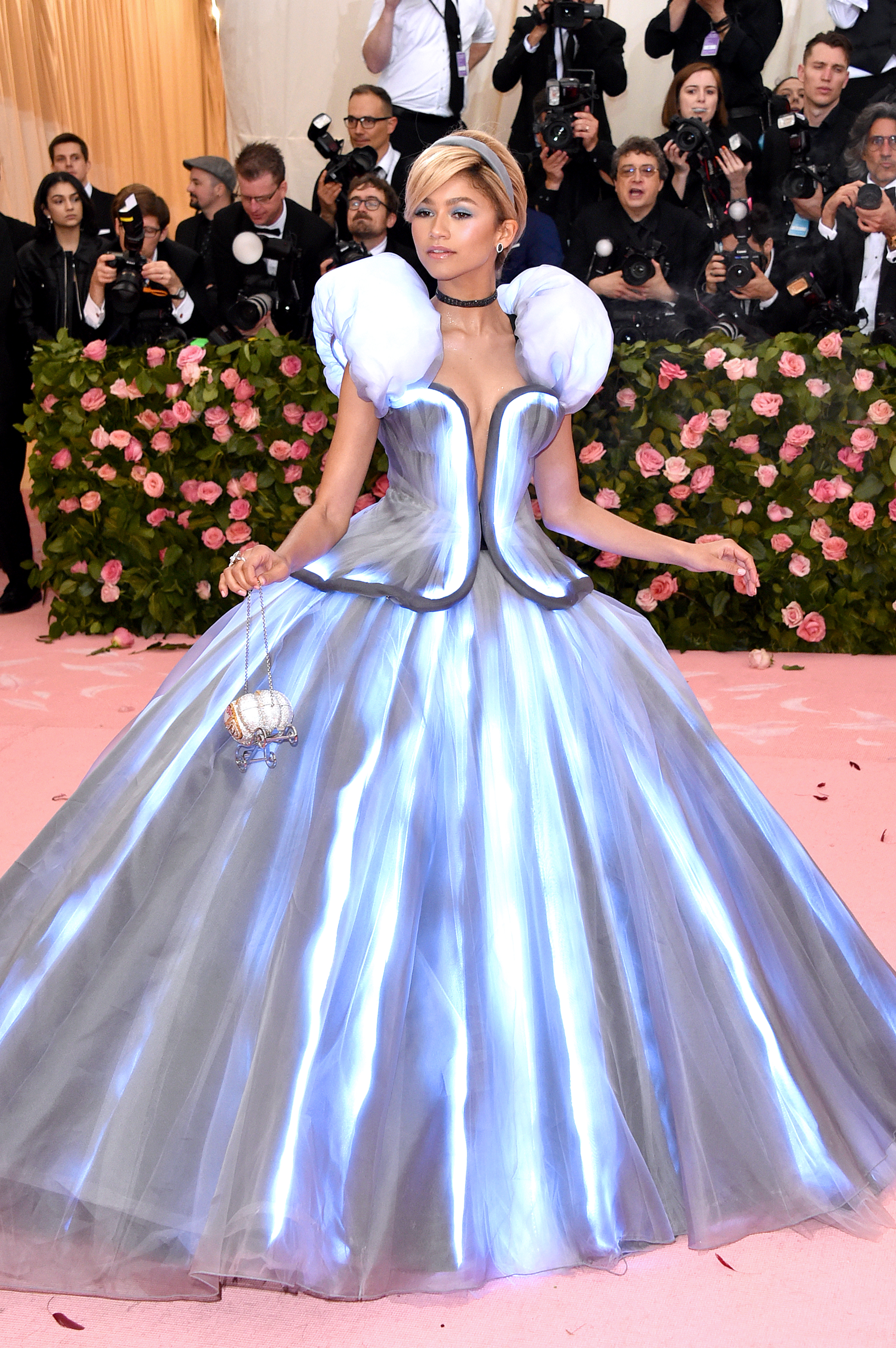 2019: Cinderella Style
Zendaya always kills it at the Met Gala, and this year was no exception. In another look curated by Roach, Zendaya took a page from her Disney beginnings, invoking Cinderella with a powder-blue ballgown custom-made by Tommy Hilfiger. She accessorized the look with a purse shaped like Cinderella's carriage and even left a glass slipper on the red carpet. The best part? Roach was on hand to act as her fairy godmother, waving a wand that released smoke and magically lit up the entire dress so it glowed on the red carpet. Camp, indeed.