Image courtesy of Margiela
margiela mirrors the breakdown of social structures today
Follow John Galliano on an exploration of reality and image, memory and creation, nostalgia and modernity.
Image courtesy of Margiela
This article originally appeared on i-D UK.
John Galliano's work for Margiela is raw, unexpected and totally relevant to the plugged-in reality we're living in now. He is one of the few couturiers who pushes the boundaries of savoir-faire to create clothes that speak to modern youth culture, as gender-fluid articulations of the wider culture and digital world of today. The rooms of the Maison Margiela ateliers at 163 rue Saint-Maur were flickering with projections of nudes and close-ups of flesh by the artist Katerina Jebb for the house's latest couture show (or Artisanal show, as they prefer to call it). It set the tone for Galliano's brilliant collection, an exploration of reality and image, memory and creation, nostalgia and modernity.
What interests Galliano most at the moment is "decadence" and "desire without reason", so throughout the show, there were digital prints on organza that resembled translucent light projections -- of men's tailoring fabrics like tweeds, wools and houndstooth, as well as faux exotic skins -- that felt like reflections of half-formed memories. They were virtual facsimiles of something real or fake, blurring the line between what either of those things mean -- but also they were symbolic because those fabrics wouldn't lend themselves to being draped int the form of the garments they appeared on. "The idea is that my muse will eternally walk through a projection," Galliano explains in his unmistakable drawl on the Maison Margiela podcast. Interestingly, the projections were echoed onto the body and face by Pat McGrath and the catwalk itself was mirrored. Think of it as a comment on social media filters, of FaceTune and the parallels between selfies and Narcissus drowning in his own reflection.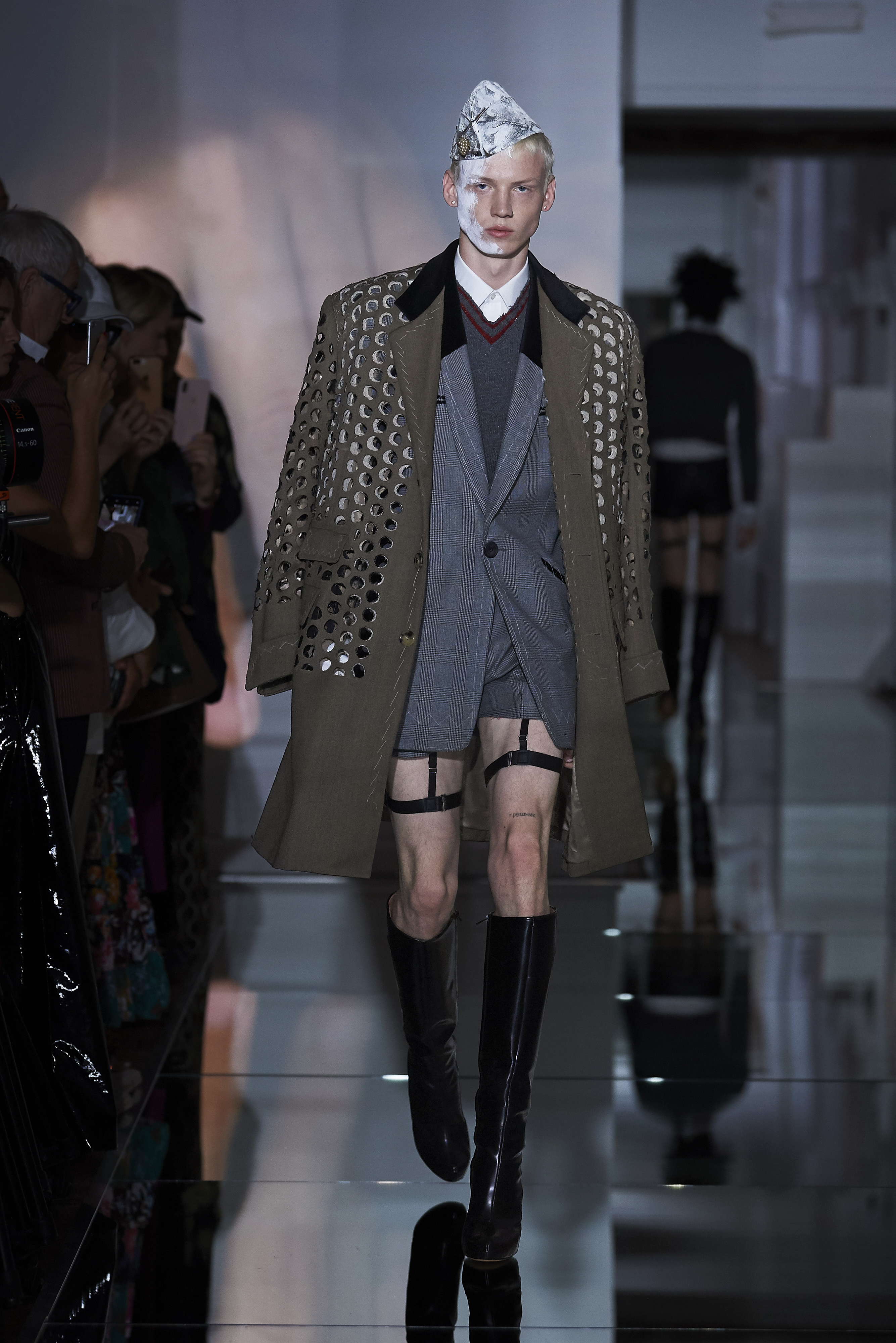 One of the most interesting things about this particular show was that it saw John revisit his time spent in the Louis Quinze couture salons working for some of the world's biggest houses, most famously Dior. But that was in a previous lifetime. Today, his work for Margiela is obsessively focused on techniques that echo the upcycling ethos of the house's founder. So, he revisited his technique of nomadic cutting, where he transforms one garment into another. Most of the shapely dresses we saw began their lives as men's trousers, but were cut-up and re-configured into bustiers, corsets and capes. The silhouettes were pastiches of old-school couture, topped with Queen Mum hats, Watteau backs and cinched into hourglass figures. In the podcast, the designer even mentioned Dior's 'New Look' and the famous photo of a woman being attacked in it, her full skirt being ripped apart.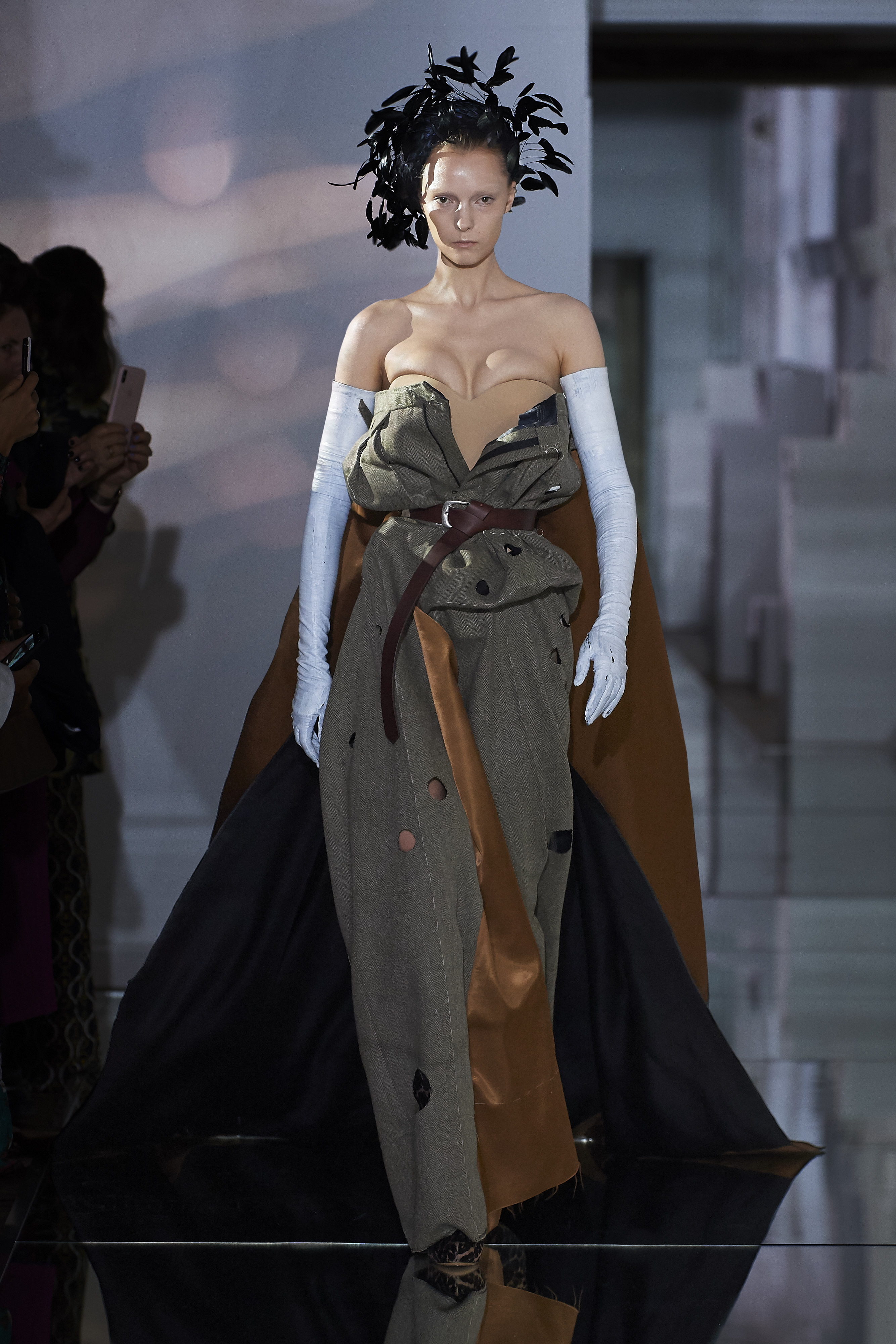 "It's taken me a bit of time to find the way to do these dresses with the authenticity of Maison Margiela," he adds in the podcast. "My intentions are compulsive and anarchic. Now we are in decay, it's a reflection of the breakdown of social structure. We're going through a survival mood. We need to go back to trusting in our instincts." Another thing John spoke about was the equine therapy he underwent in Arizona, following his breakdown in 2011. He has finally gained the confidence to revisit that period and the time before it — and for him, it's intertwined with the tradition of couture; the René Grau image of it that is still burnt in his mind. It's funny how things come full circle, but today that sense of old-world couture which he was once so synonymous with has an entirely new context.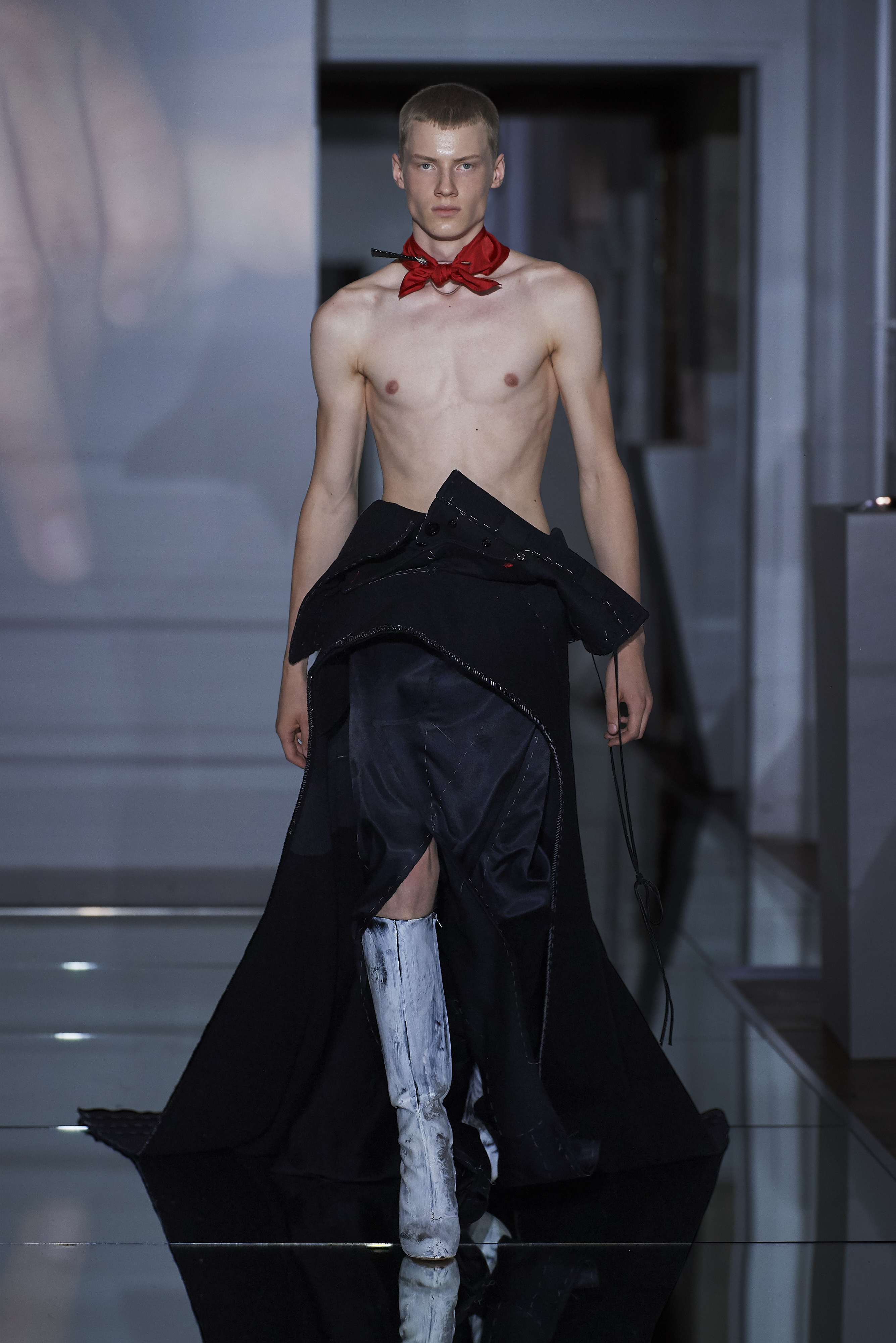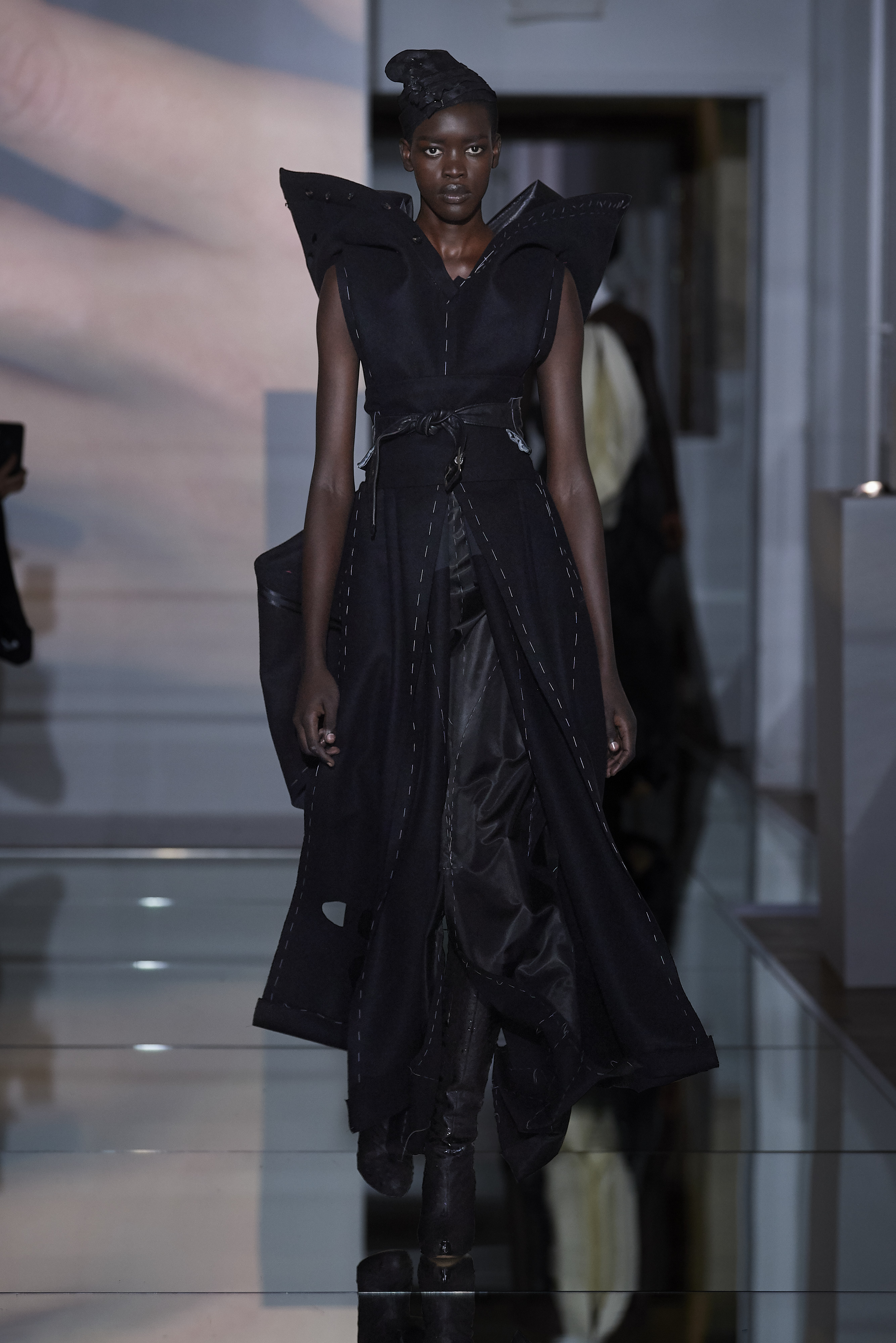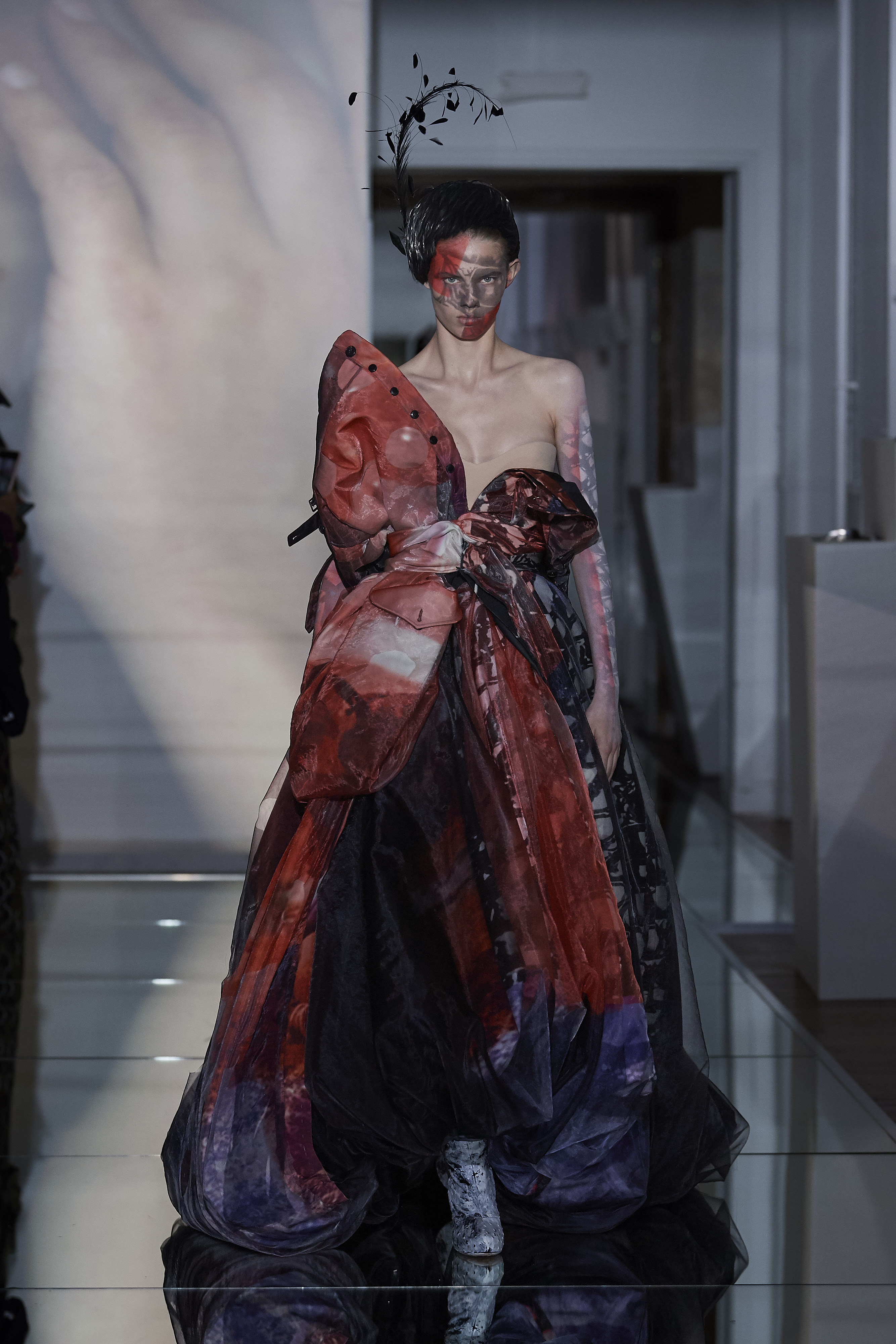 This article originally appeared on i-D UK.