Photography Lauren Angalis Field
meet cleo tucker, girlpool's new frontboy
The musical and bodily transition of Cleo Tucker.
Photography Lauren Angalis Field
On a damp evening in February, the band Girlpool (duo Cleo Tucker and Harmony Tividad) were scheduled to play at the Wonder Ballroom, a historic venue on a quiet street in Portland, Oregon. Narrow gothic doors opened to a spacious and renovated hall, where a crowd of queer-grunge-punk 20 somethings (dyed hair, black jeans) milled near the coat check. After an opening by The Hotelier, Tucker, and Trividad took the stage, accompanied by touring band members Ross Wallace-Chait on drums and Kevin Boog on second guitar. The set backdrop was a modest array of colored lights and grainy darkness. They opened with "1,2,3," the first song on their sophomore album "Powerplant" (2017, Anti- Records). It's a track that begins at a near whisper but accelerates quickly, and the crowd fluttered at the promise of teenage anthems.
Tucker (who uses they/them pronouns) has striking autumnal curls, which offset their silky yellow and black patterned shirt. Tucker moved gently on stage, rarely strayed from the microphone, and maintained the cool, self assuredness of a seasoned performer. Their stage presence seemed at odds with the confessional adolescence of the duo's debut album "Before The World Was Big (2014, Wichita Recordings)," recorded while they were still in high school. Girlpool's sound is comprised of piercing harmonies, and like best friends that adopt each other's mannerisms, Tucker and Trividad's voices often become indistinguishable. On "Powerplant," the duo's phonic structure has ripened, but their lyrics retain their playful, earnest wit. They both sang, "I faked global warming just to get close to you," from the track "It Gets More Blue;" considerably louder and more charged than the recording.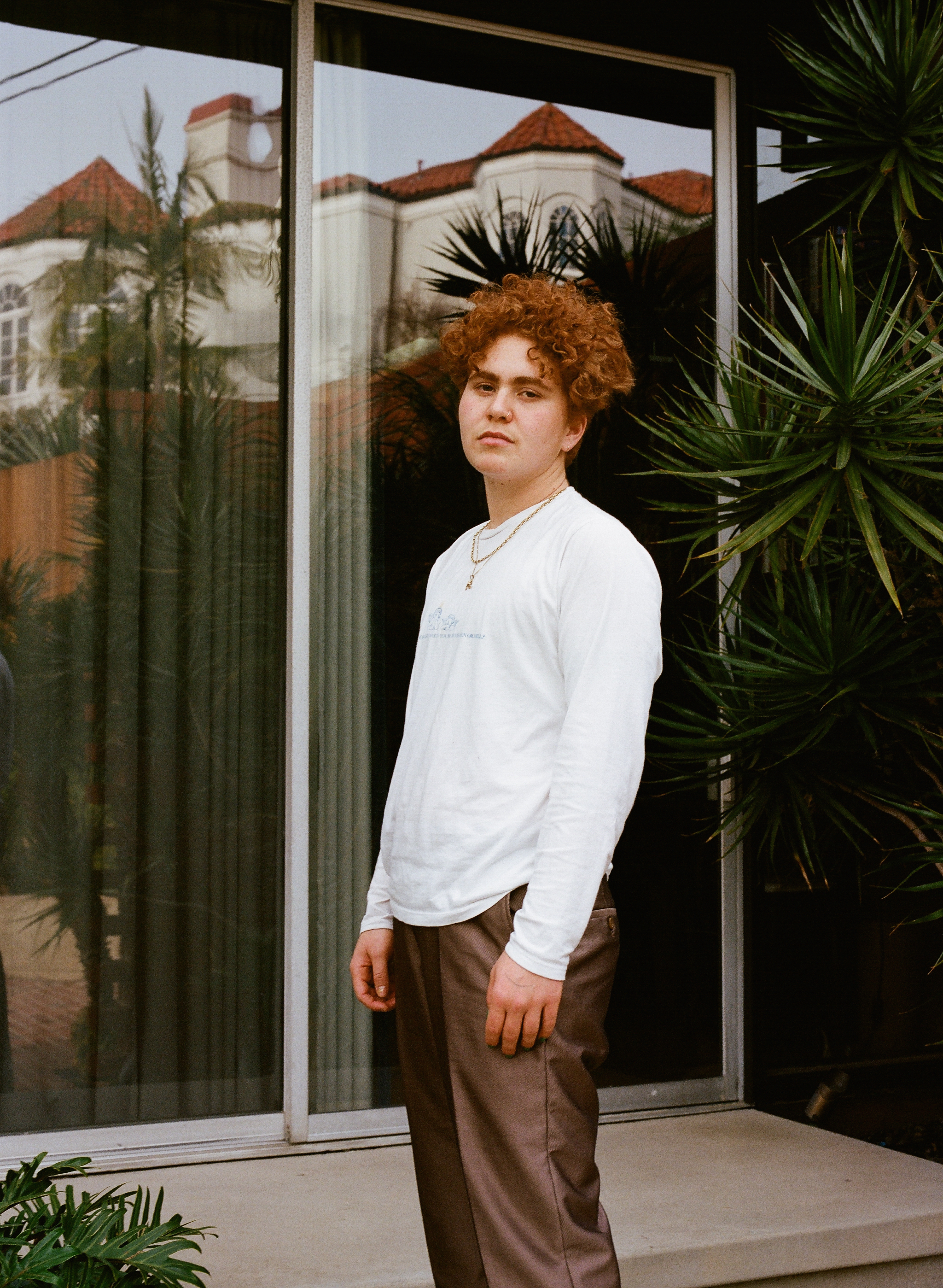 Tucker reached out to me via Instagram last summer, after they came out as transgender. They were giddy as we walked around Echo Park and wanted to know everything about starting hormones. I was still in the rocky early months of transition and didn't want to burst their gender euphoria by telling them that so far, it had consisted of mitigating the space between desire and reality: a slow, tenuous process of surrendering one identity in the hopes of becoming legible in another.
"I thought I had made the biggest mistake," they said, when we met up to take their portrait the following spring. They have been taking Testosterone for 10 months now, a masculinizing hormone that mimics an accelerated puberty cycle, spurring mood swings, facial hair, muscle redistribution, and most notably, a deepening voice. Transmasculine people interested in documenting their hormonal shifts often record their lowered voices for posterity. Tucker now sings an octave lower, and like a teenage boy, their voice might crack at any moment. Voice lessons have helped them smooth an unsteady tenor. "I'm in no way in a comfortable place with my voice. I don't know what I can or can't reach, and it's still changing," they said. Unable to hit the high notes on some crowd favorites, Girlpool opted for B-side tracks. Audience members who had arrived ready to shout along with the riot girlish hits of a band that declares its femininity in name were left struggling to read its androgynous frontboy.
Since beginning their "gender flow," as they call it (a generous term that skirts the linear and binary assumptions of 'transition') they can move through their own audience unrecognized. For a while Tucker found it hard to even leave their house. "I'd never felt that alienated and disgusting. I was avoided in public," they said. A strong statement from someone who is a natural connector -- a solo dinner together before the show quickly became a party of eight -- and I watched as pauses in the conversation drifted naturally back toward them. Foregoing a seat at the binary means either becoming invisible, a threat, or both.
Contrary to reductive narratives of progress and visibility, spearheaded by the likes of Caitlin Jenner and shows like Queer Eye, racialized transphobia has increased: last year was one of the deadliest in history for trans women. But Tucker is quick to point out that they have had a "very specific, privileged trans experience," as a white, masculine-leaning person. Despite the precarious and shifting nature of their becoming, they emphasize, "I'm so excited about all of this, it's just a trip. It's trippy. And it took a turn that I obviously thought it would never take. When I was 15, I did not think I would be going through this."
For now Tucker likes passing as a man, and the newly afforded safety, but they still have some hangups. They tell me over the phone, "there is a role model of the widely consumed masculinity, and when I am perceived as a man, that's where it gets complicated for me, you know, uncomfortable with a lot of it, inadequate." On stage, Tucker is faced with balancing multiple performances. This leaves them vulnerable to misreadings, such as during one point in the night when they downed their water bottle and tossed it toward their fans. It was a fun rockstar-esque gesture that vacillated between emulation and irony, but one listener didn't take well to it. Girlpool halted the performance. "I'm really sorry if that offended anyone, that was not my intention. I'm really sorry," Tucker said.
In their private sphere, they still identify as non binary. Using gender neutral pronouns allows them to honor the liminal space between and outside of gender(s). A lack of diverse trans narratives and iconography makes for a lilting musical horizon, but with no reference point Tucker is free to make their own. "I get to create it. Whatever it is that I want it to be, I'm killing it," they said.
The crowd shifted uncomfortably as the band moved onto their most recent single "Picturesong," released in February of 2018 in collaboration with Dev Hynes of Blood Orange. The crisp guitar that punctured their two full albums melts into a languid, synth heavy 80s drum, recalling Beach House with a shimmer of pop rock. This change in sound is a prescient decision, as the indie scene is experiencing its own identity crisis. Top 40 hits recycle elements of country, dance, folk, and hip hop, scrambling to profit off of all audiences and diluting each musical source in the process. "Picturesong" departs from Girlpool's primary, nostalgic arrangements for a darker, more produced sound; thankfully, the band's revelatory intimacy remains intact. Following the awkward altercation of the discarded water bottle, the new track gave Tucker the space to inhabit the stage not as the kid of "Before the World Was Big," with its catchy claustrophobia, but as a grown-up experimenting and embodying new forms, both of music and body.
Trividad it seems has also come into her voice, performing solo work between Girlpool tours. On "Picturesong" she rises clear and even above the textured instruments, with Tucker in a low echo. Haloed in orange light, Tucker and Trividad sang, "Into empty space where hollow shapes will misbehave." It's a song delivered slowly, evoking a loss both woozy and electric.