artist cj hendry created a monochrome pantone dream house
The Kanye-approved illustrator just opened an insane, very Instagrammable new project in a Brooklyn warehouse.
Photography Andy Romer
i-D first met CJ Hendry at Miami Art Week in 2015. The young Australian was known for her hyperrealistic black-and-white drawings, having recently sold one to Kanye West (a $100 bill featuring the rapper's face) and auctioned off another (a pair of Nike Mag sneakers) for charity. Now, after finding her groove, Hendry is breaking out of it. Her new show MONOCHROME is fully immersive and features not a single stroke of black, white, or grey. It's a house comprised of seven rooms, each one — and literally everything inside it — rendered in a different high-saturation hue.
The pop-up abode was built from EverBlock bricks in a commercial warehouse space in Brooklyn's Greenpoint neighborhood, around the corner from Hendry's studio. At the opening last night, we were encouraged to climb into the purple bath in the purple room, or dive into the pool of pink teddy bears in the pink room — a cartoonish feature sitting adjacent to a baby pink table of bright pink dildos. It would be equally tempting to grab a cold 25oz of Fosters beer from the fridge in the green room, or perhaps a stick of broccoli from a nearby table bearing actual fresh vegetables, if guests weren't already clutching Pantone-color cocktails.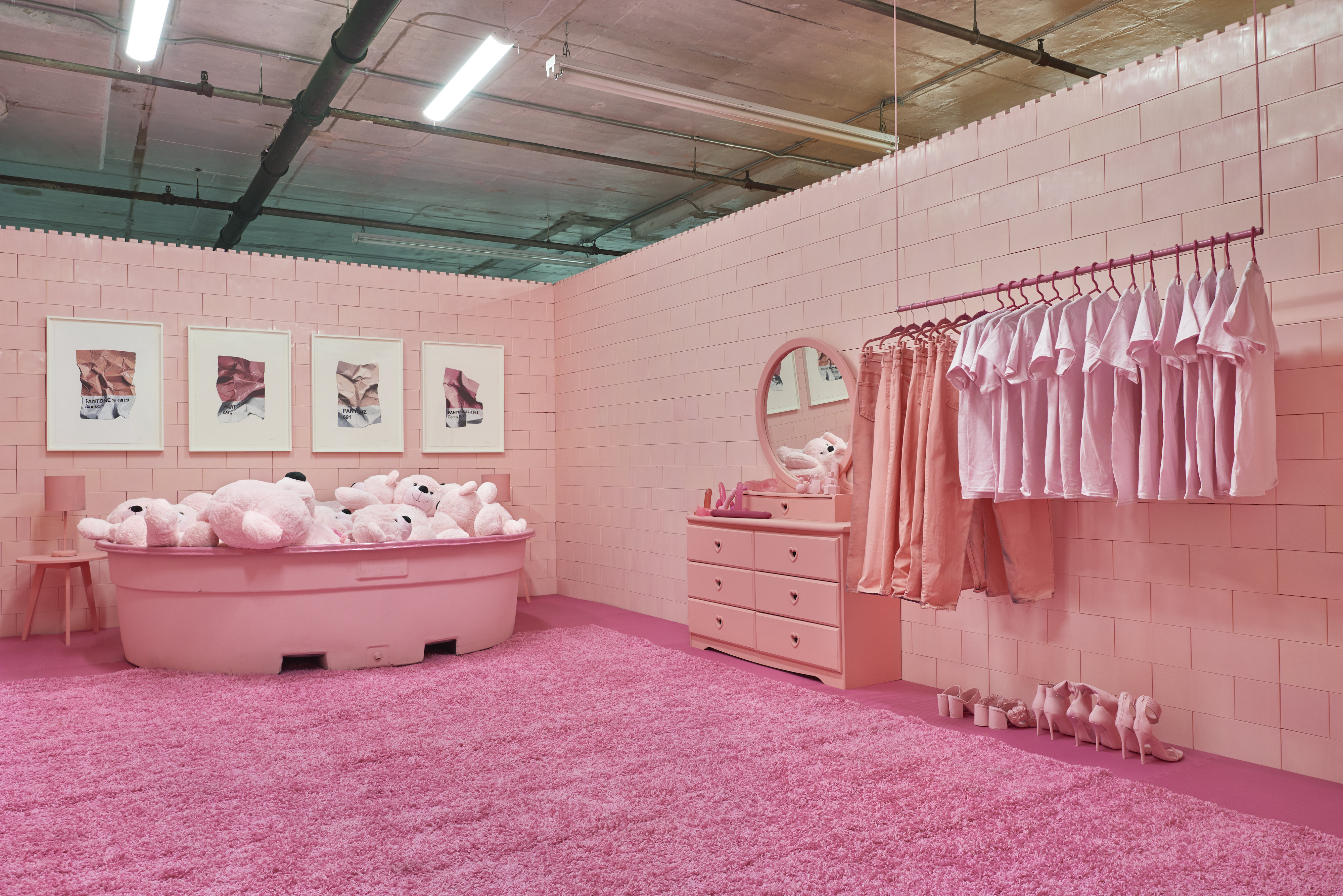 "I have always been fascinated with the fact that most people put art on the wall as the last thing they think about," says Hendry of her semi-interactive show. "We have designed this home around the art." The show is kitsch and incredibly fun — a refutal of "art for art's sake" by an artist whose works have a two-year wait list. (On the walls at MONOCHROME are a few hyperrealistic drawings of crumpled Pantone squares. They are — wait for it — sold out.) "In place of a wordy monologue of what the artwork is about, I have created space where instead of reading a blurb about the show and artwork you can physically walk through what I am trying to say," Hendry continues. "So, you physically get to experience the blurb on the wall." Those crumpled Pantone squares do more than pay the artist's rent. "When you think of color you think of a hue, you do not think of it as a physical tangible thing," Hendry says.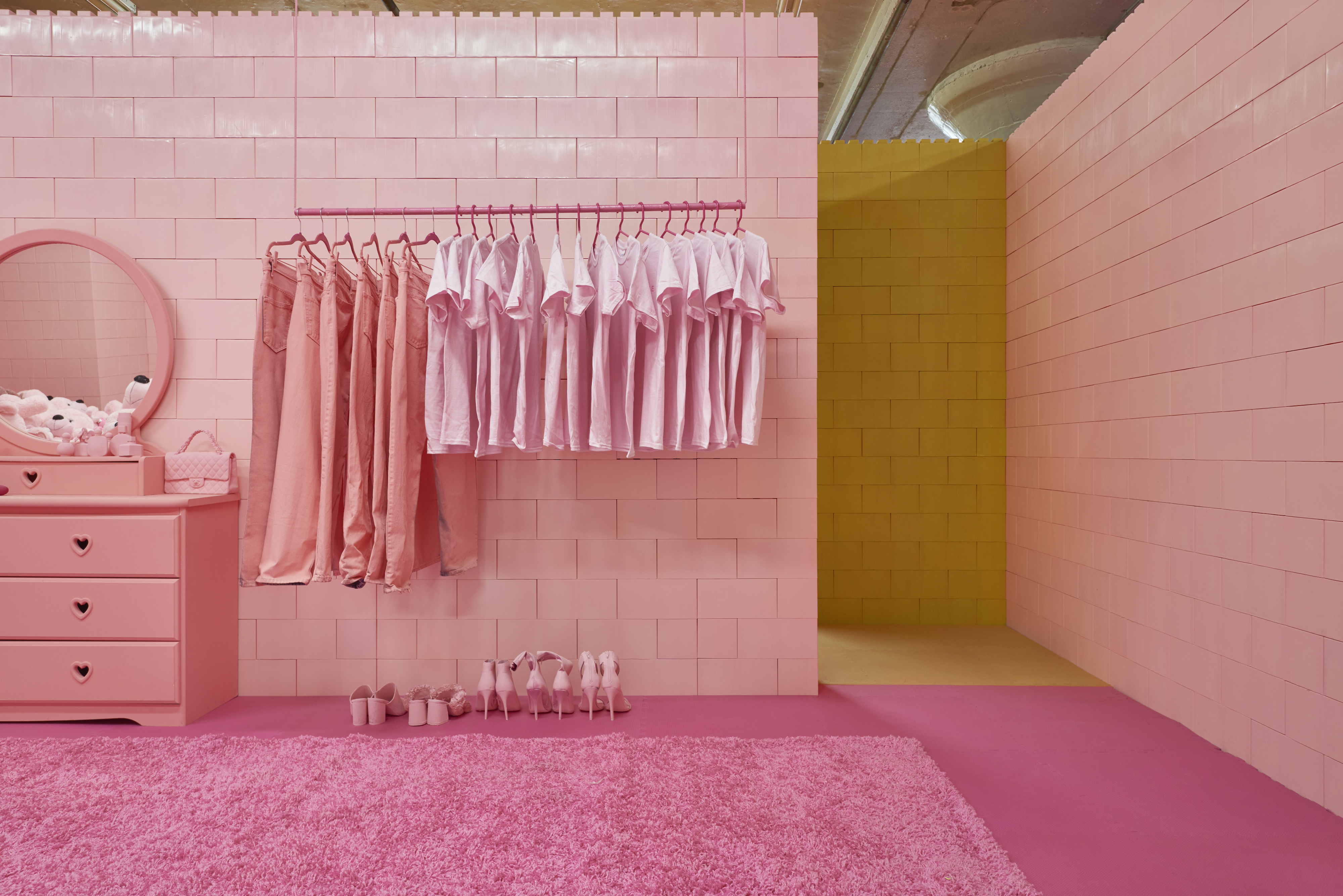 It's not the very first time Hendry has worked with color. Last year she collaborated with Christian Louboutin on a color series for Art Basel Hong Hong last year. "Before the show, I had only ever done black and white pen drawings and it was great to be able to explore color with such a colorful company," she says. "We had these crayon Christian Louboutin Stilettos made and everyone could draw on the walls. It was wild!" Hendry has incorporated clothing into her new show, too. Yellow jeans and yellow t-shirts hang from yellow hangers on a yellow rack, above pairs of yellow sneakers. A similar set-up in the pink room sees sneakers replaced with stiletto heels. It's hard not to think of the brilliant vermillion and oxblood outfits of the internet's favorite 80s cult — timeless, a bit unsettling, and totally addictive. Immerse yourself in the show this weekend before it disappears forever.