buffalo sneakers are back in all their fugly 90s glory
The chunky sneaker synonymous with the Spice Girls is rediscovering its subversive roots.
While the Spice Girls made them mainstream, Buffalo London's signature "Hightower" shoe came of age during the 90s rave and techno explosion in Frankfurt, Germany. The headquarters of parent company Buffalo Boots GmbH, founded in 1979, is still located there, in the town of Hochheim am Main. "The culture was part of growing the brand," explains Alexandra Preusche, Buffalo London's PR and marketing manager. The brand probably wasn't prepared, though, for the demand that ensued when stylist for the Spice Girls popped into Buffalo London's store in Oxford Circus and spotted the towering platform boot. "At that time, you couldn't really get Buffalos any more," Preusche continues. "It didn't matter which size or which color — it would be sold out."

Buffalos are still hard to find on eBay. Luckily, you can now buy them straight from Opening Ceremony or VFILES. Preusche and I are discussing Buffalo's recent relaunch, which involves a collaboration with O.C. and and marketing partnerships with your fave post-Millennium it kids, such as shaven-haired runway rebel Slick Woods. "It was really important to use the old vibe but attaching new faces," Preusche says, stressing that Buffalo is "really trying to capture the new generation. It's not the Spice Girls — Sita Abellan is wearing it." Buffalo London released the first four styles of its signature shoe last November, and is making Buffalo Classics available in selected stores worldwide. They're also bringing back the classic Hightower, the five-inch platform that graced the foot of every Spice Girl sans Vic. (Apparently Posh felt the same way your mom did about those weapon-weight trainers.)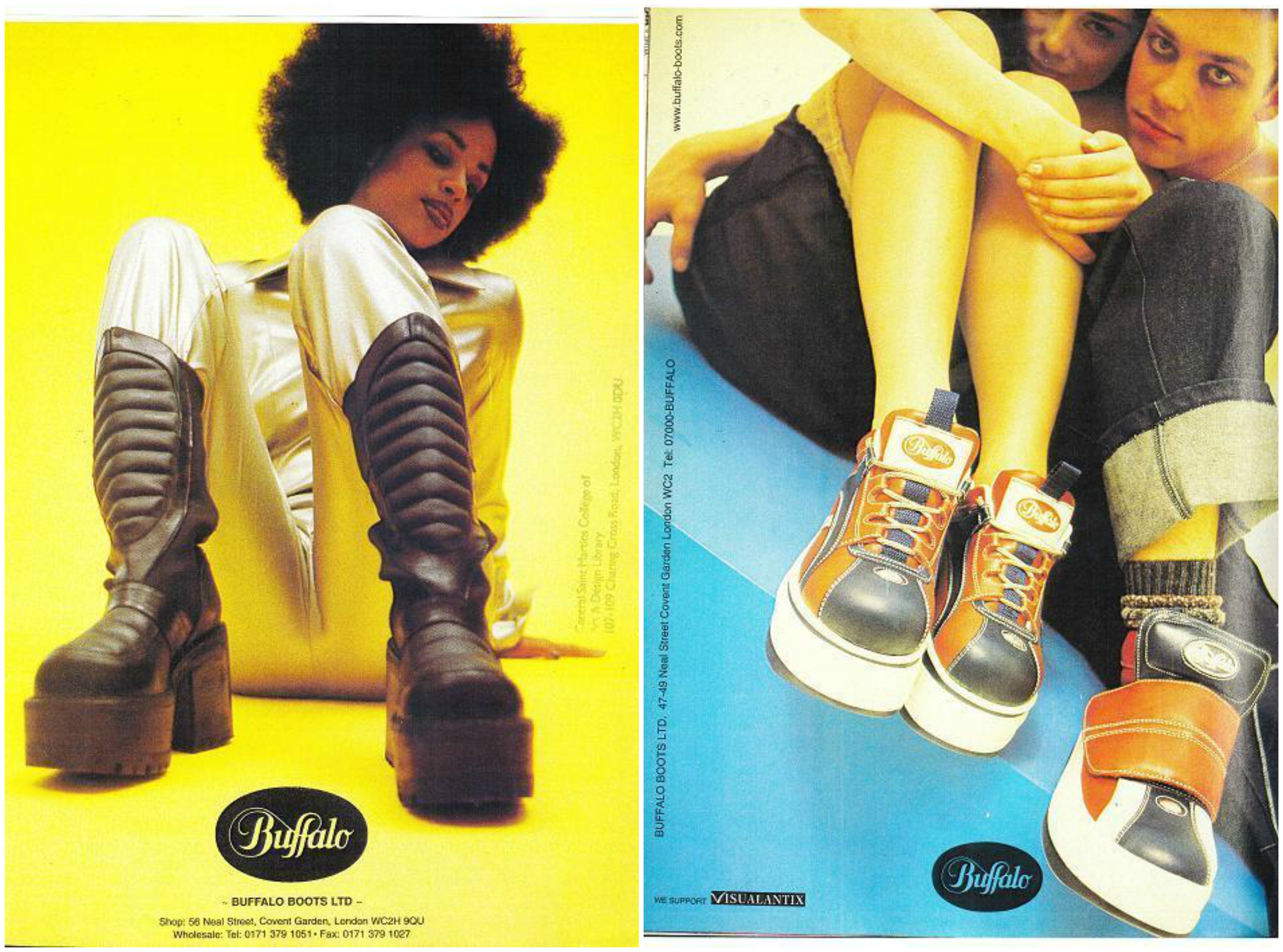 It's not shocking that Buffalo is back. The gaudy-chic 2000s are already museum material, kids are dropping whole paychecks on Balenciaga dad kicks, and those of us who failed to persuade our moms to buy us five-inch platform sneakers now have incomes of our own. Fashion's shoe game has for years been about out-uglying the competition. "Ugly is attractive, ugly is exciting. Maybe because it is newer," Miuccia Prada declared in a much quoted 2013 interview in T magazine. Preusche cites dad-style sneakers like Balenciaga's Triple S and the Eytys Angel — a hiker-esque Swedish shoe proving even Scandinavian design can be gaudy — as the relaunch's predecessors. Noting our generation's proclivity for copping sneakers like they're Pokémon cards, Buffalo will now be releasing a different classic color every month.
Preusche agrees that Buffalo's newfound relevance has less to do with cleverly marketed pop music than with the raw creativity it capitalized on. A decade before Geri Halliwell's Union Jack dress became the embodiment of Cool Britannia — the period of increased U.K patriotism that followed Labour's landslide win in 1997 — kids in Manchester were starting flirting with Chicago's emerging acid house movement as an escape from Thatcherite conservatism. Buffalo boots became synonymous with rave culture at the same time they were appearing in Spice Girls press photos. As it turns out, elevated sneakers are rather functional if you're planning to cut shapes until sunrise in a swampy field somewhere north of England.
It's this early U.K. rave era that designer Patrik Ervell was nostalgic for at last year's men's shows, where his Brit boy army stomped to heavy techno in chunky Buffalo-like sneakers with tread thicker than a car tire. "I'm too young to have grown up on that music, but I had cool older siblings," he told i-D. "For me it's this magic moment where subculture and futurism intersect," he continued. Louis Vuitton's Archlight is a similarly old-school/sci-fi fusion, inspired by futuristic trends and vintage basketball shoes. Design trends like retrofuturism have long been feeding into this strange, specific nostalgia for blobby electronics and dot-com boom-fuelled optimism. The popular Tumblr account Institute of Y2K Aesthetics is filled with decade-spanning platform sneakers, including the SWEAR Air Revive, a nod to 90s London counter-culture modeled by Jazzelle Zanaughtti, and a pair of shiny chrome Buffalo platforms from 1998.
Ironically, the Institute of Y2K Aesthetics was originally inspired by Victoria Beckham, the only Spice Girl to insist on wearing heels while everyone else rocked Buffalo. "Back in August 2014, I was watching a pretty cheesy music video for "Out of Your Mind" by Victoria Beckham, and thinking about how prevalent that 'futuristic' look was back them," Y2K's founder, Evan Collins, explained to Paper in 2016. "I decided to make this quick photoshop collage to get a sense of the 'millennium/y2k aesthetic'." Slick Woods, one of Buffalo's new faces, referenced The Matrix in a recent Instagram look anchored by Buffalo sneakers, labeling it "Hood Morpheus." Self-described "technoprincess" Sita Abellan also loves a good cyberpunk sci-fi look.
We supposedly look to the past when we're pessimistic about the present. But Buffalo's relaunch is for a generation of rave kids who advocate inclusivity and share wholesome memes. "I love what VFILES is doing," Preusche says about one of Buffalo's new collaborators. "They're younger, they're general-neutral, they listen to Young Thug." We can definitely see rap's radical fashion icon pulling off those five-inch platform Hightowers.