'yellow is forbidden': the incredible story of guo pei, china's first couturier
In the face of political turbulence and western prejudice, the Chinese couturier makes her mark on the impenetrable world of western haute couture.
"She really loves the memes," Pietra Brettkelly laughs. "She found that really hilarious." She's talking, obviously, about the internet photoshopping Guo Pei's famous "Rihanna Dress" — an imperial yellow, 55-pound, fur-trimmed fantasy that took one embroideress two years to make — into a giant cheesy pizza. Also, an omelette, an aircraft evacuation slide, and a Yellow Brick Brick Road complete with the cast of Oz.

Brettkelly's spellbinding new documentary Yellow Is Forbidden gives us two compelling reasons why she loves the memes. Guo Pei the fantasist is a 50-year-old child, boasting a secret collection of 400 teddy bears plus a full-blown slide in the upstairs bedroom of her Beijing salon (more on that later). Guo Pei the couturier, who's brought to tears by photos of Balenciaga circa Cristóbal, was delighted her Brobdingnagian baby had been given a second chance at life, albeit in the form of pizza. When she debuted it as part of 2009's extravagantly unwearable "1002 Nights" collection, no model could carry it down the runway in the elegant manner it warranted, leading Guo Pei to deem it "ruined."
The title of Brettkelly's film is not explicitly a reference to the dress. It rather comes from a warning Guo Pei's grandmother gave her as a child growing up during China's cultural revolution. Yellow was off-limits for commoners, who were expected to wear a drab communist uniform, much to the disappointment of a young Guo Pei, who begged her granny for a yellow dress. The things we can't have are the ones we want the most. Disenchanted by the spartan communist uniform of her childhood, Guo Pei was seduced by the ornate beauty of Imperial China, eventually making VIP clients of communist party leaders' wives. But regardless of this success in her homeland, Guo Pei was virtually unknown in the west until the 2016 Met Ball.
Brettkelly's documentary follows Guo Pei as she creates a collection for Paris Couture Fashion Week, as a guest member of the Chambre Syndicale de la Haute Couture. The opening scenes position Guo Pei as an outsider attempting to break into a very exclusive market. This is despite her obvious couture credentials — it takes 2.5 years to make each collection, using a team of 300 embroiderers she had to train herself, because embroidery was considered "feudal" during the Revolution. Guo Pei loves China, but is aware that it has historically been perceived as a place of manufacturing rather than creativity, not to mention alert to more overtly racist prejudices. As Guo Pei is house hunting in Paris for a salon to receive western clients, she displays a meticulous knowledge of Parisian design, adamant that her building be in the French style.
i-D talked to Brettkelly about Guo Pei's remarkable childhood, China's changing politics, and what's up with all those teddy bears.
When did you first become aware of Guo Pei?
Three years ago, I had finished my film A Flickering Truth, which was in Afghanistan. I already knew it was going to be in Venice and Toronto film festivals, so I could kind of relax upon its release. I just collapsed on the couch for a couple of weeks. I had read about Guo Pei years ago. I'm not particularly into fashion, I supposed I'm more of a social anthropologist in that I just love to observe people of different tribes. But I'd read about these shoes she makes that are like a whole world carved into the heel of the shoe.
I got off the couch and went to the supermarket, and I was standing in the queue and picked up a magazine, there was the story of Rihanna in Vanity Fair or something. I thought, "Oh gosh, there's that woman's name." I got home and Googled her, found a phone number for her atelier in Beijing, and on the third try I got someone who spoke some English. The woman was really restless and said Guo Pei was really private. I said, "Just let me visit," and we flew out three days later. We went straight to Guo Pei's atelier from the airport, talked to her for an hour, and began filming. What attracted me to her was not the fashion. It was because she said, "I didn't know who Rihanna was."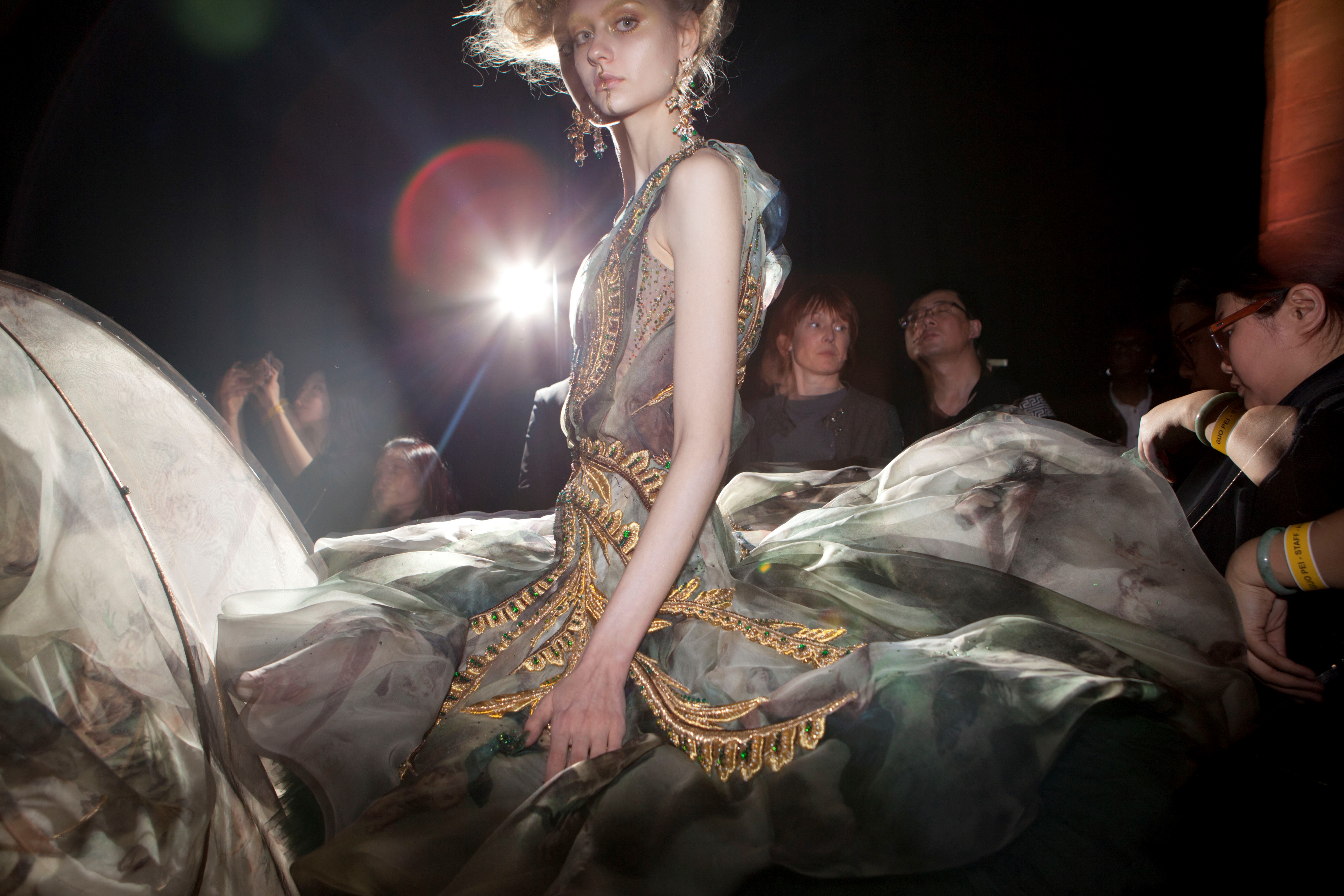 She said she wouldn't sell the dress to Rihanna even if she wanted to buy it. Guo Pei's aversion to celebrities is very practical as she's trying to become accepted by the Paris fashion world, and is very conscious of appearing authentic as a couturier.
Exactly. And she doesn't want to do off-the-rack. She doesn't want a shop. She considers her clothes to be art pieces. I don't think she would say that, she doesn't have that huge an ego, but they are. She was very aware of how she was positioning herself internationally.
There's an amazing scene where Guo Pei is heading to the 2016 "TIME 100" dinner with Wendi Murdoch, who tells her they're going to be sitting with Donald Trump and his wife. "She can wear your clothes in the future," Wendi says, but you chose not to show Guo Pei's reaction.
Most designers would be like, "Oh yes, that's fantastic." That's making it. But not for Guo Pei. She doesn't give away clothes. Obviously she loaned that cape to Rihanna, but during the course of our filming, one day she said to me, "A woman called 'Bey-ons' has been in contact, and somebody else called 'Lady Gaga.'" She would probably allow Melania to purchase the clothes.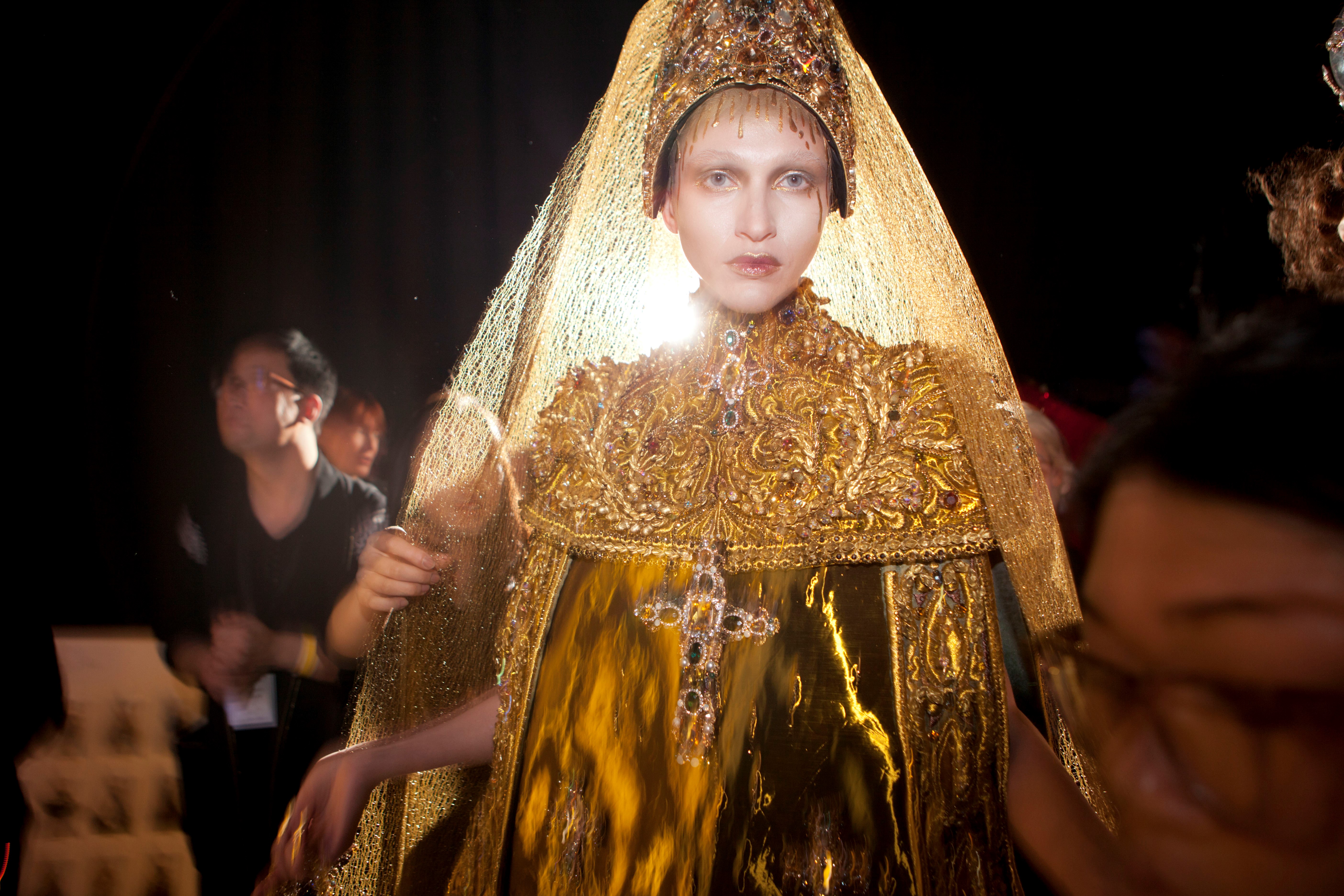 Guo Pei takes a lot of inspiration from Imperial China, but is still very aware of the pressure on other Chinese women to conform to Western ideals. One really striking scene shows a VIP client coming into Guo Pei's salon, and the younger women are gushing over the client's plastic surgery photos.
China is at this really interesting crossroads. In the last 30 years, the middle class has boomed so much that women can afford to get cosmetic surgery, but they look to the Western ideals as being beauty. It's such a shame. That scene was also very interesting because Guo Pei is slightly holding back. She's being polite and encouraging, but she's going, "Yeah, you should get that done!" The other women were all encouraging each other to get their noses slimmed and their eyes widened, but Guo Pei wasn't saying those things. That's why it was important for me to include the Philip Treacy moment. Did you recognize Philip Treacy?
Yes, he tells her to never change or go commercial, and to be more Chinese.
Yeah, he was just adamant. I think for her, she was like, "Here's somebody who gets me." She really responded to him. That whole thing of celebrating yourself and your own and your uniqueness. The fashion industry is such a megalith and should never tell you what to do.
I understand why Guo Pei is inspired by her collection of kaleidoscopes. But why on earth does she have 400 teddy bears?
[Laughs] That was just wild! It was on our first day of filming, and I couldn't understand a word. We had a translator, but I was also trying to adjust to his heavy English accent. We were jetlagged too, we hadn't even gone to our hotel, we just started filming. Guo Pei starts picking up these kaleidoscopes, and when she first mentioned the teddy bears, there were about 20 there. Then we walk upstairs to her bedroom and it was just full of teddy bears! It was just wild. There's also a slide in that room, which she goes down with her daughters. I didn't show it in the film because the scene was getting too long.
It's so wonderful that's there's a playfulness about her, a kind of fairytale nature to her. When you look into the kaleidoscopes, you're going into another world. Sometimes she'd pick one up and spin it and look into it, and you just know that she's going into some kind of creative transcendental state with all these beautiful, strong colors flickering in front of her. You see those colors in her work. Whenever she travels, she buys a teddy bear, and as a family they buy teddy bears for each other. It's really sweet.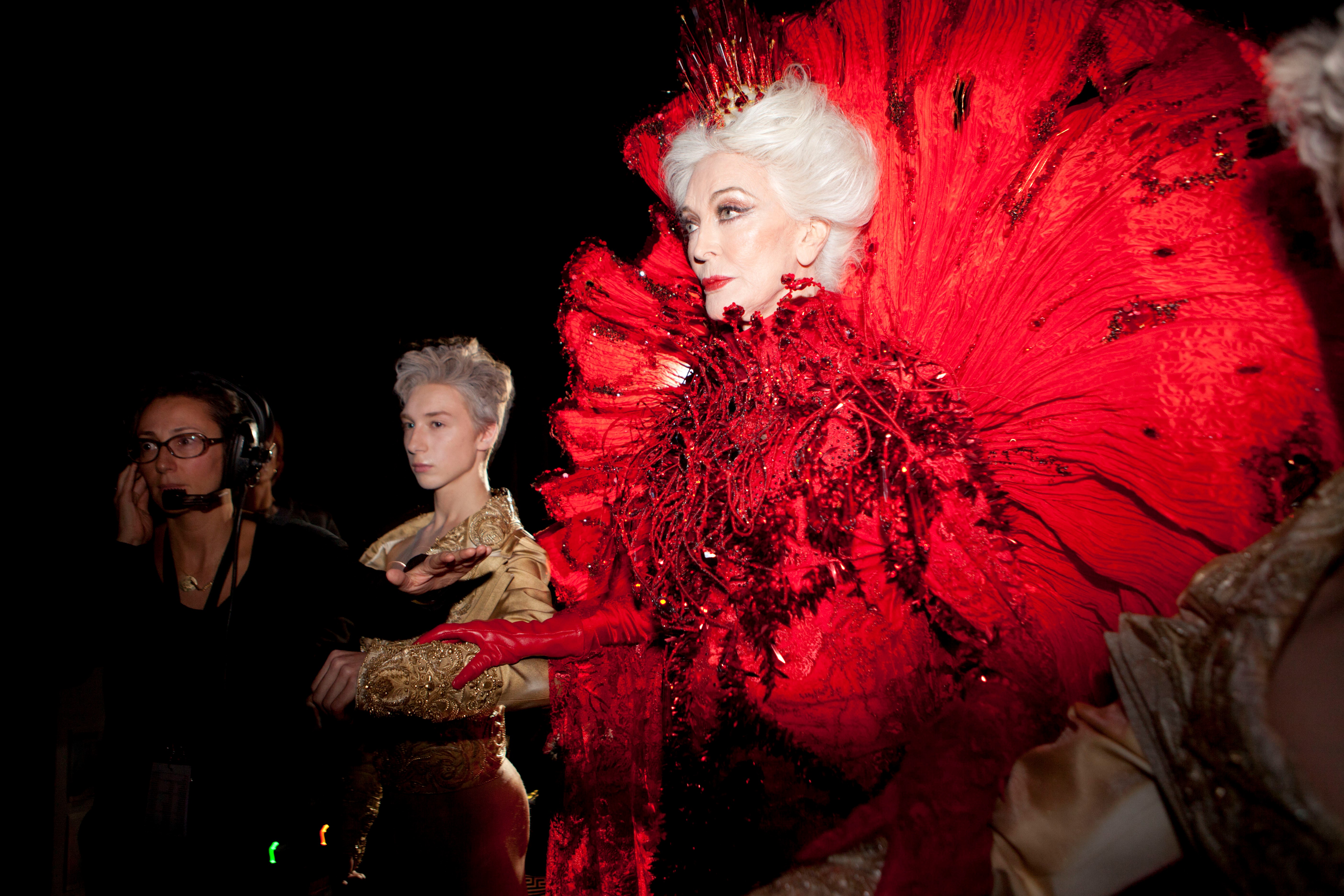 I love that. One logical reason Guo Pei is drawn to extravagant fashion is because she grew up in the dull communist uniform required of commoners during the Cultural Revolution. But her childlike creativity also feels very innate. Her mom remembers her threading a needle as a toddler, and then as a preschooler, drawing three fish of different sizes to illustrate their proximity to the viewer.
When I started to hear about Guo Pei's childhood, to me it seemed like a perfect storm, for her to develop this unique way of exploring her creativity. Her mother had very poor eyesight, and that was kept private because then she wouldn't be a valued member of society and might have lost her job. Guo Pei helped her a lot, and the threading of the needle was such a pivotal memory for both of them. The father, when he was away as a soldier on the frontline, would always have a scrapbook in his back pocket to sketch things. The grandmother had all these stories of the Qing Dynasty. Guo Pei's mom wanted to be an opera singer, but was told that was just impossible. There was a lot of singing around the home. Yes, Guo Pei grew up during the Cultural Revolution, but there was this laughter and this freedom and this exploration of arts and culture very privately in the home.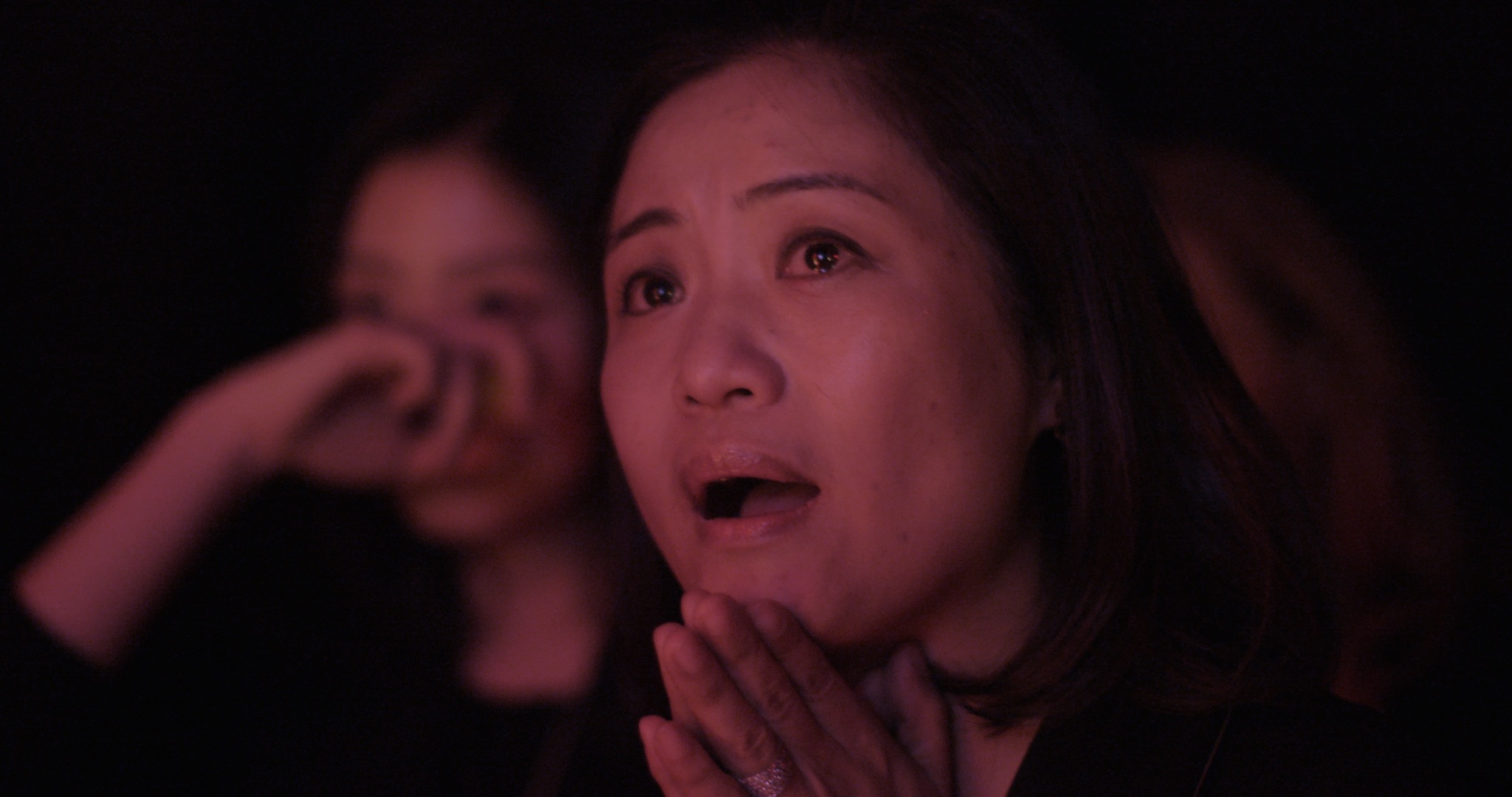 As you were saying before, China now has a thriving middle class, and the country is emerging as a global power. Were there instances where this appeared really striking?
The level of wealth there, I don't think we fully understand. At one point Guo Pei said, "We've been invited to dinner by a friend," and we arrive at this chateau — it's not even where they live, just one of the places they had. Another time we were in New York and there's a wonderful woman called Sylvia Weinstock, who does bespoke cakes. Like, $20,000 cakes. We went with Guo Pei and her friends to meet her. They wanted to bring her brand to China and set up a satellite operation. When everyone sat down, Sylvia said, "Can you introduce me, and tell me who everybody is?" One of the women made outdoor clothing, but because of China's population, it was a multibillion dollar business that made outdoor clothing. Under the Communist Party, the very wealthy are being examined so much more, so these people are operating during a very interesting time. They're trying to explore international opportunities while still living in communist China.
Guo Pei has an incredible relationship with Carmen Dell'Orefice. Why do you think they have so much mutual respect for each other?
What it all comes down to is that Guo Pei's clothes are so difficult to wear, especially with the shoes, the crowns, and all the jewelry. They're so difficult to wear because she wants to show how extraordinary women are, and that we can carry so much — obviously physically, but also figuratively. When Guo Pei heard about Carmen, I think she just loved the fact that she was a much older model, and had this regalness about her. She continued to use her 10 years — that was Carmen's last big runway show. Carmen embodies Guo Pei's work as being about the extraordinariness of women — in age, in regalness, in attitude, in exterior and interior beauty. They have a very strong relationship even though they don't speak each other's language.