watch the wild first teasers for the new 'heathers'
"F*** me gently with a chainsaw."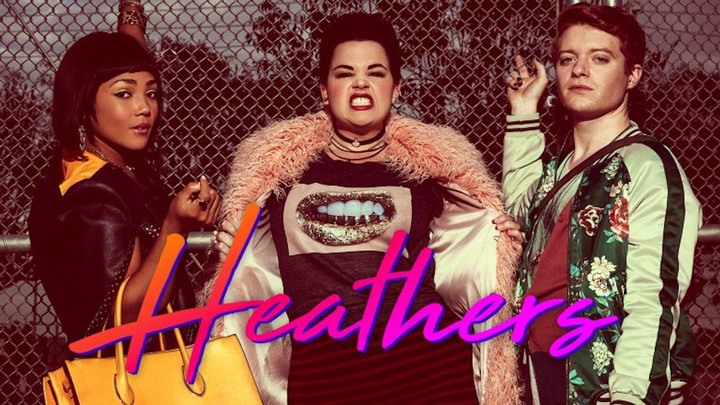 The iconic 1988 dark comedy Heathers is now a TV show — and this time around the Heathers are not just pretty, skinny white girls.
The TV adaptation was announced early last year, and while the show is not set to premiere until 2018, a series of teasers just dropped. Featuring a gender-queer Heather, selfies galore, and a racially diverse cast, it looks like the cult classic has received a stellar contemporary makeover.
30 years later, the social order at Westerburg High School looks very different. With her proud curves and bombacious personality, the new Heather Chandler, played by Broadway actress Melanie Field, brings some welcome body diversity to the show. Heather Duke is a gender-queer boy, who in one scene makes out with a varsity-jacket wearing boy. And Heather Mcnamara, played by Jasmine Matthews, is now a black lesbian with some serious bangs.
The new JD and Veronica appear to stick closely to their 1988 incarnations. JD, originally played by Christian Slater, is still a dark-haired, mysterious bad boy. While Veronica will be played by Grace Victoria Cox, who recently appeared in the Twin Peaks revival.
Heathers was originally intended to be a half-hour series on TV Land. But the show will now be an hour-long program on the soon-to-be-launched Paramount Network (formerly Spike TV), according to The Hollywood Reporter. The show will premiere in 2018 (exact date to be announced), and plans for future seasons are already in the works. THR also reports that Heathers will follow an anthology format: each season will focus on a new group of Heathers doing terrible things. Because in this fictional world, there's an abundance of awful people named Heather — gay and straight, male and female, white and black. Check out all the teasers below.
Tagged: