charline bataille is fighting the patriarchy with subversive technicolor tattoos
The Montreal-based artist inks neon tattoos of adorable devils and warrior women.
|
05 September 2017, 3:42pm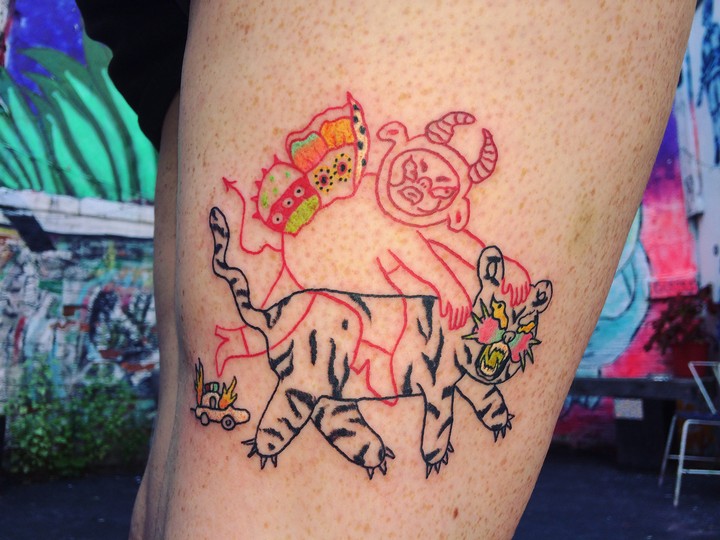 Montreal-based tattoo artist Charline Bataille has built a cult following for her exceptionally bright use of color and whimsical take on traditional tattoo art. A quick scroll through her Instagram portfolio reveals a throng of delightfully saturated crocodiles, flowers, Miro-inspired vases, stiletto-clad lambs touting knives, and tiny, blushing devils. With a subversive nod to themes depicted in Western tattooing, her unique style is a purposeful departure from an overwhelmingly masculine industry.
Bataille taught herself to tattoo simply because she wanted tattoos herself. "Weird tattoos," she qualifies. Her practice spans media — drawings, patches, zines — and while many tattooers discover their approach through illustration, Bataille arrived at her signature technicolor style through acrylic painting. "I paint on everything: clothes, shoes, walls, garbage, skin. I never was comfortable using line drawing as a medium. I've always used acrylic paint and smudged it aggressively. It never occurred to me that my tattoos should be different."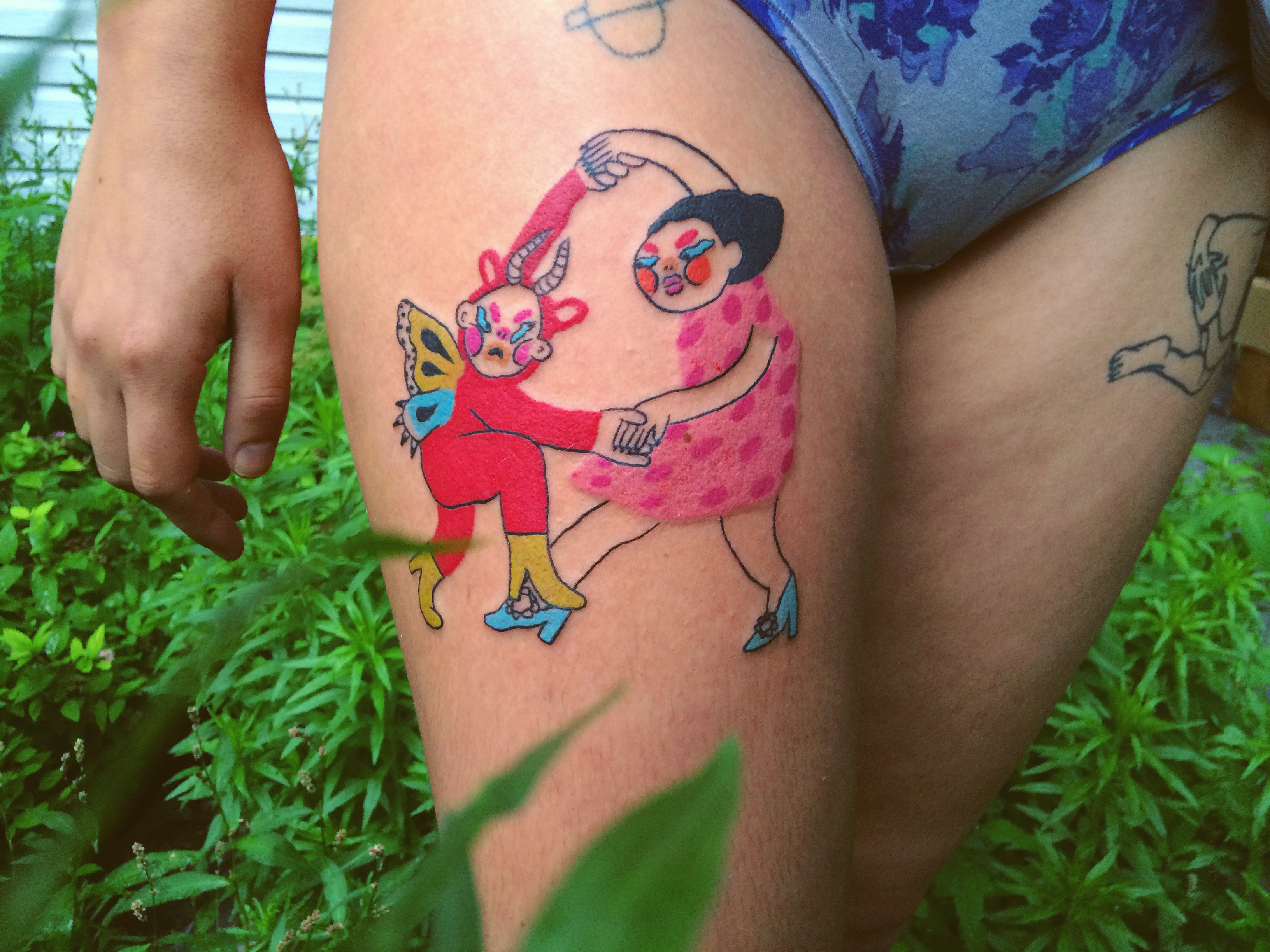 One figure regularly inhabits Bataille's work, and she is impossible to miss. She is a kind of monstrous woman, frequently adorned with jagged teeth, tummy out, follicles jutting from every limb. Whether depicted riding a tiger, as a curvy mermaid, or strutting away from a burning police car — and in a range of hair and skin colors — this image is grotesque by normative beauty standards. Yet Bataille makes her feel relatable and adorable, and it makes sense: this woman is a reflection of Bataille herself. "I was always attracted to self-portraiture as empowerment or harm reduction," she explains. "On a personal side, drawing those women, with my body type and my feelings, really helps me to remember I exist and I'm okay. Even, maybe, powerful."
Bataille explains that she is not interested in perfection in her work. Rather, she is concerned with creating images to which she and her clients can relate. "I think my work is political because it is proudly imperfect. I post my tattoos when they have ugly wonky lines and when they didn't heal perfectly. I don't try to create a shiny, clean image. I think my tattoos are queer because they belong to queers, because they celebrate and redefine femininity, because they are disrespectful towards western bro tattooing."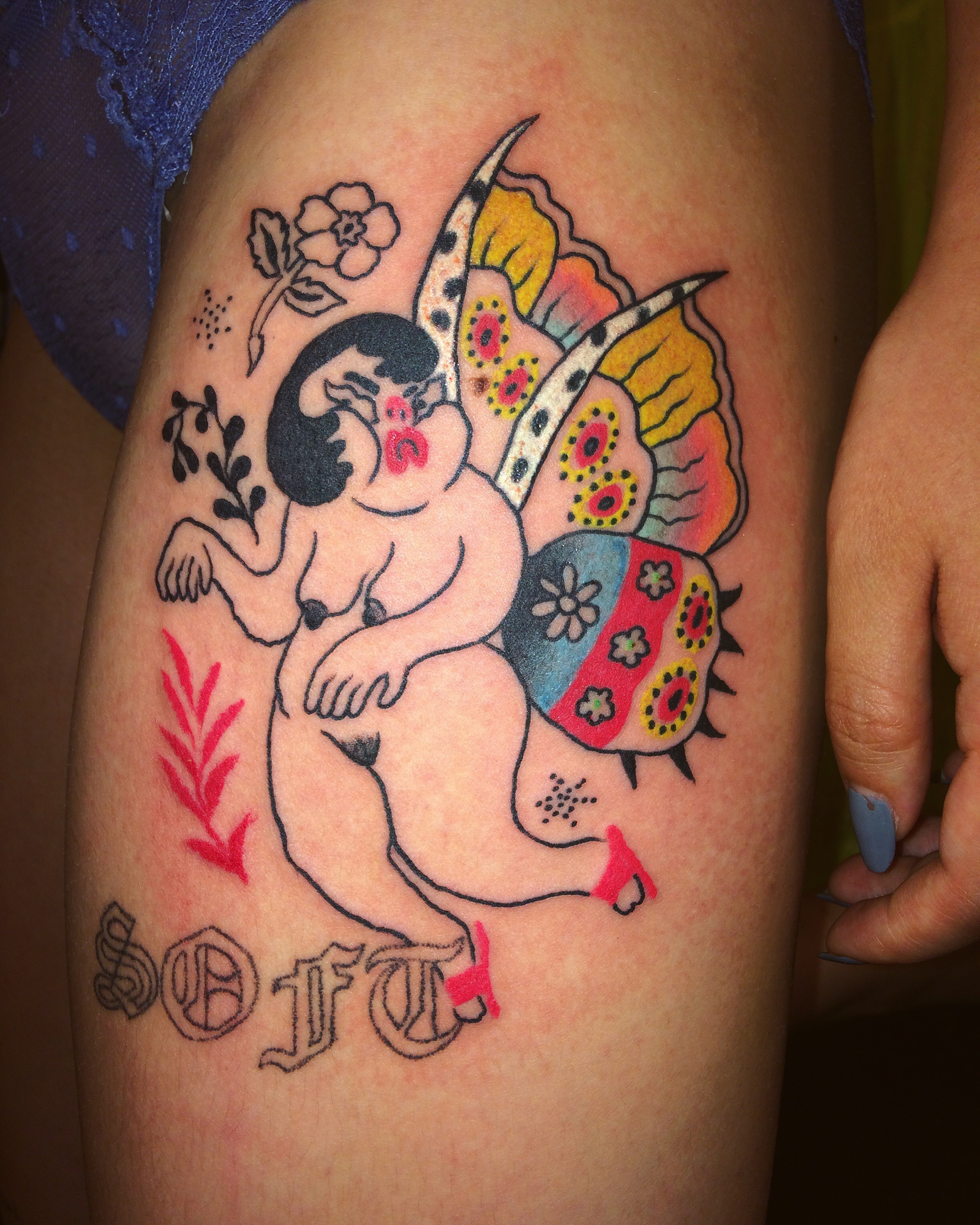 The overall vibe throughout her work is that of self-acceptance and body positivity, with a focused sensitivity to those whose bodies are not prioritized. "I think for queers and fats and gender weirdos and people with mental illnesses, it means a lot to see representation in the visual landscape, representations that aren't beautiful and poised and contained, but ugly and real and raw. I much prefer ugliness. Ugly lines, ugly odd color combos, ugly double-chin face, ugly saggy butt. Name it: I love it and I want it!"
When asked if there are any tattoos she's done that stand out as favorites, Bataille points to her motif of adorable, bright red devils. Created as a play on the representations of the devil in classical art and its manifestation in traditional tattooing, Bataille sees these imps as indicative of her own queer politics and her place within the industry. "I started drawing this devil after I started getting more backlash. As I'm getting more visibility, I am obviously also getting more hateful messages. You know how the internet goes…. I started drawing this devil thinking, 'Hell yes I am ruining tradition!' They are making me into an evil nuisance and that's exactly what I want to be for capitalist white supremacist patriarchy and toxic masculinity in the tattoo industry, so I am re-appropriating it and rocking it. This little devil cutie is here to make trouble!"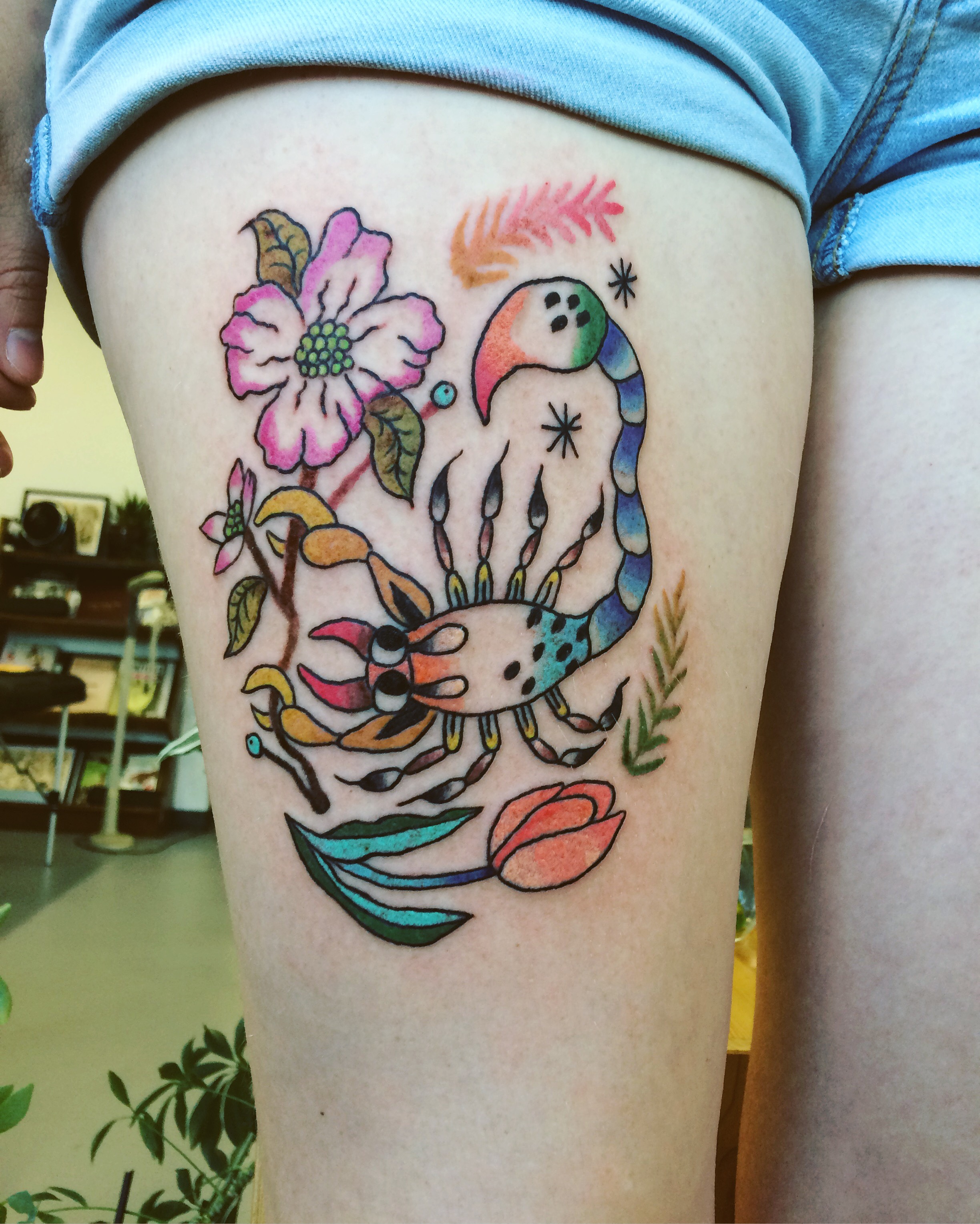 Praising contemporaries like Shannon Perry and Muriel de Mai for the welcoming environments they've created in their own tattoo studios, Bataille feels hopeful for the future of the industry. "Tattooing is exploding. It's so exciting!" After a brief stint working in New York City alongside fellow queer tattooers Em North and Mars Hobrecker, she's back in Montreal, where she continues to see clients full-time at Minuit Dix.
Tagged: