Gucci, Balenciaga, Edwin Mohney. Photography Mitchell Sams.
the autumn/winter 18 alternative fashion week awards
Another season draws to a close, another edition of your favourite deadly serious awards ceremony guide to everything that happened in New York, London, Paris and Milan.
Gucci, Balenciaga, Edwin Mohney. Photography Mitchell Sams.
It is awards season. It is fashion season. Following on from the Baftas and the Brits, the Oscars and the Grammys, comes the i-D Alternative Fashion Week Awards. The must-attend event for all your favourite DD and E listers; a parade of haute-or-not red carpet lewks. Ready and eager to gobble down a whole season of the wildest fashions, relentlessly boiled into this easy to digest format. Here we go!
The Sir Linda and Paul McCartney Award for Being a Friend to Animals: Marc Jacobs
Who not only did a wonderful fashion show, but most importantly, didn't harm any animals in the process. At i-D we cuddle our animals friends, we don't wear them.
The Heather Mills McCartney Award for Doing a Potentially Radical Act But Totally Doing It at the Wrong Place: That Woman at Mary Katrantzou
Imagine spending all day protesting about fur on the runway. Imagine sneaking into a show. Bursting onto the runway. Only to find out all the fur was faux. You'd feel like a right wally.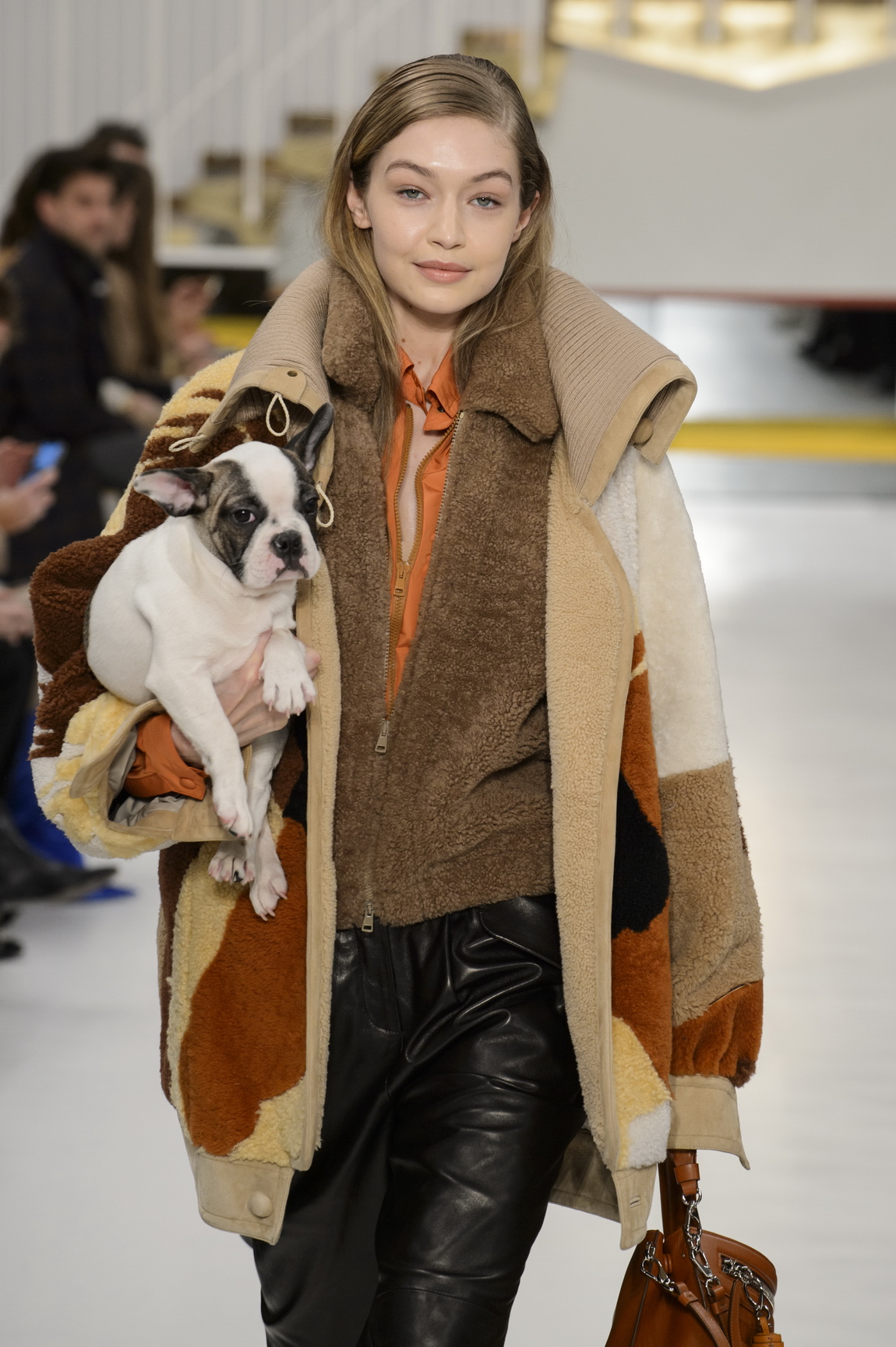 The Goodest Boy of the Season Award: Tod's Dogs
To stay on a furry theme for a little while longer. There were cute little dogs being held by cute supermodels at Tod's! Take my money already!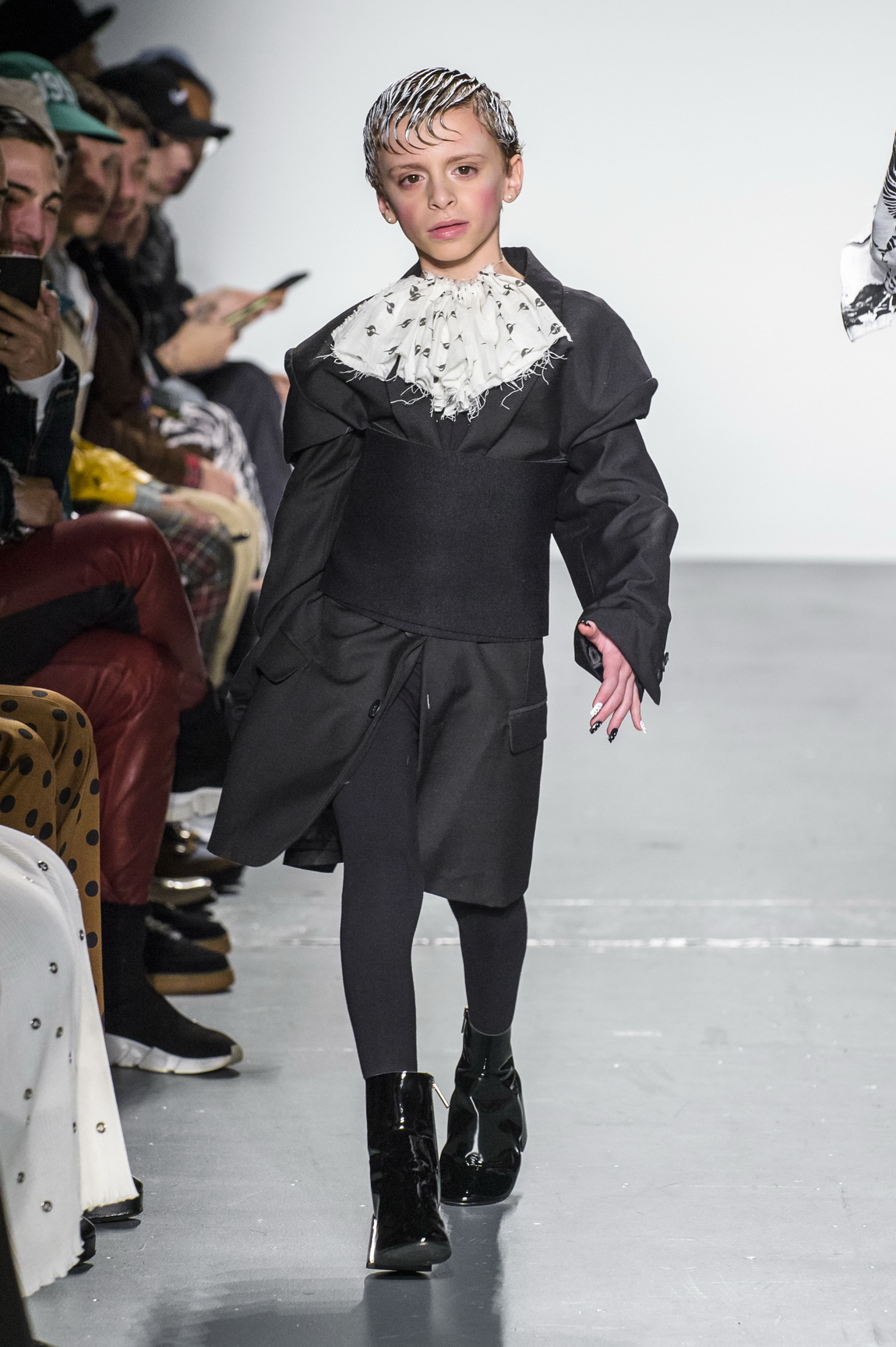 A Very Cute Award: for the Little Child at Gypsy Sport
Oh and yes look at this little child at Gypsy Sport? Cuter than Gigi Hadid w/ a puppy? Maybe not, actually. Maybe it was actually about challenging all the preconceptions you might have about what cute even means in this crazy 21st century world we live in, scrolling through cute fwuffy wickle animals we follow on Instagram while the world actually burns around us.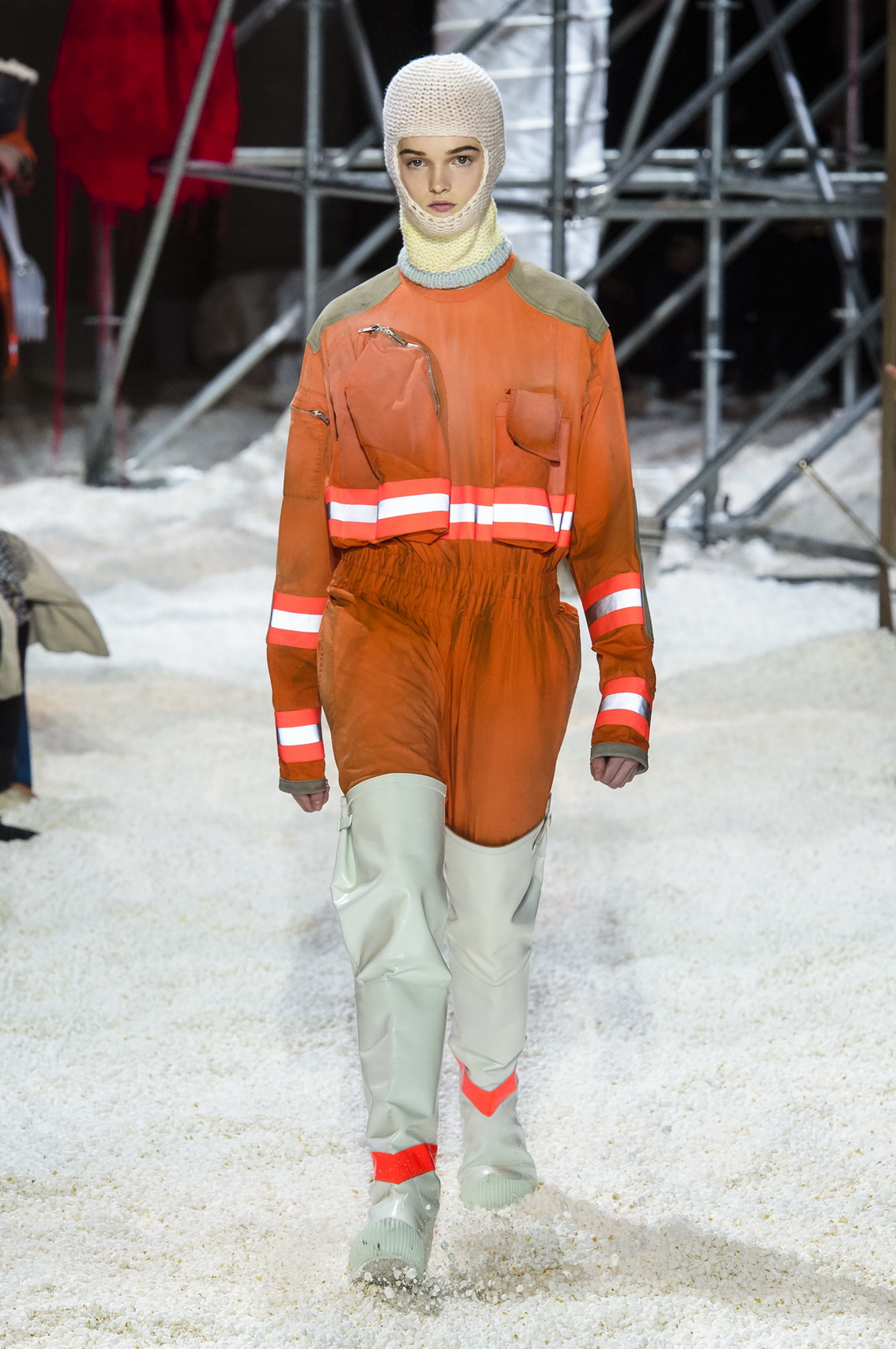 The Bruce Willis Award for End of the World Fashions: Calvin Klein
Lulu Tenney's opening lewk at Raf Simon's third Calvin Klein show paid homage to everyone's fave baldy world-saving, asteroid-destroying, Aerosmith-listening character from the 1998 film Armageddon. I think. Or it was a comment about the absolute horror show of the world RN.
The Word of the Season Award: Philophiles
After much hand wringing at the secret table of fashion journalists who decide these kind of things, we have decided that instead of bestowing the title of heir to Phoebe on any Tom, Dick or Harry who makes vaguely intelligent and refined clothes for intelligent and refined women, we will instead just wear all our old Céline clothes for an extra season and wait till she launches her own house.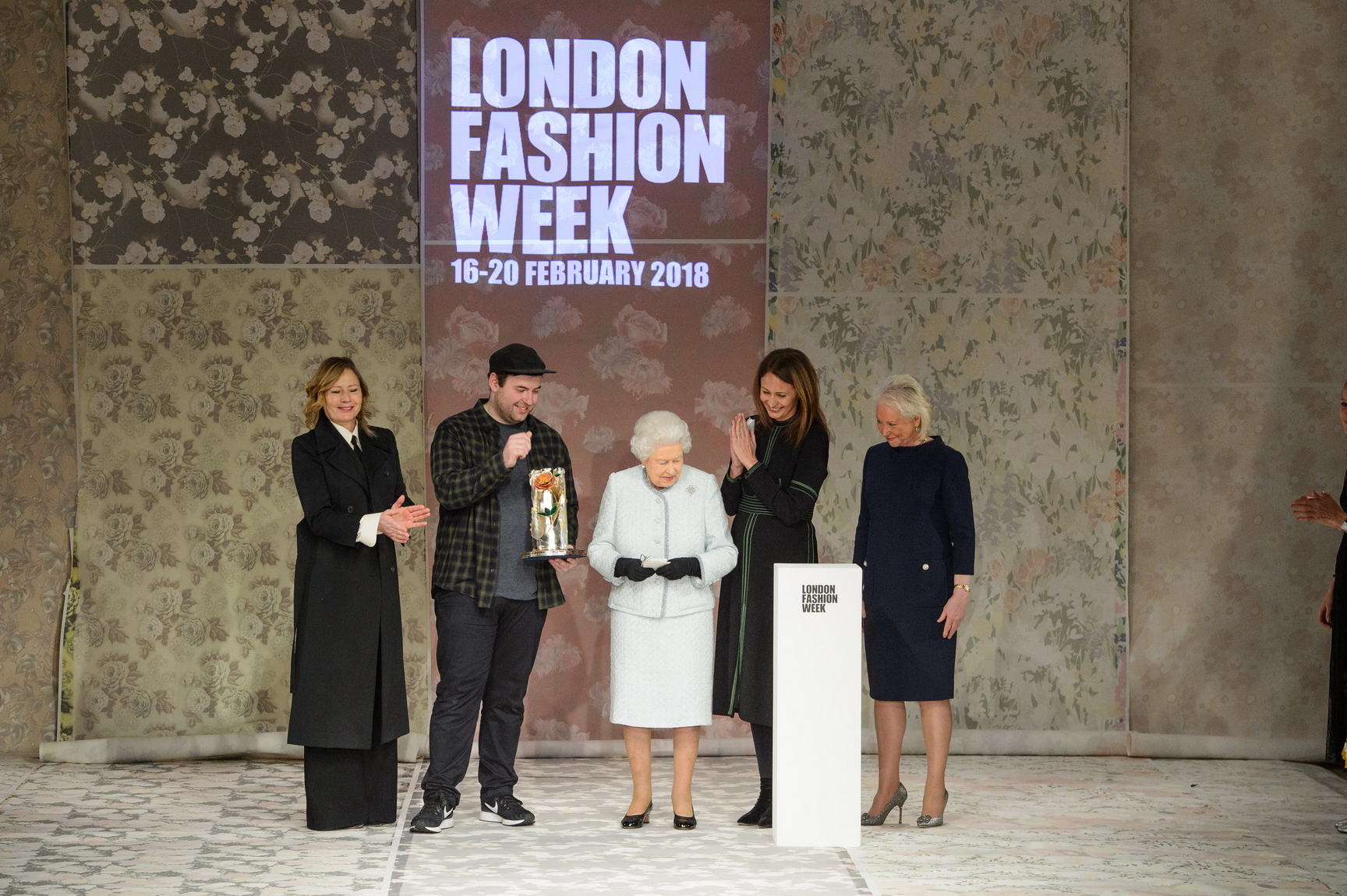 The Salvador Dali Award for Most Surreal Moment of the Season: The Queen at Richard Quinn
I mean I believe in Oliver Cromwell, Max Robespierre and Jeremy Corbyn as much as the next Maoist revolutionary, but seeing the Queen sitting down on a plush velvet cushion at Richard Quinn melted even my cold and cruel republican heart.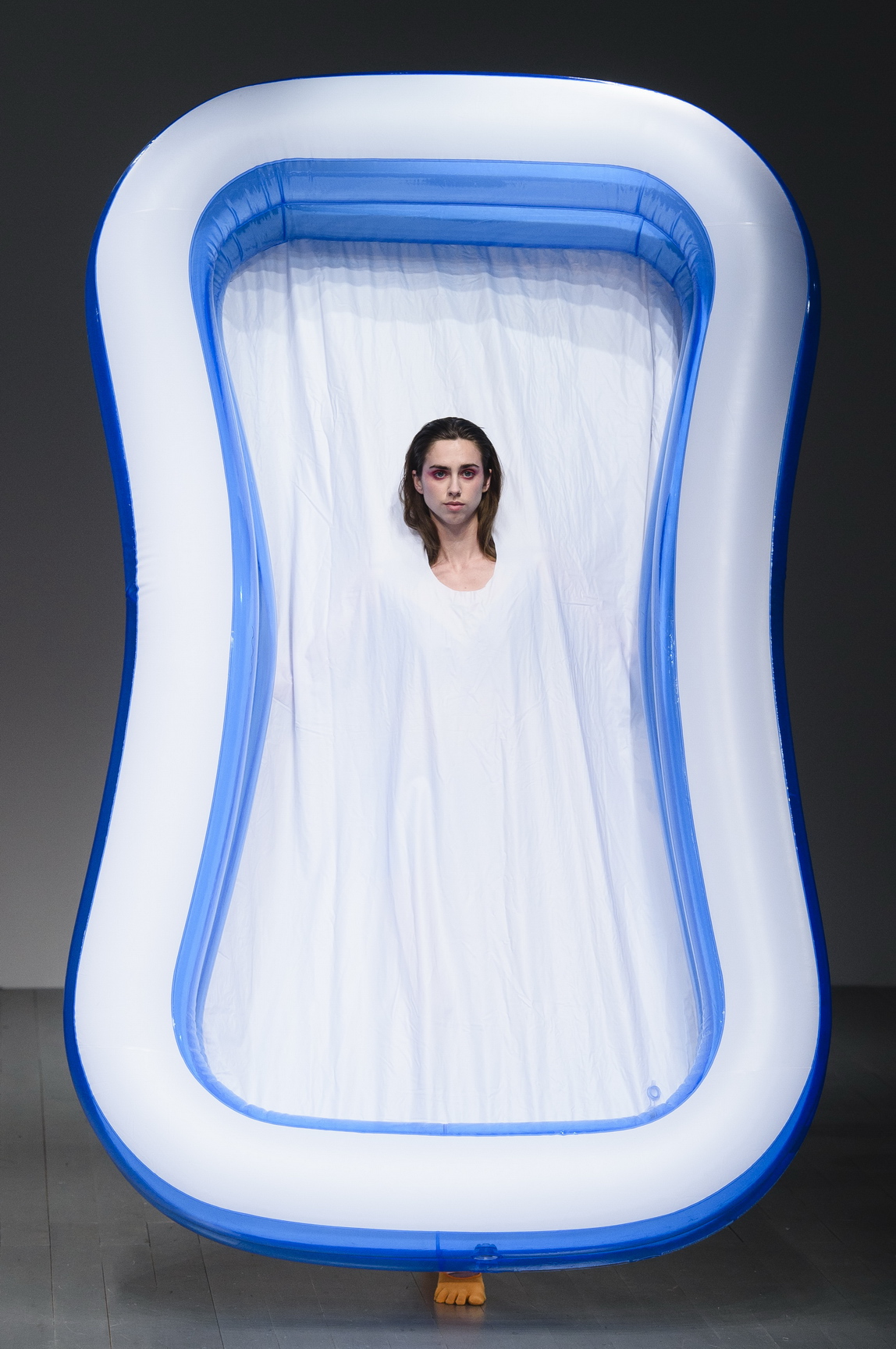 Those Crazy Kids at CSM Get an Award for Being So Damn Bloody Wild
A paddling pool! Trump Stilettos! A model carrying a giant green box! A model with a spoon attached to her snoz! Some plates attached to a dress! Models with chickens on their heads! A giant walking butt plug! Don't ever change, baby!
The Airhead Award for Matty Bovan's Balloon Headpieces
The long days of sitting through shows, sitting in cars, eating popcorns, pretending to know who people are… Fashion Week is just totally exhausting. Yet occasionally you get a lovely and jolly and happy little fun moment that makes everything OK. At London it was Matty Bovan's models walking around with bags attached to their heads, filled with balloons.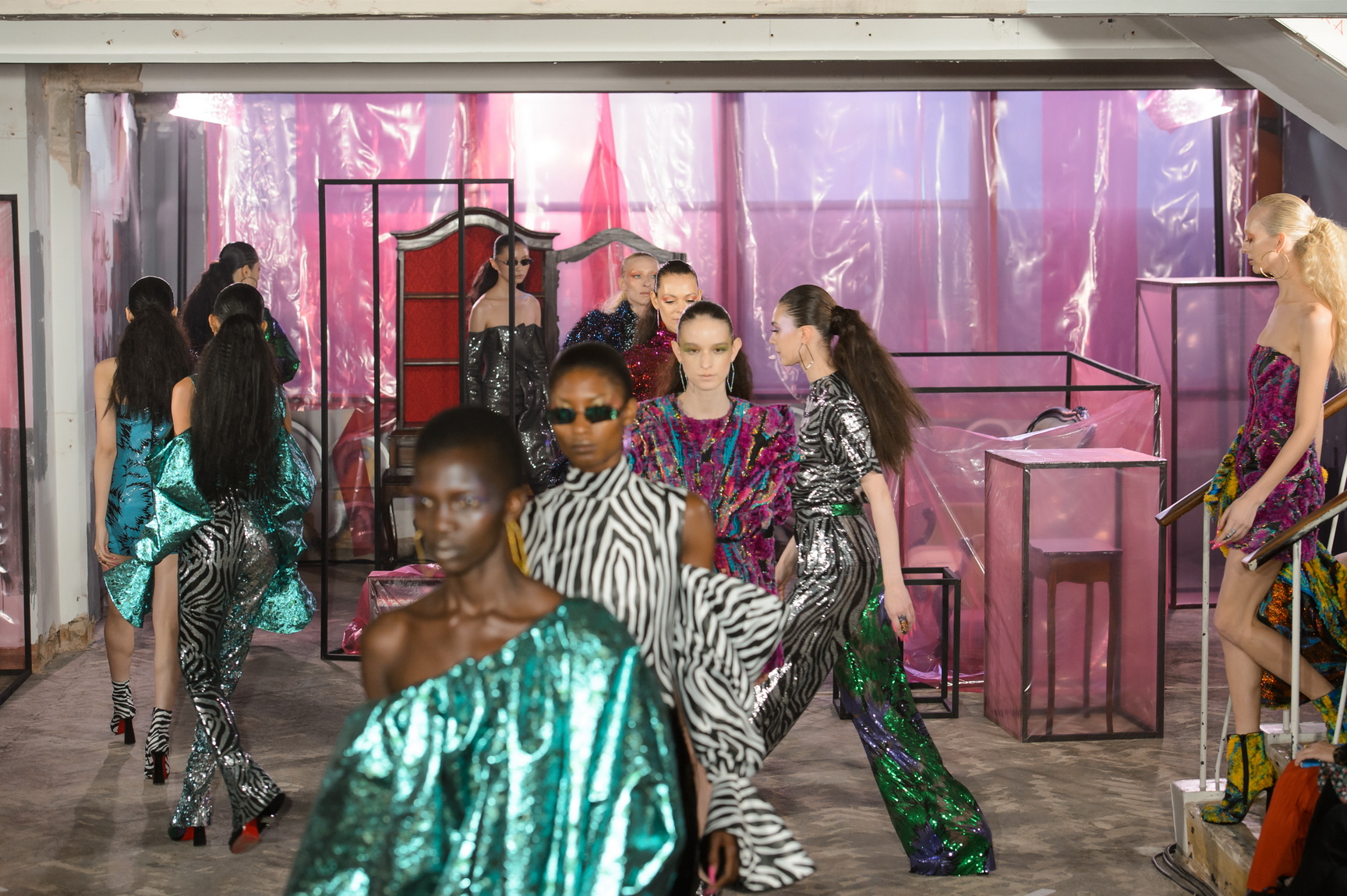 A Sequin-Covered Award for Halpern
Michael Halpern is addicted to glamour. Can't get enough of New York in the mid 70s. Rides a white horse down the offy to get his Irn Bru and scratch cards, covers everything in sequins, absolute little sequin magpie isn't he. So he gets this personalised sequin-covered award.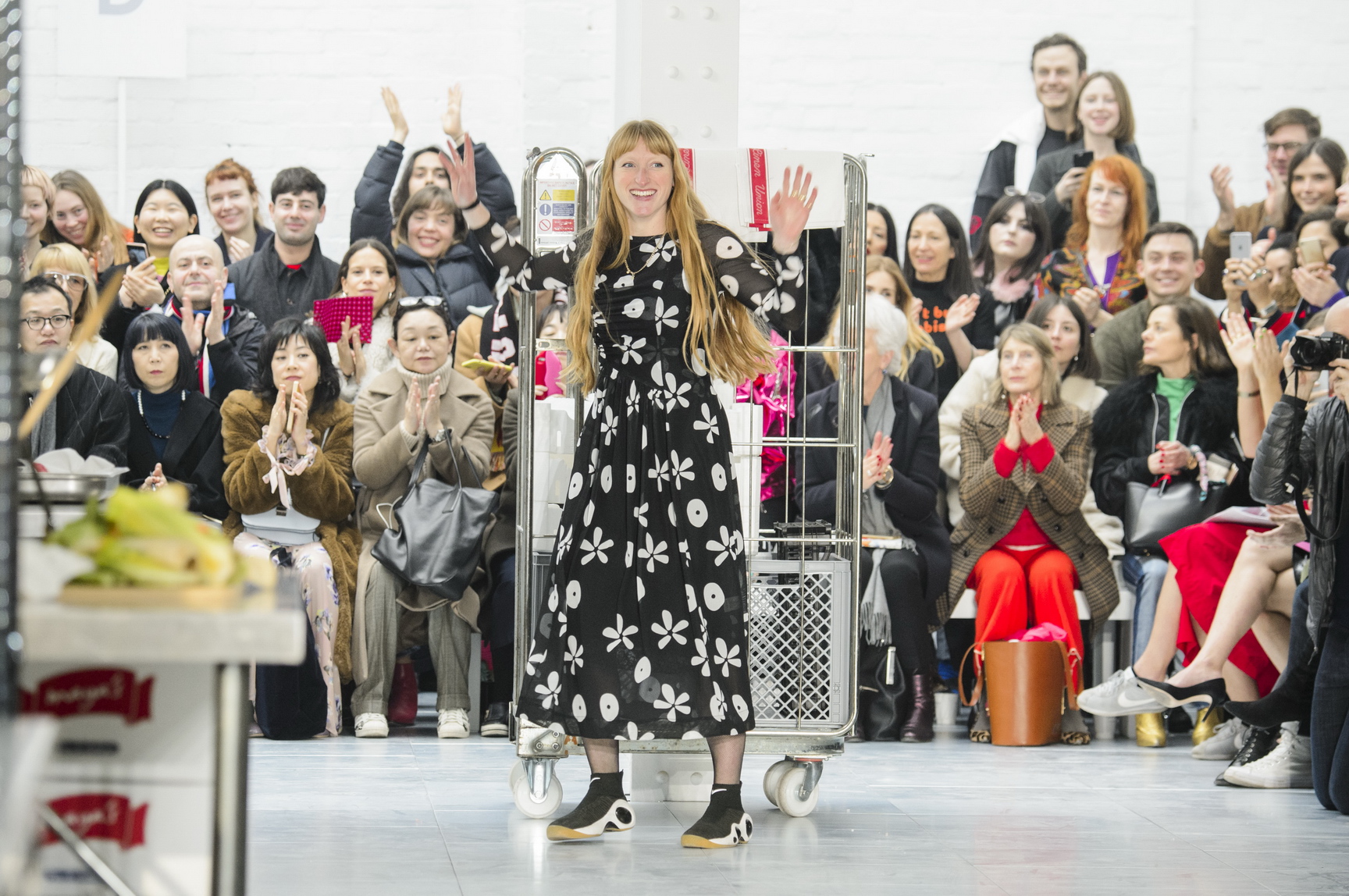 A Woman's Place Is in the Kitchen: Molly Goddard
Lol jk, a woman's place is making incredible fashion for us to enjoy and then staging it in a kitchen and getting the models to chill and have fun and make the whole shebang really, really enjoyable.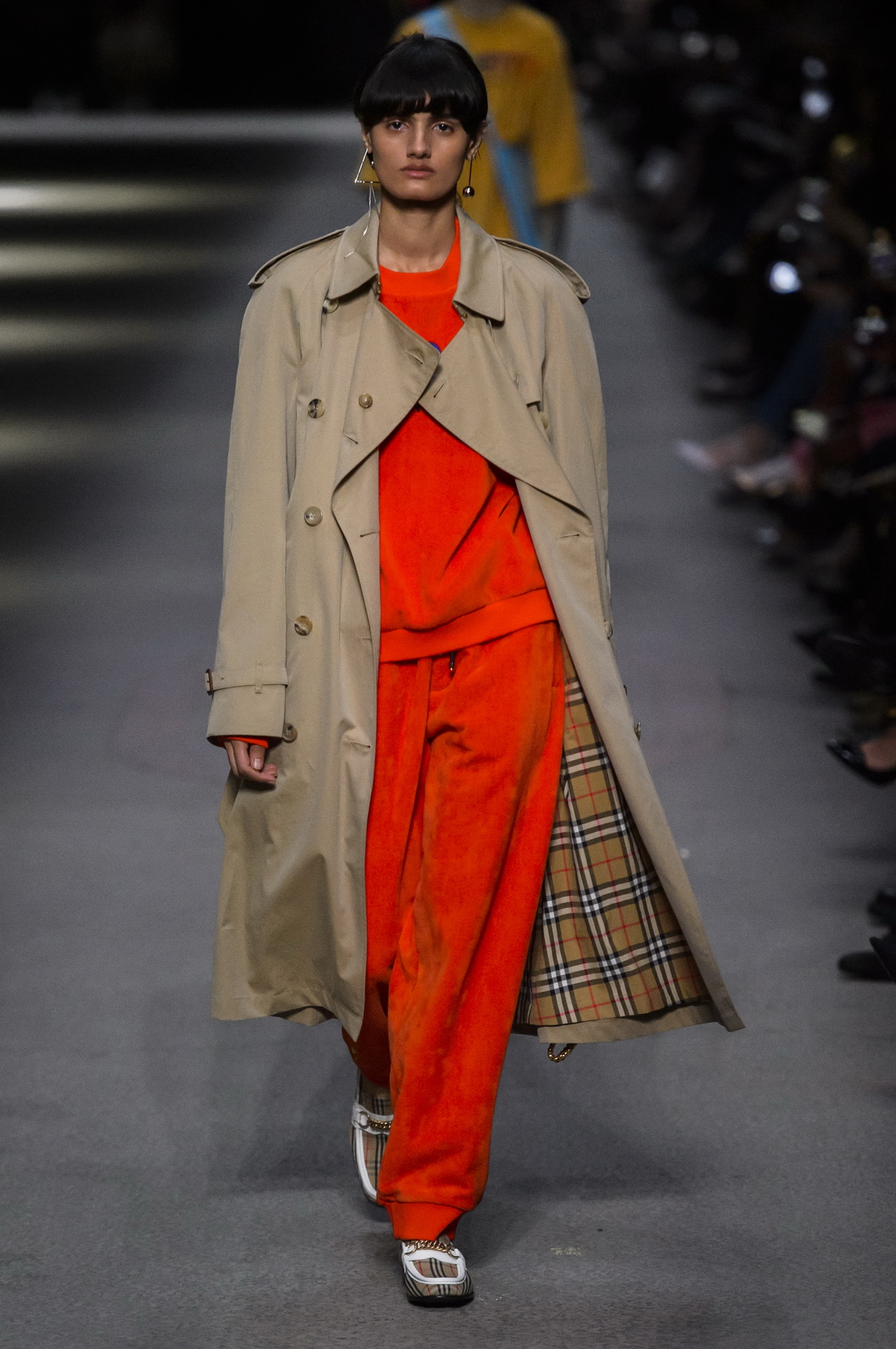 The Danniella Westbrook Award for Lifetime Achievement to Check: Christopher Bailey
For services to British fashion at Burberry. Your impact can't be done justice in this collection of pithy little fashion bits. But he went full circle, bowed out where he began, surrounded by checks.
Getting bored of this article? Fair enough! But look! There's also an i-D podcast to listen to about fashions. Another one at the bottom too if you keep scrolling!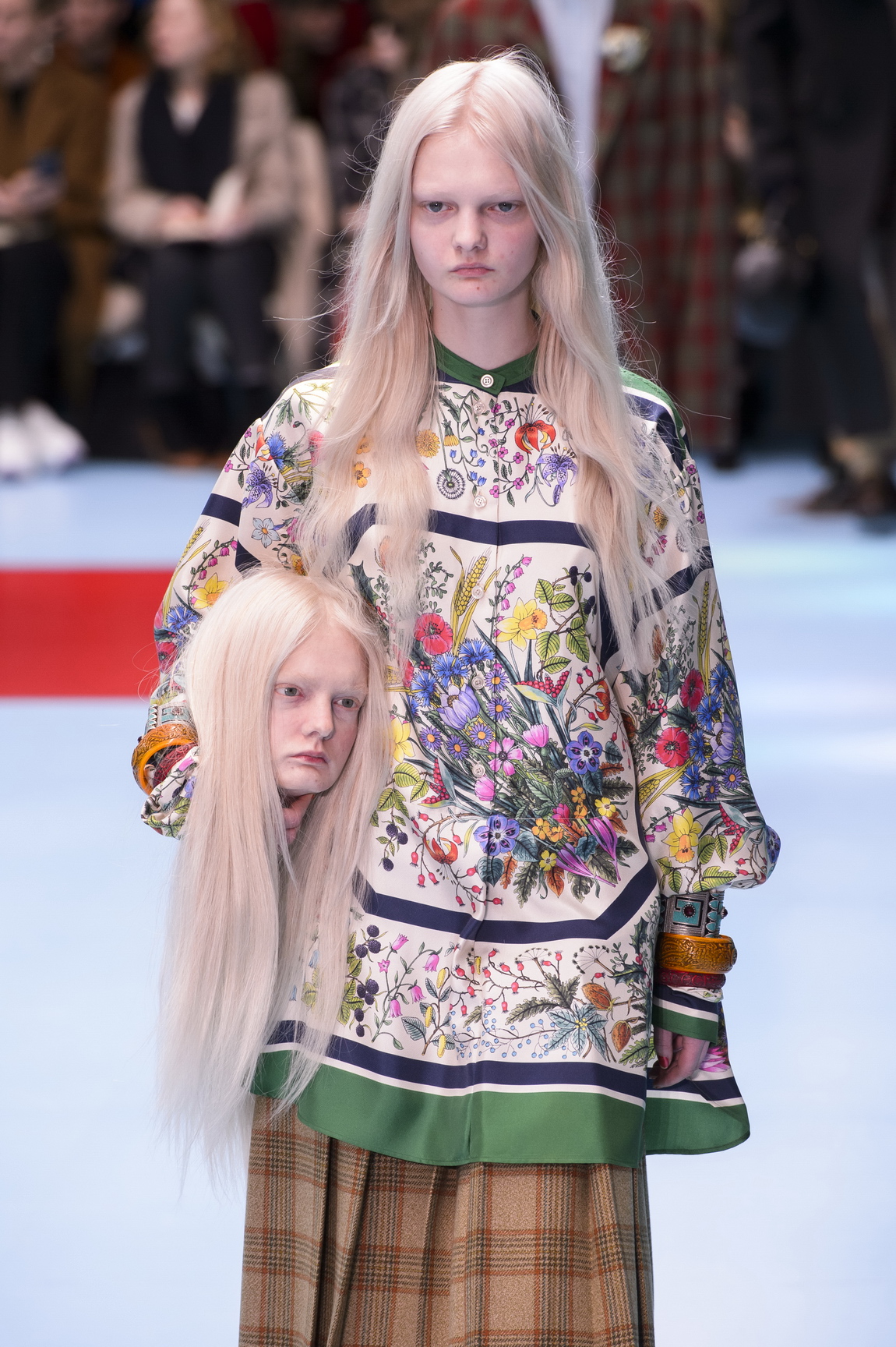 Off the Top of My Head We Should Give Gucci an Award? Right?
Can we get an intern to fill out the rest of this joke. I CBA.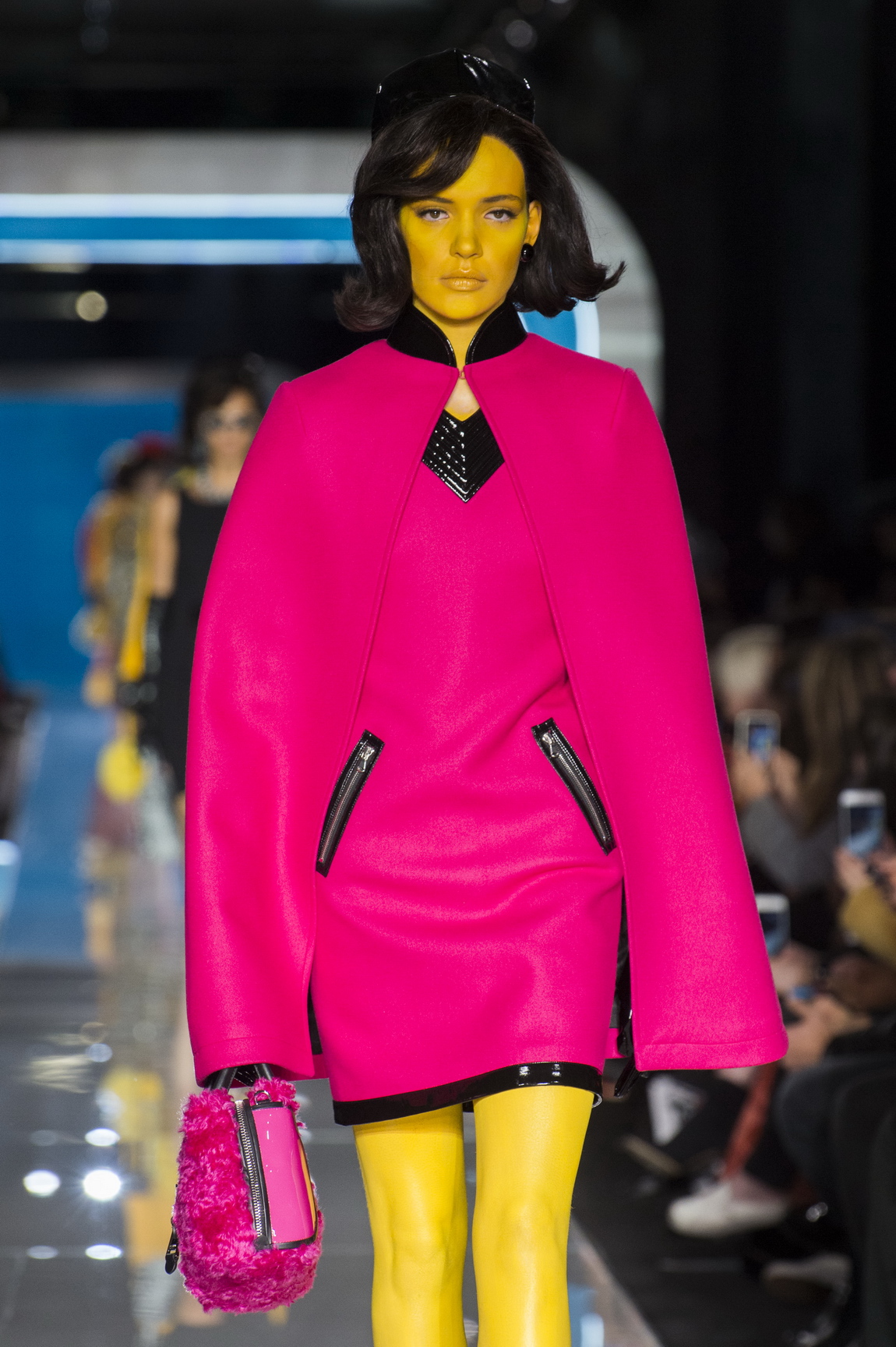 The Service to Easy Headlines Award: Moschino
Aliens! Fashion! It's out of this SEO world.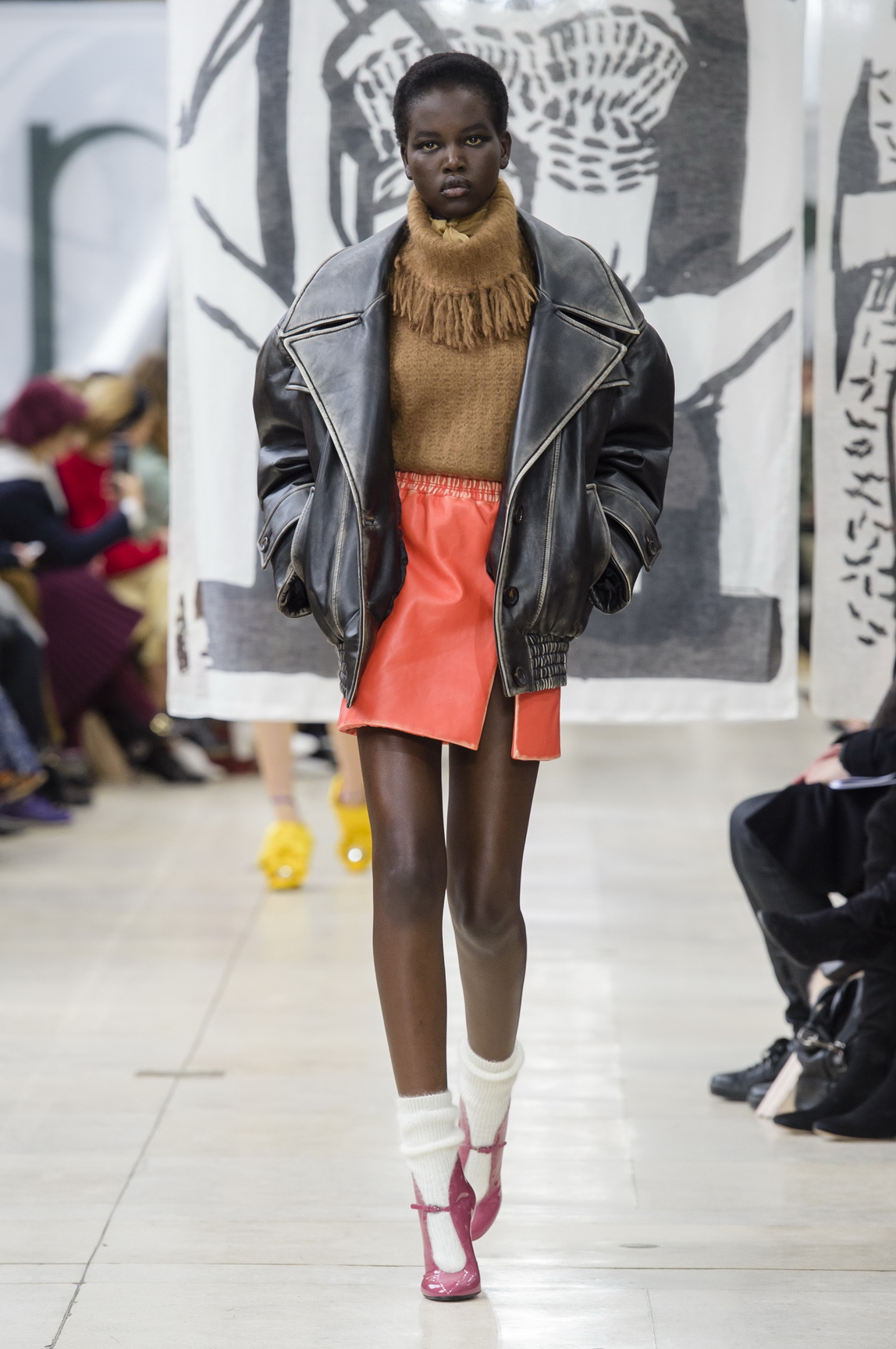 The Get this Girl Some New Shoes Cos She's Done So Much Walking Award for Busiest Models: Adut Akech
From covering the Spring issue of i-D to walking just about every single show this season, Adut has been busier than a one-armed trombone player. She is having a proper fashion moment. It is deserved. She is major. Honourable shout out to i-D's Frankie Dunn at Marques'Almeida.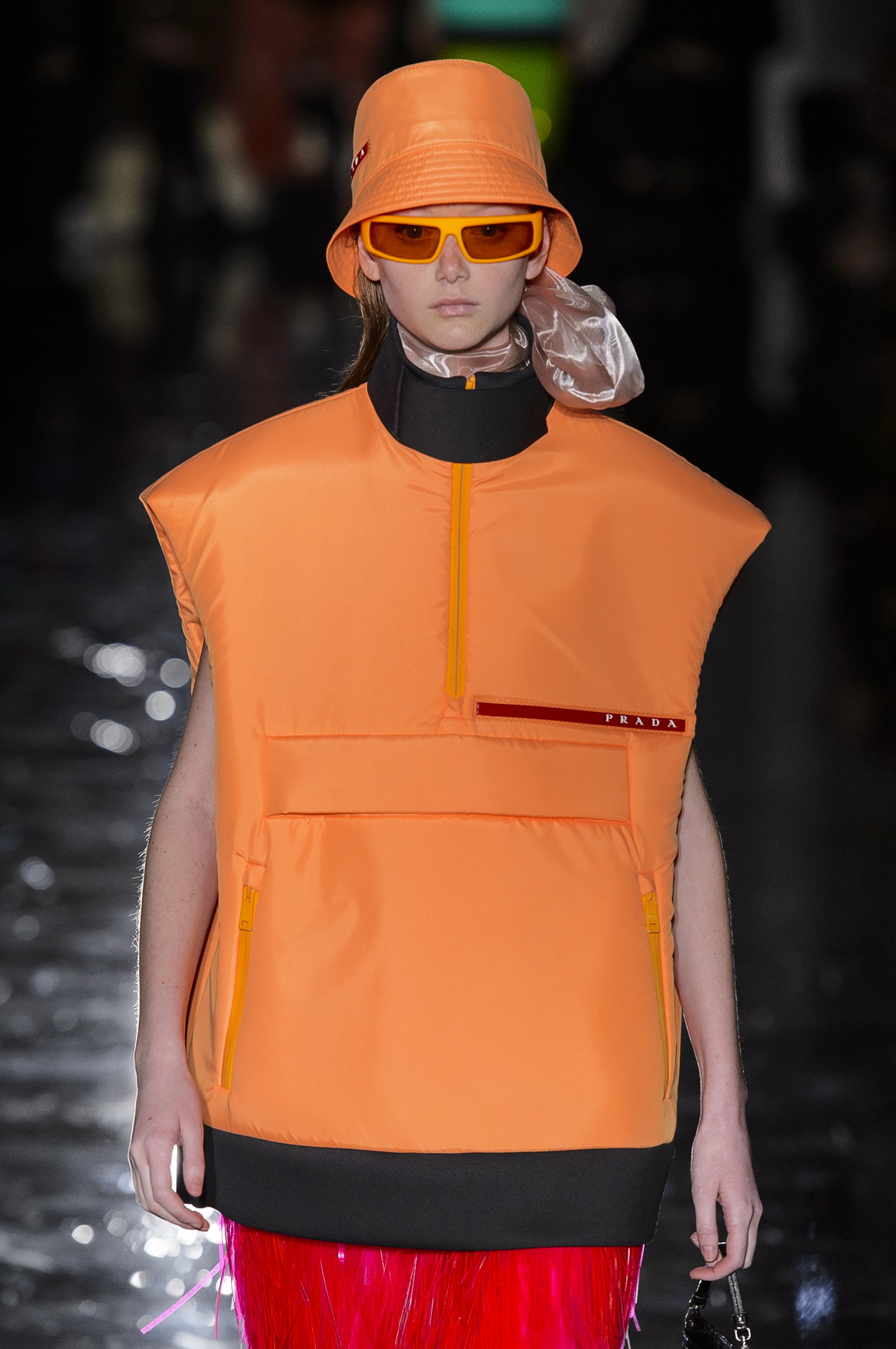 The David Beckham Award for Services to Fashion and Sport: Prada
For making all our dreams come true and bringing back the red tag Prada Sport iconography, and adding a healthy dose of nostalgic nylon. Take. My. Money.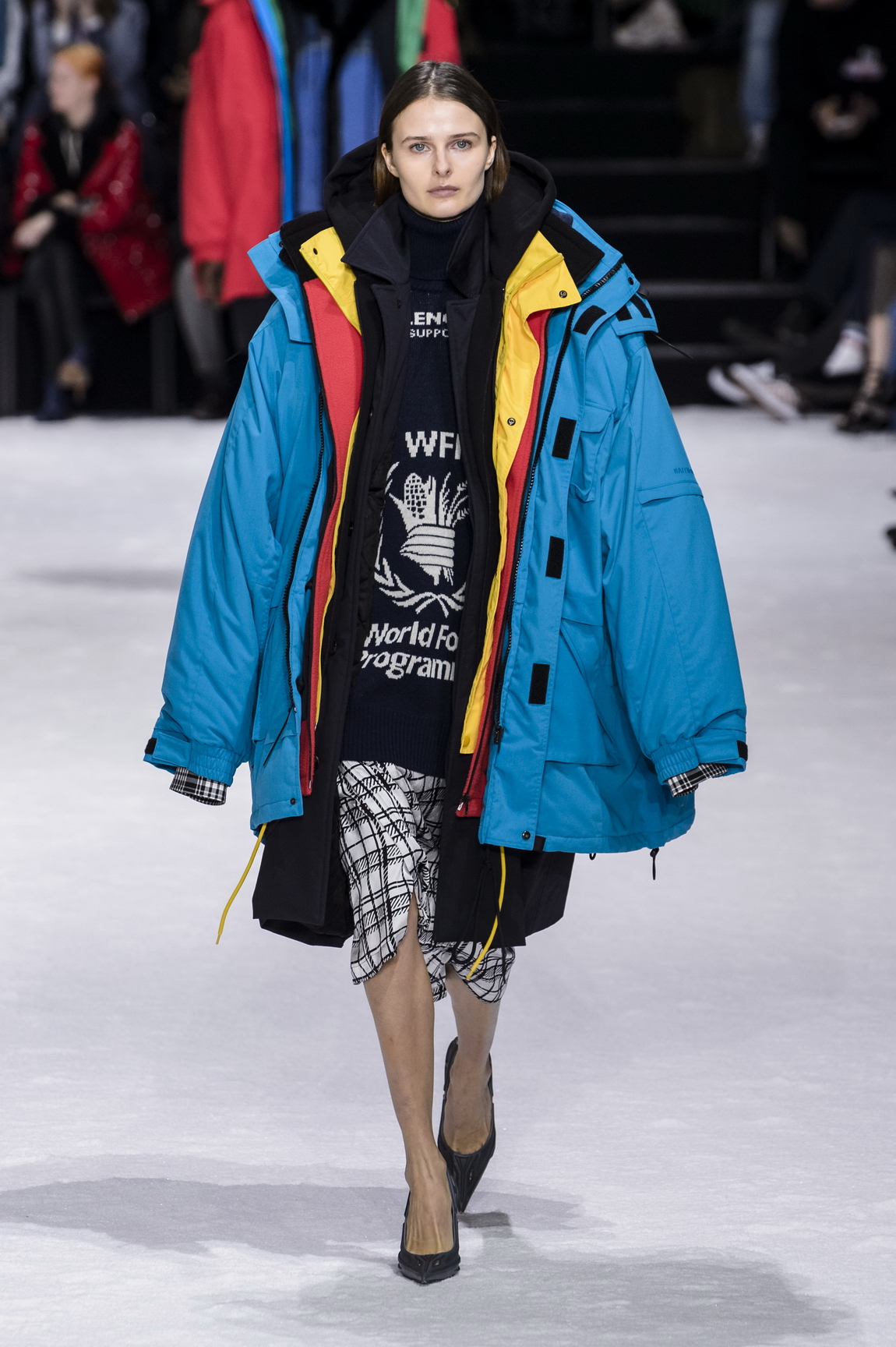 The Joey Wears All of Chandler's Clothes Award: Balenciaga
I texted a meme of Joey Wearing All of Chandler's Clothes to i-D Fashion Editor Max Clark during the menswear season after the Vetements show. He said it was the best show he'd ever seen so whatever. Feel like we're gonna recycle that convo now.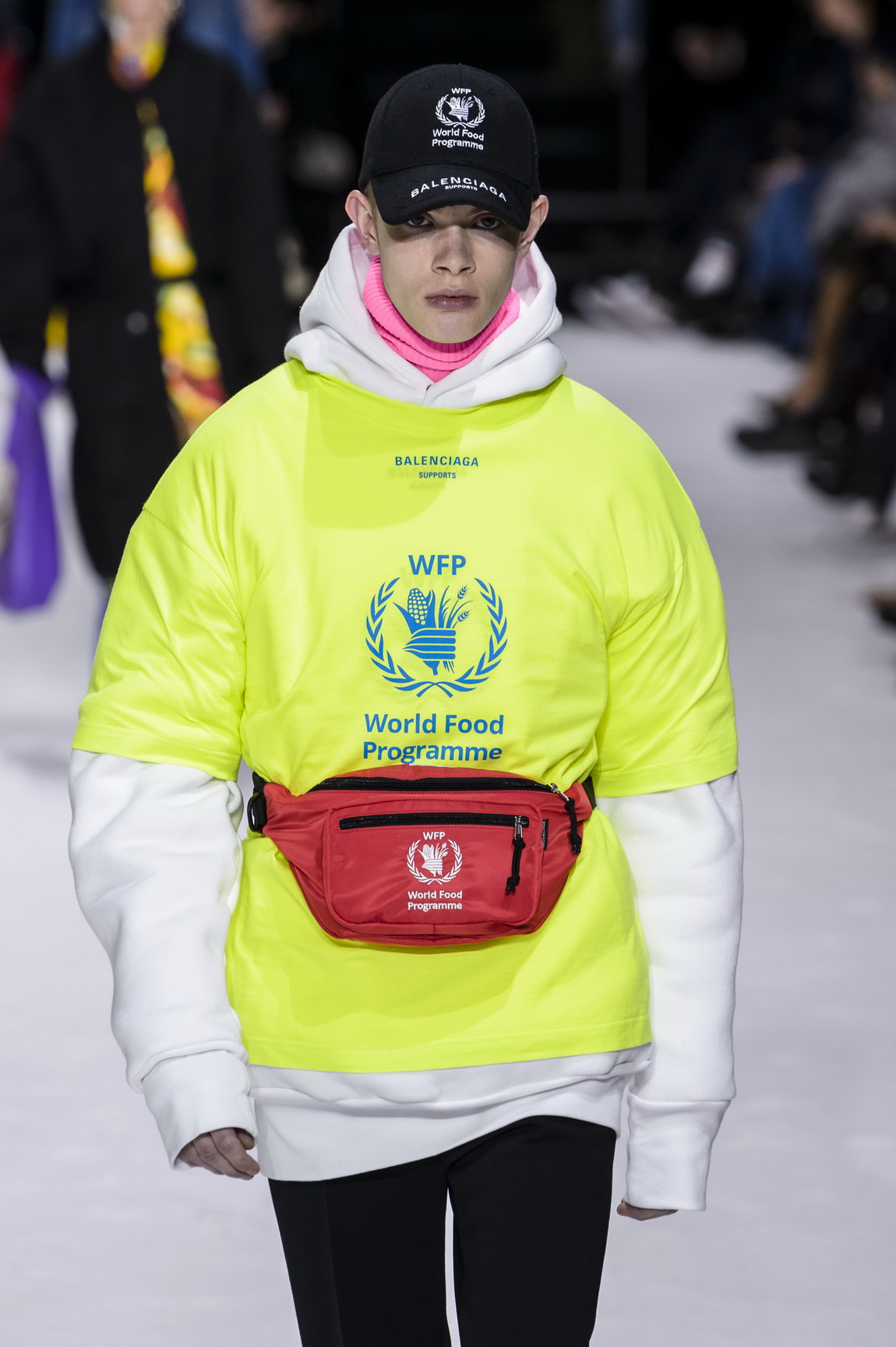 The Bob Geldof Award for Feeding the World: Demna at Balenciaga
So good Demna gets two awards! He's donating money to feed the world and creating incredible fashion propositions. What a dreamboat.
Most Brutal Review of the Year Award: Cathy H on Lanvin
"The Lanvin show was abysmal. Almost nothing in Olivier Lapidus's second collection for the brand resembled its legacy or its modern style of the past decade or so. That is, unless you consider tight orange leather stirrup pants and satin gowns with wrestling boots a Lanvin must. The company was recently sold to Fosun International, a Shanghai-based group that also owns the Caruso menswear label. It should consider finding new talent." via The Cut.
Giorgio Armani Award for Least Coded Statement: Giorgio Armani
"My fashion is not that of a theatre which lasts as long as a catwalk show, which serves only to create chatter and would be disconnected from what the client finds in my boutiques. I won't talk about severed heads, I have never played that game. We have to move and excite but without going overboard -- it's too easy."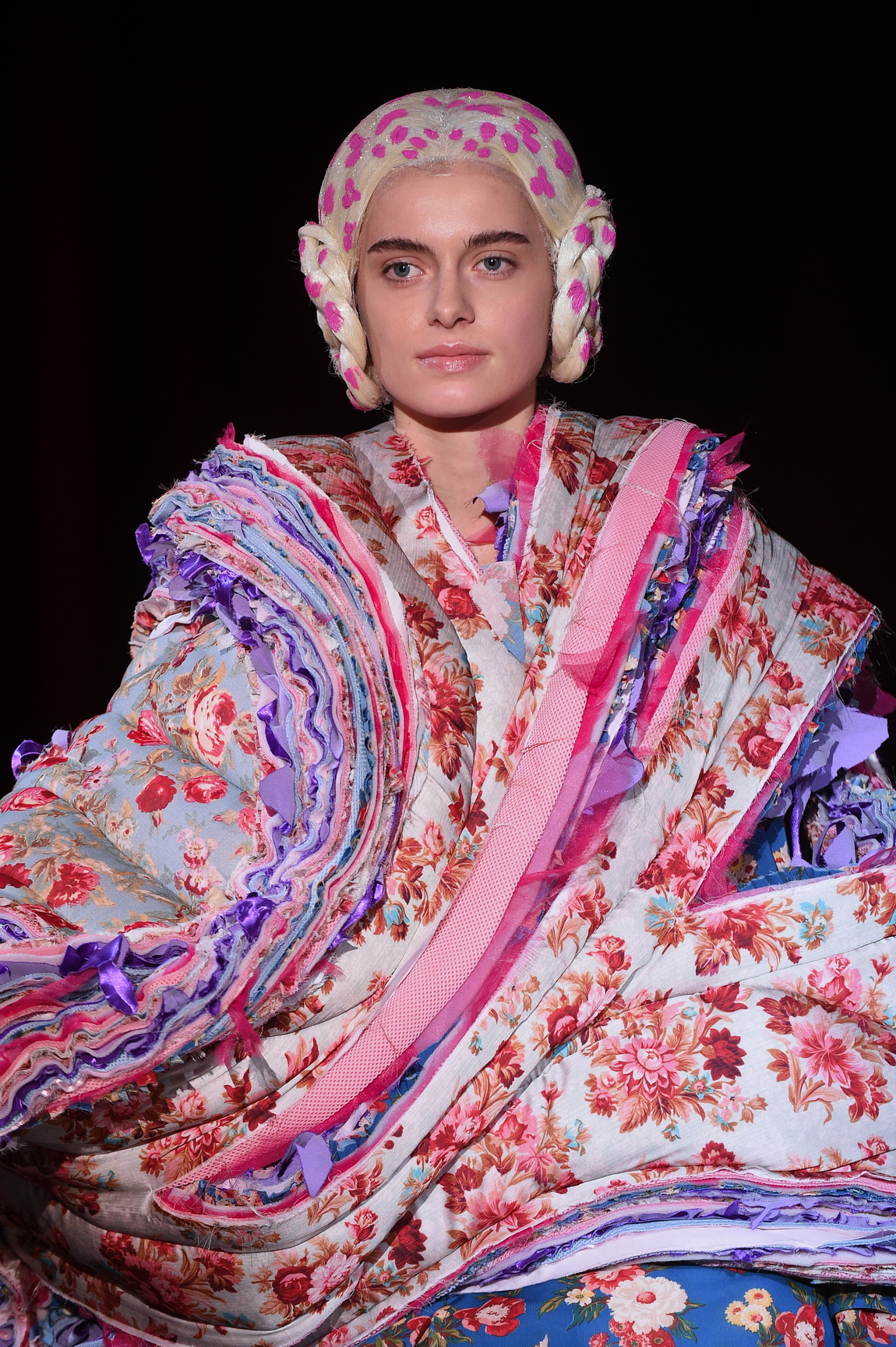 The Barbara Windsor Award for Carrying on Camping: Comme des Garçons
Backstage after her Comme des Garçons show this season, Rei Kawakubo explained in painstaking detail that her collection was inspired by the kind of frilly knickers you'd see in a Carry On film. It turns out the Japanese fashion auteur had, all along, been deeply inspired by the work of Kenneth Williams, Barbara Windsor, Hattie Jaques, seeing it as a kind of English folk art.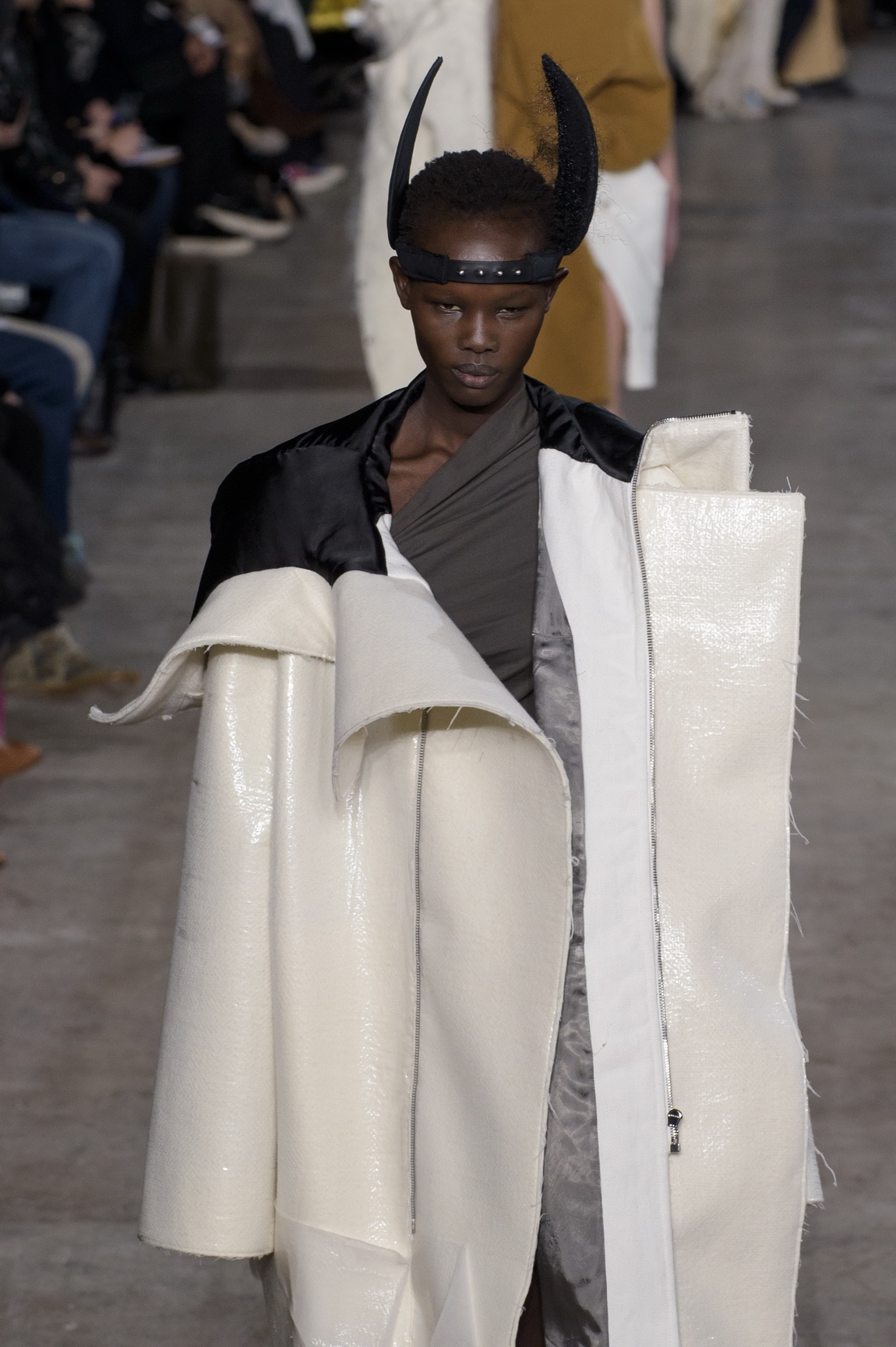 The Feeling Horny Award: Rick Owens
Rick Owens this season was all about seduction. The models had horns. Feeling horny, eh. Jesus Christ I'm running out of ideas.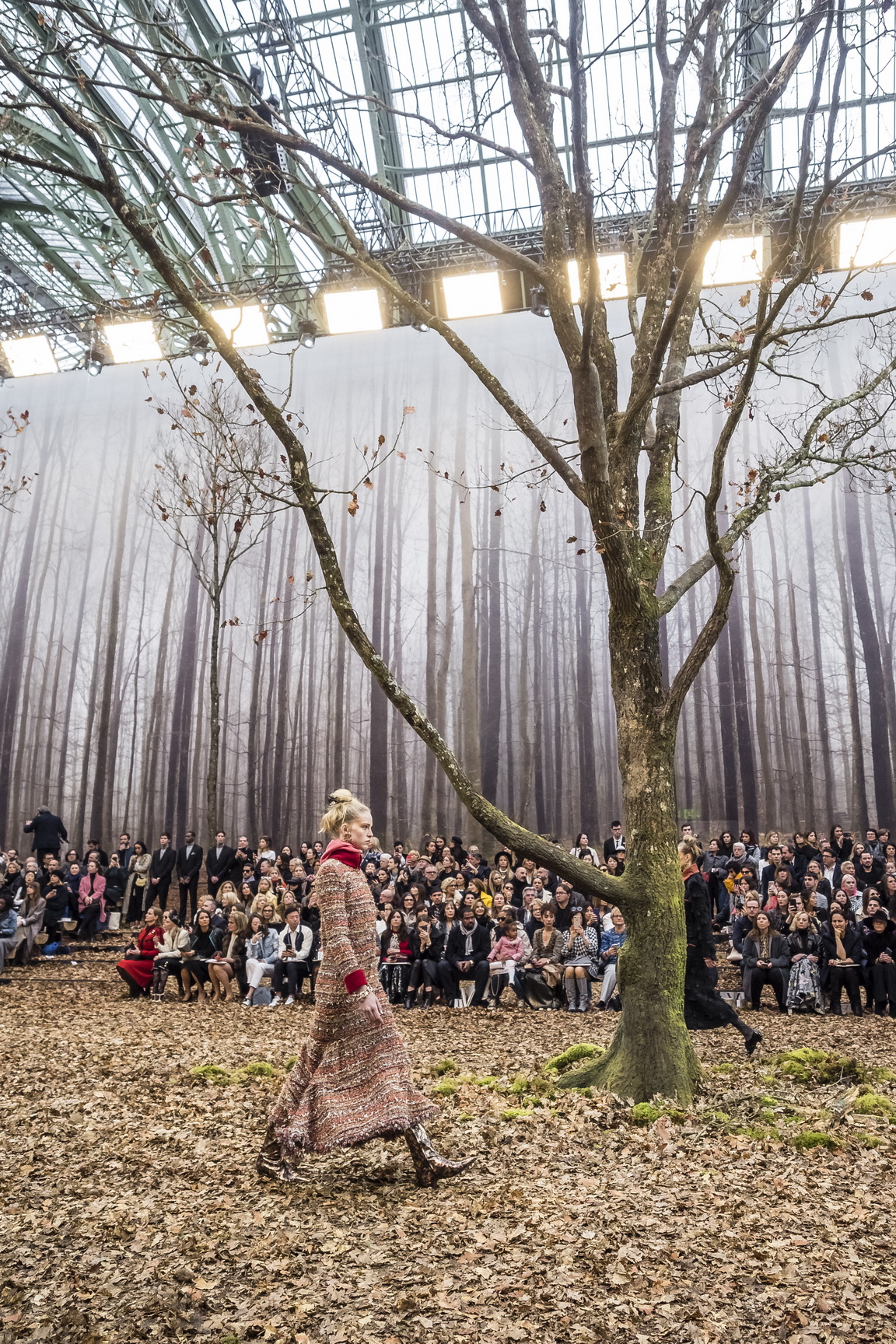 Chanel Grew an Actual Forest in the Grand Palais
Fashion Week has been going for 56 days. We've run out of jokes. We've run out energy. I can't look at another bias-cut chiffon cocktail dress with three sleeves made out of pairs of mittens. We're losing hope that we'll make it out of Paris alive. Just endlessly stringing verbs, adjectives, nouns and fabrics together. Can't see the wood for the trees.
i-D Fashion Features Editor Steve Salter Gets an Award for Service to Fashion Features
He's travelled across four continents, seven seas, over mountains and rivers and through valleys. He's seen things you'd wouldn't believe, kissed the cheeks of faceless fashion gatekeepers, and crushed enemies, just to bring you (you!) reports of what's been going on at Fashion Week. And for that, we salute him.
Credits
---
Photography Mitchell Sams