the soundtrack to your weekend ft. denzel himself, young m.a, and lawrence rothman
Hardcore-inspired London rapper Denzel Himself makes a strong first impression, Young M.A. hits the club, and Lawrence Rothman recruits Angel Olson as the ultimate backing dancer. Plus, more magic from AJ Tracy, Gus Dapperton, J Hus, BLESSED, Thaiboy...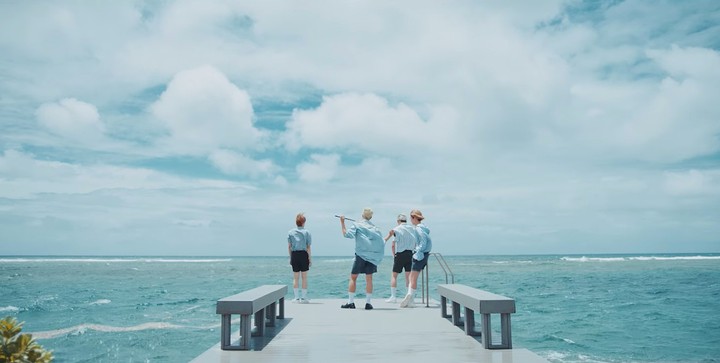 Still de Love Me Love Me
Young M.A, Same Set
As young Katorah Kasanova Marrero says on the intro to the latest video from her HERstory EP — this is lit. She might be surrounded by naked girls and rapping about the bad bitch she dates, but it's so refreshing to see it coming from woman that it's somehow more than okay. Okay?
Denzel Himself, BANGIN'
22-year-old Denzel only went and wrote the track, produced the track, and directed the video to go with it. There's a party down at the local park, and this hardcore-inspired new kid just crashed it with his blacked out teeth, asymmetric fake lashes and a sound that really, really excites us.
AJ Tracey, Blacked Out
Looking fresh in a Guns N' Roses T-shirt, the west London MC jumps between two different hairstyles in the video for this Sir Spyro produced track from his Secure The Bag! EP, due 6 October. We like both braided and natural looks equally, and encourage further experimentation. The video is one big strobe fest, so close your eyes if that sort of thing doesn't agree with you.
Gus Dapperton, Yellow and Such
Next up, it's our internet friend Gus with his debut EP/the most music we've ever heard from him. ICYMI, we ran the exclusive first chat/first look at his music video for I'm Just Snacking back in May and have been eagerly awaiting this ever since. One of NYC's brightest young things, guaranteed.
BLESSED, My Yute
Sisters Loz and Gee from south-east London are truly blessed; with Insta-ready faces, great voices and an addictive debut single. The sort of dancehall-meets-pop tune that'll have you chucked out the corner shop for your inappropriately rowdy dancing.
BOSCO, Cruel
There's a very simple message in this silky smooth song: don't be cruel. The world's going to shit. You never know what the strangers around you are going through. Be nice. Yes, we're pretty sure that's what ATL musician BOSCO had in mind when she wrote it. That and a relationship breakdown.
Lawrence Rothman, Wolves Still Cry
In his new video, Los Angeles artist Lawrence finds a kaleidoscope lens, the nine physical and emotional altars of himself and a crew of awesome backing dancers that includes none other than Angel Olson. His debut album comes out 13 October with features from a diverse line-up including Stella from Warpaint, Duff from Guns N' Roses, Soko, and How to Dress Well.
Lotto Boyzz, Birmingham (Anthem) ft. JayKae
Guess where this lot come from. A love song to the city they're clearly proud to call home, Sony-signed Lotto Boyzz are shaking up the scene with their regional accents, JayKae feature and nice use of marimba. That pour up sound at 2:40 is giving us life and will give it to you too.
J Hus, Spirit
Try to sit still to this. We dare you. As he drops a new video for Spirit, let J Hus talk you through his debut album, Common Sense, track-by-track.
Glass Animals, Agnes
Singer Dave Bayley from London band Glass Animals spends the entirety of this video inside a human centipede centrifuge: a pod hanging off a 50 foot steel frame that rotates like a helicopter blade and is used to test astronauts/kill James Bond. "It hurts in places you really didn't know existed," Dave told fans online. "Veins and capillaries burst under the pressure and bruising begins. But the most striking thing is the way that the machine pulls on your heart. You can actually feel it struggling to beat and changing shape… flattening inside of your chest. It's similar to that horrible sinking, tugging heartache that comes only with complete and overwhelming sadness. And then you pass out." Well, that's one way to get the message of the song across.
Thaiboy Digital, Ruby
Yung Lean's mate Thaiboy Digital just made a sad song for the club so we can all finally cry while dancing the night away. Song hack: up the speed to x1.25 for the best happy hardcore track you've heard in decades. In fact, we might actually prefer it that way.
AEVA, Dramatic Sunset
We don't know a lot about producer and animator AEVA, but what we do know made us smile. Get this: he recorded all of the motion capture for the dancing creature in his back garden with an Xbox Kinect. The result? Something quite Slenderman and a bit White Walker giant gone raving. The landscape, meanwhile, goes from dreamlike blue and yellow purple hills right through to a nightmarish trip at Berghain. HAPPY FRIDAY!
Credits
---
Text Frankie Dunn