watch the trailer for tiffany haddish's satirical thanksgiving thriller
'The Oath' explores the true horror of talking politics at Thanksgiving dinner.
|
05 September 2018, 8:59pm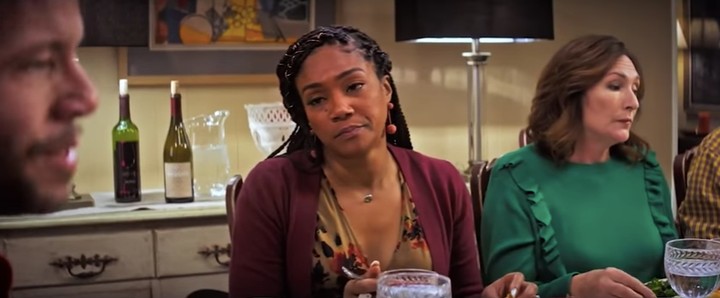 Still via YouTube
Tiffany Haddish is going to need more than a weekend getting wasted in New Orleans to get over this ordeal. Hollywood's new favorite comedy queen is finally facing her fear of scary movies, making up for that time she refused to audition for Get Out by starring in a new thriller from the producers of…. Get Out. This one's a holiday horror comedy called The Oath, written and directed by Ike Barinholtz of MADtv and The Mindy Project fame. Haddish and Barinholtz play a married couple (and your dream parents) forced to endure Thanksgiving dinner with Barinholtz's NFL-loving, pastel cardigan-wearing, not-so-subtly racist family.
Initially, the get-together is just a typically awkward soiree complete with buttery green bean casserole and arguments over whether Chris Rock is racist. Not even Carrie Brownstein can break the ice! But it's about to get worse — Black Friday (get it) marks the implementation of a new government initiative to have Americans sign a "loyalty waiver" pledging allegiance to our Dear Leader. There's also tasers, murder, and John Cho as a ruthless government agent. Even with all that drama, the trailer's highlight might be Haddish shrewdly sipping tea during a casual after-dinner debate about Asian women drivers.