how to help families separated at the us-mexico border
Practical ways to protest the policy.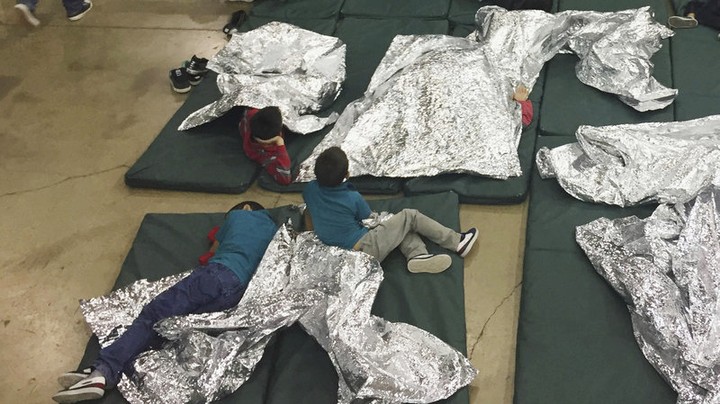 Image courtesy of the U.S. Customs and Border Protection's Rio Grande Valley Sector.
In the past six weeks, 1,995 children have been separated from their families at the US-Mexico border, leading to horrific scenes of babies being taken from their mothers. They're then kept behind metal chain-link fences, essentially cages, as reported by NBC News, a decision which has drawn comparisons to the Holocaust. "The practice of separating families amounts to arbitrary and unlawful interference in family life, and is a serious violation of the rights of the child," says the UN human rights office.

Seemingly, most of America is united in condemnation of these atrocious acts, even in the face of an administration intent on defending them. Religious leaders, human rights organizations, four former First Ladies, and politicians from across the aisle have spoken out against these evil actions. If you'd like to act, as well as speak up, there are a selection of ways in which you can help.
Ring your representatives.
The ACLU has a short suggested script for what you might want to say to your senator, as well as making it easy for you to reach them. Here is a list of all the senators and congresspeople for the border states.
Donate money (or time).
For many people the southern border is very much a far off place — in which case, money is the best thing to send. Organizations trying to help include the Texas Civil Rights Project, which uses legal advocacy to empower Texas communities, the Young Center for Immigrant Children's Rights, which advocates for unaccompanied minors, and the El Paso-based Las Americas Immigrant Advocacy Center, which provides lawyers for immigrant families and families seeking reunification. There's also RAICES, the Refugee and Immigrant Center for Education and Legal Services, which raises money for the bond to get migrants out of custody (often between $5,000 and $10,000), and is providing cheap legal advices for immigrants, and the Catholic Charities of the Rio Grande Valley, which shelters migrants released from custody.
The Texas Civil Rights Project has a list of ways you can help on their website, and if you "speak Spanish, Mam, Q'eqchi' or K'iche' and have paralegal or legal assistant experience," they're looking for volunteers.
Protest on the 30th of June.
The main demonstration is scheduled to take place on Saturday the 30th of June, from 11am to 2pm at Lafayette Square in Washington D.C. Families Belong Together have a further list of further protests across the country — see if there's one near you.
Some good news is that over $5M has already been made in a single drive — Charlotte and Dave Willner started a campaign on Facebook to raise $1,500 for the Refugee and Immigrant Center for Education and Legal Services, and at one point donations were exceeding $4,000 a minute. And over a million dollars has been donated to the ACLU. Surely, this will go down as one of the cruelest chapters in US history — don't be a bystander.