discover 5 latin-american female artists history forgot
They tackle sexism, racism, and political issues.
The period from the 1960s to the 1980s in Latin America marked an era of authoritarian regimes, military interventions, censorship, and changing roles for women. The landmark exhibition, "Radical Women: Latin American Art, 1960– 1985," currently on view at the Brooklyn Museum (through July 22), finally gives visibility to the radical art practices of female artists during this key period in the history of Latin America and the development of contemporary art.
The show is jam-packed with too many complex, moving works to mention in a brief review (there are more than 260 works by more than 120 artists from 15 countries), like Paz Errázuriz's intimate portraits of cross-dressing male prostitutes living in brothels in Chile under Pinochet's dictatorship, or Yolanda Andrade's gritty, sexy portraits of street life in Mexico City. All the diverse women in the show challenge reductive notions of female identity as they navigated the systemic sexism that prevailed across Latin America in the 20th Century.
"Radical Women" was organized by the Hammer Museum in Los Angeles, where the sweeping show was first exhibited last year. Nearly eight years of academic research by co-curators Andrea Giunta and Cecilia Fajardo-Hill translate into a smart, thoughtful, and scholarly selection of women whose work, whether because they were women, Latin American, or both, has been largely omitted from mainstream art history surveys.
"Radical Women" is an urgent and necessary endeavor to rectify the art-historical record and to question who remains marginalized on the cultural stage today. Here, we broke down some of the exhibition's most compelling female Latin American artists and their works.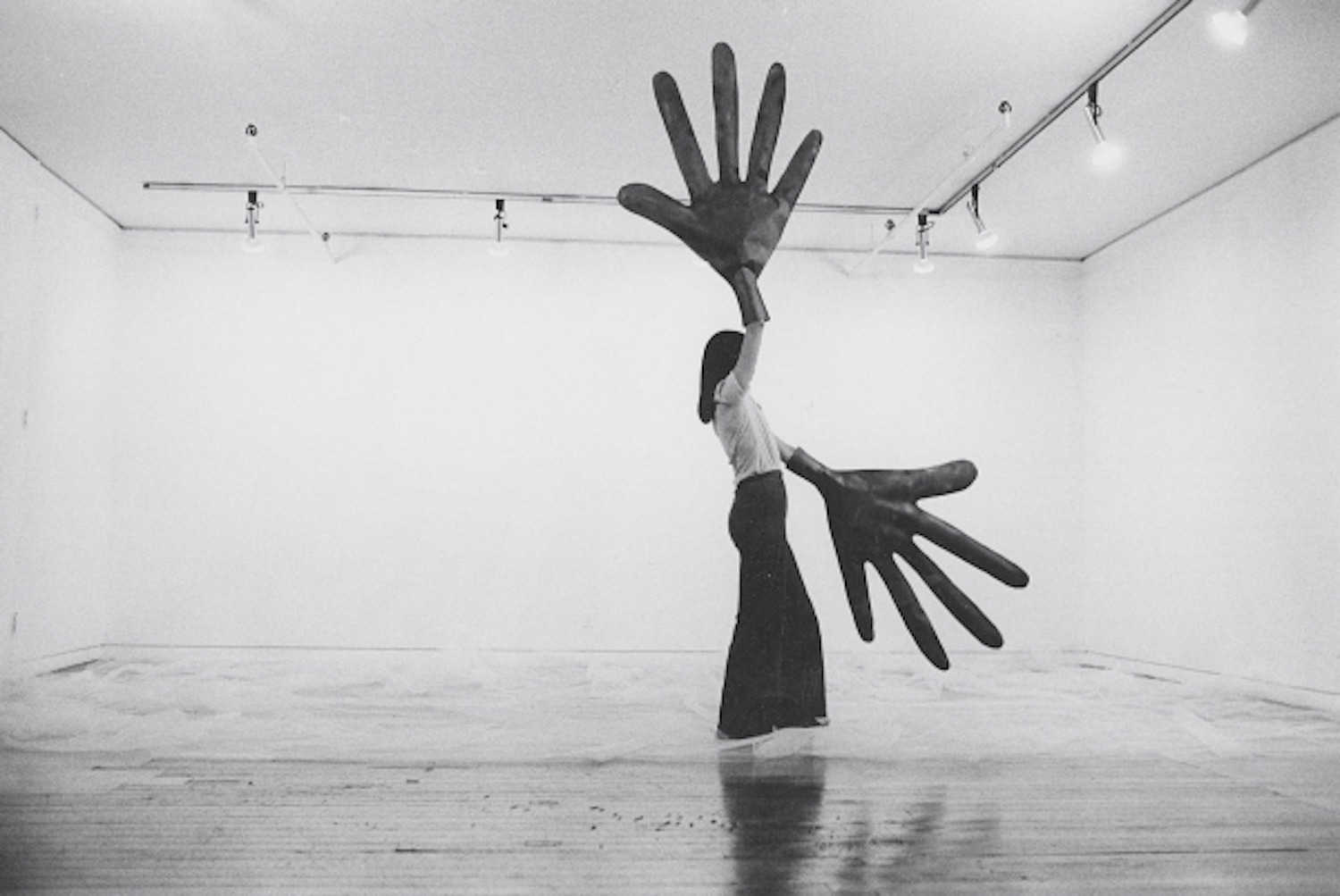 Sylvia Palacios Whitman
In the 1960s, artists began to use their bodies as expressive material in experimental performance and dance. Chilean-born Silvia Palacios Whitman, a pioneer of performance art in 70s New York, was part of an emerging group of women seeking to rupture the physical and societal constraints of the female body through dance. She performed with Trisha Brown at the Whitney Museum of American Art in 1970 and staged performances in New York venues like the Kitchen, Artists Space, and Sonnabend Gallery.
Her performances, often informed by autobiographical stories, make central use of props both found and made of materials like cardboard, plastic, and wire. In her most well-known piece, "Passing Through," she performed on stage with props she describes as images: giant hands, a volcano, stairs, and an airplane. Documentary snapshots of another performance show the artist wearing white pants and a tank top while straining against a giant cord as a human "Sling Shot."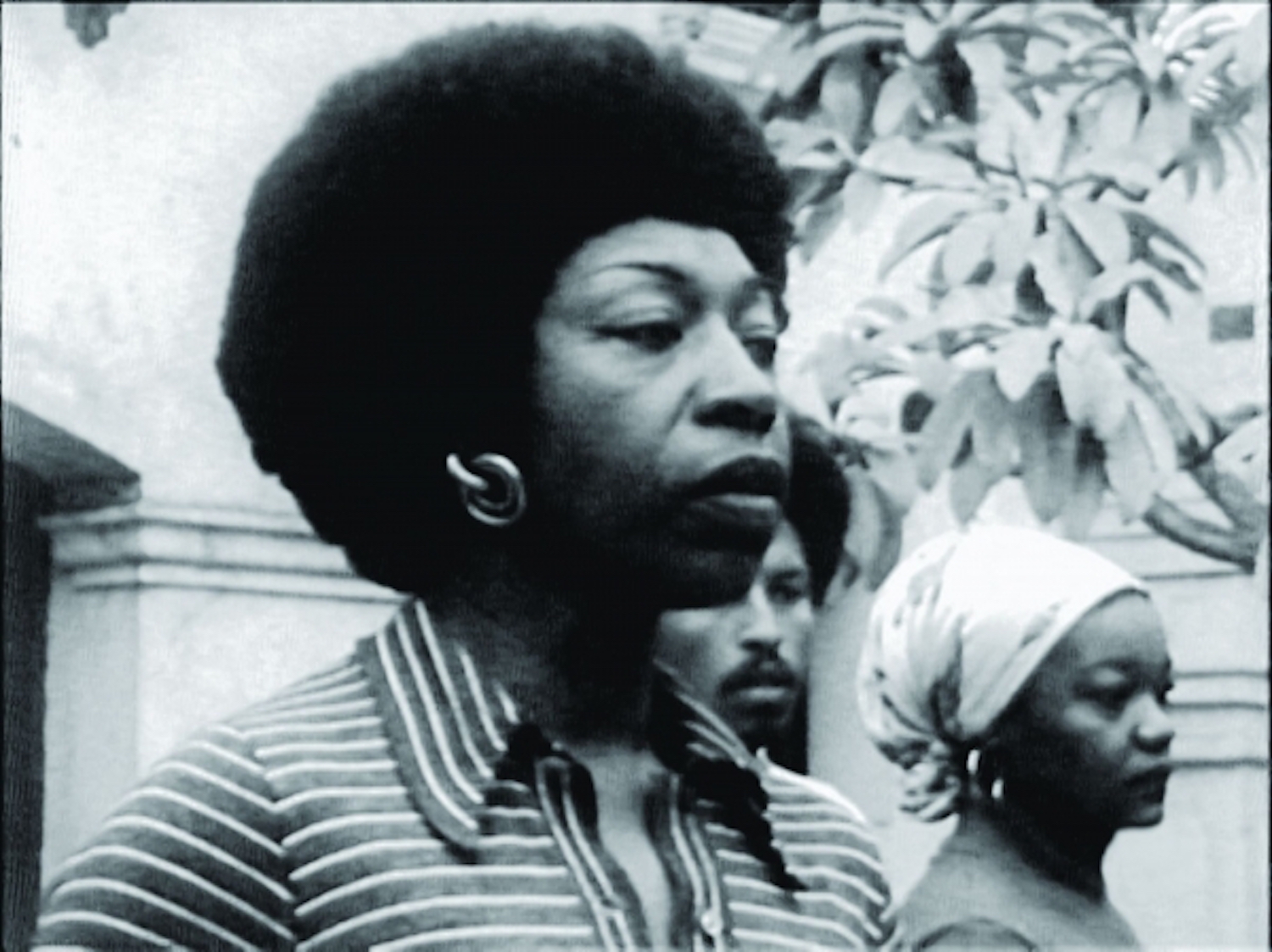 Victoria Santa Cruz
"Negra! Negra! Negra!"
The blast of words greets viewers as they set foot in the first exhibition room of "Radical Women" at the Brooklyn Museum.
The shouts emanate from a hanging screen portraying "Me gritaron negra (They Shouted Black at Me)," a video recording of a poetry performance by the Afro-Peruvian activist, choreographer, and composer Victoria Santa Cruz. It is easily one of the best pieces in the show. In it, Santa Cruz recites a powerful avowal of her identity as a black woman along with a chorus of three men, three women, and a wooden box-drum.
The performance was born of the childhood memory in which a seven-year-old Santa Cruz was called black on the street for the first time. "Soy acaso negra, me dije? (Am I really black, I wondered?)," the poem begins. "Negra, negra, negra! (Black, black, black)!" Santa Cruz's chorus barks in response.
Years of self-denial and hatred end with Santa Cruz transforming the once hurtful taunt into a hymn of liberation: "Negra soy. Y qué lindo suena, y que ritmo tiene! (I am black and it sounds so nice! It has such rhythm!)." The bracing performance went on to become a rallying cry of empowerment at a time when black life in South America was often denied and devalued.
Teresa Burga
Another artist renouncing traditional forms of representation in self-portraiture is Teresa Burga. Born in 1935, Burga formed part of an emerging Peruvian avant-garde scene associated with pop art and experimental forms of representing the environment. "Untitled (Heartbeat recording and light)" is an early version of an element of "Autoretrato," in which the artist uses photographs, drawings, medical records, and recordings to document her body.
The piece on view at the Brooklyn Museum involves a sound machine and a neon light installation, both pulsing to Burga's heartbeat. The work is a testament to the ways that individuals are dehumanized and converted into numeric information. Like the larger "Autoretrato," "Untitled" is part of Burga's ongoing concern with how changing relationships among people, information, and technology functioned as a method of social control during Peru's military dictatorship between 1968–1980.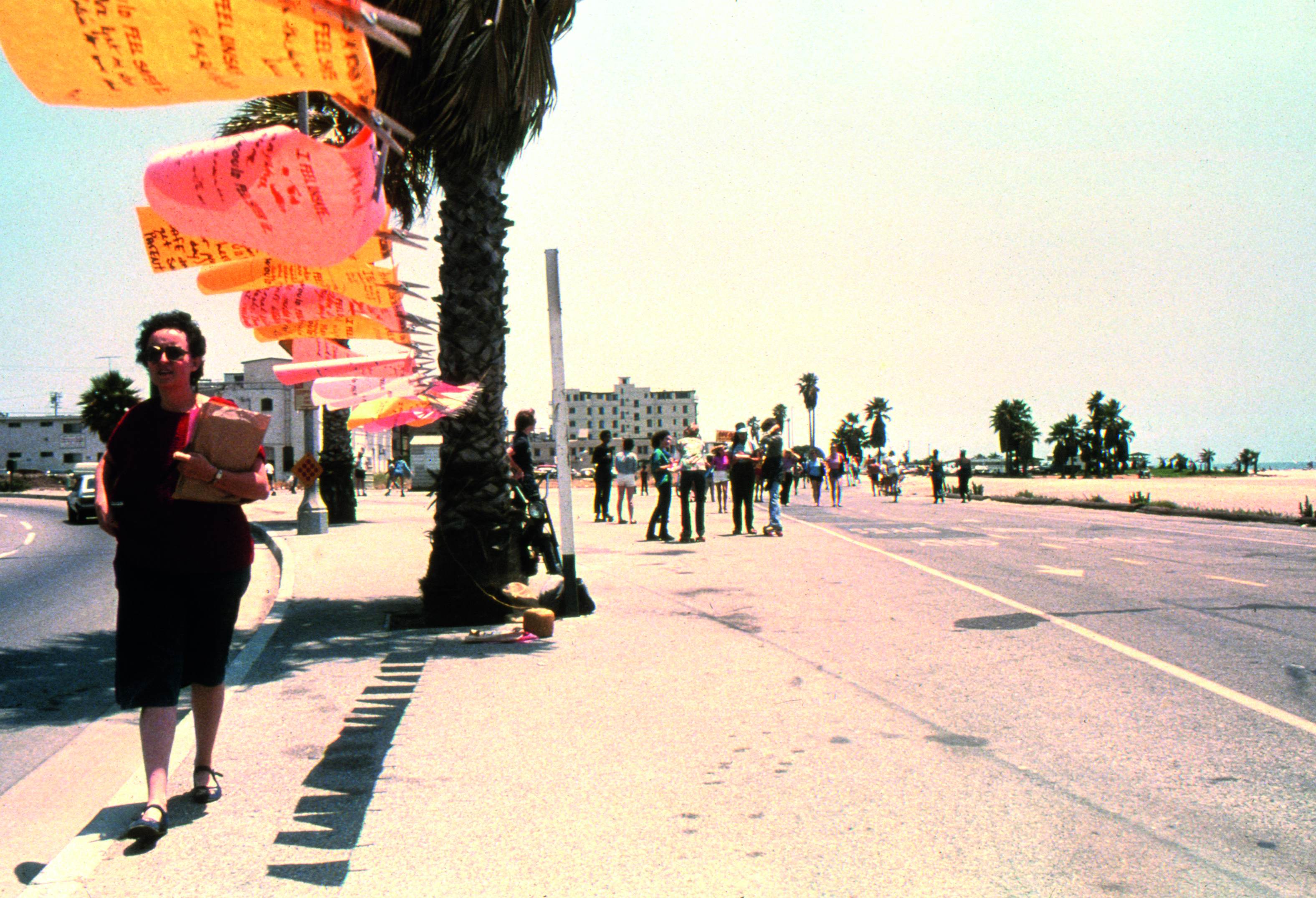 Mónica Mayer
In the mid-1970s, when Mexico was the only Latin American country with an organized feminist art movement, Mónica Mayer was part of a group of feminist artists concerned with community-driven art and activism. Mayer moved to Los Angeles in 1978 and met pioneers of the U.S. feminist art movement like Suzanne Lacy and Judy Chicago. The feminist art collective Mayer formed with Maris Bustamante from 1983 to 1993, called Polvo de Gallina Negra, addressed issues like machismo and the role of women in Mexican society with humor and wit.
"El tendedero (The Clothesline)" is a documentation of a performance Mayer produced at the Museo de Arte Moderno in Mexico City where she invited guests to write what they hated most about the city on pieces of paper and then hang them on a clothesline. The photographs on display document a second version of the performance in Santa Monica's Ocean Park neighborhood in 1979. Mayer asked passersby if they felt safe walking around the area in an effort to prompt a dialogue about the harassment and violence experienced by women in public spaces.

Anna Maria Maiolino
Anna Maria Maiolino, the subject of a major U.S. retrospective last year at the Museum of Contemporary Art (MOCA), Los Angeles, was an exile from fascist Italy, where she was born in 1942, and then from the military dictatorship of Brazil. Her multimedia paintings and photographs revolve around the political body as she navigates sometimes conflicting identities as a migrant, a mother, an artist, and an activist.
Three black-and-white self portraits on view from 1974 show the artist attempting to cut off her own tongue and nose. The photos provide a testament not only to the omnipresent violence in Brazil from 1964–1985 but also the artist's own struggles with language and identity as a migrant and an exile. Also on view are three works from Maiolino's Mental Maps series, delicate works on paper that use symbols and grids to arrange feelings like "refuge" and "solitude" with places like "New York" and "Brazil."
"Radical Women: Latin American Art, 1960– 1985" runs through July 22 at the Brooklyn Museum. You can find out more information here.
Tagged: