why britney's "blackout" is still a revelatory, feminist pop masterpiece
Ten years after its release, we take a look back at how Britney Spears returned from the edge of a very public annus horribilis to deliver the greatest album of her career.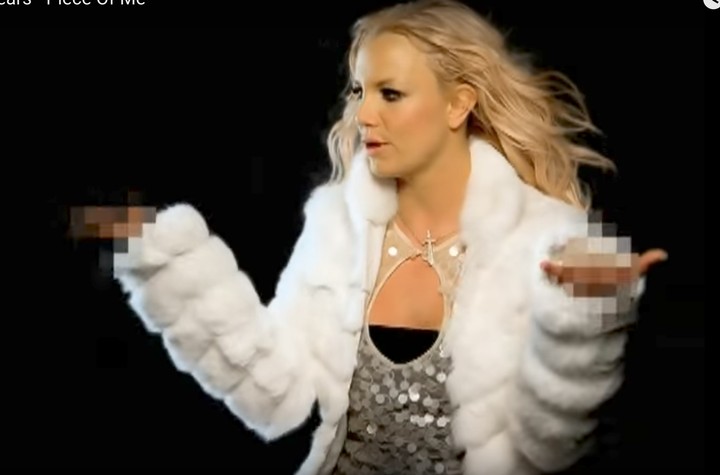 This article was originally published by i-D UK.
2007 belonged to Britney Spears. The year that saw the world's most famous singer get pushed from her pedestal with a throng of thirsty paparazzi waiting below. The year a costly split from her husband Kevin Federline, the precarious custody battle for her kids, and an ongoing fight with her mental health were chronicled by gossip blogs and trashy TV stations for the world to see. The year that, against Britney's will, her personal life became public property.
In an era before Instagram, and before Twitter had taken off, everybody saw everything: the nightclub crotch-shots; the grainy photographs of Britney shaving her head in a Hollywood hair salon and brandishing a green umbrella, ready to attack a paparazzo with it. We were welcomed into the life of an icon on a downwards spiral without her permission; asked to comment on it, make up our mind on whether the world's most beloved pop star was worth saving or deserving of further scrutiny. The resulting media coverage would force Britney to retreat to several stints in rehab, away from the cameras that would find a way to follow her anyway.
If we were to take everything fed to us by tabloid media at the time at face value, we would be led to believe that Britney was a victim of her own making — brought down by her actions rather than the ones of those who stalked her every move. But while members of the press hounded her, Britney was channelling her negative energy into what was arguably 21st century pop culture's most remarkable reclaiming of identity. It came in the form of a new, and now highly influential record — one that would help Britney focus on something and take command, while her ability to control the perception of her personal life was slipping through her hands.
Following months of public ridicule and personal turmoil, all it would take for this icon to start the journey to winning back her pop music authority were three simple words: "It's Britney, bitch."
As synonymous with the star as jungle creatures in early 00s dance routines and school uniform-style get-ups are, the opening statement on Gimme More, the first cut from her soon-to-be-released fourth record Blackout, arrived out of nowhere, sounding like pre-coital reception music for a sordid Berlin sex club. A trashy slice of electro that lyrically dealt with voyeurism, public attention, and how much of it Britney could handle, the song — which peaked at number three in both the UK and US — was the perfect precursor for the body of work that would soon follow it.
Today, an album's success regularly relies on a surprise release or strenuous marketing campaigns, but back then the birth of Blackout had the odds stacked against it. Still fighting her own personal demons, Britney opted out of doing any sort of promo for the record, bar her now notorious performance at the VMA's. Billed as her monumental comeback show, she meandered her way through a four-minute dance routine, barely moving her lips to the overbearing backing track.
It was the musical showcase that would cause Chris Crocker's infamous "Leave Britney Alone!" rant to become one of the internet's first viral videos, so much so that Crocker's legacy would almost eclipse the event that it was originally about. Like many things, the public's reaction was somewhat short-lived, and the criticisms of Britney's performance were soon shifted to the back of the pop culture consumers' consciousness. She, like the rest of us, moved on, shifting her mind to the aspects of her life and career that truly mattered most: what was still to come.
A month after her VMA's performance and after over a year of hard work, Blackout leaked prematurely online, landing in the hands of her fans and harshest critics. The record saw Britney putting her secrets on show in the only way she knew how to, with emotional honesty of a different kind; nothing gentile, just a 43-minute "fuck you" to every blogger and internet troll who felt she had to apologize for the direction her non-professional life had gone in.
Critics had ignorantly expected the product of Britney's public breakdown to be a ham-fisted, run-of-the-mill pop record, put together in an attempt to salvage what was left of the star's ailing career. But balding, middle-aged white men were forced to eat their words when Blackout turned out to be a thundering collection of seismic dance pop that painted Britney as a glamorous, carnal woman in control.
"Balding, middle-aged white men were forced to eat their words when Blackout turned out to be a thundering collection of seismic dance pop that painted Britney as a glamorous, carnal woman in control."
In the music industry, a man's bad behavior is seen as the perfect opportunity to orchestrate his rebrand as an artist, such as Justin Bieber's scot-free transition from saintly teenage heartthrob to serious, edgy musician. It's almost a reverse action for women. Being embroiled in tabloid controversy spells career suicide, and they're expected to redeem themselves in order to move on and make music again. But Britney never apologized. Not for the breakdown of her marriage (an event that shared responsibility, not that anybody recognized that), or those voyeuristic pap-snapped shots of her getting out of her car with no underwear on.
"I'm Miss bad media karma / Another day another drama" she would lambast, drenched in autotune, on Piece of Me — a song (with Robyn backing vocals!) that would eventually become the second single off the record. The orgasmic vocal hooks on the track are so obviously an audible climax that it's a miracle they made it to radio. She was proving she was aware of the world's expectations, and was unwilling to change.
Almost every track on Blackout tackles this idea of the projection placed on Britney as a public figure, turning it around and shining it back on the media to see how they liked it.
In a way, Britney's flagrant desire to make a record defined by sex and craving attention makes Blackout a killer feminist record too. Britney's owning of her sexuality and self felt like the source of her strength. On tracks like the hip-grinding " Get Naked (I Got A Plan)" and the takedown of basic fuckboys " Toy Soldier," Britney was becoming an uninhibited pop star who was ready to shed her "butter wouldn't melt" image, cultivated by years under the helm of The Mickey Mouse Club, and her musical beginnings as a label-shaped, strawberry-smelling southern belle of 90s pop. At the time of its release, an unimpressed British music mag would compare Blackout to "a sex addict's cry for help" ( sounds like a damn good compliment to us), which was a gross example of the ingrained misogyny against women in pop. Even when they release an unshackling, warmly-received record, they're still seen as nothing more than commercial tabloid fodder. Would such a distasteful comment be made about a cheeky, flirty pop record by a man in pop? We doubt it.
In a way, Britney's flagrant desire to make a record defined by sex and craving attention makesBlackout a killer feminist record too.
At that time, a woman's sexual liberation in song still made record labels slightly nervous. While Christina Aguilera had bared all on Stripped five years prior, she counteracted the primal brilliance of Dirty with the touching ballad Beautiful. Nelly Furtado had shed her folky image on Loose in favour of one of a freed woman with Maneater and Promiscuous (both produced by Blackout collaborator Danja), but also balanced things out with therapeutic singles like In God's Hands. Britney's fourth album felt like the first time a 21st century pop artist was unequivocally using sex as a creative tool rather than a way for labels to stir up controversy and push sales.
Few records — never mind pop ones — are pivotal enough to warrant discussion ten years after their release, which is a shining testimony to the brilliance of Blackout and the resilience of the woman behind it. Even today, the record's legacy is proven in the way critics have warmed up to it a little later than originally expected. In 2010, The Times would call the record the fifth best pop album of the decade, while it would be entered into the library and archives of The Rock and Roll Hall of Fame just five years after its release.
In an era that saw our preferred packaging of celebrity gossip shift from scandalous to a kind of otherworldly, fantastical glamour, Britney was a pop star that paved the way for these flaws to become the catalyst for something greater. By releasing an album as dangerous, sexy and unexpected as Blackout, she made her intentions clear: Britney Spears is a fighter, and she doesn't give a fuck what you think. Put simply, she's Britney, bitch.