5 awesome facts about america's new transgender lawmaker
Last night in Virginia, a trans metalhead Danica Roem unseated a self-described "chief homophobe" who drafted the state's bathroom bill. Here's what you need to know about your new Democratic hero.
|
08 November 2017, 9:20pm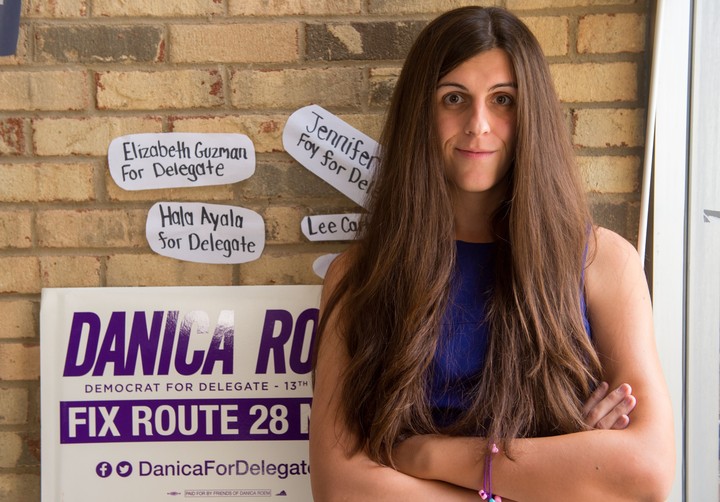 Paul J. Richards via Getty Images
Yesterday's elections were pretty exciting for Democrats in general. But in Virginia, progressive metalheads reveled alongside policy wonks before hitting the sack on cloud nine. Not only did Democrat Ralph Northam cinch the governor's seat, defeating an opponent who ran ads attempting to tie him to child pornography, but the state elected Danica Roem, who will become America's first openly transgender person elected to and seated in a statehouse. Danica Roem was one of 15(!) women who unseated GOP delegates in Virginia, and fought what might have been an even nastier campaign than Northam's. Roem's opponent? Incumbent Republican Bob Marshall, who you might remember as the writer of the state's transphobic "bathroom bill."
She's the vocalist in a metal band.
Roem isn't just the first trans person to score a seat in the Virginia House of Delegates but the first member of a metal band to do so. Roem is an active member of the Virginia metal scene, as vocalist for thrash metal band Cab Ride Home, whose biggest hit is an anthem about getting wasted. "Just because I sing in a heavy metal band while spinning my head in circles and getting paid to do it, why can't I run for government?" Roem recently told Noisey. "Why would I have to change who I am in order to run for government? I've already had to go through transformative change." Word. In fact, Roem's biggest donor was local heavy metal bar GWAR, which hosted a fundraiser event for her run.
She's a (step)mom.
She's not just any stepmom — she's a cool stepmom to the nine-year-old daughter of her spouse. The kid attends public school, which is why Roem has made raising teachers' salaries one of the focal issues of her campaign. Virginia is currently ranked 32 for teacher pay in the country. "We can't retain and recruit the best teachers if we don't pay them a competitive salary nor can we retain and recruit the best teachers if we discriminate against them," Roem recently wrote on her official campaign Facebook page.
Her main focus is traffic.
While teacher pay was a big issue for Roem, her biggest one sounds potentially even less sexy to people unfamiliar with Route 28: traffic. Roem wants to finally fix the congested mess that is the primary state highway, criticizing Marshall for being more concerned with how she used the bathroom than with how people got to work. Roem isn't shy about discussing gender identity and LGBTQ rights — but she's a reminder that trans people care about the same issues as everyone else. "Guess what? Terrible traffic doesn't care if you're trans or if you're not trans, it doesn't care what the color of your skin is, it doesn't care about anything," she said. "It's traffic."
She out-raised Marshall by 5 to 1
Roem's commitment to focusing on issues rather than identity is reminiscent of Bernie Sanders. And that's not all she has in common with the beloved curmudgeon from Vermont. Roem's campaign contributions were overwhelmingly small-dollar donations, averaging just $47.46 (Sanders' average was famously $27) as she headed into the primaries earlier this year. Roem initially refused to accept donations larger than $500 until realizing how vital a financial edge was in running a successful campaign. Regardless, she managed to out-raise Marshall five to one. And that's not only thing sure to be grinding her former opponent's gears. "I've had more out, open trans people volunteer for my campaign than Delegate Marshall knows he's ever met," Roem told Broadly, adding that one of them is a 10-year-old girl. Too bad Marshall can't take Route 28 back to the 19th century.
She's an award-winning newspaper reporter.
Roem picked up prizes from the Virginia Press Association seven times before switching career gears, working for nearly a decade as the lead reporter for the Gainesville Times and Prince William Times. Her love for journalism stemmed from her grandfather, who was devoted to reading the daily papers, and who became a father figure to Roem after her real father committed suicide when she was just three years old. Roem's beat was broader than gender identity, but she did cover two murders of transgender women.