getting to know stellar leuna, the prada-endorsed artist with goth tendencies
You know you're doing something right when Miuccia requests your drawings.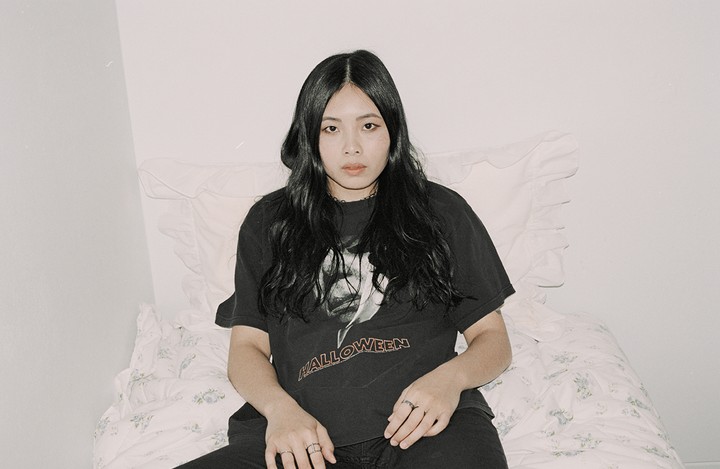 Photographer Dakota Gordon
Stellar Leuna is an artist from Sydney who makes cool black and white ink drawings of strong, troubled girls. Her women smoke and wear leather jackets, others play guitar and surf, but there's always a sense of a trouble or evil lurking in the shadows — often very literally. As Stellar admits, her "obsession with occultism, counter culture and 18th century Romanticism" inform her drawings of nocturnal worlds where witches, demons and teenage girls co-exist. Nothing is quite what it seems here and like all the best horror films, it's the suggestion of terror that holds your fascination.
While Stellar has spent the last few years balancing her personal work with various commercial projects, she was recently given quite the nod when Prada approached her about collaborating on their spring/sumer 18 collection. Stellar lent some of her characters to the season's jackets and bags, and the images were also blown up to huge scale to cover the walls of the venue. It was as though Stellar's universe had come to life and in a beautiful frenzy of colour and texture. Backstage after the show, Miuccia remarked "We have to change the world. Especially for women, because there's so much against us, still," and this was her way of doing something about it. We spoke to Stellar about her work, her passions and her plans post Prada.
Congrats on your recent work with Prada. How did it all happen?
Well, they just emailed me out of nowhere, I have no idea how they found me. It all happened pretty quickly, which was amazing.
You were one of eight artists involved, right? It was yourself, Brigid Elva, Joëlle Jones, Giuliana Maldini, Natsume Ono, Emma Ríos, Trina Robbins, Fiona Staples and Tarpé Mills, the creator of the first female action hero, Miss Fury? Your work looks incredible on the garments.
Thanks, yeah, I really liked it, I loved the way they used our work for patches on coats. Seeing my work in colour was cool too.
It was an incredible show. I'm curious about your interests and the bands you're into — like L7 and Nine Inch Nails — I feel like these are bands of the generation before you.

I've always been into alternative music but when I was younger, it was gateway bands all people my age listened to like Linkin Park, Sum 41 and Good Charlotte that introduced me to punk and metal. I'd find out what bands they were influenced by. Eventually I found all the punk and metal bands I love now.
I love how it informs your work. Is there anything new you're into?

I really like Code Orange. They're a metal influenced hardcore band from Pittsburgh. I like that they're really influenced by 90s metal like NIN, Alice in Chains and Machine Head, so their music sounds really reminiscent of that era while still being new.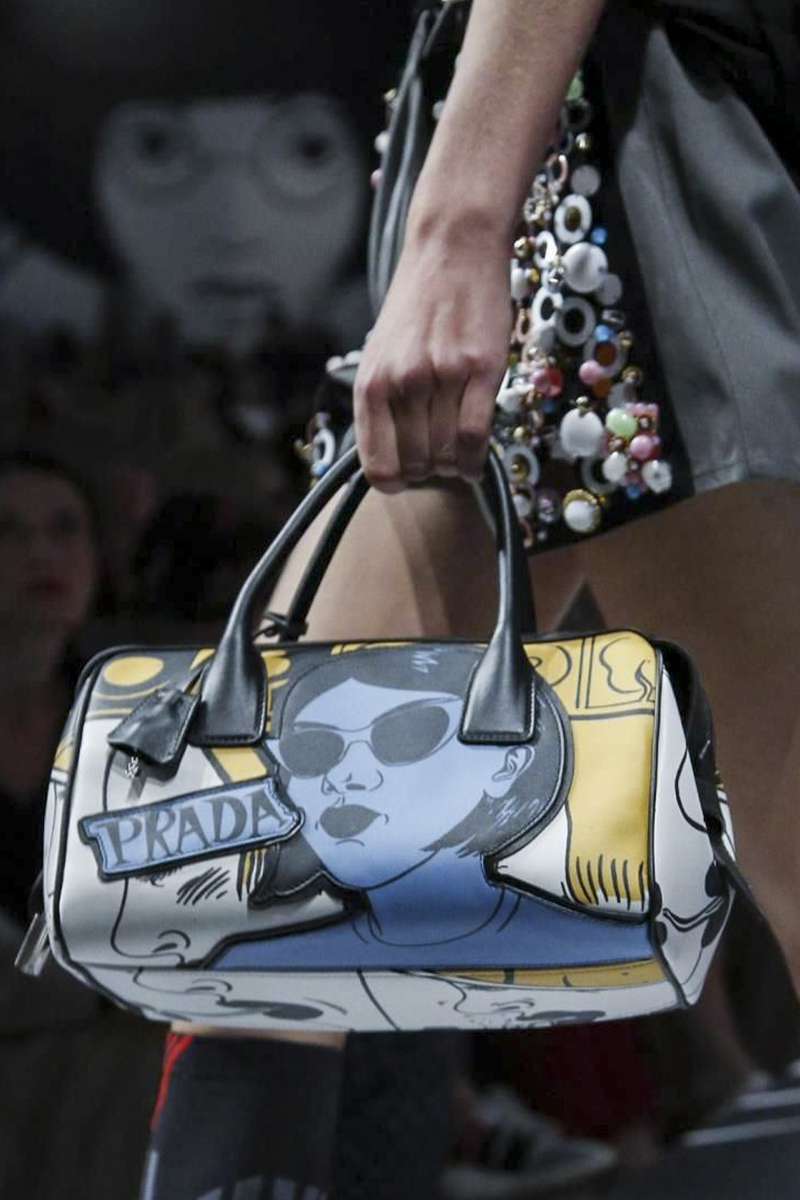 You've been getting into doing album covers for bands too, right? Who have you worked with?

Mainly just local hardcore bands like Endless Heights, Arteries and Amelia Arsenic, who's an industrial metal artist. I also did album artwork for a Korean-American rapper called Dumbfounded a little white ago which was fun because I don't usually get to work with musicians from such a different genre.
Do you go out and listen to music a lot?

Yeah all my friends are in bands, so I go and see them play at venues and pubs all over Sydney. I'm also in a metal band with my boyfriend and another friend. We're called Potion and we are releasing our music at the end of the month.
Awesome. What do you do in the band?
I play bass. It's really fun. I only started playing at the beginning of the year but I really enjoy it.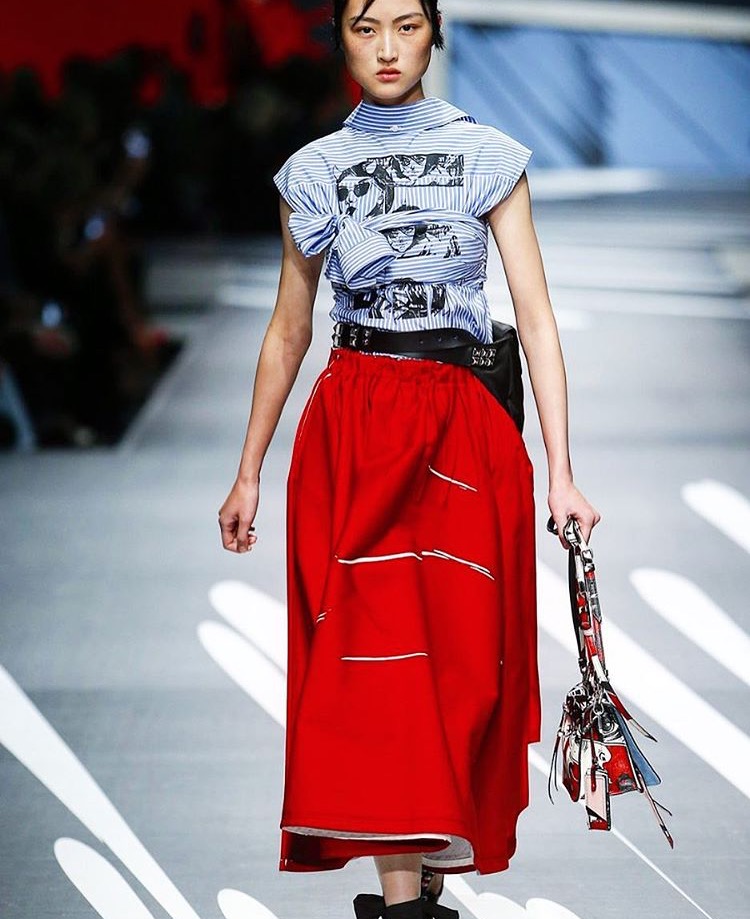 Back to your art, what's your physical process?
If I hand draw it's usually with pencil and brush and ink.
How did you develop an interest in the occult and the darker aspects that come through in your work?
I've always really liked horror movies. Even as young as three of four I was obsessed with The Wizard of Oz. I loved the battle of good and evil between the witch and Dorothy. I remember Scream having an impact on me when I was a kid too. I like the idea that horror films explore imperfections in people. I find it a lot more exciting to draw horror themed art than anything else - anything supernatural is really interesting to me.
Have you ever had your Tarot cards read?
No. Haha! I'd probably do it for fun but I don't believe it.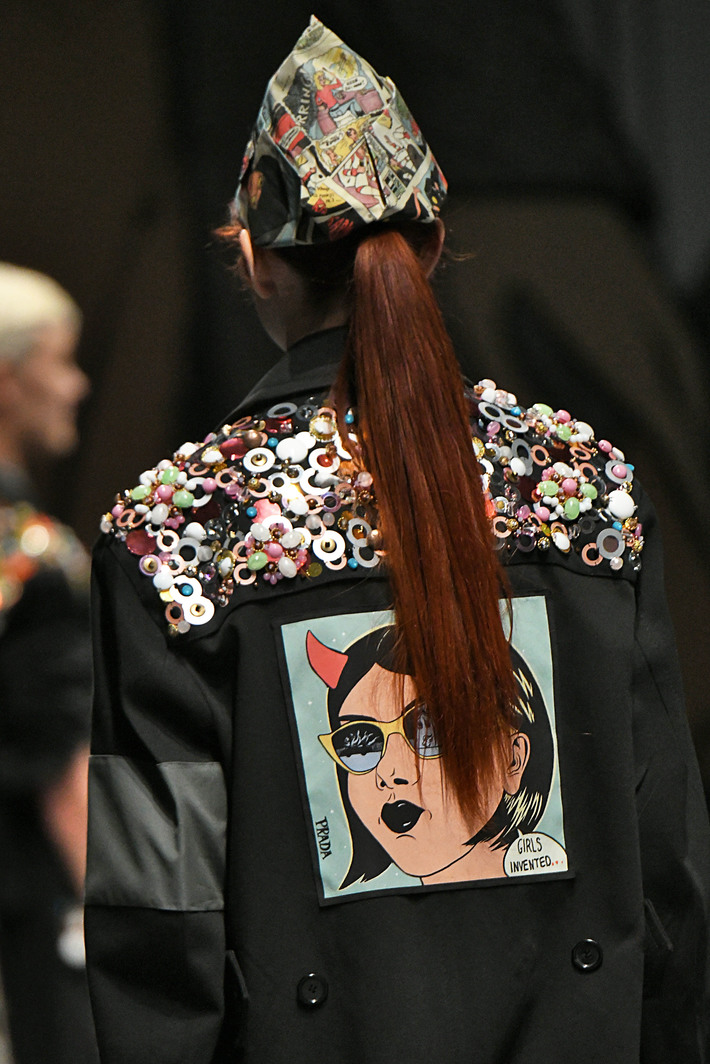 Do you see your work as being part of a feminist art movement? The Prada show certainly had a quality of strength and was in a way an ode to strong women thanks to the work.

I try not to make my work too political or negative, rather I focus on more empowering aspects of being female and try to keep it light-hearted by bringing in the supernatural element.
Now you've worked with Prada, is there anyone else you'd love to collaborate with?

I think one of my biggest goals career-wise would be to work with L7 on something. They've been a huge influence on me.
Well I hope that comes true! Finally, what do you have coming up?
I've got a solo exhibition coming up at the Wedge Gallery in January.