premiere: experimental jazz tribe onyx collective shares two new music videos
The NYC-native collective counts Dev Hynes, Supreme, and Princess Nokia as collaborators. They debut a pair of fresh, fragmented visuals by artist Alex Halbert.
|
15 November 2017, 7:29pm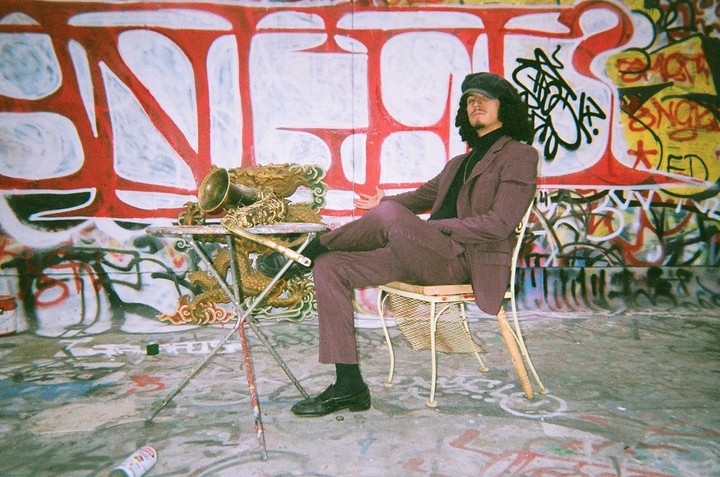 Photography Aidan Cullen
The most influential music in modern history has incubated in New York City (hip-hop, disco, punk, new wave, no wave, you name it). These sounds and scenes are indebted to our city's rich jazz legacy. Though the genre's mainstream popularity has waned, its improvisational, experimental, and collaborative spirit is alive. Onyx Collective — a group of NYC natives helmed by saxophonist Isaiah Barr and drummer Austin Williamson — embodies jazz's dynamic energy for a new generation.
The collective came together through Know-Wave, Aaron Bondaroff's radio-show-cum-downtown-community. When Barr was offered his own time slot, he called up other musicians to play live from Know-Wave's East Village outpost. Sometimes they formed a trio; at others a seven-piece ecosystem of experimental sound.
In the three years since first jamming on-air, Onyx has performed and recorded with Ratking (and its lyrical lynchpin, Wiki), Princess Nokia, and Blood Orange's Dev Hynes. They've developed a fervent fanbase among today's downtown set, despite not releasing material digitally. Onyx's debut LP, Second Avenue Rundown, was pressed exclusively on wax and distributed through Supreme and Know-Wave.
Last month, the crew returned with the first in a three-part series of EPs. Lower East Side Suite Part One is a clutch of eight excellent tracks, each charged with movement and melodies that feel uniquely downtown. Today, i-D is excited to premiere two new music videos from the record, both made in collaboration with artist Alex Halbert. Below, Barr tells us more about them.
Let's talk about the starting points for these visuals.
The concept for all of these videos is to allow the artist to be free to create and not have limitations. For me, the vibe for video one created a morphing — almost drunken — viewpoint of the current downtown street culture. Nothing is clear; things are pretty nonsensical and blurry. The Elvin Jones quote "I see color images" is the drone to this viewpoint of roaming the streets. The music itself was recorded in a bookstore. We were definitely engaging in altering passerby's attention because we were practically on the street!
Video two is a representation of the song through Alex's color, rhythm, and texture palettes. I love these visuals. There definitely seems to be a metaphoric connection to nature — to the serenity, and sometimes cacophony, that nature presents. The song is a riff on the old classic "Old Man River," which has a deep meaning behind it.
There's been a special confluence of poetry, visual art, and jazz in NYC for decades. Onyx seems to be carrying on that spirit today. How do other forms of artistic expression interact with the sounds you make?
I hope that I'm adding to the history of New York. But we are naturally communicating with whatever surroundings we are choosing to work with, or to the natural things all around us. Mundane things — a revolving fan, the sound of the Manhattan Bridge, the screeching of a train. I try to work with as many artists as humanly possible, ones who I've know for years and some that I just met.
You've collaborated with Wiki, Dev Hynes, Princess Nokia. What draws you to each of these artists, and what makes a great collaborator?
They're all great! Love them and love the work we do together. We also have collaborated with our mentors such as Roy Nathanson, John Benitez, Jamire Williams, and Dave Glasser. We also collaborate with my students from I.C.E! All forms of collaboration are a great discovery. Collaboration is major thing that is missing in the world.
Supreme released Second Avenue Rundown. Tell me about skateboarding's relationship with jazz.
Skateboarding is all rhythm and movement. It's all dedication and repetition, which is a huge part of being a musician. As far as the culture: sometimes they overlap in perfect unity and can create an energetic environment to perform in. A lot of skateboarders are our age, so it's important to connect and show love. Our practice shed is in a house filled with skateboarders, one block from a huge skatepark. So the connection is just natural.
Second Avenue Rundown was recorded in Know-Wave's Forsyth studio space. How about Lower East Side Suites? How has the sound progressed?
The Lower East Suite project is a continuation of the concept used in the makings of Second Avenue Rundown. All the recordings are from spaces that we have played in. We are comfortable with this chaotic process of moving drums and other gear to a space and doing something spontaneous. It allows us to really use our imaginations. We are trying to create a soundscape of all these musical occurrences, in some sort of suite-like manner. The ensemble is always a bit different, so every performance is special — a new chance to connect with an old friend.
What should we expect from Onyx in the future?
EP 1 has recordings from the original Forsyth space, the old Picture Room bookstore. It's interesting that some of these spaces don't exist anymore. It feels creating a time capsule, or a message in a bottle kinda-thing. A lot of EP 2 was from a session at The Good Company, which served as a space for us to play and collaborate over the summer. We created a five-track "remix" or "mashup" of this session — Spencer Murphy on electric bass, Austin Williamson on drums, and myself on tenor and alto saxophone. The final record was recorded entirely at Gogy Esparza's Magic Gallery, on Canal Street. It's one of the most amazing spaces in New York. Mike Swoop mixed these live sessions. No computers were used, and all of the music was recorded to tape.
This album is a suite of music I composed to address the feeling of having to push through barriers to find existing spaces to create within. This is the changing reality of the city — especially downtown — the lack of space for creative activity and the expensive cost of music studios. We want the recordings to be focused on mood and atmosphere, so this approach brings that to life.
'Lower East Side Suite Part One' is available now .