A guide to Rihanna's style evolution
From tie-dye crop tops to Catholic cosplay, here's to 15 incredible years of incredible Rihanna raiment!
|
28 November 2019, 5:30pm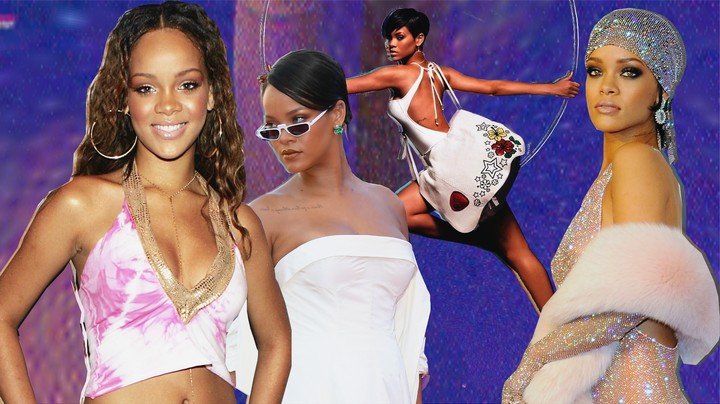 Rihanna is arguably the most fashionable woman walking the planet. Not only is she a leader in the make-up world -- with her Fenty Beauty line proving that inclusivity is a killer key to success -- but she's smashing the lingerie industry with Savage x Fenty, all while designing several collections a year for her LVMH-owned namesake brand.
Nobody can fuck with her creative flow right now, but her path from Barbadian girl with her sights set on chart success to unrivalled global fashion icon is a long and dazzling one. Here, in 15 looks, is how she entered, shaped and eventually took over the fashion world.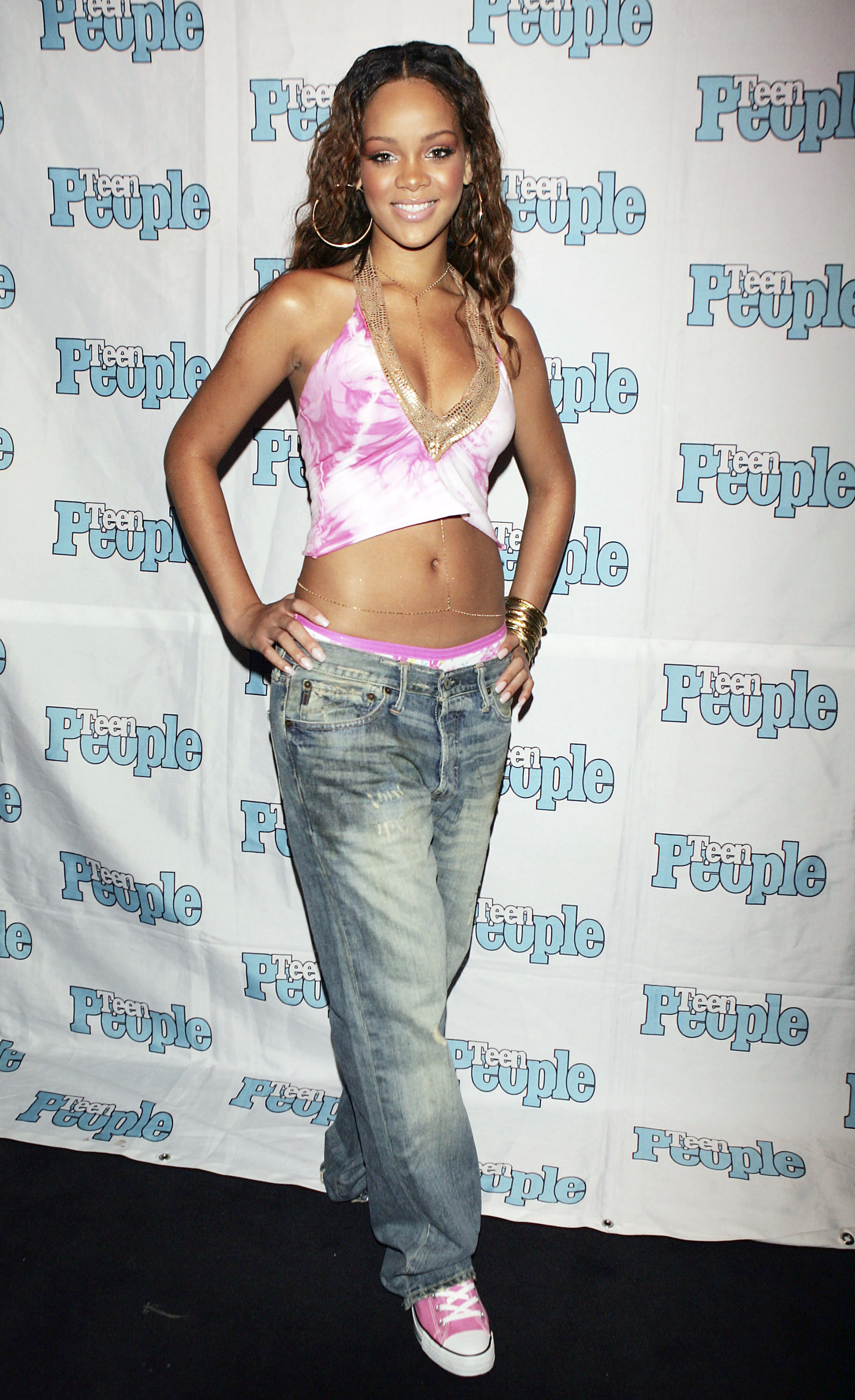 2005: RiRi's First Red Carpet
Ah, baby-faced Rihanna! At just 17 years old, the soon-to-be-star rocked up to Jay-Z's Teen People Listening Lounge Party in a look that pretty much defined that mid-00s era. Specifically, a halterneck crop-top (tie dye, of course), body chains and a pair of acid wash hipster jeans similar to the ones she wore in the video for debut single 'Pon de Replay'. It might've been early days, but young RiRi already knew the power of a consistent image.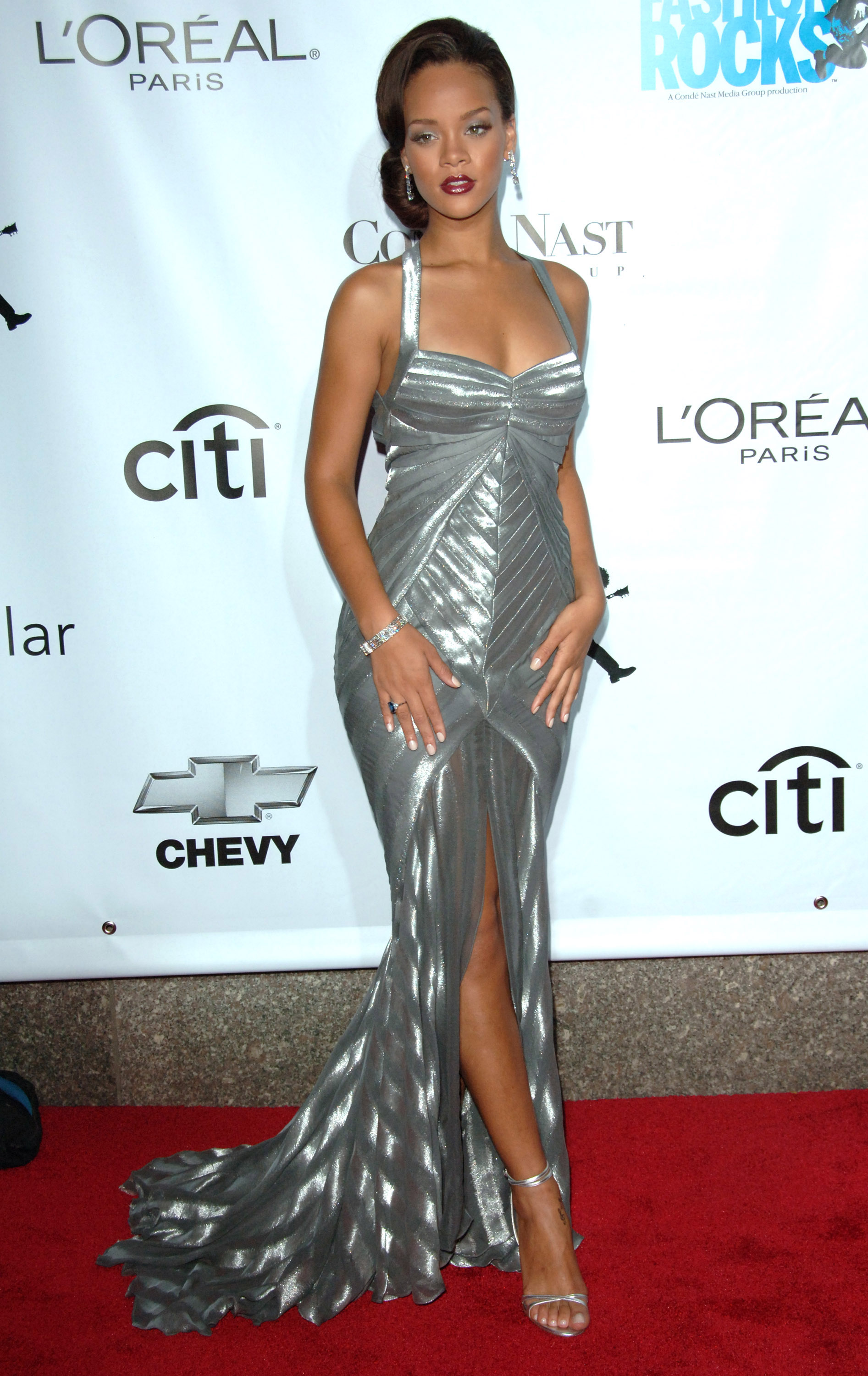 2006: NYFW debut
The following year, on the cusp of dropping her second album, A Girl Like Me, and with a chart-dominating single under her belt, Rihanna made her fashion week debut in New York City. Having been cordially invited to Conde Nast's opening shindig, she grabbed her first opportunity to go full glam and rocked up looking like vintage Hollywood royalty, in a mermaid silhouette silver dress and diamond accessories. Truly iconique!
2007: Umbrella video
Three years into her career and Rihanna -- the hardest working women in music -- had already managed to rack up enough tracks to release two hit pop albums. But her third full-length, Good Girl Gone Bad, was arguably the moment she crossed over into megastardom -- you know, when your mum and dad finally cared about who she was. It all came down to one song, one video so iconic that only Tom Holland in drag has managed to match its power since: "Umbrella". The video saw RiRi don ballet shoes and French Maid-style bodysuits; fedora hats and leather-look peplum skirts. All the while spinning an umbrella through CGI rain like an absolute goddess. Watching on, the world's pop culture consumers had no choice but to stan.
2008: Queen of Gucci
2008 was the only year from 2005 to 2012 that RiRi didn't release a new album. Instead, an enhanced re-issue of Good Girl Gone Bad spawned another Billboard number one single: "Disturbia", her darkest single to date. But if her artistic vision was murkier than ever before, her philanthropic outlook was far more optimistic. In 2008, Rihanna became the face of Unicef and Gucci's link-up, and started speaking at events and appearing on red carpets to highlight the charity's work. She also appeared in the Gucci campaign 'Tattoo Heart', wearing a white bodysuit and a gigantique embroidered leather bag over her shoulder as she swung from a trapeze artist's hoop. How she kept her balance? That's a secret she'll never tell.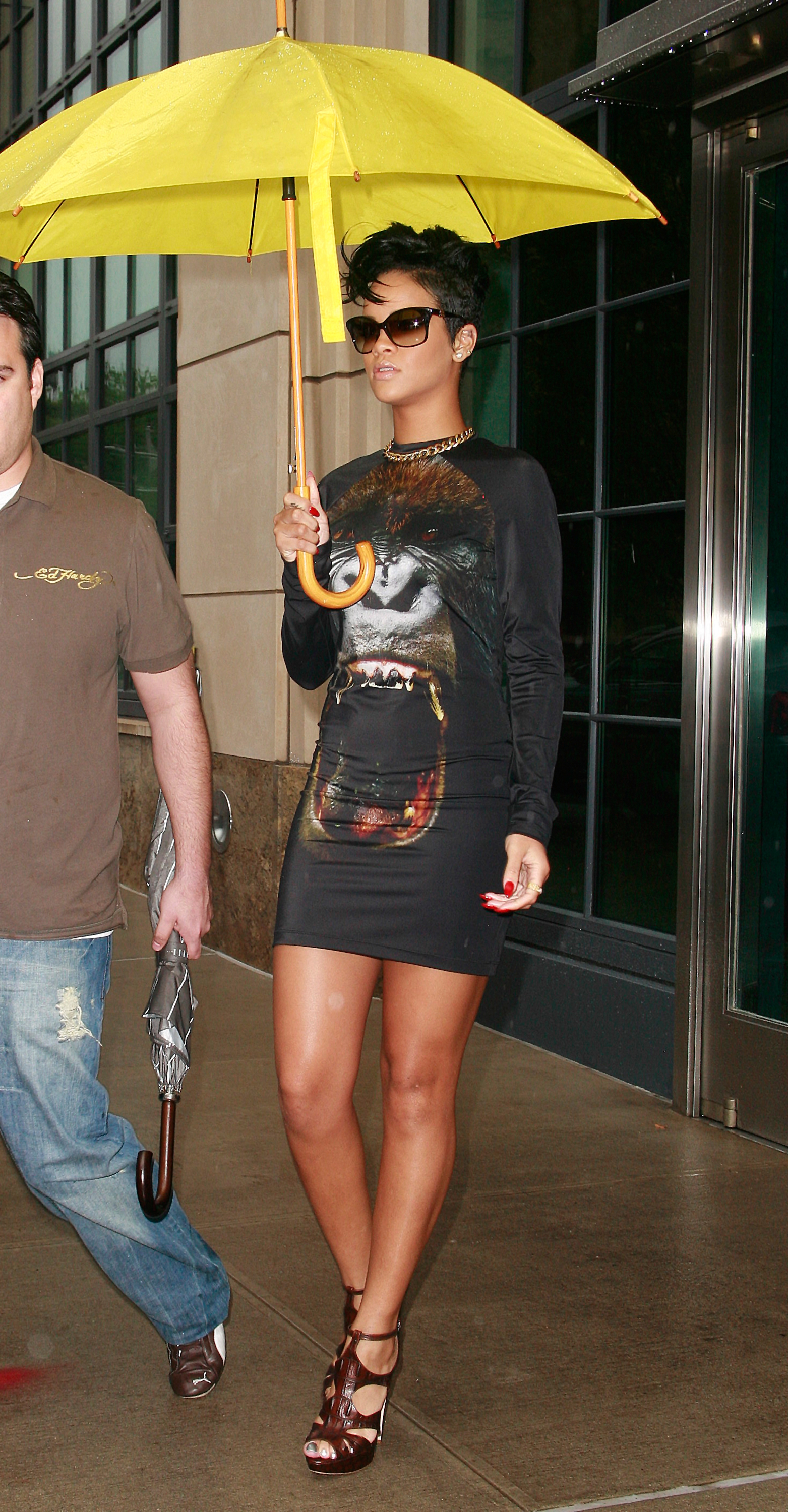 2009: Christopher Kane in Soho
Before the decade was out, Rihanna had time for one final image reinvention. For her hard-edged, rock-inspired Rated R, Rihanna (partially) shaved her head, and adopted a less traditional approach to dressing for red carpet events and in her music videos. Out and about in New York's SoHo, she donned a Christopher Kane x Topshop dress that depicted a growling gorilla. As the high fashion x high street crossover was reaching its apex, this cosign really did solidify its power.
2010: What's My Name?
2010 ushered in what many would call Rihanna's most iconic pop era: the Loud album cycle. Singles like "Only Girl (In The World)" and "S&M" became worldwide smashes and propelled her to stadium-sized crowds. Meanwhile, the video for her Drake collaboration "What's My Name?" gave us one of her most recognisable looks to date. With a puffy fascinator in her red hair, she wore monochrome shorts with technicolour banding, bangles and necklaces a plenty -- topped off with a draped Beetlejuice-stripe jacket.
2011: Armani Privé
That black-and-white moment seeped into the following year too, as Rihanna became the face of Armani's denim and underwear campaigns for AW11. It was the first time the singer had designed a collection for a major fashion brand and, in the monochrome promos shot by Mert and Marcus and Steven Klein, she wore everything from sweet pinstripe shorts to negligees to high waisted jeans.
2012: Her first Met Gala jawdropper
Rihanna received her first invite to the Met Gala back in 2007, when the event was a slightly more low-key affair, and rocked up in a white studded gown. She followed it up with a Chaplin-esque tux (2009) and a lace dress (2011) before stepping out in the look that blew all her previous efforts out of the water. For 2012's 'Schiaparelli and Prada: Impossible Conversations' theme, she wore a Miuccia-designed, crocodile leather-look backless gown that transformed her into some kind of Ancient Grecian goddess -- and marked her as a permanent Met Gala one-to-watch.
2013: Pour It Up
2012's Unapologetic gifted us one of the best singles of the following year: trap anthem "Pour It Up". Set in a dream-like strip club, the video sees Rihanna wearing a styled out, peroxide blonde wig, bejewelled lingerie, a denim thong that predates Y-Project's, sky-high dollar bill-printed stilettos and a gigantic faux-fur jacket. "Money make the world go round," she raps as she sits in a golden throne. Boss bitch energy, indeed!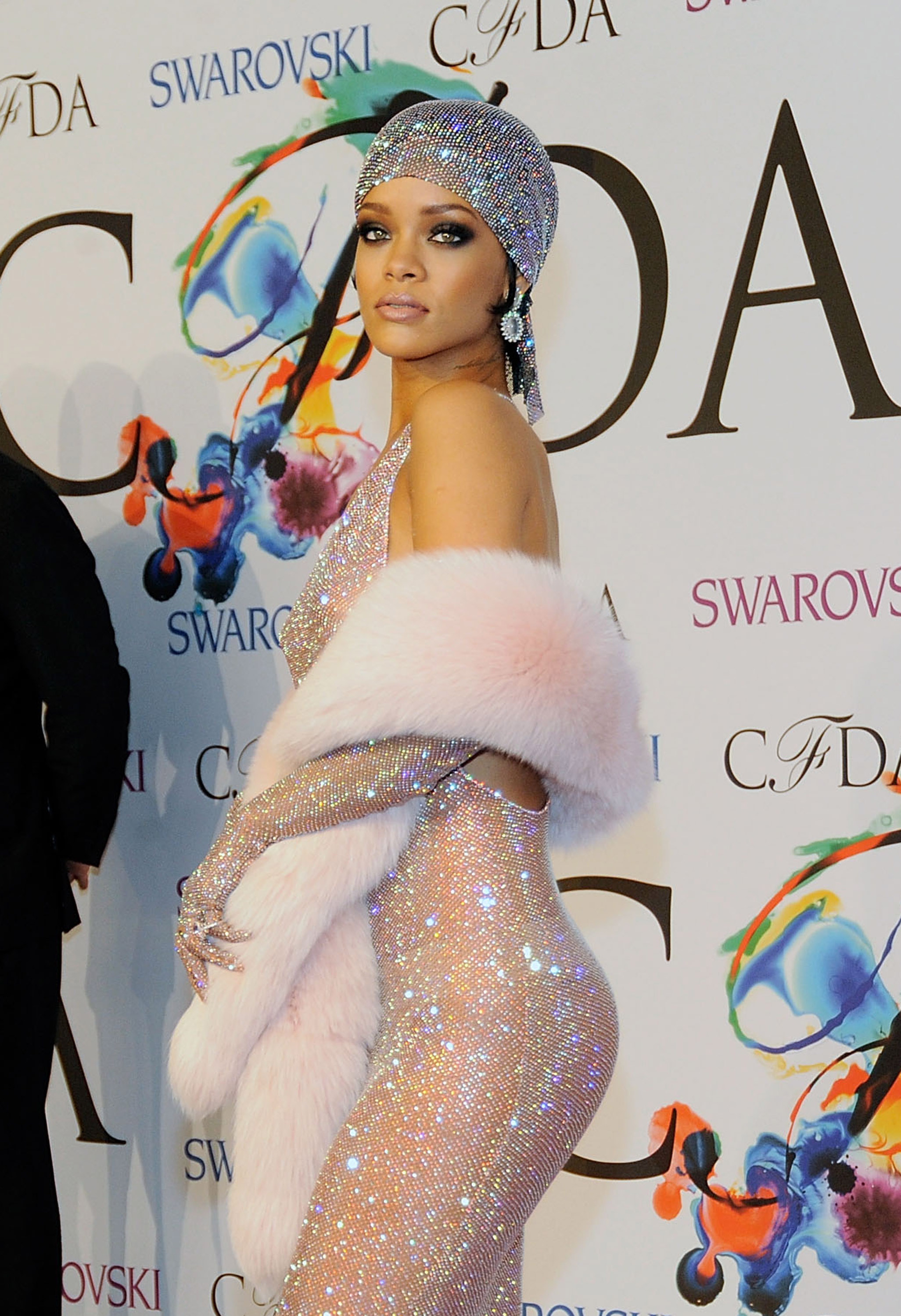 2014: CFDA WTF YES QUEEN WE ARE NOT WORTHY
250,000 Swarovski crystals, skin-coloured panties and a sliver of a faux fur: that's all Rihanna wore to collect her Fashion Icon of the Year prize at the 2014 CFDAs. With a dress by Adam Selman, it was a look that felt like a gear-change for the star: sheer, nipple-freeing (who could forget her excellent "Do my tits bother you?" comment) artisanal design that felt like a multi-layered statement to a pop world that tried to determine what women should and shouldn't get away with when it came to their wardrobe. It was at this moment we realised Rihanna really didn't give a fuck about what the gatekeepers thought. Flawless.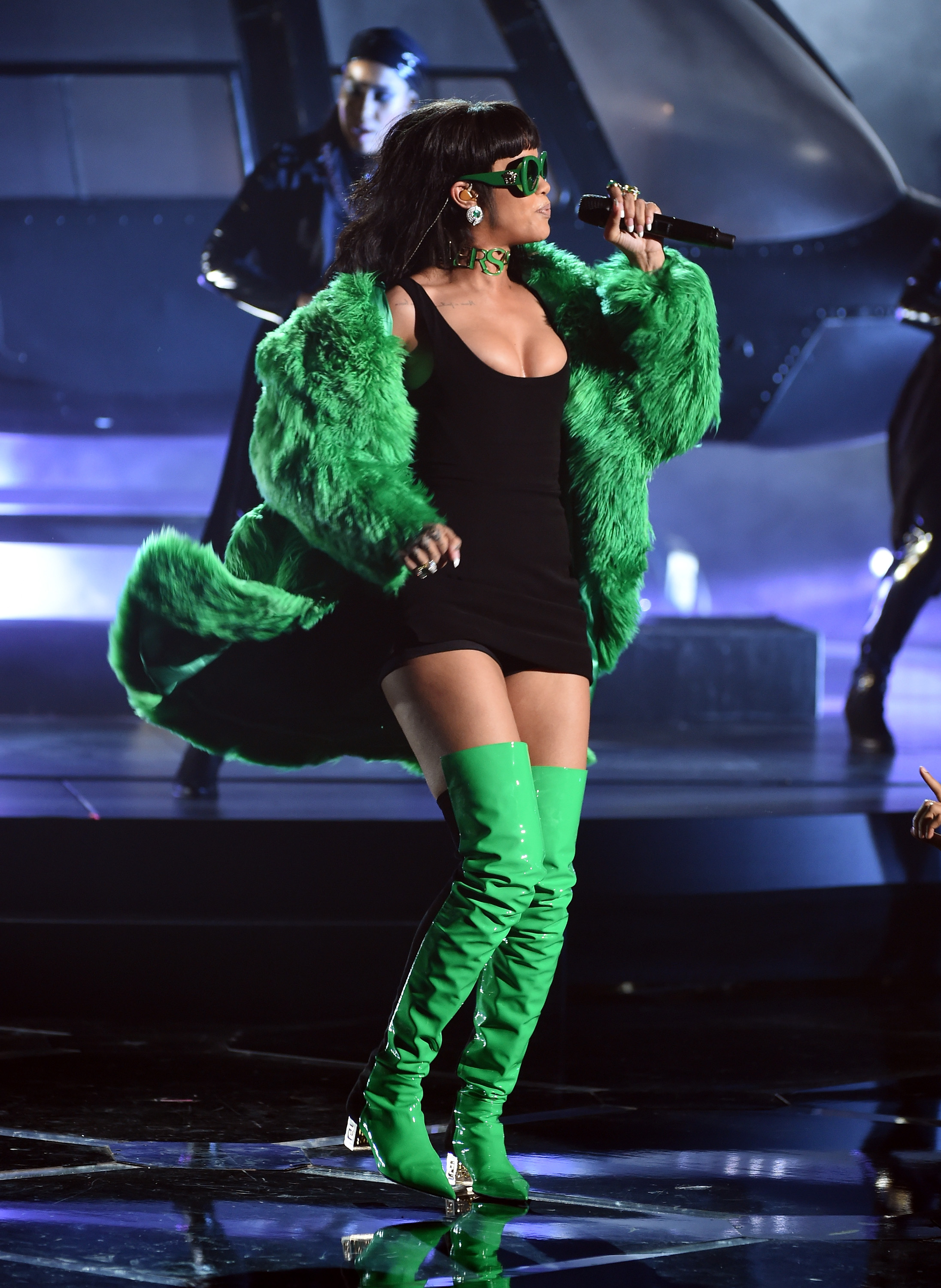 2015: Bitch Better Have My Money!
Honestly, who else could balance appearing in a children's film about a plucky alien finding refuge on earth (Valerian, remember?) with a new single titled "Bitch Better Have My Money"? Rihanna celebrated the first track of the Anti era -- one that wound up not even making the final album -- with a performance on the iHeartRadio Awards in front of a military-issue helicopter. For it, she went full Riddler Green, pairing a bodycon dress with thigh high boots, a Sesame Street-worthy fur and all-Versace accessories.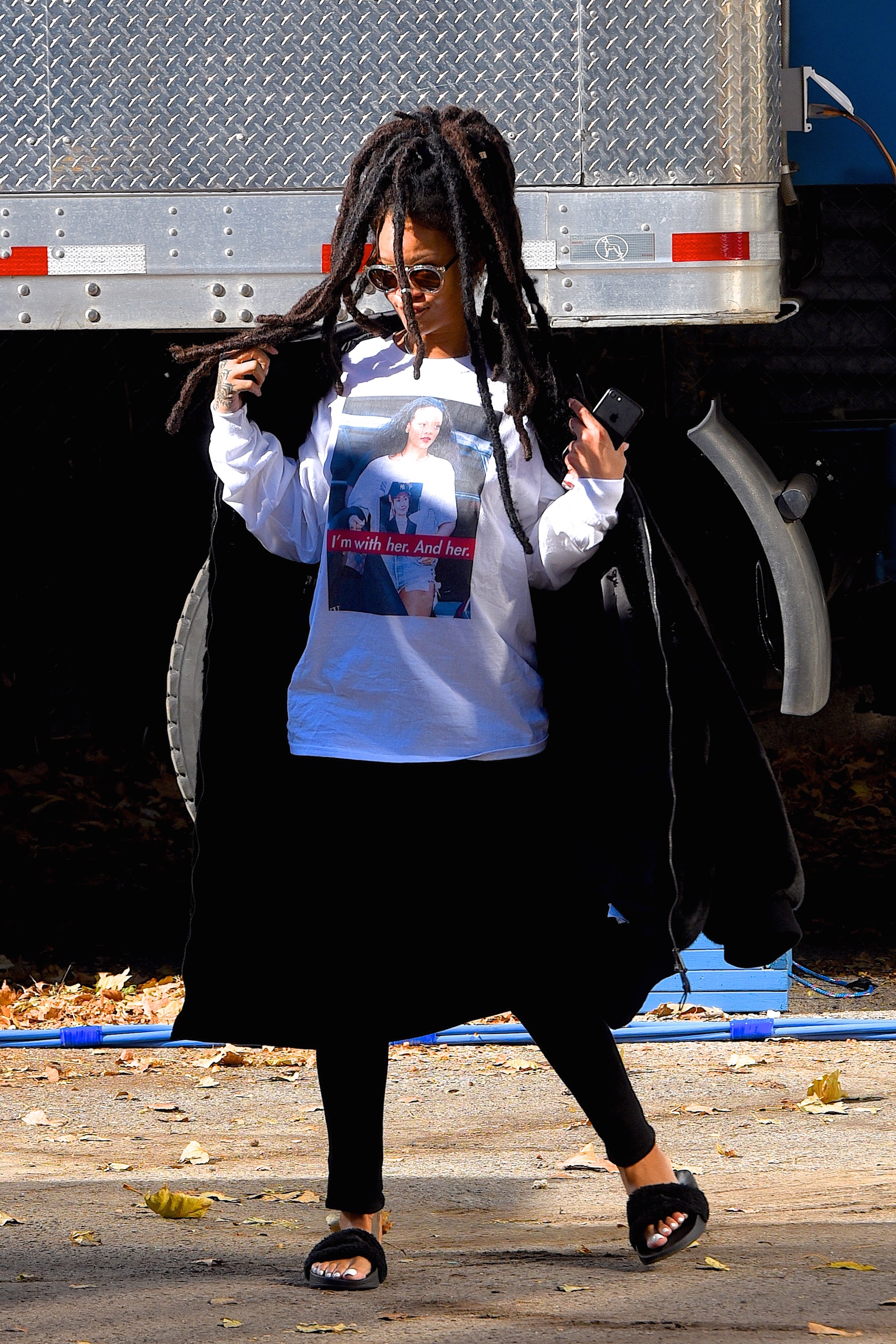 2016: Getting Political on the Ocean's Set
On US election day 2016, Rihanna was on-set in New York, filming the all-woman installment in the Ocean's franchise and -- in between takes -- adding to the swirling political discourse. Earlier in the year she'd been snapped wearing a T-shirt with Hillary Clinton's face on it, a shot which the internet had soon transformed into a T-shirt and sweater design with the slogan, "I'm with her [as in Hilary]. And her [as in Rihanna]." Now, to make the whole situation a little more meta, she let paparazzi get a glimpse of her wearing that new Ri x HRC sweater -- adding an extra layer of Ri-ception to her political stance.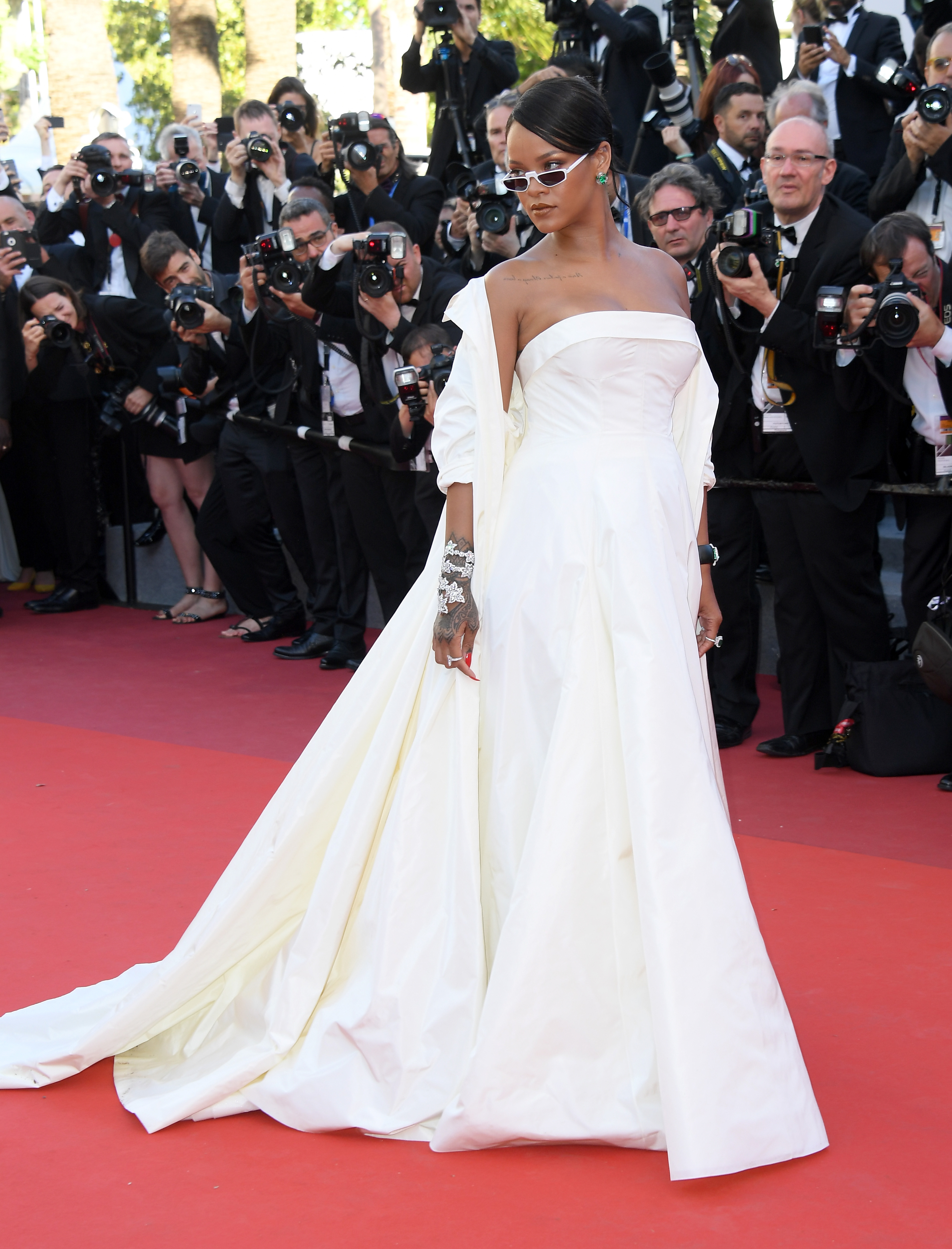 2017: Queen of Cannes
By 2017, the singer was no stranger to red carpets and knew how to absolutely nail them. But her appearance at the Cannes premiere of Tilda Swinton movie Okja still fully left us for dead. Dressed in a couture Dior gown and a pair of tiny Andy Wolf shades, she proved that -- be it Stateside or on the French Riviera -- everybody bows down to her royal highness Rihanna.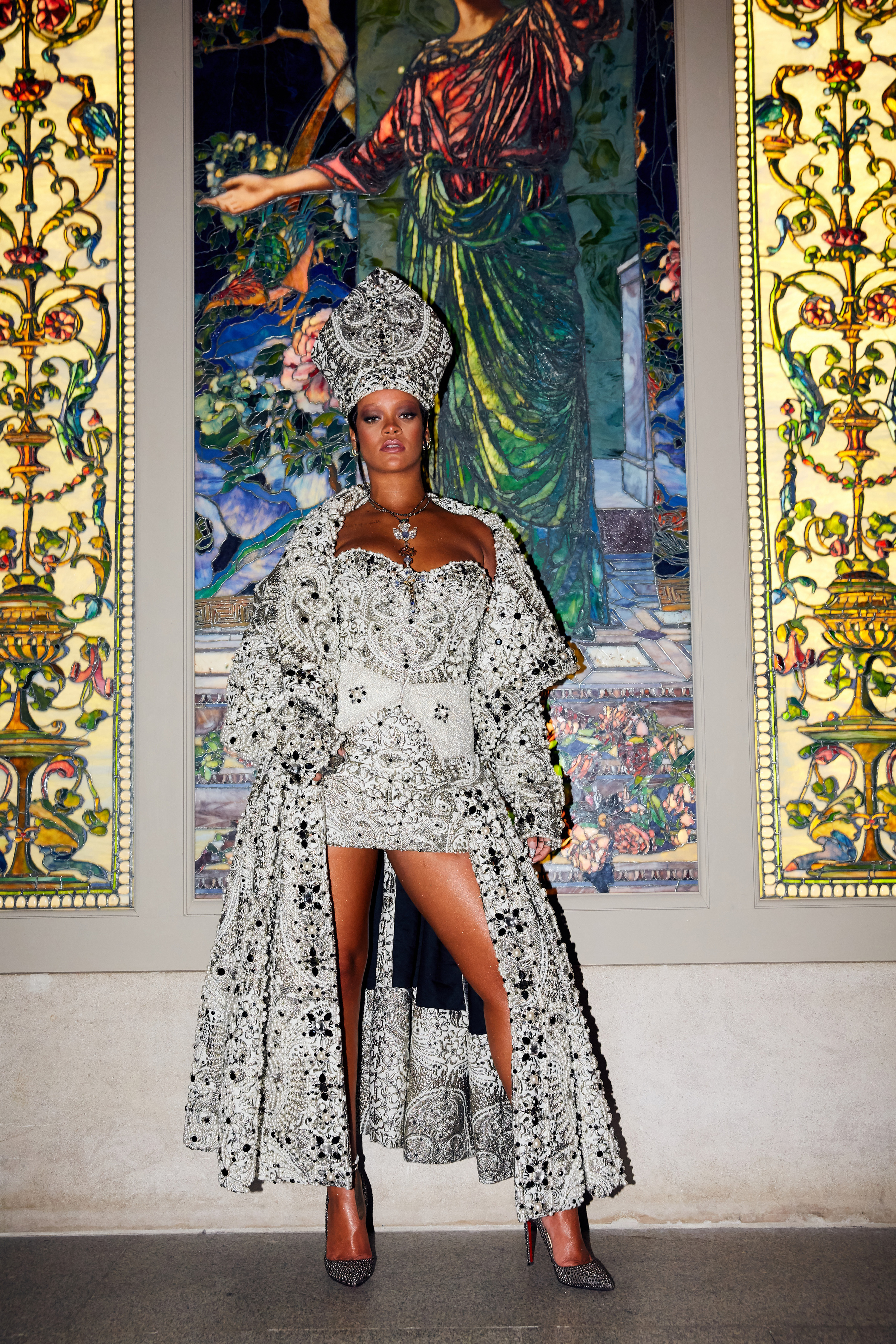 2018: Catholic Cosplay
Sure, the Prada x Schiaparelli Met Gala look was the fashion embodiment of the flames emoji, and Rihanna's rightful title as the ruler of the New York arts event was secured in 2015 when she wore that seemingly never-ending Guo Pei omlette dress. But it was her 2018 effort that dominates when we think of showstopping Met looks. As celebrities arrived in loose interpretations of the show's Catholicism-inspired theme, Ri went one further, turning up as the bloody Pope! With a Maison Margiela gown and a tiara fashioned into a suitably papal headpiece, everybody in attendance and watching at home was soon metaphorically kissing her holiness's feet. Honestly, why do the rest of us even bother?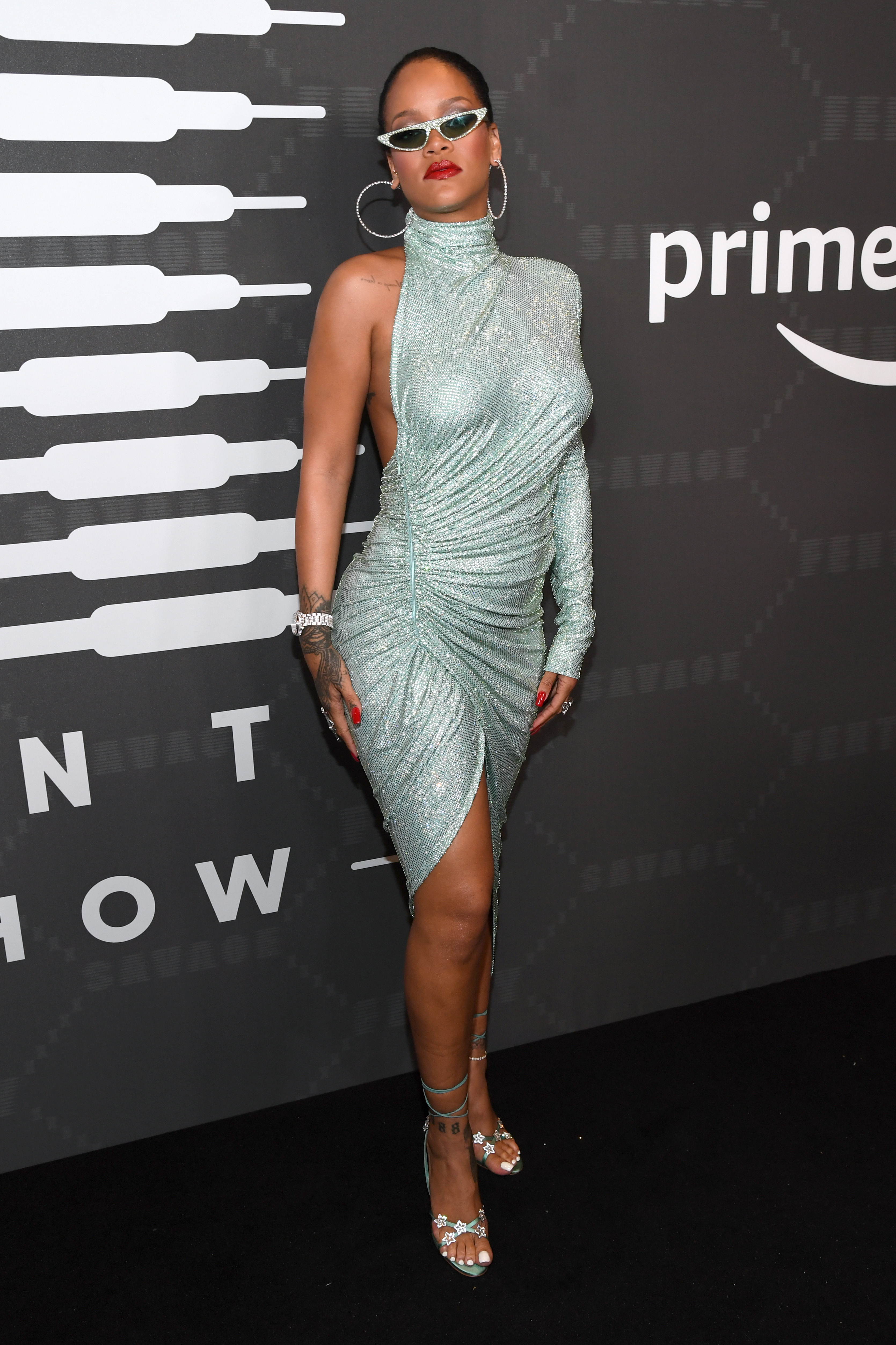 2019: Fenty Founder
And so to 2019, the year when Rihanna's fashion legacy became nothing less than total industry domination. LVMH handed her the keys to her own house; Fenty became the most talked-about new brand in what felt like forever. Befitting her new status, Rihanna has learned to be far more selective in terms of what she turns up to, and what meets the public's discerning eye. At the launch of her Savage x Fenty event, she rocked up in a form-fitting and shimmering crystal mint dress from her own label and some more Andy Wolf mini shades. An indelible legend. A boss. The queen of the fashion world. Thank you, Robyn Rihanna Fenty. Thank you for your service.