Vue pulling Blue Story from its cinemas perpetuates racist stereotypes
Youth activist Athian Akec calls for a boycott of Vue cinemas, following its the regressive reaction to an incident at one of its screens on Saturday
|
25 November 2019, 12:06pm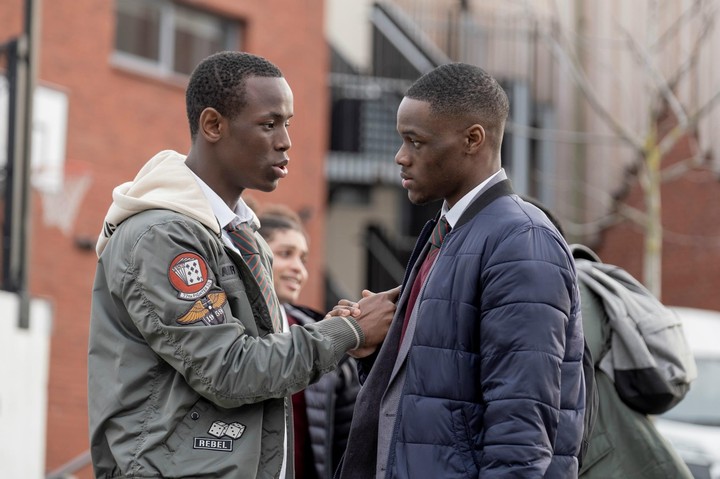 In 2019, black British culture is booming. Stormzy, wearing an iconic Banksy-designed stab-proof vest, made history in becoming the first black British male Glastonbury headliner. His performance was a political and musical masterclass. Little Simz and Dave, aside from dropping acclaimed albums, starred in returning Netflix inner-city drama Top Boy. Candice Carty-Williams released her debut book Queenie, a story about a 25-year-old Jamaican-British woman living in London that is widely considered to be one of the best British novels of the year. But our culture's rise hasn't come without resistance. Dave has been the target of irrelevant tabloid hit pieces about his imprisoned brother. Drill music, blamed for crime that is actually caused by deep societal issues, has been taken down from YouTube. And, as of this weekend, Blue Story, a film backed by the BBC which explores how postcode wars destroy friendships, has been pulled from cinema chains. For what? An unrelated brawl at one Birmingham cinema.
The fight unfolded on Saturday night as families queued to enter the cinema, many to watch Frozen 2, reportedly. Yet it is Blue Story that has been pulled from screens. A spokesperson for Vue said: "We can confirm a decision was made to remove the film. The safety and welfare of our customers and staff is always our first priority." There are a series of question this spokesperson, and Vue more widely, must answer. Most significantly: what about the audience of this film do they feel will lead to more violence?
Vue, in its rash and ill-advised decision, appears to be sending out a clear, racist message: to prevent this kind of violence from happening again, a film which appeals to an inner-city black audience must be pulled. This situation shows the absurdity of racism, but it isn't new. It's a continuation of the gradual suppression of black British working class art. Art is meant to reflect every angle of life. From the gritty to the glorious. But when black artists like Andrew Onwubolu (aka Rapman), Blue Story's director, explore and challenge the narratives that surround our communities, they face a barrage of criticism driven by racism. The banning of this big-budget film by Vue follows the core logic of what has become acceptable racism: the supposed link between violence and blackness.
In every part of our lives, black people are perceived as being drastically more violent than other racial groups. This form of racism subjects us to violence and being silenced. We're more likely to be stopped-and-searched, die in police custody and receive longer prison sentences. Even as we ascend in higher numbers into historically elitist, white British institutions like Cambridge -- overcoming obstacles that run far deeper than mere aptitude -- this racism still haunts us.
This suppression of black working class expression creates a vicious cycle. Any attempt to reveal the conditions that create violence in our communities, whether through the medium of music or film, is seen as glorification. It's easy to see how journalists and commentators, far removed both geographically and socioeconomically from our conditions, could assume violence is caused more by drill music or crime movies than austerity, institutional racism or the over-policing of our communities.
This means that those outside our community are conditioned to view our art with scorn, throwing nuance and context out the window. In A-Level English Literature lessons, studying Hamlet, it has dawned on me that the same conflict, death and moral exploration found in black British culture is what British society celebrates so much about Shakespeare. Yet our music and films are suppressed, while Shakespeare's plays are celebrated.
Blue Story, and other black inner city works of art, should be viewed with this same open-mindedness and reverence that inner city and culturally diasporic teenagers give when studying A-Level literature. We dissect The Tempest with the intention of seeing the universal truths within art -- despite it being historically and culturally separate from us. If we, the children of immigrants from all corners of the world, are capable of engaging with Shakespeare's work, is it too much to ask for Britain to view our cultural additions in the same way we view their cultural canon?
Empty disdain for anything is largely pointless. Vue, and other companies who make racist decisions, should be punished. The only democracy in our neoliberal economic system is the capital we control. If we boycott Vue cinemas they will, sooner or later, realise their mistake. In the priorities of businesses, profits sit further above morals.
Tagged: