miya folick can predict the future and it's as sunny as her pop songs
The LA-based singer-songwriter's new album 'Premonitions' is about learning to be your best self.
Photo by Maxime Imbert
It's not uncommon for musicians to have a breakthrough moment in the studio, when recording new material. However, it doesn't often result in a full bodied, metaphysical experience. For twentysomething pop star, Miya Folick, this moment came when she and producers Justin Raisen (Sky Ferreira, Charli XCX, Angel Olsen) and Yves Rothman played back her haunting vocal take on "Thingamajig," the first track off her first full-length album Premonitions. "The day we recorded it, I was lifted out of my body for a moment and when I came back I was crying. I felt so overwhelmed by the magic of music in my life," she says. "I can't remember if everyone was crying or if just I was crying, but I was definitely crying."
Understandably, so. "Thingamajig" is that magnetic lead song that pulls you into an album. It's powerful and it works it's magic in the way Miya's delicate vocals hang center stage over soft keys. As the momentum slowly builds and suddenly you're at the heart of it, she sings, "I am sorry/ I know I am wrong/ So take it all/ I want to be out of control," offering up her own apology and exposing her vulnerability. The string section picks up. Until finally, Miya releases it all like that poignant last scene in a film before the credits roll: "Only you know what to do now," she beckons, closing out the song.
Speaking with Miya on her ride back to Los Angeles from Joshua Tree, it's hard to believe that she's only just getting started. Miya, who's half Japanese and half Russian, grew up Buddhist in Santa Ana, CA, and while she'd sing along to old records her Dad played like Crosby, Stills & Nash, Eric Clapton, and Bob Dylan ("Dad music," she jokes), Miya wouldn't play her own music until much later. "I was more of a bookish, nerdy kid," she tells me. Instead Miya played basketball, though she hated it the entire time, and got really into theatre, arts, and acting. At nine years old, she started taking classical vocal lessons. "I don't know why, but it just never dawned on me that I could be in a band. I wish somebody had told me that," she admits. "I don't know what sort of bubble I was in that I didn't realize you could play music with other people, but it didn't click for me until much later."
In fact, Miya was set on becoming an actress and studied theatre in college at NYU. However, she often found herself skipping class to wander around the city by herself. It wasn't until she'd trade coasts, transferring to USC, that she'd pick up a guitar, one her Mom bought her years prior from Costco that she really just "never learned to play." Miya lived in a big house near campus, with wooden floors and walls that made for great acoustics. "I was lonely. I didn't know anybody...So I just started writing songs secretly," she says. After graduating college, Miya began half-heartedly driving from audition to audition trying to land various acting roles. While this process is kind of mandatory for young actors, she spent all of her time writing songs.
"I'm generally a hard worker, so it was alarming to me how little I cared about the auditions I was going to. And so, I just decided to focus on music and spent a couple years really just figuring out how that works," she says. In the meantime, Miya worked at a restaurant during the day, played bartender at night, and made music on her computer every chance she'd get. As she met more musicians in LA and put up a Tinder profile "looking for a band," (it worked, by the way), things started to gradually fall into place. "It feels like a natural, kind of slow process," she explains. "It wasn't like I made a song and it became a hit and then my whole life changed." The band released two EPs, the self-produced Strange Darling in 2015 and Give It To Me on Terrible Records in 2017.
When Miya set out to make her first full length album Premonitions, out today via Terrible/Interscope Records, she knew she wanted to distance herself a bit from the guitar heavy, punk-inspired love songs she knew and loved. This time she wanted to use a range of live instruments and electronic beats, feeding into her passion for dance music. "I just didn't want this album to be all about romantic relationships because I feel that's you know, that's part of my life, but that's not all of my life," Miya says. "And there are all of these other relationships that I have that are really interesting and nuanced and complex and I felt like they deserved music, but I also feel like now that this record is over all I want to do is write love songs."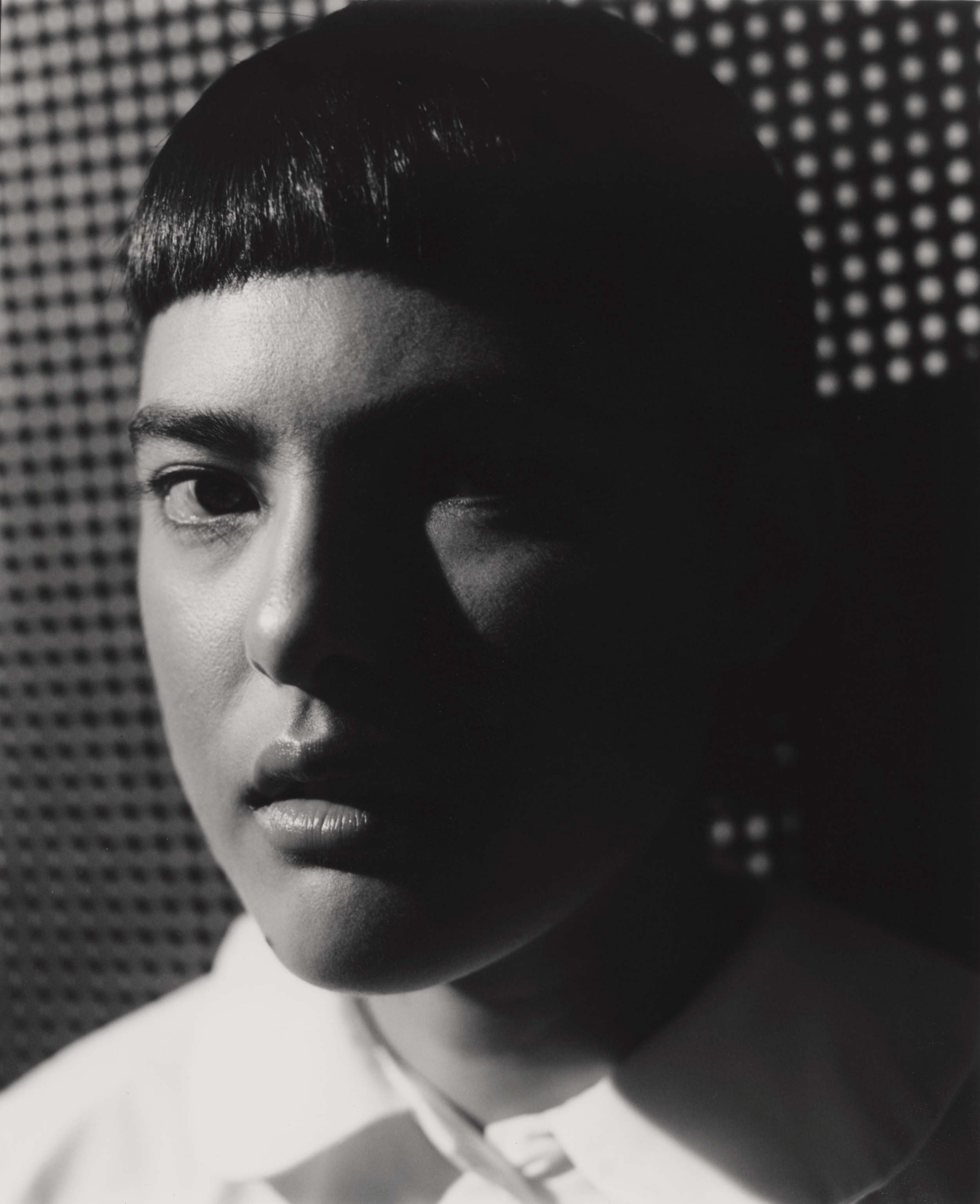 Miya went into the studio with Justin in November 2017, where they'd work out of his LA space for just over six months. It was an intensive experience in that she'd spend everyday there, and the studio is in the back of his house, so Miya would often eat dinner with Justin's family, and their friends would come over and offer feedback on the record. There was even a neighbor who'd pop his head over the fence to weigh in on songs. "What is that show where the neighbor is always talking over the fence, but you can only see the top of his head? Home Improvement. It was literally like Home Improvement," Miya laughs. These days it's rare to work quite like this, but Miya and Justin were a perfect pairing: "He's a very free person creatively and I feel like I am too, so the way we work, we just flowed. It felt like everything was easy," she says.
The result is a lovable album that's equal parts dance pop and political commentary. "I think it's very difficult to remove ourselves from politics right now because it's so personal," Miya says. "I sort through my feelings through writing songs and so it's hard to avoid writing about things that were upsetting me like in the media or in politics around me." She displays her range, both sonically and topically, as she bops from the delicious mid-album dance around your room trio that is "Leave The Party," "Stop Talking," and "Freak Out" to the startlingly heartbreaking "Deadbody," a post-Harvey Weinstein piano ballad about sexual assault. "It honestly brings me fire and a little catharsis every time we play it. And it's my way of saying, I stand with you," she says on Instagram.
If Premonitions opens with a potent, honest apology in "Thingamajig", it's followed by a series of reminders to be honest with yourself, abandon behaviors that aren't serving you, and to practice self love. On "Cost Your Love" there's a moment of realization: "I might love myself this time/ I might win the fight/ And I know it's gonna cost your love," that calls to mind the constant torment of a toxic relationship. And on "Stock Image" she sings, "Don't you get too far from yourself/ You're so hard on yourself/ Oh, you'll get through," advice she called on whilst battling depression in college in New York City. Miya sings about trying to be better – being demanding of yourself and demanding of others – so that you can be better together. "I wanted this album to be the vehicle for a hopeful, truthful, generous, and loving world. I tried not to posture or pretend. I wrote about my life as I've seen it and how I'd like to see it, as both memory and premonition," she writes.
Surprisingly, Miya finds that her acting background comes into play most when she's writing these songs rather than performing them. In school, they'd often pick apart tracks to examine how particular parts were more expressive than others or why certain lyrics warranted repeating. Maybe her acting doesn't come into play much because Miya's just a natural on stage. Or maybe it's a premonition. "I think I'm just really comfortable performing. I don't really get nervous. I like to stretch, do some yoga, warm up my voice and that's it. It's like pretty casual." Miya concedes, her laughter contagious.
Miya Folick is on tour with Pale Waves, from October 26 to November 13. Premonitions is out now, via Terrible/Interscope Records.