estee laundry is the new diet prada, but for beauty not fashion
Airing the industry's dirty laundry, one beauty scandal at a time.
|
23 October 2018, 11:25am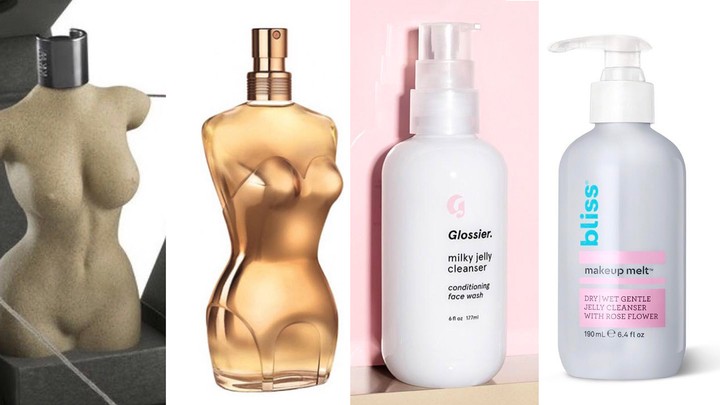 Via @EsteeLaundry
The beauty industry is full of drama -- from the demise of brand founders to blindingly obvious copycat products and out-of-touch brands that get their messaging totally off-point. It's usually kept as quiet as possible, but a new Instagram account is ready to call out the bullshit: Estee Laundry. The self-described "Anonymous Beauty Community" operates with the sole purpose of "airing out the beauty industry's dirty laundry." Like the @DietPrada of the beauty world, the unnamed mastermind behind the account hunts out the greatest drama and calls the perpetrators to account.
The account's first post called out Trinny London, the make-up line from Trinny Woodall of How to Look Good Naked fame, accusing it of copying RMS Bea uty's Lip2Cheek. Since then, Estee Laundry has shed a light on many other alleged beauty rip-offs, saying Kim Kardashian's perfume is a Gaultier-look-a-like, accusing Bliss and Deciem of Glossier dupes and Victoria's Secret of copying Pat McGrath Labs sequin-filled packaging.
It also charted the unfolding drama surrounding Deciem founder Brandon Truaxe and his social media antics, which led to stakeholder Estée Lauder removing his CEO title earlier this month. More recent scandals have included the allegations against Sunday Riley which claim the brand demanded its employees write fake positive reviews of its products on Sephora.com, as well as the beauty community's rebuttal against reportedly racist beauty bloggers.
"We set up the account because there are a lot of open secrets in the beauty industry that no one talks about. Magazines and bloggers don't talk about them because sharing them openly will impact their sponsorships, advertising and freebies," the founders told i-D. "We wanted to create an anti-influencer account that would encourage transparency and honesty."
Like its own version of Beliebers, Estee Laundry's followers are referred to as #Laundrites and are encouraged to DM with beauty scandals they've spotted. "Most of our followers are industry insiders and we rely heavily on their submissions," the founders continue, although they seem to be gaining popularity amongst regular consumers, too. Just today, Estee Laundry received a flood of responses when it took to Insta Stories to ask its users who they deem to be the 'Sketchy 6', or the six most questionable beauty brands.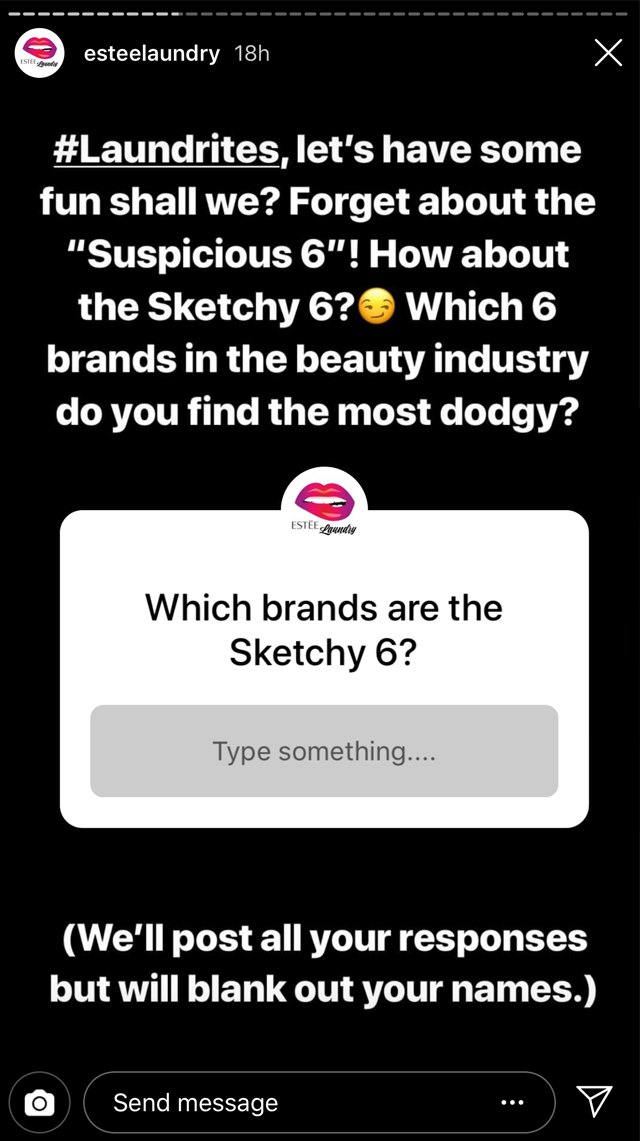 Fed up of feeling duped by the beauty industry, if nothing else, Estee Laundry is a potent manifestation of our collective consumer skepticism and strength -- if we don't like something, we're more than willing to speak out on a public platform, albeit anonymously.
This article originally appeared on i-D UK.
Tagged: