this year's melbourne art book fair symposium explores 'graphic fashion'
International and Australian speakers (including i-D) are coming together for a full day discussion on the intersection between fashion and graphic design.
|
27 February 2019, 1:44am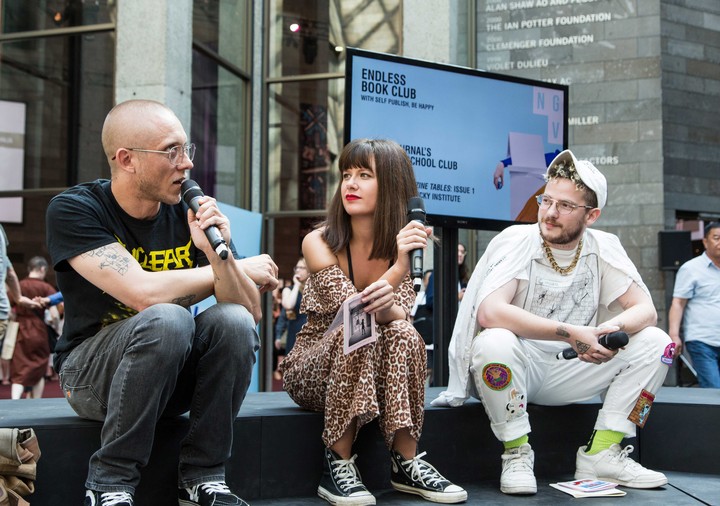 Photography Tobias Titz (courtesy of NGV)
For 2019 the NGV Melbourne Art Book Fair is back and bigger than ever, this year featuring more than 70 publishers, artists and designers showcasing some of the world's best art and design publications. But before the three day fair program kicks off, the Melbourne Art Book Fair Symposium is returning for a full day of discussions from local and international speakers. Held on Thursday March 14 (the day before the fair) this year's symposium is titled 'Graphic Fashion' and will explore the intersection between fashion and graphic design.
A wide range of practitioners, each whose work blurs the line between fashion and graphic design, have joined the symposium to present their viewpoints on the subject. International speakers for the event include multi-platform creative studio and publisher Tunica, queer feminist art magazine Girls Like Us and Femke De Vries, who's work as an artist and researcher explores fashion and value production. As for the local contingent, Australian-based speakers include Laura Gardner creator of Mode and Mode and i-D's very own Australia and New Zealand editor Mitch Parker.
So if you're fashion fan, a graphic design aficionado or just someone who likes hearing interesting ideas and thoughtful discussion, grab a ticket to the Symposium now. It's the perfect first course to the three day degustation that is the Melbourne Art Book Fair 2019.
Melbourne Art Book Fair Symposium: Graphic Fashion is on March 14, tickets available from here. The Melbourne Art Book Fair runs from March 15 to 17, more info here.