daily horoscopes: february 14, 2019
The stars give us some strong, sensual energy for Valentines Day.
|
14 February 2019, 3:35pm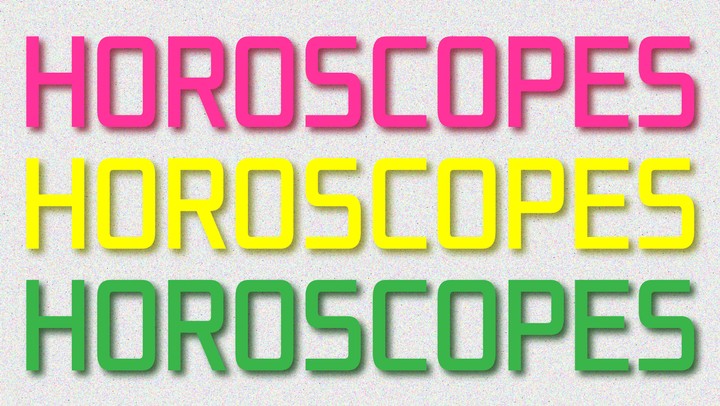 It's Valentine's day with some strong but sensual Astrology to match.
Read the horoscopes for your rising, Sun, and Moon signs to see how you can use it to get what you want out of the day.
Aquarius
(Jan. 20-Feb.18)
You have more energy for and interest in cleaning up your personal life than you usually do. Before you make any rash decisions, though, check in with the other people these decisions might affect. Not to get permission, but just to learn about yourself and what your actual intentions are around this process by articulating your needs.
Pisces
(Feb.19-March 20)
You may feel a lot of urgency around getting everything on your to-do list done, right now. Thinking too far into the future, dwelling on worst-case scenarios, or replaying how things have gone wrong in the past will not help you cross anything off. Focus on challenging yourself everyday, but only focusing on the tasks you've delegated to that 24hr period. Slow and steady always trumps rushed and sloppy.
Aries
(March 21-April 19)
Your home planet moves out of your sign, today. It's not done bringing you blessings, but you will have to put in the work. Spend any energy that you would usually expend complaining or wondering "why me" creating things that make your life better and bring the kind of content and experiences you wish were in the world to fruition. You have everything you need within you and anything you want is within reach. It's time to start acting like it.
Taurus
(April 20-May 20)
Mars moves into your sign today and heats things up. All of the stagnant energy you've been wading through since Aquarius season began is beginning to clear and it's time to move. Get clear about what your desires are so that you don't get distracted by things that are shiny but hold no real potential for you. As soon as you get clear on what you want, show up for it and it will meet you with the same energy.
Gemini
(May 21-June 21)
If you're feeling timid and having difficulty communicating your true feelings, remember that you can't have what you don't ask for, and no problem can be fixed if it remains ignored. You deserve to take up space and add your opinion and your skills to the world stage just because you exist. The worst that could happen is that you'll be challenged, and you would learn more from that than you will from passive acceptance. So, put yourself out there, Gemini. It's what you're here to do.
Cancer
(June 22-July 22)
Whatever you're currently working on, you may need some more hands on deck to execute it the way you really would like to. Make sure you invite people to work on what they love, and you focus on doing the same. Collaboration gives you a chance to ask for what you need and be clear and purposeful about it. Lean into these new challenges you're facing, Cancer. You're growing.
Leo
(July 23-Aug. 22)
Lots of opportunities are about to arrive, but you won't be able to accept them unless you and your life are ready, willing, and open to their arrival. Check in with your sleeping habits, how you take care of your body, the boundaries you have in your relationships, etc, to make sure that you have an optimal environment to host and cultivate these new chances at growth and success.
Virgo
(Aug. 23-Sept. 22)
If you're not seeing the kind of movement you crave in your life, you might not be looking in the right places. Things have been shifting into place for you for a long time, Virgo. Recognizing and celebrating this fact is crucial to calling in more amazing things. Be present for your triumphs, right now, so the universe knows what to keep dishing out for you.
Libra
(Sept. 23-Oct. 22)
Any insecurities surfacing are begging for your attention so that they can be addressed and healed. However you got them was not your fault, but it is your job to flush them out of your system and to not live your life by them any longer. Create containers, like journaling, a bath, a therapy session, etc, for you to explore any hard feelings that may arise, so that you can spend the rest of your time excited about all the world wants to give you once you realize you're worth it.
Scorpio
(Oct. 23-Nov. 21)
It's an intense day for you, today, Scorpio (more than usual) as your home planet moves into your house of relationships. You want what you want and you want it now. But, this doesn't mean that anyone is obligated to give that to you. Use the urges that come up to help you understand yourself and your needs better and see how you can meet them for yourself. If there's an itch you can't scratch on your own, it's a good time to practice being vulnerable and asking for what you need.
Sagittarius
(Nov. 22-Dec. 21)
You may be more prone to getting worked up over the little things, right now. Things that people do or say, and the way that you and others are interacting with your environment, as well. Be careful that this doesn't build into little resentments. Speak on things as they happen and be proactive about resolving any issues. There's no reason to carry anything that doesn't uplift you with where you're at right now, Sagittarius.
Capricorn
(Dec. 22-Jan. 19)
Your sexual energy is palpable at this time, and you should take advantage of it. The only thing that you might get hung up on is thinking that sensual situations must come about or unfold a certain way. You're still learning what it means to follow your passion and trust it. Surrender to this process of exploration instead of becoming rigid and frustrated and today's energy could bring you to new heights (in many senses of the word).