what were the 10 best music videos of 2017?
We asked our in-house music video aficionado for their hot take.
|
22 December 2017, 11:50am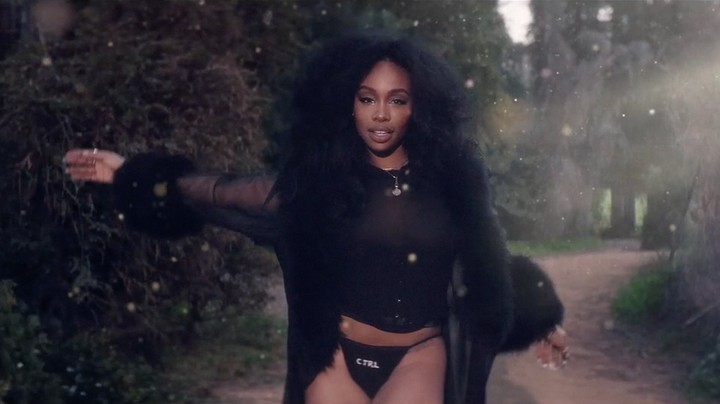 2017 has truly been a year of resistance and reaction despite unsavoury global cultural conditions. In a year of LGBT uprisings, women's marches and #metoo, this year's music video artists have taken to the small screen to display thoughtful, stinging and bittersweet visuals to accompany daring, intimate and forward thinking tracks. Here is a selection of the finest music videos of 2017.
SZA , Supermodel. Directed by Nabil
Nabil took the helm for super-talented, super-shy, soon-to-be-superstar SZA's Ctrl album opener
Supermodel
, capturing Solana Imani Rowe as she struts through a forest, free of her oppressive ex and coaxed on by a sparkling gang of fairy god-daughters. Stay tuned for when the drums kick in for the video's explosive ending.
Moses Sumney, Lonely World. Directed by Allie Avital
Step into Moses Sumney's empty black and white landscape where a mermaid Sasha Lane washes up in the sand, only to be saved by a sunglasses-donning Sumney. Watch and find out whether she wanted to be rescued or not. Hint, the ending isn't as beautiful as Moses's soothing soaring voice -- that's the real hero here, let's be honest.

HMLTD, To the Door. Directed by Jenkin Van Zyl
The London six-piece's most coherent video to date -- and that's saying something. Club kid turned director Jenkin Van Zyl ensured that HMLTD got the technicolour treatment for unlikely rodeo anthem
To The Door
, complete with a bloody arm wrestle, a bucking bronco and a clear perspex cowboy hat. Oh, and a bunch of ghosts.
King Krule, Czech One. Directed by Frank Lebon
Photographer, director and holy spirit of the Lebon clan, Frank makes lo-fi, multi-layered and under-rated music videos. His film for Archy Marshall's comeback track
Czech One
was an ode to drowsiness, jetlag and the the plain of daydreams above the clouds, and what happens when your feet land firmly back on the ground.
Arca, Reverie. Directed by Jesse Kanda
In a staggering one-take video, artist Jesse Kanda captures Arca as a hoofed figure in a matador jacket for the stormy
Reverie
. Describing sexuality, animality and spirituality in a way only they can do, the pair compliment each other clandestinely; see how they ended the year in a collaboration with Bjork in the video for album namesake
Utopia
.
Sampha, Process. Directed by Kahlil Joseph
(Only available on Apple Music)
Khalil Joseph's album-length video for Sampha's Process is a true standout of the year, exploring the album's themes of love and loss in a continent-spanning narrative that feels both gigantic and distant and deeply personal at the same time.
Jay Z, Moonlight. Directed by Alan Yang
Here's the pitch. The video starts as a shot-for-shot remake of Friends' season 3 bottle episode 'The One Where No-one's Ready', starring an all-black cast with a fourth-wall-breaking meta narrative, directed by Master of None co-creator Alan Yang, and set to a Jay-Z track named after the Oscar winning film about a lifetime spanning LGBT relationship between two POC characters, simultaneously critiquing the movie industry, the music industry and the world of music video. Sold? We were.
N.E.R.D., Lemon. Directed by Todd Tourso and Scott Cudmore
For the most fizzing, acidic and infectious track of the year, Pharrell and co return with a similarly intoxicating video. Featuring dancer Mette Towley (complete with a fresh buzzcut from none other than singer-barber-rapper Rihanna), the expressive dance video moves through a deserted neon lit indoor market to a simple stage, swimming in royal blue light.

Lil Uzi Vert, XO Tour Llif3. Directed by Virgil Abloh
Off-White designer Virgil Abloh knows what the youth of today want, need and deserve, and was subsequently trusted with directing this video for the song-most-likely-to-be-stuck-in-your-head-for-six-months-after-listening-to-it-once.
XO Tour Llif3
is pure 2017, complete with a controversy in the backwards Arabic subtitles. Guaranteed, this time capsule of a video will be heralded as the peak of the emo hip-hop genre that no one asked for, but everyone benefits from.
Obongjayar, Endless. Directed by Matilda Finn
Winner of Best New Director at this year's UKMVA's, Matilda Finn's otherworldly video for Obonjayar's
Endless
is a twisting expedition through this world and the next. Inventive and upending, the visuals describe a truly underground scene, with clubbers carrying coffins in super slo-mo down the dancefloor. Matilda Finn is a 'one-to-watch' to watch.