Photography Jim Spellman via Getty Images.
dangerously low-rise pants are back and just as subversive
From Alexander McQueen to suburban mall staple, low-riders caused a moral panic in the late 90s and early 2000s. And they're on the cusp of an equally controversial comeback.
|
26 December 2017, 2:59pm
Photography Jim Spellman via Getty Images.
There are no photographs of Alexander McQueen's fall/winter 93 collection. Titled "Taxi Driver" after Martin Scorsese's 1976 movie, it was presented on a clothing rack in a single room at The Ritz Hotel in London. After the show, according to fanlore, Lee and a buddy packed the collection into trash bags and went to a bar to celebrate, and the whole thing was stolen before it could be professionally photographed. Luckily, the clothes were memorable — in particular, a "Bumster" pant that's credited with launching a global low-rise craze. (The style soon became part of McQueen's DNA, appearing again in spring/summer 94's "Nihilism" collection and the "Highland Rape" show for fall/winter 95.)
In 1993, hip-huggers appeared on magazine stands courtesy of The Face and Kate Moss. In 2017, they're back on the runways of Dior, Tom Ford, Tommy Hilfiger, and, most tellingly, Alexander McQueen. Off-duty models from Kendall Jenner to Binx Walton are also spearheading the resurgence.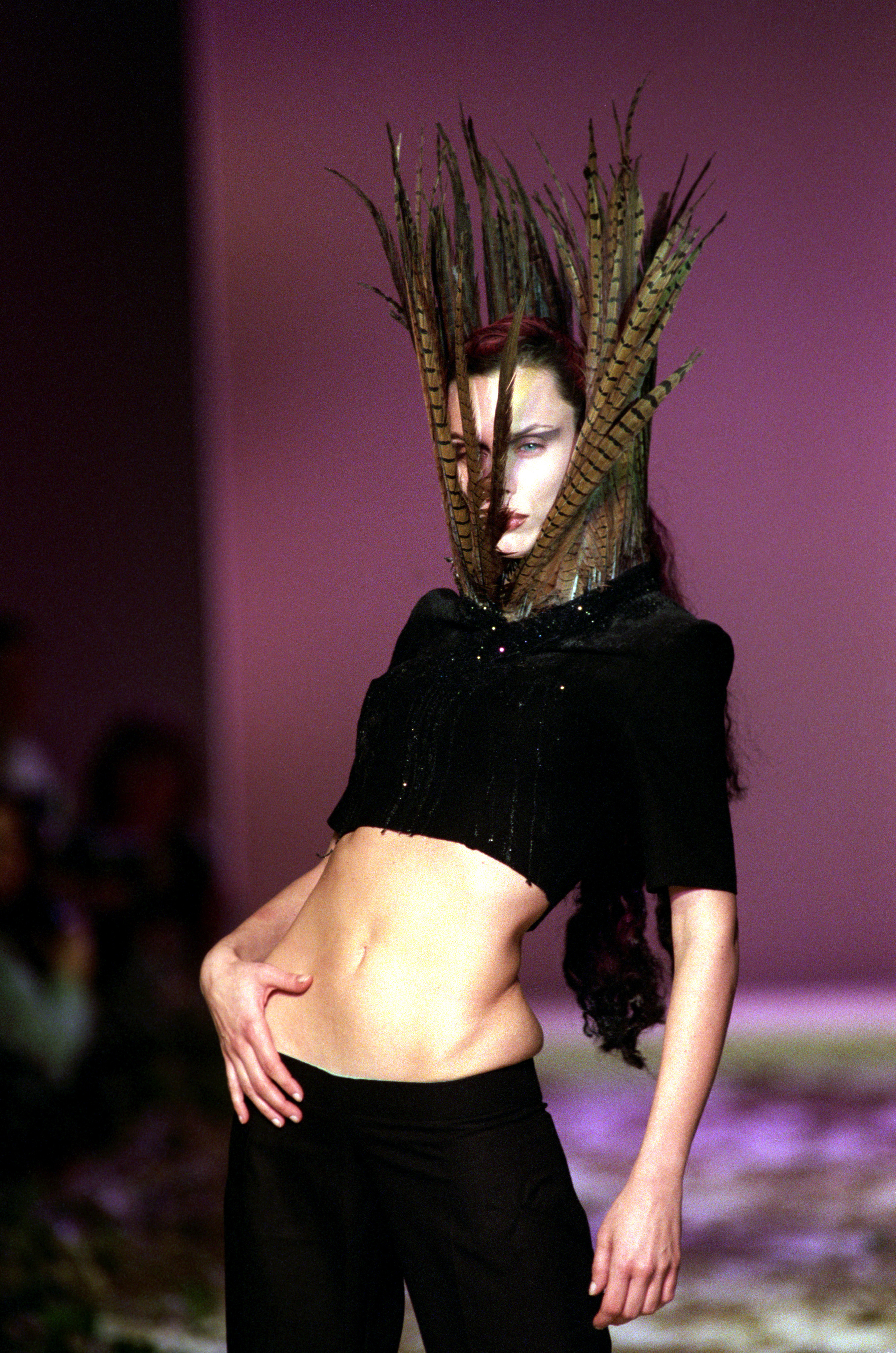 Low-rise pants had technically been around since the 60s, when hippie and psych rock counterculture made the case for men in crotch-grazing waistbands. Jim Morrison's iconic low-cut leather pants were a vital component of the Doors singer's sex god status. His "stage pants" have been bought at auction for upwards of $5,000, while Morrison's everyday pair starred in a New Yorker parody of Into the Gloss's signature "Top Shelf" beauty series. "I think I burn somewhere between fifty and a hundred calories a day at the very least just by wearing my leather pants," writer Naomi Fry surmised in the voice of Morrison. "It's sort of like when you go to a sauna—you can almost feel the fat melting away. I can't prove this scientifically, though [laughs]."
McQueen explained the sex appeal of his low-slung shockers in more analytical terms. "It wasn't about showing the bum…I wanted to elongate the body, not just the bum," he told The Guardian in 1996. "To me, that part of the body — not so much the buttocks, but the bottom of the spine — that's the most erotic part of anyone's body, man or woman." As a designer, McQueen transcended the idea that fashion equals sexiness. His best ideas were twisted, controversial, and often years ahead of their time. Helping to propel low-rise pants into the mainstream during the mid-90s was Gucci's Tom Ford, one of the few designers to sell sex in interesting ways.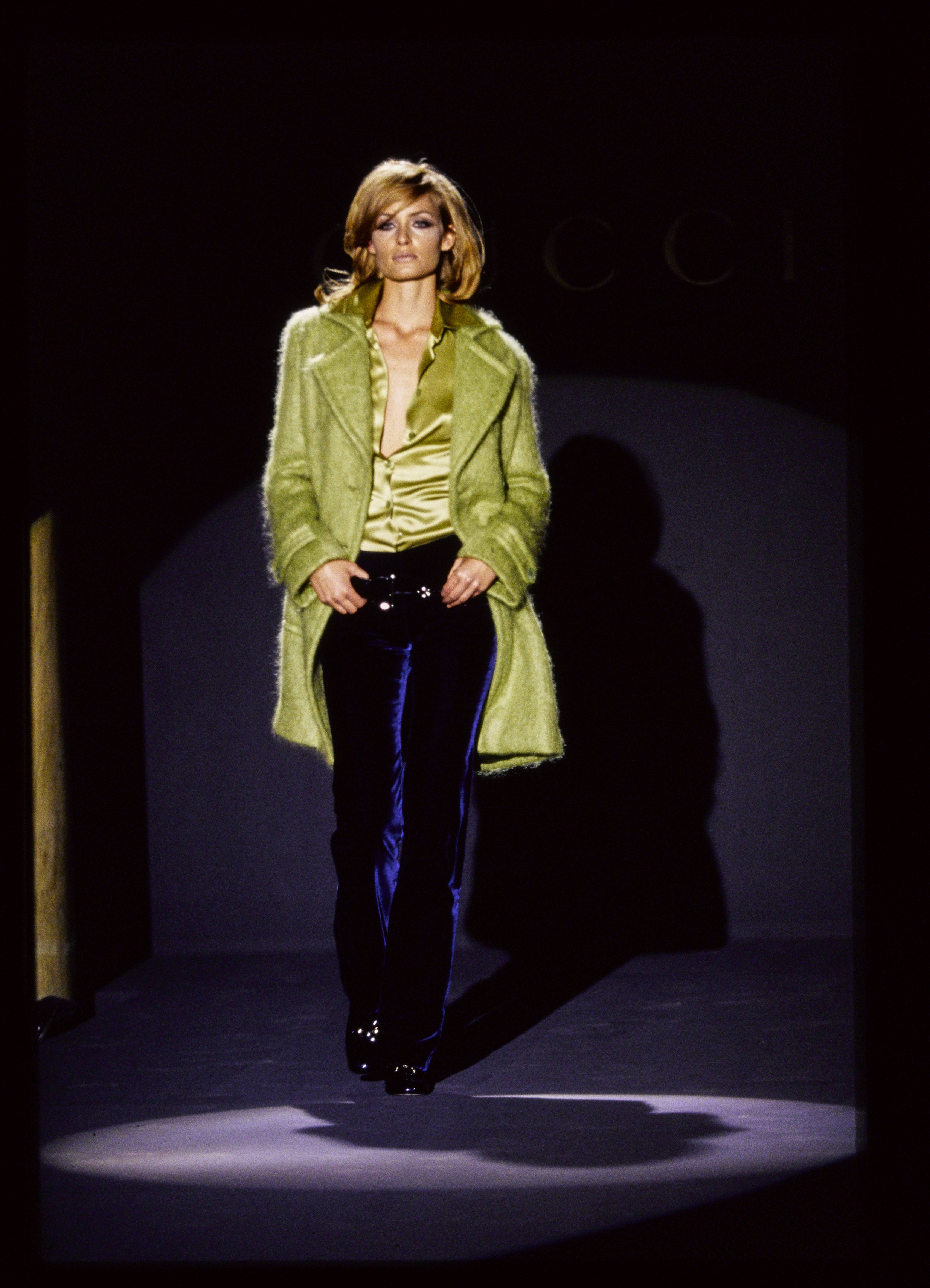 "With Mr. Ford's fall-winter 1995 line, the backlash against retro glamour has officially begun," raved the New York Times after Ford's "anti-retro" collection for Gucci. "Imagine waking up one morning expecting Harriet Nelson to be making your breakfast and instead [finding] Raquel Welch, circa 1968, beating the eggs." The public was truly ready for Welch omelette pants — or at least the suburban mall version of them. Gwen Stefani was putting a tomboyish spin on the look as early as 1996. After Britney Spears signed her recording contract with Jive in 1997, she took her first promo photos in a variety of low-slung bedazzled pants. She helped make the style ubiquitous through the late-90s and early 2000s.
Meanwhile, hip-hop and R&B were popularizing a totally different take on crotch-grazing pants: TLC's Left Eye, T-Boz, and Chili made sagging an intrinsic part of their fly girl aesthetic in the 90s, incorporating men's clothing into red carpet appearances and music videos like "Hat 2 Da Back." It wasn't just pop's hyper-feminine image that the look challenged — TLC's famous condom-covered streetwear was a political fashion statement promoting safe sex, and celebrating a demonized dress code. Sagging was a look often used to enforce stereotypes of black youth, and in a different style category to low-rise denim. (Unfortunately, no elected officials proposed legal bans on pants like these.) Often, the opposing looks operated in tandem. Britney's first post-Mickey Mouse Club photo shoot featured low-slung baggy jeans cinched with a skater-style belt. Aaliyah's intuitively innovative fashion sense made her the muse of Tommy Hilfiger, and the face of the brand's iconic 1996 campaign. By the time the Princess of R&B released "Try Again" in 2000, Aaliyah was switching up baggy menswear with skinny leather in the vein of Jim Morrison. Though Jim never accessorized his pants with diamonds or a belly chain.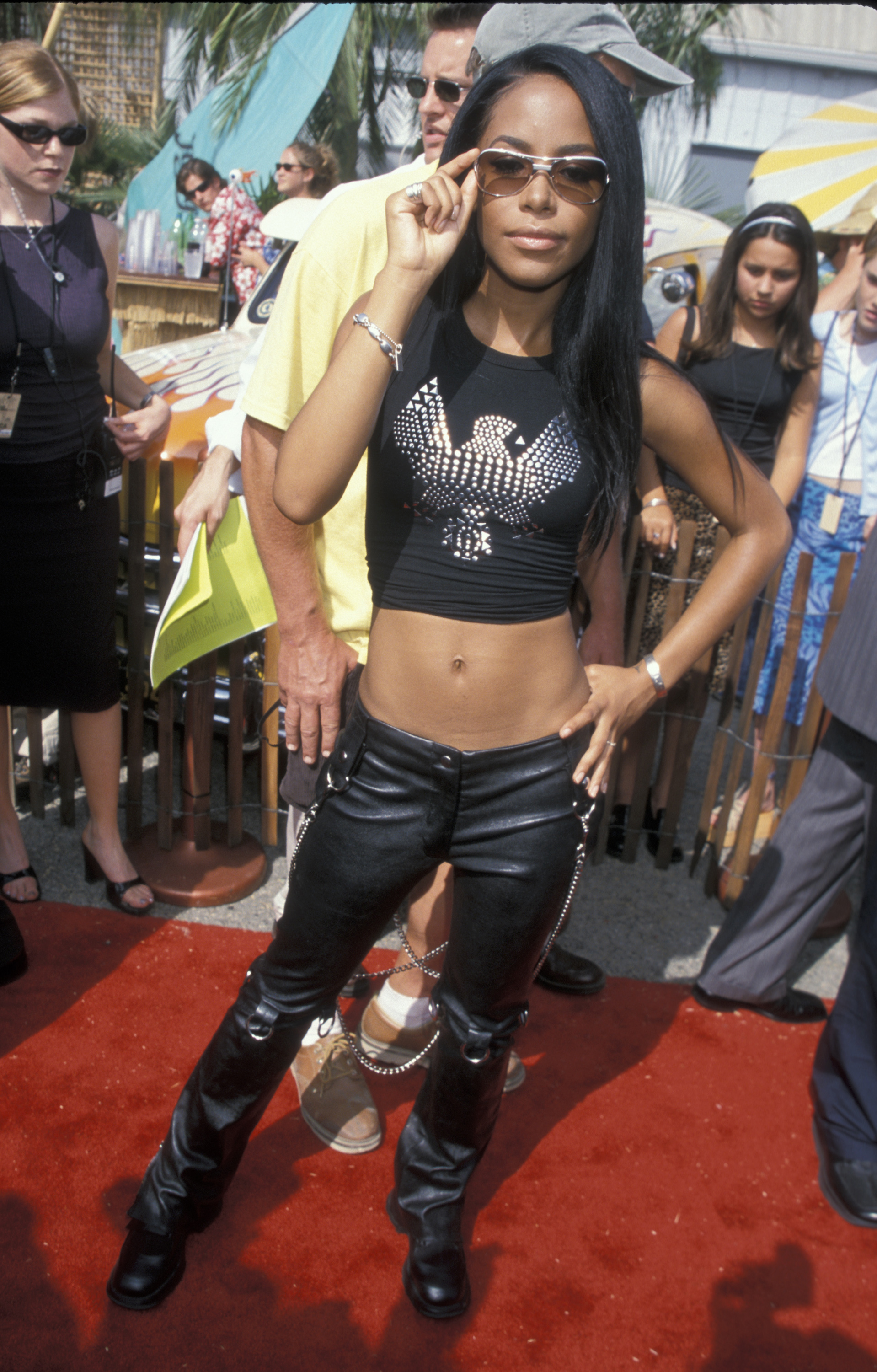 By the early 2000s, much to the horror of moms across America, low-rider jeans were the must-have item for every teen with MTV. Ahead of Britney's MTV VMA performance in 2001 — the one with the snake and the world's smallest jorts — she revealed her ab routine in an episode for MTV's Diary. "I probably do like, 500 sit-ups. Yeah. And if I'm having a really good day, I'll do, like, probably 1,000." After the takeoff of tabloid culture, and before the rise of body-positivity, low-rise pants required wearers to make other lifestyle changes too. Ashley Fetters at The Atlantic ultimately credited the true rise of the bikini wax to a 2000 episode of Sex and the City, though Paris Hilton's precariously low-rise red carpet looks probably deserve equal credit. Destiny's Child wore low-rise denim and belly chains in its 2000 MTV Cribs episode. And you can't skip through this era without mentioning Keira Knightley's iconic Pirates of the Caribbean premiere look from 2003. The look has at least one forever fan in the form of Emily Ratajkowski.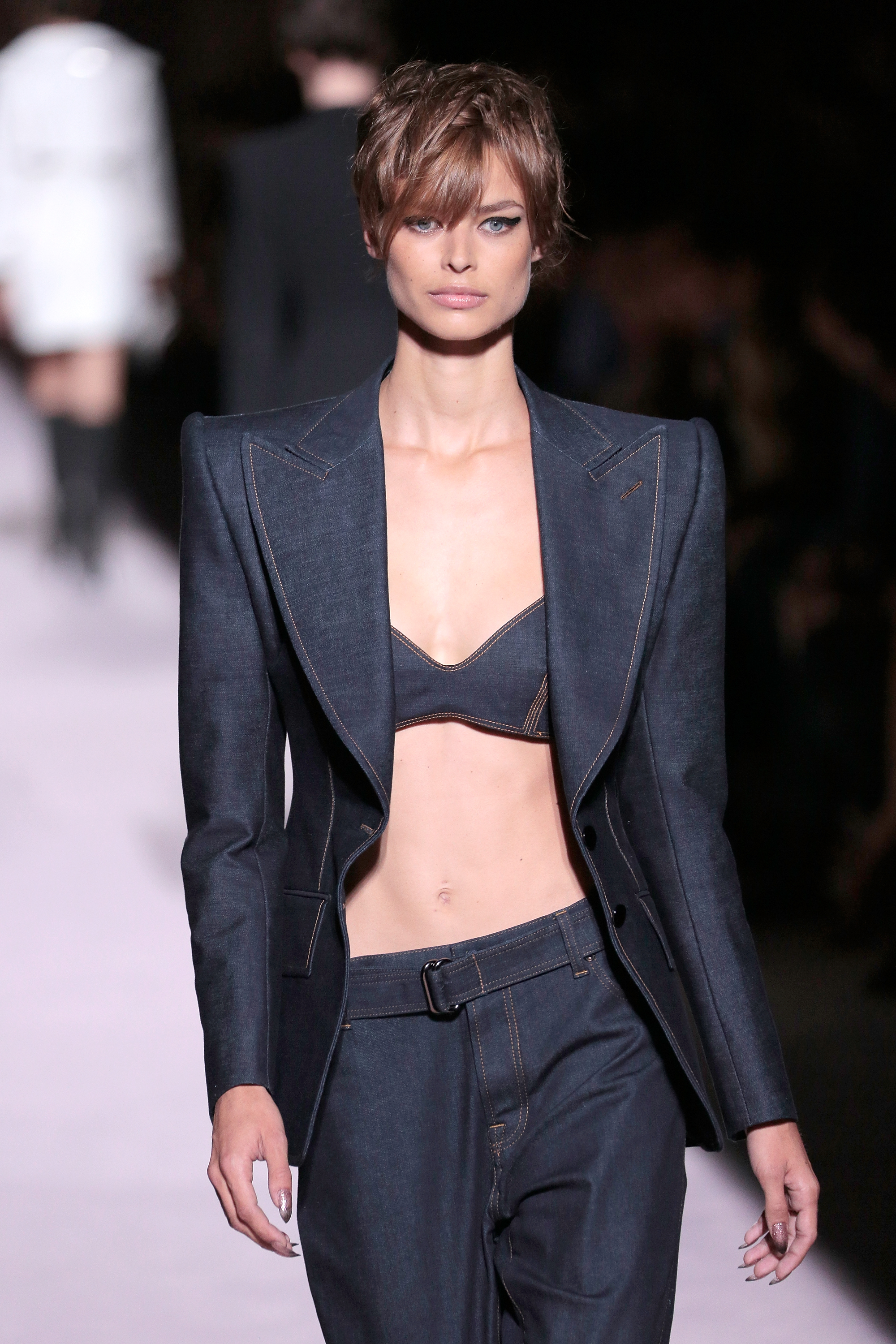 A trend's death toll is probably its arrival on the sale racks at suburban malls. By 2010, ubiquitous low-rise jeans brand Miss Sixty, a favorite of Tara Reid and countless American teens, was shuttering half of its remaining 20 U.S. stores. Bongo jeans — popular throughout the 80s and 90s but made iconic when Fergie became the brand's face in the 2000s — are now bedazzled relics of a bygone era. But could be they due for a comeback? Last spring, low-rise O.G. Alexander McQueen paraded Hiltonesque low-rise denim down the runway. It was skin-tight and enhanced with jazzy painterly flowers. Tommy Hilfiger, one brand that never fell out of favor, showed slouchy low-rise jeans on its spring/summer 17 runway. Tommy model/muse Gigi Hadid is making low-rise part of her everyday repertoire, and sister Bella finds it perfect for her personal brand of high-cut bodysuits. Even Victoria Beckham — who designed studded lowriders for Rock & Republic in a former life — has been bringing the style back in much chicer ways.
The cool girl's low-riders of 2017 are a mix of 2000s excess and 90s streetwear. They're generously cut, not covered in Swarovskis, and less likely to give gynecologists cause for concern. Or perhaps the trend's present revival is inspired by the pants' 60s counterculture genesis, since culture wars and public protests are again reaching record highs. One thing's for sure, trends may come and go, but Lee McQueen will forever be ahead of his time.