Mackenzie Younger, 70 + Jackets (New Jackets), MoMA PopRally x Items: BOOTLEGGED, Photography Andy Romer.
moma is giving away swag by your favorite bootleg artists
Awol Erizku, Ava Nirui, Mackenzie Younger, and A$AP K have swiped the MoMA logo for a capsule collection inspired by all things counterfeit.
|
19 January 2018, 10:28pm
Mackenzie Younger, 70 + Jackets (New Jackets), MoMA PopRally x Items: BOOTLEGGED, Photography Andy Romer.
Bootlegs often become more legit than their original archetypes. Demna Gvasalia has been advocating high-fashion counterfeits for years, enthralling the internet with that instantly iconic (and very expensive) DHL t-shirt, then creating DHL inception by putting it on the back of the shipping company's CEO. Alessandro Michele recently ripped off his own brand with cheeky "GUCCY" sweaters, and collabed with Dapper Dan, who has now been elevated to god-like status in an industry that almost ruined him.
Bootlegs aren't just fashion — they're also art. Tomorrow, MoMA is hosting a blowout for all things inauthentic, even sacrificing its own iconic logo to the bootleg cause. Four artists — Kamoni Chandler aka A$AP K, Awol Erizku, Ava Nirui, and Mackenzie Younger — have swiped the MoMA symbol for a limited-edition capsule collection inspired by the exhibition Is Fashion Modern? Show up wearing any of the 111 items featured in the exhibition, and you could be gifted a piece from the collection. TBH, it's probably difficult not to wear something featured in the comprehensive exhibition. Is Fashion Modern? highlights beloved wardrobe staples from Dr. Martens to Levi's 501s, plus important cultural items like the kippah and the keffiyeh.
If you hit up a single art fair in 2017, you're probably familiar with the work of Mackenzie Younger. His bomber jackets feature logos from art museums, galleries, fairs, auction houses, and magazines, and were pervasive on the downtown scene last season. For tomorrow's event, Younger took a liberal interpretation of the MoMA's brief. "I thought MoMA was gonna sue me," he explained to i-D over email. "Then I realized they wanted me to bootleg their logo. I bootlegged their permanent collection instead." Unfortunately, 90 percent of the art he sourced wasn't public domain. "This led me to make the '70 +' jacket: nothing but artists who have been dead for over 70 years," he said. "I loved the process."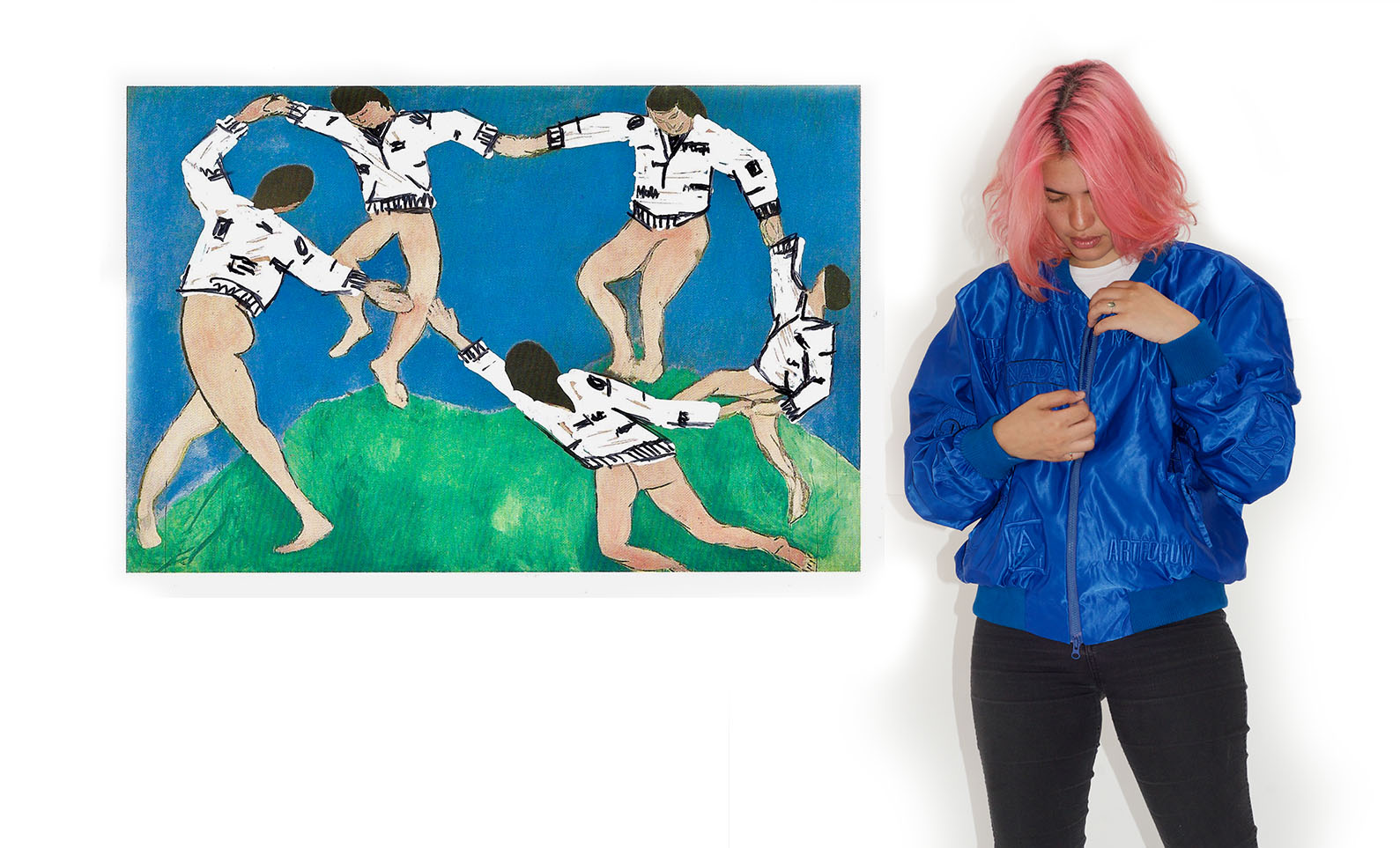 Ava Nirui is another art star drawn to guerilla-style appropriation. She recently collaborated with Marc Jacobs on official "Mark Jacobes" hoodies, and has had her "original" bootlegs bootlegged by fans. Awol Erizku was hot long before his photographs of a pregnant Beyoncé nearly broke Instagram. He has hacked Vermeer and replaced a bust of David with the Egyptian queen Nefertiti, asserting that black beauty needs to be celebrated more loudly. And Kamoni Chandler, aka A$AP K of the A$AP mob, has been hailed as a Gen-Z Dapper Dan. The future of counterfeit is in good hands.
Find more information on MoMA's event here for a chance to cop one of the most original fakes out there.