meet the tattoo artist using fenty beauty to create portraits of rihanna
Is there anything the makeup line can't do?
|
30 December 2017, 1:03am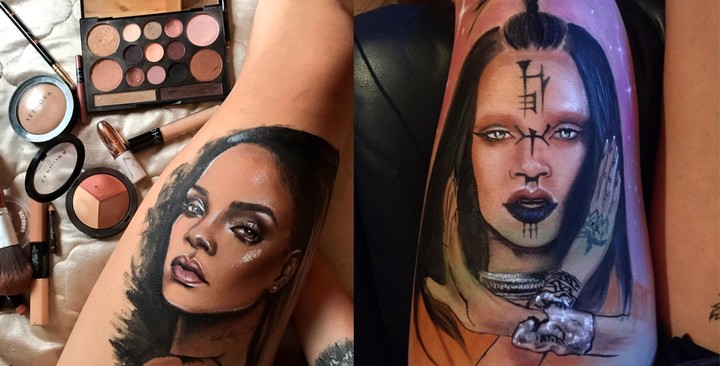 Remarkably, Rihanna has managed to create a beauty line that truly encompasses diverse skin tones and features. The albino community has thanked RiRi for offering up super light foundation shades like #110 and she's created lipstick shades suited for a wide range of skin tones, much to the excitement of dark-skinned people often overlooked by larger beauty brands. And fans recently discovered Fenty Beauty's Match Stix doubles as magical earring finders. But there's something else Rihanna's beauty line is perfect for: creating portraits of Rihanna.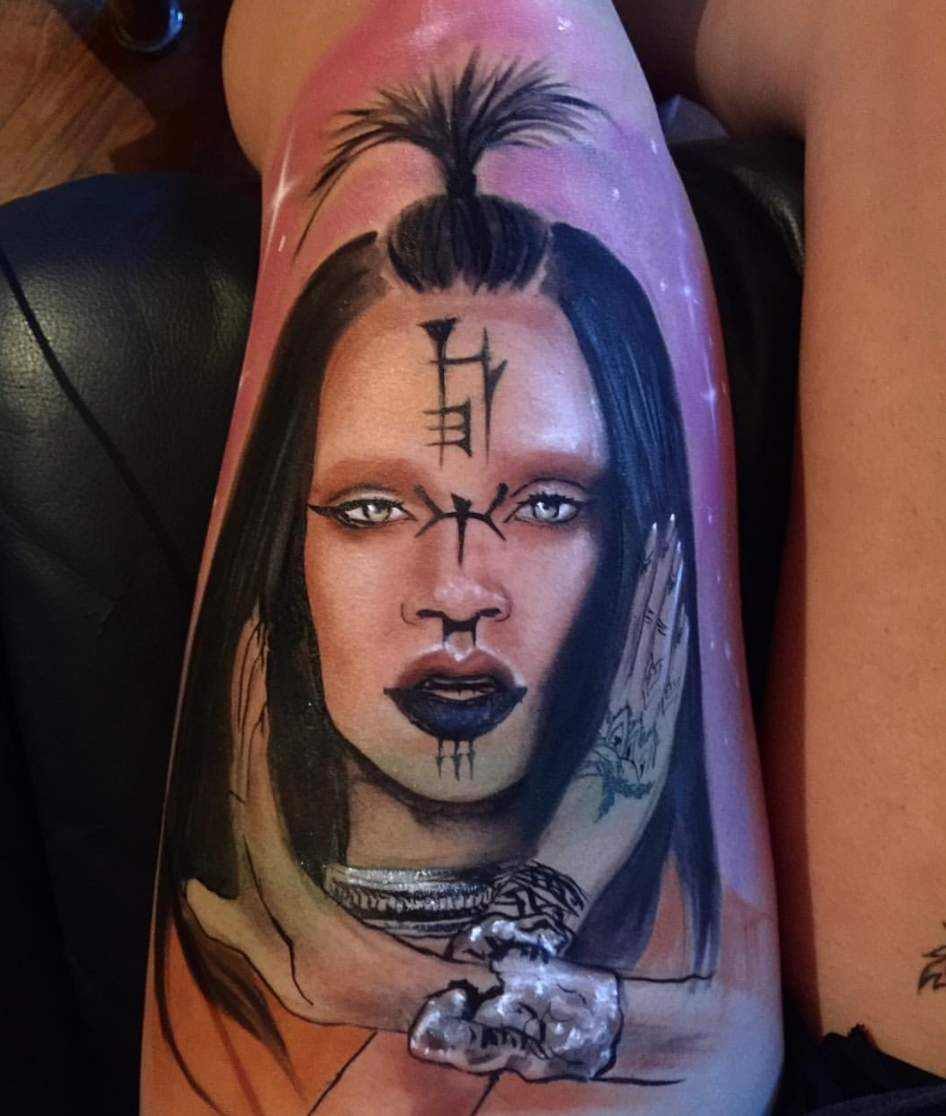 Czech tattoo artist Alena Wedderburn is creating hyper-realistic shimmery portraits of Rihanna on her skin — and not with ink, but with Fenty Beauty. Alena is highlighting the wide-ranging artistic possibilities of makeup, using products like the glittery Cosmic lip gloss and Stunna lip paint to create her work."My favorite products are definitely the Match Stix and the Galaxy Eyeshadow Palette," Alena tells i-D, speaking on her creative process. "These two add a really realistic definition to my portraits."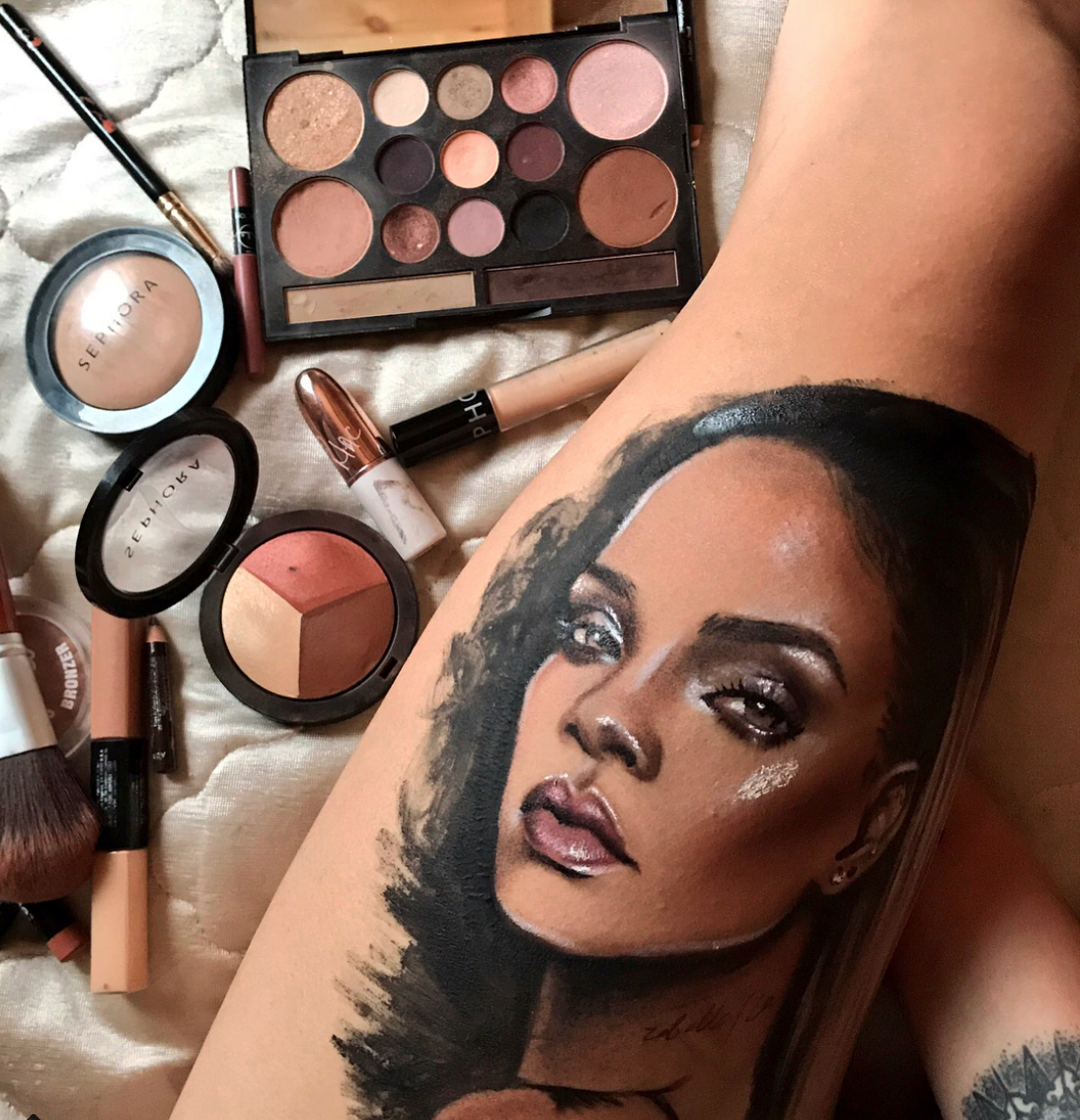 A self-declared superfan, Alena was drawing traditional portraits of Rihanna long before the singer released Fenty Beauty. "I was drawing her as fashion dolls," she explains, "and creating portraits of her using a lot of different materials: graphite pencil, colored pencil, acrylics, oil paints, Copic markers, and watercolors." Alena's work has even caught Rihanna's attention. A couple years ago, the Bad Gal made one of Alena's portraits her profile picture on Instagram. The avi was a black and white drawing of Rihanna draped luxuriously over a couch, rocking a short bob and cat eye shades. "Yes, she's been following me on the gram since 2013," Alena says. "I even met her backstage at her Diamonds World Tour, back in 2013. She said, 'Fuck you for being so talented!'"
Alena says she was inspired to move her portraits of Rihanna from paper to skin back in 2016. It was right after she saw Rihanna's celestial, steampunk-esque "Sledgehammer" video. Alena drew a portrait of Rihanna from the video on her leg using makeup and her internet following went crazy. "It inspired me to keep doing makeup portraits, and when I heard Fenty Beauty was coming I said, I just have to have it!"
Alena now has over 23K followers on Instagram eagerly waiting for new uploads. Her makeup portraits take a lot of time and effort, but thanks to her supportive husband, she is able to focus on them. "He got me almost all the products from Fenty Beauty as an early Christmas gift," Alena tells us. "And he'll watch our baby whenever I'm working on my portraits. It usually takes me around an hour or two to create each one."
But, if anything, the ephermalility of her makeup portraits is the hardest thing about her work. "Unfortunately, I have to wash the portraits off of me after I take my pictures and videos. That's the saddest moment. But I think that's also what makes them special.