Photography Mitchell Sams
what went down at gucci's paris show
With a tribute to Dolly Parton, Mickey Mouse handbags, a celebration of experimental Italian film and a performance by Jane Birkin, Gucci gave us a night to remember in Paris.
|
25 September 2018, 9:42am
Photography Mitchell Sams
Taking over Paris' iconic after-dark institution Théâtre Le Palace, Alessandro Michele invited us deeper inside his Gucci pluriverse with a madcap performance. Challenging how a luxury fashion house behaves in Paris, Gucci took centre stage as it reimagined decades worth of nightlife and cinematic memories to create a spectacle like only it could.
Under the direction of Michele, the Gucci garden has become one populated by vivid color clashes and underpinned by a patchwork of century-spanning references. From dinosaurs and aliens to cartoons and sparkles, baby dragons to chip shops, anything and everything is welcome as the creative director fuses the antique and sombre with the pop and trashy. Season after season, Alessandro's far-reaching encyclopedia of references take us that bit further inside his carefully cultivated world.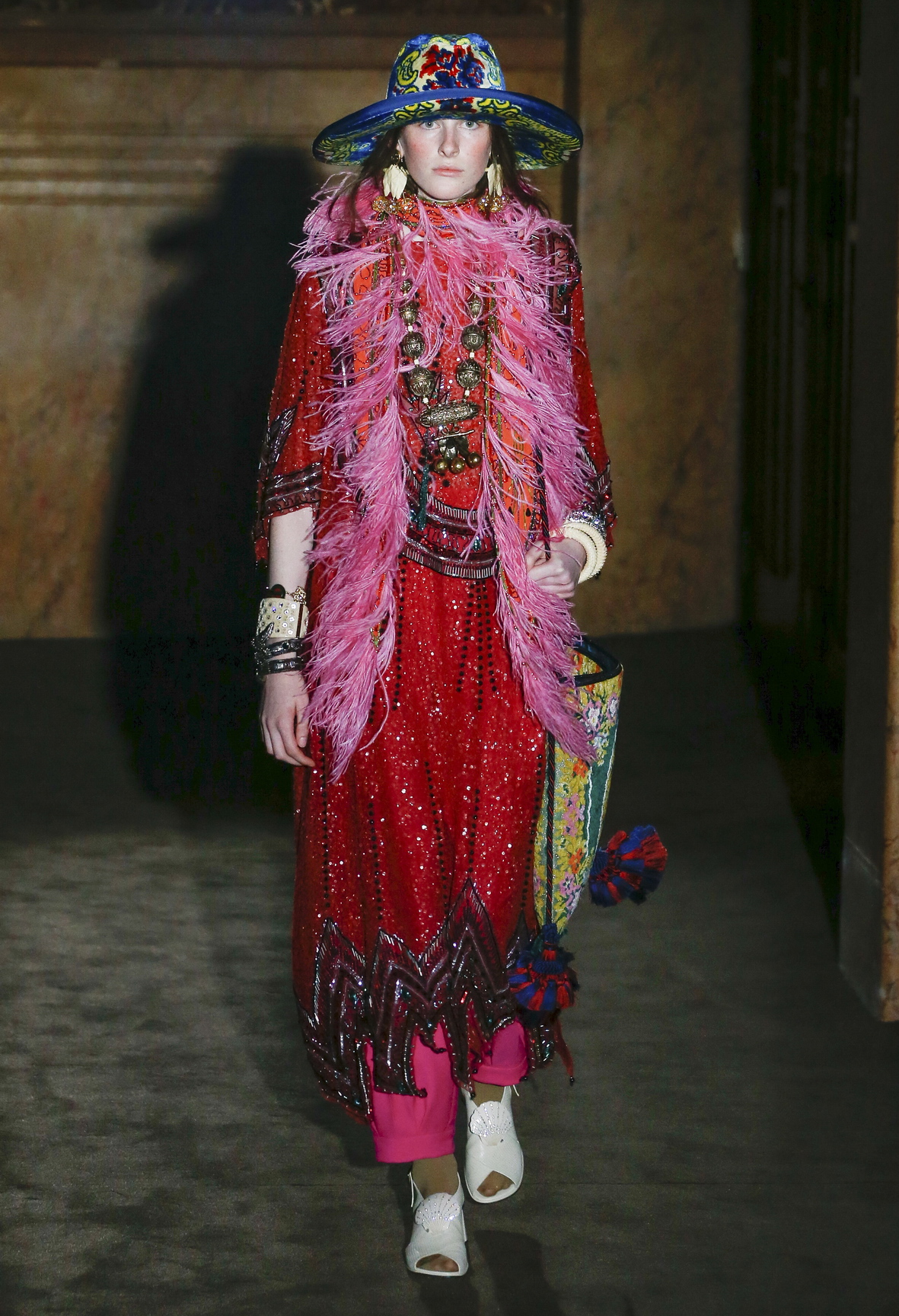 When the fashion set arrived in Paris, Gucci instantly ignited our imaginations. There on the bed of neatly organized chic envelopes, one show invitation stood out. A Gucci-branded bag of assorted spring bulbs. The message was that the Gucci garden grows wherever it is planted. The location of the spring/summer 19 show represented the last leg of a three-part homage to France, which began last January with the Gucci pre-fall 18 campaign Gucci Dans Les Rues which recalled the May 1968 student protests in Paris and then moved to the Promenade Des Alyscamps in Arles for the Gucci cruise 19 fashion show.
The catwalk-less setting for Gucci's latest show, Théâtre Le Palace, was the thread that connected almost a century of Parisian culture and nightlife. "The club's identity constantly shifts to reflect contemporary moods and style, but always attuned to the city's primal need to see and be seen," explained the show notes. Looking beyond the usual grand show locations that luxury houses tend to use in Paris, the Théâtre Le Palace resonated with the vision of the House, "a subliminal club at the centre of the music scene in the late 70s and 80s that continues to inspire young generations today."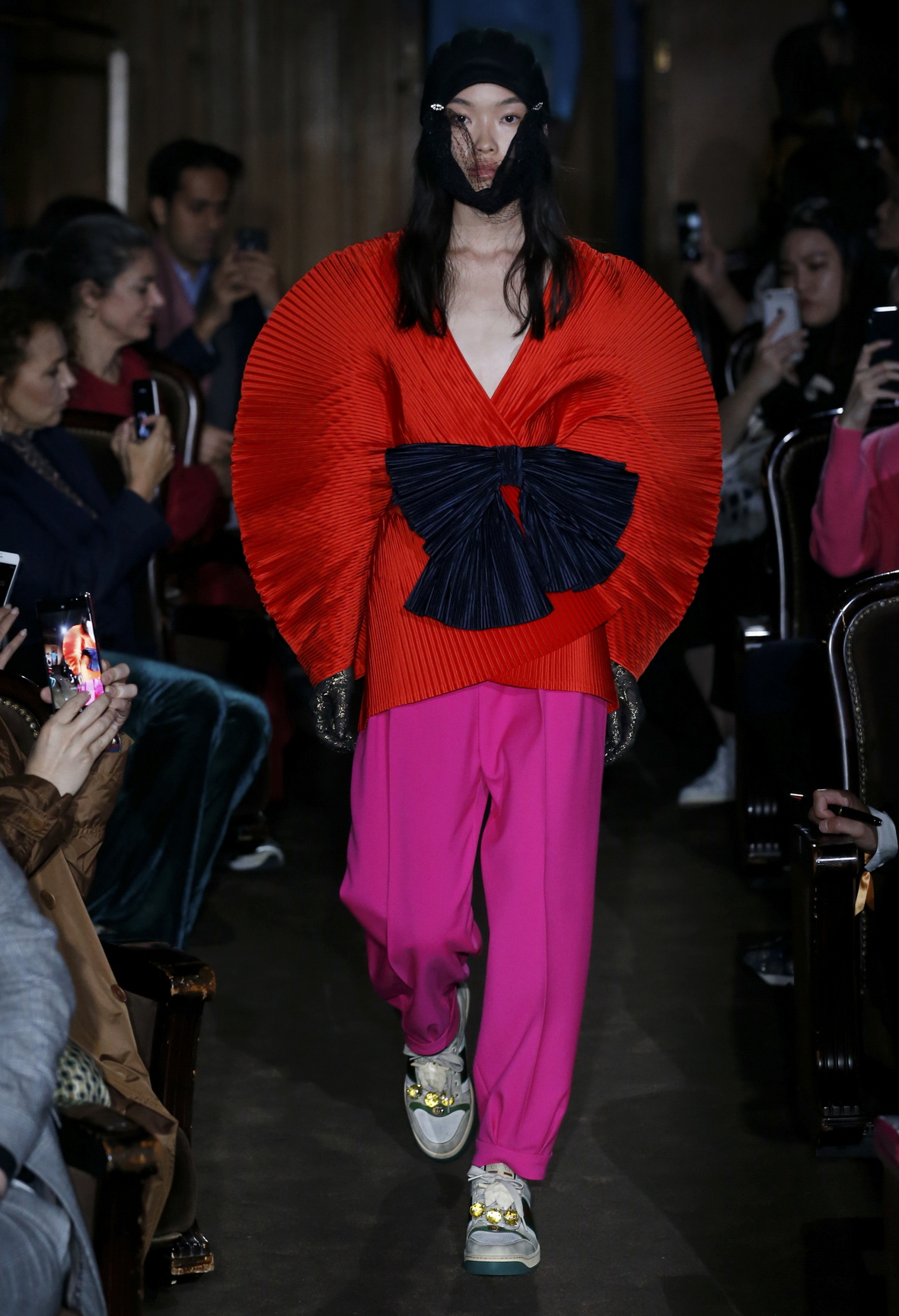 Its various reinventions include the scandalous revues of the 20s and 30s, and its early 70s programs of experimental music, art, theatre, and dance. More widely-known is its role as Paris' answer to Studio 54: not merely a space in which to socialize, but a luxurious and hedonistic escape soaked in disco music and dazzling lights. He threw all of these spot lit stage and sweaty dancefloor memories and more into his pot. The ghosts of this iconic institution were awakened, reborn in Alessandro's world of possibility. Glitter, lamé, clam-encrusted crotches, ostrich feather showgirl fans, Mickey Mouse headed bags, a live parrot on the shoulder of a loosely tailored suit, there was so much to take in. Effortlessly treading the tightrope of taste, we are always left with product to covet.
Before the show started, Gucci screened A Charlie Parker, a short film from Leo de Berardinis and Perla Peragallo from 1970. The show notes were dedicated to the experimental film directing duo and detailed the story of how they went against the format of existing theatre forms to experiment with Shakespeare's plays in the mid-60s. Alessandro might just be fashion's answer to Leo and Perla. Without a traditional backstage and catwalk, the models walked through the space as spectators before taking their deserved space on the stage. Then, halfway through the spectacle, Jane Birkin stood up and performed. Singing "Baby Alone in Babylone" in the aisle. It was an intermission like no other before the parade of possibilities continued.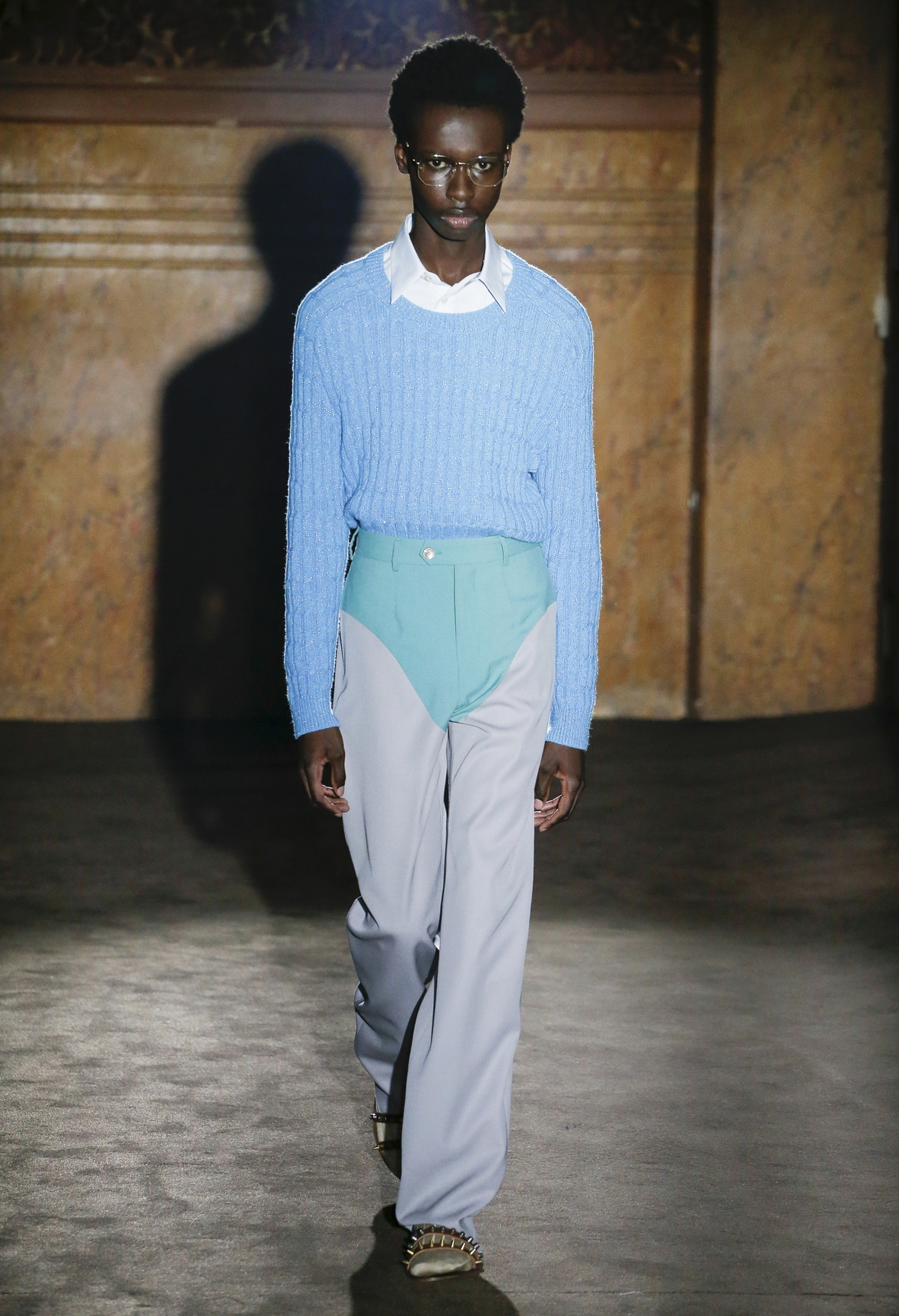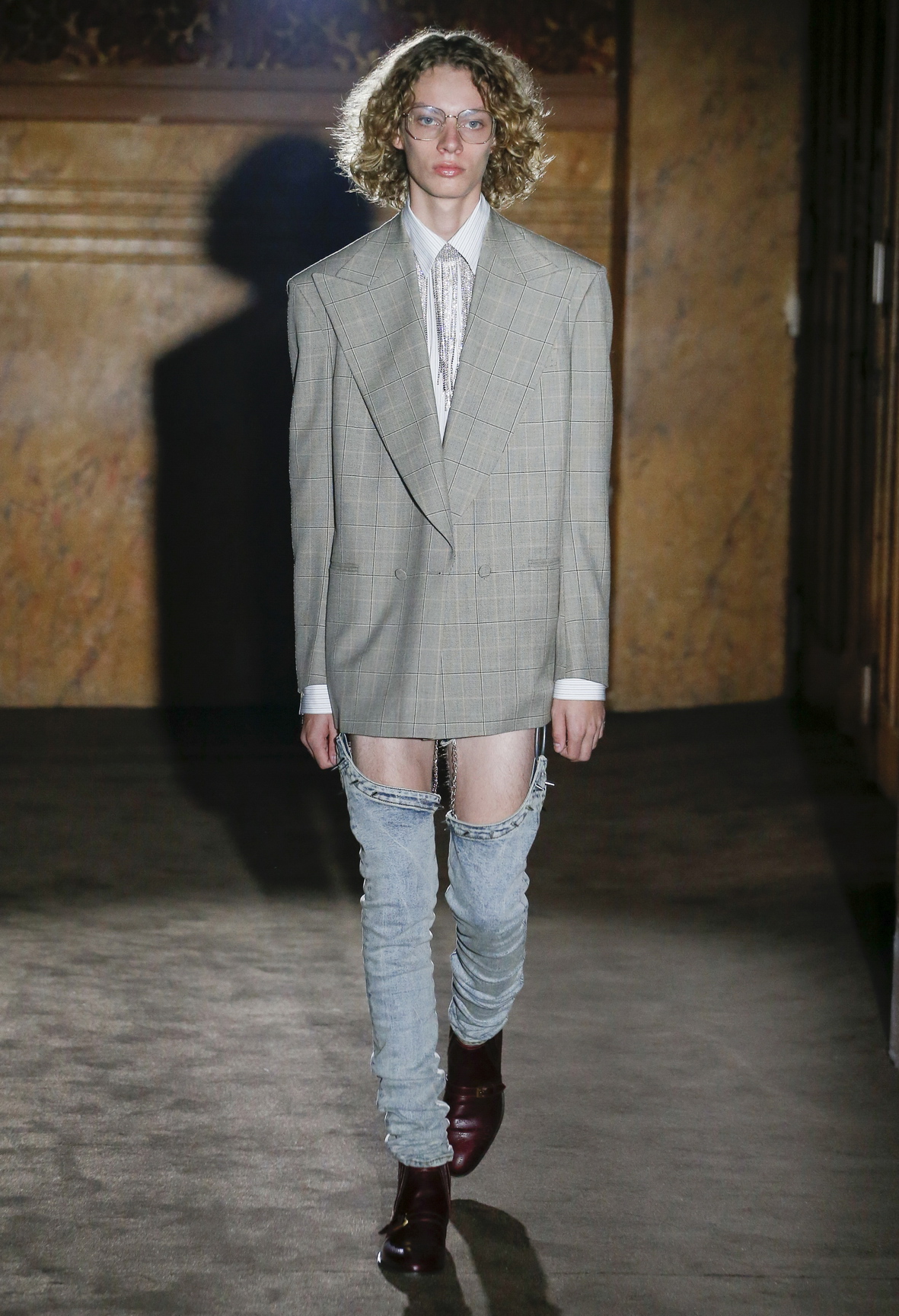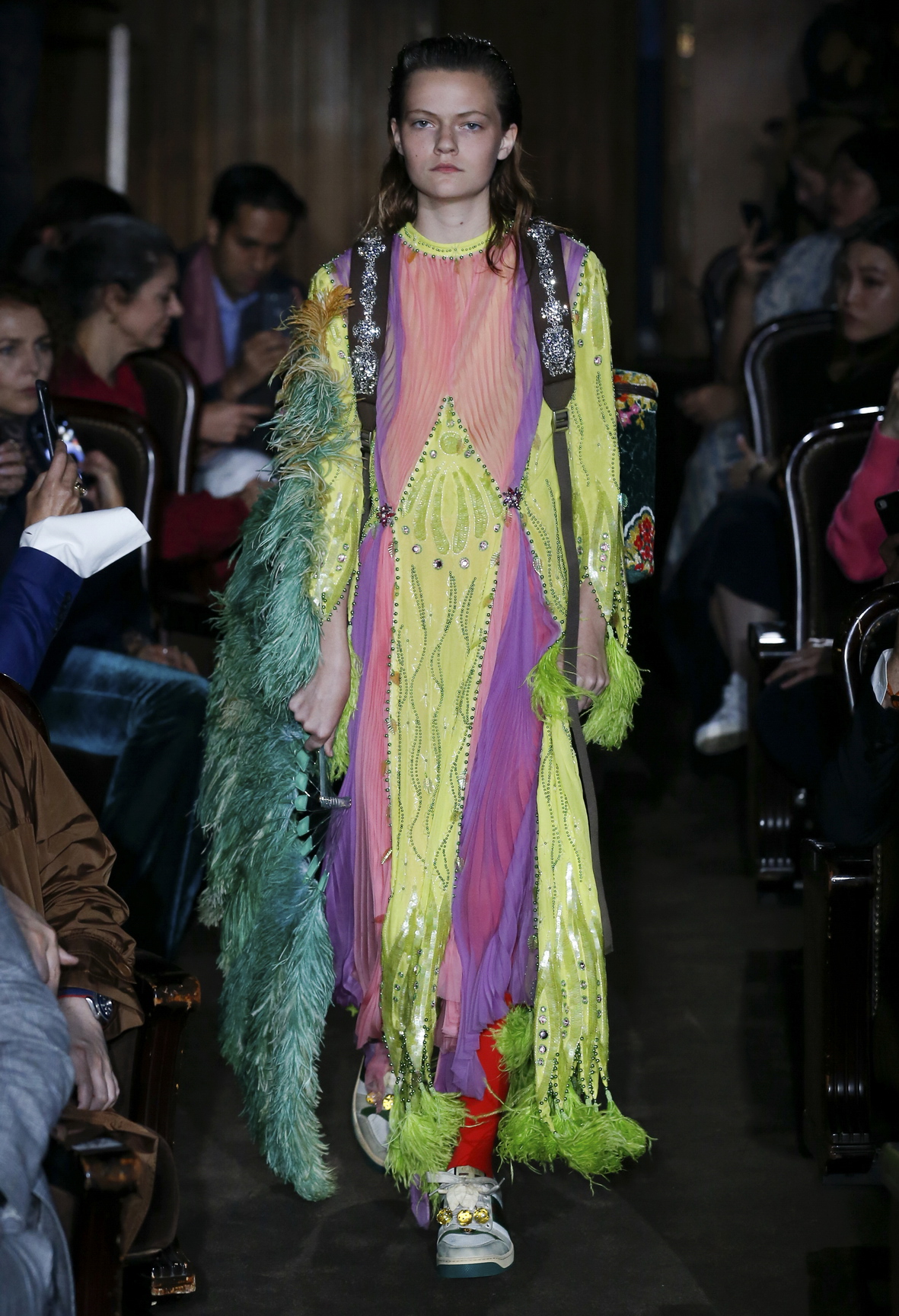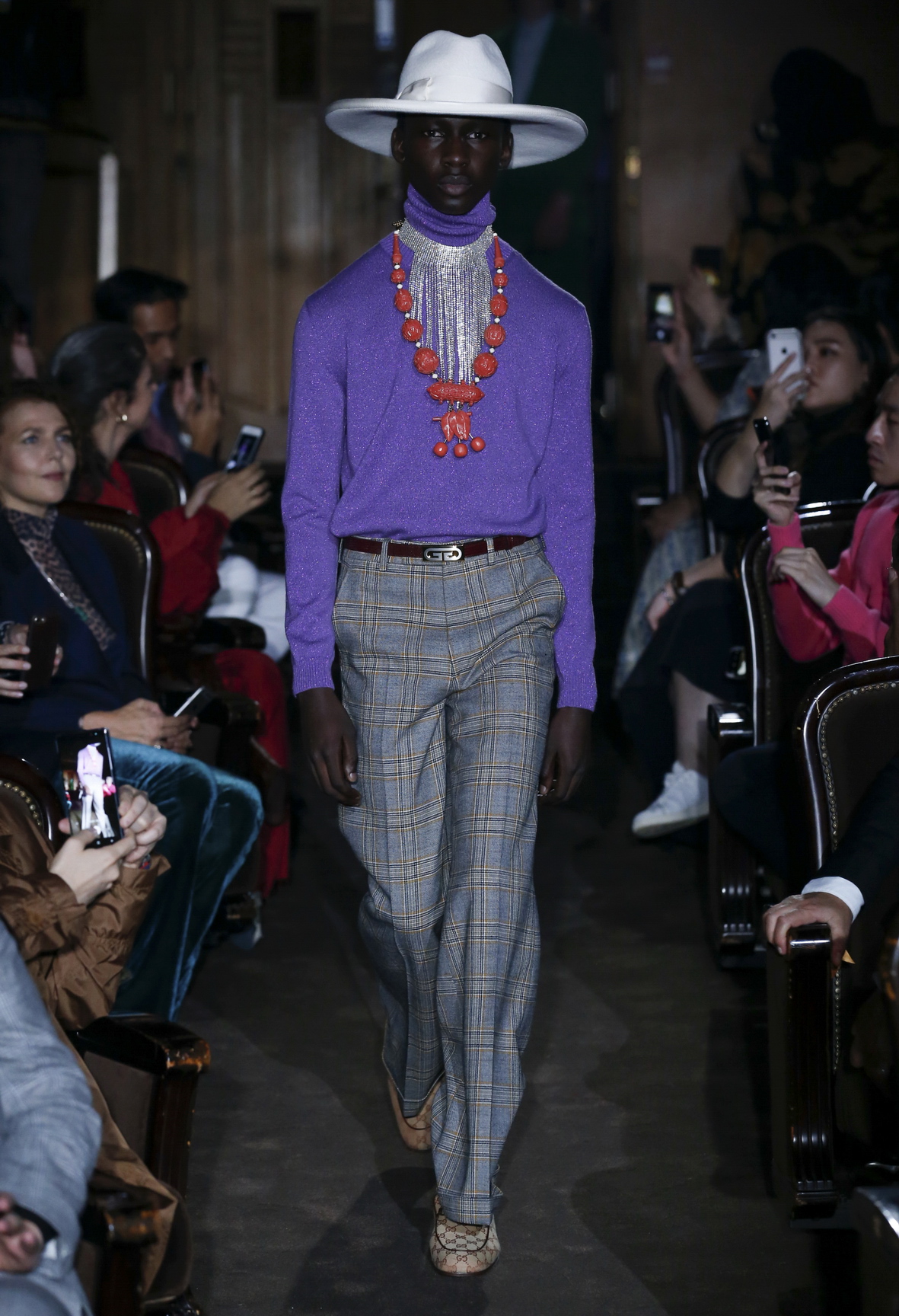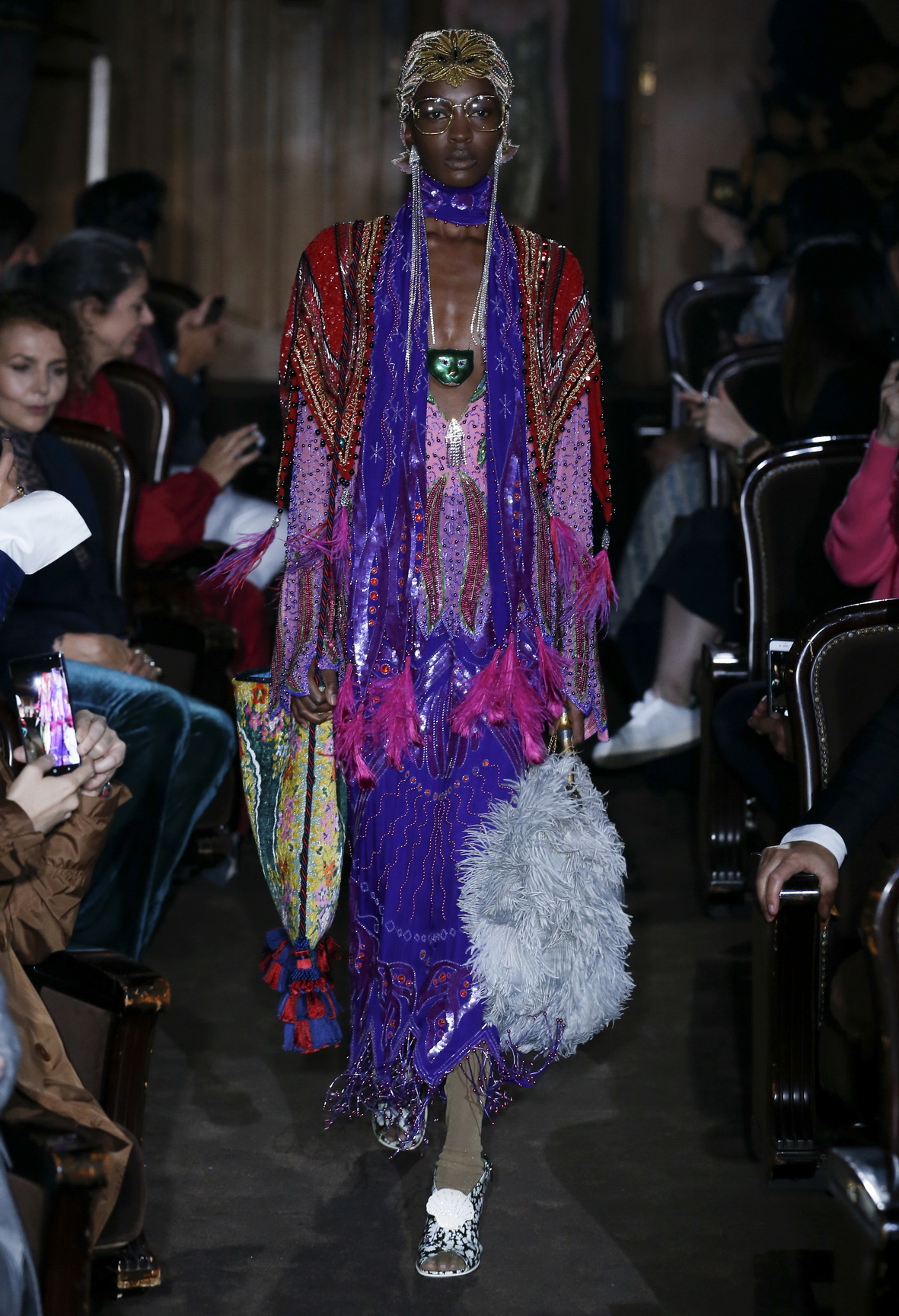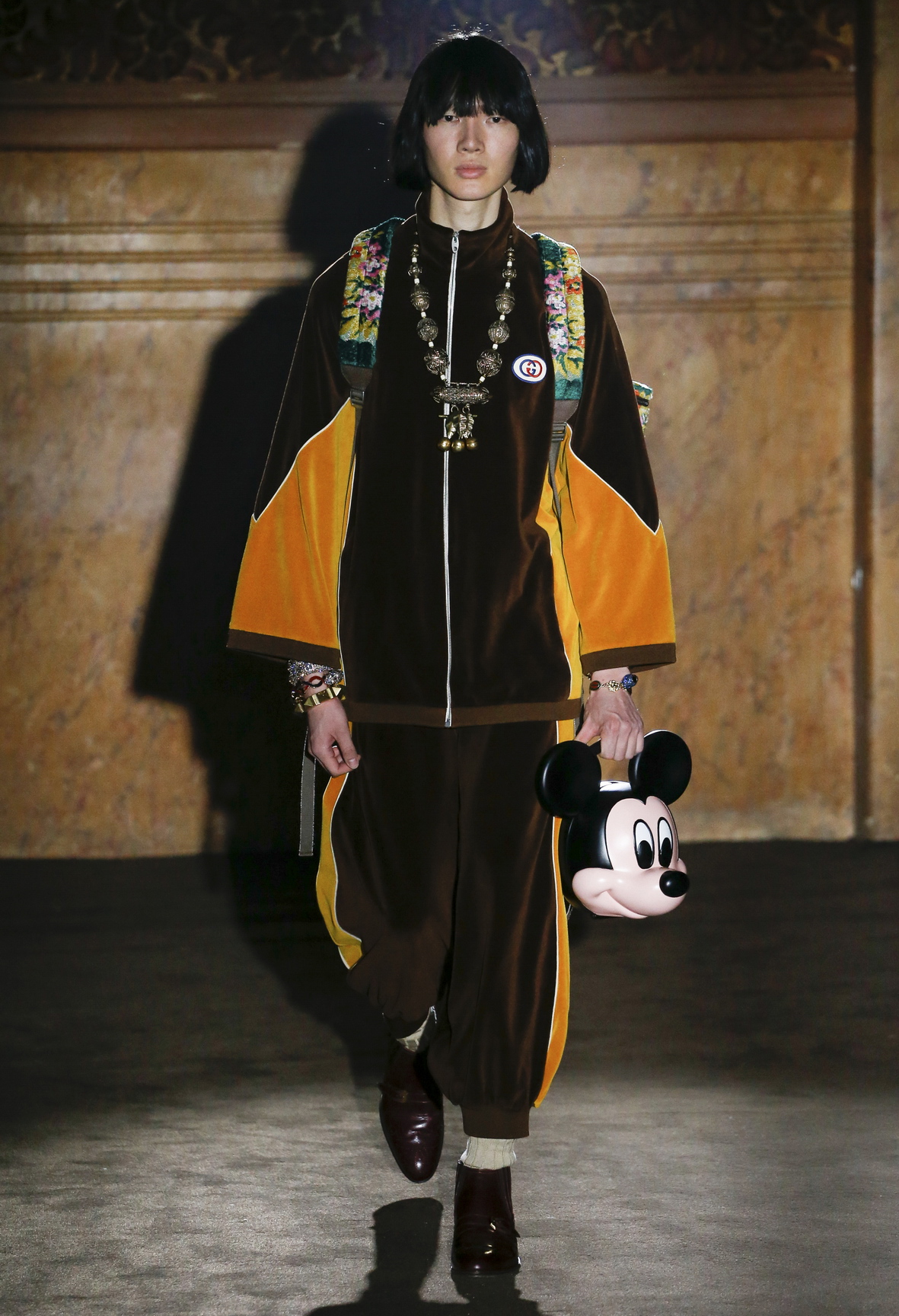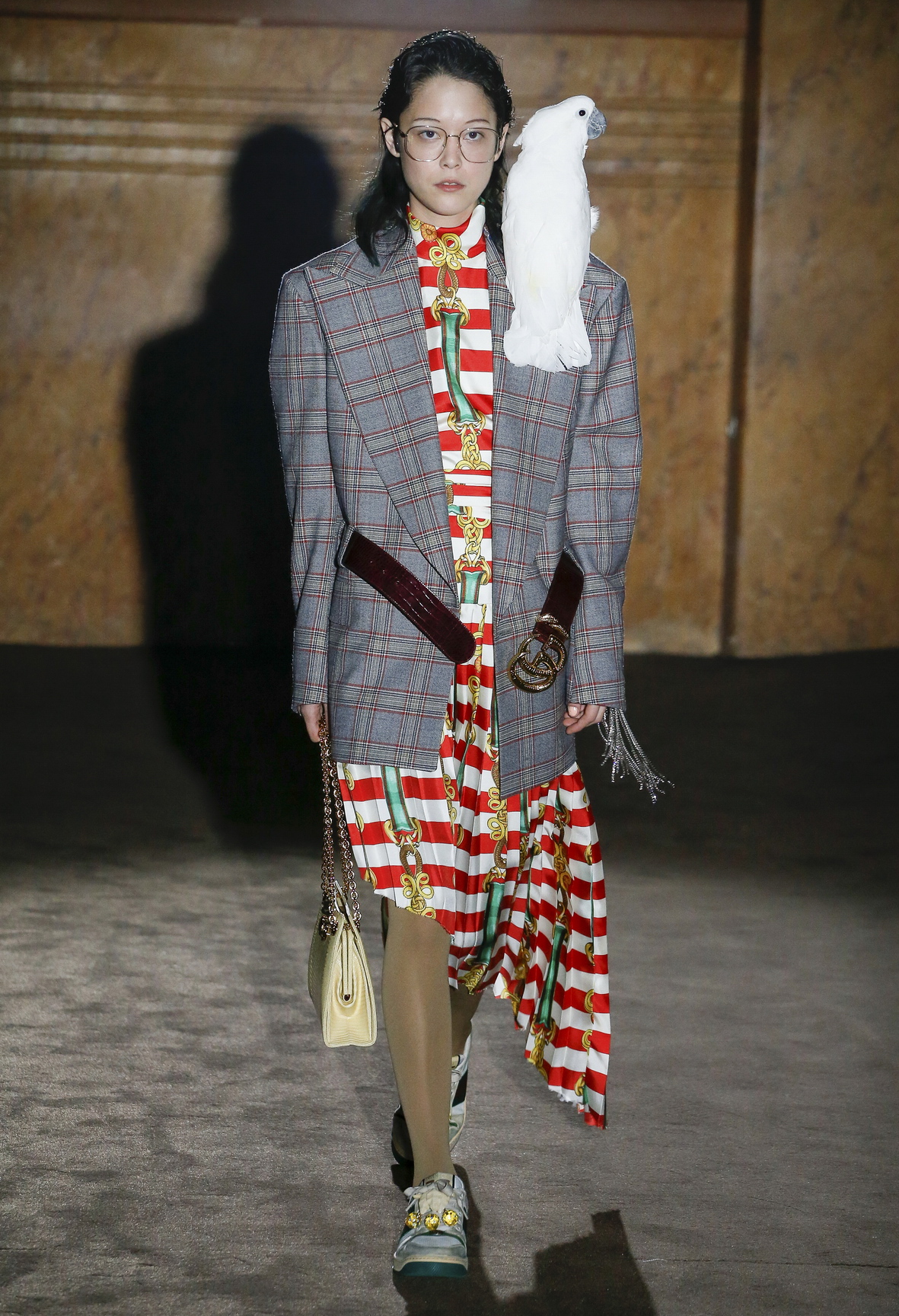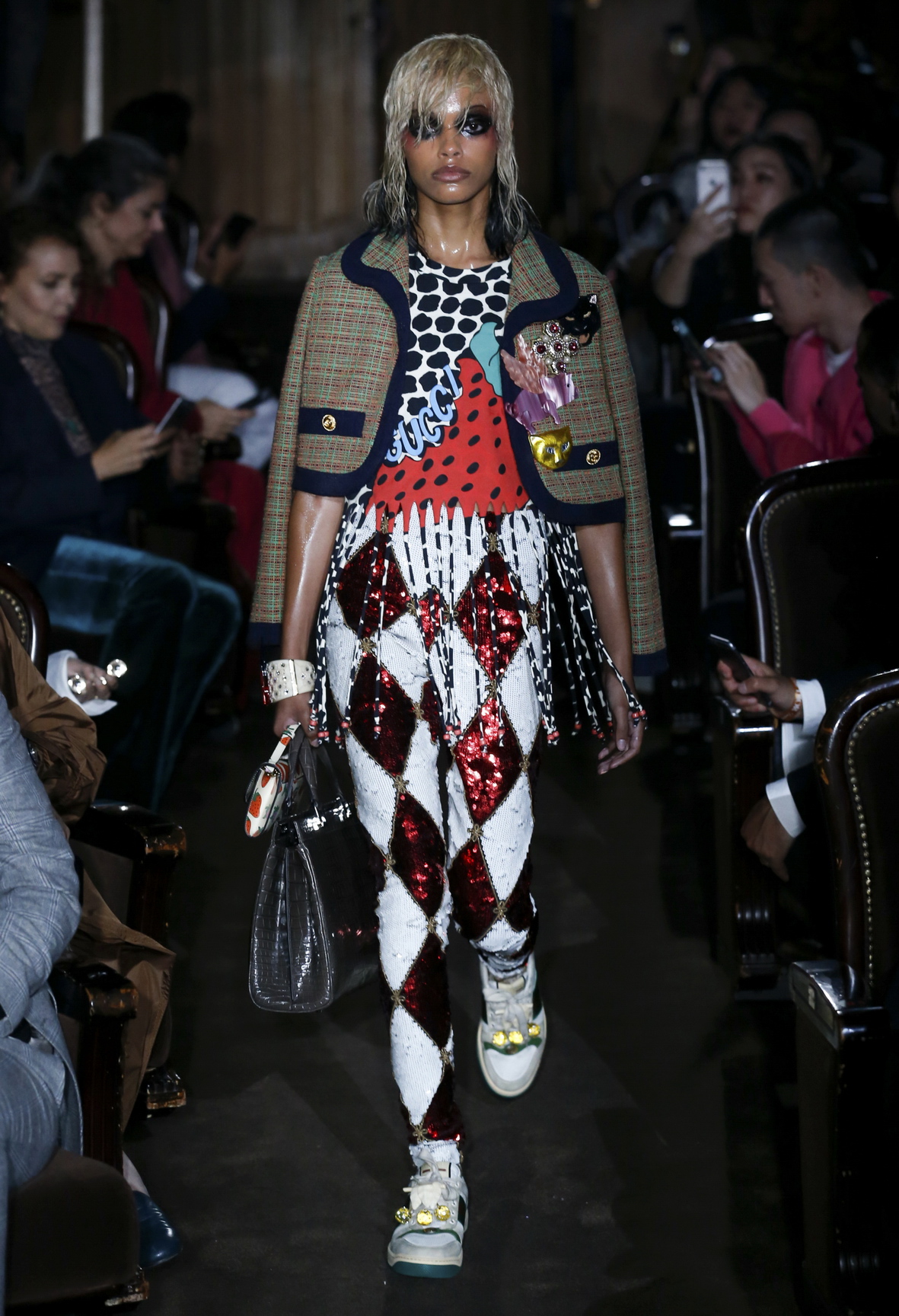 Credits
---
Photography Mitchell Sams
This article originally appeared on i-D UK.