Images courtesy of Marine Serre
marine serre just sent real families down the catwalk
The LVMH-prize winning designer blew the cobwebs off couture, elevated the everyday and continued her quiet, confident upcycling revolution.
|
25 September 2018, 2:24pm
Images courtesy of Marine Serre
Not content with launching one of fashion's most exciting new labels, French designer Marine Serre has been busy crafting a sustainability-focused soft power movement that has demanded that the industry be more conscious of the world around it. "Today is the time for people that do not compromise," the spring/summer show notes explained. "It is time for those that take things to their end, by themselves, without getting distracted -- with resolution, persistence, and love." Since her triumphant Paris Fashion Week autumn/winter 18 debut, Marine Serre and her team have developed and secured production chains and pushed the possibilities of their designs to the limit. Blood, sweat and tears went into this process. Hardcore, therefore, surfaced to be a fitting name for this collection. Marine and her team continue to lead rather than follow.
Throughout her career she's asked herself one simple but powerful question: "Why does the world need another fashion brand?" Her answer has been to create no ordinary fashion brand, hers is something the world need. "It's not enough to dream," Serre explained backstage last season, "you have to follow through with action, you have to question, you have to provide answers and it has to be real."
Building on last season's FutureWear, Marine presented a spring/summer 19 collection, entitled Hardcore Couture, that encompassed four lines; the inventive and hybrid-filled ready-to-wear gold line, the upcycled eco-futurism of the green line, the core brand white line, and the new couture red line. "The idea was to make our offering more clear," Marine explained post-show. "Last season was the first time we introduced upcycling and it was important for me to clarify that and see how it influenced our wider offering. We are a small house, we need to structure ourselves," she continued. With uncompromised stances on design, audacious interventions, turnovers, reinventions and a futuristic return to older templates and a technical savoir-faire, around half of the styles are sourced from pre-existing product. The collection also included men's looks for the first time.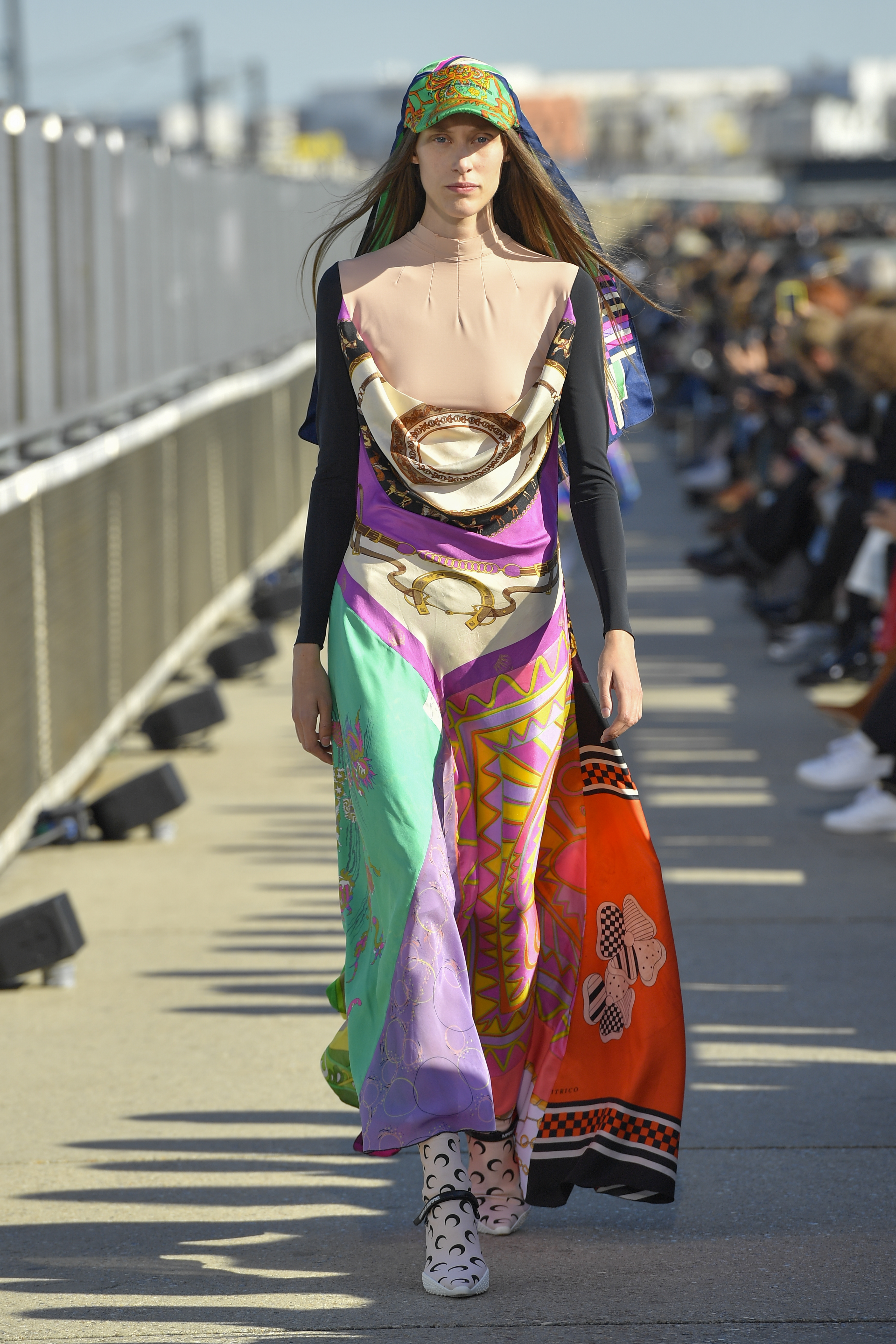 Today, much of fashion feels like an ever-accelerating conveyor belt of label launches and product drops and rather than add one more name to the mix, Marine wanted to provide her own solutions to the problems she had encountered while interning, not forgetting the issues she herself faced as she went it alone. "As we've produced collections, working on every element from pattern-cutting through to DHL deliveries, we've been able to see the industry problems that affect us for ourselves," Marine explained as we met at her studio in the heart of Paris' 2nd arrondissement for The Earthwise Issue.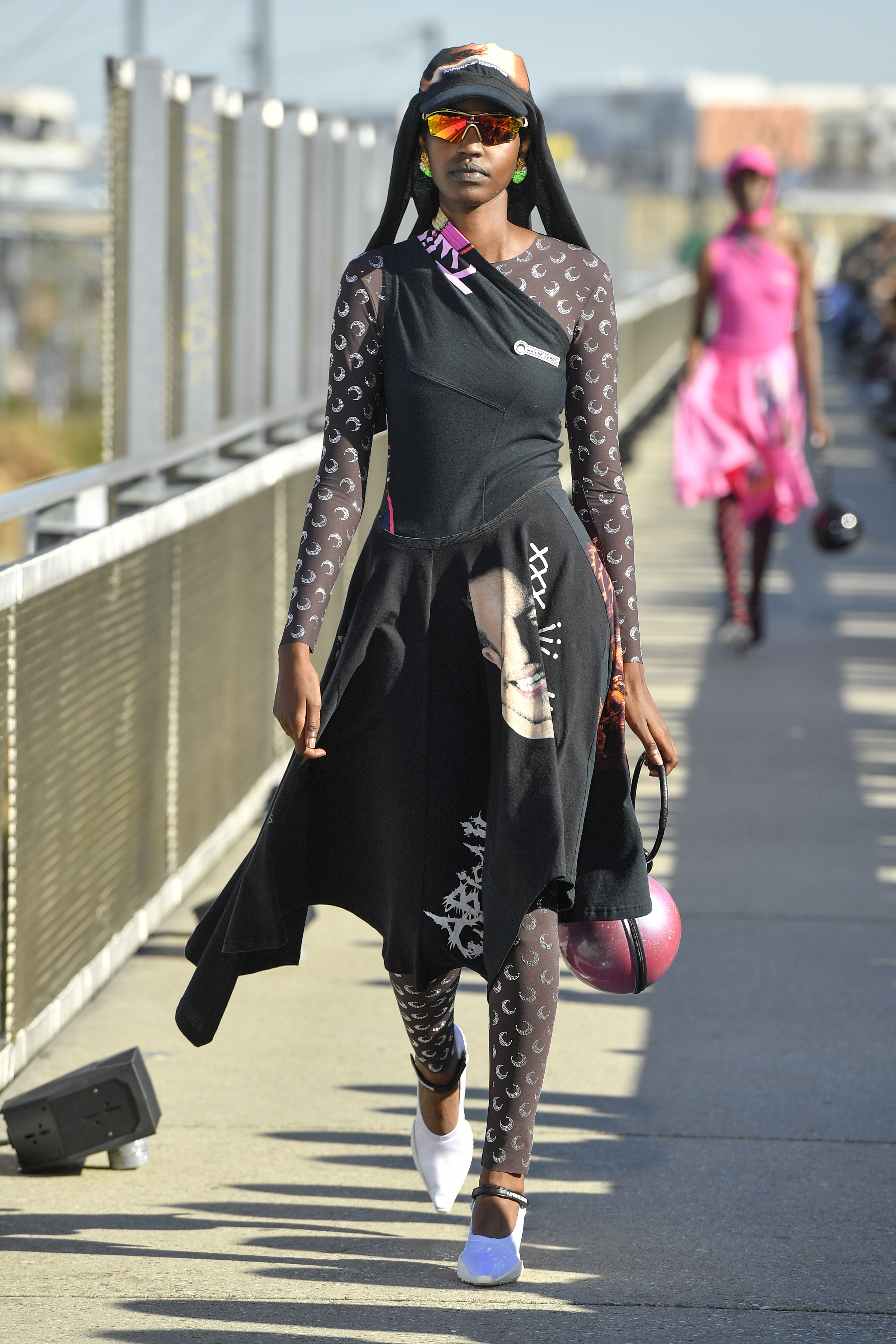 She is continually asking questions of herself and the wider industry. Inventing fundamentally new production solutions is just as exciting to her as combining disparate chains of references on an aesthetic level. Essentially, Marine Serre is a holistic designer -- both daydreamer and do-er -- ready to create for the 21st century. "It's about designing a new reality. One that doesn't compromise but simply reacts to and works with the real needs, situations and fantasies of garments today."
From dresses made out of old T-shirts sourced from warehouses through to clear bags that displayed the contents of a daily shops, as well as the casting of men and of real families, each line embodied an elevation of the everyday. "I live close-by and always thought this area looked like a catwalk as I walked past. I wanted to create a feeling of a daily commute," she explained. "The cast have their own hair, their own make-up, their children."
"With the Red Line we want to redefine what couture means now," she explained. "For me, it means care. It's an exercise of using upcycled everyday fabric and taking our time to elevate." Garments are entirely constructed from upcycled and used pieces -- carefully sourced -- everywhere from eBay to vintage stores -- clashed with one another as Marine confidently strides the tightrope of good/bad taste.
These piece embody the essence of Marine's visual lexicon pushed to the very limit. "Ultimately, it's about being creative, with upcycling being in the background," she explained. The survival dress was made entirely out of existing survival jackets; the scuba dress looked like an astronaut wedding dress and was made out of former diving suits. Blasting the cobwebs from archaic ateliers, this was couture that reacted to today's reality.