sean baker on the magical honesty of 'the florida project' and sliding into his actors' dms
The director's timely followup to "Tangerine" highlights impoverished families living in the shadow of The Happiest Place on Earth. He talks to i-D about assembling his ragtag cast and making us feel six years old.
Sean Baker's films make extraordinary, immersive use of color. In Tangerine, it was the saturated, possibly pollution-enhanced skies that set over Los Angeles. In his follow-up, The Florida Project, it's the garish pastel violet of The Magic Castle Inn & Suites. "This palette — this eye candy — is sort of just given to you as a gift," Baker says of the Disney-lite lodgings that line the outskirts of Walt's famous resorts. "This is about taking it just a hair above reality." The director did consider shooting at one of the area's grungier inns. "But how could I deny the fact that this little girl would be living in her own castle?"
That little girl is Moonee, played by now-7-year-old actress Brooklynn Prince in a truly Oscar-worthy performance. And her castle, the inn, is a sensory sucker-punch quite unlike the resorts on the other side of the six-lane freeway. While Tangerine's plot took place over the course of one day, The Florida Project shrinks Moonee's summer vacation adventure into the immediate surrounds of the hotel she lives in. Kids scream louder than the purple stucco, loogies are hocked onto the windshields of parking lot clunkers, and tinny Top 40 hip-hop blares from the iPhone of Halley, Moonee's blue-haired stripper mom.
Then there's the helicopter.
"When we chose the location first, the helicopter port wasn't there," Baker recalls, grinning. "Then suddenly this helicopter port for tourist shows up, and it's literally going off every 10 minutes. We thought, 'This is going to kill the movie.'"
Spoiler: it didn't. So far, Baker has only read one tweet suggesting viewers "bring Advil," and he's convinced they were just a Type A kid-hater. The Florida Project does not launch an all-out assault on your senses, but heightens them, reminding you what being in the world was like at six years old. In a weird way, the increased intensity is a relief — imagine if your eyes were never strained from staring at an LED screen, your hearing not weakened from one too many concerts, and your magical sense of optimism not muted by trolls on Twitter. "People who need an Advil must truly hate kids," Baker continues.
Baker's co-writer, Chris Bergoch, is Moonee's age on the inside. "He loves Disney like you wouldn't believe — he probably has notifications on his phone about Disney," Baker tells me. The Florida Project's title doesn't just refer to the 60s planning stages of Walt Disney World but to actual housing projects. We quickly learn that Moonee and Halley are living in room 323 pretty permanently, thanks to the leniency of Magic Castle's endearingly cantankerous owner, played by a heavily spray-tanned Willem Dafoe. (It takes a bit longer to learn exactly what lengths Halley will go to keep a roof over Moonee's head.) America's hidden homeless aren't confined to Kissimmee, Florida, but their existence is sadly ironic in the shadow of the Happiest Place on Earth.
"I've tried to analyze that myself," Baker says of what draws him to people on the fringes of society. "I think, again, it's because I'm not seeing any of that. I try to look outside my circle. In this society, we are clumped together in a way that we're almost not conscious of — we all hang out within the same gender, the same race, the same age group." Also, "if more stories were told about marginalized groups or subcultures or minorities, the less marginalized they would be. There's that goal as well. What year are we living in?"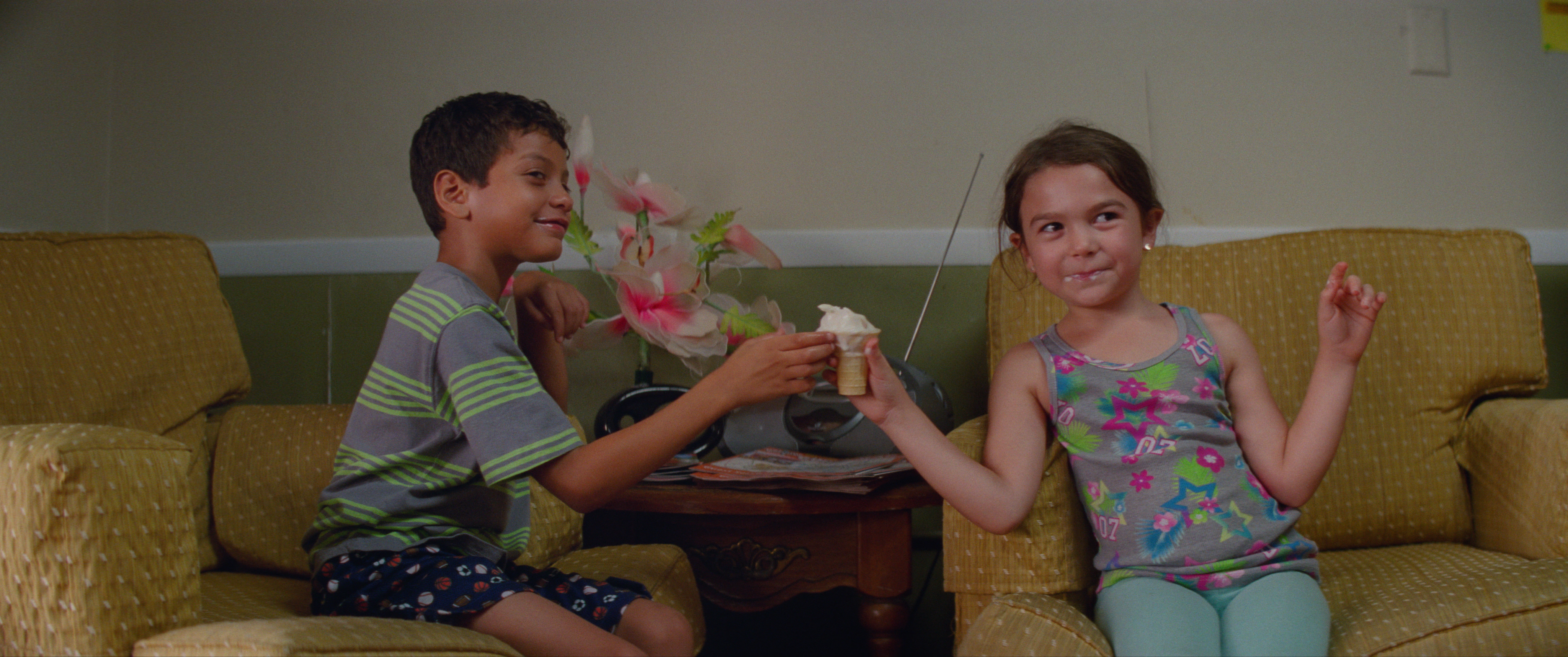 Baker grew up in New Jersey and went to NYU. Film gives him an excuse to meet people he otherwise probably wouldn't. Take actress Bria Vinaite (Halley), who he DM'd after scrolling through Instagram looking for character inspiration. (The 24-year-old, who has her own marijuana-themed apparel line, still thought she was being catfished when she was on the plane to audition in Orlando.) Or take Moonee's best friend Jancey, played by Valeria Cotto, an actress he found one night in a local Target. "I gave her mom my card and I was like, 'This is creepy, I know we're at Target, but we're casting a film,'" he laughs. "She Googled me and saw I was legit."
Baker's one Hollywood star — Dafoe — spent pre-production meeting locals and making a shopping list for the costume department: gas station sunglasses, a specific type of watch, the tangerine spray tan. I spent most of the film trying to remember where I'd seen Halley's best friend Ashley before realizing she was the dancer Mela Murder, who opened Chromat's fall/winter 17 New York Fashion Week show with an empowering pregnancy-themed dance routine. "I like to mix up my casting," Baker says. "Anything that gets the right cast together." New Yorkers might recognize the Magic Castle's leathery topless sunbather Gloria as Sandy Kane, A.K.A. Times Square's Naked Cowgirl.
The ragtag cast of actors plucked from strip malls and social media did cause the crew a few headaches. The younger kids were only legally allowed to work limited hours. Vinaite had to pack about four years of acting school into one month of classes. "I'm so proud of her," Baker adds, "she really got there." He is fiercely proud of his talent. "Yes! Thank you," he tweeted in response to a fan's request to call them "first-time actors" instead of "non-actors." With Vinaite, you can probably just call her an "actor." She is heartbreakingly convincing as a mom who's still a kid herself, binging on sticky diner food and spending the money she earned hawking stolen Disney tickets on a dollar store shopping spree. Post-haul, she has a screaming match with Dafoe about rent payment while still wearing a pair of paper fairy wings.
Danny Boyle once told the director that he makes the same film again and again and again. "My whole career, every one of my films, has a wink to The Little Rascals and Hal Roach's Our Gang series," Baker says. "I thought this might be my opportunity to make a The Little Rascals 2017 and focus on the humor and the heart and the resilience and the innocence of kids, but also shine a light on an important topic." In 2017, a film about the power and limits of imagination in the face of hardship feels very poignant indeed.