Megan Thee Stallion and Beyoncé are set to make history yet again
Yet more record-breaking, ass-shaking success is on the horizon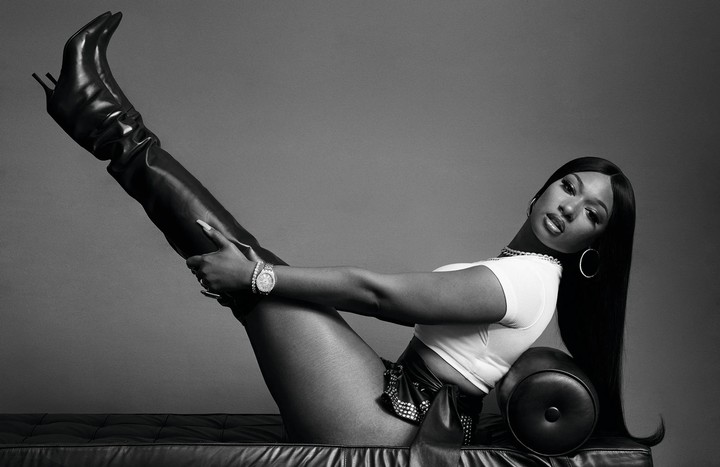 It's been precisely 19 days since Megan Thee Stallion and Beyoncé Knowles-Carter dropped their internet-breaking remix to "Savage", in which Bey name dropped OnlyFans, the internet's favourite corny joke-telling mother 'Celestine 'Tina' Knowles, and invented 'dropping it low', much to the delight of the Beyhive and stans of taste everywhere.
While the bop just narrowly lost out on claiming the Billboard Hot 100 to Doja Cat's "Say So" remix (featuring friend and longtime collaborator Nicki Minaj), the single still made chart history, marking the first time four black women occupied the charts top two spots since its 1958 inception.
And it looks like Megan and Beyoncé might make history at next year's Grammy awards too. The pair are currently hot favourites for the Grammy's coveted 'Best Rap Performance' award - (a consolidated category of Best Rap Solo Performance and Best Rap Performance by a Duo or Group since 2012). While Beyoncé is not short of her own accolades, if the shining duo are nominated, it would mark the first time in 23 years that an all-woman collaboration vied for the prize. (The last was a 1997 nomination for Lil Kim's "Not Tonight" remix ft. Missy Elliott, Da Brat, Left Eye, Angie Martinez). Should they go on to win, it would be the first time a group of women won the rap prize since Salt-N-Pepa in 1995.
While we might be getting ahead of ourselves -- the 63rd Grammys ceremony is currently scheduled for 31 January 2021 and it's unclear if, due to coronavirus, large scale events like this will even be possible by then -- the idea of a Megan Thee Stallion-slash-Beyoncé joint Grammy win is too delicious not to get excited by. Fingers crossed for what will undoubtedly be more much chart-smashing success in both these women's careers. We love to see it.
---
Lede image credits
Photography Ethan James Green
Fashion Director Carlos Nazario

Hair Jawara at Art Partner.
Make-up Kanako Takase at Streeters using Addiction.
Nail technician Dawn Sterling at Statement Artists using Young Nails.
Set design Julia Wagner at CLM.
Photography assistance James Sakalian, Katie Tucker and Daniel Johnson.
Digital technician Nick Rapaz.
Styling assistance Raymond Gee, Erica Boisaubin and Imaan Sayed.
Tailor Thao Huynh.
Hair assistance Tiara Keith and Shamicka Williams.
Set design assistance Dylan Bailey and Cruz Mendez.
Production Jessica Hafford at MAP Ltd.
Megan wears T-shirt and skirt Alexander wang SS20. Earrings Ettika. Necklace (top) Fallon. Necklace (bottom) and bracelet Greg Yüna. Watch and rings Chopard. Boots Stuart Weitzman.