Megan Thee Stallion used her SNL performance to make a powerful statement
While performing 'Savage', Meg paused the music to call for justice and protection for Black women.
|
05 October 2020, 10:21am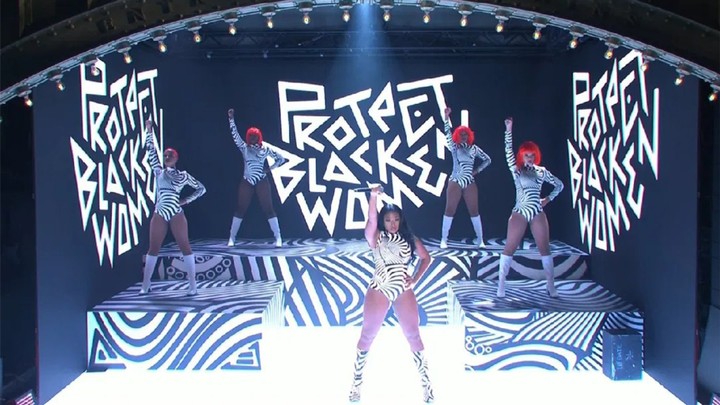 Saturday Night Live finally returned this weekend, albeit in a less recognisable, more COVID-safe kind of way. Those in the live audience were socially distanced, everyone had to test negative before filming, and the front row seats were saved for New York City's first responders — who have been fighting on the front lines for the past six months. The show sent a message with the choice to spotlight key workers, and musical guest Megan Thee Stallion sent an even more powerful one in her SNL debut.
While performing "Savage", Meg temporarily stopped the music to focus instead on BLM, Breonna Taylor, and the danger faced by Black women in America every day. While the rap superstar and her backing dancers held their fists in the air, the audience were played audio of activist Tamika Mallory, as well as Malcolm X's 1962 speech, "Who Taught You To Hate Yourself?".
"We need to protect our Black women and love our Black women," Megan told the audience watching in the studio and at home. "'Cause at the end of the day, we need our Black women. We need to protect our Black men and stand up for our Black men, 'cause at the end of the day, we're tired of seeing hashtags about Black men."
Watch the full performance here: