NunTok: Meet the nuns going viral on TikTok 🙏
Whether they're creating wholesome memes or tackling life's big questions, NunTok is like regular TikTok -- only "nunnified".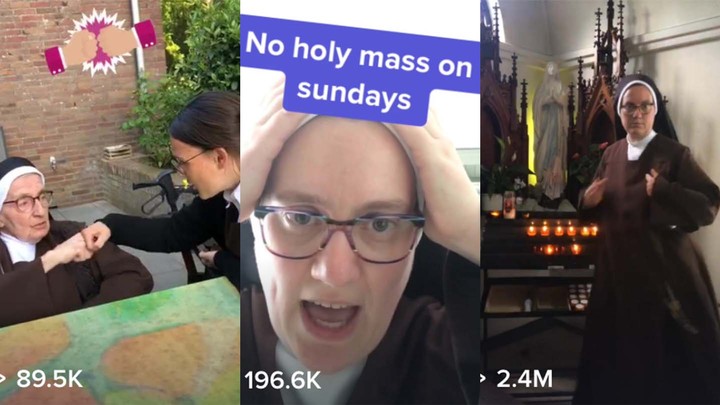 From witches to cottagecore, TikTok has already, in its short life, provided its two billion users with a snapshot into all kinds of lifestyles, some more niche than others. In doing so, the app has created unlikely celebrities from many walks of life. Yet despite its endless diversity, nun TikTok — or NunTok, as it's been dubbed — remains one of the platform's more unexpected trends.
The stars of NunTok are a convent of Dutch Catholic nuns who have amassed over 200,000 followers on their @carmeldcj account. The mastermind behind the order's unlikely viral content is Sister Hannah, one of five nuns at the Catholic Carmelite convent in the small village of Vogelenzang in the Netherlands. A nun for just four and a half years, Hannah joined the convent after staying there over several weekends before deciding to devote her life to Jesus. But devoting herself to Jesus doesn't mean she didn't want to bring the Catholic church into the new millennium. Before joining Tiktok, she also managed the convent's Instagram and Facebook accounts.
Like many TikTok newbies, Hannah launched the convent account with a fashion inspo video as a joke. "I found this video of an influencer (@sasabylopez) and she was showing off her vast collection of work and date outfits," Hannah says. "And I said to the other sisters, wouldn't it be funny if we did this? Essentially the same thing but with us in our habits and wearing the same thing in every location." Hannah was amazed when her 'fashion in the convent' video, set to Krypto9095's "Woah", quickly amassed 65,000 likes.
Since then, the sisters have aimed to post a video a couple of times a week (if the demands of convent life allow it). Many of Hannah's ideas come from other TikTokers, taking the app's in-jokes and giving them a decidedly Holy — although still hilarious — spin. Although she doesn't have a favourite TikToker, Hannah says, "I like a lot of other people's content and that's how we get a lot of our inspiration. I like to use sounds or trends and 'nunnify' them with our own convent version."
The sisters' 'nunnified' content includes dancing to Siren Beat with their own added prayer moves and spoofs of the musicals Annie and The Sound of Music. Hannah appears in most of the videos, along with Sanne, the convent's youngest member, but Mother Superior has also made a few appearances, including spraying the younger sisters with the garden hose as soon as their backs are turned. The sisters' pet dog and cats also feature regularly.
For TikTokers whose only experience of nuns might come from various nun-themed horror movies or Whoopi Goldberg's Sister Act — which the sisters love, btw — nuns playing pranks and having a laugh is a welcome surprise. One user called them the "comedy queens of Jesus" while another commented that they "never knew nuns had funs". For others, NunTok is a place of "pure wholesome fun" with one TikToker commenting that they "enjoy every visit as it's so calming". Hannah says the sisters have even had a couple of queries via the app from girls who are now thinking of becoming a nun themselves.
And while the order are using their TikTok account to have a bit of a laugh, much of their content involves answering curious questions like these. For Hannah, the opportunity to educate and connect with TikTokers around the world was a big incentive to join the app. "We want to show people that we still exist and that although we're nuns, we're also normal people," she says. "Normally if you saw a sister on the streets, you wouldn't approach her but on TikTok it's more open. We have open doors and they can ask us anything."
Of course, TikTok hasn't held back. Questions range from the more serious: "Can you get married?' (Nope we're married to Jesus)" and "What do you think of Pope Francis (He's a cool guy!)" to "How do you wash your clothes? (In the laundry, like everyone else)" and "Can we see your pyjamas?' (Only if we can see yours)".
One of Hannah's most popular videos is a duet — a video where a user responds to another on a split screen — answering user @mangything's 'questions for the nuns.' She asks if nuns ever wash their hair, (yes, they like to be clean), get haircuts (yes again, you can only fit so much hair under a habit) and whether they can wear makeup or nail varnish. As the nuns have taken a vow of poverty, they're only allowed to use what they need, which rules out makeup, but they are allowed smartphones as using social media is seen as spreading God's love. The vow of poverty does mean you're unlikely to see any NunTok merchandise anytime soon, but the sisters do sell rosaries and prayer cards on the convent website. Hannah also answers @mangythings's question about whether the nuns shave their legs, armpits or "kitty cat" by saying, "Why should I?", something that many commenters celebrated. One user said, "she ended double standards".
Hannah has also been surprised by the number of TikTokers seeking help by asking the nuns to pray for them. She says, "Sometimes, we'll post a video of us dancing or doing something crazy, but people will react by asking us to pray for their sick mother even if the video is funny." Hannah says the sisters always pray for all the requests they get from around the world.
But like many famous TikTokers, the nuns are no strangers to negative comments. "Some people are just trying to be funny, but we also get some from other Catholics who say it is a kind of blasphemy for us to make the videos," explains Hannah, who adds that she doesn't think it's worth engaging with. "Sometimes people just want to say their thing and they want you to fight back. People have to believe what they want. The most important thing for me is to show that our faith is love."
While she originally attempted to respond to all her commenters' questions, Hannah says the sisters' account has now become too popular for her to address them all. Despite their newfound online fame, she says their daily lives haven't changed much and she's planning on creating lots more wholesome NunTok content for all the convent's fans. Amen to that.